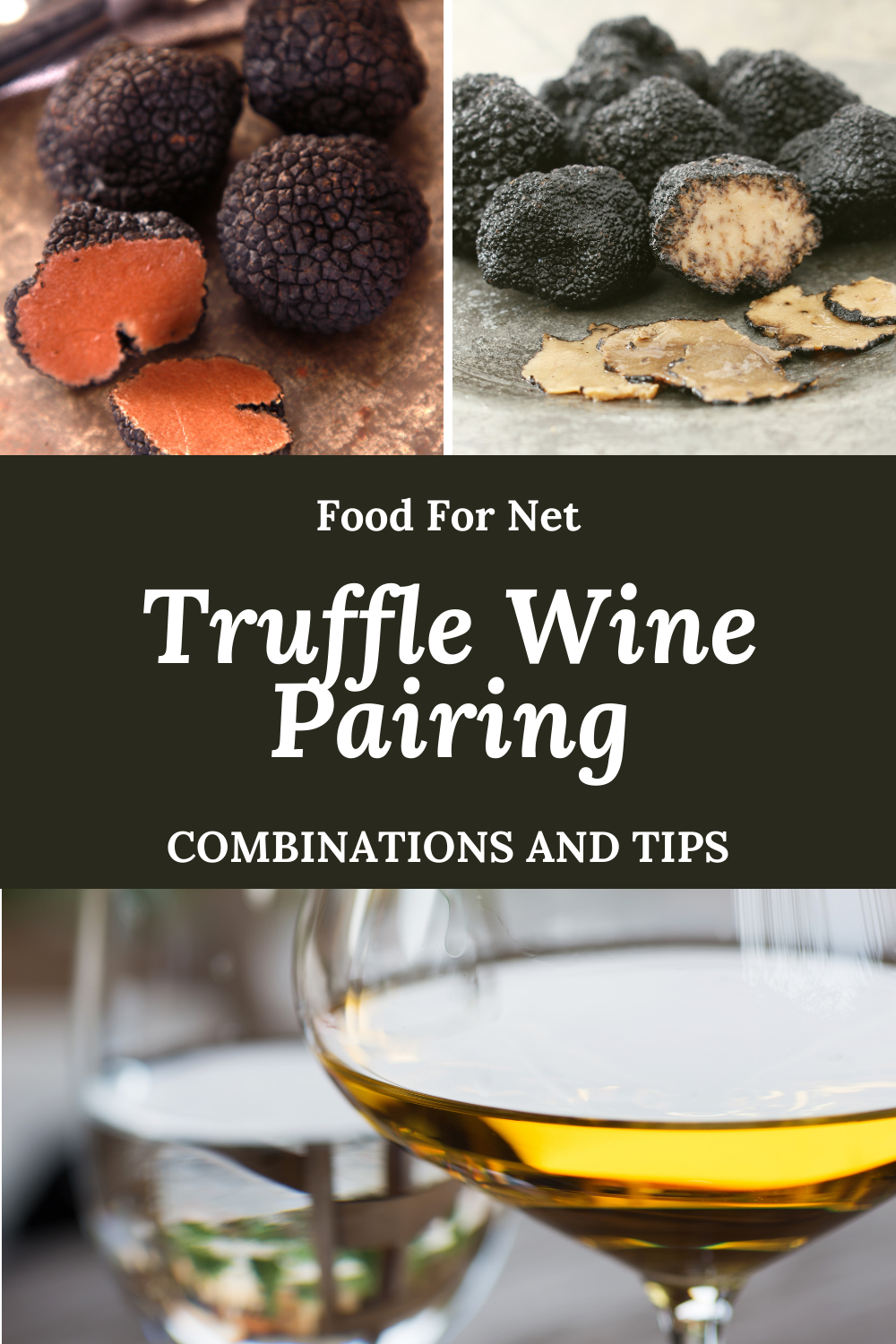 Truffles don't come cheap, but for truffle lovers, they may be well worth the price (or, you could try and grow your own). Of course, if you're going to spend so much on your truffles, then you need to put some care into your wine selection too. You don't want a wine that's going to make your truffles seem sub-par in any way. Thankfully, while truffle wine pairing can be a bit confusing, it isn't as difficult as it sounds.
There isn't just one type of wine to focus on either. Instead, you can pair truffles with a variety of different wines.
The best choice will depend on a range of factors, including your preferences, how the truffles are cooked, and the other flavors in your dish. Then, of course, there are the differences from one type of truffle to the next.
So, in this post, we're going to take a close look at the process of wine and truffle pairing, including details about the best wines to choose and why. We also have some general posts on red wine pairing and white wine pairing. These are perfect for anyone who is just getting started with wine pairing.
Truffle Wine Pairing
Black Versus White Truffles
Earthy Truffles
Garlicky Truffles
Truffle Risotto
Truffles and Red Meat
Truffles with Fish
Egg Pasta and White Truffles
Truffles and Sparkling Wine
Black Truffle Butter
Tips for Pairing Wine with Truffles
Black Versus White Truffles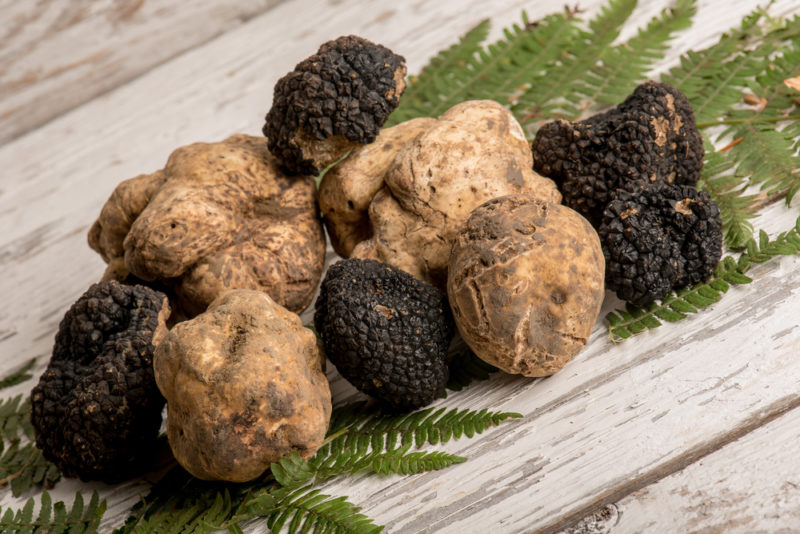 First, let's look at the general types of truffles – black and white. White truffles are held in higher esteem of the two. They're more pungent and you generally use small slices of raw white truffle in the dish that you're preparing.
White truffles tend to have a delicate flavor. This is why they're often included in dishes that rely heavily on cheese, egg, or butter. Slices of truffle are generally added right at the end of cooking so that the truffle remains mostly raw.
Black truffles, on the other hand, require some cooking to fully release the flavors. They tend to have a strong earthy flavor and are used in richer and more intense dishes.
While we'll soon cover examples of specific flavor profiles and types of truffle-based meal soon, let's first talk a little about these two types. The general rule is that you pair a white wine with white truffles and red wine with red truffles.
There are exceptions, of course, and some people look for contrasting flavors, rather than complementary ones. Even so, the idea of pairing white truffles with white wines and black truffles with red wines is a fantastic starting point.
In particular, the white wine won't overpower the delicacy of white truffles, while a red wine easily could. If you are using a red wine with white truffles, then it's best to look for one that is soft and is not high in tannins.
Earthy Truffles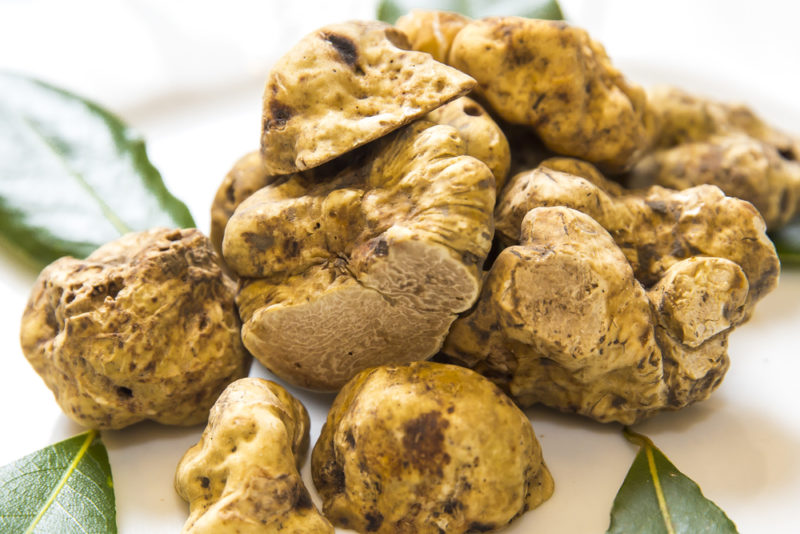 While earthy flavor tones are present in most truffles, some truffles show these more strongly than others. White truffles are particularly known for smelling like soil.
When wine pairing, you need a wine that is going to complement the earthiness of the truffles, without overwhelming the flavor. This means that a young pinot noir won't be a good choice. On the other hand, a red burgundy could work well, especially if the wine has been aged.
A red burgundy is still a pinot noir. It's simply one that comes from the Burgundy region of France. Still, such wines tend towards elegance and are more likely to be aged. You don't get the same nuances in an inexpensive local bottle of pinot noir.
Grand cru wine may be an even better choice, as red burgundy with this designation tends to be special indeed. This type of wine doesn't come cheap, but nor do truffles. It makes sense to splurge a bit if you want the best wine to go with your truffles.
Garlicky Truffles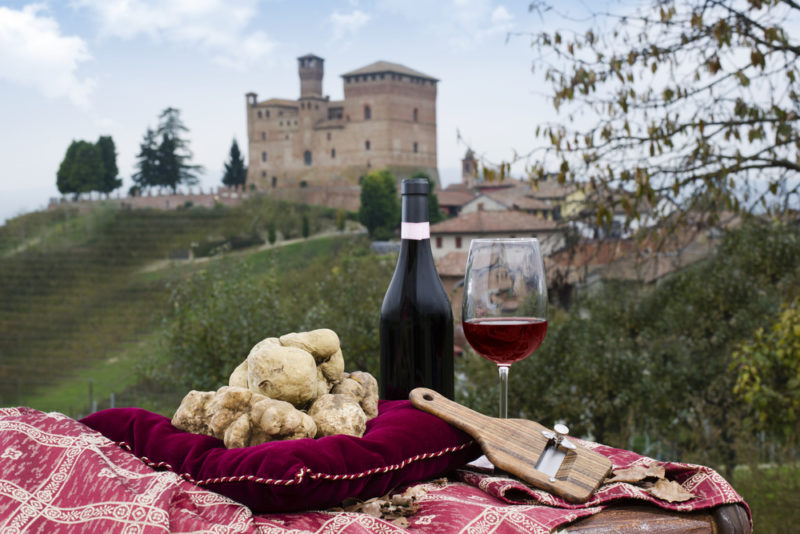 For truffles that have notable garlicky aromas, a syrah wine could be appealing. Look for a bottle that is mature so that you end up with elegant flavors. A syrah from the Rhône Valley could be especially appealing, although you may need to pay a little for a good bottle.
You might also turn to a white wine here, as garlicky truffles are often white and white truffles pair best with white wine.
Truffle Risotto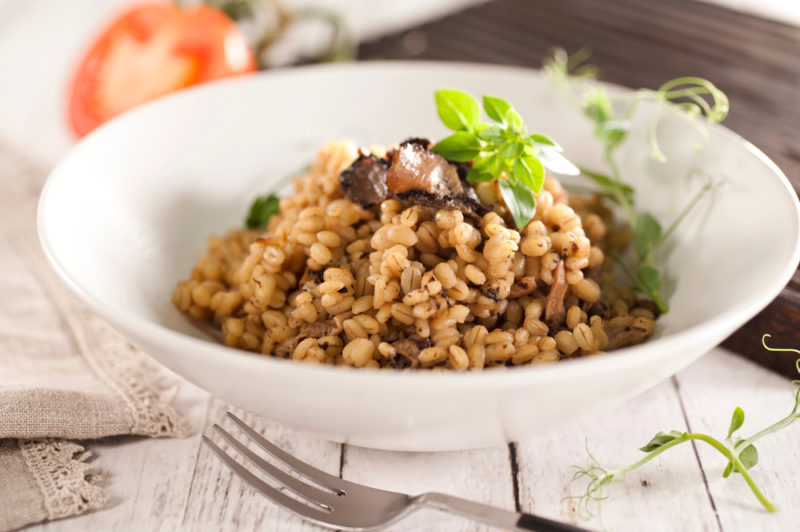 If you're serving truffles as part of risotto, then you need to rely on bold and creamy wines. Chardonnay is an excellent choice here, especially slightly oaked one, as oak aging provides an amazing depth to the wine and changes the flavor profile.
Choosing a chardonnay from Burgundy, France is the best possible approach. These wines are sometimes called white burgundy and are often considered the absolute best type of chardonnay. The combination of growing location and local techniques makes the wine different than what you'll find anywhere else.
If a white burgundy isn't an option, consider a lightly oaked chardonnay from California instead. While the flavor profile here is a little different than you get in a chardonnay from Burgundy, you're still getting a good balance for your meal.
Try to avoid a heavily oaked chardonnay, as such a wine could easily overpower the flavors of your meal.
More unusual wines can be appealing too, like a hermitage blanc, especially one that has been aged.
Truffles and Red Meat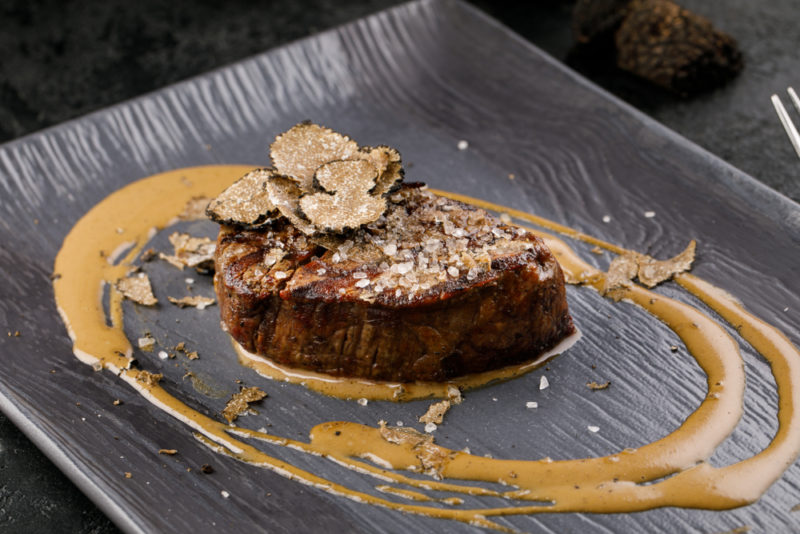 If your meal relies on red meat as well, then it's best to focus on a red wine. When doing so, you don't want a light and fruity red. Instead, look for a richer wine, ideally one that has been through a little aging.
An aged Bordeaux can be excellent here. This type of wine is produced in the Bordeaux region. The vast majority of them rely on merlot and cabernet sauvignon grapes.
While Bordeaux wines can vary notably from one another, many of them have a medium to full body and a decent amount of tannins. The tannins are high enough to make these wines an excellent choice for aging.
You can even look for a wine that has been aged 10 or 20 years. Long aging like this creates excellent earthy characteristics that are precisely what you're looking for with your truffles.
Truffles with Fish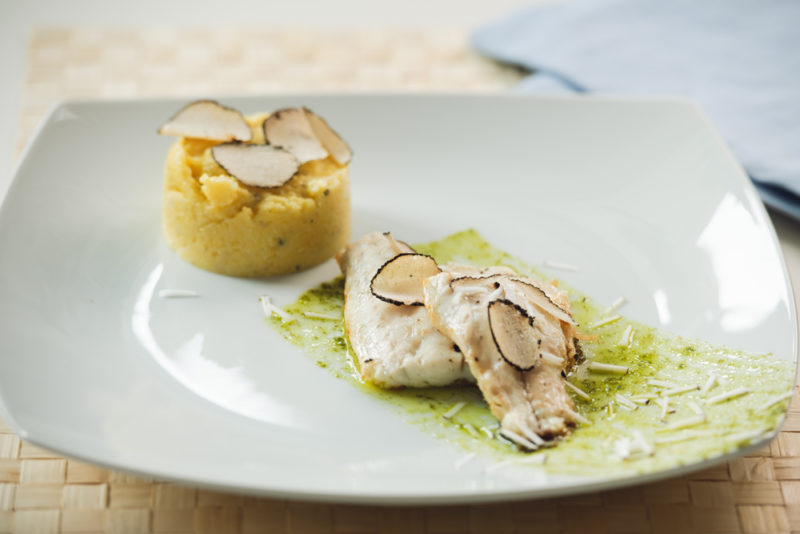 For meals that rely on fish, you'll need wines strong enough to stand against the truffles, but not so strong that they overwhelm the fish. An aged red Burgundy can be excellent here. This wine is simply pinot noir from the Burgundy region of France (just like white burgundy is a type of chardonnay).
While a red burgundy might be harder to find than pinot noir that is closer-to-home, red burgundy does tend to be exceptional. It's worth making the effort to find this wine to make your truffles shine.
A dry riesling can be another option. This wine creates a very different pairing to what you get with red burgundy, truffles, and fish, but both are excellent options. You might prefer the riesling pairing if you enjoy light food and wine combinations.
If you can, focus on an aged riesling, perhaps even one that has been aged for 10 to 15 years of age. This type of aging can create a more aromatic wine that has rich textures.
Egg Pasta and White Truffles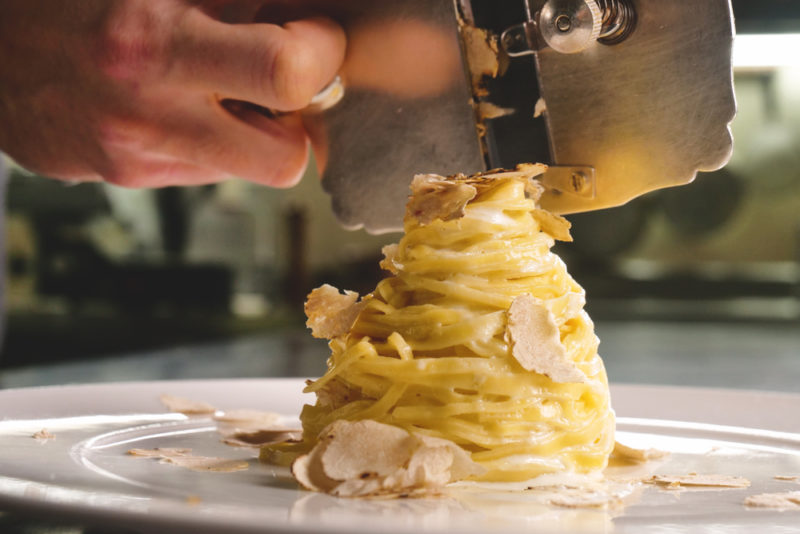 If your dish relies on egg pasta, white pasta, and some type of creamy sauce, then a white wine might seem like the obvious choice. However, Barolo wine is one of the classic pairings.
This is a type of Italian wine from the Piedmont region. It relies on Nebbiolo grapes and is quite famous. Wines from this varietal tend to be high in acidity and tannins. This makes them sound like a strange choice for a pasta and white truffles dish, yet the pairing is an excellent one.
Truffles and Sparkling Wine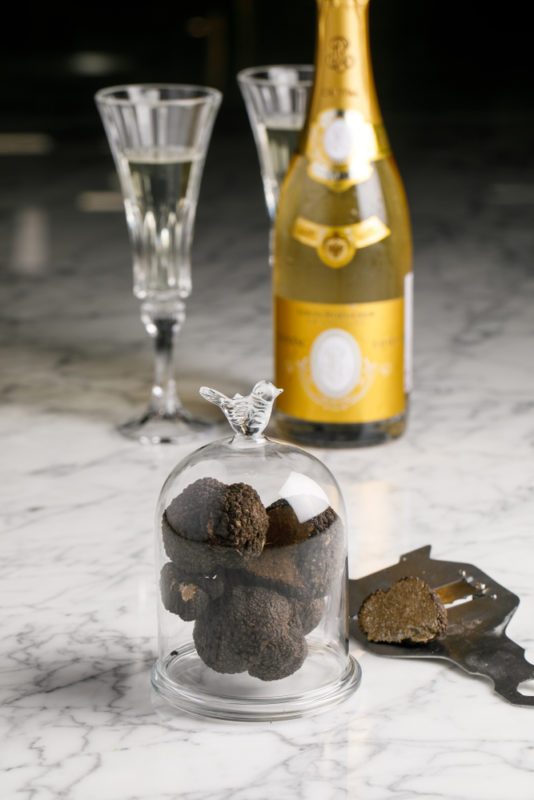 Most of the time, truffles won't pair well with a sparkling white wine. This is similar to why you would generally avoid acidic white wines with truffles.
However, if you do want to use a sparkling white wine, try to find one that has some softness to it. This way you'll still get some complementary notes between your wine and your truffles.
This pairing also works best for white truffles rather than black ones, as black truffles tend to be used in cooking and are better paired with rich red wines.
Black Truffle Butter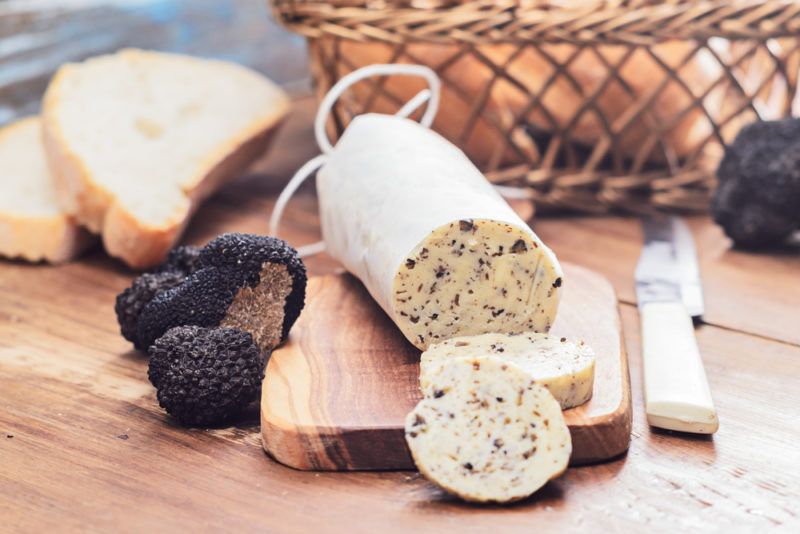 While black truffle butter can be paired with a few types of wine, the combination of black truffle butter and a gewürztraminer can work surprisingly well. This pairing might seem a little strange because gewürztraminer is a vibrant wine and isn't a typical first choice for truffles. Still, the wine offsets the creaminess of the black truffle butter well.
The same is true if you're serving an egg-heavy dish that uses black truffles.
You could also look for an aged white burgundy. This is a more classic choice, as the wine takes on elegant tones and a notable depth of flavor as it ages. You end up with an indulgent combination that's simply perfect.
Tips for Pairing Wine with Truffles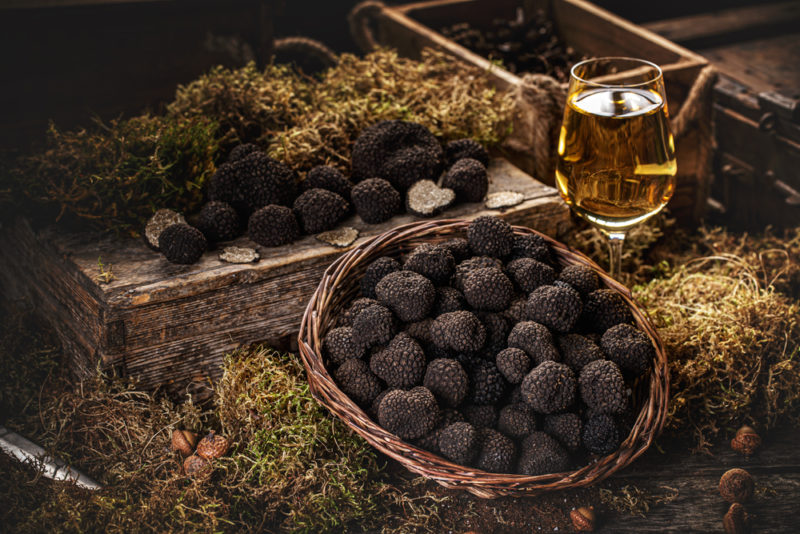 Pairing truffles with wine comes with a few challenges. For one thing, the strong flavors of the truffles can easily overpower delicate white wines, especially those that have a light body. On the other hand, truffles can be overpowered by strong wines, including those that are very floral and young red wines.
For a good pairing, you need to find something in the middle of these extremes.
You should also avoid strongly acidic wines. Acidity in wine ends up taking away from the flavor of your truffles, rather than being an enhancer.
You may have noticed another theme in this list too – that the best wines for truffles tend to be aged. Young wines won't normally have the complexity or flavor tones needed to complement your truffles. Many will be vibrant or fruity and those features aren't a good match for truffles.
In most cases, you should be looking for a wine that has been aged for at least 10 years. This requirement may even be more important than the type of wine that you choose.
The final thing to think about is the type of truffle you're using.
White truffles are generally added to dishes raw and are often combined with butter, egg, or cheese rich dishes. Such meals pair best with white wines, especially ones that are aromatic and soft.
Black truffles, on the other hand, are often cooked with the other ingredients in your meal. This leads to a richer dish and calls for a richer wine. You'll often be relying on a red wine here, ideally one that has been aged.