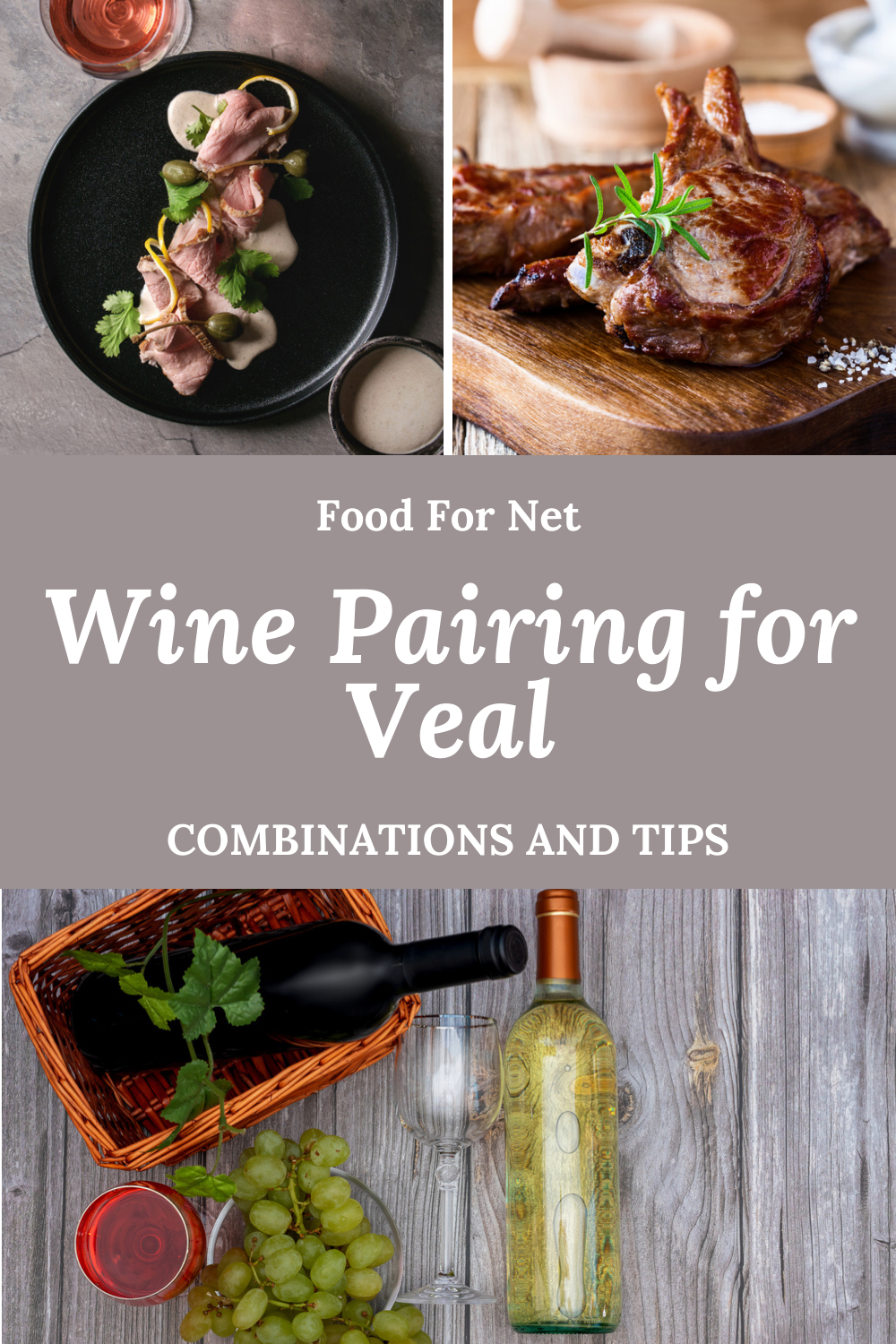 Veal is an interesting type of meat. Like beef, veal comes from cows. The difference is that the meat comes from calves rather than adults, which changes the flavor and the texture of the meat. So, you can't simply pair veal with the same types of wine that you would use for beef. The best wine pairing for veal is going to be different, which is what we're focusing on with this post.
First, let's talk about texture. Veal is tenderer than beef. After all, the animals are younger and haven't used their muscles for as long as adult cows. This tenderness makes the meat easier to eat and to digest.
For that matter, veal may even be healthier than beef, as it offers higher amounts of some nutrients and contains less fat.
The flavor of veal is interesting too. It tends to be a more delicate type of meat, so you generally can't use bold red wines with veal. In fact, veal can be difficult to pair with wine because it easily takes on the flavor of whatever sauce you use. So, you'll need to think about the veal, how you're cooking it, and your meal as a whole when choosing your wine.
Veal does happen to be controversial, as traditional farming methods mean that the calves are often raised inhumanly. However, there have been changes, with some companies focusing on creating high-quality veal while following ethical practices. Ethical veal is harder to find than other types of veal but is an option if you love veal and are concerned with how it is usually produced.
That's enough about the complexities of veal. Let's dig into your options for pairing the meat with wine.
Best Wine Pairing For Veal
Pinot Noir
Chardonnay
Chenin Blanc
Sangiovese
Veal Shanks and Chops
Breaded Veal Cutlets
Veal Stew
Vitello Tonnato
Pinot Noir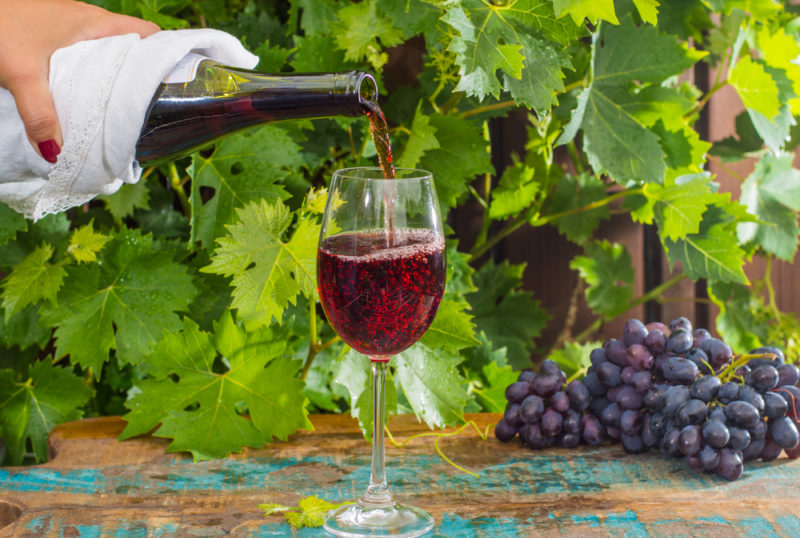 Pinot noir is one of the most versatile types of wine out there. The flavor profile is surprisingly subtle for a red wine, while the wine is also relatively pale. While these characteristics sound unappealing, they're key reasons why pinot noir pairs well with so many different foods.
The wine ends up being complex enough to complement various types of red meat, while subtle enough to pair with poultry and even some seafood dishes.
Veal is sometimes considered white meat and sometimes red meat, so it's easy to see why pinot noir makes such a good choice for the meat. You wouldn't want to use a full bodied red, as this could easily drown out the distinctive flavors of your veal.
Pinot noir has another advantage too. It's a great introduction to red wine. This makes it a perfect drink to serve to people who are a little hesitant about red wine.
Chardonnay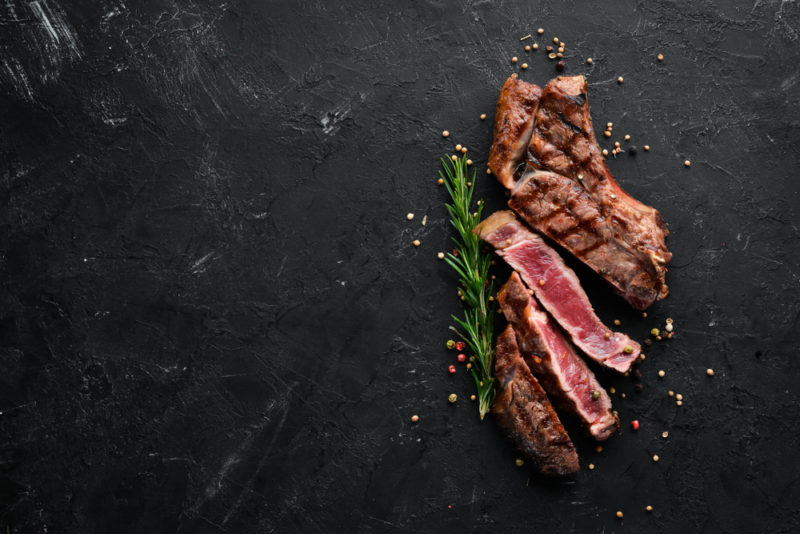 If you're a fan of white wine, then look no further than chardonnay. This type of wine is always popular. It is one of the few types of white wine that can be easily aged in oak. Doing so provides it with characteristic richness, including flavors of butter and vanilla.
While you'll often see chardonnay paired with rich and creamy dishes, it can also be used for more delicate ingredients – like veal. This is true even when you're serving veal largely on its own with just a little seasoning.
You can also focus on a rich chardonnay for more complex dishes, like a meal that includes butter and mushrooms as key ingredients. If your meal uses rich flavors, then an oaked chardonnay is generally the way to go. The extra complexity from the oak is what's needed to elevate your meal to new heights.
Chenin Blanc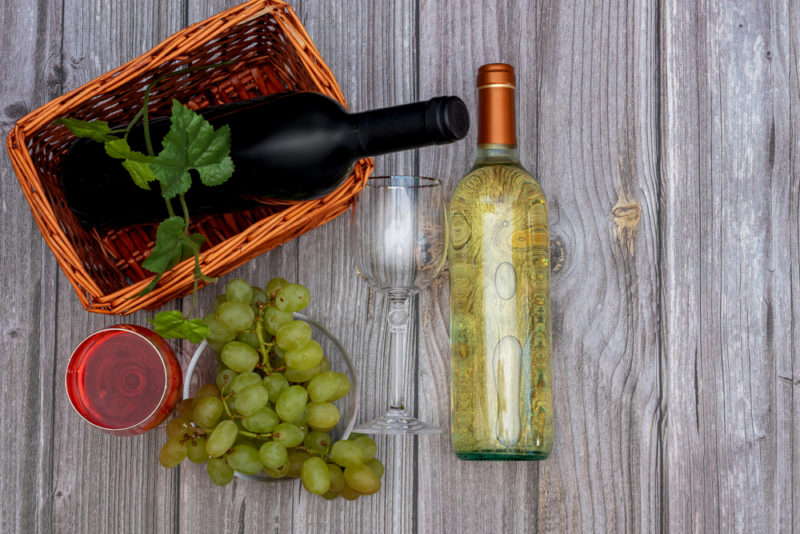 Chenin blanc is an interesting white wine that comes from the Loire Valley in France. The grape is versatile, so the wines exist in a range of styles. You'll see dry and fruity wines, off-dry versions, and sweet ones.
Chenin blanc wines often aren't named as such. The name on the label is often related to the vineyard that produced it instead. If you do see chenin blanc on the bottle, then you're almost certainly looking at a dry chenin blanc with high acidity and some sweetness.
This type of chenin blanc is excellent with veal. The wine has enough body to make it interesting, but not so much that you're overwhelming the flavors.
Plus, chenin blanc is a little unusual. This can be a good thing if you're getting bored with the more common white wines like chardonnay, pinot gris, and sauvignon blanc.
Sangiovese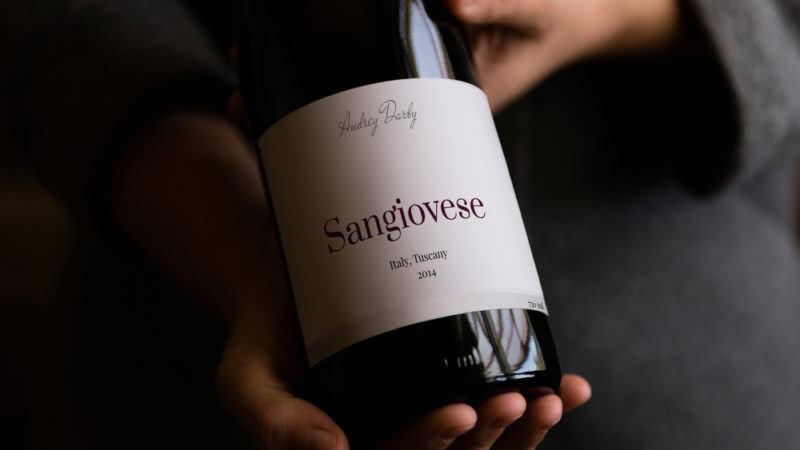 Sangiovese is an Italian red wine that tends to have notable tannins and relatively low acidity. It is too rich to be paired with plain veal, but is a perfect choice if you're serving veal in a tomato-based sauce. The wine works well here, as it offers a degree of crisp fruitiness that brings your dish to a whole new level.
Or, if you're simply grilling veal and not serving it with sauce – you could focus on a sangiovese rosé instead. The rosé of the wine is lighter than its red counterpart, so it's an easy choice for more delicate meat. After all, rosé wine tends to be forgiving. A good bottle of rosé will pair well with many foods.
Veal Shanks and Chops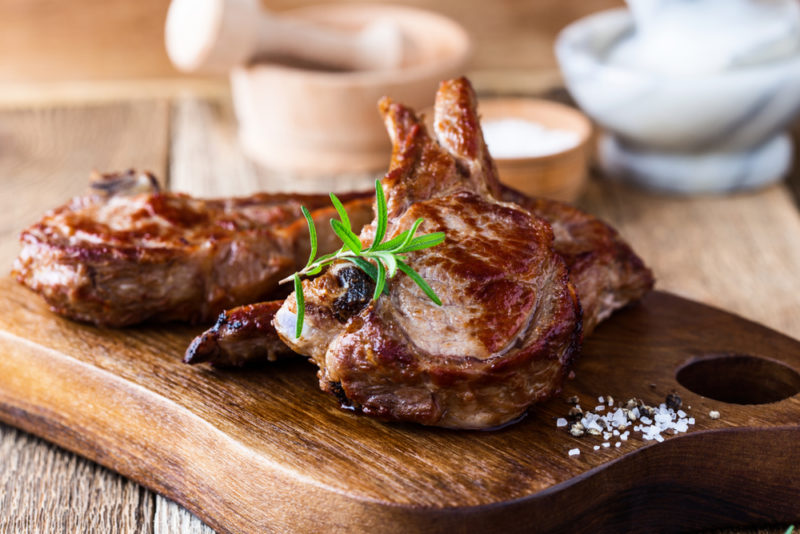 Veal shanks and chops deserve a special mention, as these tend to have a richer flavor than veal cutlets. This is even more notable for the meat that is close to the bone. To complement the flavors, you're going to need a rich wine.
Zinfandel is a powerful choice here. Red zinfandel is known for being fruit-forward and offering bold flavors, despite being considered a light-bodied red wine. The balance of features contrasts well against the gamey flavors of veal shanks.
If you're grilling your veal chops over wood, then a more robust wine may be in order. A merlot, for example, has enough body to complement your meal without going over-the-top.
Breaded Veal Cutlets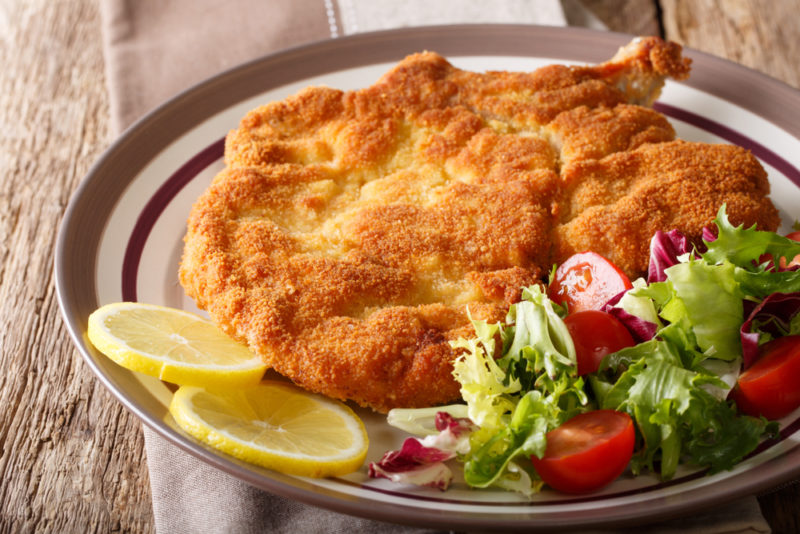 Veal cutlets are often served breaded, partly because this helps to keep them moist (the low fat content of veal means that it can easily dry out). While the breading often doesn't add a large amount of flavor, you do end up with a heavier meal than you would have otherwise.
Chardonnay can be a good wine to choose here, as it is rich without being overpowering. You could even look for a slightly oaked version, as the oak flavors add another layer to the combination. As we mentioned earlier, there are plenty of different types of chardonnay to choose from.
You could look for another rich white here or even a relatively light red. Consider a rosé too. A rosé may have just the right amount of complexity.
Veal Stew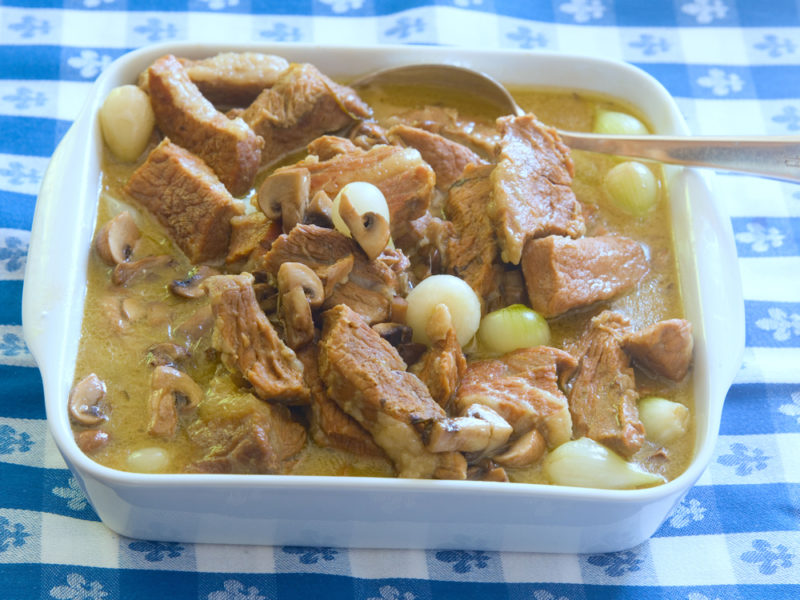 Veal stew is another popular way to serve veal. It can be a little difficult when it comes to wine pairing, as the dominant flavors in your stew may differ dramatically. But, as a general rule, you'll want to be using a richer wine than you would pair with veal on its own. That makes sense, right?
If you're looking at a stew that mostly relies on veal, then some of the wines that we've mentioned in this list could be a good choice. A pinot noir, for example, will pair well. Look for one that is more full-bodied than normal due to the richness of your stew.
For white wine lovers, a pinot grigio can be a good choice. Again, look for one with a decent amount of body, along with some acidity. These features will be excellent complements to your stew. Without the acidity, it would be too easy for the wine's flavors to be lost.
If your stew includes many other ingredients, the flavors of the veal might not be dominant any more. If this is the case, then you might want a richer red wine. Perhaps a merlot or a red burgundy.
Vitello Tonnato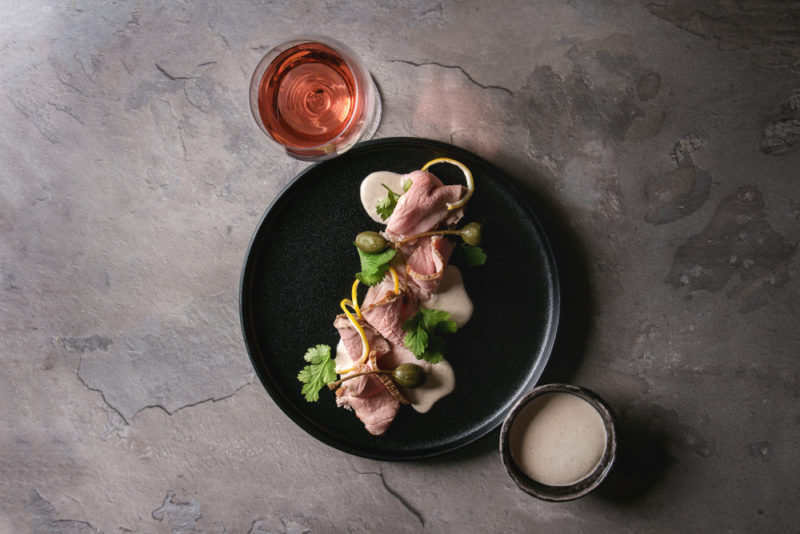 Vitello tonnato is a classic veal dish that is ideal for hot weather. It relies on cold veal that has been either roasted or poached, along with a mayonnaise that includes capers, anchovies, and tuna. While the combination of flavors might sound unappealing if you're not familiar with the dish, vitello tonnato does remain popular, so it's clear that the flavors work together well.
The dish itself comes from Piedmont, so a wine from the same region could be a good place to begin. Gavi and Roero Arneis are two interesting wines to try. Or, you could branch out a little and look at other dry white wines. Even a pinot grigio could work well here.
Rosé is another style to consider, especially if you can find a dry rosé. This type of wine always works well for food pairing, as it is so versatile. Finally, you could turn to a light red wine. If you do so, try to steer away from anything that is strongly fruit forward, as the ingredients in the mayonnaise could make your wine taste even sweeter, making for a poor match.
Wine Pairing for Veal Tips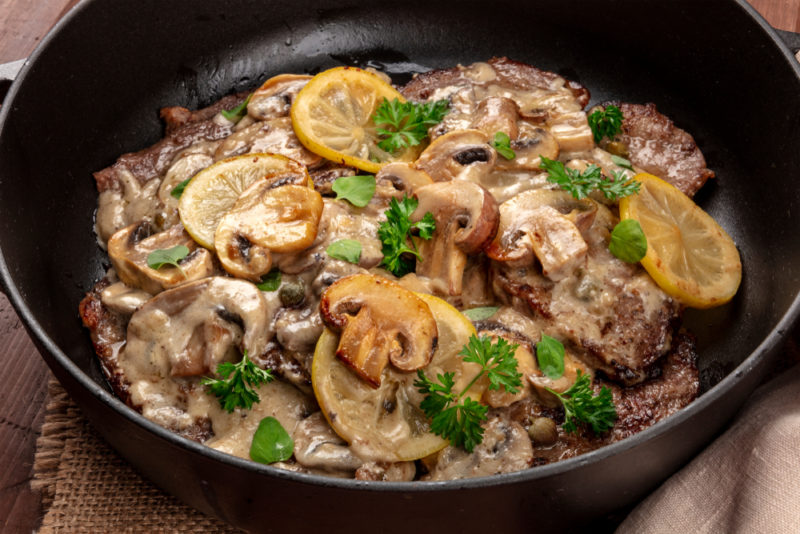 Pairing wine with veal can be a little tricky, as you're working with a delicate meat that also happens to take on the flavors of whatever sauce you use with it. This means that there is no one-size-fits-all wine choice. Instead, you'll need to select your wine based on the key flavors of your dish.
For the most part, you'll want to be using a relatively light wine. This is why you see few strong red wines on this list. Many people mention that the tannins in rich red wine can almost kill the flavors of veal, even if you're grilling the veal or using veal chops.
Our final recommendation is to focus on a type of wine that you enjoy. Even the best possible pairing of wine and veal isn't going to taste that good if you don't like the wine in question. On the other hand, if you love the wine, you have an advantage right from the beginning.