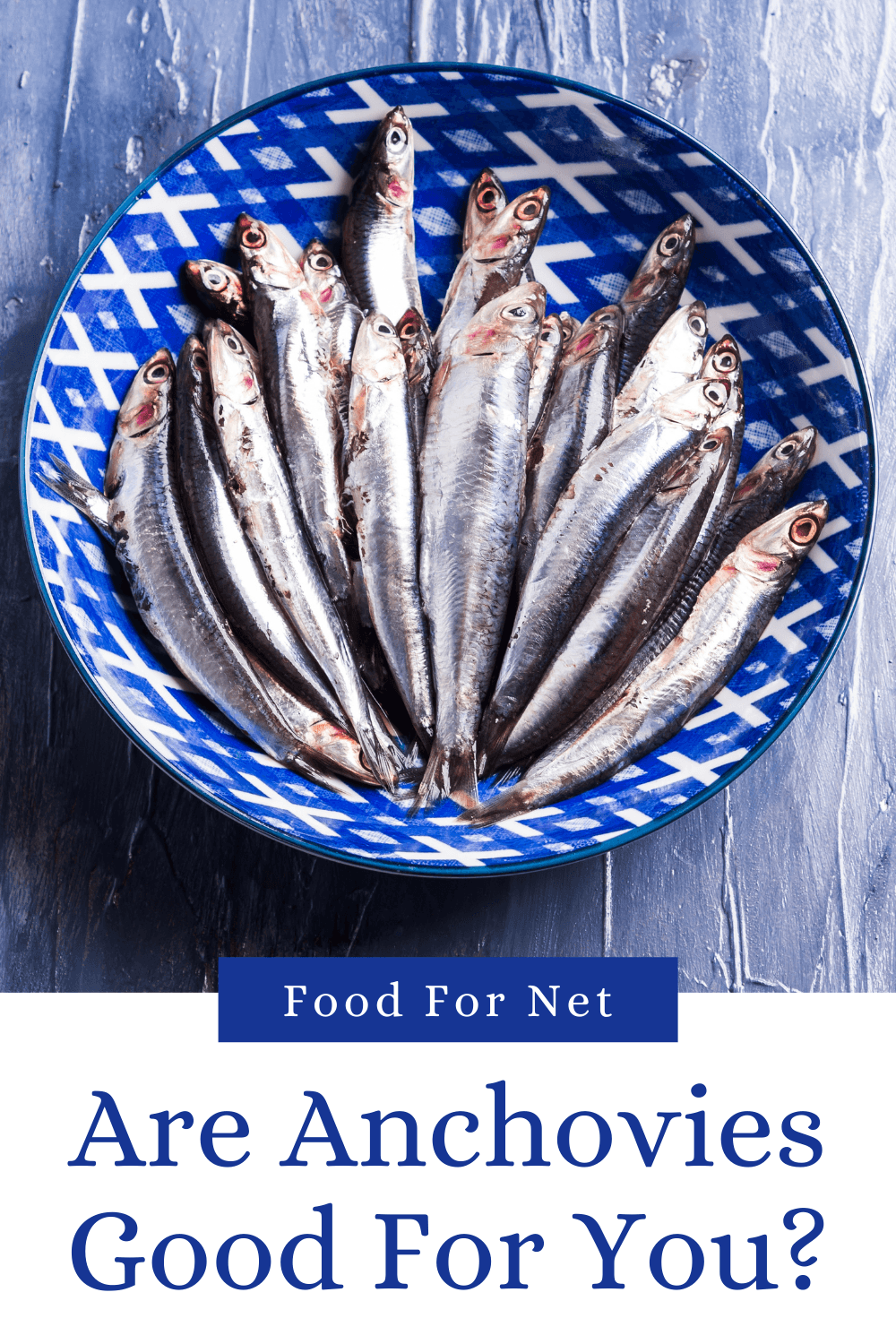 Anchovies aren't popular. There's no denying that. Instead, the tiny fish has a horrible reputation and many people avoid anchovies on principle. But are anchovies good for you like other types of fish?
Yet, is avoiding anchovies really the right move? They're a fantastic source of omega 3 fatty acids and are low in mercury to boot.
That brings us to the next question – are anchovies good for you? And, perhaps even more importantly, if anchovies do offer health benefits, how do you get around the flavor?
After all, who wants to try and force themselves to eat well? Life is always better when healthy food happens to taste good as well. Thankfully, anchovies can actually taste good if you choose the right products and use them well.
Are Anchovies Good For You?
What Are Anchovies Anyway?
Benefits Of Anchovies
How Anchovies Could Be Harmful
Are Anchovies Good For Your Heart?
How Do You Make Anchovies Taste Good?
Which Anchovies Are Best?
Final Thoughts
What Are Anchovies Anyway?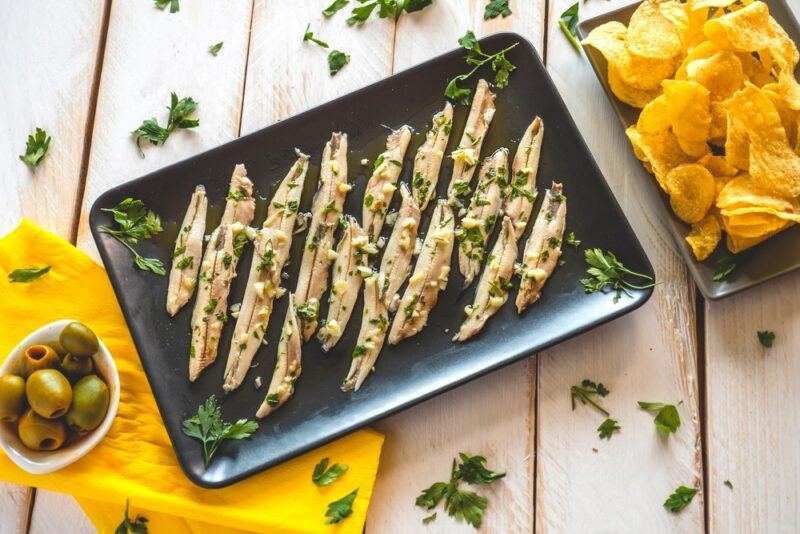 Anchovies are tiny fish. They're often sourced from the Mediterranean, although they can also be found near Scandinavia.
Interestingly, anchovies don't come from a single species. There are actually more than 140 species. They're all part of the Engraulidae family, but there are differences from one species to the next.
Like sardines, anchovies are often sold in tins. They're small enough that you're normally eating the entire fish rather than just the flesh. This is actually a good thing, as bones have a different nutrient distribution than other parts of the fish.
Cured anchovies are much more common than fresh ones. This is the version you'll see in local stores and is what we're talking about today.
Benefits Of Anchovies
The Omega 3 Fatty Acids
Let's start with the obvious. Like any other fish, anchovies provide you with omega 3 fatty acids. You've heard of omega 3s, right? These are the famous fatty acids, the ones that are associated with improved heart health, better cognition, decreased inflammation, and more.
They're relevant for mental health too. Not only can omega 3s reduce the risk of conditions like depression, but they may help people with depression or anxiety to recover faster.
This is fantastic news for people with mental health challenges, as conditions can easily feel like they're never-ending and that there is no solution in sight. Omega 3 isn't likely to solve the problem overnight, of course, but it could still make things a little easier.
While you get omega 3s in all seafood, anchovies are a particularly good choice. They're up there with salmon and tuna as excellent omega 3 sources.
They're Low In Mercury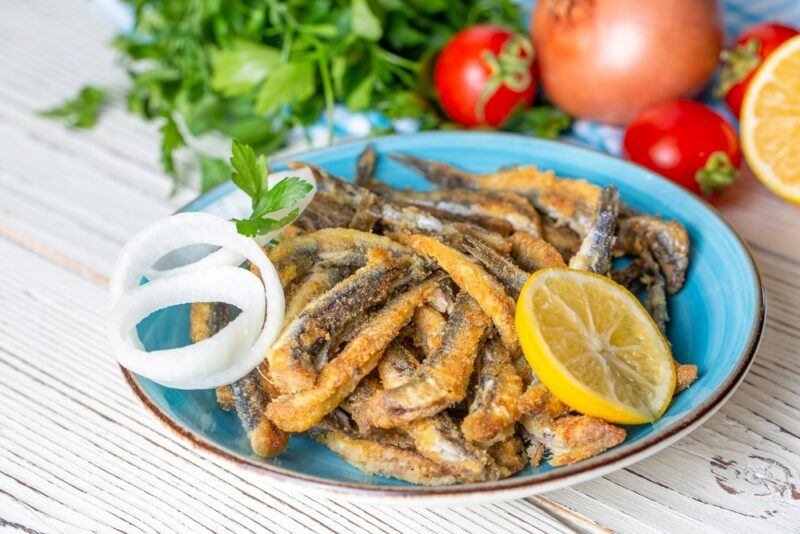 Mercury is a huge topic with seafood. Too much mercury causes a whole host of issues, including problems with your heart and brain. Such problems are even more significant for young children and unborn children.
Mercury is the main reason why you're only meant to have two or so servings of seafood per week and why pregnant women need to be even more cautious with seafood.
Anchovies are fantastic in this area, as they're naturally very low in mercury. Plus, their intense flavor means you aren't likely to overdo it with anchovies.
Their Nutrients
Let's not forget about the nutrients. Anchovies are packed with all kinds of vital nutrients, including selenium, which is relevant for your immune system and thyroid.
There's also a decent amount of calcium present.
The calcium is interesting actually. Fish is often lower in calcium because you're only eating the flesh of the fish. With anchovies, sardines, and a few other fish, the bones are often soft enough that you can eat them without a problem (you might not even notice them).
Other nutrients include vitamin B12, potassium, vitamin B3, vitamin A, and more. Each of these nutrients plays dozens of vital roles for your health, keeping your body doing all that it should.
Could Promote Weight Loss
Anchovies could be relevant for weight loss, given that they're low in calories and contain a decent amount of protein.
That protein helps to keep you full. It might also reduce the amount you snack or how much you eat during your next meal.
The small size of anchovies means that it's easy to add them to your meal, bumping up the protein and nutrient content in the process.
They're Convenient
Anchovies aren't just a great source of omega 3s. They're also an easy way to increase your omega 3 intake.
After all, anchovies have already been cured, so you can eat them straight out of the can or jar if you want to. You can also mix them into a salad or a sauce without prep work.
Anchovies even largely dissolve when you cook them, making it simple to add protein and flavor to your meal, without changing its texture at all. Seriously. What could be easier than that?
Can Decrease Inflammation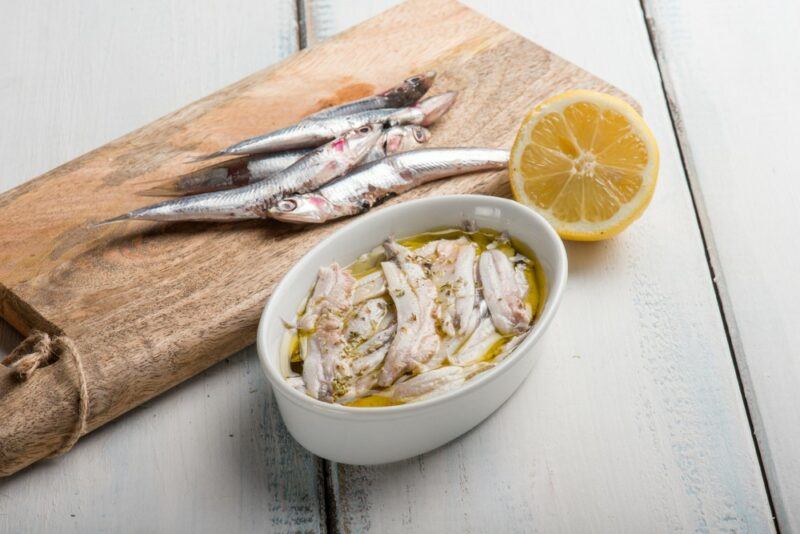 The omega 3s in anchovies have also been linked to decreased inflammation. This is an important effect, as chronic inflammation can cause serious harm. Too much inflammation could even increase your risk of some diseases, including cancer.
As such, getting more anti-inflammatory foods in your diet is a powerful way to improve your health. Decreasing your intake of pro-inflammatory foods helps as well.
How Anchovies Could Be Harmful
There's Still The Risk Of Contamination
While anchovies are low in mercury, they can be contaminated in other ways. This isn't too surprising, right? Our oceans aren't the clean environments that they once were.
Testing shows that contamination can include heavy metals and PCBs. The levels of these are often low, but the health effects can easily be significant, especially if you're eating seafood regularly.
Plastic can be a problem too, as anchovies sometimes eat plastic waste because it smells similar to their prey. It's hard to know what this means for the anchovies we eat, but the effect can't be a good thing.
They're High In Salt
Anchovies get most of their flavor from the curing process – a process that generally requires salt. As such, they tend to be high in sodium, which isn't a good thing at all.
While sodium is an important electrolyte, having too much sodium leads to many issues, including an increased risk of heart disease, high blood pressure, fluid retention, and more.
Anchovies have an intense flavor, so you're not generally using a large amount of them at a time. Even so, the salt content might still be too much.
Thankfully, you don't need to avoid all salty food. Most people simply need to balance their diet to make sure they're not overdoing it.
Are Anchovies Good For Your Heart?
The heart health effects of anchovies are interesting.
On one hand, anchovies could easily decrease your heart disease risk, as they're rich in omega 3 fatty acids. These healthy fats help reduce your triglyceride levels, lower the buildup of plaque, and can slightly decrease your blood pressure. These effects can all make heart disease less likely.
Anchovies are also relatively low in calories and contain a decent array of nutrients. These nutrients play plenty of roles in your body, which can include helping with your heart.
On the other hand, there's the sodium to think about. Too much sodium raises your blood pressure, which isn't ideal.
Which area wins out will be influenced by your diet and lifestyle.
For example, if your sodium intake is pretty low, a little extra from anchovies isn't likely to harm your heart. If you're already consuming too much sodium, then the sodium in anchovies could easily be significant.
Still… if you're trying to protect your heart as much as possible, anchovies aren't the wisest choice. Plenty of other types of fish still provide you with omega 3 fatty acids and are much lower in sodium.
How Do You Make Anchovies Taste Good?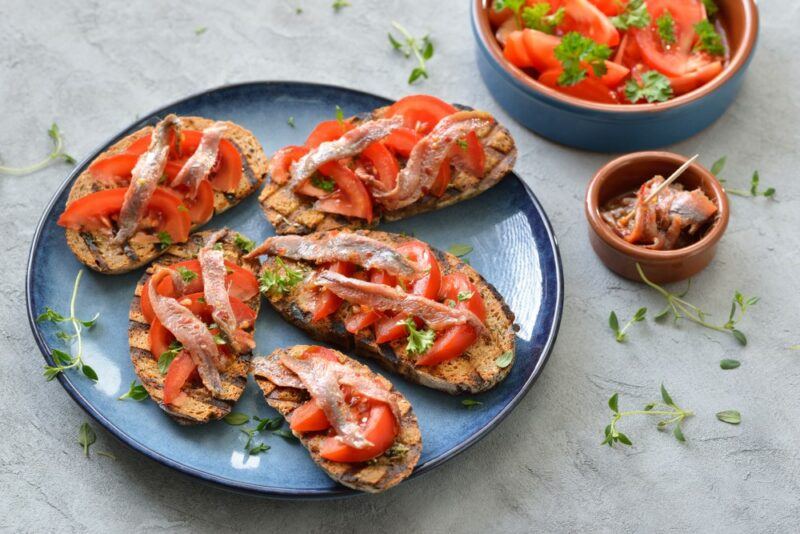 Anchovies are famous for having an overwhelming taste, to the extent that many people hate the idea of anchovies, even if they've never tried them at all.
Indeed, anchovies can be pungent, with an intense fishy flavor that some people find almost impossible to stomach.
Not everyone hates anchovies though. When you have good quality ones that are served well, they can be a rich source of umami flavor, unlike anything you've experienced before.
There are two main tricks to making anchovies taste halfway decent. The first is simple – choose high-quality anchovies. The versions you find on your pizza tend to be the cheapest of the cheap.
The second trick is to choose your recipe carefully.
To begin with, look for ones that use small amounts of anchovies at a time, like an olive tapenade or use just a couple of anchovies in an entire Caesar salad. Such recipes help you get used to the fishy flavor of anchovies.
After a while, you'll find that you enjoy larger servings of anchovies, especially if you choose high-quality versions.
And honestly, most people do love anchovies when they use them well. The problem was never the flavor of the fish itself, simply how we've been using them.
Experiment with anchovies for a little and you'll see what we mean. The tiny fish adds a flavor-packed backbone to savory dishes, enriching the entire meal and making it much better.
Which Anchovies Are Best?
Most of us aren't buying fresh anchovies. In fact, fresh anchovies are tough to find, partly because they don't last long and also because the demand is low.
You'll mostly be buying anchovies in a can or a jar instead. These anchovies have been filleted, cured in salt, and stored in some type of liquid (often olive oil). The curing intensifies the flavor of the fish, giving you a rich umami taste that complements other foods surprisingly well.
Canned anchovies tend to be cheaper, but they're often far inferior to the versions in the jar. Some of the most popular versions include Ortiz, Merro, and Agostino Recca, which can all be found in jars.
Anchovies in jars are also more practical, as the jar can be easily resealed. You can't do that with a can. Plus, there's always the concern that chemicals from the can leach into your anchovies. You don't have this risk with a glass jar.
Final Thoughts
Despite being much maligned, anchovies offer plenty of health benefits. In particular, they're low in mercury and are a decent source of omega 3 fatty acids. This makes them easy to fit into your diet, even if you're in a high risk group.
You're also eating the entire fish, which gives you more nutrients that you'd get from the flesh alone. Plus, many people love the flavor of anchovies, finding that they work well in countless recipes.
What if you hate anchovies? If you can't get past the strong flavor? Should you eat them anyway?
Honestly, no. As exciting as these benefits are, they're not limited to anchovies. Any other type of oily fish will give you omega 3 fatty acids and plenty of nutrients. You'll even get many of the same benefits from sardines – and those tiny fish don't have the same pungent flavor as anchovies.
Frequently Asked Questions
Are Anchovies Shellfish?
Anchovies are a type of fish, rather than shellfish. However, they do have a similar protein to one that's found in shellfish. As a result, many people with shellfish allergies are also allergic to anchovies.
Why Are Anchovies So Salty?
Anchovies do have some natural saltiness because they live in saltwater. However, most of their saltiness comes from the curing process, which tends to leave the tiny fish lying in salt for months at a time.
Do Anchovies Have Bones?
Some anchovies are simply boneless filets that have been packed in oil.
Others are the complete fish (minus the head and tail). These versions do contain bones, but these bones are soft and easy to eat. They even provide valuable nutrients.
Are Anchovies Kosher?
Anchovies are generally considered kosher. However, they're slightly tricky, as anchovies aren't just one species of fish. There are actually around 140 different species, each of which might or might not be kosher.
The best way to be certain is to look for companies that use the kosher label on their products.
Can You Eat Anchovies While Pregnant?
Anchovies are an excellent choice for pregnant women, as they're low in mercury. They also provide plenty of valuable nutrients and omega 3 fatty acids.
The only exception is raw marinated anchovies, as these may contain harmful bacteria. If you do buy anchovies like this, you'll need to cook them before consuming them.