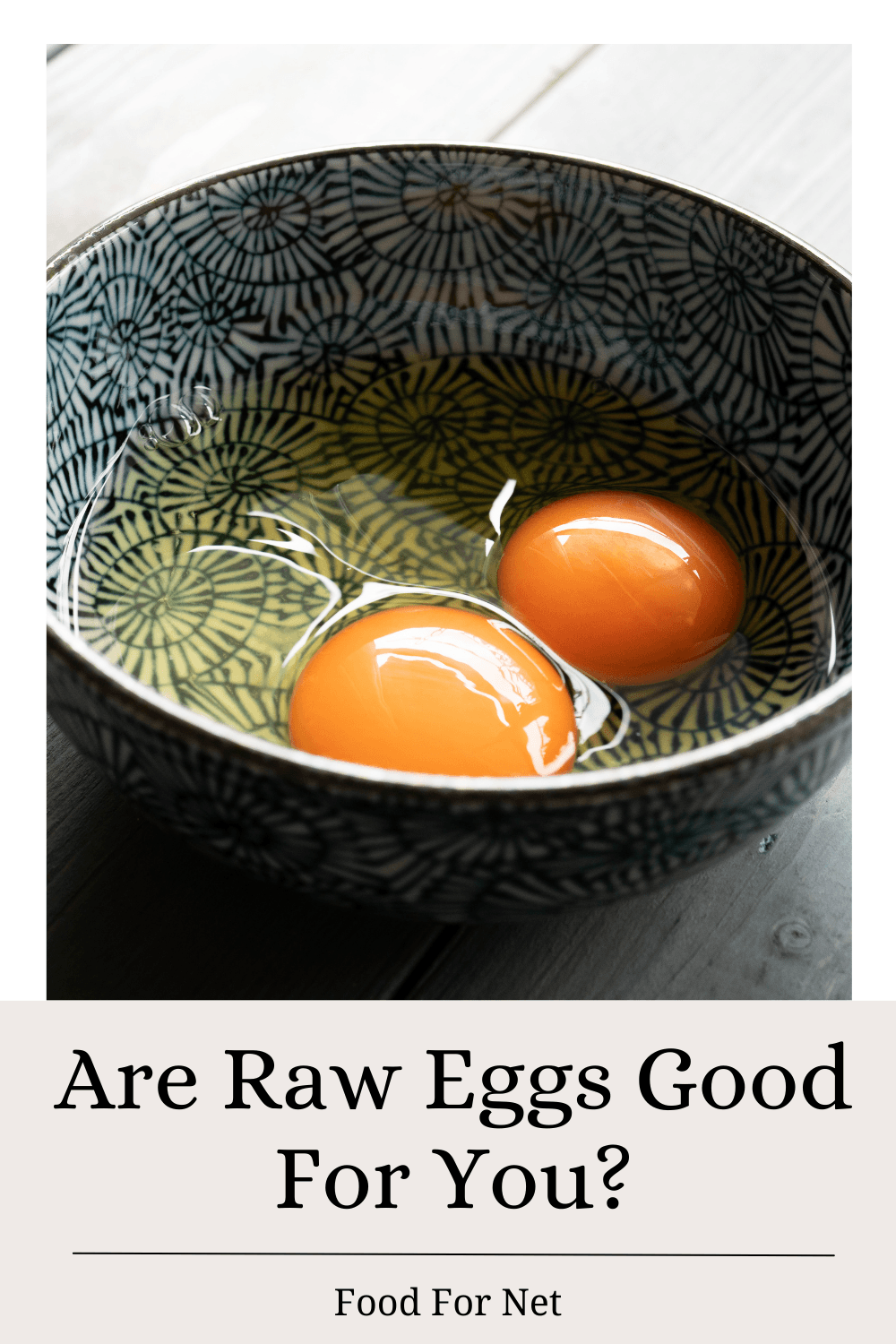 Eating raw eggs is a famous technique for building muscle. While the approach sounds a bit gross, plenty of people throw raw eggs into their protein shakes regularly. That's not even counting all the cocktails, desserts, and sauces that use raw eggs as an ingredient. But, are raw eggs good for you?
Eggs themselves are. There's little doubt about that. Even their cholesterol and calorie content aren't as bad as is often assumed. The idea of eating eggs raw, though, brings some additional concerns to the table.
P.S. If you want to know exactly how fresh your eggs are, it's best to raise chickens yourself. When doing so, look for breeds that lay plenty of eggs.
Are Raw Eggs Good For You?
Benefits Of Raw Eggs
Are Raw Eggs Dangerous?
How To Keep Yourself Safe
Should You Eat Raw Eggs?
How Many Eggs Should You Eat?
Final Thoughts
Benefits Of Raw Eggs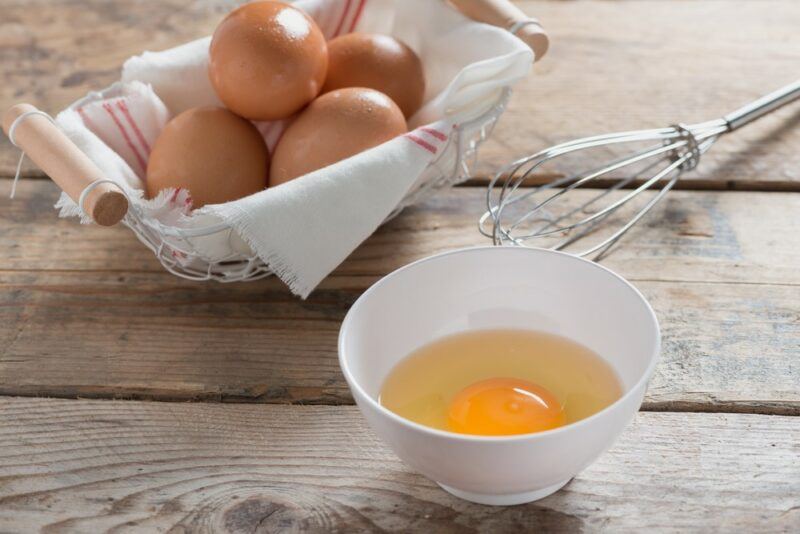 They're A Nutrient Powerhouse
Eggs are famous for their nutrient content. They're rich in B vitamins, selenium, folate, and plenty of other vitamins and minerals.
There are also some other powerful compounds, including zeaxanthin and lutein. These have been linked to plenty of benefits as well, including protecting your eyes.
The various nutrients can provide an endless selection of health benefits, like promoting cognition, improving your heart health, and reducing your risk of nutrient deficiencies. Plus, eggs are giving you all these nutrients in a small package. What could be easier?
They're A Fantastic Source Of Protein
Eggs are also famous as a source of protein, giving you around 6 or 7 grams of protein in each egg. This is high-quality protein that contains all the essential amino acids you need.
Eggs are also easy to digest. This is a useful feature, as legumes and meat are both high in protein too, but are much harder to digest.
The importance of protein is well-established. For one thing, our body is full of all types of proteins. These proteins are essential for countless functions.
The protein in our diet is broken down into amino acids, which are then used to build the proteins we need. As such, without enough protein, our bodies just don't work as they should.
They Work Well In Protein Shakes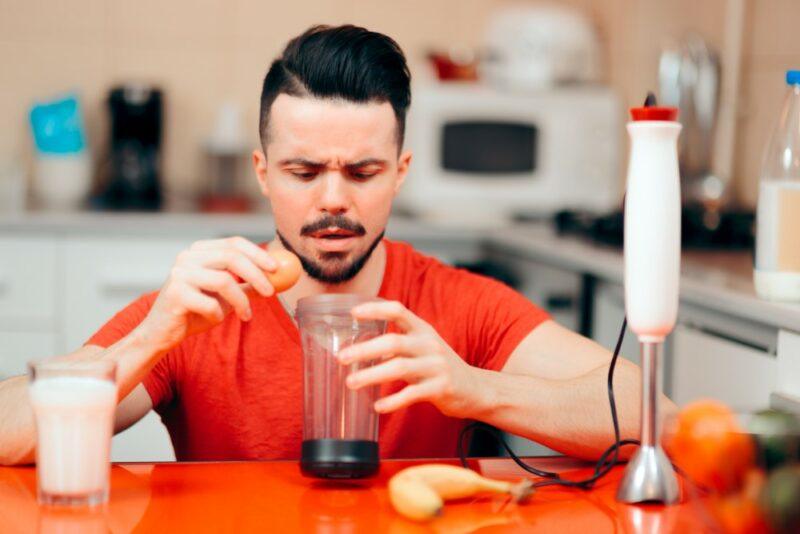 Protein shakes are popular as an easy way to boost protein intake, especially when you're on the go. It's also much easier to drink a protein shake than it is to cook and eat a full meal.
Adding a raw egg or two into a protein shake could make it even more powerful – as you're getting a hit of nutrients and protein all at once.
Doing so could be particularly important if you are looking for protein, without using protein powder. You can do the same with a smoothie as well.
Some Eggs Are High In Omega 3s
You can also find omega 3 rich eggs. These come from hens that have been fed an omega 3 rich diet.
Omega 3 fatty acids are powerful for promoting heart health, improving cognition, decreasing inflammation, and offering many other benefits. It's easy to be low in omega 3s if you don't eat seafood often, so these eggs are a fantastic solution.
Could Offer Many Health Benefits
Eggs can be powerful. For example, some of the vitamins and minerals help to improve the appearance of your skin and hair.
Eggs are relevant for your heart health too. Research shows that eating eggs regularly significantly reduces heart disease risk.
This might seems surprising, as eggs are high in cholesterol. However, research shows that the cholesterol in food doesn't impact blood cholesterol levels for most people.
This is because our bodies produce cholesterol themselves. So, when we don't get much in our food, our bodies simply produce more.
The protein in eggs is also powerful for weight loss. After all, protein helps you to feel full, reducing cravings for sugar and helping you to avoid snacking.
Are Raw Eggs Dangerous?
There's one serious risk with raw eggs, salmonella food poisoning. This is the reason we're often told to avoid raw eggs (and raw cookie dough).
Salmonella is something to be cautious with, as the bacteria can lead to plenty of problems, including stomach cramps, fever, and diarrhea. The symptoms aren't short-lived either. Some people deal with them for up to a week.
Thankfully, can is the operative word.
While raw eggs can make you sick, they often don't. Many aren't even contaminated with salmonella to begin with.
How To Keep Yourself Safe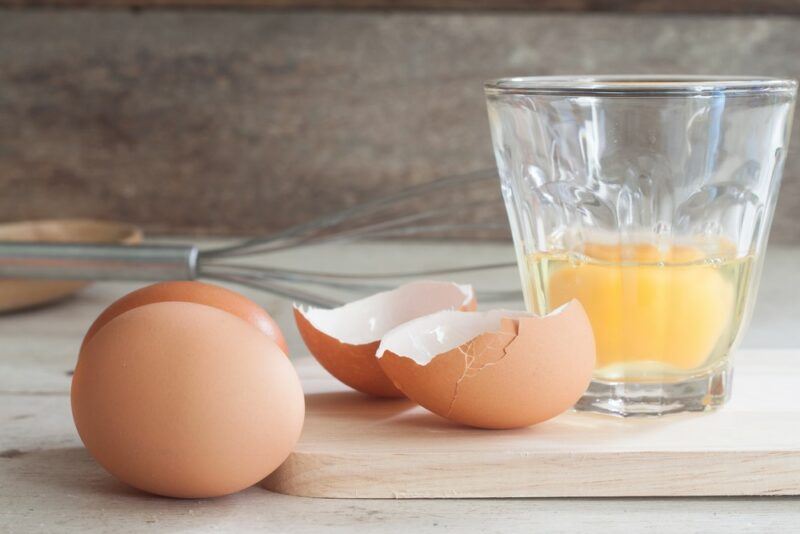 If you're going to use raw eggs, there are some tricks you can use to reduce the risk of serious food poisoning.
One is to always use fresh eggs. Buying them from a farmer's market is a great way to do so. This also means that you should get rid of eggs as soon as they go past their best before date.
Looking for pasteurized eggs can help too. This process kills some of the bacteria, making the eggs much safer.
You should also be ultra-cautious with the eggshell, as this will often be home to bacteria and can easily contaminate your eggs. Try to make sure that no eggshell falls into the egg you're working with. If it does, it's safest to use the egg in a cooked recipe instead.
Washing your hands regularly when working with eggs helps too. This reduces the risk that any bacteria from the surface ends up on other food.
If you're making dishes using raw eggs, then it's important to only keep them for a day or so and always store them in the fridge. Those practices reduce bacterial growth and help to keep you safe.
You can even keep the eggs themselves in the fridge.
Finally, avoid leaving raw eggs at room temperature, as the biggest risk comes from allowing bacteria to multiply.
Does The Source Of Eggs Matter?
Interestingly, the risk of salmonella bacteria is roughly the same regardless of where your eggs come from. This means that free range eggs are just as risky as ones from a cage.
So, you still need to follow the same safety practices even if you're relying on eggs from a free range farm.
Who Should Avoid Raw Eggs?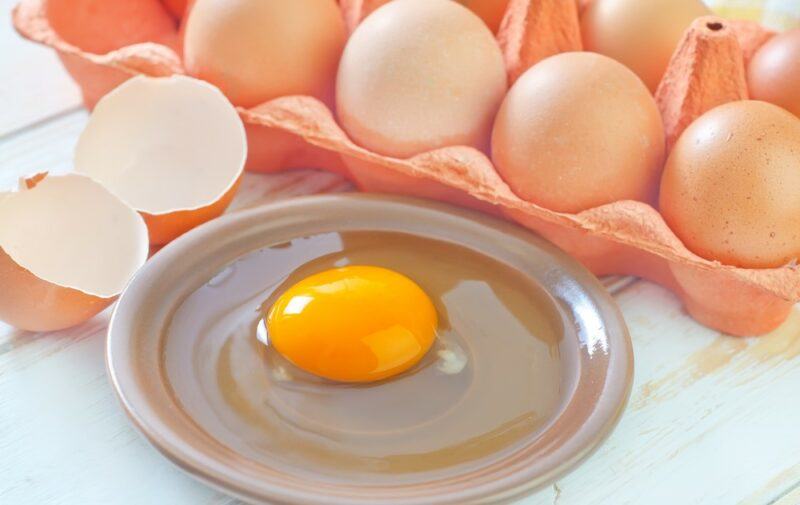 If you're careful about refrigerating your eggs and not contaminating them with eggshells, then raw eggs aren't likely to cause harm. There may still be some bacteria present, but the amounts are low and the acid in your stomach easily counters them.
Even so, raw eggs aren't a wise choice for everyone. People who are elderly or pregnant should definitely avoid raw eggs. The same is true for anyone else with a compromised immune system.
If you fall into one of these groups, then there's a much higher risk of serious food poisoning, even from a tiny amount of salmonella bacteria.
What About Raw Eggs In Food?
The same general practices apply to raw eggs in food. You still need to be careful about the egg shell and make sure that you don't leave the dish out the bench.
Also, if your recipe requires you to separate the egg white and yolk, it's best to use an egg separator. The traditional approach is to use eggshells, but this increases the risk of contamination.
Should You Eat Raw Eggs?
We've seen some clear benefits to eating raw eggs. There are risks too, but these are minor for most people.
Still… there's a much more pressing question – are raw eggs worth eating?
Here's the thing. Most of the benefits we've talked about here aren't exclusive to raw eggs. You'll see them with cooked eggs as well.
While raw eggs are a little higher in nutrients than cooked eggs, these nutrients are also more difficult to digest. So, you end up with roughly the same amount of nutrients either way.
Eating raw eggs for protein mightn't be ideal either, as the protein in cooked eggs is more digestible.
Most of the reasons for focusing on raw eggs are practical.
For example, if you're making protein shakes, it's very easy to throw a raw egg in the mix. Making a protein shake and also cooking eggs for breakfast would probably feel a bit silly.
Some recipes also need raw eggs rather than cooked ones. Mayonnaise is a classic example. Raw eggs also feature in some cocktails, providing an interesting texture.
So then, if raw eggs are more practical for you, then they're a good choice. But, if you want the most nutrients and protein, it's better to focus on cooked eggs instead.
How Many Eggs Should You Eat?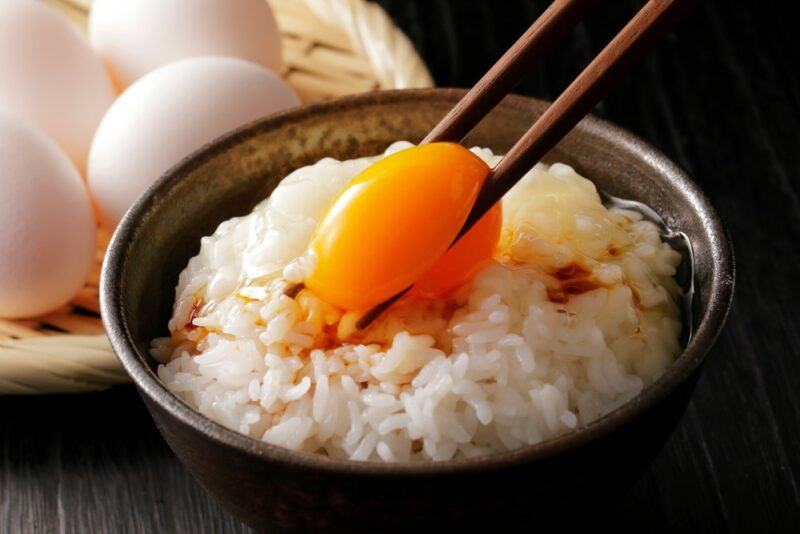 There's no ideal number of eggs per day. The best amount will depend on your health and the rest of your diet.
Eating an egg every day appears to be safe for most people. Many people can go up to two or three eggs per day without any problems.
If you're not sure, why not talk to your doctor? They'll have a good idea of the best amount for you. Your doctor should be able to keep an eye on your cholesterol levels too. Doing so is important, as some people are hyper responders, where they react more strongly to cholesterol in their diet.
Final Thoughts
Raw eggs are almost as powerful as cooked eggs, providing plenty of protein and nutrients, in an easy-to-use package.
The biggest concern is salmonella poisoning. Thankfully, this is rare. There are also plenty of steps you can take to lower your risk still further and protect your health. Even so, unless you need raw eggs in a recipe, they're not ideal. Cooked eggs give you an easier to absorb source of protein and nutrients, and don't come with the same salmonella risk.
Frequently Asked Questions
What Are Pasteurized Eggs?
Pasteurized eggs are simply regular eggs that have been gently heated. The process doesn't cook the egg at all, but does kill bacteria. It's a similar process to heat treating milk and gives you a much safer product.
So, if you're going to eat raw eggs, pasteurized eggs will always be the best type.
Are All Eggs Pasteurized?
While pasteurization is common, not all eggs are pasteurized.
In the United States, pasteurized eggs are mostly sold in cartons of liquid egg whites (or sometimes yolks and whites), rather than as a container of individual eggs. They can be found in the same section as unpasteurized eggs and the word pasteurized will normally be written somewhere on the box.
However, you can sometimes buy pasteurized eggs in the shell as well. These are harder to find and aren't available at all stores, but you may be able to find them with enough searching.
What Are The Odds Of Getting Salmonella From Raw Eggs?
The odds of getting sick from raw eggs is low. After all, some people eat raw eggs every day without getting sick. In fact, the CDC estimates that just 1 in every 20,000 eggs is contaminated with Salmonella.
However, the low risk doesn't mean that you're safe. Some people will still end up with salmonella poisoning (and 30 people per year even die of it),
What Happens If You Eat A Bad Egg?
Salmonella poisoning is the main risk with eggs. This can lead to symptoms like a fever, vomiting, and diarrhea. These symptoms can begin anywhere from 6 hours after egg consumption to 6 days after – generally lasting 4 to 7 days.
Eggs can also be rotten, normally if you've kept them for too long. These have an increased risk of Salmonella contamination and can easily make you sick.
Anyone with a health condition or compromised immune system should be particularly careful with raw eggs, as their risk of serious issues is much higher.
Do Raw Eggs Make You Stronger?
Having protein after exercise can help to promote muscle building, which does make you stronger over time. However, there's little evidence that choosing raw eggs over cooked ones helps in any way.
Cooked eggs might even be better for muscle strength and nutrients, as they're easier to digest. This means that eggs themselves can make you stronger (as can other sources of high quality protein) – and you can choose whether to get this benefit from raw eggs or cooked ones.