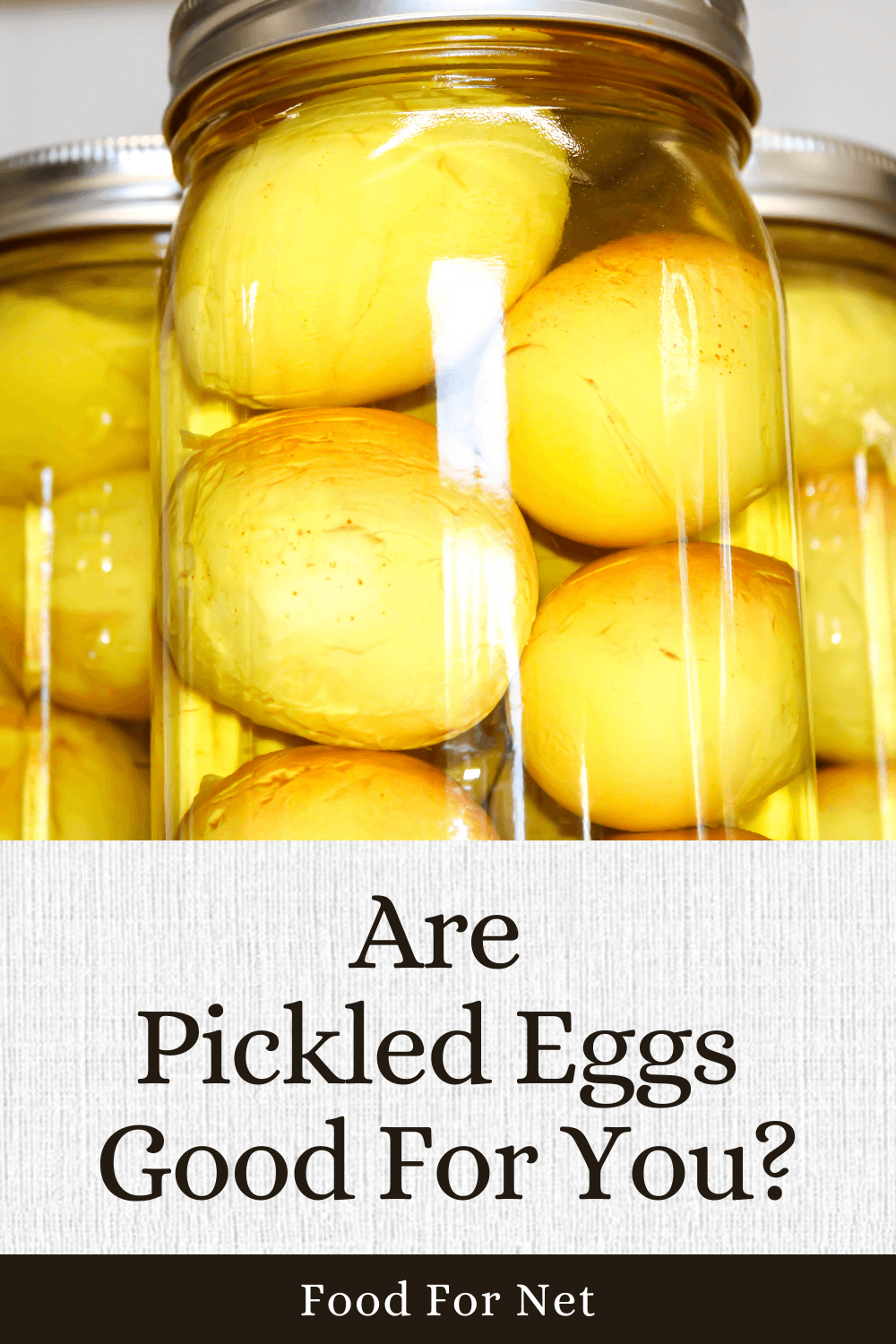 Pickled eggs have a surprisingly delicious balance of sweet and sour. They're amazing as bar snacks after a beer or three, although there are plenty of other times to eat them as well. They may be tasty, but are pickled eggs good for you?
You can buy pickled eggs at many stores and they're even still served at some bars (although pretzels and nuts are becoming more popular as a bar snack). You can also simply make pickled eggs yourself. Doing this gives you complete control over the flavor profile and all the ingredients used.
Are pickled eggs good for you, though? Well, the first thing to know is that the pickling process doesn't destroy any of the nutrients in eggs. Quite the opposite. Pickling helps to preserve boiled eggs, keeping them fresh and healthy for longer.
As such, pickled eggs give you all the benefits that you find with fresh eggs, along with a few extra ones. But, there are still some less appealing things to think about. We'll dig through these positive and negative features in this post.
Are Pickled Eggs Good For Your Health?
How Are Pickled Eggs Made?
Benefits Of Pickled Eggs
How Pickled Eggs Could Be Harmful
Ways To Use Pickled Eggs
Do Pickled Eggs Need To Be Refrigerated?
Final Thoughts
How Are Pickled Eggs Made?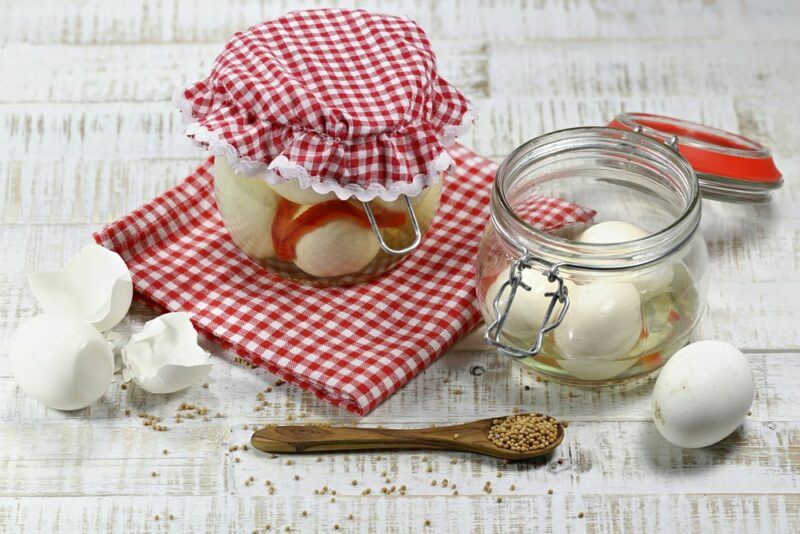 Pickling is a method of preservation, one that makes food last much longer. Vinegar is normally used, along with plenty of spices and salt. However, eggs can also be pickled in alcohol or brine, which gives you plenty of flexibility.
The eggs are first hard boiled. They can then be peeled and immersed in a pickling solution of your choice and stored in the fridge.
Your eggs should be left for a few days before eating them for the best results. However, many people enjoy them after just 24 hours of pickling.
That's all there is to it. You can choose the liquid and spices based on your preferences. There are plenty of recipes to get you started including one for spicy pickled eggs and another for pickled eggs with dill.
A cool feature is that you don't need to can the eggs. You can just store them in a regular jar in the fridge. This means that you don't need specialized canning equipment and you have more flexibility in how you prepare the eggs.
Pickled eggs also last a decent amount of time. If you store them in the fridge, they should still be good after two or even three months. Fresh eggs won't last nearly this long.
If you want to make pickled eggs yourself, check out the video below. It's one of many such recipes on YouTube and gives you all the information you need to get started with your own pickled eggs.
If you're not fond of videos, here are a few recipe links for pickled eggs. These all use interesting flavor combinations to create delicious pickled eggs.
You can get creative in other ways too. It's even possible to make pickled eggs with pickle juice.
Benefits Of Pickled Eggs
A Protein Rich Snack
Snacks are often carb rich, so they don't tend to be satisfying. Take potato chips as an example. You can easily eat half a bag or more without meaning to.
Pickled eggs are a bit different. They're high in protein, so even one will leave you satisfied. This is perfect if you're looking for a snack between meals. The protein is fantastic after a beer or two, especially if you don't have many food options.
Can Be Rich In Probiotics
If your pickled eggs have been fermented, then they're going to be a good source of probiotics.
Probiotics are a slightly strange idea. They're basically a source of healthy microbes, microbes that can settle in your gut. That doesn't sound appealing at all, yet having diverse microbes in your gut is incredibly important.
Studies have begun linking gut health to your mental health, immune system, digestion, and countless other benefits. The effects are so strong that your gut is sometimes known as a second brain.
However, you'll need to choose your recipe carefully to get this benefit, as eggs pickled in vinegar won't provide probiotics. You'll need ones that focus on a salt brine instead.
They're A Fantastic Source Of Nutrients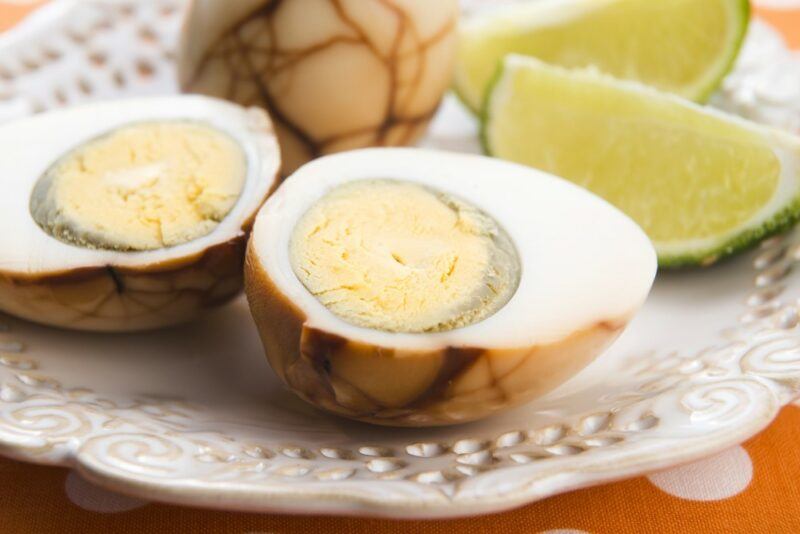 Eggs are well-known as a great source of nutrients. They even contain some harder to find nutrients, such as vitamin B12, iodine, and vitamin D.
They also contain choline. This is an interesting nutrient that we need and don't consume a large amount of. Choline is particularly relevant for our cells and helps with signaling in the brain too.
Honestly, the choline is reason enough to eat eggs regularly.
Eggs actually manage to contain at least some of every essential vitamin and mineral. As such, they're a fantastic way to boost your nutrient intake, helping you to avoid deficiencies and stay healthy for longer.
This feature is true regardless of how you prepare your eggs, like whether they're scrambled, poached, pickled, or even raw.
They Help Your Heart
Eggs seem like a poor choice for your heart, as they're high in cholesterol. In fact, heart health advice once suggested steering clear of eggs almost entirely.
These days, we know that the cholesterol in our diet has a relatively small impact. This is because our bodies make cholesterol as well, so low dietary cholesterol doesn't necessarily mean low cholesterol in your blood.
Eggs also contain a variety of nutrients that can help with your heart health, including choline and betaine. Some can even be high in omega 3 fatty acids (if the chickens were given high omega 3 foods). These fatty acids help your heart even more.
Eating eggs regularly can even increase your HDL levels. This is the 'good' type of cholesterol, the one that's been linked to lower heart disease risk.
Can Help With Your Weight
Eggs can be fantastic for your weight too. This is mostly because of their protein content. Eating protein rich meals tends to decrease the amount you eat, which can promote weight loss.
This could be particularly useful if you're having pickled eggs as a snack when drinking, as it's far too easy to overindulge on snacks when you're a little tipsy.
They Taste Amazing
There's one other feature to mention about pickled eggs – the flavor.
You might assume that pickled eggs don't taste that good, that they're simply bar food for times when you're drunk and really don't care what you're eating. Yet, this isn't the case at all.
Instead, pickled eggs tend to taste simply amazing. The vinegar makes them much more interesting than regular plain eggs, while the salt and herbs in the brine make them even more exciting.
There are also plenty of variations to experiment with, including eggs that have been pickled in beet juice and vinegar. The beet juice gives the eggs a pink tinge and adds extra flavor as well.
If you've had bad experiences with pickled eggs in the past, it's worth trying homemade versions. These are infinitely better than anything you buy in a local store. They're not difficult to make either.
How Pickled Eggs Could Be Harmful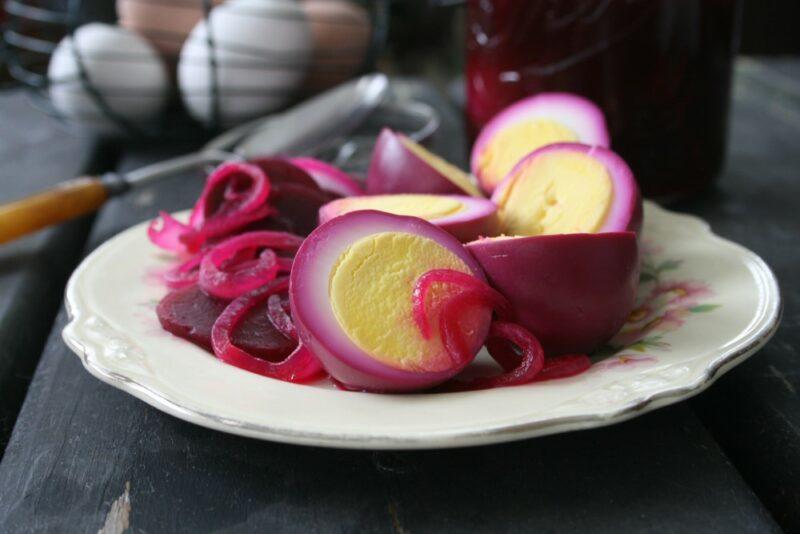 The Salt Content
Salt is often used when pickling eggs. This is partly what gives it the sweet-sour flavor, but salt isn't always a good thing.
The problem is simply that many people already get too much sodium in their diet. It's hard not to, given that salt is used in so many processed foods. We also season our food with it and use it in dishes like pickled eggs.
Consuming too much sodium can cause serious issues, including increasing your risk of heart disease and possibly leading to fluid retention.
If your salt intake is relatively low, then salt in pickled eggs shouldn't be an issue at all. However, if you need to watch your sodium intake, then you'll have to be much more careful with pickled eggs.
The Cholesterol May Be A Problem For Some People
Earlier on we mentioned that the cholesterol in pickled eggs isn't a big deal. This is true… for most people.
However, individuals with the gene variation ApoE4 or with some genetic conditions may need to limit their dietary cholesterol intake. The same may be true for some health conditions.
This is one reason why it's always important to check in with your doctor regularly. They'll be able to tell you whether your diet is causing any problems for your health.
There's A Slight Risk Of Food Poisoning
Like any fermented or pickled product, there's the chance that you could grow harmful bacteria along with the healthy stuff. Doing so could mean that you get food poisoning from pickled eggs.
Thankfully, the odds of this happening are incredibly low and there have been very few cases of food poisoning from pickled eggs. This is largely because you're boiling eggs whole, then pickling them. There's simply no chance for any bacteria to get from the eggshell into the surface of the egg.
There are only a couple of exceptions. One is if you prick the eggs after you cook them. This could potentially introduce harmful bacteria that then reproduce during the pickling process.
Another is simply following poor food hygiene practices, such as keeping your pickled eggs in full sunlight, not washing them thoroughly, or not washing your hands during preparation. In fact, pickled eggs should be kept in the fridge, rather than being left on a counter.
Ways To Use Pickled Eggs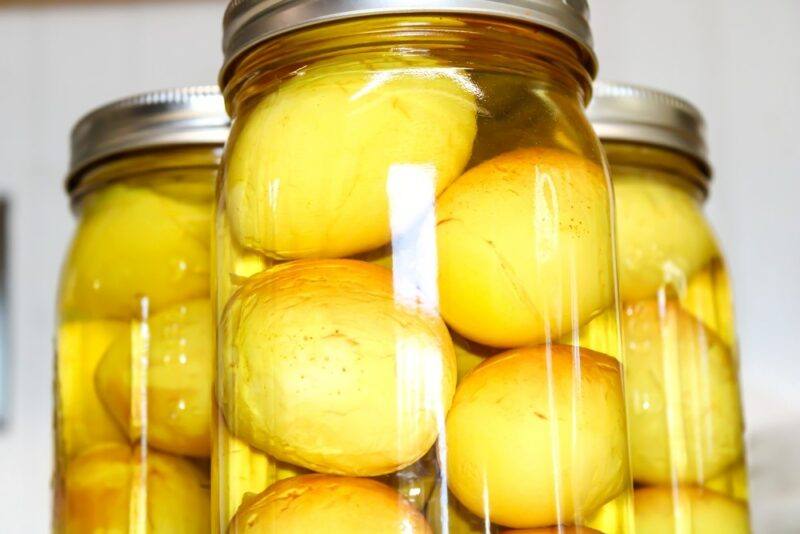 Pickled eggs are most often eaten as a snack on their own. However, this isn't your only option.
You can also use pickled eggs much like regular hardboiled eggs. For example, you can use pickled eggs as the base for deviled eggs. Doing so makes your deviled eggs taste much better. If you relied on beet pickled eggs, you'd have a fantastic pink tinge as well.
Similarly, pickled eggs can be used to make egg salad, you can serve them on avocado toast, or slice them and use them as a garnish on any dish you can imagine. There's no end to the possibilities. You'll just need to experiment to find the style that you like the best.
Do Pickled Eggs Need To Be Refrigerated?
This question isn't as straightforward as it seems. You'll get vastly different answers depending on who you ask.
The first is the official food safety stance by the Centers for Disease Control and Prevention. This suggests that pickled eggs should always be kept in the fridge. Care must be taken when preparing them as well, to ensure that bacteria doesn't make its way into the yolk.
If you do take the eggs out of the fridge, then standard food safety rules apply. This means the eggs should only be kept out of the fridge for two hours (and only one hour if the air temperature is more than 90°F).
However, there are a lot of dissenting opinions here, especially as eggs were originally pickled to help preserve them. Bars even once kept jars of pickled eggs on the counter for patrons to eat.
Plenty of people still store their eggs out of the fridge and don't see any problems with doing so. Anecdotal reports suggest that the chance of food poisoning is low.
Then again, the chance is still there. The vinegar surrounding the eggs isn't enough to completely prevent bacteria from growing. So, keeping your eggs in the fridge really is the safest option. This is particularly true if you have a compromised immune system or are pregnant.
What About Sealed Jars Of Pickled Eggs?
Sealed jars of pickled eggs from the grocery store are often canned in a way that prevents any harmful bacteria from entering. This means they should be safe outside the fridge, but only until you open the jar.
The easiest way to know is to look at where the eggs are sold. If they're in the fridge section, then you probably need to keep them in the fridge. If they're at room temperature instead, then they're safe at room temperature. The same is true for other types of pickles.
Final Thoughts
Pickled eggs mostly offer the same benefits as regular eggs, including being high in nutrients and protein. You can get some probiotics too, which means that the eggs help with your gut health and offer a variety of other benefits.
There aren't many risks either, as long as you store your pickled eggs in the fridge, rather than on the counter. Whether you eat pickled eggs really comes down to one question – do you like them? If you do, then they're a fantastic snack and a great way to make your eggs last longer. If you don't, no worries, there are plenty of other ways to eat eggs.
Frequently Asked Questions
Can You Pickle Other Types Of Eggs?
Yes, other types of eggs can be pickled in exactly the same way as regular eggs. Pickled quail eggs are particularly common and there are plenty of recipes online.
How Long Do Pickled Eggs Last?
If you keep your eggs in the fridge, you'll get a decent amount of time from them – often two to three months. Commercially prepared and sealed pickled eggs should last this long as well, even if you keep them on the counter.
However, once the pickled eggs are open, they're not likely to last long unless you keep them in the fridge.
Are Pickled Eggs Good For Losing Weight?
Eggs are fantastic for losing weight, as they're an excellent source of protein and nutrients. Pickled eggs have these same benefits. What's more, you can simply grab one and eat it, giving you an easy weight loss snack.
Are Pickled Eggs Keto Friendly?
Eggs themselves are a fantastic keto snack, containing less than one net gram of carbs per egg. Pickling them generally doesn't add many carbs, so you still get a keto friendly snack.
But, you'll need to pay attention, as some pickled egg recipes do contain sugar. This sugar could make the eggs unsuitable for keto.
Why Do Bars Have Pickled Eggs?
Pickled eggs aren't incredibly common these days, but they were once a staple feature. One reason was that pickled eggs could be kept on the bar for hours without much problem, making them more suitable than many other bar snacks.
The eggs also provided some sustenance and could have made people thirstier at the same time, due to the sodium content.