You've heard about the benefits of beets, right? The sweet red root vegetable has been around for ages, but it's started to become more popular as a type of superfood. This isn't so surprising, as beets do contain plenty of important nutrients.
Beet juice offers an easy way to get all the nutrients of beets in a more convenient form. But, is beet juice good for you? To answer that question, we need to take a close look at beet juice and see what it has to offer.
Before we dig into that, here's an interesting fact. Did you know that you can eat beets raw? They're best when sliced thinly or grated, as they have an intense flavor. Raw beets are an interesting alternative to beet juice, especially if you don't have a juicer on hand.
Is Beet Juice Good For Your Health?
How Do You Make Beet Juice?
Benefits Of Beet Juice
How Beet Juice Could Be A Problem
Beet Juice Versus Beets
Can You Drink Beet Juice Every Day?
Yellow Beet Juice
Final Thoughts
How Do You Make Beet Juice?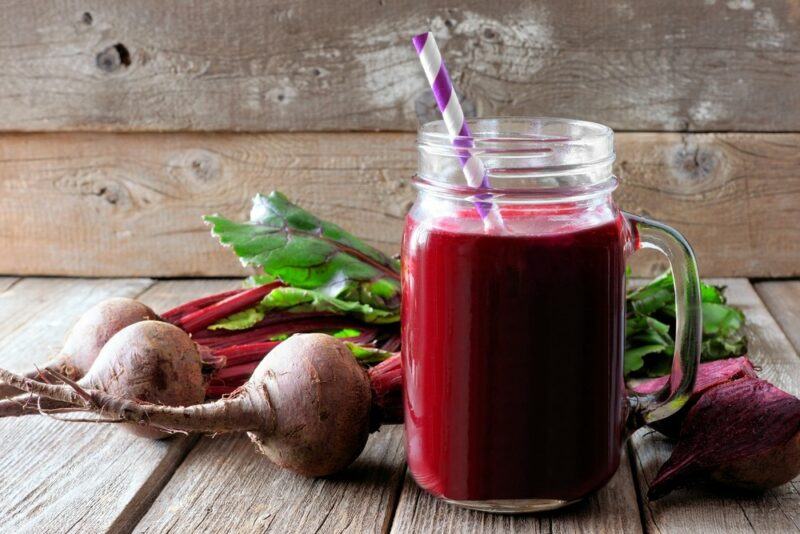 Juicing beets isn't as difficult as you might think. You don't even need a juicer. Instead, try cutting the beets into pieces and put them in a high powered blender. Once you've blended the beets into a pulp, you can strain them using a cheesecloth or something similar.
If you have a juicer instead, the process gets much easier. The best juicers will do all the work for you, leaving you with little mess to clean up.
Making Beet Juice Taste Better
Beets are an acquired taste. They have a rich earthy flavor that some people love and others hate. Beet juice isn't that different.
If you want the benefits of beet juice, but don't like the flavor, try including some other fruits and vegetables. Even just a little apple juice is enough to take the edge off the juice and make it more palatable.
You can also take things further and include a variety of ingredients. Doing so gives you a more nuanced flavor profile. Plus, you get nutrients and antioxidants from each ingredient. The list below highlights some interesting combinations to try.
Beet, apple, lemon, ginger, carrot, and celery
Green apple, celery, and beets
Apple, carrot, beet, and ginger
Beet, apple, purple kale, lemon, and ginger
Rhubarb, ginger, green apple, beet, lime
Benefits Of Beet Juice

Low In Calories And Sugar
Vegetable juices tend to be healthier than fruit juice – and beet juice is no exception. If you're drinking straight beet juice, then you have a low calorie drink that contains barely any fat. The sugar content is pretty low too.
What could be better?
Of course, that effect is for straight beet juice. Playing around with the recipe is going to change the nutrient profile, potentially giving you more sugar. Even then, you should be getting less sugar than most types of straight fruit juice.
Offers Important Nutrients
Beet juice provides you with most of the same nutrients as eating beets directly. The biggest difference is the loss of fiber, but you can get fiber from other foods.
Some of the most important nutrients include vitamin B6, folate, iron, magnesium, and calcium. There are plenty of others too. Each nutrient plays an essential role in human health, including effects like promoting red blood cell production, supporting bone growth, regulating your metabolism, and more.
What could be easier than getting those nutrients in a drink?
A Rich Source Of Plant-Based Compounds
Then there are all the plant-based compounds, including antioxidants and betalains. These are just as powerful as the nutrients, if not more so.
You've heard about antioxidants before, right?
There are many types of antioxidants, with different structures, and some variations in their functions. However, they all help to decrease oxidation in your body. In doing so, they may lower the risk of damage and disease.
They're particularly common in brightly colored fruits and vegetables, so it's not surprising that you find them in beetroot juice. In fact, beetroot juice is a particularly good choice for antioxidants, as you're getting plenty of them per serving without much sugar at all.
May Decrease Inflammation

The plant-based compounds in beet juice don't just help with oxidation. They have other benefits too, like lowering your inflammation.
This is an important effect, as too much inflammation may increase the risk of chronic disease. And, honestly, many of us are eating far too many inflammation-causing foods and not enough of the ones that decrease inflammation.
The betalains in beets may be particularly important here. They've even been found to inhibit some pathways that influence inflammation-based disease.
The effect might make beets and beet juice more powerful for fighting inflammation than most other fruits and vegetables.
May Be Particularly Relevant For Athletes
The nitrates in beet juice may make it especially relevant for athletes. For example, one study found that drinking beet juice improved cycling performance.
Beet juice can be helpful after exercise too, by reducing muscle soreness. That effect might make it easier to recover from your exercise session and get back to it sooner.
Research is in the early stages, so we still don't know how much beet juice is needed or how strong the effects are. Still, it's easy enough to try beet juice and see whether it helps.
Can Improve Heart Health
Beet juice may help to lower your blood pressure, which is critical, as high blood pressure is a key risk factor for heart disease.
The blood pressure effect may be due to nitrate compounds in beets. These help to dilate the blood vessels, making blood flow better. Some of the nutrients in beets may be relevant too, like potassium, which is often associated with decreased blood pressure.
Beet juice could influence heart disease risk in other ways as well, like by decreasing triglyceride and cholesterol levels in the blood.
How Beet Juice Could Be A Problem

Like most natural foods, beets are a good choice most of the time. However, every so often, they can cause some issues.
This is why it's so important to be aware of the risks and rewards of different foods. That way you can make wise decisions.
High In Oxalates
Oxalates naturally occur in plants. They're generally not an issue, but eating a large amount regularly could increase your risk of kidney stones, especially if you've had kidney stones before.
Vulnerable people may need to focus on low oxalate foods, which includes avoiding spinach, beets, and some others almost entirely.
Beet juice could be even worse for oxalates than whole beets, simply because of your portion sizes. After all, it's much easier to overdo it with juice than with roasted beets.
May Decrease Blood Pressure Too Low
The way that beets can decrease your blood pressure is worth talking about as well. This effect is normally a good thing – unless your blood pressure levels are already low.
If this is the case, you risk dropping your blood pressure levels down to dangerous levels. Anyone taking blood pressure medication should be particularly careful here.
The Juice Is Low In Fiber
Juicing fruits or vegetables gives you most of their nutrients and antioxidants, but you lose fiber in the process.
This can create some notable issues with fruit juice, as the fiber helps to balance the blood sugar impact of the fruit. When the fiber is absent, you risk getting significant blood sugar spikes from the juice.
The issue isn't as significant for beet juice, as beets contain less sugar than fruit. You can also get fiber from plenty of other places.
Even so, missing out on the fiber is a shame, as fiber is crucial for our digestion and many of us should be consuming more.
Beet Juice Versus Beets
Beet juice contains most of the same nutrients as beets, but there are some differences to think about too.
This isn't too surprising, as you normally cook beets before eating them, while beet juice is made from raw beets.
One difference is the nitrates. Some nitrates are lost during the cooking process, so beet juice ends up being higher in nitrates than roasted beets. This might make beet juice a better choice if you want to lower your blood pressure (and roasted beets are better choice if you don't).
There's also the fiber to think about, as you get a decent amount of fiber in beets themselves and almost none in beet juice. Plus, if you make beet juice, then all that important fiber goes to waste, which is quite a shame.
Finally, it takes more work to make beet juice yourself than to use whole beets. You can buy beet juice instead of making it, but this gets expensive fast.
In the end though, the differences aren't that dramatic. Regardless of whether you juice them, roast them, eat them raw, or pickle them, beets provide nutrients, antioxidants, and a host of potential health benefits.
Can You Drink Beet Juice Every Day?
There hasn't been much research into optimal beet juice intake. As such, you'll need to experiment to find out what the ideal amount is for you.
However, there aren't that many risks with beets, so most people should be able to safely drink beet juice every day.
If you're doing so, be careful with your oxalate intake. You might need to cut back on the beet juice if you're consuming many high oxalate foods or if you're at risk for kidney stones.
Also, if you do start drinking beet juice regularly, your urine and bowel movements might take on a red tinge. Don't worry. This is normal and doesn't mean anything about your health.
Yellow Beet Juice

For those who find red beet juice too intense, juice from yellow beets is a nice alternative. Yellow beets offer most of the same nutrients as red beets, but they have a milder flavor and less earthiness. This makes them much easier to enjoy.
Yellow and red beets both get their color from betalain pigments. For red beets, betacyanins are most prominent, while yellow beets feature betaxanthins instead. Both types have powerful antioxidants and anti-inflammatory functions.
Final Thoughts
Beet juice has a lot going for it. A glass of the juice provides you with most of the nutrients and antioxidants that you get from beets themselves. The main exception is fiber, but beet juice makes up for this by offering more nitrates than you get with roasted beets.
As long as you're not sensitive to oxalates, beet juice could be an easy way to increase your nutrient and antioxidant intake.
Still, beet juice isn't quite as amazing as some of the hype suggests. It won't have a massive detox effect, nor will it lead to easy weight loss. So, while beet juice might be helpful, don't expect drinking it regularly to dramatically change your health.