Vodka is a neutral spirit, one that has barely any taste of its own. Instead, it picks up the flavors of other ingredients, making it an ideal spirit for cocktails (or for combining with a mixer). In this list, we're focusing on the best vodka cocktails – to show you just how versatile this spirit is.
As you'll see from the list, vodka cocktails come in many different styles, with countless variations in flavor. Some of the examples are classic cocktails that continue to be enjoyed, while others are new ideas that could be just as good.
When you're making vodka cocktails, resist the temptation to go for the cheapest vodka that you can find. While vodka is a neutral spirit, the quality can make a difference. Inexpensive vodka is likely to have more impurities, which can influence the flavor of your drink.
Vodka also varies in texture. Some vodka drinks will have a more distinct texture than others and this can have a noticeable effect on your drink. As such, choosing a decent bottle of vodka can make your cocktails much better.
That being said, you don't need to go for a top of the line bottle. Decent-quality vodka works well in cocktails, while more expensive and unusual vodka is best enjoyed on its own.
Best Vodka Cocktails
Cosmopolitan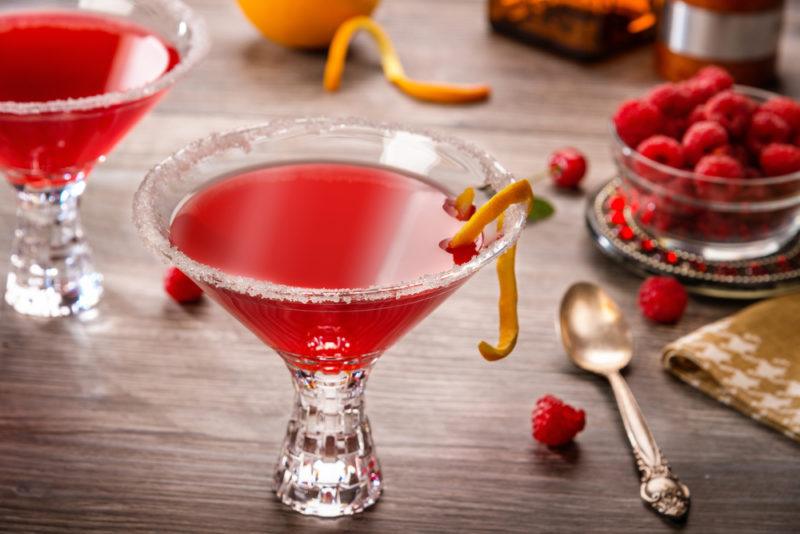 Let's start off with one of the most famous vodka cocktails – the cosmopolitan. This drink is thought to have been inspired by the martini and is presented in a similar way. It's also a classic 80s cocktail that continues to be popular today.
The drink relies on two parts vodka (citrus flavored, if possible), one part triple sec, two parts cranberry juice, and a little lime juice. Cointreau can be used instead of the triple sec if you prefer.
This is an easy drink to prepare too, as you simply shake the ingredients together in a cocktail shaker over ice and then strain into a cocktail glass.
Vodka Martini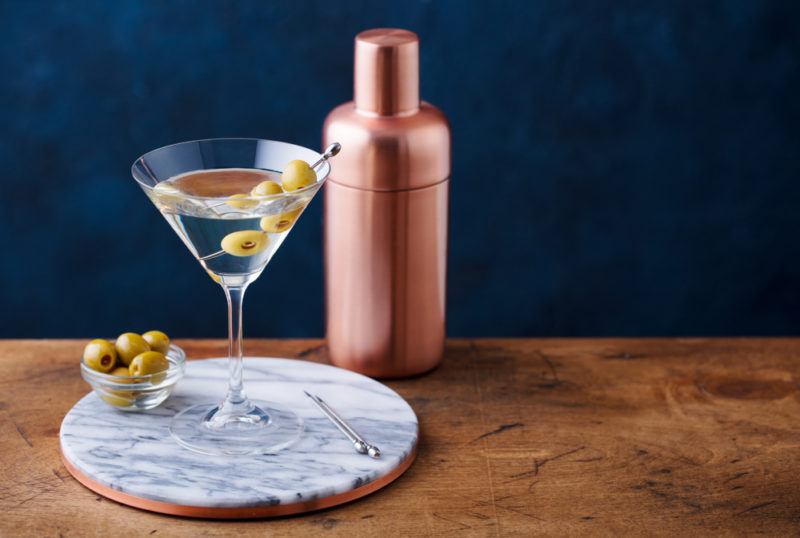 The classic martini is made by stirring (not shaking!) gin and dry vermouth together over ice, straining and serving. A vodka martini follows the same concept, except that you're using vodka as the spirit of choice rather than gin.
As with a gin martini, you can play around with the ratio of vodka to vermouth. A common approach involves one part vermouth to three parts vodka.
The vodka martini has become particularly well known as the drink of choice for the fictional James Bond. However, that character orders his martini shaken, not stirred, which is considered a poor approach.
Shaking a martini aerates the drink, melts some of the ice, and changes the texture of the drink. While there are some fans of the shaken martini, most experts suggest that the drink should always be stirred instead.
Bloody Mary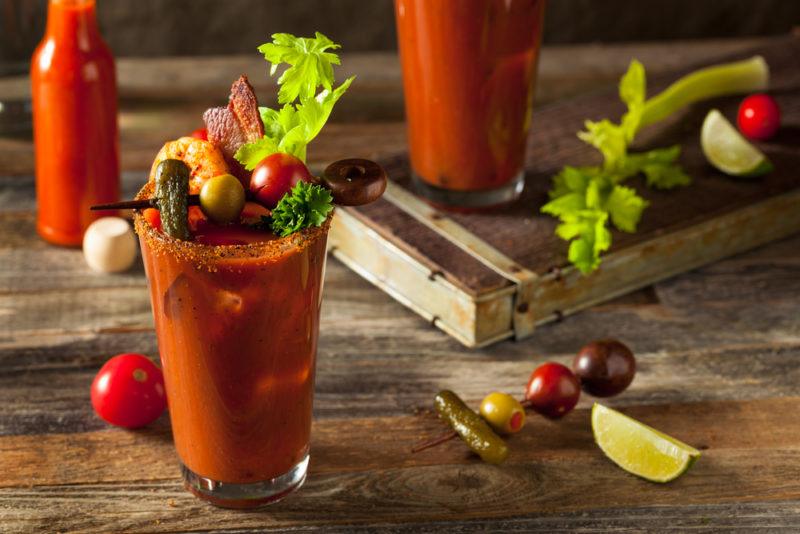 A bloody Mary certainly stands out in the cocktail world. The drink relies on vodka and tomato juice as the two key ingredients. The proportions of each vary depending on the recipe.
Some versions of the drink are intense, with equal parts vodka to tomato juice. Others are milder, using 1.5 ounces of vodka to half a cup of tomato juice or even three-quarters of a cup.
Other ingredients are included as well. Tabasco sauce and Worcestershire sauce are the most powerful additions, along with salt, ground pepper, lemon juice, and celery salt. You can also skip some of the work by simply buying a variety of spiced tomato juice or vegetable juice from a brand like V8.
As with many cocktails, the bloody Mary is open to interpretation. You can easily experiment with other ingredients. For example, some people use lime juice instead of lemon juice or include other spices in the mix too, like smoked paprika.
Screwdriver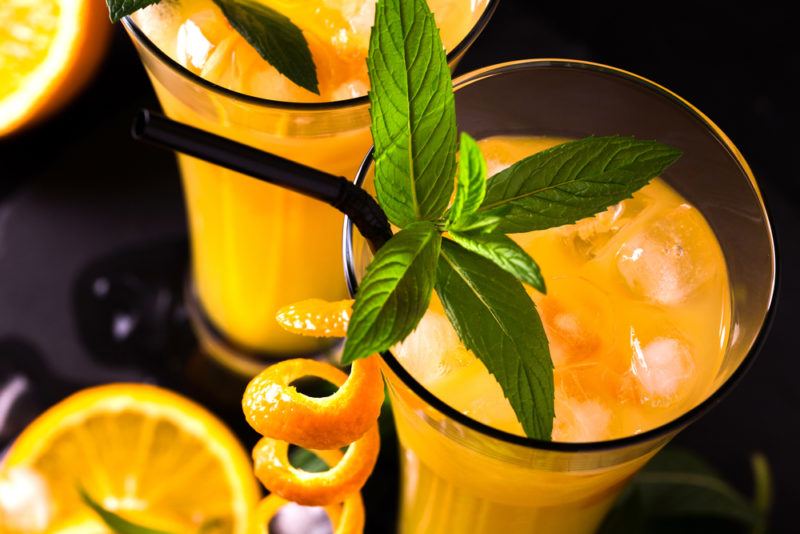 A screwdriver is easily the simplest vodka cocktail out there, so simple that it can only just be called a cocktail. The drink simply involves combining vodka with orange juice.
If you can, use freshly squeezed orange juice, as this creates the best-tasting drink. You could also look for squeezed orange juice at the store, ignoring anything that is made from concentrate or that is marketed as 'orange drink' rather than orange juice.
While the ratio of orange juice to vodka depends on your preferences, a good starting point is five parts of orange juice to two parts vodka. This ratio gives you a decent kick of alcohol while ensuring that the drink is still sweet and delicious.
Moscow Mule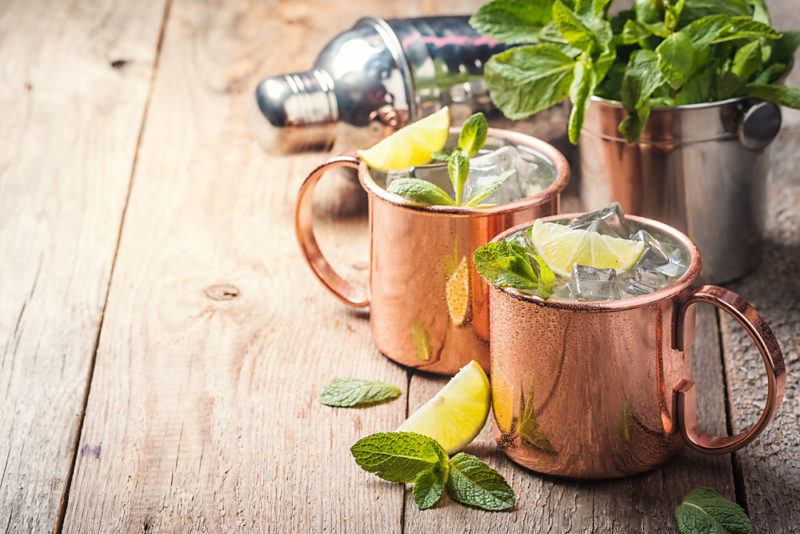 Traditionally served in a copper mug, a Moscow mule is a cocktail made from ginger beer, vodka, and lime juice. The cocktail uses the juice from two full limes, so the lime juice has a strong impact on the flavor of the cocktail.
While you can make a Moscow mule in a regular glass, using a copper mug helps to keep it cooler for longer. Doing so is essential for making the drink taste as amazing as it can.
Sea Breeze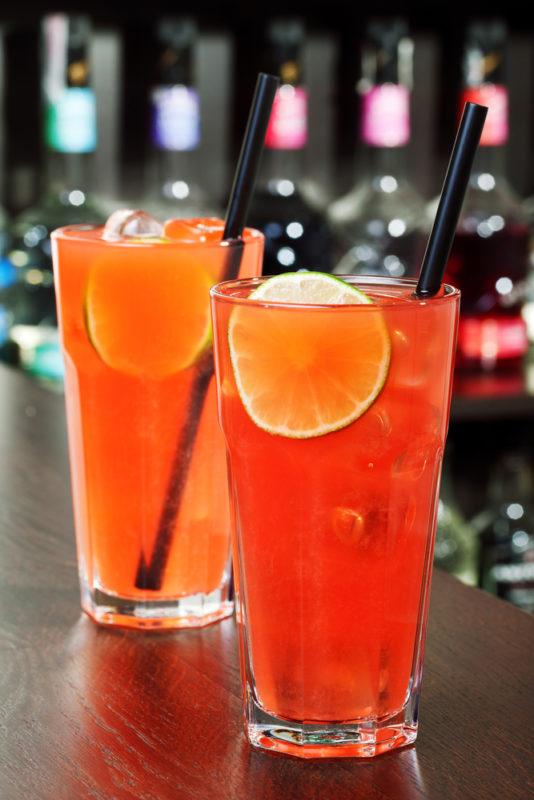 While sea breeze was originally a gin cocktail that relied on lemon juice and grenadine as key ingredients, it is now a fruity vodka cocktail.
The cocktail is a simple one to create – as it just relies on equal measures of vodka, cranberry juice, and grapefruit juice. Many people squeeze juice from a lime wedge into the cocktail too, while using a second lime wedge as a garnish.
Black Russian And White Russian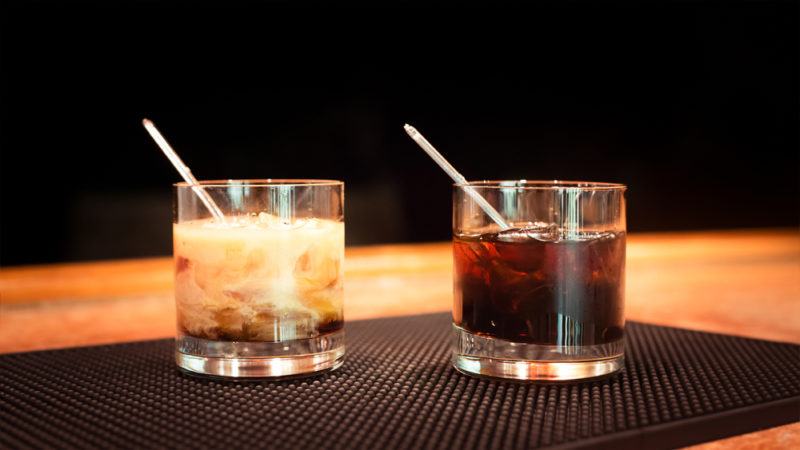 The black Russian is a classic vodka cocktail, which is made in a lowball glass and served over ice. The cocktail simply involves vodka and Kahlua, generally in a 4:2 ratio.
You can also top the glass up with cola to create a longer drink that has a less intense flavor.
A white Russian is similar, except that you're not using any cola and one part of cream is used instead. This makes the drink white and creamy, while also toning down the alcohol hit.
Greyhound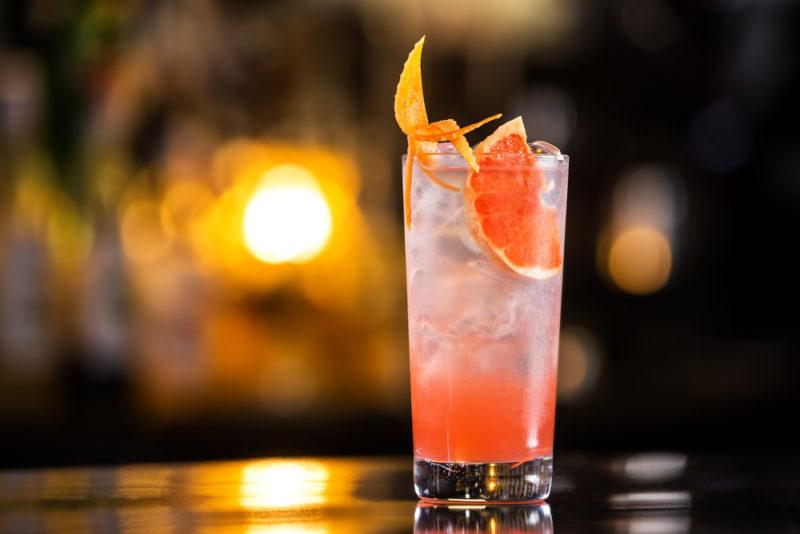 The greyhound is a very simple cocktail. It just relies on grapefruit juice and vodka (or gin) in a 2:1 ratio. This creates a bitter drink that is a pleasant change from the sweetness of most other fruit-based cocktails.
Of course, the greyhound ends up being overwhelming for anyone who doesn't like bitterness or the flavor of grapefruit. One way around this is to add a salt rim to the drink. Doing so creates the cocktail salty dog.
While it might seem surprising, simply adding a salt rim does decrease the perceived bitterness of the drink.
Sex On The Beach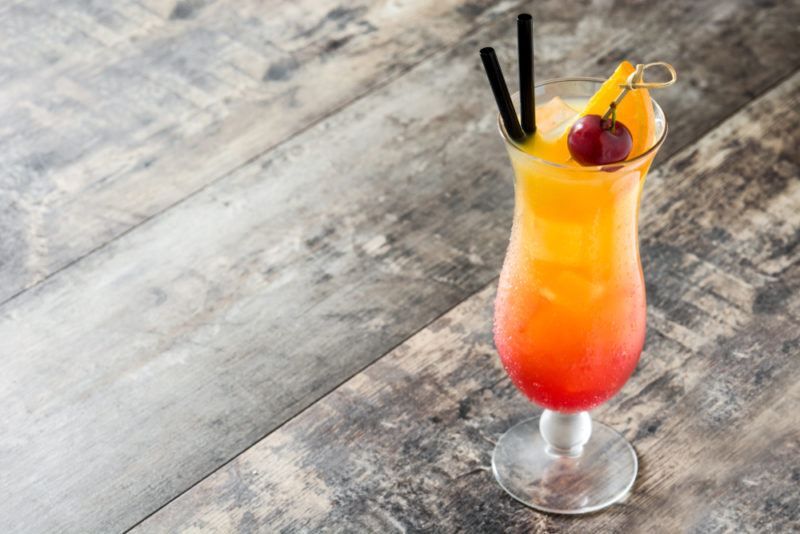 This cocktail ends up being popular for its name alone and, not surprisingly, it has been the subject of countless jokes. The interesting thing is that while the cocktail is light and fun, it also happens to taste very good.
The key ingredients are vodka and peach schnapps, along with grapefruit juice and cranberry juice. A little lemon juice can be included as well if you want a little bit more tartness. The grapefruit juice isn't entirely essential. You can swap this out for orange juice instead if you don't like the flavor of grapefruit.
Blue Lagoon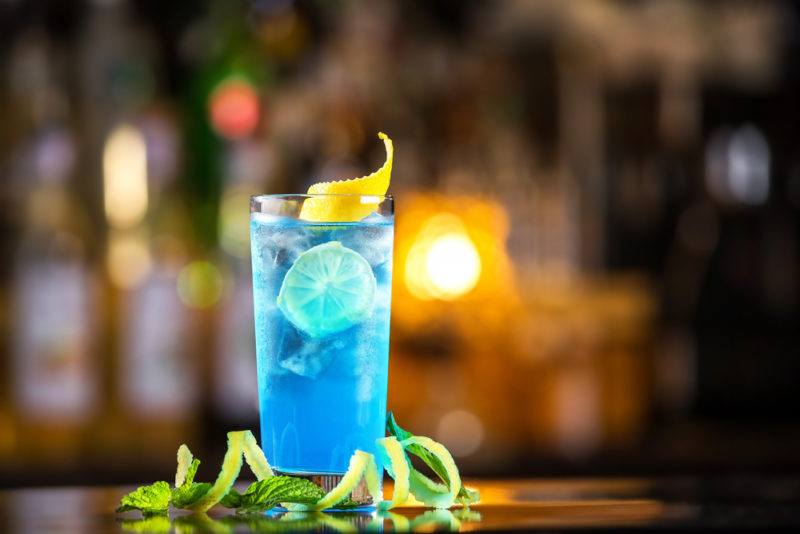 The brilliant blue color of the blue lagoon cocktail comes from the use of blue curacao. It's an interesting cocktail as, despite the bright blue color, curacao has an orange flavor.
The other ingredients in the cocktail are just vodka and lemonade, making this a very easy cocktail to prepare. The drink is traditionally served over ice and tends to be very refreshing.
While a blue lagoon is sometimes considered a girly cocktail, it is a drink that anyone can enjoy.
Bull Shot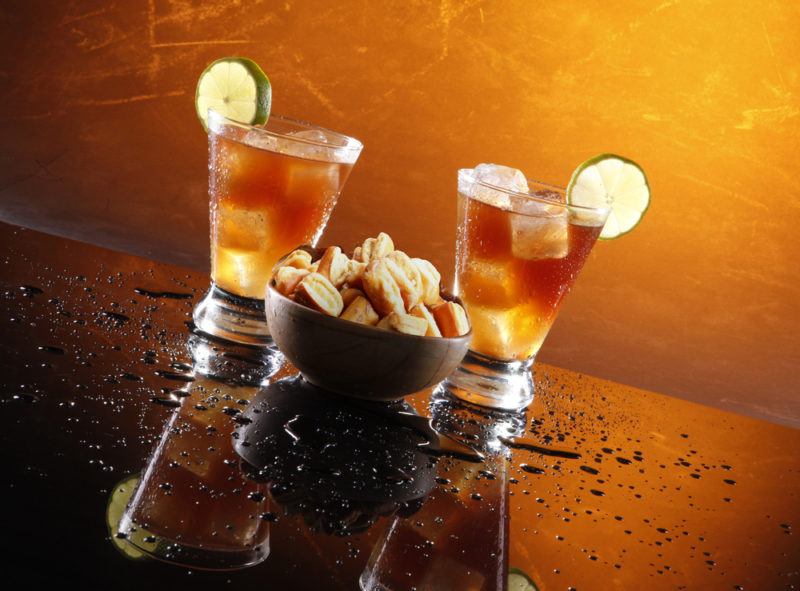 The bull shot is like a bloody Mary in that it is a savory cocktail. And, just like the bloody Mary, this cocktail has its lovers and haters.
You'll use many of the same ingredients for a bloody Mary and a bull shot, such as Worcestershire sauce, pepper, vodka, and hot pepper sauce. The difference is that you're skipping the tomato sauce entirely – and using cold beef bouillon instead.
Yes, really, this is a cocktail that relies on beef bouillon. Love it or hate it, you have to admit that the idea is unusual.
Appletini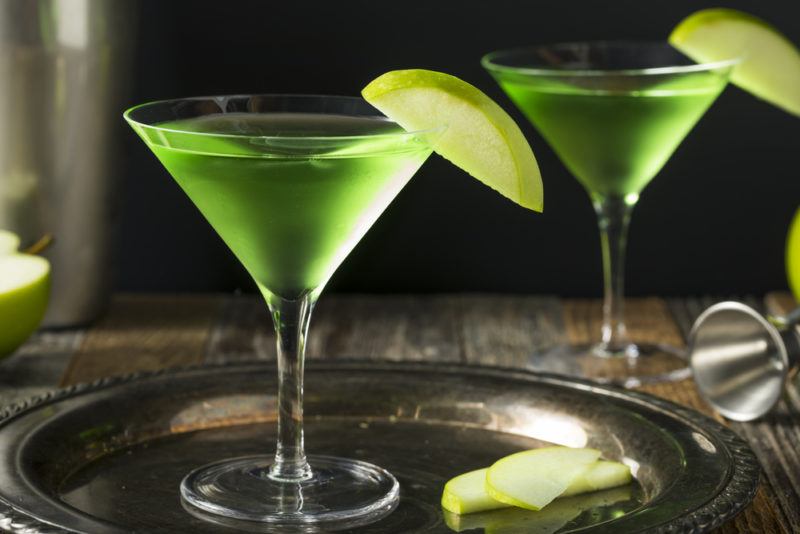 The appletini or apple martini is often considered a girly drink. The cocktail is a little like a martini, except that you're using green apple schnapps instead of vermouth. Lemon juice is often included as well.
The combination of ingredients tends to create a sweet flavor overall, although some versions change the ingredients up slightly to create a sweet and sour cocktail.
Other apple-based ingredients can be used instead of the green apple schnapps, such as apple juice, apple brandy, or apple cider.
Caipiroska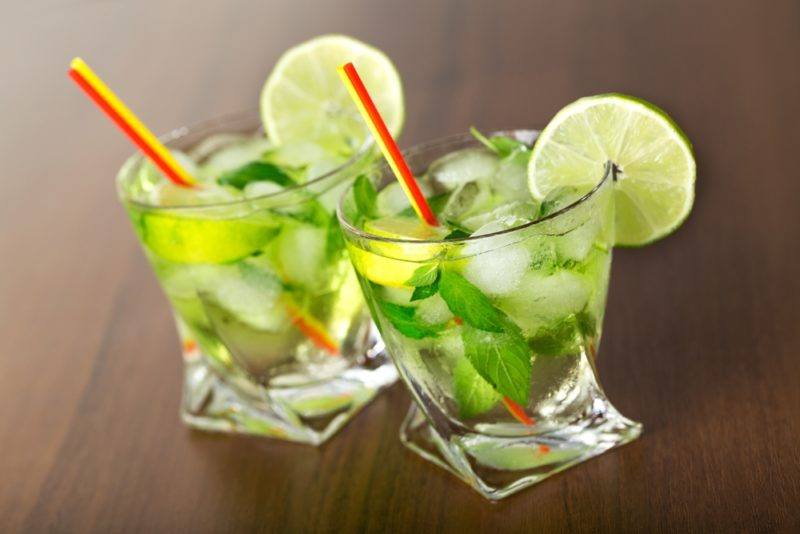 If you're a fan of simple flavors, a caipiroska could be the perfect choice. The cocktail relies on vodka, sugar syrup, and some fresh lime wedges.
The first step is to muddle the lime wedges in the bottom of a cocktail shaker, then add in the simple syrup and vodka, followed by roughly a cup of crushed ice. The ingredients are then shaken together and poured into a glass (no straining needed).
Some of the ice should melt in the process, which helps to dilute the cocktail a little. The end result is a cocktail that has strong lime flavoring and a considerable hit of vodka.
Lemon Drop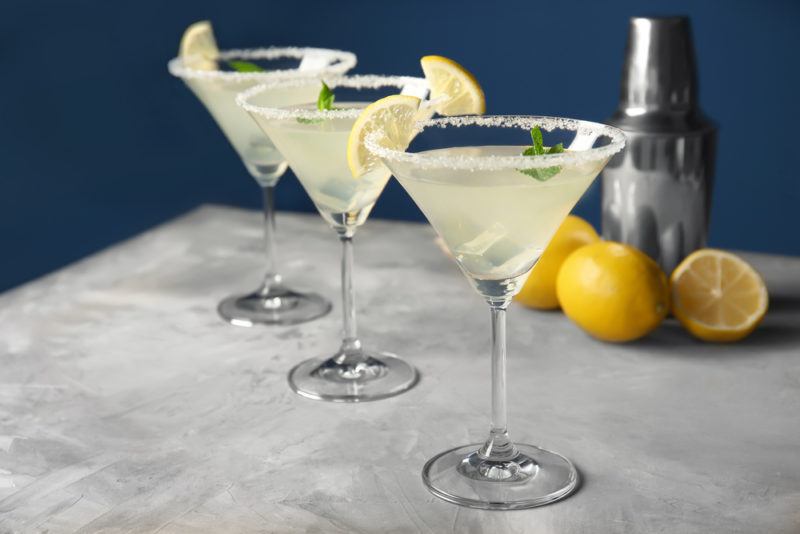 The lemon drop cocktail was invented somewhere in the 1970s and continues to be a hit. The cocktail has a sweet flavor, similar to the lemon candy that is its namesake.
Vodka makes up the key ingredient in the cocktail. Triple sec, simple syrup, and lemon juice help to round the drink out. The use of lemon means that there is a sour edge to the drink, but you'll notice the sweetness much more.
The cocktail is traditionally served with a sugared rim. While it's easy to skip this step, the sugared rim does strongly impact the drinking experience. If nothing else, it's worth making the cocktail the classic way at least once.
Woo Woo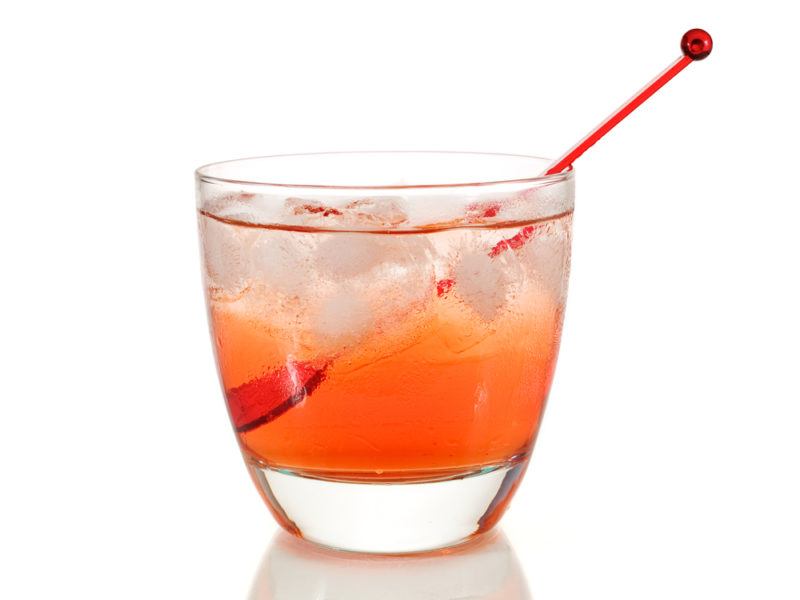 The woo woo cocktail has a surprising amount going for it. For one thing, the cocktail only requires three ingredients – vodka, peach schnapps, and cranberry juice. Then there's the name, which is simply fun.
More importantly, the cocktail can be served in different ways. You could have it straight up in a cocktail glass, on the rocks, or even as a shot. It is also easy to make a decent amount at a time, giving you a simple punch for parties.
Long Island Iced Tea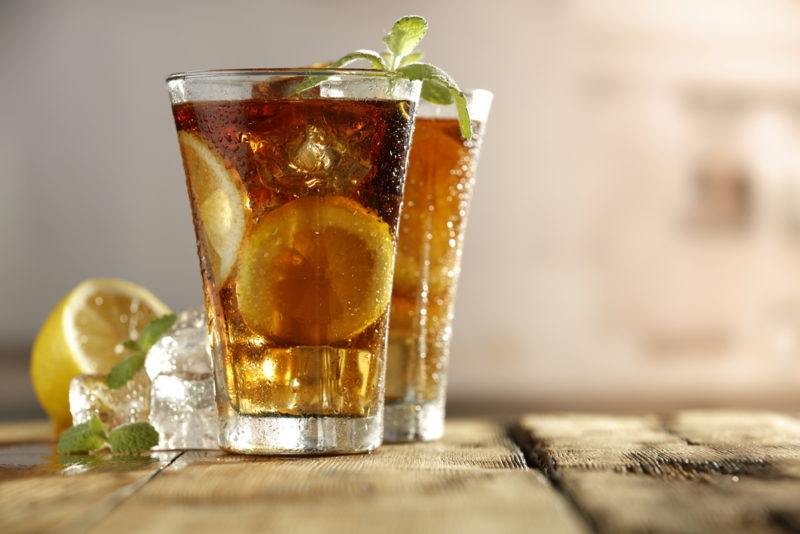 There are countless long island iced tea variations out there. One common feature is that most of them rely on a combination of different spirits, including vodka. For example, one recipe uses vodka, gin, rum, tequila, and triple sec.
Other ingredients include cola and lemon juice, or perhaps sour mix instead of the lemon juice. Despite the name, there is no tea in a long island iced tea at all. But, the finished drink does look like iced tea, so there's that.
John Daly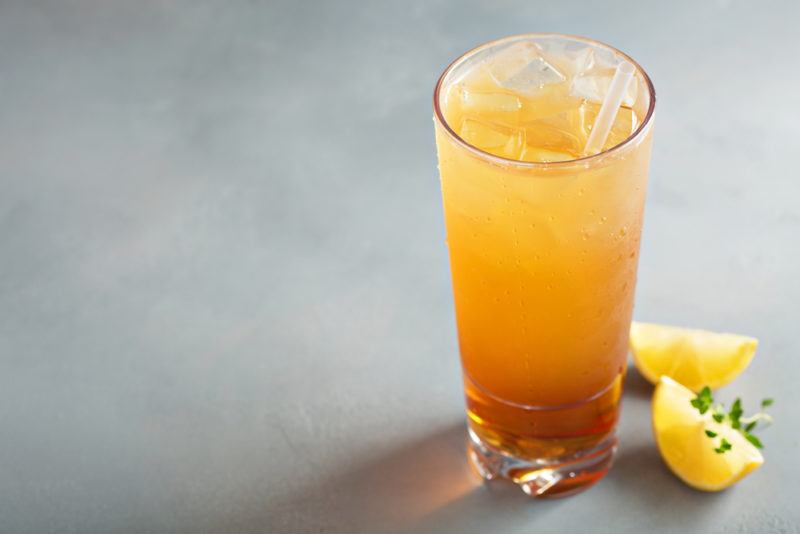 This cocktail was named after the golfer John Daly and is made from iced tea, lemonade, and vodka. One version of the recipe uses 1.5 ounces vodka, two ounces lemonade, and two ounces of iced tea, which creates a relatively mild cocktail.
A stronger version of the cocktail uses Everclear instead of vodka. You can also replace the vodka with bourbon for a different flavor profile.
Kamikaze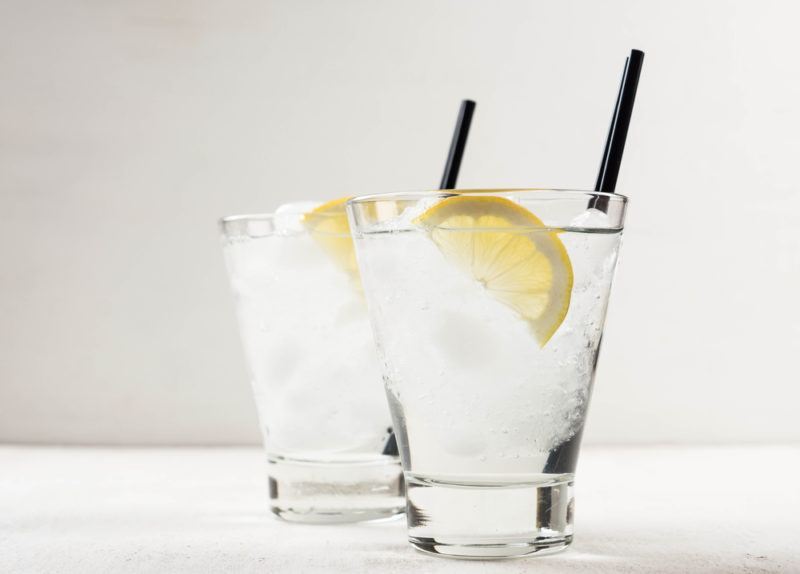 The kamikaze can be prepared as a shot or as a drink in a lowball glass and is enjoyable either way. The drink relies on two parts vodka, one part lemon juice, and one part blue curacao or triple sec.
If blue curacao is used, then the cocktail has an appealing blue tinge that makes it stand out. Raspberry liqueur is another alternative, which simply adds a raspberry flavor into the drink.
Cape Codder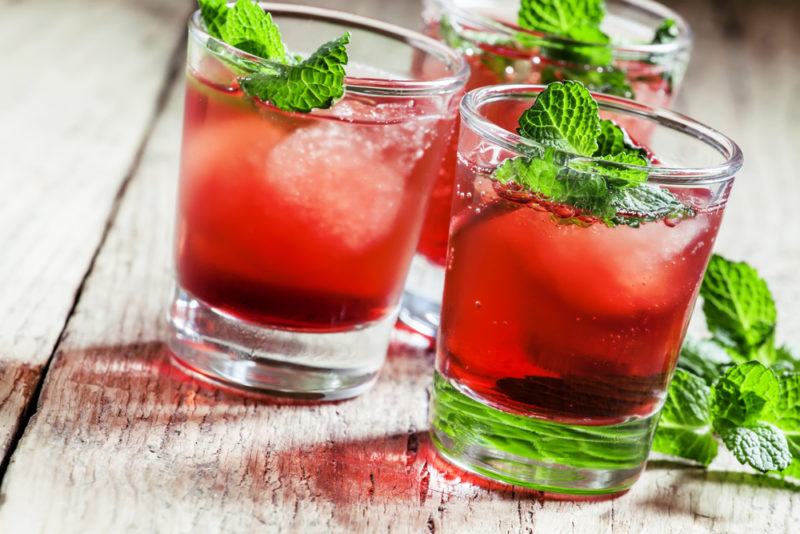 The cape codder cocktail is simplicity itself. It is a combination of vodka, cranberry juice, and lime juice, typically served over ice with a wedge of lime. This is a long cocktail, often involving at least four parts cranberry juice to two parts vodka.
The combination means that you have a fruity and refreshing drink that isn't excessively alcoholic. Of course, you could easily increase the vodka content or use less cranberry juice to create a more concentrated drink.
Harvey Wallbanger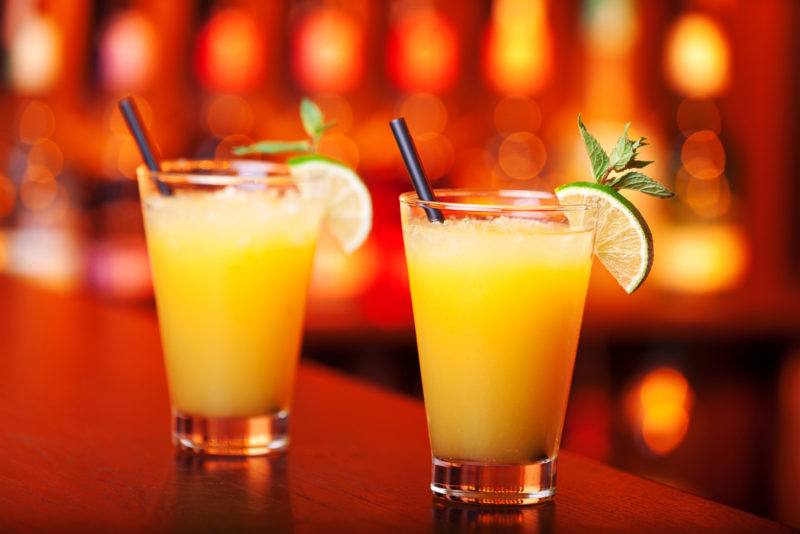 This pretty fruit cocktail only needs three ingredients and can be easily made at home. You start off by mixing three parts vodka and six parts orange juice in a highball glass with ice. Galliano is then used to top off the drink.
These ingredients often create a nice two-tone drink, one that is also refreshing. An orange slice and a cherry are the traditional garnishes, although these aren't essential.
Espresso Martini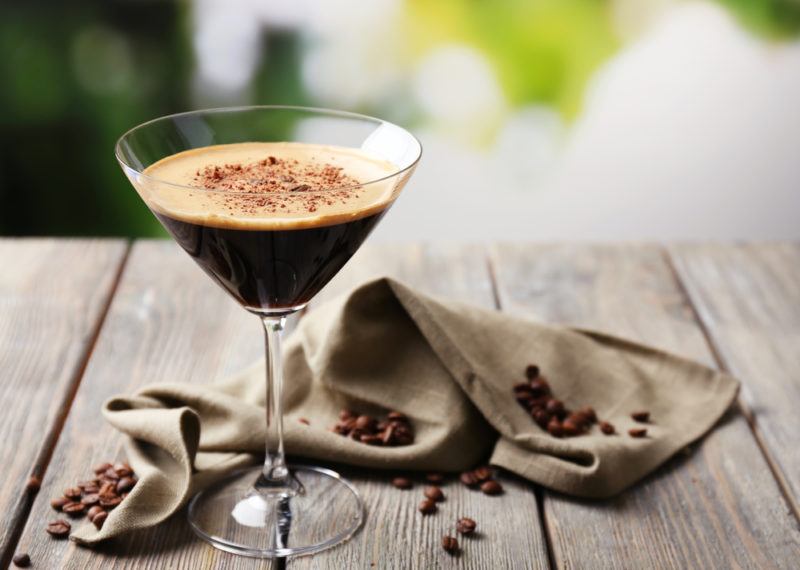 Of the many martini variations out there, this one deserves special mention. An espresso martini combines vodka with coffee liqueur, a little espresso, and some simple syrup. Kahlua tends to be the coffee liqueur of choice, as is often the case.
The finished cocktail isn't much like a martini at all. Instead, it a martini mall cocktail with an intense coffee flavor. It can also end up being relatively bitter, despite the simple syrup. As such, the drink isn't for everyone.
Vodka Red Bull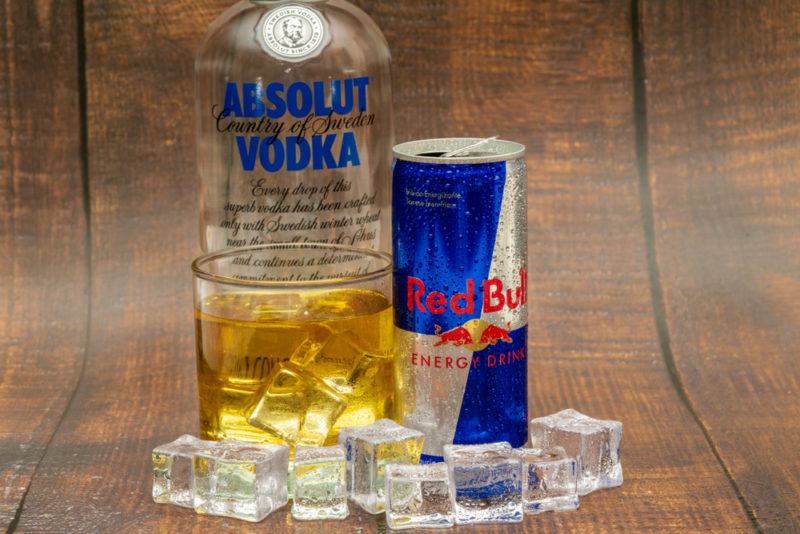 Admittedly, calling vodka and Red Bull a cocktail is a bit of a stretch. This two-ingredient drink just calls for vodka and a mixer. You're generally just pouring a shot of vodka, or perhaps two, into a glass and then pouring in a can of Red Bull.
Yet, the drink remains incredibly popular. The kick of alcohol seems like a perfect complement to Red Bull. Plus, the energy drink gives you a much-needed boost if it's late and you're tired.
Just be careful. Mixing alcohol and caffeine can be problematic, especially if you're having too much of both. Energy drinks make this problem even more significant, as you're getting a large hit of caffeine, sugar, and other ingredients. If you're going to have a vodka Red Bull, try to stick to one a night.
Tom Collins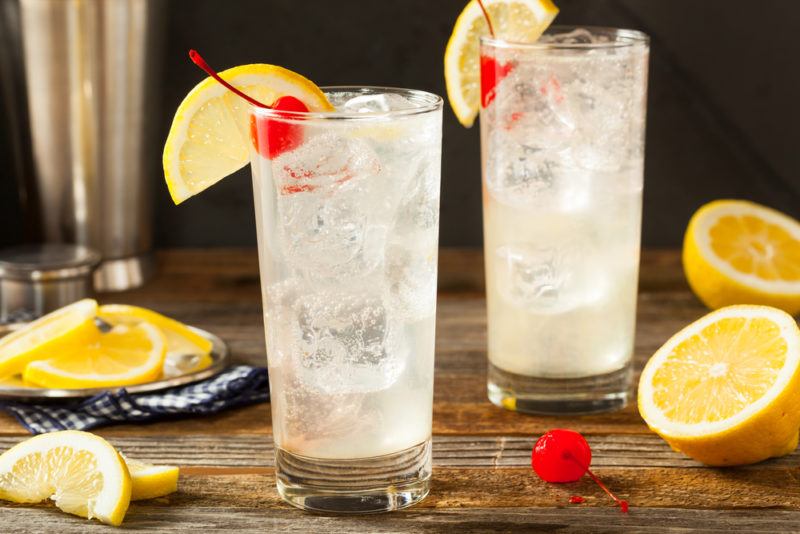 The classic Tom Collins is a refreshing cocktail that has a fantastic balance between sweet and sour. All the ingredients are easy to find too, as the cocktail just relies on vodka, simple syrup, lemon juice, and a little club soda.
In effect, the drink offers a way to sip your vodka, as you're not adding that many flavor ingredients in there. This can also be a good cocktail if you're drinking craft vodka, as any flavors infused in the vodka get a chance to shine.
Mudslide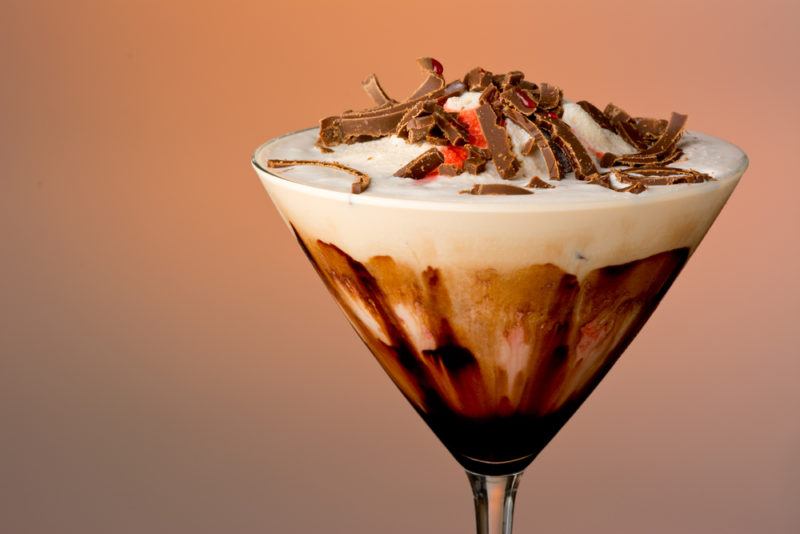 A mudslide is basically an alcoholic milkshake and there are countless variations to choose from. The idea is similar to a white Russian, where you combine vodka, coffee liqueur, and cream.
With a mudslide, you use Irish cream liqueur instead of the cream. This creates a more interesting flavor balance and increases the amount of alcohol in the drink.
The cocktail is often served as-is over ice, but can also be blended. Serving techniques vary from simple to complex. It isn't unusual to see chocolate sauce being used in the glass, for example, or flakes of chocolate on top of the cocktail.
Old Glory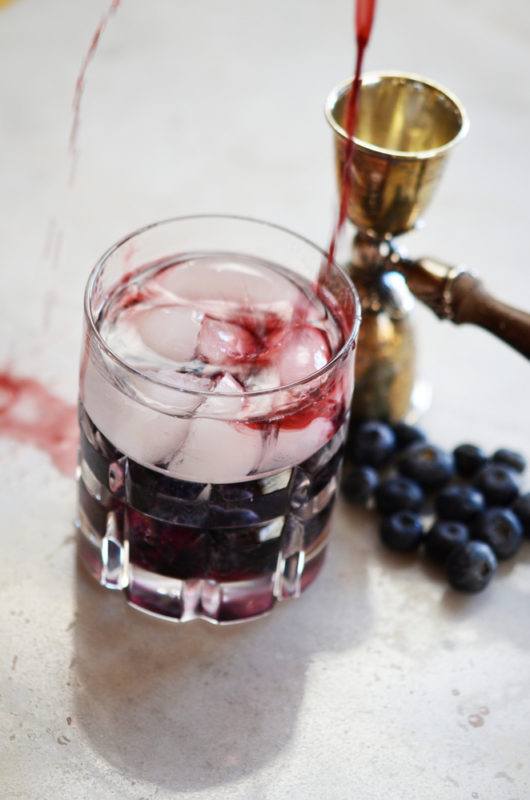 If you follow all the steps, an old glory ends up being a pretty cocktail, with blueberries at the bottom, a lighter-colored layer, and then a darker red at the top. Alternatively, you can mix the ingredients together to create an easier cocktail that tastes just as good.
Regardless, the first step is to muddle fresh blueberries at the bottom of a glass, releasing their juice and flavor. Other ingredients are added to this, including vodka, fresh lemon juice, and simple syrup. These can be mixed together with ice and then strained into a glass that contains more fresh blueberries and ice.
The finishing touch of the drink is to pour one to two ounces of pinot noir wine in, over the back of a spoon. This creates a layered effect and helps to separate the flavors. Pouring like this can take a little practice, but the cocktail will still taste good even without the layers, so don't worry too much.
Vesper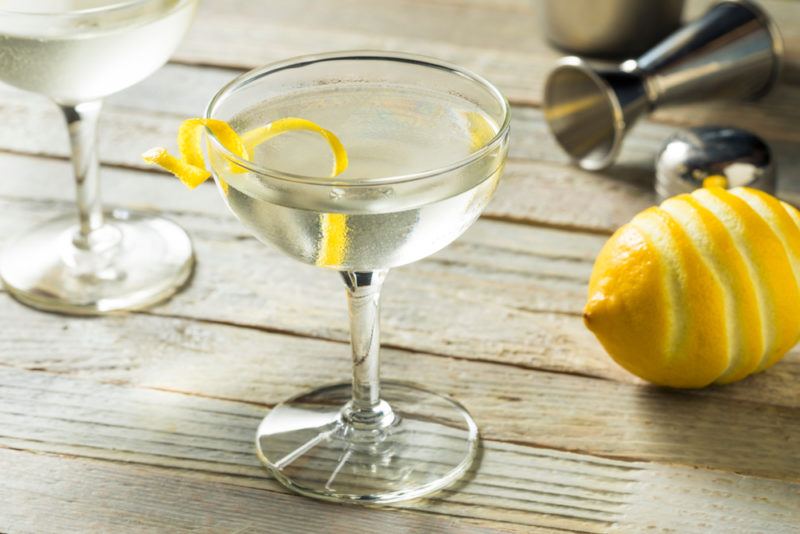 The Vesper, or Vesper martini, is famous from the James Bond movie Casino Royale – and the cocktail was actually invented by Fleming in the original Casino Royale book (published back in 1953).
The martini is unusual, as it relies on gin and vodka, rather than one or the other. In the book, Bond even specifies that the cocktail is made with Kina Lillet dry vermouth.
The vermouth is a slight problem, as the specific product has since been discontinued. However, you can turn to Lillet Blanc or Cocchi Americano as substitutes. If you're less particular, any dry vermouth will work.
Related Content