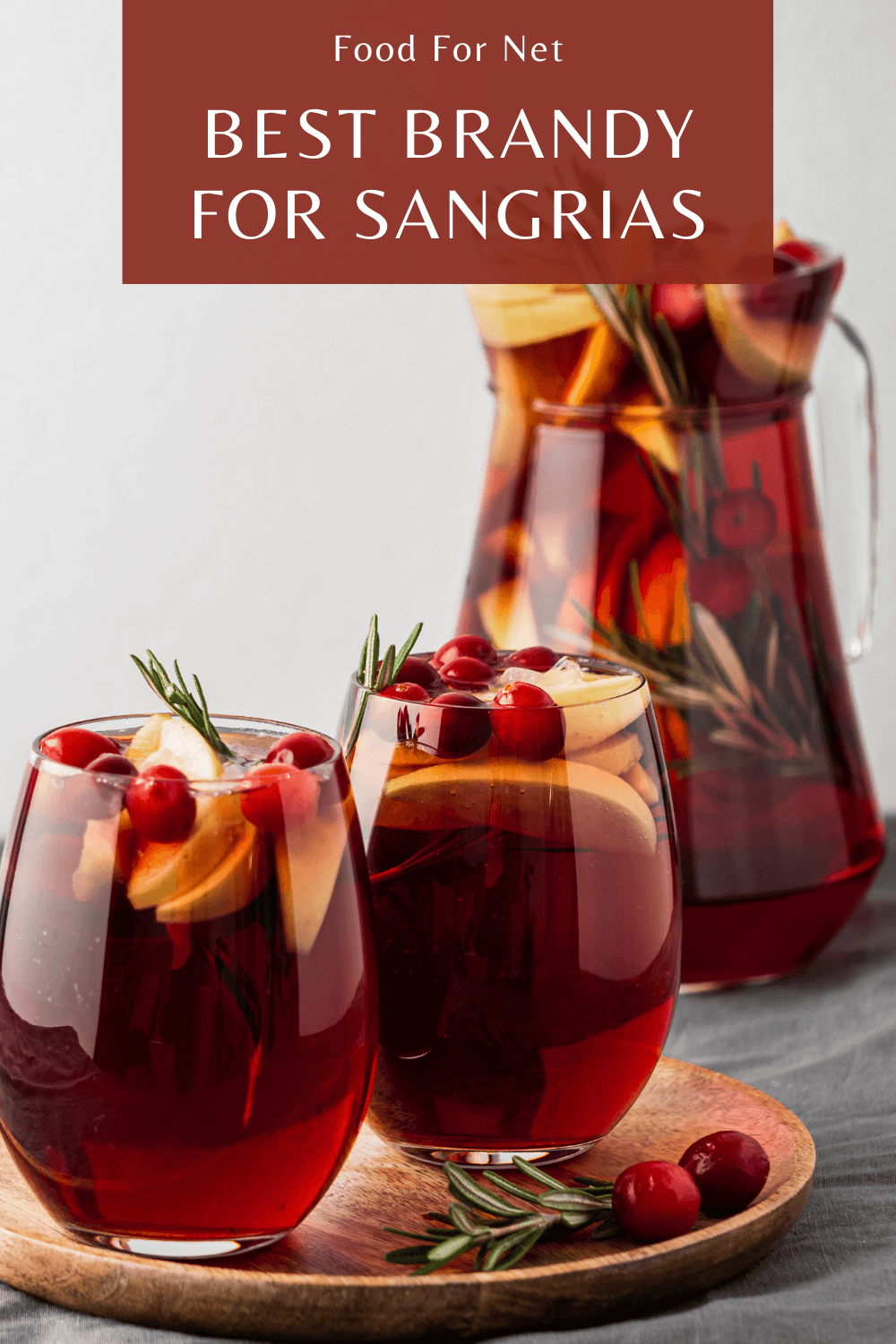 The sangria is a unique cocktail right off the bat. Instead of a distilled spirit base, it uses wine. While many bars and restaurants serve up fancy, beautiful, premium sangrias, they're pretty easy to make at home. If you're not worried about presentation or complexity, simply mixing wine and fruit juice creates an easy rendition of the intended flavors.
A true sangria is much more than that, though. Often completed with whole fresh fruit and additional elements like brandy and sprite, the real thing is an experience of its own. The best brandy for sangrias is one with a soft, sweet, balanced palate. You want it to add to the drink without overwhelming it.
Sangria offers such a range that it can be fun playing around with different brandies depending on the wine and fruit you're using.
Sangria has become so commonplace, many forget to wonder where the fruity delight came from. The truth is, the drink is thought to go back to the Middle Ages where it was likely born of necessity more than anything else.
It originated in a time when water was often unhealthy and fermented beverages actually came with a lower risk of contracting a disease. Wine was much lighter and less potent back then, and they mixed it with spices like cinnamon for an extra nutrient boost.
From here, the drink remained a staple. It first became popular from a more recreational perspective in Spain, which is where it adopted the name "sangria," a name that comes from the Latin word for "blood." the first iteration of the sangria called for red wine, so the name was fitting.
Today, the drink is made with red or white wine but it's retained the slightly gruesome name. The original sangria wasn't just made with any red wine, however. It was originally supposed to be red wine specifically from the Tempranillo grape. But, this didn't stick. It wasn't long before people were substituting other red wines, though it became obvious that not all red wines were cut out for sangria.
The same can be said for the whites that are also used today. Sangria no longer comes with such strict guidelines, but you still need a wine that works. If you're new to sangria this might mean going through some trial and error, but that's honestly half the fun!
The Best Brandy For Sangrias
1. Courvoisier VSOP Cognac

Courvoisier goes back to 1809 when it was established by founder Emmanual Courvoisier in partnership with the then Mayor of Bercy, Louis Gallois. It began as a wine and spirits company. Initially, they only traded cognac but eventually, they became producers.
The company quickly became known for its cognac and garnered the attention of Napoleon III, the heir of Napoleon Bonaparte himself. He personally requested Courvoisier cognac in 1869 and gave the company the title of "Official Supplier to the Imperial Court."
Courvoisier is proud of this distinction to this day, proudly displaying it at the Courvoisier museum. The company fast became a household name and is still the drink of choice for many famous and royal icons.
Courvoisier VSOP Cognac has a soft aroma of peaches, toasted almonds, jasmine, fruit, and light musky notes. The palate balances exotic flavors with notes of oak and features both Grande and Petite Champagnes.
2. Martell VS Single Distillery

The VS category only requires two years of aging, but Martell VS Single Distillery is aged for five to seven years and is a combination of eau de vies from four different regions.
The Martell house is an old company, going back more than 300 years and always passed down to family. Each generation takes pride in the expert craftsmanship and immense experience that goes into each bottle.
On the nose, you'll find a unique combination of rockrose leaves and incense, with woody notes imparted from the fine-grained oak casks used in the aging process. The palate offers a velvety texture with notes of fresh wood and spice.
3. Carlos 1 Solera Gran Reserva

Carolos 1 Solera Gran Reserva has quite the story behind it. Supposedly, a cellarmaster in Jerez found some random, mysterious barrels in a corner of his winery. Neither he nor anyone else ever discovered where they came from. But, they contained the best brandy he'd ever tasted.
From there, he kept using these barrels in an attempt to replicate the initial taste and experience. The brandy is aged using the Solera system, which leaves a tiny bit of brandy behind in the barrels each time. This means that a portion of the brandy in each bottle could be close to 100 years old.
Overall, it's aged for an average of five years. The palate is smooth with a noticeable sherry flavor along with raisins, vanilla, diced almonds, and chocolate.
4. St-Remy XO

St-Remy XO is an upscale expression left behind by St-Remy's old Master Blender, Martine Pain. She was passionate about her work and created a brandy that's rich and complex. The drink is unique in its own right while still staying true to the house style.
This brandy is loved by experts, connoisseurs, and critics alike. It's known for its roundness, elegance, and the way it lingers on the palate for some time.
Both the aroma and flavors are layered, complex, and perfectly balanced. You'll find notes of honey, vanilla, oak, dried fruit, and spice with a touch of woodiness and nuttiness.
5. Felipe II Brandy de Jerez

Felip II Brandy de Jerez is a Spanish brandy made with wine from Airen and Palomino grapes. The Spanish have a particular love for brandy and the country produces a lot of it. Like cognac that comes from France, Spanish brandy gets the special "de Jerez" title.
To be considered Spanish brandy, a drink must be aged in ex-sherry casks and go through a solera system. It doesn't need to be distilled from grapes grown in Spain, although many are.
This particular brandy de Jerez is an affordable option that's smooth and versatile – perfect for your sangria or a variety of other drinks.
It has a bright amber color and a palate that's a mix of sweet and spicy with some notes of rhubarb pie. The palate offers dried strawberries followed by notes of chocolate and anise. The finish brings more peppery spice and a touch of sweet, dark caramel. It's mostly designed as a mixer, so try it with things like soda and juice, or even milk in addition to a tasty sangria.
Red or White?
Sangria is a popular drink to make at home, and some people go all out. How do you go about choosing a wine, though? After all, you've got literally hundreds of options with red and white. Just because red was the original intention, doesn't mean you have to stick to it. White wines may be harder to pair with a good sangria, but are they are good when you nail it!
Red Wine
If you can find a Tempranillo wine you like that's accessible, great! Start there as this was the original sangria base. If not, you'll be happy to know that (almost) any wine will do just fine as long as it tastes good to you. As long as it's fruity without too complex a palate, you should be good. Even better if it's on the dry side.
You want to avoid very young and tannic red wines as well as ones that are old and/or too complex.
White Wine
While not impossible, it's harder to find a white that works well. This is because white wines tend to be a little fruitier. On the surface, this sounds like a good thing for mixing up a fruity sangria, but it means the fruit in the wine may overpower the fresh fruit in the drink. That, or it'll add too much of a good thing.
For example, a wine that's heavy on the citrus won't go well with a sangria calling for lots of lemon and lime. It's just too much citrus.
What do we look for, then? An easy go-to is an unoaked chardonnay. Overall, what you're looking for is a wine that complements the fruits and flavors you're already including in the sangria. Like red wine, something younger and simpler is preferred.
Complex white wines won't work well, and since the focus of sangria is fruit, wines heavily aged and oaky won't work either. When making a sangria from scratch, you must know your grape varietals and how they come out on the palate.
Rosé
While less conventional, don't discount a nice pink wine for your sangria. Like red, you want to find one that's dry and fruity, and thankfully, these are abundant.
Pink wines do great in a sangria that's heavy on the berries, so look for wines with main flavors like raspberries, cranberries, or peaches. This combination makes for a delightfully fruity sangria with bright, beautiful colors.