The most popular type of pear brandy comes from areas in Europe with cooler climates and an abundance of Williams varietal pears – the most commonly used pear for brandy. Here, it's common practice to hang bottles from pear trees and allow the pears to grow into the bottle. When the time comes, they harvest the pears – bottle and all. The bottles are then filled with the best pear brandy they can muster – with the pear itself adding its own flavors over time.
More recently, American producers have been following in these European footsteps and creating this highly sought-after version of pear brandy. The result is most often a very strong pear profile. In some, you notice little else. Others include notes of cinnamon, apples, or perhaps a little citrus, but the pear is always dominant.
Good pear brandy is crisp, sweet, and refreshing, with no added sugar. Pears are sweet enough on their own, making excellent suppers, especially when chilled. They do great paired with a nice soda or tonic, and pear brandy cocktails can be extraordinary, but a good quality pear brandy does well on its own, too.
The Best Pear Brandy
1. Clear Creek Pear Brandy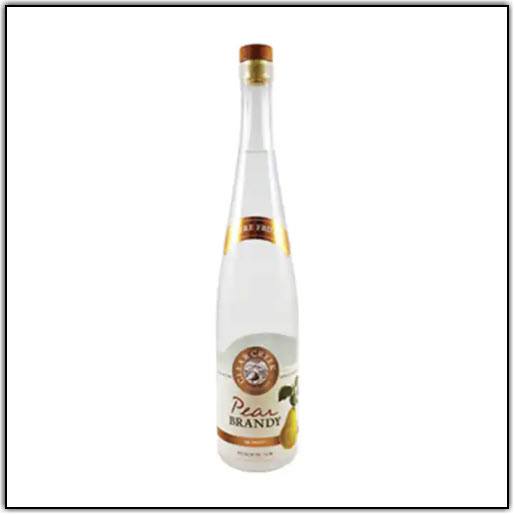 Cleark Creek Pear Brandy is made from Williams pears that are grown just an hour away from the distillery. The whole pear is crushed and fermented for this expression. The resulting pear mash is then distilled in their special German-made pot stills where it takes about 30 pounds of pears to make a single 750ml bottle.
Their goal with this brandy is to make an authentic-tasting spirit that remains true to the fruit – hence the large number of pears that go into one bottle. They've entered the San Francisco International Spirits Competition twice and earned a double gold medal both times and have been recognized by many publications for the quality of this spirit.
Safe to say – their pear brandy is the real deal. The nose is intense with the aroma of pear and the flavor is strong, bold, and pure pear. The finish is clean and refreshing with, you guessed it, more pear. Because it's such a fresh and authentic flavor, though, it doesn't become overwhelming. It's a delightful sipper and is especially pleasant when chilled on a hot day.
2. St. George Pear Brandy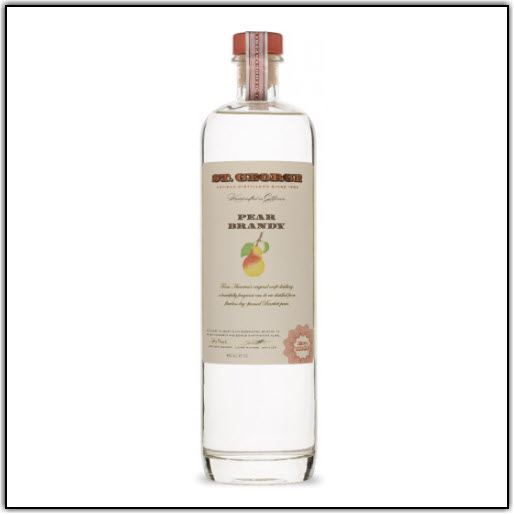 St. George was founded in 1985 by German founder Jorg Rupf, making it one of the oldest craft distilleries in the USA. The distillery is located in an old WWII airplane hangar on a former naval base in San Francisco.
If the setting and location weren't interesting enough, St. George is also home to self-proclaimed "mad scientist" Lance Winters. This name comes from his love of experimentation and innovation. His lab is covered in equations, diagrams, experimental whiskies, glass beakers, and a 10-liter test still. He's even been aging a balsamic vinegar for 14 years which doesn't yet have an end date.
All of this contributes to his brilliance, though and he is notorious for creating amazing and delicious new spirits. His goal with St. George Pear Brandy was to offer a "snapshot" of what a pear smells like at peak ripeness.
The expression is made from organic, dry-farmed Bartlett pears which are distilled with stems and leaves intact with about 30 pounds of pears going into every bottle.
On the nose, you'll find a wonderful aroma of sweet pears and citrus. The palate follows with notes of caramel, apple, oak, and cinnamon all falling in behind the pears.
3. Williams Birne Pear Brandy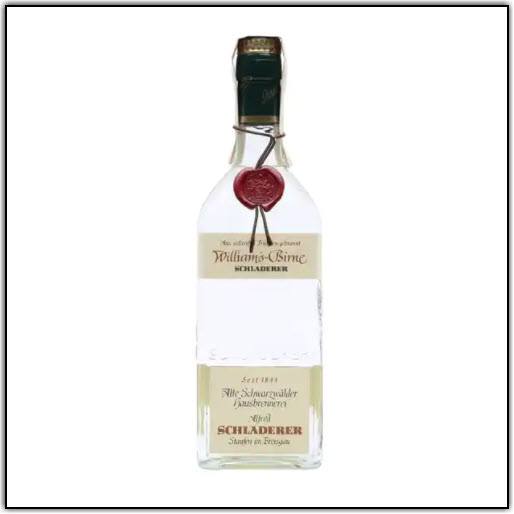 Williams Birne Pear Brandy comes from the Schladerer distillery which was founded more than 160 years ago in Germany's Black Forest. Founder Sixtus Schladerer originally only made special fruit brandy to friends, family, and occasionally, the guests at his restaurant.
While it eventually evolved into much more than that, the company has remained family-owned and family-focused while staying committed to quality.
The aroma is deep, rich, and complex with delightful notes of pear skin that are smooth and pure. The palate follows with subtle and refreshing notes of ripened pears. It's sweet but not overwhelming so – the flavor comes only from pears and not any added sugar.
4. Massenez Poire Williams Pear Brandy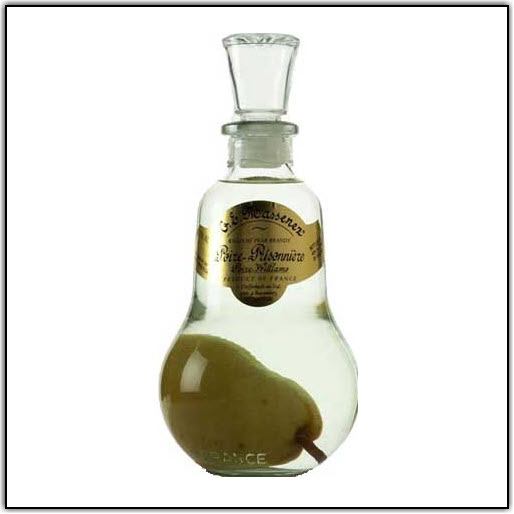 Massenez Poire Williams Pear Brandy is perhaps one of the most fragrant on the market. To make the expression, they pull from an abundant source of Williams pears and ferment the ripe, crushed fruit for up to six weeks. It's then distilled to a lower strength, effectively preserving its beautiful aroma.
It tastes amazing when served chilled or in the rocks and it also mixes well with soda, vermouth, and tonic. Its sweet flavor also does well as a decadent sorbet topping. This drink is usually sold with a whole pear in the bottle. They do this by attaching the bottles to branches with small pears beginning to grow. It's then allowed to grow the rest of the way inside the bottle.
This practice not only presents beautifully but it enhances both the aroma and flavors of pear. The profile on this one is heavily pear – with bold and rich pear aromas and a clean, crisp palate of fresh pear.
5. Rhine Hall Pear Brandy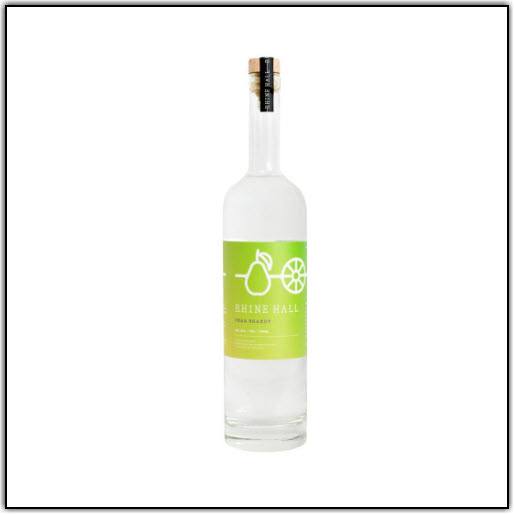 Rhine Hall Pear Brandy is a premium bottle from Chicago, Illinois. They use local Barlett pears that come from the Great Lakes Region – about 25 pounds are needed for every bottle.
Founded in 2013, the distillery is fairly new. Owned and operated by a father-daughter pair, they named the distillery after Rheinhalle, a rink in Austria where the father played hockey professionally before starting this new endeavor.
Today, Rhine Hall has many fruit brandies on its portfolio as well as some grappas and liqueurs. It always starts with fresh fruit for them, which is always sourced locally. No matter the type of spirit, they're adamant that the drink reflects the nature of the fruit, which is why they use no artificial sweeteners or flavors.
The pear brandy opens with fresh pear on the nose followed by notes of honeydew melon and lemon zest. The palate offers notes of ripe pears with pear blossoms, white flowers, and slate in the background. The finish is crisp and refreshing.
Pear Brandy Cocktails
Pears are unique in that their natural flavor is sweet, but not super sweet like many other fruits. Most producers take advantage of this and let the natural pear flavor shine through when creating spirits, rather than adding sugars and sweeteners to make it sweeter. This lends itself nicely to a wide variety of cocktails, many that are deliciously crisp and refreshing.
Here are a couple of simple and tasty recipes to get you started:
The Perfect Pear Cocktail
This one comes from a cocktail book by Jim Meehan and it's a drink that's perfect for beginners. It only contains one alcoholic ingredient; the others are easy to get, and the cocktail is easy to make.
Ingredients:
2 ounces pear brandy
¾ ounce lime juice
½ ounce orange juice
½ ounce simple syrup
Sugar, for rimming
It's best if the orange and lime juice and freshly squeezed (just like with any other orange juice cocktail), but if that's not possible, just use the freshest, most natural option you have. This cocktail does best when poured into a chilled glass, so begin by putting your glass in the freezer while you prepare the drink.
Then follow the instructions:
Put the pear brandy, simple syrup, and juices into a shaker with ice and shake well.
Take the glass from the freezer after a few minutes and dip half of the rim into your sugar.
Strain the cocktail into the chilled glass and serve immediately.
The idea behind sugaring only half the rim is that you can take sips from both sides – one side regular and the other side giving you a little extra sweetness. Of course, if you prefer it one way or another, you can rim the entire glass, or not at all!
Fistful of Pears
This one comes directly from St. George Distillery, so the official recipe recommends St. George spirits, but you can, of course, use whatever you have on hand! It's a pear-filled cocktail for those who love pears. If you want to avoid the spice and would rather stick to regular sweet pears, substitute the spiced pear liqueur for a regular one.
Ingredients:
1 ounce pear brandy
1 ounce spiced pear liqueur
1 ounce of grapefruit zest
A pear slice, for garnish
Instructions:
Add your liquid ingredients into a mixing glass full of ice and stir for 15 seconds.
Once stirred, squeeze the grapefruit zest into the drink, skin side down so you get the oils in there as well.
Add the slice of pear to the drink. This will add even more pear flavor if you take your time with the drink and let the pear sit.