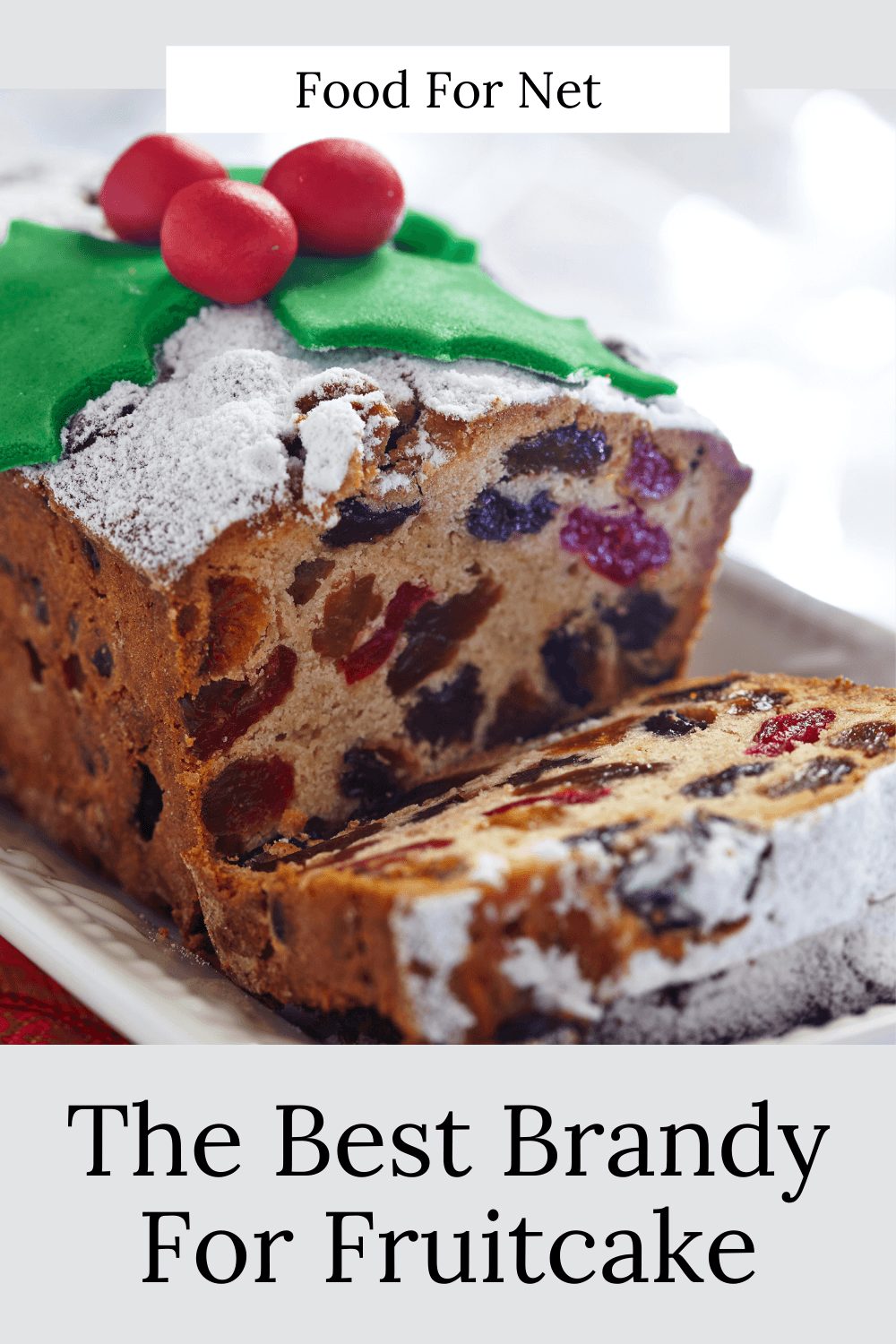 The fruitcake is peculiar creation that always gets a mixed bag of reactions. Typically only appearing around the holidays, some people love it while a lot of people hate it. Perhaps they hate it because of the odd mix of flavors, or maybe it's related to negative memories. Many also see it as more of a joke or a gag gift than a serious dessert. Either way, it's pretty divisive as baked goods go, and yet, it shows up in plenty of households year after year.
So, where did this fruity tradition begin? There are traces of fruitcakes all the way back to ancient Egypt. It's said that they were left in the tombs of the deceased. The theory behind this practice is the thought to be for sustenance on the journey to the afterlife. This would make sense, considering how dense and full of fruit the cakes often are.
It's also found in the records of ancient Rome, where you could find an old recipe that called for 2,000 pomegranate seeds, raisins, and pine nuts mixed into a barley mash. In 18th century Europe, fruitcake made with sugar and butter was banned for a time as it was thought to be too rich and yummy! Come 19th century, it was a traditional wedding cake in England.
These examples are just a few of the ways fruitcake has made its rounds around the globe. Modern recipes often call for alcohol and finding the best brandy for fruitcake may just make the difference between a punchline and a legitimately enjoyable dessert.
You could also try this fruitcake with homemade brandy, but the results might not be that good.
The Best Brandy for Fruitcake
1. E&J VS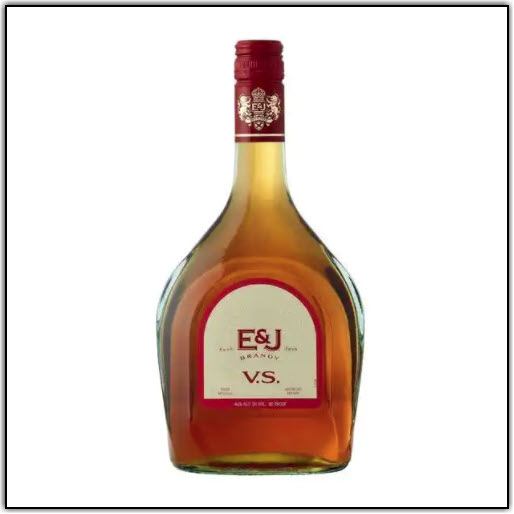 E&J has several expressions in their collection and the brand is among the most awarded brandies in America. Each expression is treated with the same amount of care and detail, with flavors carefully chosen and aging meticulously carried out. E&J VS is on the low end of their scale, though that doesn't mean the quality is lacking. It's distilled from only the finest wine and is aged for about two years in American oak barrels.
The VS makes a nice sipper as it's flavorful and smooth, but it also does well in many cocktails. It's especially good in quick mixed drinks – add a dash of cola, ginger ale, or soda water for an easy, tasty, refreshing spritzer with just two ingredients.
You'll find lots of fruit on the nose such as peaches, pineapples, and cherries – a unique and somewhat tropical mix. The palate is ripe with young fruit with vanilla and barrel spice in the background, complementing the vibrant fruit notes well.
2. Courvoisier VSOP Cognac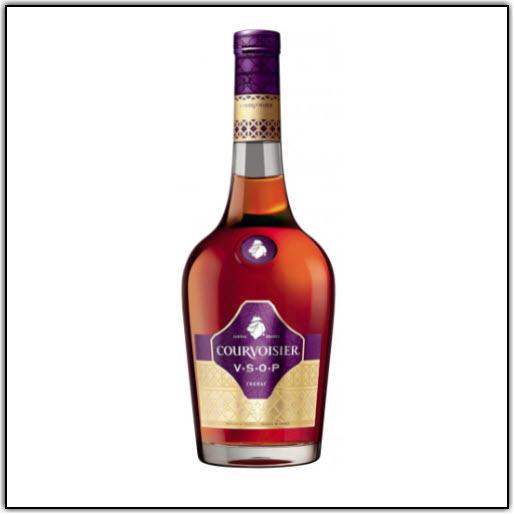 Courvoisier VSOP is the perfect brandy for when you want to level up your fruitcake – or any other recipe you're making. It's a premium expression that brings together many deep and exotic flavors for a complex and well-balanced profile with unrivaled smoothness.
The distillery was established in Paris, France in the little suburb of Bercy back in 1809. It was founded by Emmanuel Courvoisier with the help of Louis Gallois, the mayor of Bercy at the time. They started by simply trading cognac, but it wasn't long before they began producing their own. The label really gained traction when Napoleon Bonaparte's heir, Napoleon III asked specifically for Courvoisier in 1869. He loved it so much that he named the distillery the "official supplier to the Imperial Court." It's a title that the distillery still treasures to this day.
On the nose, this one offers soft, luxurious aromas of ripe peach. The palate follows with notes of jasmine, musk, and toasted almonds, balanced by notes of oak and fruity, floral notes.
3. Copper & Kings American Craft Brandy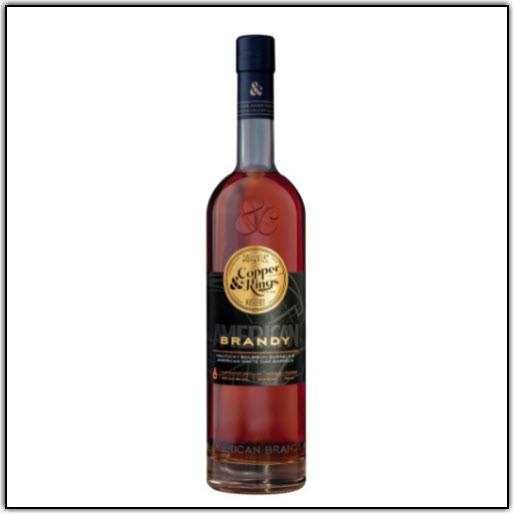 Rich, complex, and delicious, Copper & Kings American Craft Brandy is fondly known by many as the "brandy for bourbon lovers." They use a version of the solera method to mature this brandy, creating a unique and distinct profile.
The distillery is located in a neighborhood called Butchertown, appropriately named for how many butchers used to reside in the area. Today, the town is still a special place, housing a medley of artists, distillers, artisans, brewers, and more. Copper & Kings produce a range of absinthe, gin, and American brandy.
The label came about right around the time brandy was making waves in America, after previously being heavily associated with European markets. Their American Craft Brandy is aged in Kentucky bourbon and charred American white oak barrels, creating a whole new world of brandy that became distinctively American.
On the nose, you've got notes of honey, caramel, cherry wood, and honeysuckle with a floral touch. The palate is viscous and luxurious with layered flavors of tobacco, toasted oak, honey, dried fruits, and bold spice. These flavors are well-balanced and come together nicely for a long, smooth, lingering finish.
4. Bertoux Brandy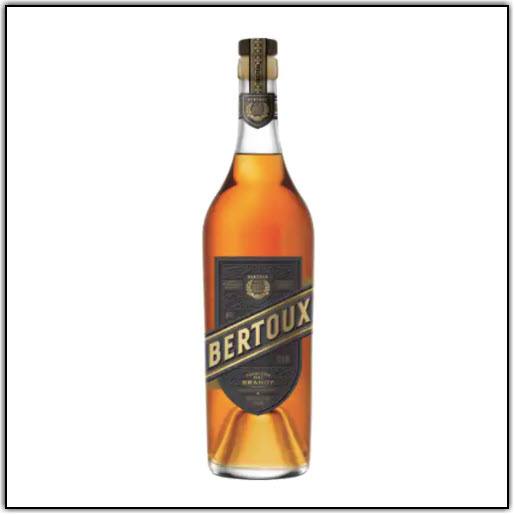 Bertoux Brandy comes from California where it's made with a Solera-style distillation method. The final result is a blend of pot-distilled brandies between the ages of three and seven, aged in French and American oak barrels. Its profile offers a balanced, layered profile with plenty of fruit notes, designed specifically for mixing and that's what it does best.
It creates a truly premium cocktail, giving you the best taste of all the classics such as the old fashioned, sazerac, and the sidecar. These drinks are known as classics for a reason and you want to experience them the right way – with a good quality brandy. This expression's ability to perform well in a cocktail translates to other recipes like the fruitcake, where the blend of sweet, bright flavors really shines.
The nose is classic brandy with fresh, clean notes of grapes, lavender, and flowers. The palate goes deeper with notes of dark chocolate, raisins, dried apricot, and subtle notes of honey. The finish is rich with a touch of oak and walnuts.
5. Laird's Applejack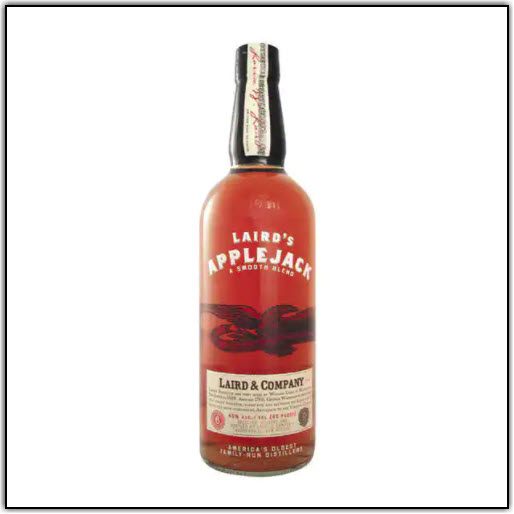 Laird's Applejack is a beautiful blend of neutral spirits and apple brandy. It creates a wonderful, rich palate full of depth and complexity thanks to its expertly chosen ingredients. The base of apple brandy gives the spirit an elevated smoothness as well, making it an incredibly versatile spirit. Sip it, mix it, or even bake it – it does a good job every time.
Only whole apples are used in the production of this expression and there are no additives included along the way, making it one of the purest spirits you'll ever taste or experience.
The nose begins with bright, clean notes of apple and a touch of char smoke. The palate is a perfect balance of sweet and tangy with mild spicy undertones. It's light-bodied and smooth with a pleasant bittersweet finish with light flavors of apple to the very end. Laird's does also have an unblended version of applejack, however the flavors there may be too strong for your fruitcake.
A Modern Fruitcake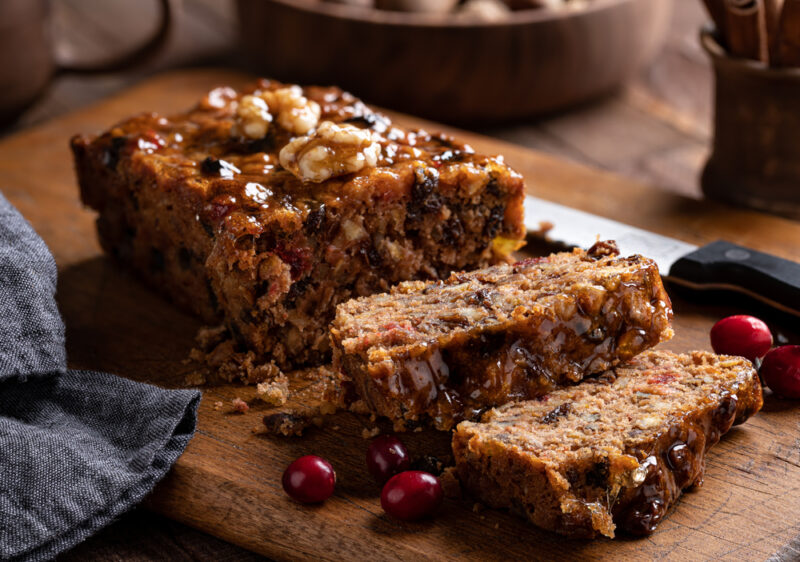 Despite the reputation that fruitcake has developed, it's not always a complete throwaway. Especially as more modern recipes are created, there are plenty of ways to make a fruitcake that people want to eat rather than smash, pass around, or jokingly re-gift. Below is a nice, light, tasty recipe that might change some long-standing opinions on the strange holiday tradition.
Ingredients:
1 cup buttermilk
½ tsp baking soda
½ cup dried cranberries
1 cup dried, pitted cherries
½ cup golden raisins
1 cup unsalted butter
2 large eggs
2 cups sugar, plus 3 extra tbsp to sprinkle on top
3 cups flour
1 tsp coarse salt
1 tsp freshly grated nutmeg
¾ cup hazelnuts, toasted and chopped
1 cup brandy
1 cup candied orange and lemon rind, chopped coarsely
Soft butter and flour for the pan
Instructions:
Preheat oven to 375°F
Add the begging soda to a measuring cup and add the buttermilk. Stir and set aside.
Add the dried cherries, cranberries, and raisins to a small saucepan with the brandy.
Bring to a boil and let simmer for five minutes.
Cover the pan and set it aside to let the fruit steep.
Butter and flour your baking pan.
Cream the sugar and butter until it's light and fluffy, then beat in the eggs.
Combine the salt and nutmeg with the flour and mix them up well.
Beat this mixture, the butter mixture, and the buttermilk mixture together in thirds, adding sections one at a time.
Once done, fold in the fruit, nuts, and rind, evenly distributing them throughout the batter.
Add the whole thing to your baking pan, ensuring it's smooth on top.
Sprinkle with the last three tbsp of sugar.
Bake for one hour and 40 minutes.
Let the cake cool for at least an hour before serving.
This cake should last for about one month if kept in the refrigerator – but hopefully, it's yummy enough that you'll want to finish it up before then!