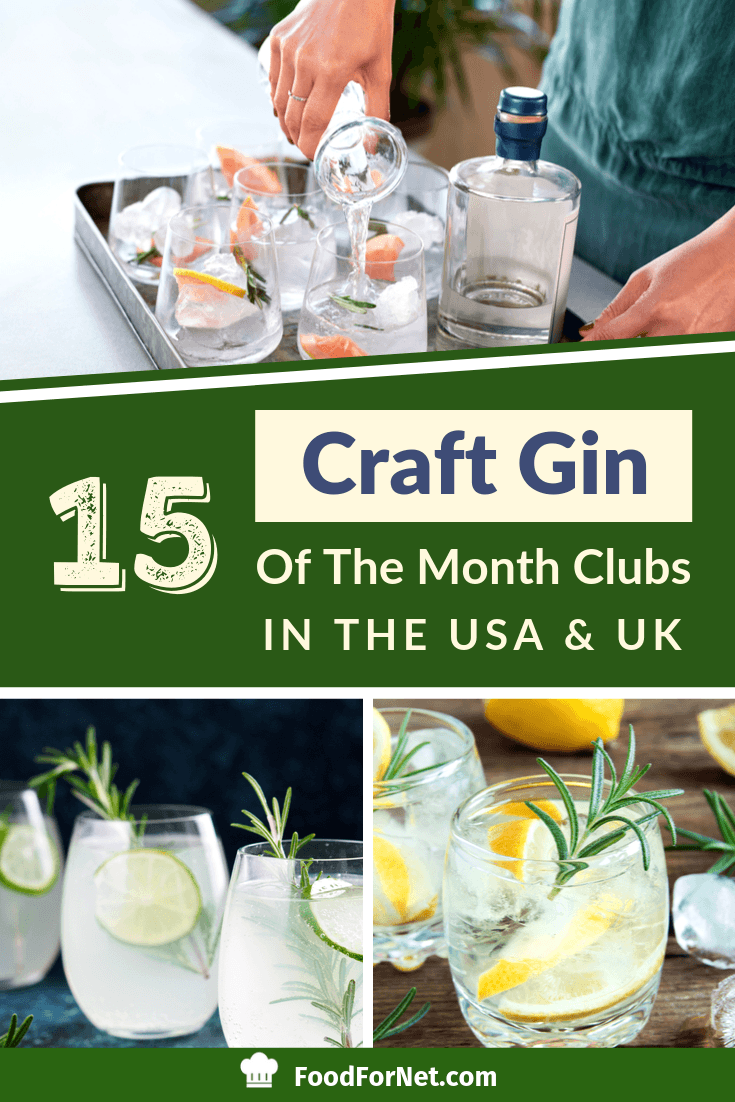 Gin is an unusual spirit and it has never dominated the American market. In fact, it makes up less than 5% of all distilled spirits consumed in the United States. But, times are changing. There is growing interest in gin, with dramatic increases in the amount of gin imported from Britain. At the same time, local producers of gin are springing up, offering new and unusual products to try.
The most notable aspect of gin is the flavor of juniper berries, which dominates all forms of gin. Products will often get flavors from other botanicals as well, allowing gins to be very different than one another.
Because gin is still predominantly a British spirit, there aren't that many American gin of the month clubs. But, there are some. These clubs are a powerful way to try out new gin and learn more along the way. In the US, you'll mostly see things like Bourbon of the month clubs, and even some Tequila clubs.
I'm also highlighting UK-based clubs as part of this list. Most only ship within the UK at present, although their shipping may change later on. Some will ship to America, although the shipping costs can be significant.
As well as clubs, this list offers other ways to experience gin, including various gift baskets and boxes. Such products can be an alternative place to start. Most won't offer obscure or unusual choices of gin but they can still be a way to stock your bar initially.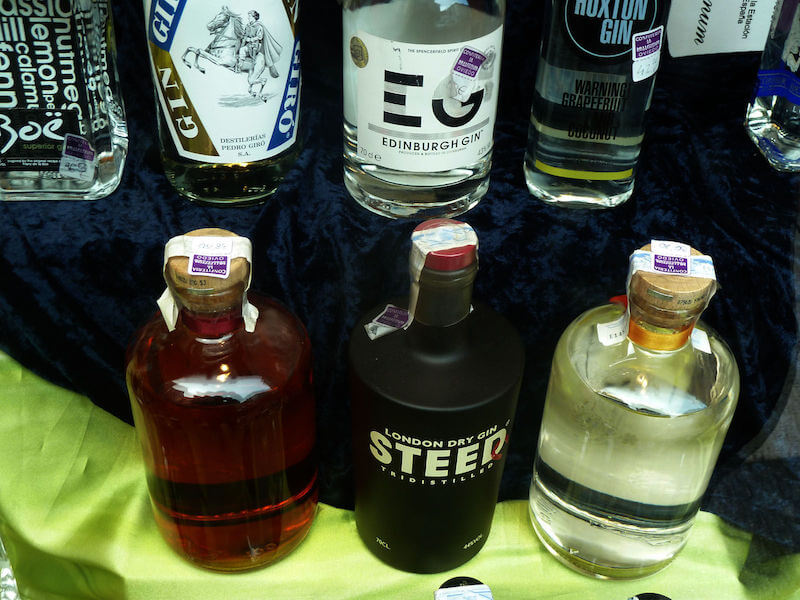 Gin Of The Month Clubs
American Gin Clubs

Mash & Grape
Mouth
Spirited Gifts
1-877 Spirits

UK Gin Clubs

Flavourly
Master of Malt
Bottle in a Box
The Gin Box Shop
The Gin Crowd
Juniper Club
Craft Gin Club
MicroBarBox

Crates & Boxes

Spirited Gifts
Bro Basket
Man Crates
Mel & Rose
Pompei Gift Baskets
Masters of Malt
1-877 Spirits
***Did you know?*** Flaviar has mini "taster kits" for many types of spirits including scotch, bourbon, tequila, gin, brandy, and more. Get 3 vials of your favorite spirits to try, plus free shipping. Then, get access to exclusive bottles and tastings of hard-to-find spirits.
American Gin Clubs
Mash & Grape
Mash & Grape's club is Gin Explorer, which costs $49 per month. You can also prepay for 3, 6 or 12 months and get a discount of up to 15%. The club offers a full-sized bottle of gin each month, along with bottle notes. The notes include information about tasting and also details on the bottle's history.
As for the gins, Mash & Grape boasts a powerful network that gives them access to a range of small bottlers. This should offer some more unusual gins for you to try out. Club members also get early access to new spirits, if you plan on purchasing bottles directly from the company.
Mouth
The Gin of the Month Club from Mouth starts at $60 per month. The monthly cost decreases if you prepay for 6 or 12 months. Once again, you receive a single full-sized bottle each month. With this club, the gin will always be small-batch and made in America. So, you won't see any British gin in the mix.
There aren't any other bonuses with the club and it doesn't seem like you receive any extra information on the gin.
Spirited Gifts
Spirited Gifts seems to focus on every conceivable alcohol-related gift – so their Gin Lovers Club is no surprise. This is a 3-month club that costs $225. You pay the fee up front and then receive a bottle each month.
There are no other bonuses that come with the club. So, you're not getting any information about the individual gins or tasting notes. Spirited Gifts mentions that the gins are always 'unique and hard-to-find' but there are no details about what this means.
1-877 Spirits
The Triple Gin Rummy Club from 1-877 Spirits is also a 3-month club. In this case, the cost is $199 and the bottles are shipped out each month. One difference is that the gins are pre-determined. The club ships out Bombay Sapphire gin, then Tanqueray and finally Hendrick's.
None of the gins chosen are especially unusual and you could easily pick them up locally. This makes the club less interesting than others. Really, it's only worth joining if you plan on using the club as a gift.

UK-Based Clubs
Flavourly
Flavourly's Craft Gin Club is a pretty sweet deal. For just £16 per month, you'll get a 200ml bottle, 2x mixers, a snack, and a magazine. That includes free shipping as well. You can choose monthly, bi-monthly, or quarterly shipments.
The gin selection is hand picked from gin experts, and strives to feature experimental and craft gins.
This is a smaller bottle of gin, hence the cheaper price. A typical full-size bottle of gin is 750ml, so the 200ml bottle in Flavourly might go fast. Opt for the monthly shipment if you're a frequent gin drinker.
Master of Malt
Master of Malt does ship products internationally but their Gin Dram Club is currently for the UK only. It starts at £25 pounds per month, which is around $33 USD right now. The club is unusual as you're getting 30ml drams of gin, rather than full-sized bottles.
This is a powerful way to experience more gins. It can be more practical than a club that gives you a single bottle each month. After all, a full bottle isn't great if you don't end up liking the gin.
Bottle in a Box
The Gin Club from Bottle in a Box is different than most. You do still get a full-sized bottle of gin each time. But, there are also other components, including snacks, mixers and cocktail recipe cards. The membership starts at £40 per box (around $53 USD) and you can receive them monthly, bi-monthly or quarterly.
The company does offer information about international shipping, so it may be possible to get this club in the United States. If so, you would have to email them to find out more information.
The Gin Box Shop
The Gin Box subscription is a different type of club than most. With it, you receive 2 samples of gin (50ml each) and they're provided in bags, not bottles. The box also contains tasting notes and extra details.
The style is odd but it means no risk of any bottles breaking. The package design also lets it easily fit into a letterbox, leading to fewer hassles all around.
You're not getting much gin per month but the subscription is inexpensive. If you pay month-to-month, then the cost is £12 (around $16 USD). This price decreases if you pay for a long-term subscription. Unfortunately, there is no information about international shipping – suggesting that the box is only for people in the UK.
The Gin Crowd
The Gin Crowd offers a Craft Gin Discovery Club that also operates by providing samples. With this club, you receive 3 different gins in small glass bottles. There isn't much information about how these gins are chosen or where they come from.
The box also contains tasting notes. The club costs £17.99 (around $24 USD) if you're paying monthly and less for longer memberships. Once again, this is a UK-only club. There's also no suggestion that they'll expand their operations later on.
Juniper Club
The Juniper Club follows a more common approach, where you're getting a single bottle of gin in each shipment. You can choose whether those shipments are monthly, bi-monthly or every quarter. There is also an 'add on' option each month, which lets you get a tonic and garnish box designed to complement the gin.
The club costs £35 (around $47 USD) each month and is available in the UK only.
Craft Gin Club
The Craft Gin Club doesn't just offer gin to its members. Instead, the subscription includes various other treats and a copy of the magazine 'Ginned!'. The monthly cost is £40 (around $53 USD) and you can receive boxes every 1, 2 or 3 months, depending on your preference.
Even though this is a UK-only club, the company is working on offering it to other parts of the world. This may make it an option for American customers in the future.
MicroBarBox
The Gin of the Month club from MicroBarBox is different to every other option. Unlike most, the club is free to join and it doesn't automatically mail out gin. Instead, the company chooses a different gin each month to feature. Members then have the option of purchasing it (or not).
The style works well if you want flexibility. Even so, it isn't really the same type of club. It also seems like you just get the gin, rather than receiving additional information about it or tasting notes.

Crates and Boxes
Spirited Gifts
As well as their gin club, Spirits Gifts offers a handful of gin gift baskets. Each comes with a full-sized bottle of gin and various snacks and treats. There are also gin cocktail gifts. Many of these offer the ingredients to make specific cocktails, such as the Hendricks Gin Gift Set for Cocktail Lovers.
The Bro Basket
I'm always impressed with the gifts from The Bro Basket, partly because they are all so unique. Unfortunately, the company only has 3 main gin boxes. One is called The Classic Gin and Tonic. This offers the ingredients for the cocktail, a glass and gourmet popcorn. The others are The Juniper Gin Sampler, which offers 3 different 200ml gins and The Classic Martini.
You can also build your own boxes from scratch on the site or modify current ones. This would give you additional options.
Man Crates
Man Crates offers one interesting gift basket for gin, which is their Gin-Fusion Kit. The kit offers the various spices that can be used to create gin from vodka, along with all of the glassware and instructions that you will need.
There is also a Gin-Fusion Refill Kit, which just offers the instruction manual and spices. This is good if you need more spices, or if you don't want the glassware.
Mel & Rose
Mel & Rose offers a particularly fun gift called Movers & Shakers. This comes in a leather case and includes a martini shaker, glasses, an ice basket, gin and a variety of related components. The style is extremely cool and perfect for martini lovers.
The site has many other spirit-based gift baskets, which follow interesting themes. The catch is that you cannot sort by the spirit and many don't have the alcohol type in the title. So, you'll have to do a little guessing and digging to find boxes or baskets that you want.
Pompei Gift Baskets
Pompei Gift Baskets has 3 different baskets about gin specifically. Each includes various snacks or related products. My personal favorite has to be The Great Gintini Gin Gift Basket. This is another basket that's focused on martinis. In this case, glasses aren't included but there are various pieces of barware that make it an unusual gift.
Master of Malt
Master of Malt offers tasting sets for many different spirits, including gin. These are shipped from England and they can sometimes be expensive. However, they offer a unique chance to try different gins, including ones that are hard to find.
One such option is their Ian Buxton 101 Gins to Try Before You Die. The title comes from a book of the same name, which is included in the purchase. You don't actually get 101 gins with the set but there are at least 10. There are also other smaller selections, like an Antique Gin Set and a History of Gin Set.
1-877 Spirits
1-877 Spirits has a House of Gin Gift Basket, which could make a nice gift. The basket contains Hendrik's Gin, along with chocolate, biscotti, crackers and cheese or fruit spread. As with most baskets, the precise components will vary based on availability.