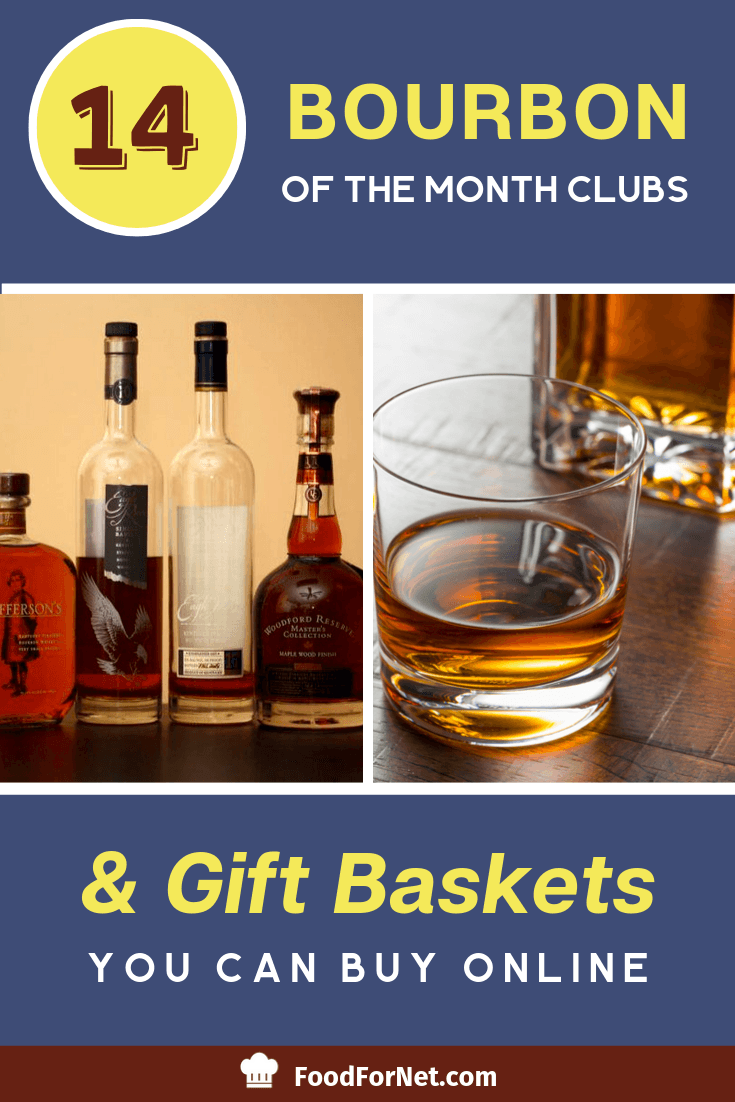 I'm mostly a casual whiskey drinker but I've recently been experimenting with various whiskey of the month clubs. These have helped me learn more about the nuances of whiskey along with the differences between various choices. In this list, I'm taking a specific look at just one type of whiskey – bourbon.
Bourbon whiskey is typically American-made and distilled from corn. There is also a specific set of requirements for bourbon made for US consumption, including the use of new charred oak containers and having more than 51% corn in the grain mixture.
Of course, the difference isn't just in how the whiskey is made. Bourbon is often defined as having notes of vanilla, caramel and oak, although the flavor varies depending on the brand and the batch.
Bourbon is also a versatile whiskey and is often included in cocktail recipes. There are other interesting ways to drink bourbon too. What's more, bourbon can typically be used in any recipe that asks for whiskey – making it a perfect spirit to keep around the house.
For this list, I'm focusing on any clubs that offer regular mailings of bourbon. These typically provide full bottles and their focus is on convenience and experimentation, not price. This means you won't get dramatic discounts with any club but you may get to try whiskey that you wouldn't normally find in your area.
If you want whiskey samples, then Flaviar is clearly your best choice. You'll try more bourbon with Flaviar than any other club. You'll get a 3-dram sample pack plus a full bottle each quarter. They have many spirits you can order, including craft tequila, gin, and Scotch, but they have a fantastic bourbon selection too.
This is an all around fun club to be in. You get to select the bourbon you want each quarter, so this is not a curated club like the other clubs.
For a full bottle of bourbon delivered monthly, plus excellent educational resources, I prefer Mash & Grape or Pour More.
Mash & Grape includes shipping and the club is a straightforward $79/month, no options, no discounts. However, Pour More has 2 tiers of Bourbon clubs — beginner/explorer, for $49/$79. You can also select to pre-pay for up to 12 months and get a discount.
In addition to the clubs, I've included various other ways to have whiskey sent to you, including gift baskets, crates and similar options. After all, a club won't always be the right choice and variety is never a bad thing.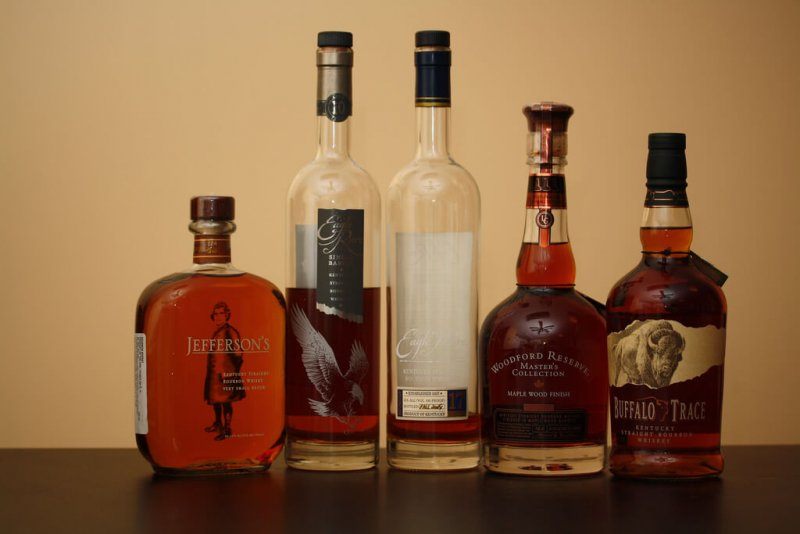 Bourbon Of The Month Clubs
Bourbon of the Month Clubs

Taster's Club
Mash & Grape
Pour More
For Whiskey Lovers
Spirited Gifts
Bounty Hunter
Blackwell's Wines & Spirits
Aries Fine Wines & Spirits
Caskers
1-877 Spirits
Mouth
Clubs Galore

Crates and Boxes

The Bro Basket
Spirited Gifts
Completely Kentucky
Build a Basket
1-877 Spirits
Mel & Rose
Pompei Gift Baskets
Masters of Malt
***Did you know?*** Flaviar has mini "taster kits" for many types of spirits including scotch, bourbon, tequila, gin, brandy, and more. Get 3 vials of your favorite spirits to try, plus free shipping. Then, get access to exclusive bottles and tastings of hard-to-find spirits.
Bourbon of the Month Clubs
NEW! Taster's Club

Just found a new one. Taster's Club claims to help you get hard to find craft bourbons's delivered right to your door, then educate you about them. That sounds like my kind of thing.
Of course, I prefer the small tasters, but honestly the site looks super high quality and I can't resist the phrases
Learn from expert-level tasting, history and distillery notes

…curate a list of premium and hard to find bourbons produced by craft distillers across the United States
I mean. That's my jam. Gotta try it. They do have some negative reviews online though, so we'll see how it goes.
Mash & Grape
Another club to consider is the Bourbon Explorer from Mash & Grape. This club is $79 per month. No gimmicks. Once again, the club offers a single full-sized bottle of bourbon each month. Details about the bourbon are included as well, so you get to learn about what you're drinking.
The club also offers two key bonuses. One of these is a concierge service, which helps you to source gifts and rare bottles. Additionally, members get the first option to buy new products that Mash & Grape sources. These services are perfect for anyone who wants to expand their collection over time.
Pour More
With Pour More, you get to define the quality of your whiskey. In particular, they used to three different clubs, each with their own pricing. Now it's just two: Introduction to bourbon, and the Bourbon Explorer. The intro club is $49/month paid monthly, and it's $79 for the explorer option.
Both clubs offer discounts for pre-paying 3, 6, or 12 months, so you can get the cheap club for $42/month and the expensive one for $72/month if you prepay.
All of the membership options give you a single 750ml bottle of bourbon each month. You also get a review of that whiskey, a description of it and links to useful information online.
The key difference with the clubs is simply the quality of whiskey. The Bourbon Intro tier works well for anyone budget-conscious, while the other option offers rarer and more high-quality bottles.
For Whiskey Lovers
For Whiskey Lovers doesn't have the most impressive site, and they discontinued their American Whiskey club. The whiskey explorers membership is still open though, so if you want to broaden your tastes beyond bourbon, you can give this one a try.
There is also the option to sign up for a quarterly or an annual subscription. These offer a discount and also function in a slightly different way. With these, you receive shipments of whiskey every 3 months. Each shipment contains 3 bottles, so the amount of whiskey is unchanged. Of those 3 bottles, 2 are bourbon and the final bottle is a wild card.
Spirited Gifts
Spirited Gifts really is about gifts and their Kentucky Bourbon of the Month club reflects that. The club itself isn't an ongoing membership. Instead, you purchase 3 months at a time, for $249. That calculates to $83 per month and you get a 750 ml bottle each time.
The company states that you receive a rare or classic bottle each month, with the selection constantly changing. But, you don't appear to get any notes about the whiskey itself.
The membership is clearly designed as a gift and can even be wrapped. This may make it unappealing for some people. But, if you're wanting to treat yourself, it could still work well.
Bounty Hunter
The Bourbon Trail Club from Bounty Hunter is another interesting choice. In this case, the pricing isn't static. Instead, you pay $150 to $200 per month. That price is based on the whiskey you get. So, better whiskey tends to cost more, which is fair enough. Their prices here may seem high but you are getting 2 full bottles of bourbon.
Bounty Hunter describes their club as 'American Whiskey with a Bourbon focus'. As such, most of the whiskeys you get should be bourbon but they won't all be. This makes it a good club for variety but less appealing if you just want bourbon.
Tasting notes are provided with this club, along with detailed information about the whiskeys themselves and food pairing. The club also offers bonuses, which tend to be discounts on products, along with the chance to buy rare wines.
Blackwell's Wines & Spirits
Blackwell's Wines & Spirits doesn't a bourbon club per se. Instead, they have a Bourbon & Rye Whiskey of the Month club. This style should offer more variation than most of the other clubs on the list.
Unlike most clubs, this one doesn't have a set monthly price. The price changes from month-to-month based on which whiskey is chosen. The whiskey is announced 1 to 2 weeks in advance and you have the option of skipping a month if you don't like that particular choice. Being able to do so is perfect if you're a little picky about the whiskeys that you want to try.
Aries Fine Wines & Spirits
Aries Fine Wine & Spirits always strikes me as a low-quality company and they certainly aren't my first choice. Even so, they do offer 2 clubs to consider. The first is the Beginner Bourbon of the Month Club, which starts at $99.99 per month. They also have an Advanced Bourbon of the Month Club. That one starts at $189.99 per month.
The main difference between the two clubs is the bourbon you get. So, the advanced club tends to offer older and more expensive bourbons, ones that you're less likely to find elsewhere. However, the company doesn't offer much information about the bourbons that you're likely to get, where they are sourced from or how they are chosen.
Both clubs also come with monthly descriptions of the whiskey, tasting notes and additional useful information. For the first month, you also receive a tasting glass (2 for the Advanced club) and a tasting journal.
Caskers
Caskers currently has two whiskey clubs. One of these is called The World of Whiskey Club and focuses on whiskey from around the globe. The other is The American Whiskey Club. This offers whiskey that is produced in the United States.
Some of the featured brands are classics, while others are newer entries to the field. The club ships out 2 full-sized bottles of whiskey for $146.99 per shipment.
This club doesn't specifically focus on bourbon, so you may find some other types of whiskey from time-to-time as well. Even so, bourbon should be the dominant whiskey. Any added variety could be a good thing anyway, giving you the chance to try some unexpected types of whiskey.
1-877 Spirits
One last option is the Bourbon's Best club from 1-877 Spirits. This is a fixed-term club and just runs for 3 months. Membership costs $225, which averages out to $75 per month.
Unlike the other clubs, this one doesn't have any surprises. Instead, the 3 whiskeys you get are always the same. The first is Woodford Reserve Bourbon, the second is Maker's Mark and the final one is Old Forester Kentucky Straight Bourbon. These are all common bourbons, ones you could just buy locally.
The main advantage of this membership is just the convenience. It would also work well as a gift. Other than that, you would probably save money just buying the booze yourself.
Crates and Boxes
The Bro Basket
The Bro Basket is a good place to start if you're looking for a unique gift for the bourbon lover in your life. They have many different alcohol gift baskets and you can even change the spirits included for most of them. The best bourbon-related choice is their A Bite of Bourbon box. This contains 50ml bottles of 4 different bourbons, along with a selection of snacks, a can of coke and a tumbler.
Most of the other bourbon boxes just contain Maker's Mark (very common), or include Scotch and other whiskeys. Hey, I like Scotch too, but this is a bourbon list.
Spirited Gifts
The club from Spirited Gifts isn't especially impressive but the same can't be said about their bourbon gift baskets. The company offers a considerable range of these in many different styles. Some are even engravable.
Most of the baskets offer one full-sized bottle of whiskey and various snacks and treats. For example, the Baker's Bourbon Gift Basket contains truffles, cheese, popcorn and pretzels, along with the bourbon itself.
Completely Kentucky
Completely Kentucky is a local brand, so it doesn't have the same scope as some of the other companies. Even so, they have an impressive selection of gift baskets, which rely on Kentucky alcohol, food and products.
My favorite thing is just that the baskets are different. Gift basket companies often use similar themes and products, so the crates and boxes often aren't that unique. In contrast, the ones from Completely Kentucky stand out. They're particularly great for anyone living in the state or for people who were originally from Kentucky.
Build a Basket
Companies like Build a Basket tend to focus on fairly common whiskeys. Even so, they can make great gifts and are normally well designed. In this case, there are many different baskets to choose from, with the top seller being the Bourbon Lover's Ultimate Gift Basket (not surprisingly). That basket offers 3 different top shelf bourbons, along with chocolate and snacks.
1-877 Spirits
1-877 Spirits isn't my first choice for spirit-based gift baskets but they do have a few good ones. For bourbon, I especially like their Woodford Reserve Bourbon Gift Basket. The end selection looks refined and elegant, which would appeal to some bourbon drinkers.
Mel & Rose
My favorite thing about Mel & Rose is the selection. They have more than 150 different alcohol gift baskets, with many different styles and themes. Of course, a large selection is a little difficult too, as there it can take a while to go through them all. But, if you're willing to take the time, there are some great baskets to choose from.
One especially good choice is the Bourbon Lover's Dream. There are multiple variations of this basket at Mel & Rose, with different choices for the bourbon. That lets you match the gift to whoever is going to receive it.
Pompei Gift Baskets
There are two main bourbon baskets from Pompei Gifts. One is the Sophisticated Reserve Whiskey Gift Basket, while the other is the Rustic Tucker Bourbon Gift Basket. Of the two, the rustic basket is my personal favorite and the overall style simply works well.
Master of Malt (NON US)
Master of Malt is a UK company but they do ship to the United States. One of their main gift options is tasting sets. These offer small drams of a spirit, typically 30ml each and often come with 5 or 10 different drams. These provide the perfect way to try obscure or expensive whiskeys that you simply wouldn't otherwise.
A fun alternative is their Bourbon Advent Calendar. This is a 24-day advent calendar, with each door offering a different 30ml dram of bourbon. These include many rare and small-batch products. It makes a fun gift or just a way to treat yourself.