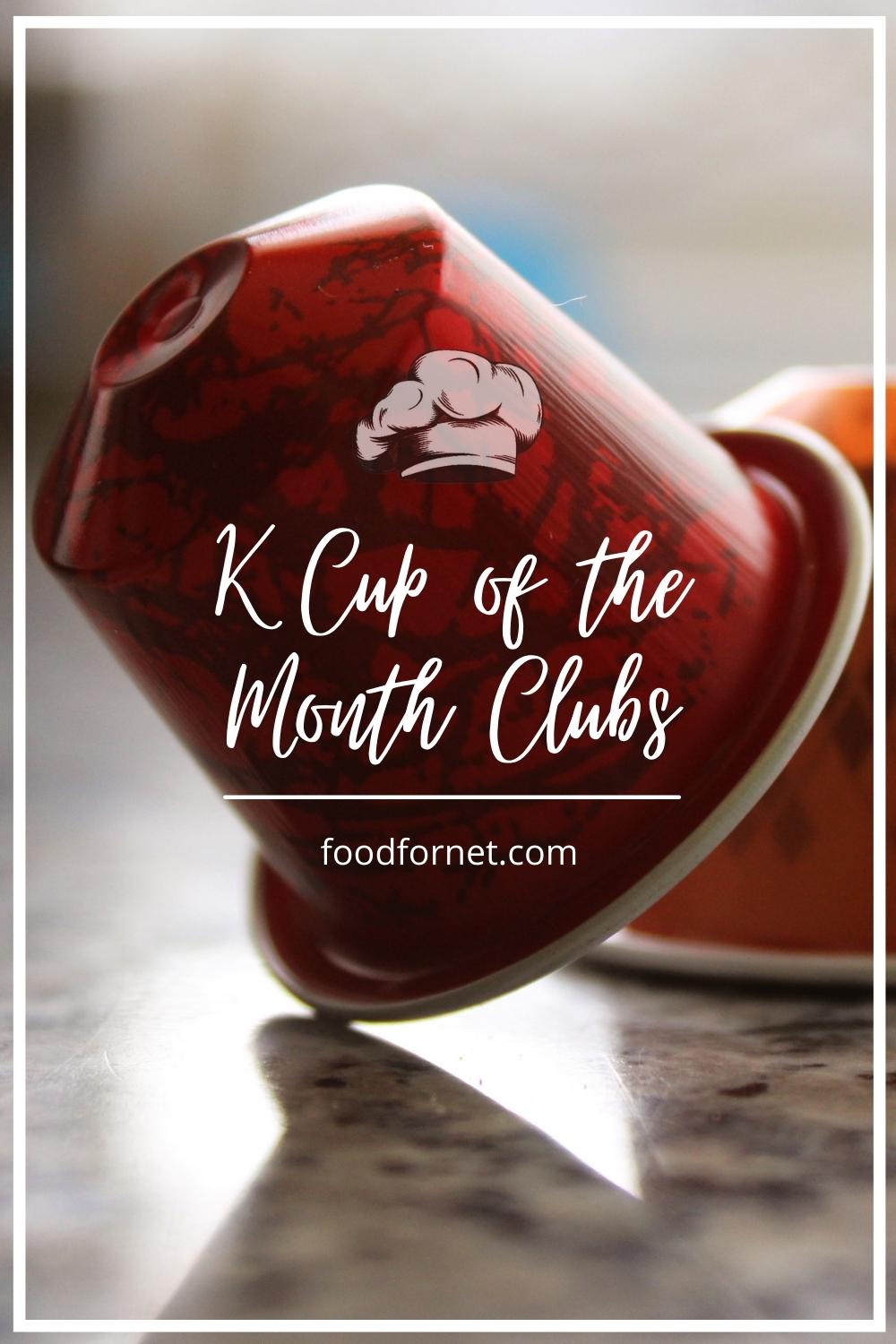 Everyone today is now familiar with the ever-popular K Cup coffee pod. Though K Cup refers to a trademarked coffee pod, this K Cup of the month clubs article includes all pods created to work in Keurig coffee makers or similar single-serve coffee brewers.
Since the advent of the K Cup in the late 90s, many homes and businesses enjoy the conveniences and flexibility the K Cup allows coffee enthusiasts. Single-serve coffee makers have changed the world of coffee as we know it. People can more easily enjoy coffee at any time of the day without having to brew multiple cups of coffee.
Plus, another huge benefit of single-serve coffee makers is the lack of mess. There is never a fear of spilling coffee grounds, there's no soggy filter to clean up, and no coffee pot that needs to be rinsed. And, making a cup of coffee is a lot faster too.
Today, Keurig and other coffee makers like it have come a long way. The higher-end models allow for different coffee sizes and strengths. And on hot days some have a choice for iced coffee too. There are even deluxe models that offer a milk frother and espresso option so you can enjoy your favorite coffee beverage as a single-serve as well.
And these "coffee" machines now brew much more than just coffee, they also have espresso, tea, and hot chocolate pods available too, giving users even more beverage options.
Unfortunately, K Cups' biggest drawback has been its lack of the use of environmentally friendly packaging. However, Keurig Dr Pepper company is working diligently to offer more eco-friendly products. And some of the companies that provide K cup subscriptions come in earth-friendly packaging.
This article focuses on K Cup monthly subscriptions for coffee but does include one company that offers a wider variety of beverages. There are also coffee bean subscription boxes you can subscribe to as well.

K Cup of the Month Clubs
Keurig Dr Pepper SMART Coffee Subscription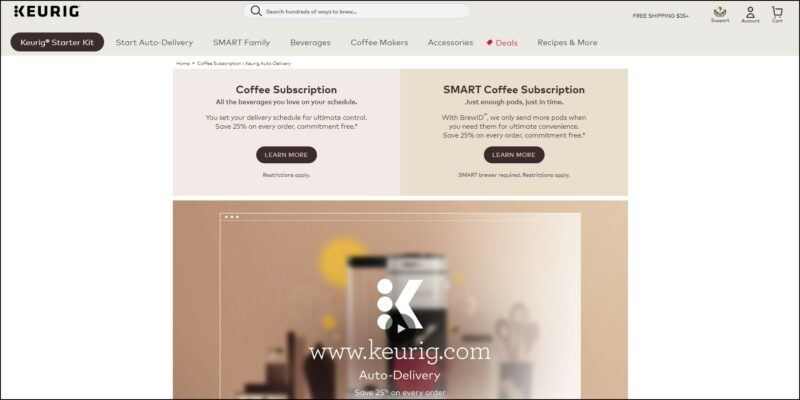 The Keurig coffee maker, invented by John Sylvan and Peter Dragone, in 1992, was later sold in 1997. Keurig is a household name but originally started with commercial single-serve coffee units.
Green Mountain Coffee initially purchased stock in Keurig in 1993 and increased its investment over the next several years, until finally in 2016, Green Mountain purchased Keurig. And only two years later, they bought the Dr Pepper Snapple company, making them one of the most prominent beverage and food companies in the US.
Today 13% of businesses in the US have Keurig machines, though in Boston, where the company's headquarters reside, 25% of the companies have one, and one in four homes now have personal Keurig coffee machines.
Keurig Dr Pepper offers more than 100 different K Cup beverage subscription options. You may be wondering how that is even possible, but the answer is that Keurig Dr Pepper owns 32 different coffee brands and carries even more on its website. Plus, they have tea, hot chocolate, and espresso K Cup subscription options.
Most of the subscriptions come in 24, 72, or 96-count quantity choices. And when you sign up for a K Cup subscription, you automatically receive a 25% discount. Plus, you will also be eligible to receive 25% off other beverages and select products from their website.
There are several delivery options from every two weeks up to every 12 weeks. Plus, free shipment is automatically applied when an order is of a certain amount (varies depending on the item purchased).
Peet's Coffee Curated Subscriptions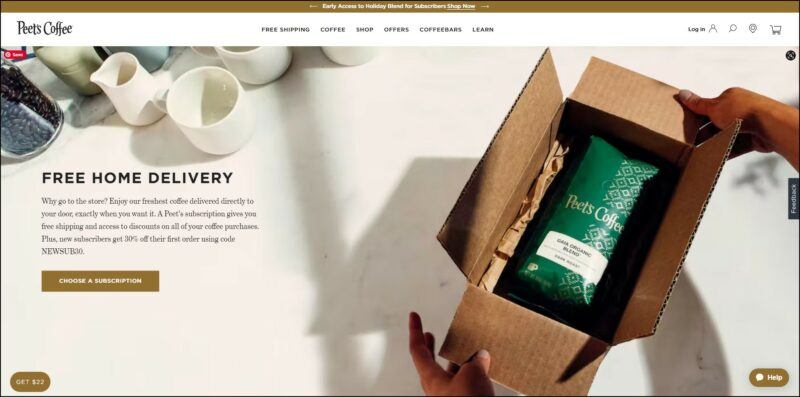 Peet's Coffee first opened in 1966 as a coffee bar, Peet's Coffee, Tea & Spices, in Berkeley, California. The owner Alfred Peet grew up in the Netherlands, learning about the coffee trade. Alfred later traveled the world, and when reaching the shores of the US was disheartened by the lack of good coffee, inspiring him to open his first coffee bar. Coffee lovers flocked to Alfred's coffee bar to enjoy his premium rich dark roast.
Today, there are more than 200 Pete's Coffee locations and thousands of retailers all over the world, offering an array of coffee varieties. Peet's Coffee also offers several tea options under the name Mighty Leaf.
Peet's offers a couple of different subscription choices. One is called Curated for You, where Peets will choose different roasts every month, giving you an opportunity to try a variety of coffee. K Cups are not available in this option.
The other subscription is called Build Your Own. Here, you choose your favorite coffee to be delivered each month. There are 13 different K Cup options.
Explorer K-Cup Packs (80 Count) – A variety pack that includes five prespecified flavors
Decaf Especial
Major Dickason's Blend
Big Bang
Single Original Brazil
Single Origin Nicaragua
Organic Alma de la Tierra
French Roast K-Cup
Colombia Luminosa K-Cup
House Blend K-Cup
Cafe Domingo® K-Cup
Costa Rica Aurora K-Cup
Decaf House Blend K-Cup
Once you have chosen your subscription, you can select how many K Cups you want per shipment: 16, 32, 64, or 96, and at which frequency between every week up to every eight weeks.
Tayst Coffee Pod Subscription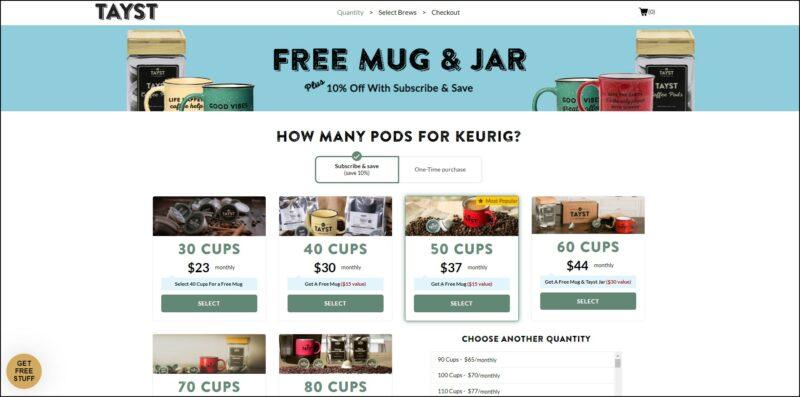 Tayst brings a whole new look to K Cup coffee. The biggest drawback for most people when it comes to single-serve coffee is how each plastic cup harms the environment. However, when you buy Tayst coffee pods, which work in all the same coffee makers as a K Cup, you will not only be cutting back on waste but actually helping the environment.
Tayst offers the first BPI-certified (Biodegradable Products Institute) coffee pod. After the pod disintegrates, it will then, in turn, provide nutrients to the soil. Instead of using a foil top, Tayst pods have compostable paper with water-based ink. The ring is made up of a bio-resin and coffee chaff (a by-product of coffee production). It is finished with a renewable, biodegradable mesh instead of a plastic vessel.
Plus, all of the coffee is responsibly sourced from farmers in the Rainforest Alliance, that use a viable growing method that gives back to the earth. Tayst offers seven different coffees:
Happy Hazelnut
Vintage Vanilla Cream
Definitely Decaf
Medium and Magnificent
Medium and Heroic
Bold and Brazen
Bold and Brillant
There are various quantity options to choose from, starting at 30 cups up to 4,500 cups options. Once you decide how many pods you want to be delivered, you then pick how many of each of the seven flavors you want in 10-cup increments. Shipment frequency is once a month.
MixCups Coffee Gift Subscription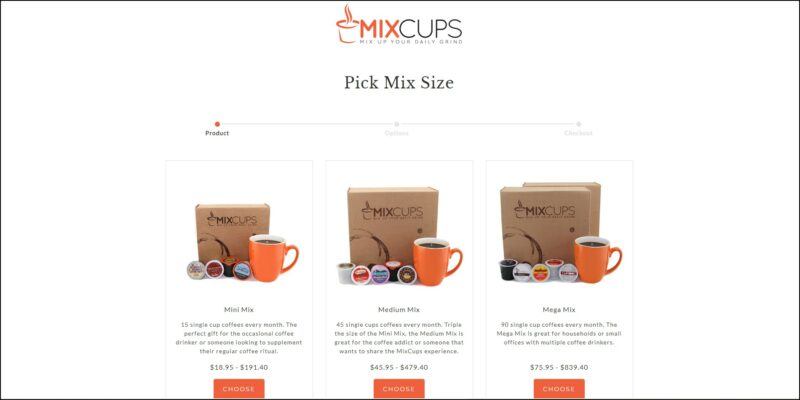 MixCups is a coffee gift subscription that ships a variety of individual K Cups each month. There are three different subscription options available:
15 single cup coffees, from $18.95 to $191.40

Standard Mix – 2 each of 5 different flavors and 5 non-flavored coffee.
Non-Flavored Mix – 10 different types of non-flavored coffees. 1 to 2 of each.
Ultimate Mix – 10 different non-flavored coffees and 5 different flavored coffees.

45 single cup coffees, from $45.95 to $479.40

Standard Mix – 5 of both non-flavored and flavored – and 4 to 5 single cup pods of each.
Non-flavored Mix – 10 different types of non-flavored coffees, 4 to 5 of each.
Ultimate Mix – 10 non-flavored, 5 flavored – 3 of each.

90 single cup coffees, from $75.95 to $839.40

Standard Mix – 5 of both non-flavored and flavored – and 8 to 10 single cup pods of each.
Non-Flavored Mix – 10 different types of non-flavored coffees, 8- to 10 of each.
Ultimate Mix – 10 different non-flavored coffees and 5 different flavored, 6 of each.
All of the above subscriptions come in four different delivery options: month-to-month, three-month prepay, six-month prepay, and 12-month prepay.
Finally, you may choose which day you want the first shipment to go out. It can be as soon as the next business day, or if you don't have a preference, it will ship out within the first three business days of the following month.
Additionally, you may choose to set up your K Cup subscription on an auto-renewal program or as a one-time service.
Coffee Cargo Online K-Cup Coffee Subscription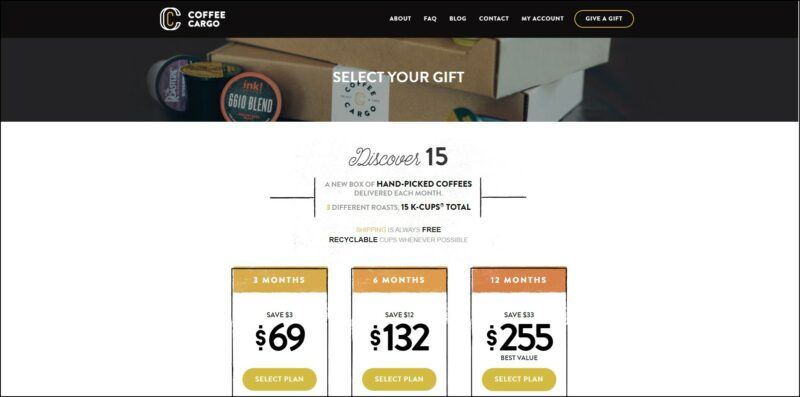 Coffee Cargo specializes in K Cup monthly subscriptions. Coffee Cargo promotes itself as "industry insiders" that are passionate about bringing unique premium roasts to coffee lovers everywhere. They search the world over for smaller roasting companies to bring unique flavors as we as premium brands we all love. Coffee Cargo is working to promote sustainability one K-Cup at a time.
Each box contains 15 coffee pods, most of which are compatible with the Keurig 2.0. There are three different roasts in each box, meaning you will receive five of each of the varieties. Boxes are shipped bi-weekly so that you will end up with the equivalent of one cup of coffee every day.
Coffee Cargo offers four different duration periods: Month-to-month for $24, 3 months for $69, 6 months for $132, and 12 months for $255. However, it seems that for now this subscription is not available and they're offering a coffee gift subscription instead. This one comes in three subscription lengths – 3, 6, and 12 months costing $69, $132, and $255 respectively. Each month, the gift recipient will get 3 different roasts of 15 k cups in total.
Single Cup Club Membership Plan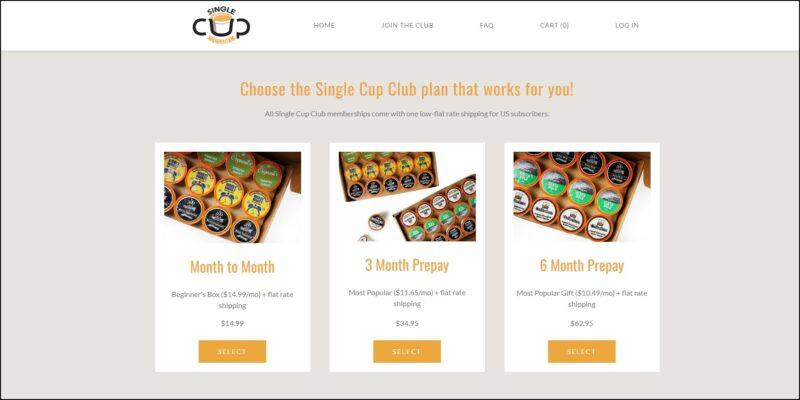 Single Cup Club focuses on bringing small-batch K Cup coffee pods to its customers. All of the single-serve pods are compatible with all single-serve Keurig-style coffee makers.
Each box contains a variety of light, medium, dark, and flavored roasts for a total of fifteen single-serve pods. That's five pods of three different roasts. Every box ships the first of the month and is only charged a flat rate shipping price of $3.95.
There are four diffrerent subscription plans available: Month-to-month for $14.99, 3 months for $34.95, 6 months for $62.95, and 12 months for $118.99.
Coffee Club K Cup Subscription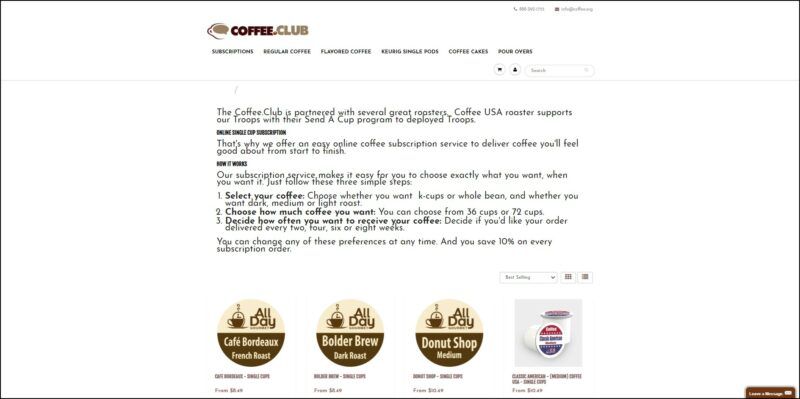 The aptly named Coffee Club provides members with many choices about the coffee that they get sent, including the type of coffee, size of the coffee bags, and frequency of delivery.
In each case, you're getting between three and five varieties of coffee each month. These varieties change from one month to the next. The boxes focus on top coffee brands. This does mean that you're not getting artisan coffee, but focusing on big brands isn't necessarily a bad thing.
For k cup subscription, you'll select whether you want dark, medium, or light roast. You then choose from 12 cups to 96 cups and decide whether you'd like your order delivered every 2, 4, or 6, weeks.
Single-cup options include Cafe Bordeauz, Bolder Brew, Donut Shop, Classic American, Bravo (French Roast), Alpha Platoon (Dark Roast), Delta Force (Medium/Dark Roast), and Breakfast Blend.
Storyville Keurig Subscription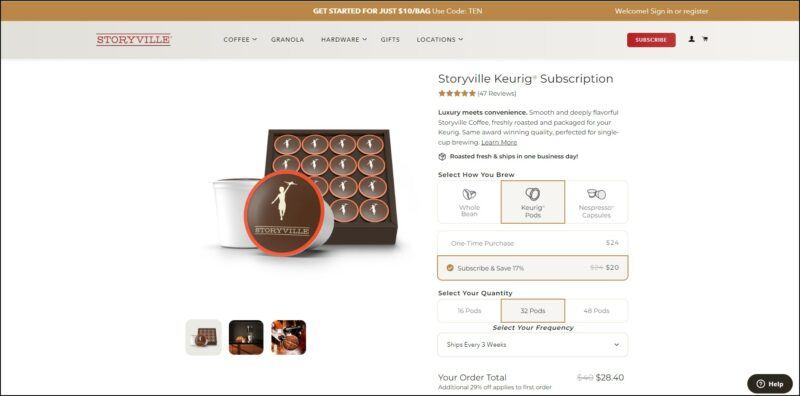 Storyville offers groundbreaking pods, capsules made only with freshly roasted beans sourced from the top 2% in the world with full-bodied flavor profiles. They also have their signature Storyville Blend whole bean coffee. You can also check out their mugs, cups, kettle, grinder, press, and other essentials and accessory kits.
Their single-cup coffee subscription offers freshly roasted and packed pods or capsules – you can choose from either Keurig pods or Nespresso Capsules. You can select from 16, 32, or 48 capsules and then set the frequency of shipments to 2, 3, or 4 weeks. You can easily adjust the quantity to your needs and pause or cancel anytime as well.
Subscribers can save up to 22% on every coffee order. They will get 15% off all Storyville Hardware and Gifts. And aside from exclusive access to new Storyville products, they will also receive surprise gifts and delights.
Nomad Specialty Coffee Pods Monthly Subscription Box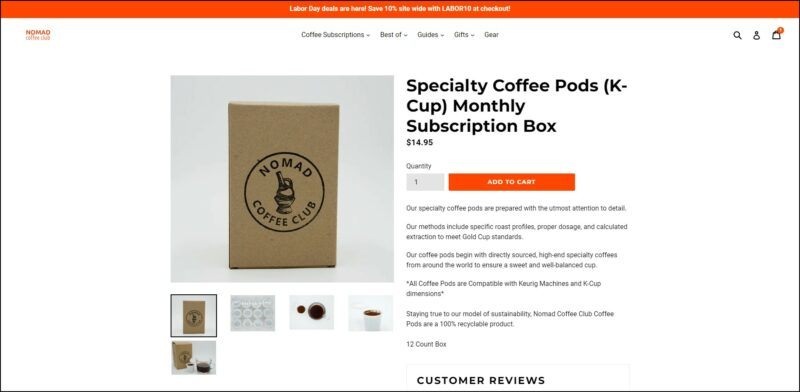 Nomad Coffee Club sourced their specialty coffees from around the world – all 100% organic and purchase under fair trade prices. Not only are they of the highest quality but they also come from growers who pay fair wages and treat workers respectfully.
Coffee club subscribers will get to enjoy a large selection of beans, that are ethically sourced, freshly roasted, and quality ensured. And since these beans are organic, no pesticides, synthetic fertilizers, genetically modified organisms, or ionizing radiation is used.
Nomad's specialty coffee pods are prepared with Gold Cup standards – meaning their methods include specific roast profiles, proper dosage, and a very calculated extraction. These pods are also 100% recyclable products. The monthly subscription cost $14.95, that's one box with 12 pods.
New Order Monthly Fresh Roasted K-Cup Subscription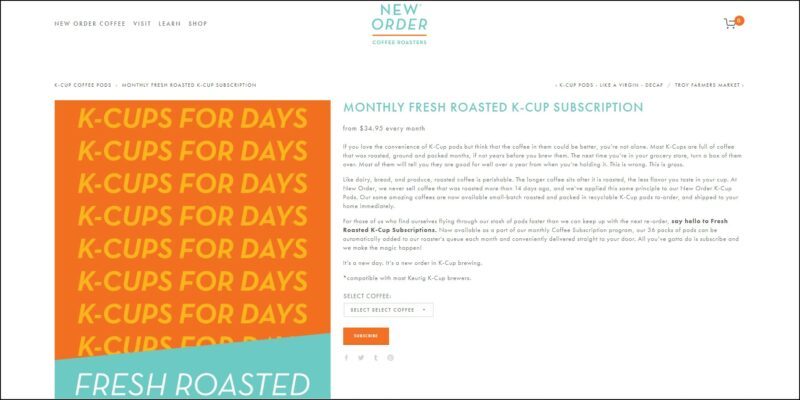 New Order is a small-batch roaster that simply aims to delight and energize everyday lives with its coffee. They believe that roasting coffee in electric fluid bed air roasters produces brighter, cleaner, more aromatic, and better-tasting coffees.
Their Monthly Fresh Roasted K-cup Subscription cost $34.95 per month for one pack and $69.90 per month for 2 packs subscription. Each month you'll get a small-batched roasted and packed in recyclable K-Cup pods single serve pods. These are made to order and shipped to you immediately – they never sell coffee that was roasted more than 14 days ago.
You can choose from Case Study Blend, Brazil Cerrado, Like a Virgin Decaf, and Ethiopia Yirgacheffe – they all come in a 36-count pack.
Bully Brew Coffee K-Cups Coffee Subscription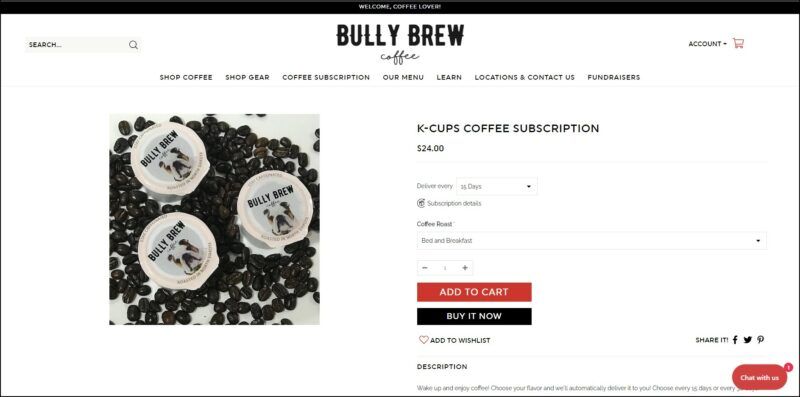 Bully Brew Coffee actually consisted of four coffee houses. They are located in the Midwest and take pride in their locally roasted coffee beans and bakery items. They are continuously innovating and adding new products including new flavors, new blends, and even new coffee mugs and other specialty products.
Their K cups coffee subscription comes with two packs or 24 cups in total, that's 12 in each box. It costs around $24 per month. You can adjust monthly deliveries to be shipped every 15 or 30 days.
They also have a Bully Brew Coffee Subscription, Bully Brew Coffee & Biscuit Box, and a Coffee Sampler Subscription Pack.
Indies Coffee K Cup Subscription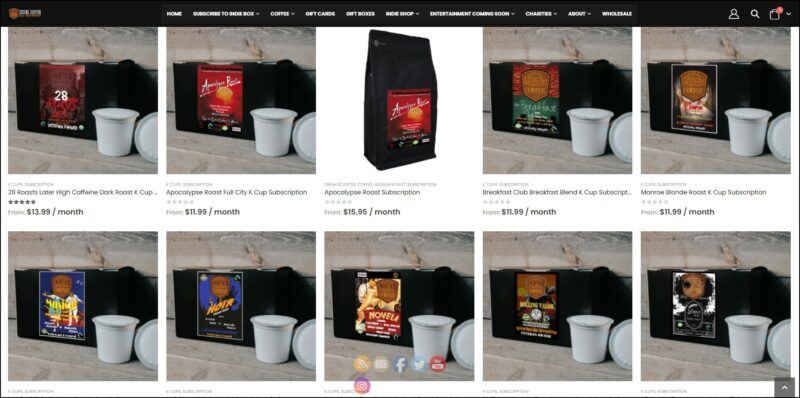 Indies Coffee is on a mission to provide the freshest, best tasting, organic, and fair trade coffee – at an affordable price. They only roast the coffee when there is an order for it, unlike store-bought ones that have been bagged up for months before they reach your kitchen.
Indies Coffee's K Cup subscriptions offer you quite a selection – from Monroe Blonde Roast, Apocalypse Roast Full City, 28 Roasts Later, Breakfast Club, Musical, Noir French Roasted, Novela, Rolling Valor, Silent Medium Roasted, Thrille High Caffeine, to Western Bang. Prices per month range from $11.99 to $13.99. You can opt for either the 1 box (12 k cups) or the 5 boxes (60 k cups).
If you're interested in gifting Indies Coffee, they have readily available gift cards that cost somewhere between $10 to $500, and gift boxes at $10 to $49.95.
Bixby Medium Team K-cup Subscription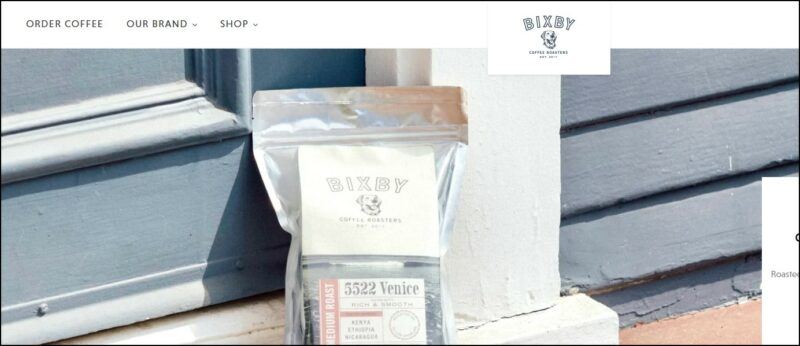 Bixby's roastery is located in Los Angeles Venice Blvd, it's where they roasted in small batches the specialty coffee that you order – the same day that you order it. Their imported coffee beans are sustainably grown and ethically sourced.
Their Medium Team K-cup Subscription is perfect for an office with fewer than 25 people because it includes 400 pods along with 200 to-go cups. It's priced at $383, tax included. Shipping is calculated upon checkout.
These K cup pods are Coffee Club Guarantee, meaning you'll always have freshly roasted coffee in stock. You can easily edit, pause, or cancel the Freshness Guarantee at any time.
Gun Barrel Coffee 72 pc K-Cup Case Subscription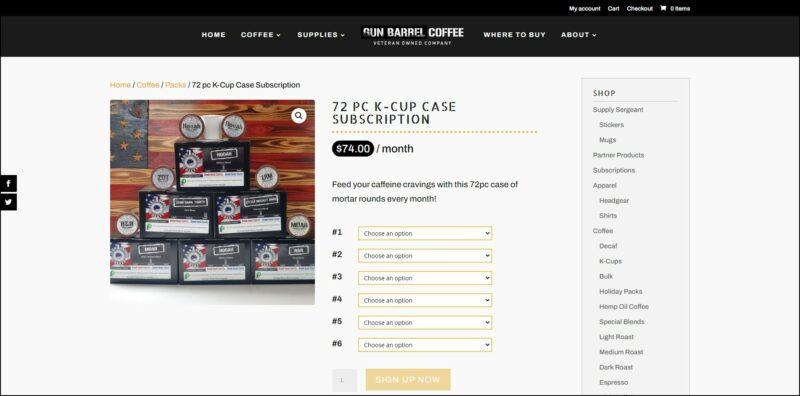 Gun Barrel Coffee Inc is founded by three friends united by their love of coffee among other things. What started as a hobby quickly turned into a high-quality home-roasted coffee that is now enjoyed not only by friends and families but by the public as well.
Their 72 pc K cup Case Subscription is priced at $74 per month. You can definitely fix your caffeine cravings with their coffee selections. You can choose which ones to include in your 72-pc subscription – Hooah, MOAB or Mother of all Beans, Little Rocket Man, Zero Dark Thirty, and R&R.
As part of their giving back efforts, they're donating $1 for every bag sold to organizations that support those who serve, protect, and defend our rights and freedom like HelpVeteran.Org and Chicago Police Foundation.
Police Coffee Back The Blue K-Cup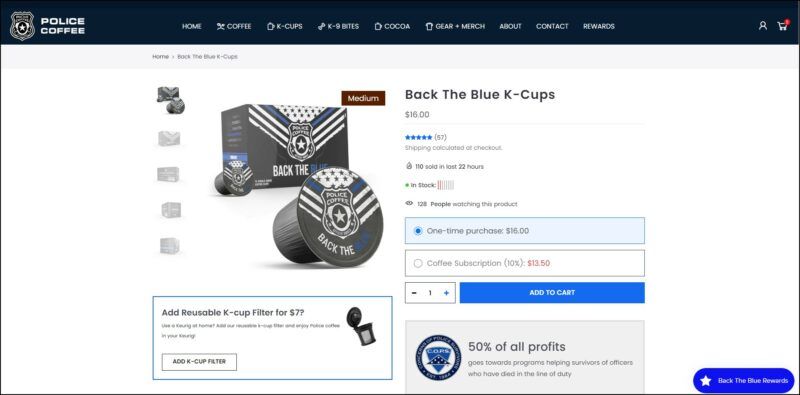 Police Coffee is founded by Stefhan Bennett, a police officer of 25 years. He's half Costa Rican so his love for coffee is literally in his blood aside from the fact that coffee has been a part of his daily routine for so many years. They aim to craft the best quality coffee that is freshly roasted and shipped only when needed.
Their Back the Blue K-Cups Coffe Subscription includes a crafted South and Central American blend with caramel and nutty notes within a smooth body. Subscribers are granted 10% off, so only $13.50 per month. You can choose the frequency of deliveries from every 7 days up to 90 days. Again, they roast to order to guarantee freshness and quality.
Police Coffee gives back to the community by donating fifty percent of its profits to family members of police officers fallen in the line of duty.
Muertos Coffee Co. First Responders K-Cup Subscription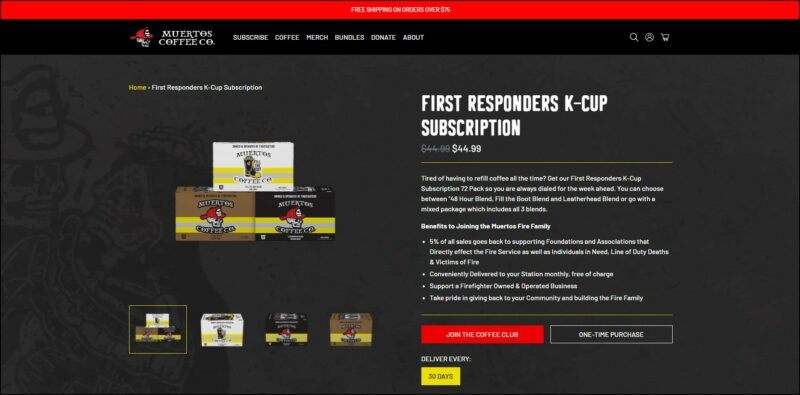 Muertos Coffee was founded with the goal of providing better coffee in Firehouses and on a mission to support firefighters, first responders, and the community. Founder Eli and Dough use coffee as a platform to build community and unity by giving back.
Their First Responders K-Cup Subscription includes a 72-pack of any of the 3 blends – the Medium Roast '48 Hour,' Dark roast 'Fill the Boot,' French Roast 'Leatherhead,' or you can opt to get the Mixed Variety of the three blends. The subscription costs $44.99 per month.
5% of all sales goes back to supporting foundations and associations that directly affect the Fire Service as well as Individuals in Need, Line of Duty Deaths & Victims of Fire.
Frequently Asked Questions
What's The Cheapest K Cup Club?
Not surprisingly, Keurig itself has the least expensive coffee subscription (they're a large company with huge economies of scale, so they can cut their costs way down). While the exact price depends on the coffee you choose, you're often looking at around $8 for a box of 12 pods or $12 to $15 for a box of 24. You may even get a 25% discount on your order.
Coffee Club has similar pricing for their basic coffees. However, they don't provide many details about compatibility with Keurig machines. It might be worth emailing them before ordering to make sure the K cups will work with your machine.
Are K Cups Horrible For The Environment?
K cups are tiny plastic and aluminum pods that get used once and then thrown out. They're incredibly convenient, but the waste aspect adds up fast, especially if you have multiple cups of coffee per day.
That's not even the whole equation. After all, a lot of energy and resources goes into producing the pods as well. The impact is always going to be much worse than simply brewing coffee at home yourself.
Are There Environmentally Friendly K Cup Clubs?
Some companies focus on better K cups. Tayst is the leader in this field, offering biodegradable cups and maintaining a focus on sustainability during every production step. You can even throw the cups straight in your compost bin.
Compostable cups like these are the best possible type for the environment. However, it still takes much more energy and resources to produce these pods compared to a cup of coffee – so they don't entirely solve the problem.
Will The Cups Work In A Keurig Machine?
The Keurig machine is meant to use official K cups and nothing else. However, many other cups are designed so that they can work in a Keurig machine. Whether they will is a different question. The answer depends on the specific K cups, the machine you're using, and whether you're using a hack like Freedom Clips.
If you're concerned about this, look for clubs that call their products K cups (rather than coffee pods) or say that the pods are Keurig compatible. Storyville is one club that does this. Their pods should even work with a Keurig 2.0 machine.
You could also simply order an auto delivery through Keurig itself. This gives you full control over the products you receive and you know the pods will work in your machine. The approach mightn't be quite as fun as a regular coffee club, but at least you know exactly where you stand.