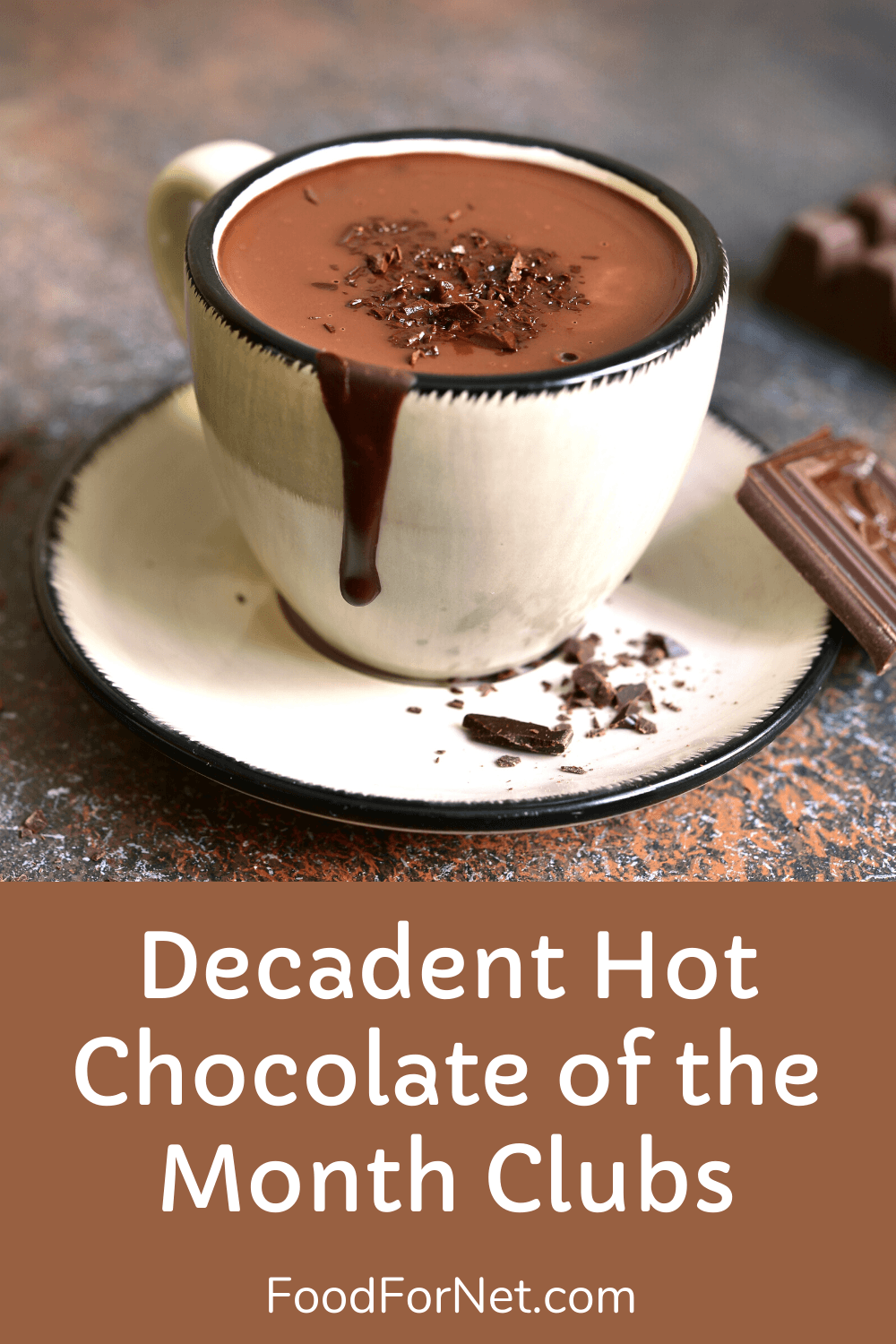 Hot chocolate continues to be a popular drink, making hot chocolate of the month clubs a perfect choice in many situations. These clubs give you the chance to try out different types of hot chocolate, giving you plenty of variety.
The popularity of hot chocolate partly comes from the drink's history. Hot chocolate was once believed to have "mystic qualities" by the Olmec people 3,000-4,000 years ago. These Mesoamericans lived in southern Mexico, where they grew cacao plants from which they harvested the nibbs to make a chocolate drink called xocolātl.
The Olmec mixed ground nibbs with water by pouring the concoction between two bowls, allowing it to become frothy and fully dissolved. They drank xocolātl to help improve energy and mood, as well as using it for sustenance.
However, xocolātl was not a drink that all people shared in. Instead, because it was believed to possess magical properties, it was reserved for special occasions and for those who held an important position amongst their people.
Over the centuries, hot chocolate was passed through several civilizations and eventually spread throughout the world. At one point, Thomas Jefferson believed hot chocolate would surpass both tea and coffee in popularity due to the positive effects it had on health.
Unfortunately, hot chocolate is no longer believed to be a health drink, much to the dismay of many chocolate lovers. However, for those of us who love hot chocolate, the good news is there is now hot chocolate of the month subscription boxes to ensure we are never without our chocolate fix.
And if you are looking for the ultimate hot cocoa one time gift, there are a couple of gift baskets full of delicious chocolatey goodness.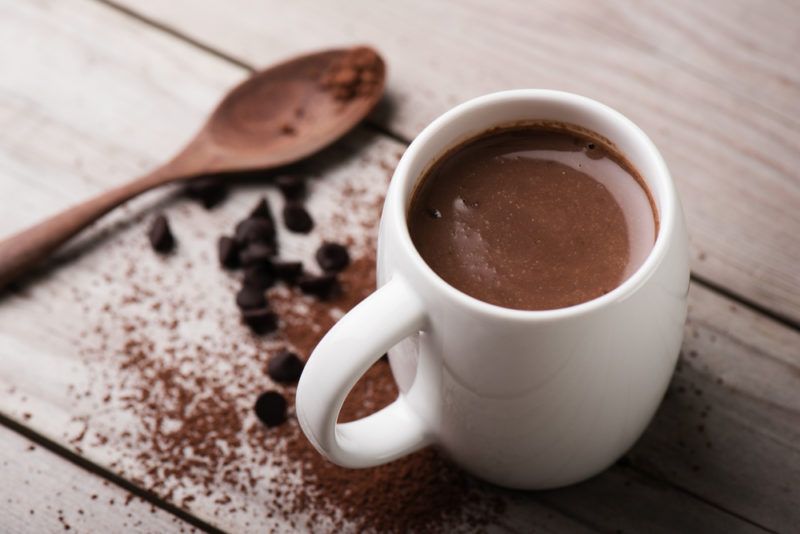 Hot Chocolate of the Month Clubs
Coffee Hot Chocolate
Velvet Cocoa
Hot Chocolate Gift Baskets
Godiva
Harry & David
Wine and Country
Coffee Hot Chocolate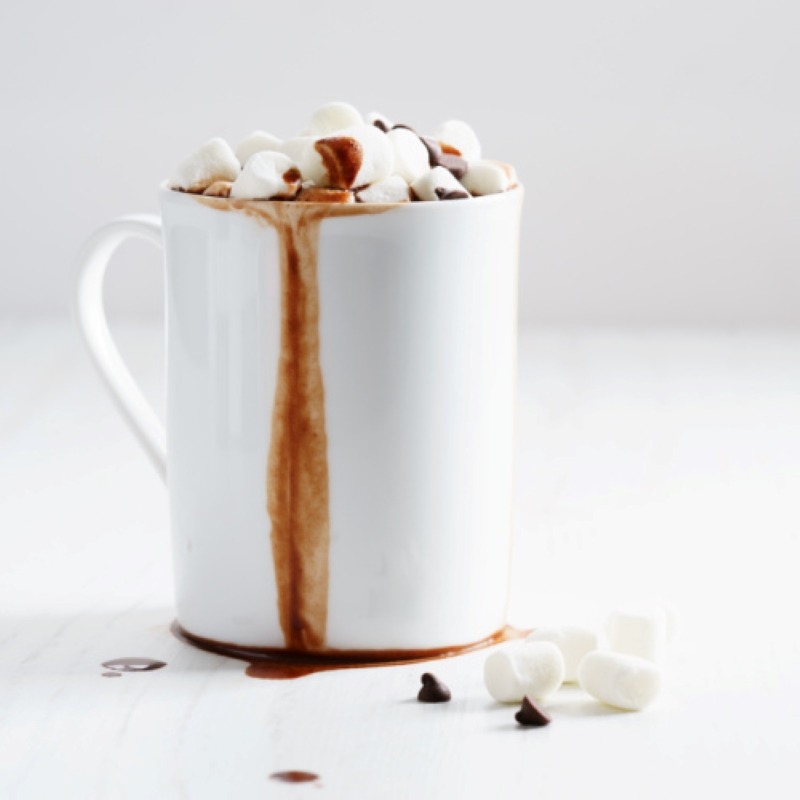 Coffee Hot Chocolate is a gift service specializing in warm drinks. The two primary gifts they sell are coffee or hot chocolate subscription boxes. Both are easy to sign up for and available to ship out immediately.
In addition to the subscriptions, they also offer an artisan s'more kit, which includes Madyson's chocolate chip stuffed marshmallows and Moravian cookies.
When you sign up for the hot chocolate of the month club, you will receive a bag of superior quality hot chocolate and artisan marshmallows. The hot chocolates chosen for this club are from around the world, and only the best quality hot chocolate is included in the club's selections.
There are four subscription options available: month-to-month for $34, 3-month prepay for $99, 6-month prepay for $192, and 12-month prepay for $372.
Shipping is included in the prices posted above. Some of the different premium brands you may see in your monthly hot chocolate box include Recchiuti, Tcho, and Theo.
Velvet Cocoa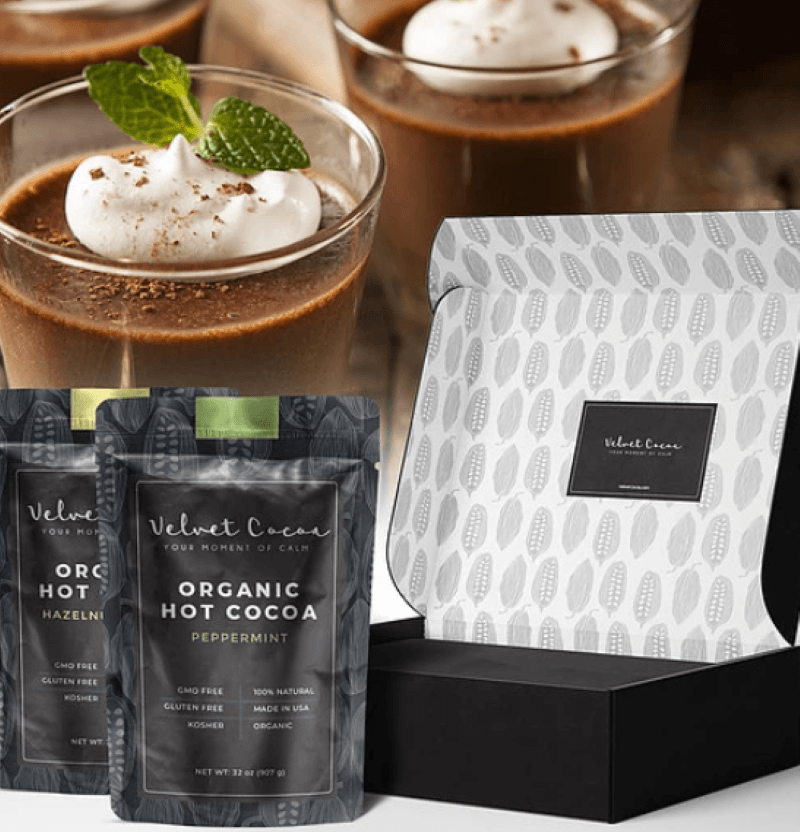 Velvet Cocoa is the ultimate choice in hot cocoa. It is an organic prime grade hot chocolate blend, that is exclusively sold at Velvet Cocoa. Velvet Cocoa's goal is to provide it's customers with a moment to relax and enjoy a minute or two of peace.
Every time you reach for your mug of hot chocolate Velvet Cocoa would like to remind you to take time for yourself to:
Take a hot bath
Listen to music or your favorite audio book
Snuggle with your favorite fur baby
Give yourself a foot massage
Enjoy nature
Practice breathing exercises
It is their goal to bring you a bit of happiness, cheer, and relaxation with every sip of decadent cocoa.
Velvet Cocoa's products are all USDA certified organic, gluten-free, GMO-free, and made in the USA.
Velvet Cocoa specializes in subscription boxes, but does offer one time cocoa boxes too. However, their cocoa of the month club is what brings people back.
The hot chocolate subscription box includes two 2-pound bags of hot chocolate mixes, a surprise hot cocoa accessory, and two recipes emailed to you each month.
When choosing your hot cocoa box you have a few different options:
Surprise flavors – 2 pounds of two different flavors
Dark chocolate and peppermint – 2 pounds each
Peppermint and Hazelnut Praline – 2 pounds each
Dark Chocolate and Hazelnut Praline- 2 pounds each
Gift Baskets
Godiva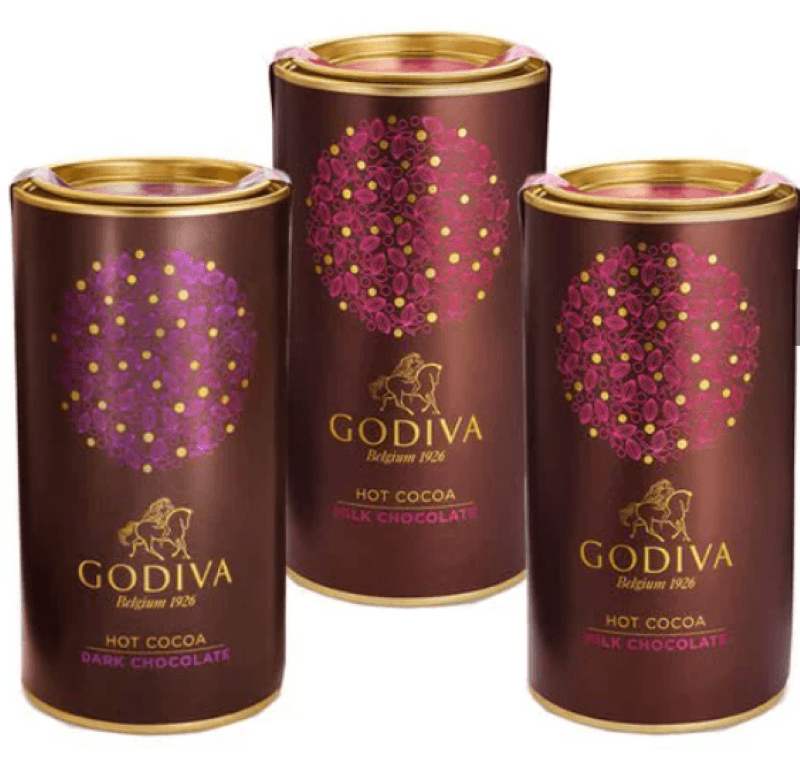 Few names conjure a more decadent picture in our minds than Godiva. Godiva was founded in 1926, in Brussels by Pierre Draps Sr., who first started with making pralines. Pierre and his sons ran the family confectionary shop, naming it after the legendary Lady Godiva, who was said to possess values such as generosity, boldness, and an innovative spirit.
In 1946, Pierre Draps Jr. created what we know today as a truffle. It was made with dark chocolate mousse, and dark chocolate then rolled in cocoa powder. This truffle was a historical marker in chocolate history, changing the chocolate world forever.
Godiva is now found all over the world and has expanded to cafes in addition to their chocolate boutiques. Not only can Godiva stores be found all over the globe, but you can find anything you want from the online Godiva stores.
Amongst the many chocolate options available, Godiva offers a few hot chocolate gift options:
Three hot chocolate canister gift set which includes one dark chocolate and two milk chocolate canisters for $39.90.
Dark Chocolate Peppermint Hot Cocoa plus a 27 piece box of assorted dark chocolates for $55.90.
Milk Chocolate hot cocoa with milk chocolate biscuit set for $23.90.
All of these gift sets include their warm weather guarentee.
Harry & David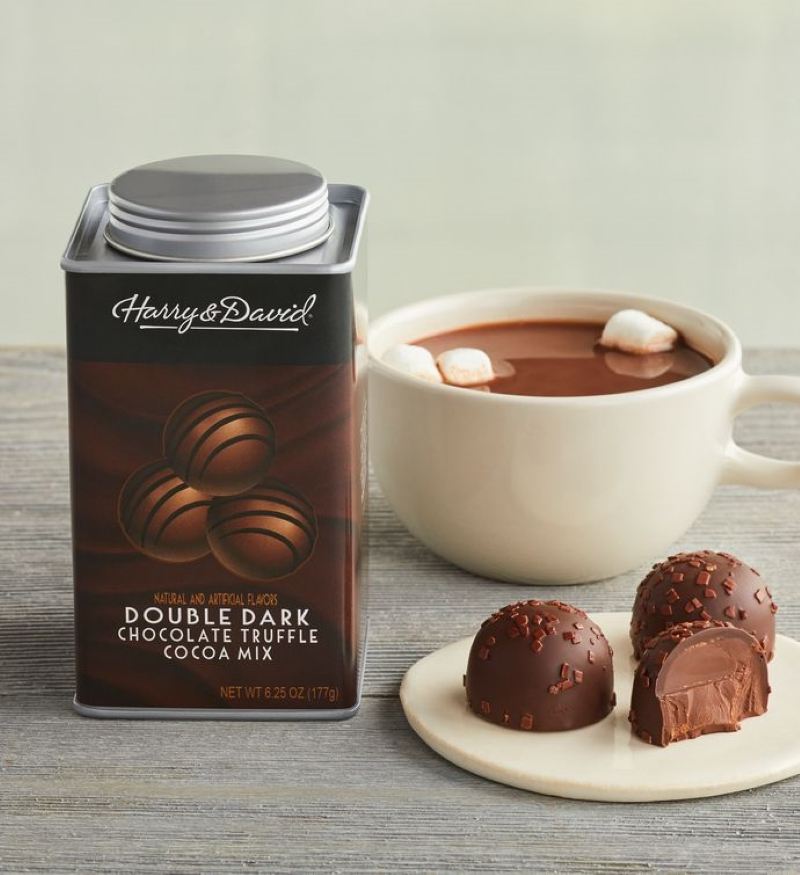 Harry & David, best known for its gourmet gifts, got its start in the Rogue River Valley area of Oregon. It was first a family orchard that focused on creating premium pears, but with time grew into so much more.
Harry & David first got its start in 1910 when Samuel Rosenberg sold his hotel in Seattle, Washington, and purchased 240 acres of orchards that he would later name Bear Creek Orchards.
Though it started as an orchard that sold locally, they soon added a mail-order side of the business. Then in 1934, Harry and David went on an extended sales trip hitting San Francisco and New York to pitch their business idea of gifting Riviera pears. From there, the options were endless, and what started with pears grew into a full gourmet line of gifts.
Today there are more than 40 different retail stores all over the world. They offer every imaginable edible gift, from wine and steaks to fruit, salsas, and chocolates.
Amongst the hundreds of options, they sell a Choose-Your-Own Cocoa gift pack. The cocoa gift set allows you to choose two of the following flavors:
Moose Munch Crunch Hot Cocoa
Sweet Milk Chocolate Truffle Cocoa Mix
Cocoa Pleasures Double Dark Chocolate Cocoa Mix
Gingerbread Chocolate truffle Cocoa Mix
The gift set includes two 6.25 oz canisters for $15.99 plus shipping.
Wine and Country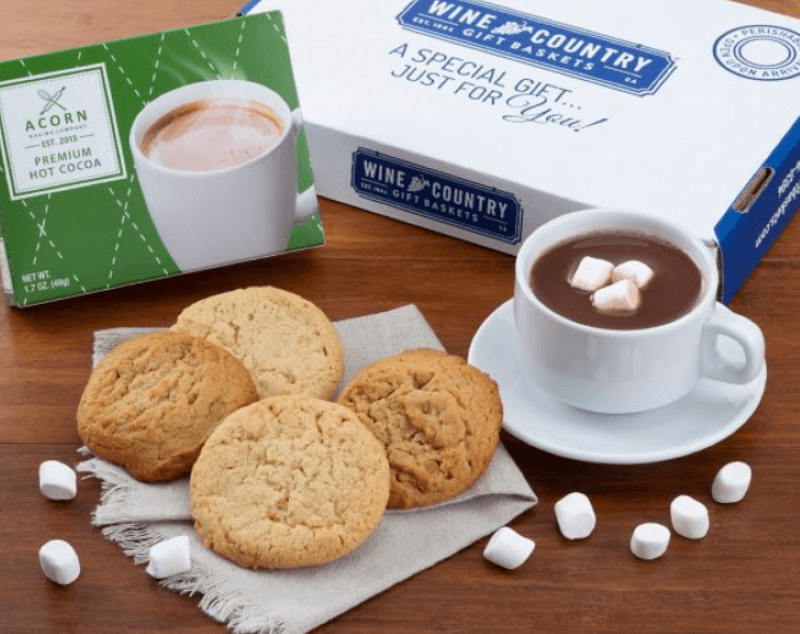 Wine and Country has been doing business for over thirty years. They pride themselves on customer satisfaction and providing the best and freshest food and wine available. They specialize in food gift baskets that are available to be sent all over the country and Canada.
They offer everything from personalized gifts to corporate gifts—food towers and baskets for every holiday and special occasion. Wine and Country even offer specialty foods such as gluten-free, kosher, and organic. They also have an abundance of gift baskets that include a variety of wine.
Amongst their large selection, they offer a hot chocolate gift box. This gift box includes individually wrapped fresh baked sugar and peanut butter cookies, hot cocoa mix, and vanilla marshmallows.