Running has been part of human history since the beginning of time. Of course, subscription boxes for runners are a much newer idea. Initially, running was all about survival; whether it was as hunters or as prey, running was an integral part of staying alive.
However, over time running evolved from survival into entertainment and sometimes was even symbolic. For example, in Egypt, there was an event, the Sed festival, in which the pharaoh ran an obstacle course 4 times to signify their continued reign.
Over the centuries, running became a sport that trained athletes took part in but was not an activity enjoyed by the mainstream American population until the late 1960s.
Today's runners can thank Bill Bowerman for introducing running as a healthy activity to mainstream America. Bowerman was once a running coach at the University of Oregon, who later became the co-founder of Nike. However, before Nike, Bowerman wrote a book, Jogging: A Physical Fitness Program for All Ages, that would launch running for fitness.
It's a wonder that running didn't fail at the start since it was such an unusual sight that the police would stop and sometimes even ticket runners. And though many runners were harassed in the beginning running still dug its heels into our society to become the favored past time it is today.
More than 60 million people in the US alone participate in running, which is why running subscription boxes have become so popular. Running subscription boxes are ideal for veteran and novice runners alike. They are the perfect way to try new products without investing in a whole package and are an excellent way to change up your fuel and recovery routine.
Plus, runner subscription boxes are a convenient way to ensure you always have what you need to optimize your running performance. All of the running box subscription companies do the research work for you, so all you have to do is sign up and wait for your first box to arrive.
There are other activity-related boxes you can consider too, like a golf monthly club and one for bicycle lovers.

Runner of the Month Subscription Boxes
The Runner Box
Fun Run Box
Stride Box
Run Locker
Tri Fuel Monthly
The Runner Box

The Runner Box, founded in 2013, was the first subscription box geared towards endurance athletes. It is founded and staffed by athletes that know you would rather be running than researching and shopping for fuel and gear. The Runner Box products have all been researched and tested to ensure only premium quality products are included.
The Runner Box company specializes in subscriptions and does not sell any products a la cart. However, they do offer a few different runner subscription boxes as a one time option, such as the:
The Runner Gift Box
The Rider Gift Box
The Birthday Box
The Runner Love Box
The two subscription options available are: The Rider Box and The Runner Box.
The Runner Box is available in three payment options:
Pay-per-box for $29 per box
6 months prepay for $27 per box
12 months prepay for $25 per box
Every other month, the Runner Box ships and includes 10-12 items plus discounts for products both included and not included in that month's box. Some of the items you might find are:
Fuel for running
Recovery snacks
Personal care items specific to running
Running accessories
And you can expect to receive products from top and new brands like GU, Honey Stinger, Hylands, Viter Energy, and more. The boxes are curated with the current season in mind and are based on different themes throughout the year.
Shipping is an additional $3 per box and all boxes ship via UPS.
Fun Run Box

Fun Run Box is a subscription box company that sends a monthly supply of running goodies and inspiration. The Fun Run Box also has a small online shop with a variety of running goodies like:
Virtual races
Themed boxes
Massage ball
Swag bag
Running accessories
But as their name implies, Fun Run Box, the star of the show, is their running subscription box. They offer four subscription terms:
Monthly for $36.99 per month
3 months prepay for $35.14 per month
6 months prepay for $33.29 per month
12 months prepay for $29.59 per month
After choosing your running subscription box duration, you are then asked three questions so the items can be customized to your size. The questions focus on your gender, shirt size, and sock size.
Each box includes 4-6 running items. Most boxes include:
Running gear like arm warmers, apparel, and SpiBelt
Accessories such as Fuel Belt arm reflector, earbuds, and ShoeLite
Skincare products like Ursa Major, lip balm, and body wipes
Snacks such as power gel shots, hydration packets, and Skratch
A monthly running challenge like Making it a Habit or the 12 Runs of Christmas
The contents of the box are all part of a theme and revolve around the season. Some of the past running crate themes have included the Cinco De Mayo box, Rock the Road Box, SummerSizzler, and Oktoberfest.
The first box ships out right away, with each subsequent box shipping on the 20th of the month. Shipping is a flat $6 fee per running box.
Stride Box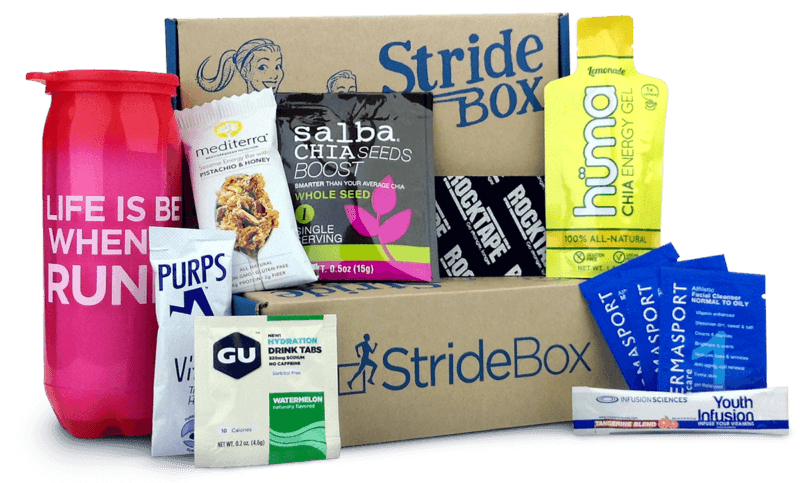 Stride Box is a running subscription box available to be purchased for yourself or as a gift for the runner in your life. Stride Box's goal is to introduce fun new products to athletes just like you.
Whether you are new to running or have been running for years, the Stride Box can help make running even more fun and possibly help improve your running performance.
Stride Box has been recognized in a variety of media like Trail Runner, Self Magazine, Run Haven, Active Network, and Runner's World.
The Stride Box is $15 per month, plus $4.95 for shipping. The Stride Box is a flexible month-to-month subscription that can be discontinued anytime.
The Stride Box contains an array of running products, usually 4-7 items, such as safety gear, accessories, skincare, running fuel, and water tumblers. Plus, you will receive various motivational surprises to keep you moving.
Each month the Stride Box will ship between the 5th-7th, with the first box shipping within five business days after you place your initial order. The running box ships using USPS.
Run Locker

Run Locker started in New York by avid runners passionate about sharing their love of running with others through outstanding products and gear. However, it did not take long before they decided to expand Run Locker to be available to runners all over the country.
Run Locker is a premium membership service that sells running subscription boxes. They also sell a few items individually, such as the WallBall Therapy Tool, RAPIDE Jump Rope, FITKICKS Arm Band, and illuminating waist packs.
Run Locker's goal is to aid runners to reach their full potential by helping runners find the right products to give them that extra boost and provide inspiration and motivation with each box they send.
Run Locker subscription boxes are available in 4 different plans:
Monthly for $36.99 per month
3 months prepay for $131.85
6 months prepay for $251.70
12 months prepay for $479.89
Though you cannot put your subscription on hold, they allow you to cancel at any time. All shipments go out via UPS ground; subscription boxes are limited to ship only within the U.S.
The boxes all contain a variety of running items such as apparel, recovery aids, healthy snacks, and running accessories.
Their products are all carefully selected and may come from popular name brands or small independent businesses. Run Locker is always on the lookout for new great products to include in their runner's box so that each month's box is full of surprises.
Tri Fuel Monthly

Kenyon Congdon founded Tri Fuel Monthly to share his passion for the importance of nutrition for athletes.
Tri Fuel Monthly focuses on nutrition for training and racing. Though the name implies these subscriptions are for triathlon athletes, they carry a runner's subscription box, Fit Pack. However, if you are training for a big race such as an ultramarathon, then checking out a higher-level subscription might fit your needs better.
Tri Fuel Monthly is more than a subscription company; they also have an online store where you can purchase items individually. They sell a variety of top name brands like Nuun, Bonk Breaker, and Glukos. And they offer nutrition products for training, recovery, and energy boosters.
There are 3 different subscription boxes available:
Fit Pack for $39.99 per month

Perfect for runners and cyclists
A variety of training and race fuels

Race Plans for $49.99 per month

It comes in 5 plans Challenge, Floridian, Vegan Elite, Mjolnir & Heavy Sweater
A full plan of endurance fuels

Custom Race Plans for $279.99 per month

Personalized 3-month fueling program
Phone consultations to keep you on track and answer your fuel questions
After signing up for the Fit Pack you are asked a series of questions, focusing on clothing size, gender, shoe size, glove size, flavors you like, and flavors you don't like.
Each Fit Pack contains products to help with fueling, calories, electrolytes, and recovery, and there are enough nutrition items for 4 weekends. Plus, many of the items, though not all, are organic, vegan, and gluten-free.
In addition to nutrition, each Fit Pack contains detailed instructions on using each of that month's picks. Finally, each box includes some free goodies, things like hydration tools, race apparel, and race belts. And, shipping is included in the price of your subscription box.