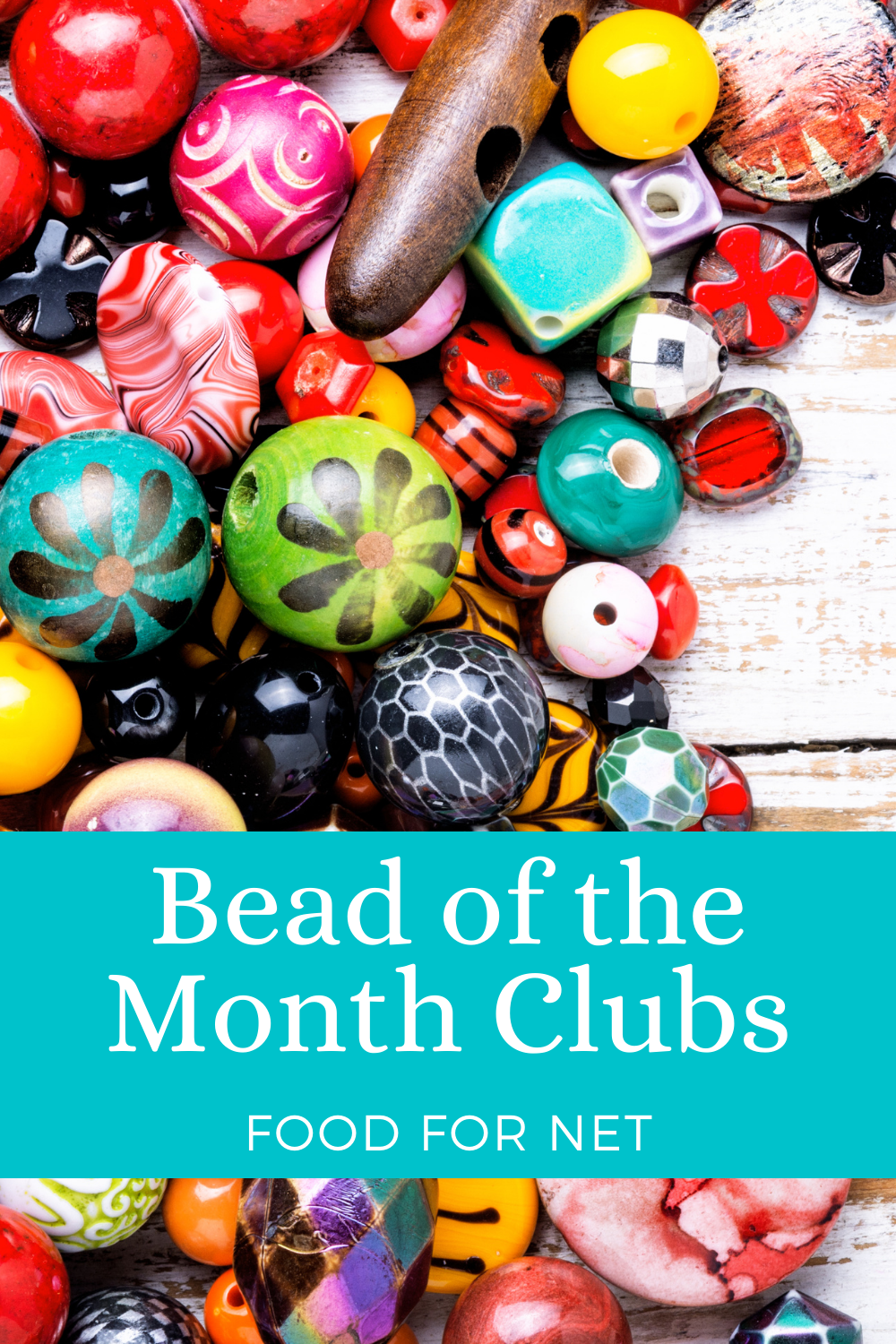 Many hobbyists and artisans use beads for various projects, from artwork to jewelry. And because beadwork is still a much-enjoyed hobby, many bead stores have put together bead of the month clubs. Bead of the month clubs are great for learning new techniques and building your bead stash.
And, why not? Beads have a long and fascinating history, spanning back more than 40,000 years. Today we see beads as decorative, but they were once used for currency, tools, and religion. When beads were first created, they were handmade, taking up to three hours for just one bead.
Beads have been found worldwide, including areas in Asia, India, Egypt, Kenya, North America, and Europe. And throughout these countries, beads were used for various purposes, including religious and spiritual ceremonies, as seen in the different faiths such as Islam, Buddhism, Hindu, Catholicism, and Native American cultures.
Beads were also used in tools such as the abacus for counting and calculating. In ceremonies to honor the dead, like the beads found in a Russian grave dating back 29,000 years. And as currency between the Portuguese and those in West Africa during the 15th century.
Initially, beads were created from stone, eggshells, and bone. However, around 2340 BC, glass beads were beginning to be created. And as beads continued to evolve, they were eventually mass-produced.
In Venice, during the early part of the 20th century, women worked in factories, creating various beads such as Venetian blown beads, seed beads, Rosetta, and lampwork beads. And today, we can still find these bead styles and more made from a vast number of materials, colors, sizes, and shapes.
Bead clubs provide an easy way to enjoy a variety of different beads, regardless of what you plan to use them for. They're not the only option either. There are other craft-focused clubs out there, including general craft clubs, craft clubs for kids, and block clubs for quilters.

Bead of the Month Clubs
Annie's Kit Clubs

Annie's Kit Clubs is just one of the several craft companies owned and operated by the Muselman family. Annie's Craft Stores is a third-generation company that started back in 1925 as a printing company in Indiana's northeastern region.
In 1975, the Muselman family decided to expand outside of their printing business and created Annie's Craft Stores. Annies sells various arts and crafts materials and instructional media, such as magazines, patterns, videos, and other online resources.
What makes Annie's unique is that they have craft supplies for almost every imaginable craft there is including:
Cards
Jewelry making
Sewing
Plus, Annies offers numerous craft clubs, including the Simply Beads Kit of the Month Club. The kits included in this subscription allow its members to create beautiful pieces and jewelry sets. Each monthly kit includes all of the material and instructions and is needed for that month's project.
The first month's kit includes a few extras to get you started such as a velour beading mat, a 4-in-1 beading tool, an illustrated beading guide, and access to online video tutorials.
Your first order will ship out immediately, then every four weeks after until you choose to cancel. The subscription is $19.99 per month, but individual kits are available for purchase for $24.99.
Adornable Elements

Adornable Elements started their bead of the month club in 2000. Adornable Elements specializes in bead clubs but also sells a variety of patterns and storage boxes. The bead clubs offered are intended to help bead enthusiasts build their bead collection.
Adornable Elements offers several bead of the month clubs:
Firepolished Beads – 8 tubes starting at $21.95
Hot & Trendy Beads – 8 tubes starting at $22.95
2-Hole Beads – 8 tubes starting at $22.95
11/0 Delicas – 8 tubes starting at $24.95
11/0 Seed Beads – 8 tubes starting at $18.95
Swarovski Crystals – 6 tubes starting at $26.95
Rotating Beads – A variety of the above bead clubs starting at $22.95
Companion Pack – A variety of beadwork materials, each month will include enough for two matching jewelry sets
The beads in all clubs vary in color, shape, and style, so you will never get bored with the beads you receive.
All of the above subscriptions are available in "Double Collection" for an additional cost. Shipping is not included in the bead clubs and starts at $4.75 per month for one club. The first shipment is sent shortly after your order, with subsequent shipments following on the 5th of each month.
In addition to the beads, you will receive a monthly code for access to the Adornable Elements free pattern page for instruction and inspiration. The memberships are month to month and can be canceled anytime.
Dollar Bead Box

Dollar Bead Box is a club that allows members to purchase beads from all over the world at a reasonable cost. Only members may order from their online store, which offers a wide variety of beads sold in bulk.
Though you can order specific strands of beads, such as 100 strands of 4mm fire-polished beads, you can also sign up for one of their bead of the monthly subscriptions. There are three bead subscription boxes available:
1 month $19.50 + $4.50 shipping per month
3 months $19.50 per month + free shipping
6 months $18.50 per month + free shipping
When you sign up for their bead of the month subscription box, you can reorder more beads from that month's box for as little as $1 per item.
Each month the recipient receives 12-15 items with a guaranteed retail value of $60. Some of the beads you will find in your bead box include:
Swarovski crystal
German vintage glass
Lampwork glass
Semi-precious stones
Fresh water pearls
Chinese crystal
Czech table-cut beads
Seed beads
Czech fire-polished beads
Czech pressed glass
Plus, there are various beadwork project materials such as griffin cord, artist wire, clasps, buttons, and more. All bead boxes are shipped using USPS unless shipping outside of the US.
Damaged goods are available for returns or exchanges. However, all other sales are final.
Darn Good Yarn

Darn Good Yarn, founded in 2008 by Nicole Snow, is a woman-owned business that strives to be both earth and human friendly. It is not just an online store but is also a factory outlet open to the public, located in Clifton Park, New York.
Darn Good Yarn strives to help others. Their warehouse and fulfillment center partners with a non-profit company that aids in employing those with developmental disabilities. Plus, they partner with ethical global companies that practice fair pay, humane working environments, and sustainable sourcing.
Darn Good Yarn is much more than a yarn shop. They also offer various patterns, clothing, home goods, accessories, craft kits, notions, tools, and subscriptions. Plus, they have monthly subscriptions based on different crafts, including their bead of the month subscription.
Darn Good Yarn's bead of the month club is $20 per month. Each month you receive a new jewelry pattern with premium beads and all of the materials needed to make that month's project. Plus, all members have access to the member's only dashboard and discounted shipping on all orders.
The bead of the month club is a flexible month-to-month subscription. There are no minimum commitments, and members have the ability to skip months as needed. Shipping in the US is only $3.95 per month.
Darn Good Yarn also sells jewelry bead kits individually too.
Jesse James Beads

Jesse James Beads, located in Bethlehem, PA, is family-owned and operated. It is an online store that offers everything any artist that works with beads will ever need. Their beads are available in mixed strands or single bead strands. Also, they have a wide assortment of jewelry materials such as clasps, artists wire, earring hooks, bead caps, and more.
You can shop their selection by color, theme, or type. Jesse James Beads has a wide selection of choices from seed beads to specialty Boho beads. Plus, they sell many of their beads in bulk, ideal for those who sell their art.
In addition to their many choices, Jesse James also has the magical mystery bead box subscription, available in:
Month-to-month for $45.95/month
3-month for $39.33/month
6-month for $35.33/month
12-month for $32.48/month
Each month the magical mystery bead box is designed around a different theme and includes a new assortment of beads paired with various accessories such as tassels, charms, and more.
Some of the items you may find in the bead box include a specialty bead mix, elements bead mix, premium bead strand, slide clasp, tassel assortment, custom chain, and leather slide grommet kit.
Previous themed bead boxes are available for sale as long as supplies last.
Bead 3 Buddies

Bead 3 Buddies has been in business for over fifteen years and is owned and operated by Kim and Rod Connors. Bead 3 Buddies is an online store based out of Tampa, Florida. Kim has been a long time crafter, and after years of frustration of looking for great beads at a reasonable price, she and Rod opened Bead 3 Buddies to fill that gap.
Bead 3 Buddies offer thousands of different beads, supplies, and findings. They sell some of their beads individually as well as some in bulk. Bead 3 Buddies has a vast selection of beads, including:
Semiprecious gemstone beads
Czech glass beads
Metal spacer beads
Rhinestone beads
Multi-hole beads
Crystal beads
Seed beads
Tila beads
Hematite beads
Plus, they have everything needed to make beaded artwork including tools, storage supplies, and jewelry kits. Additionally, Bead 3 Buddies offers a few different fun bead clubs:
Deluxe Semiprecious Stones of the Month Club for $49.95/month – Receive 7 strands of semi-precious stones each month, which will include: 13x18mm puff ovals, rounds (10mm, 8mm, 6mm, and 4mm), nuggets or rectangles, and chips.
Creative Kit of the Month Club for $12.95/month – Each month will include all the materials and instructions needed to make a necklace or bracelet.
Deluxe Creative Kit of the Month Club for $22.95/month – The Deluxe kit includes the materials and instructions needed to make a necklace, bracelet, and earrings.
Deluxe Earring of the Month Club for $12.95/month – Includes the materials and instructions needed to create 3 sets of earrings.
Potomac Beads

Potomac Beads, founded by Allie and Nathan Buchman, has two retail locations, one in Ocean City, New Jersey, and the other in Alexandria, Minnesota. Potomac Beads not only sells beads, but they also design, craft, and manufacture their beads too.
In addition to the exclusive Potomac Beads found at their stores, they also offer a vast assortment of other beads and has one of the largest bead selections available. In addition to their beads, they also sell other bead art supplies like buttons, bead on it boards, art leather, cabochons, tassels, foundation materials, grab bags, and tools.
Plus, they have two subscription boxes:
Bead Best Box

1 pattern and beads for the included project
Additional beads to add to your collection
Findings such as spacers, clasps, and tassels

Best Bead Box XL

2 patterns plus beads needed to do the projects
1 bonus pattern to add to your pattern library
Beads to add to your bead stash
Findings such as spacers, clasps, and tassels
Both boxes are available in a month-to-month, prepay 3 months, prepay 6 months, or prepay 12 months.