The Bunnahabhain 18 (pronounced Boon-ahavan) is a longer aged whisky from the Bunnahabhain distillery. It frequently features on must-try Islay lists and is a top ten Islay whisky for most single malt enthusiasts. But does it live up to its reputation and is it really as good as the other aged whiskies from Islay distilleries?
This Bunnahabhain 18 review will find out that and more.
Bunnahabhain 18 Review
About the Bunnahabhain Distillery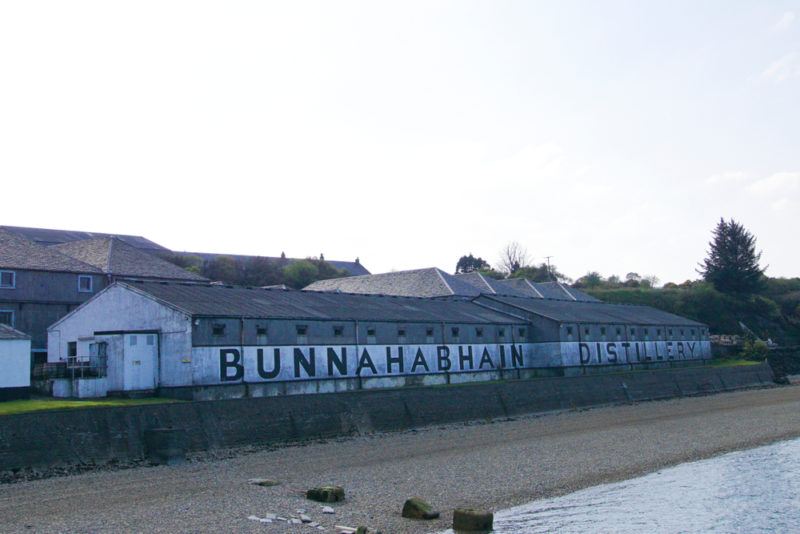 Historically, the Bunnahabhain distillery was set up to create whisky for blends rather than single malts. Opening in the late 1800s during the Victorian whisky boom, the distillery was somewhat of an outlier to the already long-established Islay distilleries.
Over the years, the nature of the whisky has changed and although today Bunnahabhain represents one of the less peated or less smoky whiskies of Islay, that hasn't always been the case. In fact, previous to them venturing into the single malt territory, and even their earlier single malts were characterized by extremely heavy peatiness. Nowadays, Bunnahabhain is a very lightly peated brand and this sets them apart from other Islay distilleries.
Another noteworthy aspect of the Bunnahabhain distillery is that the whisky they produce isn't in as high demand as the other Islay distilleries and particularly Laphroaig, Lagavulin, and Ardbeg all have much higher demand.
This might be seen as negative by the Bunnahabhain distillery itself as they make less profit than their rivals, but it actually has a very positive impact on their whisky.
For example, with Ardbeg, they will invariably be drawing on whatever whiskies they have in reserve to meet demand and that is why two of the three core whiskies they produce have no maturation date on.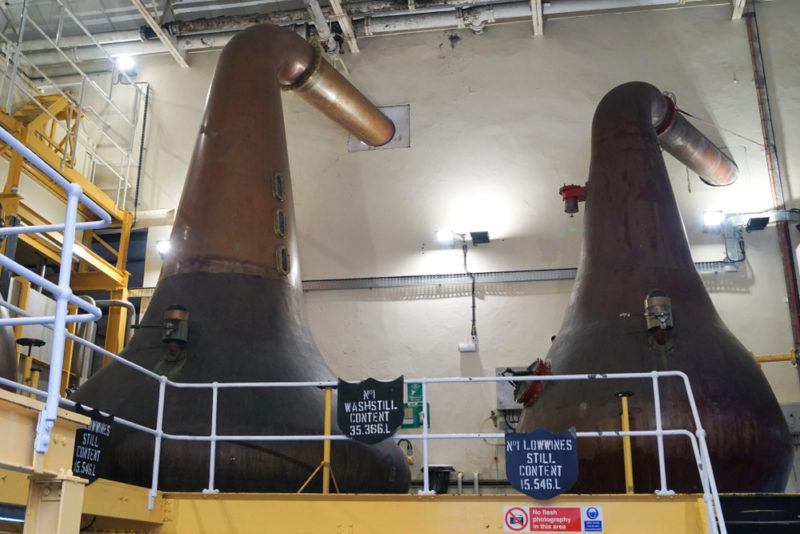 Similarly, at Laphroaig and Lagavulin they will not be able to be as selective with the barrels going into their whisky because demand is too high to be selective.
With Bunnahabhain, they have a surplus so something that is especially clear with the older aged Bunnahabhain whiskies is that they are of a much more consistently high quality.
In short, the bad whisky doesn't make the bottles whereas, with other distilleries, the bad whisky has to make the bottle to meet demand. For whisky drinkers, this is a really good thing and buying an aged Bunnahabhain is likely to be a much more consistently pleasurable experience than other, busier brands.
Bunnahabhain 18 Review

The Bunnahabhain 18 takes the same ethos as the Bunnahabhain 12 and in 2010 they removed the artificial colors, implemented non-chill-filtration, and bottled their whiskies at 46%. Alongside the various changes, they tried to keep the price points broadly similar in order to maintain their fanbase but provide a higher quality final product.
And, it worked to great effect because the Bunnahabhain 18 is not only considered one of the best aged Islay scotches but also one of the best-aged scotches period. Like the Bunnahabhain 12, it is very lightly peated so it will still have that Islay smoky familiarity but the peating is so light that often Bunnahabhain is not described as smoky at all.
Another aspect that is unconventional about the Bunnahabhain process is that they use wooden washbacks that retain some of the heat from the fermentation process and creates a more full-bodied whisky. They also pipe in their water directly from the source rather than allowing it to wash through the peat-like other distilleries. This means that the water is filtered naturally by the limestone but doesn't pick up the peaty qualities further down.
Other than that, it is whisky from stored in a combination of ex-bourbon and sherry casks and both the oaky and fruity qualities are evident clearly in the whisky.
How does it taste?
Tasting Notes

For a whisky free of artificial coloring, Bunnahabhain 18 has a tremendously good rich caramel color and the maturation process has done its job, intensifying those flavors, colors, and aromas.
Effortless whisky experience
Well-rounded and thoughtful
Smooth finish that complements the experience fully
Flavors: Dark chocolate, salted caramel, cherry liquor, sherry, walnuts
On the nose, unlike nearly all Islay whiskies, you will not necessarily pick up smoke or peatiness immediately. In fact, the first thing that hit was a spicy and hot alcohol aroma that clearly comes from the 46% ABV. Other than the smell of alcohol it has a very heady and deep body that is like thick dairy creams or custard, as well as maltiness.
Alongside these bold rich smells, there is a deep cherry and unmistakable hazelnut smell.
To taste, it has the same flavor profile as it does on the nose and is deeply rewarding in a sensory perspective. You smell the bitter dark chocolate and it is there on the tongue. Likewise, all the other smells materialize in flavors and that is something rare and sought after in a whisky. There is a touch of the peat that is almost like a nod to Islay by Bunnahabhain to sign off on the body of the whisky.
The finish lingers well, and it has the same delightful malty and light aftertaste as the Bunnahabhain 12.
One of the standout Islay whiskies without question.
Pros and Cons of Bunnahabhain 18

Now, the time to move onto the more critical portion of the review, which is a little difficult with Bunnahabhain 18. Bunnahabhain 12 was a whisky that showed promise but was ultimately a rollercoaster that wasn't entirely pleasant, but with the 18, the experience has been enriched by the aging process and those mad jolts have been leveled out in a delightful way.
Bunnahabhain 18 is a special dram indeed.
Pros of Bunnahabhain 18
Easily one of the best widely available single malts on the market today.
Beautiful whisky that tastes as it smells – and it smells amazing!
Easily could be enjoyed regularly if you could afford it.
Cons of Bunnahabhain 18
It isn't cheap, and this might mean it is out of reach to most consumers.
It doesn't have enough Islay qualities left to satisfy an Islay whisky fan.
Lacks the pedigree of other Islay distilleries.
You Might Also Like…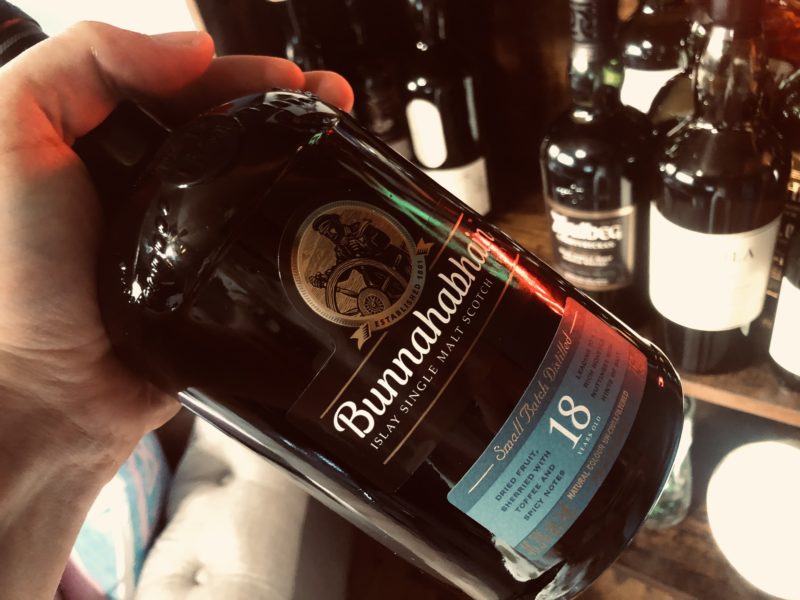 Bunnahabhain 18 is like the Bunnahabhain 12, a good whisky to introduce yourself to Islay whiskies without committing to a full peaty or smoky flavor. One might argue the Bunnahabhain 18 is too light to even serve that purpose.
If you enjoy the Bunnahabhain 18 (which you undoubtedly will) then you might like:
Caol Ila 18 – Another Islay whisky that is not as smoky and is truly remarkable as a whisky-drinking experience. Bunnahabhain 18 is excellent, but Caol Ila 18 is exceptional.
Bunnahabhain 12 – The logical next step to increase your smoky flavors and enhance your peaty palate. Though not as tasty by any stretch of the imagination. It is much cheaper though!
The Bunnahabhain 18 Verdict

Bunnahabhain 18 is the result of all the right processes being used and enough time in the barrel for a perfect single malt to be created. To find fault with the flavor and quality of Bunnahabhain 18, you would have to go over the whisky with a fine-tooth comb, because it is very good.
It makes you think and is so rewarding from a sensory perspective that most other whiskies will be looking on in envy. The only flaw with Bunnahabhain 18 is that although it appears complex, the more you think about it, the more you realize there isn't much beneath the surface.
Unlike the Caol Ila 18, there are no treasured secrets tucked away with the Bunnahabhain 18, what you see (or in this case smell) is what you get. It is a glorious whisky none-the-less and well worth every penny if you can afford it.