Bruichladdich (pronounced Bru-ick Ladd-ick) Black Art is an Islay single malt whisky that is produced by the Bruichladdich distillery. The distillery is held in high esteem by both whisky enthusiasts and other whisky producers and is one of the few distilleries that gets recognition from other distilleries for their product.
Bruichladdich is also considered a bit of a maverick distillery, by still using original equipment and focusing in on the terroir of their barley to a level that is almost mysticism. It is fair to say that Bruichladdich is the alchemist of the scotch whisky world.
And, if Bruichladdich is the alchemist, then the Black Art series is easily one of the more magical whiskies they produce. Let's find out how good it is in this Bruichladdich Black Art review.
About the Bruichladdich Distillery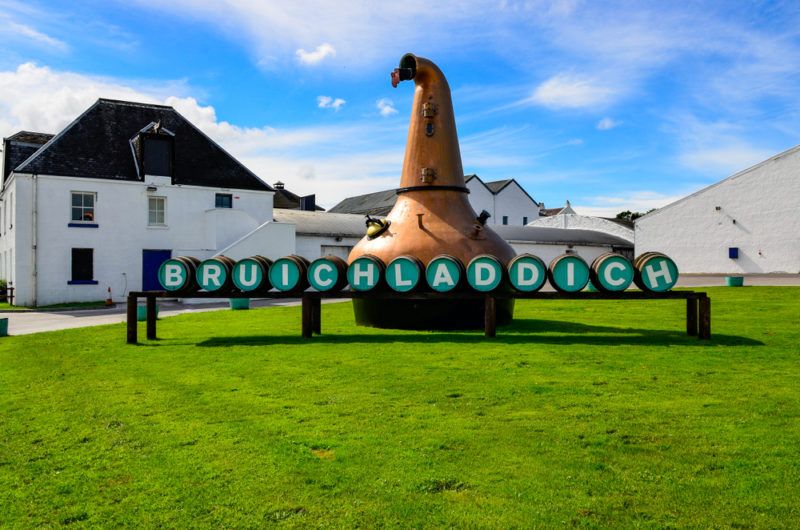 Like many Islay scotch distilleries, Bruichladdich has had a bit of a rough time financially over the years and despite its deep routed Gaelic name and Scottish heritage, it is now owned by the French – specifically the Remy Cointreau company. It has also been known to dabble with other alcoholic drinks and has produced gin during its long history too.
The distillery was originally opened in 1881 by three brothers known at the time as the Harvey brothers. It was opened relatively late for an Islay distillery with many other distilleries on the island having been established for decades with some even approaching the first century of trade.
Although the Bruichladdich distillery was new to Islay, the Harvey brothers were not new to whisky and the family had a successful Glasgow whisky business dating back to 1770.
Being a new distillery on the island, Bruichladdich had the advantage of having the latest whisky making equipment and this immediately set them apart from traditional distilleries with much older machinery.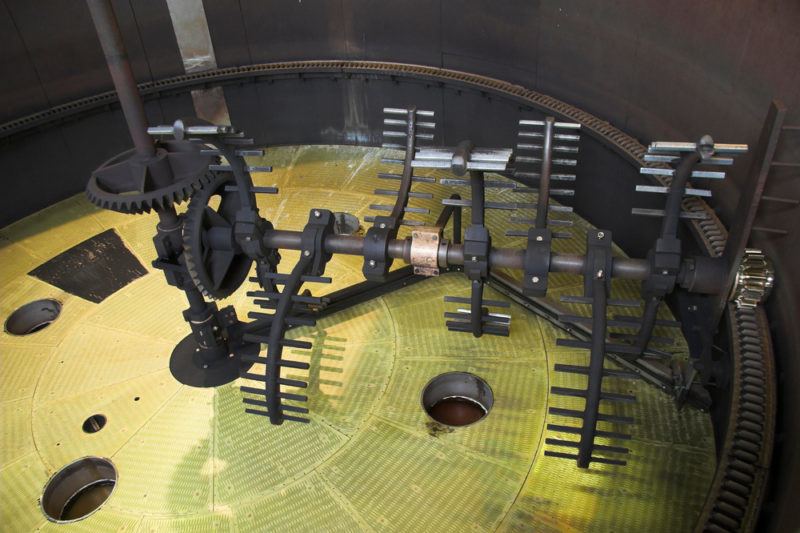 An example of a difference between the other Islay distilleries and Bruichladdich is the stills, which are much fatter in other distilleries. Bruichladdich has very narrow tall stills that they say helps produce a purer spirit.
The brothers weren't to have a happy arrangement and before the distillery was even built, they had fallen out with only William Harvey remaining on to run it until his death in 1936.
During the war years, Bruichladdich suffered as did many distilleries because of rationing and beyond that, the industry went through a very difficult time as the public turned to other drinks instead of whisky (mainly because of cost). That means until 1994, the distillery changed hands multiple times and was not doing well financially.
In 1994, the financial burden became too heavy and with fierce competition from other Islay distilleries, Bruichladdich shut down production. In 2000, with whisky gaining popularity, the distillery was purchased by a group of private investors. Unlike other Islay distilleries which now use computer equipment and robots, Bruichladdich was lagging behind technologically.
So, the new owners disassembled all of the old equipment, cleaned it and repaired it, and then rebuilt it. This means that even today, Bruichladdich still uses Victorian equipment to make their whisky and this gives it a very different flavor to the other Islay single malts. In 2012, the Bruichladdich distillery was sold at a profit to the Remy Cointreau company and despite its new ownership, still retains the original equipment to make the whiskies.
Bruichladdich Black Art Review
First and foremost, it is important to state that the Bruichladdich Black Art is a whisky that definitely changes its characteristics over time. A review for a third bottling edition of Bruichladdich Black Art will be very different from a review for a fourth bottling and so on.
The reason is that Bruichladdich experiment with the barrels they store the whisky in and also likely only have a certain amount of any type of barrel available at any given time.
The third bottling used port and sherry casks as well as American oak casks, whereas the fourth bottling used only American and French oak casks. Bruichladdich Black Art is aged for 23 years and although it will still have the Islay peatiness somewhere within the bottle, much of that should have been lost over the 23-year maturation. The reason they have such an old whisky is because they are currently bottling old whisky stock.
Because of the closure in 1994, there will no doubt be a big gap in the Bruichladdich aged whiskies, and it will be an interesting time to see how they adapt to producing whiskies that are going to be much younger. This will be especially challenging for Bruichladdich as their equipment has a limited output because of its age and design, which means that Black Art could well be one of the last-long aged Bruichladdich whiskies.
Because this is now a sought-after whisky due to rarity and age, and because it is likely it won't be realized by Bruichladdich again in the near future, the price of Bruichladdich Black Art is pretty hefty. Aside from its odd little production notes, let's taste the Bruichladdich Black Art and find out how good it is.
Bearing in mind that the Bruichladdich Black Art changes between versions and bottling, this ought to be taken with a pinch of salt as a general review. It is for this reason that reviews of Bruichladdich Black Art are so diverse and plentiful online.
Tasting Notes
Bruichladdich Black Art is an uncolored whisky but because of its age, it has a lovely deep caramel coloring.
Inviting nose that has lots of complexity to explore
Full sweet but delectable flavor
Finish is long, warm, and comfortable like a reassuring hug
Flavors: Chocolate, vanilla, honey, sugar, mild spices, fruit cake
On the nose, there is a noticeable lack of alcohol smell and this is likely because the long cask aging process has had time to really penetrate the whisky and impart those cask smells. Plenty of rich resins, and also a very deep honey smell. The decades left in the barrel has really transformed this whisky from being an Islay malt that you would expect it to be.
There are also slight spices (vanilla) and citrus notes to smell. Because there is a lack of spiciness and oak smells, Bruichladdich Black Art has likely been put into a finishing cask before bottling which has removed some of those qualities or toned them down. It is thought that the finishing barrels used by Bruichladdich are French wine barrels.
This gives Bruichladdich Black Art an unusually complex and thought-provoking nose.
To taste, Bruichladdich Black Art is intensely strong with a heavy warmth. Lots of spiciness and rich chocolate flavors. At first, the whisky is powerful and creates a whirlwind of deep sweet and heady flavors that cascade into a tremendously warm and welcoming finish. It is so intense to start it will take you by surprise.
The nose does the whisky justice, as the complexity carries through to the flavor and it is one of those whiskies that is so mouth-wateringly sweet that you don't want to swallow it. Every bit of you resists letting the whisky escape your tongue.
The finish is warm and glowing, and a fitting end to a monumental whisky tasting experience.
Pros and Cons of Bruichladdich Black Art
Bruichladdich, despite all their mysticism, makes excellent whiskies for the most part. It is almost unheard of for Bruichladdich to produce a poorly received whisky or even a product that falls into the adequate bracket. But, all of this tradition and expertise comes at a cost and there are a few cons that go alongside the pros of Bruichladdich Black Art.
Pros of Bruichladdich Black Art
Interesting, complex, and highly enjoyable.
It smells amazing and tastes even better than it smells!
It is a wonderful example of what Islay whisky could be without the smoky quality.
Cons of Bruichladdich Black Art
Completely uncharacteristic of Islay whisky.
Really expensive.
Becoming so rare that soon you won't be able to get your hands on it, no matter how much you are willing to pay.
You Might Also Like…
Bruichladdich Black Art is one of those oddball whiskies that if you like it, you will be hard pressed to find something similar, even from Bruichladdich themselves. The truth is if you love Bruichladdich Black Art then you should stock up on Bruichladdich Black Art because once it is gone, it will be gone forever.
If you don't want to stock up on Bruichladdich Black Art, then you should look at these whiskies that you MAY also like.
You should try:
Bunnahabhain 25 – A similar aged Islay malt that has a completely different flavor profile but has lost its peatiness to the cask as well.
Lagavulin 16 – A much younger and cost-effective Islay malt that is almost as complex and beautiful as a whisky drinking experience.
The Bruichladdich Black Art Verdict
Like so many of the truly great Bruichladdich bottlings, the Bruichladdich Black Art is now a very rare whisky and you will find it difficult to get hold of on the open whisky market.
If you know someone at Bruichladdich, there are still a few bottles there to be had. And, if you don't mind paying a collector price-tag, then there are a few premium exchanges offering Bruichladdich Black Art.
If you are one of the lucky ones that can get hold of Bruichladdich Black Art, you are in for a treat. Just forget everything you know about Islay single malts as this is uniquely different.