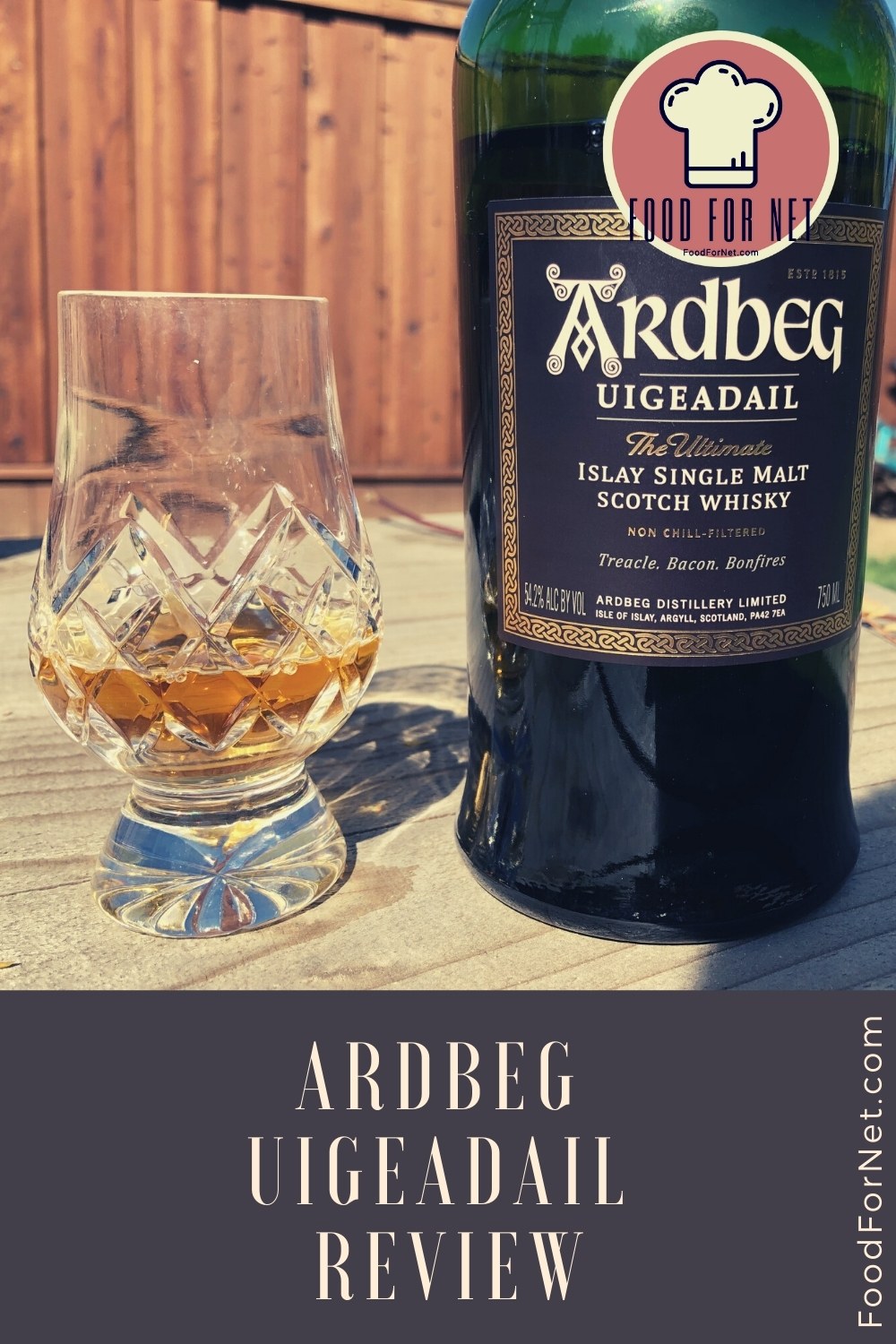 Ardbeg Uigeadail, pronounced (Oo-gah-darl), is a whisky from the award-winning Ardbeg distillery and it is the high strength offering. Uigeadail takes its name from a loch that is north of the Ardbeg distillery which is considered a sweet water loch. Unlike many of the Islay Scotch whiskies, the Ardbeg Uigeadail doesn't have an age and it isn't mentioned how long the maturation process is, except we know that for anything to be classed as a scotch, it must be aged for at least 3 years.
Ardbeg Uigeadail is a really interesting offering as a result, and quite uncharacteristic of other Islay scotch whiskies, it is also one that many whisky lovers hold dear to their hearts. This Ardbeg Uigeadail review explains why.
Ardbeg Uigeadail Review
About the Ardbeg Distillery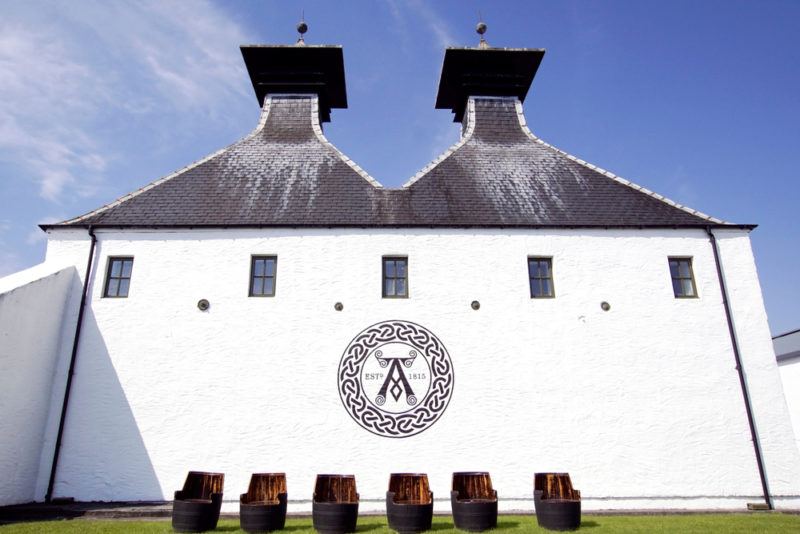 Ardbeg is neighbors to Laphroaig and Lagavulin with all three actively competing with one another to create strong, heavily peated, and bold tasting whiskies. Although Ardbeg considers itself a competitor, it doesn't quite have the tenure of its rival distilleries and in fact, without a lot of good fortune, Ardbeg would likely not be around today.
In 1981, production at Ardbeg stopped because they couldn't afford to make whisky anymore. The processes they were using were too expensive and despite cutting costs, reducing the amount of peat that went into the peat smoking, and adopting cheaper oil-based burning practices, they couldn't turn a profit and eventually the distillery closed.
For over ten years it lay dormant and although the equipment remained, the expertise and skill required to create a good scotch had evaporated faster than the remaining stocks were. Then Glenmorangie saw an opportunity in the mid-90s to revive the sleeping Ardbeg and expand their operations and soon the stills were once more at work.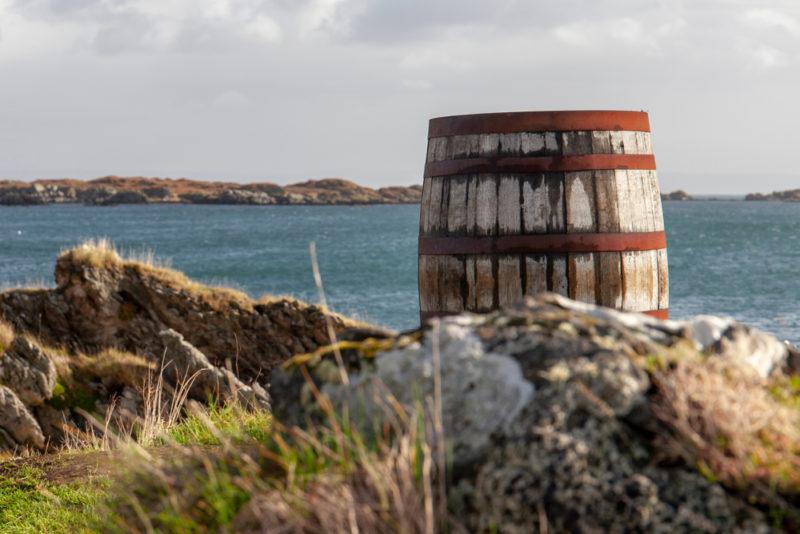 A year later in 1998, Ardbeg won the coveted distillery of the year award, cementing their return and then things went from strength to strength as they clocked up awards and nearby Laphroaig and Lagavulin began to see their profit margins encroached on.
Soon Ardbeg was considered a major player in the Islay whisky industry once more and today it creates some of the more unusual and inventive Islay scotches money can buy. Included within this award-winning line up is the Ardbeg Uigeadail.
Ardbeg Uigeadail Review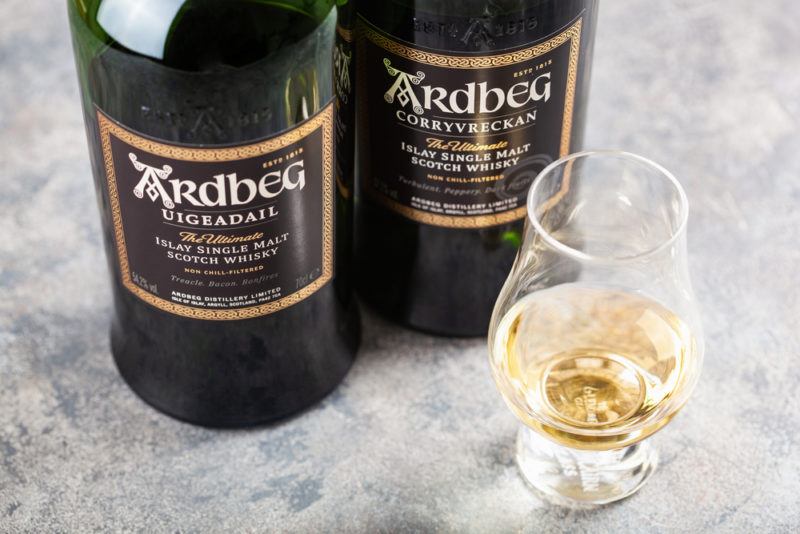 Ardbeg Uigeadail, as mentioned, is named after the loch from which the Ardbeg distillery source their water and in terms of quality, the Ardbeg Uigeadail is by far the best basic scotch offering from Ardbeg. Priced a little dearer than the Ardbeg 10, the Ardbeg Uigeadail doesn't represent as much value for money, but it is a much more realized whisky.
It does share a lot of the same production processes as the Ardbeg 10: both are non-chill-filtered, and both are heavily peated. Unfortunately, Ardbeg doesn't mention how long the maturation process is for the Ardbeg Uigeadail, although simple math taking into account when the distillery resumed production and when Ardbeg Uigeadail when to market will give you a figure of around 10 years.
Of course, there is a chance they are using older Ardbeg whiskies that were in reserve from before production stopped, but this wouldn't necessarily be true because Ardbeg whiskies from this time were cheaply made and low quality.
However long the whisky has sat in the barrel, Ardbeg Uigeadail has certainly managed to take on the sweetness of the sherry casks (something that is uncommon for Ardbeg as they normally use old bourbon casks) and it has also managed to pick up a decent body of color too.
It has won many awards including the sought after 'World Whisky of the Year' award. It has also been voted by regular Ardbeg drinkers, a group of over 120,000 whisky enthusiasts known as the 'Ardbeg Committee', as the best whisky produced by Ardbeg.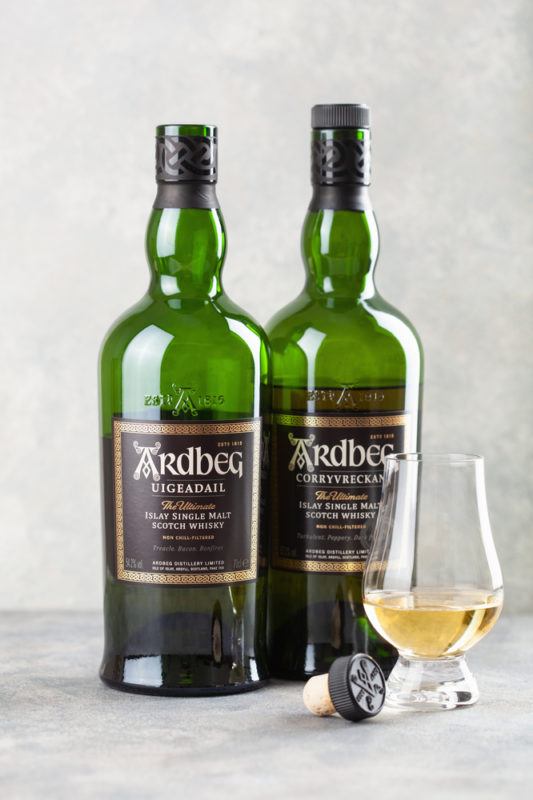 The box accompanying the bottle claims it to be the peatiest, smokiest, most complex whisky of them all around the world. There may be a little truth by adding the word complex into the equation but in terms of smokiness and peatiness, Laphroaig definitely outperforms Ardbeg, arguably on complexity as well. But that is a battle for another day.
Another claim that isn't quite true on the box is that the peat content of the water in the loch gives Ardbeg Uigeadail extra peatiness, but whisky tasters have tested the waters and found the peat level is so minimal that it would not influence flavor compared to any other loch sourced water. In many ways, it is funny that people even check distillery claims, but it is also an indication of how seriously the whisky community takes their favorite tipple.
We could probably go rambling on about the Ardbeg Uigeadail because it is one of those whiskies that has many facets to it. But, instead, let's taste it!
Tasting Notes

Like many other whiskies, it has been noted that between years the Ardbeg Uigeadail does vary in flavor and Ardbeg hasn't quite got a consistent flavor yet.
With this in mind, you should take reviews of Ardbeg Uigeadail as rough guides because the taste will be a little different from one year to the next. The 2009 bottle is widely considered the pinnacle of Ardbeg Uigeadail so if you can get your hands on a 2009 (batch L09) bottle you will be in for a real treat.
Color-wise, it is a deeper golden brown than the Ardbeg 10 but not too noticeably different and it is unclear whether Ardbeg artificially colors the Ardbeg Uigeadail.
Deep smokiness with sherry fruitiness
Sweeter than you might expect
Strong alcohol but smooth finish
Flavors: Caramel, tobacco, vanilla fudge, smoked ham, fruit cake, leather
On the nose, an instant waft of smokiness like a freshly lit bonfire. Then other aroma notes are detected: fresh pipe or rolling tobacco and a full well-rounded fruit flavor jump out of the glass.
Despite its 54.2% ABV, it doesn't have the usual nail-polish, ethanol alcohol smell. Letting the whisky sit in the glass, a sweet shop begins to emerge with fudges, toffees, and vanilla candies all making a pleasant appearance.
To taste it is recommended that you dilute the Ardbeg Uigeadail to get the alcohol content down and remove some of the more prominent flavor notes which can overpower and ruin the drinking experience. Diluting to a maximum of 50% alcohol is ideal and you may notice clouding when the whisky is watered down but this is entirely normal and mentioned on the box as expected.
Even diluted, it is still a strong alcohol kick so don't expect the alcohol to have left the glass or even become weak. Tasting the Ardbeg Uigeadail, the first thing aside from the smokiness that hits the tongue is the alcohol. Then there is plenty of mouth-watering sweetness that competes with a little dry oak from the sherry casks.
The Ardbeg Uigeadail might be younger than the Ardbeg 10, but it shows a lot more complexity and has a beautiful finish. Perfectly balanced flavors that have no kick, no acidity, and no bitterness. It is a big tasting fruit punch of a whisky.
Surprisingly, the smokiness isn't the final flavor you take away with you, it is that emboldened fruit that is left on the finish and the afterthought.
Pros and Cons of Ardbeg Uigeadail
As with all whiskies, Ardbeg Uigeadail isn't perfect, and it certainly has a few drawbacks. Here are the pros and cons of Ardbeg Uigeadail:
Pros of Ardbeg Uigeadail
It is a different and highly satisfying drinking experience at a good price point.
It has won many awards and is well-liked in the whisky community.
If you have a sweet tooth, the Ardbeg Uigeadail is the whisky for you.
Cons of Ardbeg Uigeadail
The price might not be fair for the age of the whisky.
Ardbeg Uigeadail is over-marketed to the point it is a little pretentious with its mysticism (peated lochs imparting flavors to the whisky) and lacks authenticity (unsubstantiated claims).
Some years are poorer than others.
You Might Also Like…
When recommending similar whiskies that you may like to Ardbeg Uigeadail, the usual suspects appear. Basically, if you like the peatiness of Ardbeg Uigeadail then you are going to be well-served by the distilleries of south Islay. Ardbeg, Lagavulin, and Laphroaig. Any number of the whiskies coming out of these distilleries will be up your street but chief among them will be:
Lagavulin 16 – A complex and smoky whisky with a good full body and a more traditional smoky scotch flavor.
Laphroaig Lore – A mixed cask distiller's whisky that has the same sweet notes carried by the sherry casks that feature so heavily in the Ardbeg Uigeadail.
The Ardbeg Uigeadail Verdict
Unsurprisingly the Ardbeg Uigeadail is an excellent whisky and you will likely find it a very satisfying whisky to try, that is unless you don't like smoky flavors. One thing that is a bit irritating about Ardbeg and specifically the Ardbeg Uigeadail is that it is a little over the top and tries too hard.
Perhaps this is because they are the new kid on the block and they have stiff and talented competition in Lagavulin and Laphroaig, or maybe the general public buys into that, who knows. A good deal of the box is taken up by a map guiding you to the loch above the distillery which is going to be completely useless to 99.9% of Ardbeg Uigeadail drinkers.
But these are little foibles that don't take away the fact that Ardbeg Uigeadail is delicious and sweet and makes you salivate and thirst for more. A really good whisky that you should definitely try.