The Laphroaig 10 (pronounced Laf-roig) is a heavily peated, extremely smoky whisky produced by the Laphroaig distillery. The bottle is their entry-level single malt with an attractive price point and a big reputation. It is also one of the most divisive scotch whiskies ever, as you will find reviews that are scathing about it and reviews that are full of praise.
This Laphroaig 10 review aims to be more balanced and give you a fair but accurate representation of this highly controversial and unusual dram.
Laphroaig 10 Review
About the Laphroaig Distillery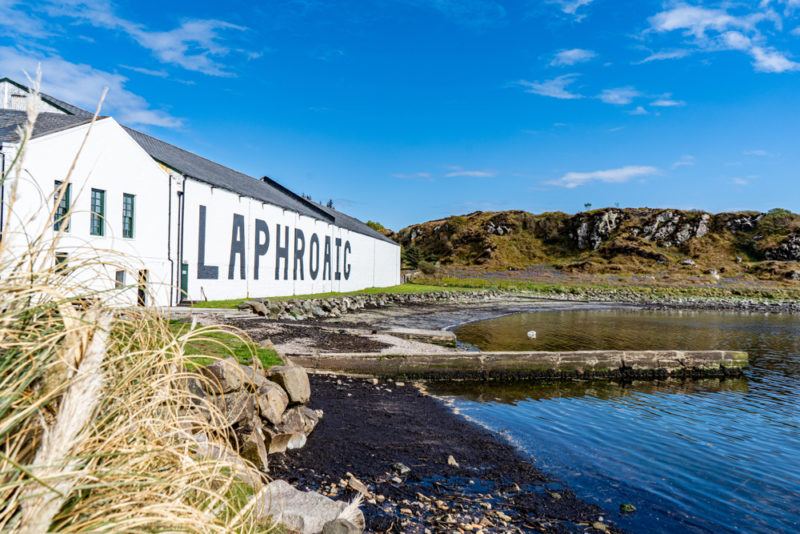 Laphroaig is a market-leading (by reputation and quality) Islay distillery. It has had a very rough time of it historically including a lengthy and bitter series of court battles with its neighbor Lagavulin, which almost saw production shut down completely.
We will save that wonderful story for another review, perhaps the Laphroaig Lore as it is befitting of a historical adversity story. For this Laphroaig 10 review, we will cover the basics of the Laphroaig distillery.
Opened in 1815, the Laphroaig distillery was founded by two brothers, the Johnstons. Incidentally, the Johnston family would become synonymous with Islay whisky production with members of the family opening and running other island distilleries like Caol Ila and Lagavulin.
Unlike the other old distilleries on the island, Laphroaig managed to stay within the same family through successive generations and this proud heritage was carried all the way from 1815 to 1954. In 1954, Ian Hunter was the last in line and without an heir, he left Laphroaig to Bessie Williamson, a Laphroaig devotee and manager.

The mid to late 1900s bought a series of economic challenges following the world wars and distilleries like Laphroaig found themselves needing investment to make ends meet. This was especially true as production processes modernized and required further investment to keep distilleries operating and meeting demand.
It was during this time that Laphroaig was sold to an international company and one of their local neighbors Ardbeg stopped production altogether due to liquidity problems. Laphroaig has changed hands over the years and is today owned by Suntory Holdings, a Japanese whisky and distillery company.
Laphroaig has a rich and proud history and remains the only whisky distillery to be given the royal warrant by the Prince of Wales which he bestowed upon them in person during a 1994 visit. He is also rumored to be a big fan of their Laphroaig 15.
Laphroaig 10 Review

When you get a bottle of Laphroaig 10 you will find a little fold-out booklet which gives you a square foot of Laphroaig land and also invites you for a free dram if you ever go to visit your land and visit the distillery.
This is an extremely nice touch, not only for marketing purposes but also because it gives the customers a sense of belonging to the brand. The passport to Islay is a lifetime ownership of that square foot and runs at the expense of Laphroaig which is a classy touch.
Laphroaig is a south Islay distillery so you will instantly be expecting a smoky peaty whisky. Of which the Laphroaig 10 is, without a doubt, one of the smokiest readily available whiskies on the market. Although there are other heavily peated whiskies (some with higher phenol ppm than Laphroaig 10 even) none are quite as potent as Laphroaig, and there seems to be a real knack for getting smoke in the bottle at Laphroaig.

Laphroaig 10 is a relatively young scotch whisky which means that the smokiness hasn't been lost to the heavens as part of the 'angel's share'. It is not a whisky that should be tried by those new to Islay whiskies and instead should be worked up to. Quite often if someone tries an Islay whisky for the first time and it is Laphroaig 10, they will not revisit Islay whiskies.
This is the reason for it being so divisive as an Islay whisky and some people ultimately adore Laphroaig 10 while others can't stand how overwhelmingly smoky it is.
Let's explore the tastes of Laphroaig 10.
Tasting Notes
Laphroaig 10 is artificially colored and has a much darker caramel color than you would expect from a 10-year-old whisky.
Savagely aggressive nose
Softer taste with heavy smoke that washes down surprisingly easily
Finish is sweet and silky
Flavors: Smoked kippers, salt, citrus, smoked ham, disinfectant
On the nose, it is eye-wateringly smoky. It is so aggressive that burying your nose in the glass will actually cause your eyes to tear up. The smoky peaty quality is medicinal and potent, and it lingers. Letting the glass rest for 5 minutes or so won't disperse the smoky quality, you will need to persevere and keep your nose to the glass in order for your nose to grow accustomed to the smoke and then find other aromas.
Of which there are a few that are hidden in the background like seaside salts and rotten kippers. On the nose Laphroaig 10 is not a friendly whisky, it really grabs at you and forces you to confront your worst fears.
To taste, it without a doubt carries that smoky peaty quality through but it is far less aggressive than the nose and although smoky, it is smooth and sweet. It carries the medicinal quality through, and it is a pleasant bonfire taste that doesn't carry spiciness or pepper.
The finish is equally soft and shorter than you might expect with a slight citrus and toffee sweetness.
Pros and Cons of Laphroaig 10
Now the interesting part, the good the bad and the ugly of Laphroaig 10. Is it a good whisky? Is it good value? And is it something you should try?
Pros of Laphroaig 10
The single-most unforgettable Islay whisky drinking experience, you won't ever forget your first Laphroaig 10.
It is great value for money and with the passport to Islay you would be mad not to buy it.
If it hooks you, you will be a Laphroaig fan for life.
Cons of Laphroaig 10
So aggressive on the nose it makes your eyes water.
It is unquestionably an acquired taste.
It isn't going to be a daily dram unless you like punishing yourself. The smoke is a treat on rare occasions but regularly it would definitely disrupt your sense of taste.
You Might Also Like…
If you like Laphroaig 10 then you will also like Laphroaig 10. Joking aside, if you like Laphroaig 10 then you should look to other heavily peated and smoke-filled whiskies. Perhaps use that smoky flavor as a base to explore other flavors in more complex whiskies?
You should try:
Laphroaig Lore – A distiller's choice whisky from Laphroaig with the same production processes and heavy peat quality.
Ardbeg 10 – Inspired by Laphroaig 10 and the pretender to the Laphroaig 10 crown. This whisky has a more diverse flavor profile.
Lagavulin 16 – The arch-nemesis of Laphroaig, but an incredibly good whisky that has more complex flavors accompanying the smokiness.
The Laphroaig 10 Verdict

Depending on where you are on your whisky journey depends on whether we can recommend the Laphroaig 10. If you are new to scotch, then you should steer well and truly clear. And, even if you have been drinking scotch for a number of years, Laphroaig 10 is not for the weak-minded or faint-hearted.
If you have experienced other Islay whiskies and you are looking to deepen your understanding of peat flavors in a whisky, then Laphroaig 10 probably still isn't for you.
Laphroaig 10 is for those that have really grown accustomed to smoky and peaty whiskies and want to experience the finest. If and only if you fit this category, would we recommend Laphroaig 10. It is a brilliantly executed whisky with an exquisite smoky taste, but you must have built your palate to appreciate it.