In the whisky world, Bowmore 12 has a bit of a rocky time of it. Considered to not be peaty enough to be classed as a young Islay whisky, and not being good enough to be a standalone whisky, it often finds itself shunned.
But is it right to shun the Bowmore 12 or is it completely undeserving of its reputation? Well, here is an honest Bowmore 12 review to find out.
Bowmore 12 Review
About the Bowmore Distillery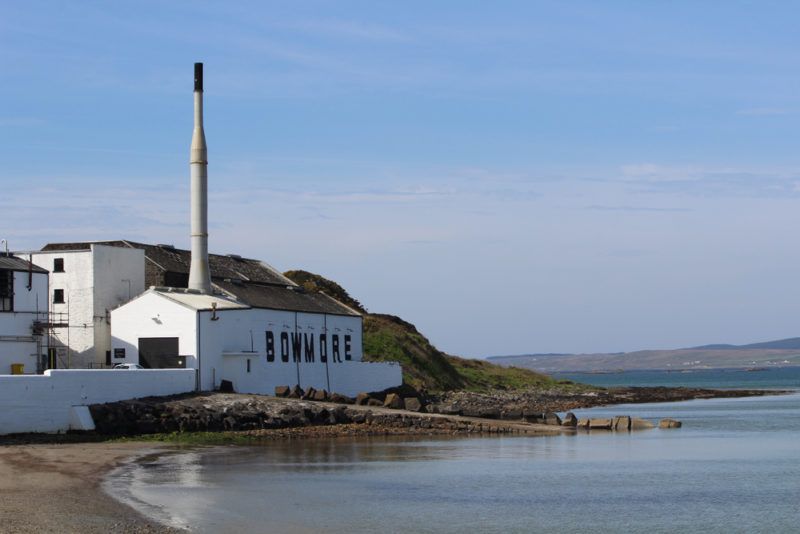 In terms of the claim to Islay, there is no other distillery on the island that has as much documented history as the Bowmore distillery. It was operational as early as 1779 and the bottles all bear the 1779 date as the year the distillery was established. No other documentation survives before this date, but it is thought that the distillery might even be a little older.
The first documentation for Bowmore was that of an officially established distillery owned by a John P Simson that was being sold to a German family. This was in 1779 and seemed to suggest that although the distillery was established (enough to be sold) it hadn't been officially documented up to that point. It is also unclear when the sale took place as there is no deed of sale on record.
What is clear is that as the world entered a new century, the distillery was firmly under the control of the Mutter family and specifically James Mutter. In 1925 the distillery left the Mutter family and was bought by a small company who in turn sold it on in 1950 to an Inverness based business.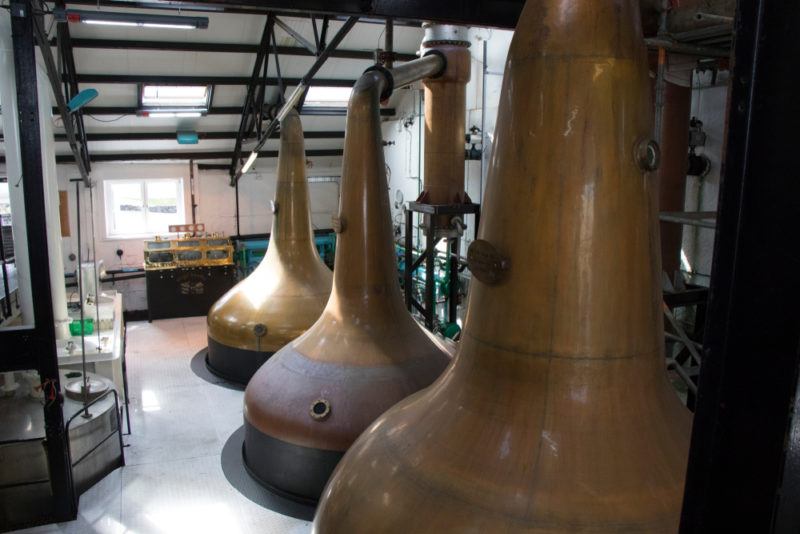 During the war years, rationing forced the distillery to halt production, but that didn't stop Bowmore from taking an active part in the war effort as the distillery was used as a staging ground for RAF coastal command and anti-submarine reconnaissance and attacks. This was because the RAF docked their flying boats at the nearby Loch Indaal.
By 1963, the distillery had once again changed hands, with ownership now under the Morrison's Bowmore Distillery Ltd headed up by Stanley P. Morrison. Over the years, through an acquisition which is common for Islay distilleries, Bowmore has retained its main company but is ultimately owned by the Japanese company Suntory.
Today, Bowmore is one of the five oldest operational distilleries in Scotland, though they don't use original equipment like some of the other distilleries on Islay.
Bowmore 12 Review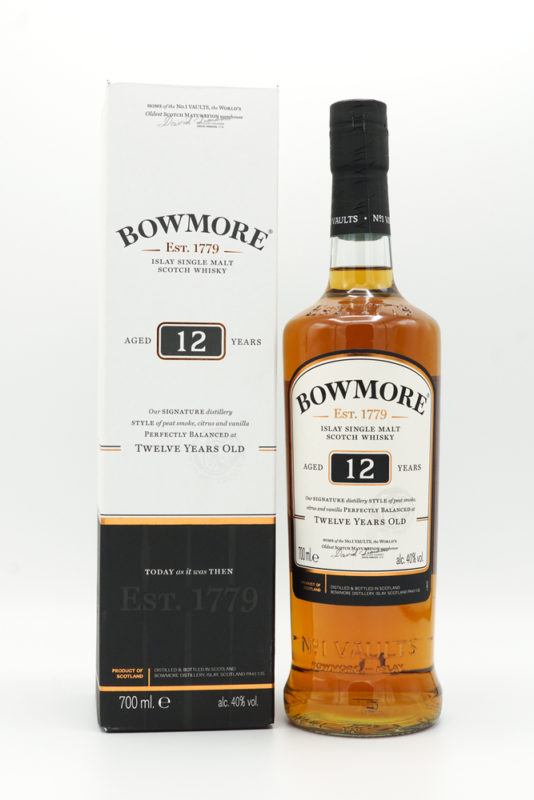 Step in the entry-level Bowmore within its core range, the Bowmore 12 which shouldn't be confused for other Bowmores that also bear the number 12. Yep, annoyingly, when buying Bowmore 12 you may find disparity with bottlings, boxes, and labels because Bowmore has released other Bowmore 12 whiskies that either share the same name or very similar names.
With that in mind, and because this Bowmore 12 is normally much cheaper than the other ones, check before you buy. Bowmore market the Bowmore 12 as the original Islay whisky and though other distillers have taken exception to this, it is hard to disagree with them as they most certainly have the right to claim it due to their long history.
Bowmore 12 is the lowest age statement whisky that is available from Bowmore today although in the past they have had lower aged whiskies in their line-up. Bowmore 12 is a 30-phenol ppm which is much less than most other Islay whiskies. Historically Bowmore used only sherry casks and whiskies were exclusively stored in these sherry casks throughout the maturation process – resulting in a sweet, smooth, and lovely finish.
Today though, the cost of sherry casks compared to ex-bourbon casks means that a lot of Bowmore is now aged in a less premium way. As a result, many fans of Bowmore over the years have been put off by the reduced quality that is appearing in Bowmore whiskies as well as the ever-increasing price.
This is not necessarily true of the Bowmore 12 as it is a relatively young whisky, but it will no doubt have not been aged exclusively in sherry casks like the Bowmores of yesteryear. It is also for this reason that the really old Bowmore aged whiskies command such high prices with tens of thousands of dollars being spent on much older Bowmores.
Tasting Notes

Bowmore adds artificial color to their whisky despite the general trend toward not doing this among other Islay distillers. The reason this is has been speculated as that they don't want to store the whisky in the sherry casks long enough for it to deepen in color, opting to artificially color the scotch instead.
The appearance is golden brown but of course, with the caramel coloring, this means nothing.
Fantastic balance
Light smokiness with no medicinal quality
Citrus, oranges, and rich fruits
Flavors: Burnt Oranges, Limes, Cherries, Bonfire Smoke, Rubber, Resin


On the nose, you will detect the smoke instantly, but it isn't overpowering, and it quickly draws back to reveal aromatic citrus notes. Lemons and oranges are really prominent on the nose. It smells really good but doesn't have many layers to the nose to unpack. Just smoke that dissipates to welcome in warm citrus fruits. A bonfire in an orange grove.
To taste, it is highly balanced with no sharp flavors. Everything is there as you expect: smoke, oranges, spices, and fruits with a hint of creaminess. But nothing too prominent and nothing overbearing. It is as though you are tucking into a taster menu, sampling the flavors together and then they stay in harmony on the tongue before the long finish.
The finish is long, smooth, and washes down really well without any burning or extreme sensation.
Pros and Cons of Bowmore 12
As you can probably guess from the tasting notes, Bowmore 12 gets a bit of a bad reputation for no good reason. That doesn't mean it is a really good whisky though, it just doesn't deserve the negative publicity it gets from whisky reviewers.
Here are the good and bad points of Bowmore 12:
Pros of Bowmore 12
Very cheap for an Islay single malt.
You won't find a more well-balanced Islay single malt.
It is a great Islay entry point for those wanting to explore the smoky flavors.
Cons of Bowmore 12
Not attractive as a gift.
Although excellently balanced, the flavors aren't impressive.
Bowmore seems more concerned with profit margins than product quality and branding.
You Might Also Like…
Bowmore 12 is a brilliant gateway whisky for Islay and if you have any beginner friends that are looking for an Islay recommendation, then Bowmore 12 is easily the best pick.
Once those friends have experienced Bowmore 12 they will no doubt be intrigued to go onto smokier things and at that point, Caol Ila likely holds the next steppingstone.
If they want to stop at the Bowmore 12 flavors, then they should try:
Caol Ila 18 – An older, more developed, and much better whisky with extremely light smokiness but plenty of depth to it. A real treat.
Lagavulin 8 – A young and experimental whisky from Lagavulin that has almost no smokiness to it but a more intense flavor profile than Bowmore 12.
The Bowmore 12 Verdict
Bowmore 12 is a good example of a distillery that knows how to get the best from a not so good quality product. The amount of expertise that has gone into balancing this whisky is unquestionable and from the moment the aroma bounces off the glass to the final moments of the finish it works in complete harmony.
With that said, it isn't going to win many awards, the favors are too understated and although they mesh well together to create a pleasant whisky drinking experience, there is zero 'wow' factor. Adjectives like pleasant, nice, reasonable, adequate, and just fine are all applicable to Bowmore 12.
Regardless, due to its price point and it being a great gateway whisky, Bowmore has nothing to worry about as it will continue to feed their bottom lines. It is also a good whisky to pair with food as it isn't overpowering.