Laphroaig is a leading distillery on Islay and one of the signature flavors of Islay scotch. Laphroaig Lore is no different, bringing the same classic Laphroaig craftsmanship and adding a few surprises along the way.
Despite being a specialty product, it sits in the affordable range of Laphroaig's alongside the Laphroaig 10, the Triple Wood, and the Quarter Cask.
With an intriguing title and a big brand name like Laphroaig, you can't go wrong, can you? Well, this Laphroaig Lore review aims to find out.
Laphroaig Lore Review
About the Laphroaig Distillery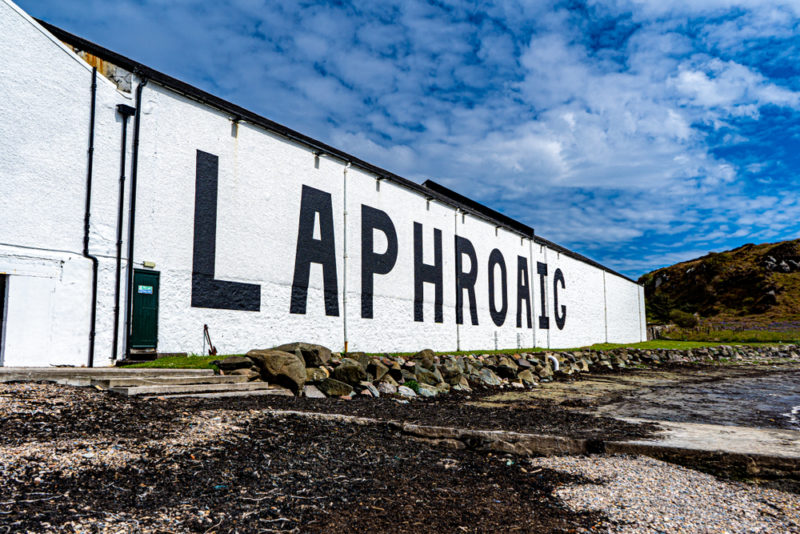 Laphroaig is a south Islay distillery that is considered the smokiest of all Islay single malt makers. Their bottles and box packaging all bear this claim and though there have been other distilleries that have tried to out-smoke Laphroaig, none has really made a successful claim for the title.
The distillery that definitely wanted that title historically was Lagavulin, who in no small way went about disrupting Laphroaig production. Cutting off their water supply, stealing processes and even equipment designs to derail the successful neighbor distillery.
Both distilleries opened at around the same time with Laphroaig opening in 1815. The reason Laphroaig initially opened was interesting in its own right, as originally the farmers were growing barley to feed cattle. Then by 1815, farmers in Laphroaig realized they were making more money making their whisky than raising cattle and the distillery was born.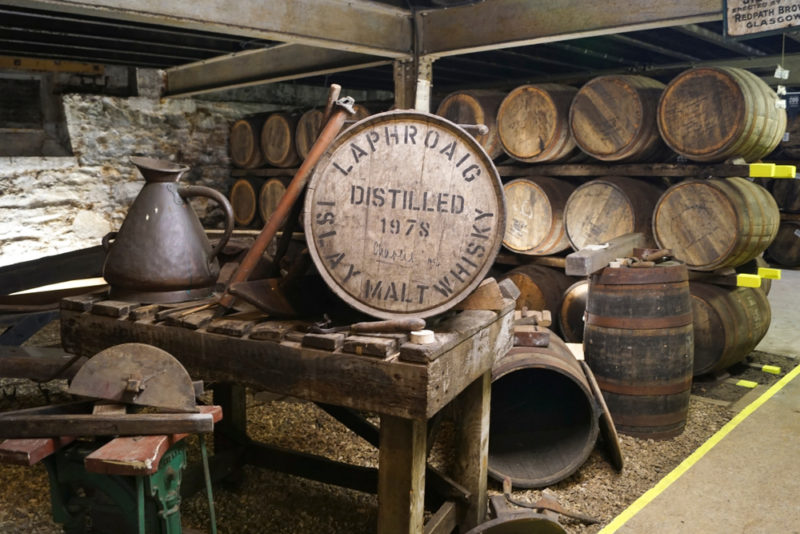 Fortunately, the rivalry between Lagavulin and Laphroaig ended decades ago (well, at least the underhanded one) and despite numerous expensive court cases, both Lagavulin and Laphroaig exist today, and both make extremely good peated scotch whiskies.
Currently, Laphroaig champions their Marmite status in the whisky world with brash taglines like, "We've been dividing opinions since 1815, tell us what you think. Be honest, we can take it."
It is this self-assuredness that has served Laphroaig so well over the last two centuries and no doubt at times in their history it was pure tenacity that kept them going. Uncompromising and Laphroaig are synonymous, which is why Laphroaig Lore is such an exciting prospect.
Laphroaig Lore Review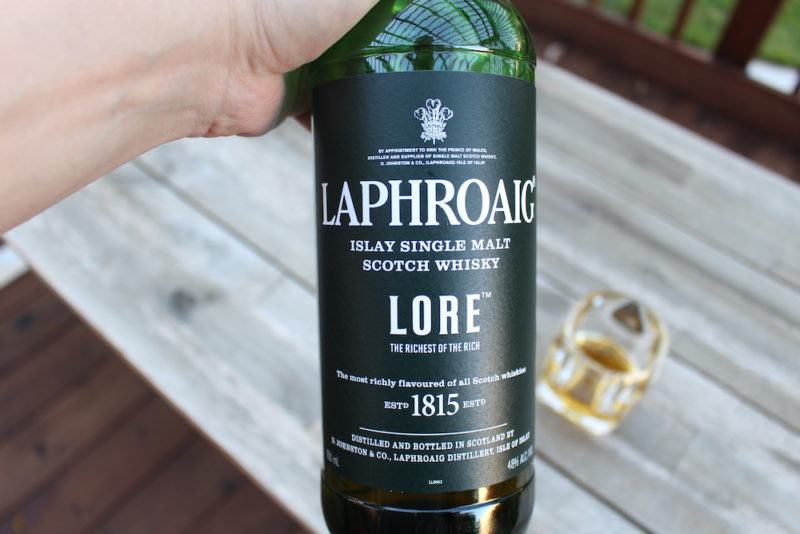 Laphroaig Lore is a celebration of the heritage of Laphroaig and specifically, the knowledge that has been passed down over successive generations from one master distiller to the next. This is where the name 'Lore' comes from, the spoken secrets of Laphroaig that have been helping each successive master distiller keep making the same extremely high-quality scotch.
Today, the distillery doesn't require the same word of mouth passing down of knowledge and the lore is contained in computer programs with much of Laphroaig's current production automated. Everything from distillation times and temperatures is calculated and monitored exactly by technology. But Laphroaig wouldn't be in the position it is today without all of the knowledge that had been accrued and passed down.
Laphroaig Lore is marketed as the richest of all Laphroaigs by Laphroaig themselves, so it certainly creates a sense of immense expectation before opening up the bottle and tasting.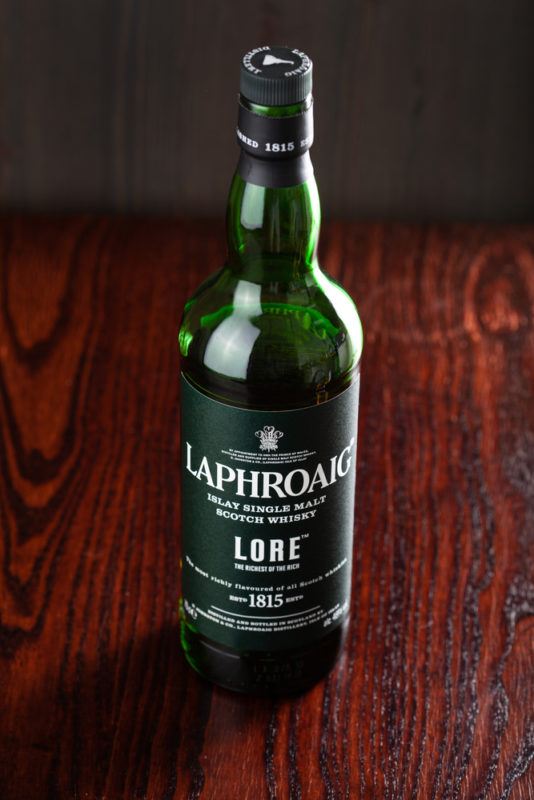 The bulk of Laphroaig Lore is taken from their main casks but there are also special malts added into the equation. A bit is taken from their quarter casks and they even use some of their really premium casked whisky in the mix to make this single malt.
Another interesting aspect about the casks that Laphroaig picks for the Lore, is that they say they pick only from the sea warehouses (the warehouses close to the sea), rather than the more remote Laphroaig warehouses. This, they say, is because the quality from the sea warehouse casks is just that bit better than the remote warehouses.
It is fair to say, Laphroaig wants this to be the richest Laphroaig that embodies the Laphroaig art of whisky-making.
'This is our story' is inscribed on the tin. Well, let's give it a read!
Tasting Notes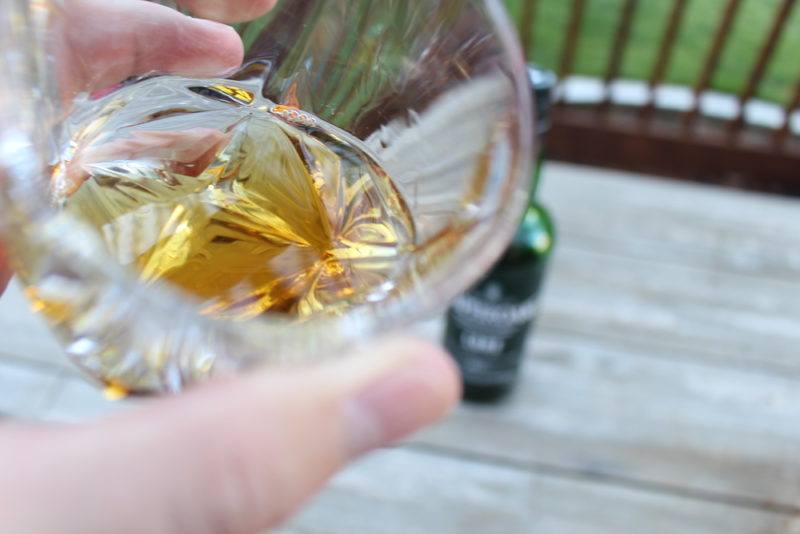 Laphroaig Lore is a non-chill-filtered whisky and it is free of artificial colors. Its appearance is pale straw with a bit of a golden hue.
An unusually complex nose from Laphroaig
Heavily influenced by the casks it has been aged in
Fantastically enjoyable despite not being very well balanced
Flavors: Dry white wine, smoked fish, mixed spices, chilis, habaneros, salt
On the nose, it is as you would expect from Laphroaig but perhaps not quite as violently intense as the Laphroaig 10. There are elements of wood-fire ash, bonfire, and smoked fish that really give the smokiness of Laphroaig Lore that extra bit of depth.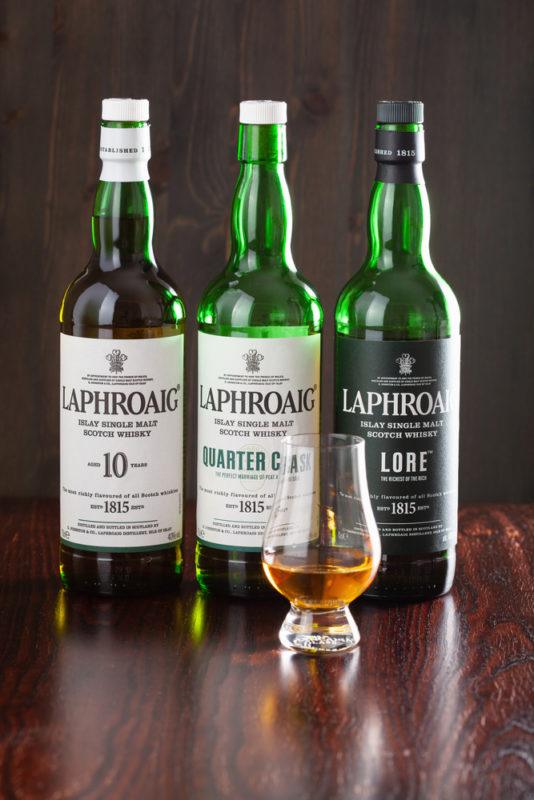 Laphroaig Lore is mostly sherry cask on first fill so there is also an unmistakable sweetness that lingers behind the smoke as well as salt from the sea air. It is a surprisingly inviting nose which isn't necessarily the case with other Laphroaigs.
To taste, it is the same and expected full punch on the tongue of rich smokiness from Laphroaig. This time though, it is paired with a bit of spiciness and hot chili that falls away quickly to reveal a dry sweetness that is a little similar to a wine. It is surprisingly complex in flavor and the smokiness isn't the take-home. Instead, you go on a journey through the barrels but in reverse order.
First, the bitter spiciness of the European oak casks and then the dryness of the ex-Bourbon casks and finally as if it was a departing kiss, the soft and lingering sweet remnant of a sherry cask.
The finish is smooth and sweet with not much depth, quickly disappearing and leaving you wanting more.
Pros and Cons of Laphroaig Lore
Laphroaig Lore is a really good whisky, but it has a couple of negatives too. Here are the pros and cons of Laphroaig Lore.
Pros of Laphroaig Lore
Really complex and tells a story as Laphroaig intended.
It is excellent value for money considering the production and what has gone into the bottle.
It stays true to Laphroaig but offers something different which is impressive considering Laphroaig has a large core offering.
Cons of Laphroaig Lore
Although it isn't limited run, Laphroaig hasn't indicated that it will be on the market continually. It might not be available for long so buy it now.
It still has the smoky phenol quality from the peat, so if that isn't your thing then Laphroaig Lore isn't your thing.
It isn't well balanced and initially, it is a bit of a shock to the system as the flavors rollercoaster.
You Might Also Like…
Laphroaig Lore is a very good whisky and there isn't something that is going to tick both the flavor boxes and the cost boxes and give you the same experience. There are, however, broadly similar tasting whiskies available at around the same price.
These are:
Laphroaig 10 – It goes without saying that if you liked Laphroaig Lore then you will have some affection for Laphroaig 10. Laphroaig Lore is the better and more complex of the two though.
Lagavulin 16 – A longer aged whisky than Laphroaig Lore (which is classed as a 7-year-old) that has all of the flavor elements as well as that smoke hit. It is also the better balanced of the two.
The Laphroaig Lore Verdict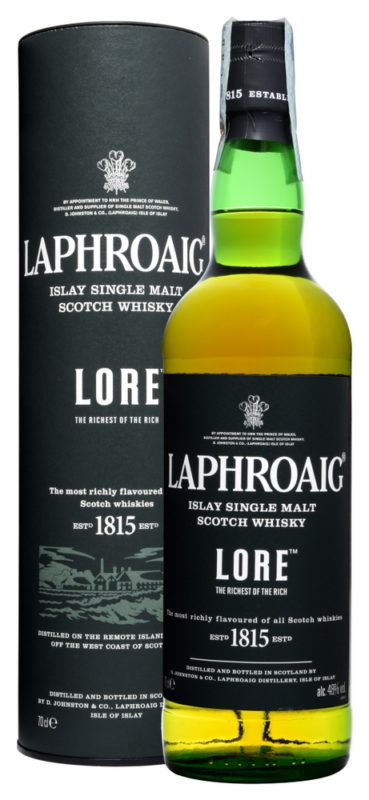 Laphroaig Lore is one of those whiskies that is enjoyable to drink and interesting as well. It benefits from the story on the box that draws you in and allows your imagination to run wild as the smoke kicks its way across your tongue. And then as the smoke subsides a little, interesting flavor notes appear, and the whisky evolves as you sip.
The unfortunate thing is that it isn't carefully balanced and sometimes a hit of one flavor overpowers a sip, and then in the next sip something else stands out.
It keeps you coming back for more but sometimes it isn't as rewarding which means this scotch sits firmly between the good and excellent ratings. Which is probably why it holds 4 or 4.5 stars on most star rated reviews.