Islay is a large island that makes up part of a group of islands known as the Hebrides that border mainland Scotland. To the north of Islay is another whisky-making island called Jura and together Islay and Jura are considered a must-visit location on the famed Scottish whisky trail.
Islay (pronounced Eye-La) whiskies have been consumed for over three hundred years and there is a long and rich tradition of whisky-making in the area.
Famed for its peated smoky whiskies, Islay is the home of nine working distilleries that all produce some very exciting single malt scotches. But which of these makes our best Islay scotches 2021 list?
Best Islay Scotches To Try This Year

The Nine Islay Distilleries
Each of the nine operational distilleries has a unique Islay offering (except for one) and there are definitely big differences between all of them. First, let's look at all nine and see their respective most accessible, and prized scotch whiskies.
Caol Ila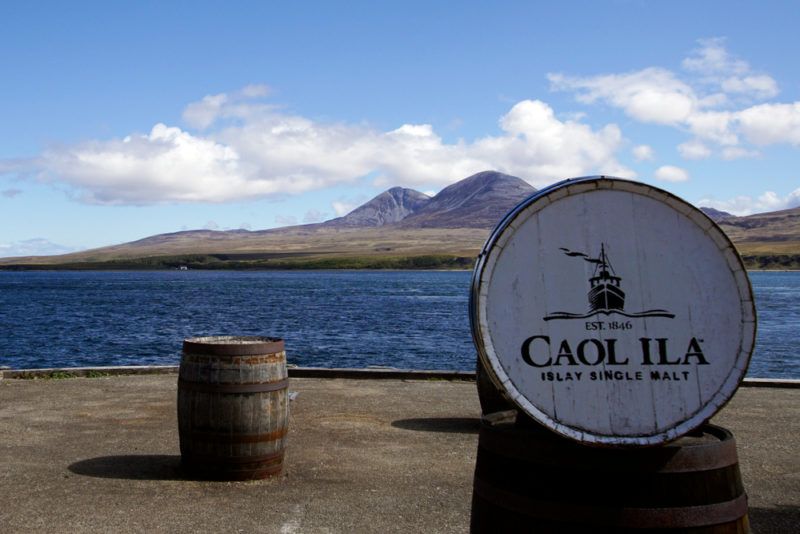 Caol Ila is the largest distillery on Islay and produces a vast amount of whisky that goes into famous Scottish blends. Nestled on the north-east corner of Islay and close to Jura, Caol Ila prides itself on capturing both the smoky flavors and the fresh sea air in their scotches.
Most accessible Caol Ila – Caol Ila 12 – A respectably smoky whisky that is a great gateway to other peatier whiskies.
Best scotch whisky Caol Ila – Caol Ila 18 – This limited run whisky is exquisite and really showcases how good an Islay whisky can be.
Kilchoman

The Kilchoman distillery is a family-owned newcomer to the Islay whisky distilleries. Established in 2005, the whiskies coming out of Kilchoman are young and champion traditional whisky-making methods. They try to make their whisky 100% a product of Islay.
Most accessible Kilchoman – Machir Bay – Aged to six years, the Machir Bay is a smoky and brash young whisky trying to compete with other Islay single malts, it has its work cut out for it.
Best scotch whisky Kilchoman – 100% Islay – The pinnacle of the current Kilchoman line-up with homegrown barley, malted at Kilchoman's malt flooring and then distilled and casked – everything is done on Islay.
Ardbeg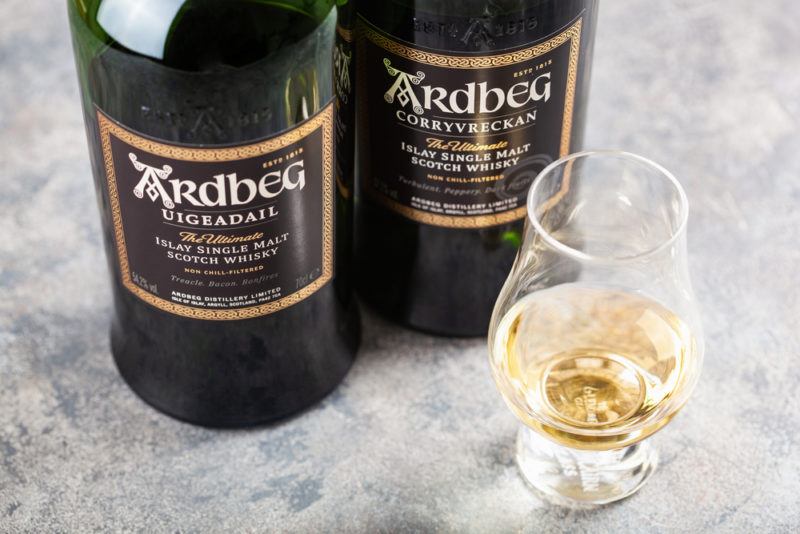 One of the three southern Islay distilleries, notorious for the high peat intensity. Ardbeg recently re-entered the Islay whisky market after years of inactivity, as such, their whiskies are young and mostly with no age rating. Ardbeg tries to tell stories with their whiskies, and they are certainly eventful drams.
Most accessible Ardbeg – Ardbeg Uigeadail – A no age specified whisky with intense peat smoke, designed to compete directly with the Laphroaig 10.
Best scotch whisky Ardbeg – Ardbeg Traigh Bhan 19 Years Old Batch No 2 – A rare older cask whisky from Ardbeg that has a great balance of flavors and has retained a nice mellow smoke quality.
Lagavulin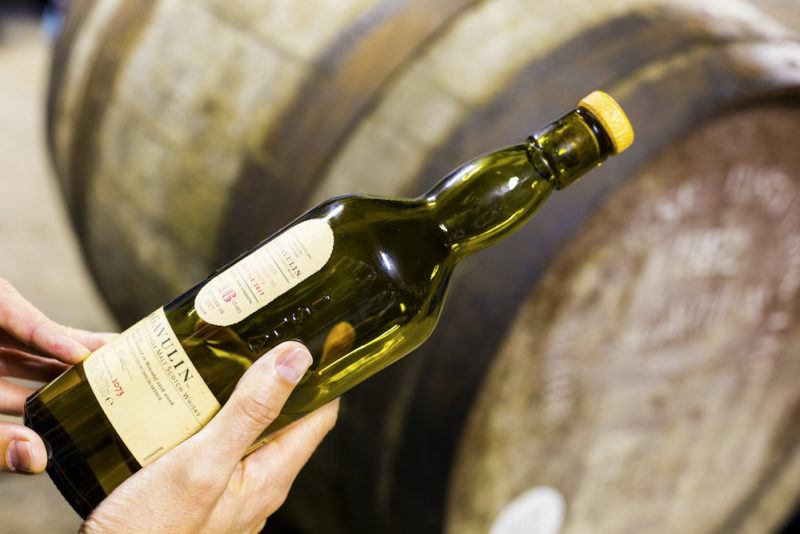 Without question one of the most famous Islay distilleries and frequently at the top of best Islay scotch lists. Lagavulin is a southern Islay distillery that is in direct competition with its bitter rival Laphroaig and to a lesser extent now, Ardbeg. Lagavulin loves to inject other flavor profiles to accompany the deep peat flavor.
Most accessible Lagavulin – House Lannister Lagavulin 9-Year-Old – A commemorative Game of Thrones-inspired whisky that hasn't sold as well as Lagavulin hoped, making it a great bargain grab at the moment.
Best scotch whisky Lagavulin – Lagavulin Distiller's Edition – This is a premium version of the other best scotch whisky that Lagavulin makes, the Lagavulin 16. Both are special, but the Distiller's Edition is that little bit more so if you can get your hands on one.
Bruichladdich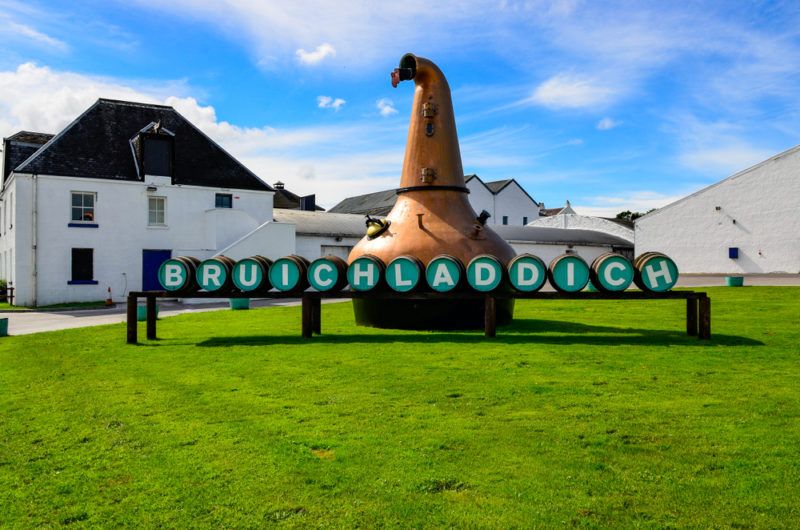 Bruichladdich is a distillery that holds a special place in many whisky drinker's hearts. Pioneering experimental and crazy whiskies, Bruichladdich has reinvented the Islay single malt and then supercharged it. They tend to be a bit pricier, but if you want a real treat, Bruichladdich is well worth the extra spend.
Most accessible Bruichladdich – Bruichladdich Classic Laddie – A price friendly offering from Bruichladdich that is as consistent as the weather. If you like one, you may not like another. But it is cheap for an Islay, so what have you got to lose?
Best scotch whisky Bruichladdich – Bruichladdich Black Art – A fine whisky experience that is expensive but if you want to know what the best whiskies taste like, the Black Art will tell you.
Godlike whisky Bruichladdich – Bruichladdich X4+3 – Incredibly rare but coveted and considered by many as the single best whisky drinking experience imaginable.
Bunnahabhain

Bunnahabhain is an often-overlooked Islay distillery that produces a lot of good whisky. Frequently overshadowed by other distillers on the island, Bunnahabhain offers great value for money and is well worth checking out. It is also the only distillery on Islay to make whisky using pure spring water.
Most accessible whisky Bunnahabhain – Bunnahabhain 12-Year-Old – A well-respected entry-level whisky from Bunnahabhain that has won many awards over the years.
Best scotch whisky Bunnahabhain – Bunnahabhain 40-Year-Old – Believe it or not, Bunnahabhain also have a 46-year-old but it isn't as good as the 40-year-old. This is extremely expensive, but it is also one of the single best drops of whisky you will ever taste.
Bowmore

One of the oldest distilleries in Scotland, it is thought that Bowmore was established as early as 1779 (record keeping at that time was different from today). Bowmore is a highly celebrated distillery because of its heritage and today makes some of the most consistent and well-received whiskies on Islay.
Most accessible whisky Bowmore – Bowmore 12 – Priced so competitively that it is almost in line with mainland scotch prices, Bowmore 12 is well balanced and affordable. It isn't the best cheap whisky experience, but it is good enough.
Best scotch whisky Bowmore – Bowmore 25 – Plenty of time in the cask, this whisky has been allowed to develop and the Bowmore 25 is rich, sweet, and delightful.
Godlike whisky Bowmore – Bowmore Black 50-Year-Old – A whisky you might need to take a mortgage out for, but one of the rarest and most celebrated whiskies ever produced.
Ardnahoe

This is one of the nine distilleries on Islay, but due to its recent opening, they are yet to bottle and produce a whisky. The site was purchased in 2015 and the first cask was filled in 2018.
They use new equipment and technology at Ardnahoe and the distillery is the most state of the art on Islay, which should lead to a very interesting interpretation of an Islay single malt.
Best scotch whisky Ardnahoe – Hopefully, check back here next year!
Laphroaig

Last but certainly not least on our distilleries list, Laphroaig, the world-famous Islay distillery that is notorious for its highly peated and smoke-filled drams. Sitting on the south of Islay, Laphroaig is neighbors with their bitter enemies Lagavulin, and both seek to outdo each other by producing exceptional whiskies.
Most accessible Laphroaig – Laphroaig 10-Year-Old – Not for beginners to Islay whisky as this will blow your socks off with smokiness. But if smoke is your thing, Laphroaig 10-year-old will likely be a regular feature in your whisky cabinet.
Best Scotch Whisky Laphroaig – Laphroaig 25 Year Old 2020 Edition – One of the priciest best scotch whisky recommendations on this list, but a very interesting one as much of the Laphroaig smoke has been lost and you can appreciate the other wonderful flavors in the Laphroaig arsenal.
The Best Islay Scotches 2021 – Final Verdict

Of the nine distilleries on Islay, only eight are currently producing whisky. Of those remaining eight, there are a few that are still in their infancy and don't have the whisky aged enough to be a contender for the best Islay scotches 2021.
Though Ardbeg and Kilchoman are making good whiskies (without question) it is really difficult to put them in the best scotch whisky categories, at the moment.
Which leaves the remaining distilleries to battle it out. Of which there are three stand-out whiskies for around the $100 mark. The top three, best Islay scotches for 2021 are the Caol Ila 18, Laphroaig Lore, and the Lagavulin Distiller's Edition.
There are other (even better) whiskies that come in with hefty price tags, but, for those looking to experience an Islay single malt and also get tremendous value for money, those three win hands down as the best scotch whisky from Islay.