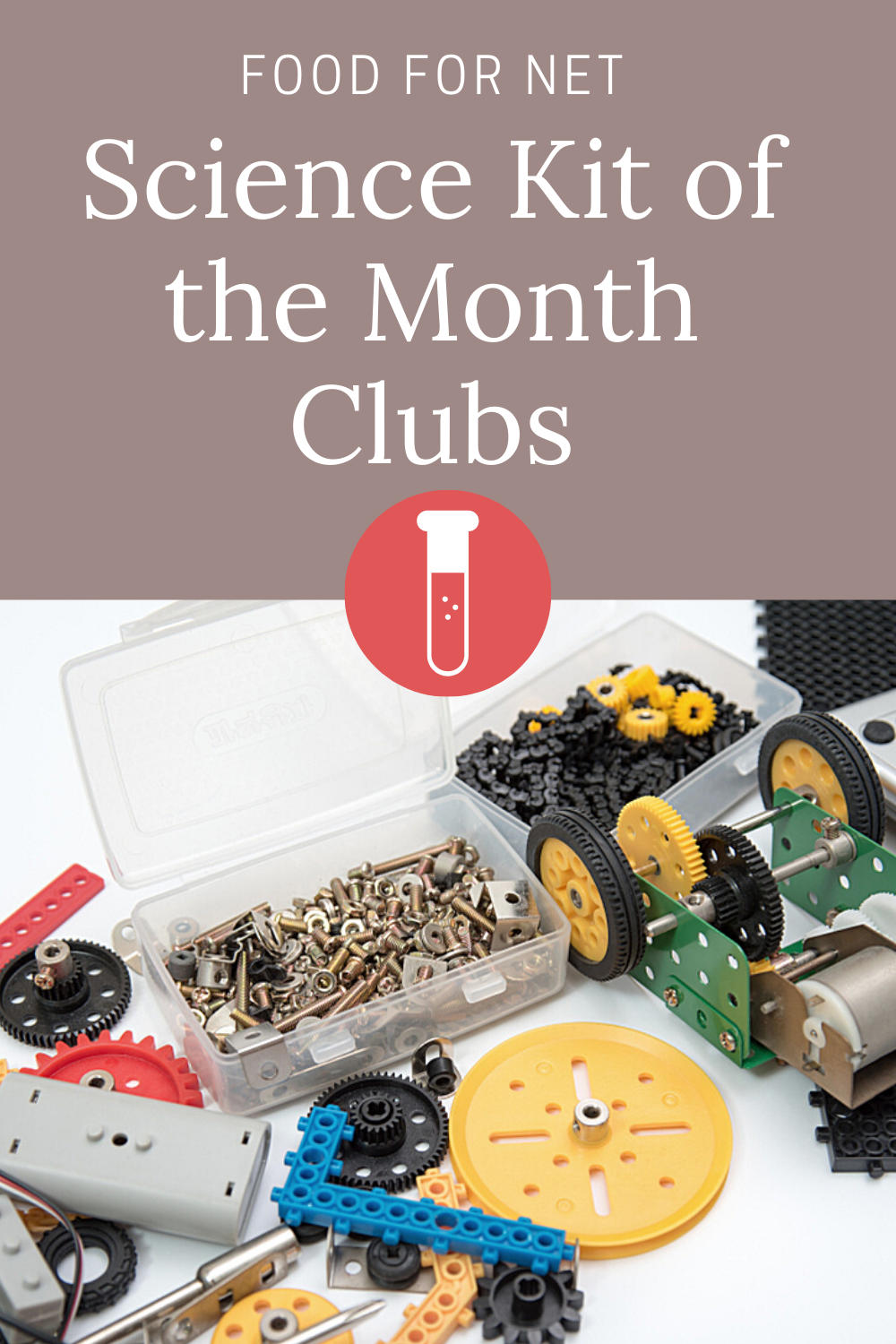 Since the early 1900s, science kits of all sorts have expanded children's creative and curious sides. Science kits have long been the foundation of many famous scientists and doctors, encouraging and indulging their inventive nature, which makes science kit of the month clubs ideal for many modern kids.
The first chemistry set came out in 1914, Chemcraft. The Chemcraft set invented by John J. Porter was the "Introduction to the Wonders of Modern Chemistry." The Chemcraft was the ultimate chemistry set, which included a variety of glass beakers, test tubes, tubing, bottle stoppers, and various chemicals.
The chemicals that were included in this set are not ones you will ever find in today's science kits, since they included:
Potassium nitrate – A component in gunpowder
Nitric acid – Used in rocket fuel
Sulfuric acid – A corrosive chemical
Calcium hypochlorite – Used to make chlorine gas
Sodium ferrocyanide – A poisonous chemical
Chemcraft was not the only science kit on the market that contained highly caustic materials, another popular one was made by the Porter company.
At first, no one seemed to mind that these chemicals were included. However, when government regulations required companies to label the chemicals as toxic, flammable, explosive, and caustic parents soon became concerned that their children were playing with such dangerous materials.
Due to parental concern, many of the chemistry set companies went out of business. However, Chemcraft stayed in the game until the mid-1980s.
Over the years, chemistry sets have evolved from caustic elements to the chemical-free sets of today. Though these sets are safer for kids, scientists worry that children will not be as intrigued as they once were with the more exciting experiments, rather than just playing with toys.
Science kits are coming back, and there are five great science kits of the month clubs that kids will love. These kits are safe, educational, entertaining, and best of all, conveniently shipped to your door every month.
Science kit clubs are ideal for any child interested in any of the various sciences. These kits take the guesswork and shopping out of the equation for parents, allowing them more time with their kids working on fun science projects.
For kids that are more creative instead, you could consider craft of the month clubs.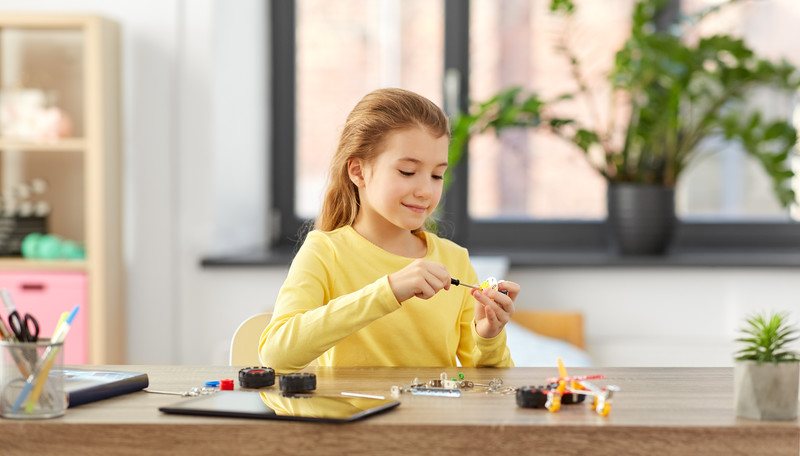 Science Kit of the Month Clubs
Club SciKidz Labs
The Young Scientists Club
Steve Spangler Science
Kiwi Co
MEL Science
Groovy Lab in a Box
Club SciKidz Labs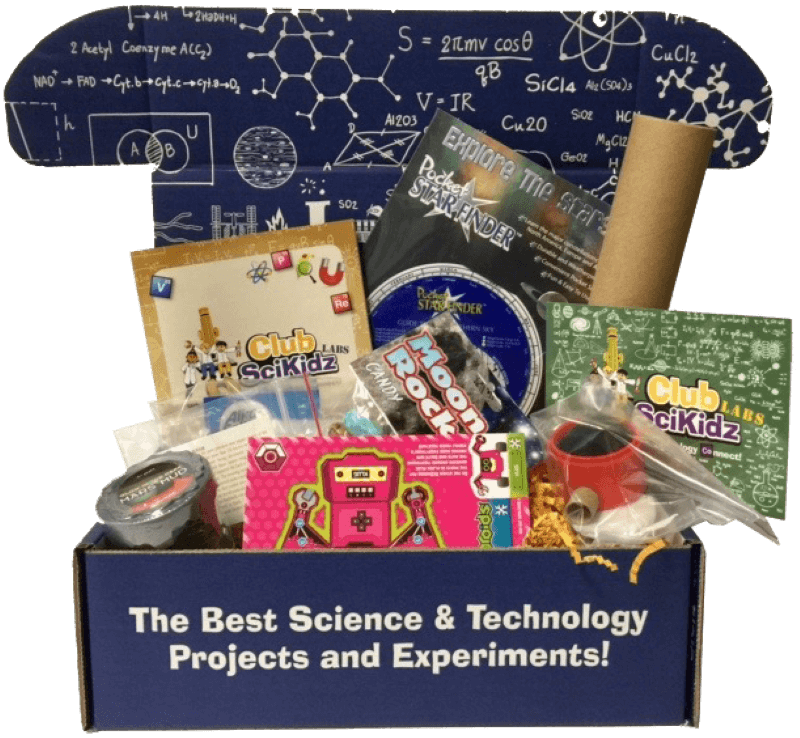 Club SciKidz Labs specializes in creating monthly science kits with different themes for various science and themed professions. Though they are a monthly subscription company, Club SciKidz Labs does sell their previous month's boxes without requiring a membership.
The various themed boxes are all developed using STEM (Science, Technology, Engineering, and Math). Each month the box will contain:
A variety of experiments, projects, and activities
Secret formulas
Information about an inspiring scientist
Science surprise
Lab supplies
Some of the different themes you can expect to see in your child's science kits include:
Climate Change
By the Sea the Beautiful Sea
Cosmic Cookie
Engineers Build it Better
The Science of Gross Things
Save the Bees
There are four different science kit subscriptions available:
Month-to-month for $34.95
3-month prepay for $32.95/month
6-month prepay for $30.95/month
12-month prepay for $28.95/month
All science kits are available to ship worldwide. Shipping within the US is free, Canada is $10.95, and in all other locations, the price varies.
Though they do not list the various upcoming lists on their website, they offer hints to the next month's box. If it is a box you are not interested in, you can skip that month.
Club SciKidz Labs does not offer refunds, exchanges, or returns unless the box arrived damaged.
The Young Scientists Club

The Young Scientists Club, founded in 1999, aims to engage children worldwide to experience the adventure of science that will "last a lifetime." The company offers different science kits, projects, and games created by Harvard graduates, scientists, educators, and parents.
In addition to their various kits and games, The Young Scientists Club also has an online Clubhouse. The Clubhouse allows the young scientists to log in and learn more about different science topics, experiments, record their own findings, and ask questions.
The different games and kits are all for children 5-12 years old. All of the activities and projects are available online; some of the fun things they offer include Science on a Fossil Dig kit, Magic School Bus Series, and the Math Explosion game.
In addition to these activities, The Young Scientists Club also has the TYSC Monthly subscription. The TYSC membership has 36 different kits, so enough for three years if you sign up for a kit once a month.
Each month is $11.95 plus $4.95 shipping. Kits are shipped the 1st or the 15th of each month, depending on when you sign up. If you choose two kits per month, they will ship on both the 1st and 15th.
Some of the kit themes you can expect to see include:
Recycling
Capillary Action
Tornadoes, Clouds, and Water Cycle
Seeds, Fruit, and Other Plants
Electricity
Fossils
Steve Spangler Science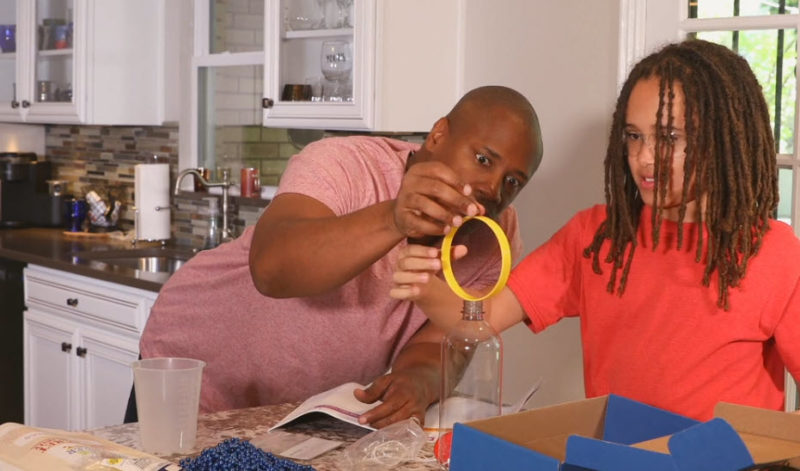 Steve Spangler Science is founded by Steve Spangler, author, science teacher, TV personality, and CEO of Be Amazing Toys. The Steve Spangler Science Club offers highly interactive, hands-on activities and experiments created to engage young scientists and encourage their scientific creativity.
All of the kits use the STEM format and have been created by various science teachers and education experts. The kits work to intrigue and inspire "the next generation of scientists." These activities and experiments help young people to start thinking like a scientist.
The Steve Spangler Science company offers numerous fun kits, experiments, and lab supplies. The different activities can be broken down by age, starting with those in the 1st grade.
Additionally, there is a monthly Spangler Science Club. The club is designed for kids 5-12 years old. There are two different clubs to choose from:
STEM Lab for $19.99 per month

5 experiences that require minimal adult assistance
Ideal for 1-2 participants
Ships out the 20th of the month

STEM Deluxe for starting at $29.99 per month

10 experiences with a super-secret parent guide
1-4 participants
Ships out the 5th of the month
Both club options include free shipping. There are four purchase options for each as well including month-to-month, 3-month prepay, 6-month prepay, and 12-month prepay.
All four options are on automatic renewal.
The two clubs are designed so that there are no duplicates to ensure your child stays engaged. Both clubs offer a total of 24 different kits allowing your child to have two years of unique science experiences.
All of the boxes include:
All of the materials needed to complete the included experiments
Easy to follow instructions
Shipping is free in the US and $10 for all other countries. Shipping takes from 3 to 10 days.
Kiwi Co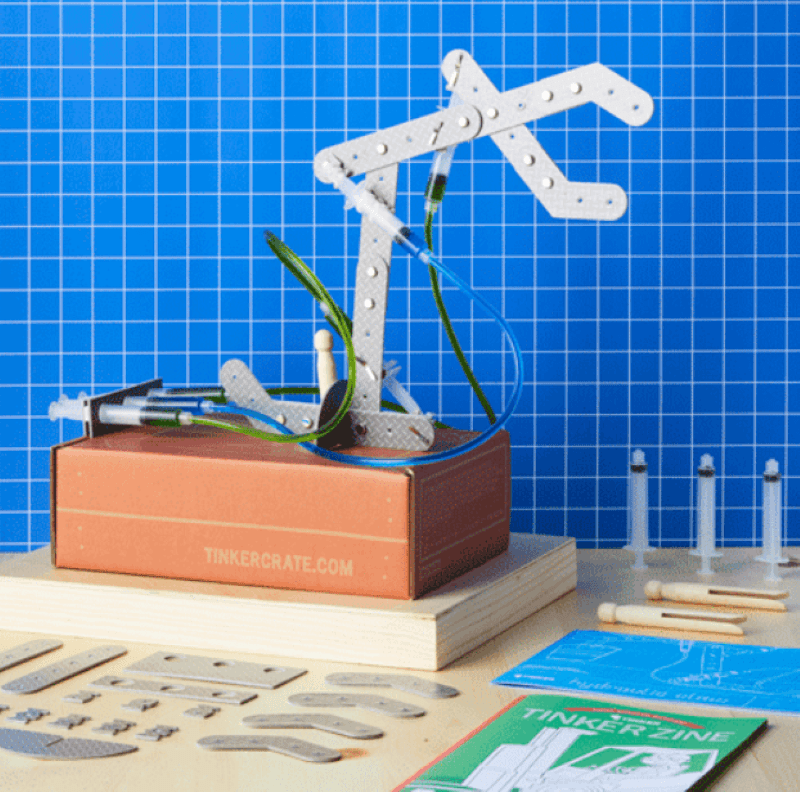 Kiwi Co, founded by Sandra, who wanted to create a way to help enrich children's lives while making it easy on the parents to help support their children's natural curiosity. Sandra is not just the CEO and mother of three but also an engineer.
Though Kiwi Co focuses on science crate subscriptions, they do offer some of their kits for individual sale. Some of the different options they carry include a hydraulic claw, a light up speaker, and a walking robot.
The Kiwi Co offers a eight different STEM Subscription crates:
Panda, for ages 0-24 months. Explore and Discover.
Koala, for ages 2-4 years. Play and Learn.
Kiwi, for ages 5-8 years. Creativity and Curiosity.
Atlas, for ages 6-11 years. World Cultures.
Doodle, for ages 9-16+ years. Creativity and Design.
Tinker, for ages 9-16+ years. Science and Engineering.
Maker, for ages 14-104 years. Art and Design.
Eureka, for ages 14-104 years. Engineering and Design Principles.
They are all available in four different purchase options month-to-month, 3 months, 6 months, and 12 months. All of the subscriptions are prepay except the month-to-month choice. Plus, all of the memberships include free shipping.
All kits contain easy to follow instructions and all of the materials and tools needed to complete that month's activity.
MEL Science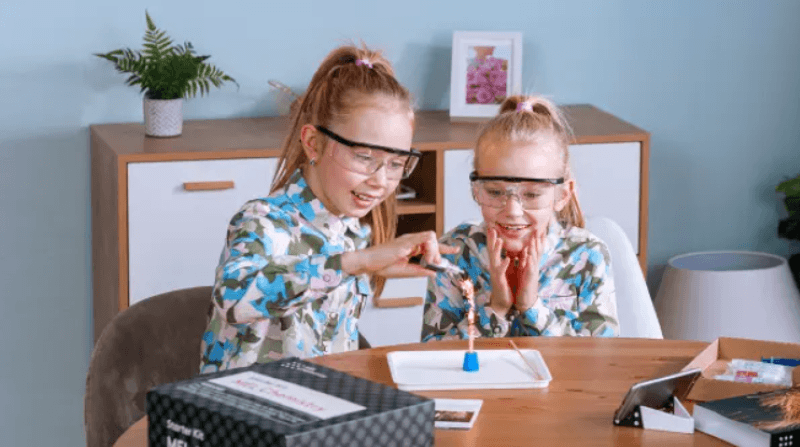 MEL Science is working to break the stereotype that science is boring and difficult, and instead introduces children to a world of science and discovery that is fun and engaging.
MEL Science is made up of a team of creative scientists, parents, and children. They use cutting technology, including VR goggles, to bring learning to a whole new level. MEL creates lessons using VR technology making learning more fun, engaging, and interesting.
Not only does MEL offer entertaining and educational activities to future scientists, but they also help to improve children's academic scores. MEL looks at it as "Education disguised as entertainment."
MEL is a science kit subscription company only and does not sell experiments or projects separately. There are two different MEL subscriptions:
MEL Physics – These kits help kids learn how things work by allowing them to assemble their own wind turbines, radios, electric motors, and more.
MEL Chemistry – These chemistry sets include a starter kit that contains everything your child will need to conduct their experiments. Some of the items contained in the starter kit include a glass beaker, goggles, solid fuel stove, VR headset, and more.
All of the kits will include all of the necessary tools, equipment, instructions, and materials needed to complete that month's project. The two kits both come in a month-to-month option or 3-month prepay.
Groovy Lab in a Box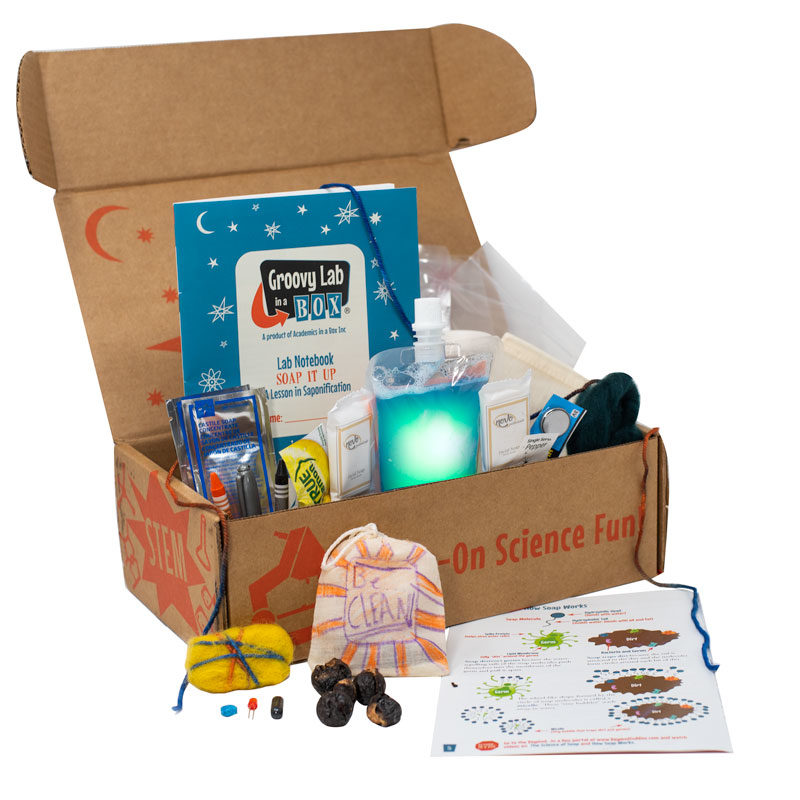 Groovy Lab in a Box is partnered with Popular Mechanics, which should give you a good idea of the quality that you can expect. Each month's box comes with a hands-on project and a related design challenge. The subscription aims to help kids to be inventive, to brainstorm, and to design on their own.
There is also an online portal that helps kids to dig deeper into the topic at hand, learning more in the process. The subscription is focused on STEM subjects, so you can expect science, technology, engineering, and mathematics topics to show up.
The price per box varies depending on your subscription duration.
Month-to-month: $29.95/month
3-month prepay: $28.95/month
6-month prepay: $27.95/month
12-month prepay: $24.95/month
Shipping within the U.S. is free. You can order internationally as well, although there will be extra shipping fees. Finally, you can choose whether you want to recieve a box every month or every two months instead. The amount that you pay per box is the same regardless of whether you get a box every month or every two months.