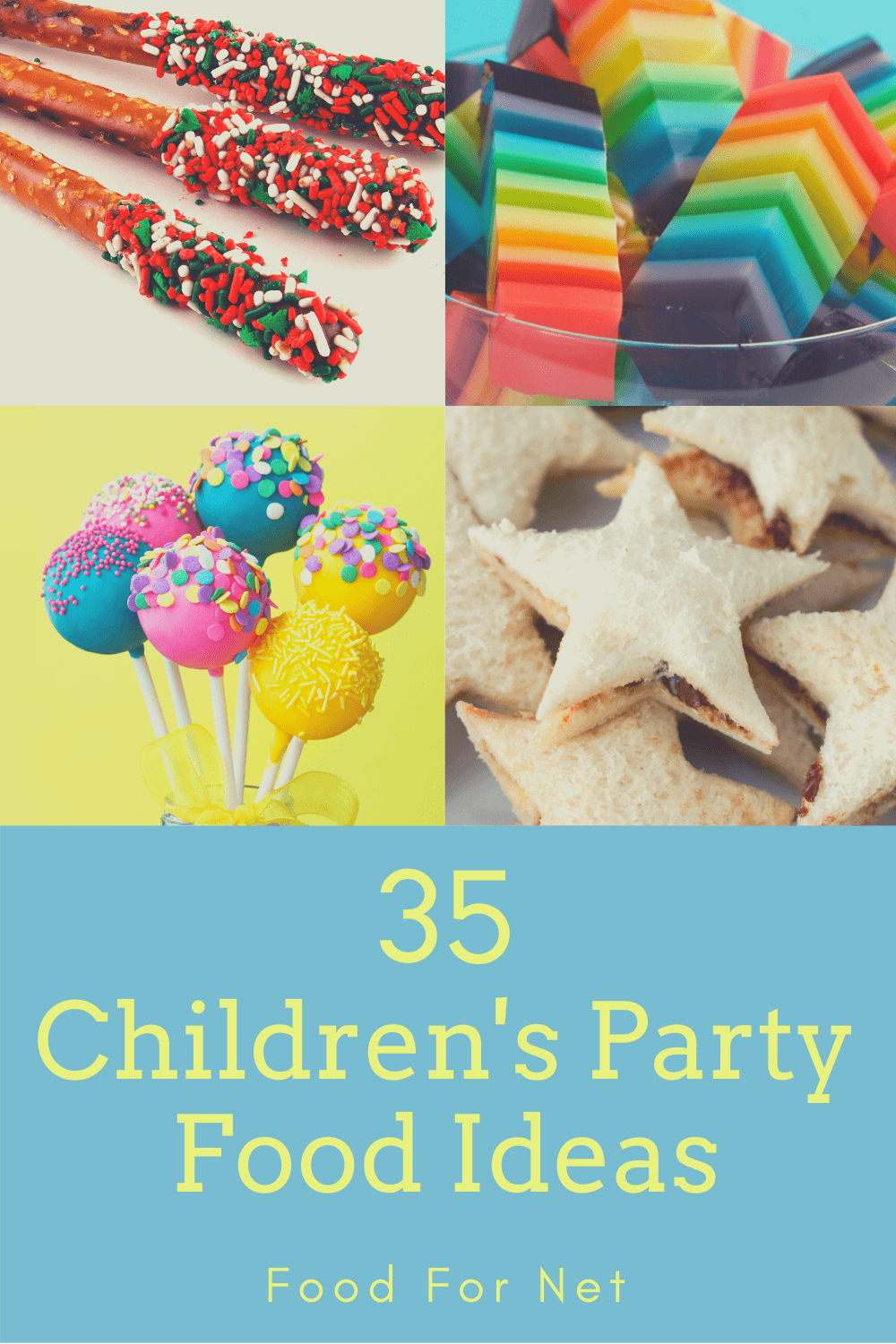 Food can make or break any event. This is even more true for children's parties. The goal is to get all the kids eating, without ending up with any major sugar rushes or tantrums along the way. Doing so can be a bit tricky, especially once you factor in various food allergies and picky eaters. Still, the children's party food ideas on this list can all get you on the right track.
We're focusing on foods that are fun and delicious. Most of them are easy to prepare too. After all, you have enough on your plate with the party. You don't want to be spending hours making the food as well.
Now, fair warning, the foods on this list aren't all healthy. We are talking about a party, after all. You want the kids to have fun and to actually eat the food that's being served.
Besides, you can pick and choose the best foods based on who you are serving and what your goals are. You can also make things healthier by avoiding processed options and making the food yourself.
Children's Party Food Ideas
Chocolate Dipped Marshmallows
Iced Cookies
Cake Pops
Shaped Sandwiches
Popcorn
Mini Pizzas
Pizza Biscuits
Cheese Cubes
Mini Quiches
Deviled Eggs
Bacon Wrapped Potatoes
Ham and Cheese Scrolls
Chocolate Dipped Bananas
Dessert Pizza
Ice Cream Cone Fruit Cups
Pigs in Blankets
Cheese Straws
Apple Donuts
Taco Bar
Fairy Bread
Zucchini Pizza Bites
Chicken Nuggets
Meatballs
Chocolate Dipped Strawberries
Macaroni and Cheese Bites
Homemade Ice Pops
Mini Pancakes
Fruit and Veggie Platters
Fruit Skewers
Jello Cups
Layered Jello
Cupcakes
Food For The Adults
Potato Wedges
A Charcuterie Board
Chocolate Dipped Marshmallows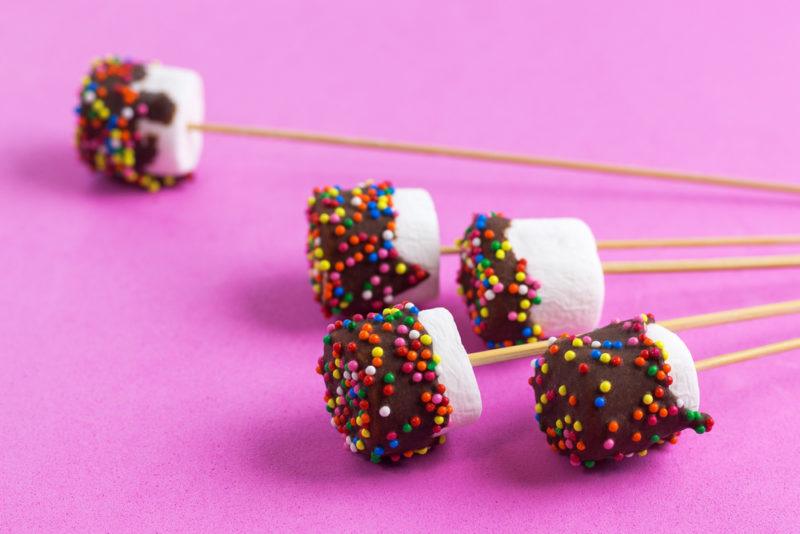 Put a marshmallow on a stick, dip it in chocolate, and then in some type of cake sprinkles. You can make a variety of these, using different sprinkles and types of chocolate. You might even get your child to help you make these before the event.
The sticks make these treats easy to eat and help to keep everyone's fingers clean (for a little while, at least). And, because you're focusing on single marshmallows, the kids aren't getting too much sugar at a time.
Just make sure that the sticks are blunt rather than pointed.
Iced Cookies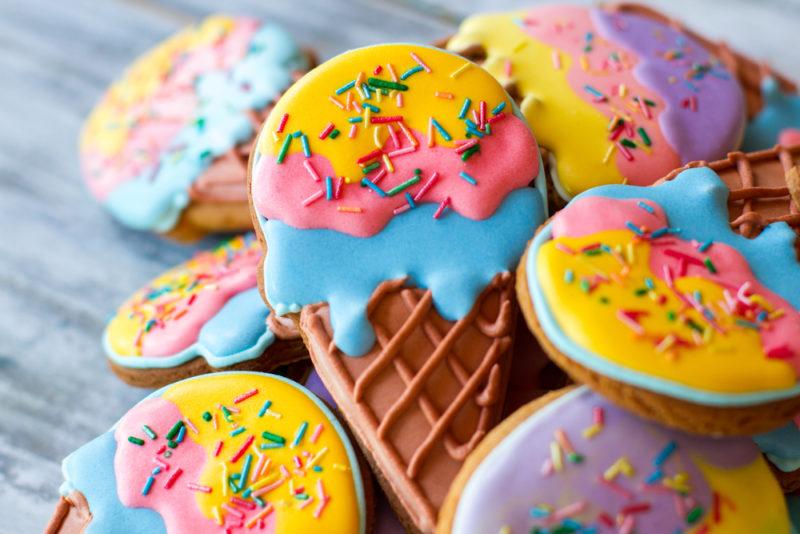 While iced cookies take some time and energy to make, you get to do all the prep work ahead of time. You could even make them a few days before the party.
Look for cookies that work well with cookie cutters, so that you can make interesting shapes out of them. Letters and numbers are one fun approach. You might also be able to find cookie cutters that tie in with your party's theme.
Your children could get involved in the process too. Why not have them decorate the cookies for their own party? They'll have fun doing so and you have one less thing to worry about.
Cake Pops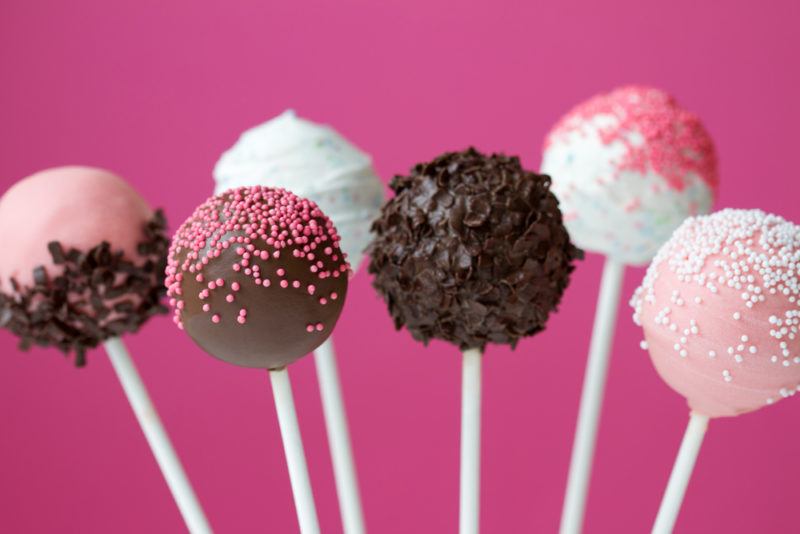 Cake pops were a trending idea for a while and they're still great fun. You're basically making small ball-shaped cakes that are then stuck on a stick and dipped in chocolate. You can finish them off with sprinkles to make a delicious treat.
Don't try to make these cakes in a rush, as they can be a little frustrating the first time around. Still, once you get the hang of them, cake pops are surprisingly easy. They're always popular and should get gobbled up quickly.
Shaped Sandwiches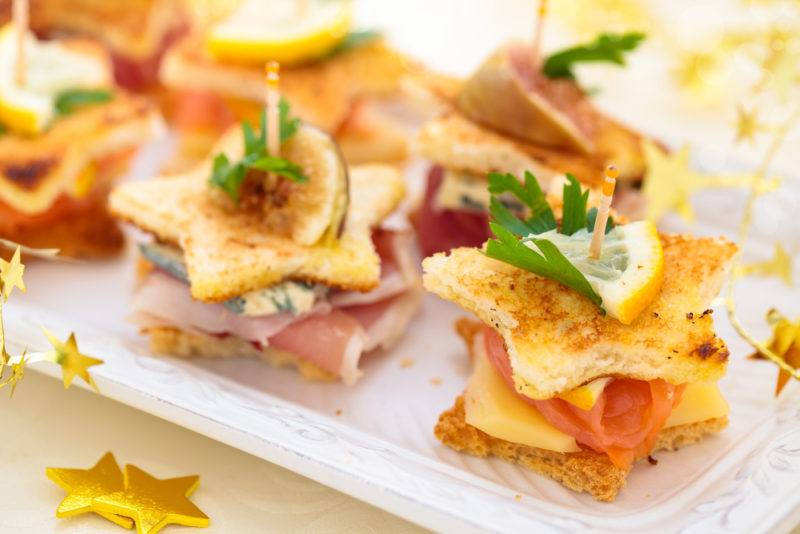 Want to make sandwiches more interesting? Use cookie cutters and cut them into shapes. Try to avoid the crusts when you do so, as crustless sandwiches are always more popular. You can do this with toast as well as fresh bread.
While there are countless options for fillings, simple sandwiches often work best. Popular sandwiches include cheese, cheese and ham, tuna mayonnaise, Nutella, egg and mayo, jam, and cottage cheese.
Peanut butter sandwiches go down a treat too, but only make these if you're confident that none of the guests have a nut allergy. As nut allergies can be life-threatening, it's often best to avoid nuts entirely when preparing for a children's party.
Popcorn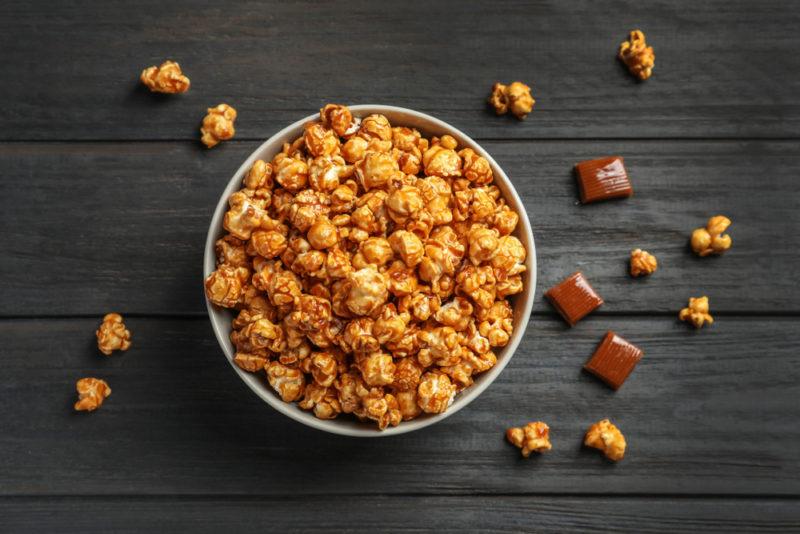 Popcorn is an easy hit, as kids can grab it by the handful. You don't need to stick to regular buttered popcorn either. There are plenty of other flavors and styles to try out.
Caramel popcorn is one of the best. You can buy caramel popcorn at many stores or make your own. Preparing the caramel topping that you need isn't that difficult and the popcorn will always taste better when you make it yourself,
Try making the popcorn and topping around 15 minutes before you plan to serve it. This way the popcorn is fresh. It will taste much better this way.
Mini Pizzas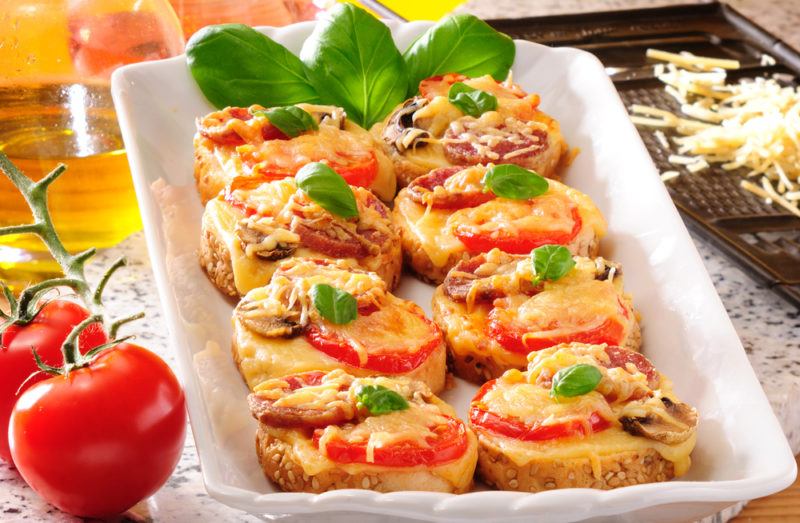 Who doesn't love pizza? It's always a favorite and never more so than at a kid's party. But, don't stick to the store-bought frozen pizzas. Those taste far too much like cardboard and many kids will already be sick of them.
Mini pizzas are a fun alternative. These pizzas are small enough that each kid can have their own.
You can even let the kids build their own pizzas. Try setting up a toppings bar, where they can pick the ingredients that they want on their meal. Be sure to have all of the classics, like cheese, ham, and pepperoni, but include some less common options at the same time.
You'll be surprised at some of the combinations that children come up with, including some you might not be willing to try yourself.
Still, the approach works well. The kids get to eat food that they love and all you need to do is cook the little pizzas once they have been put together.
Pizza Biscuits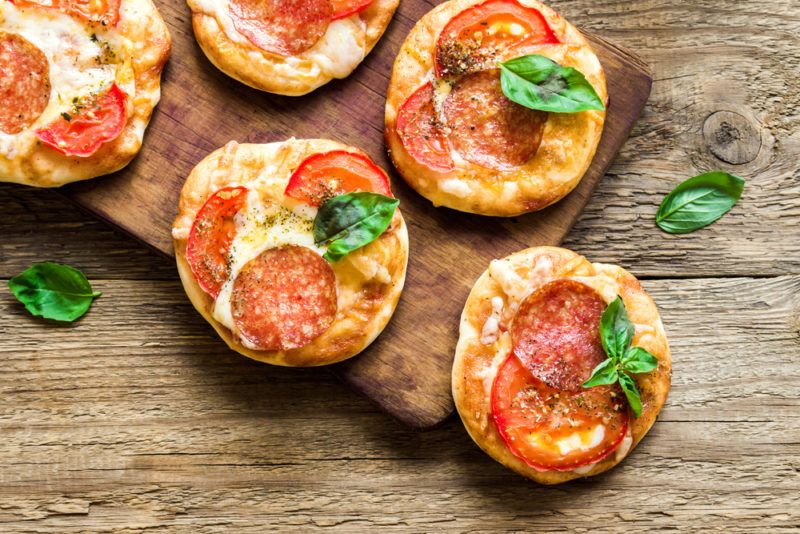 These appetizers are an even simpler idea and they still bring forward the flavor of pizza. You're using biscuits as the base of these treats, then adding pizza sauce, cheese, and pepperoni on top.
You could run with other toppings too, like making cheese only pizza biscuits or ones that resemble a Hawaiian pizza. If you keep the biscuits small, they'll cook fast and will be easy finger food for everyone to enjoy.
Cheese Cubes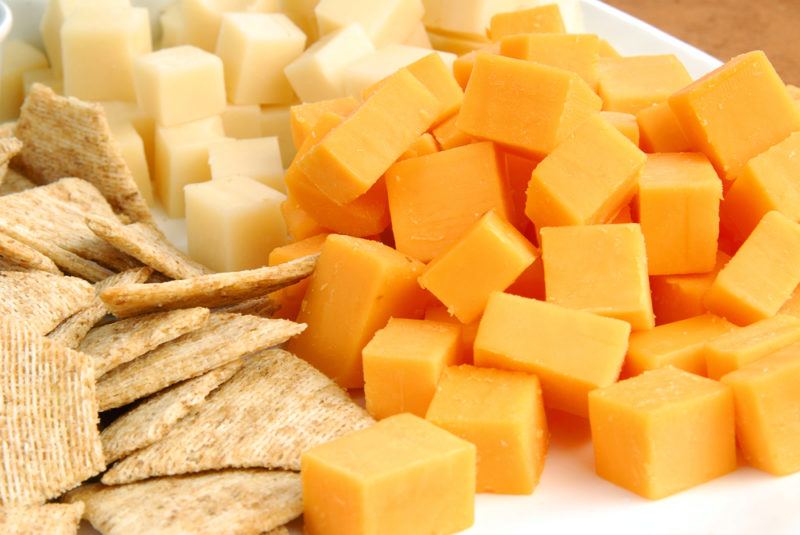 If the children aren't lactose intolerant, then cheese is always a popular snack. You could provide cheese as part of a platter or perhaps serve little cups that contain cheese cubes.
The cups are an easy way to limit serving sizes and mean that kids aren't hovering around the table and grabbing little bits of food at a time. Instead, they have a small container of food that they can enjoy at their own pace.
You could take the cups further and add other foods in too, like meat, fruit, or veggie sticks.
Mini Quiches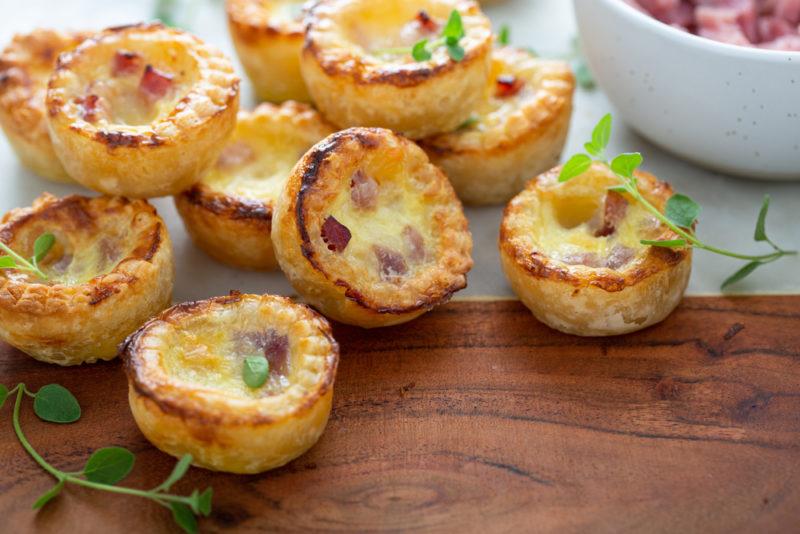 Quiches are a terrific type of finger food. The quiches are small and easy to eat. They're not very messy either. They can also be quite filling, especially for young kids with small appetites.
You could make a single type of quiche or a variety. Cheese and ham quiches are sure to be enjoyed. While some kids may want more complicated ingredients, like mushrooms, such ingredients will be hit and miss.
Deviled Eggs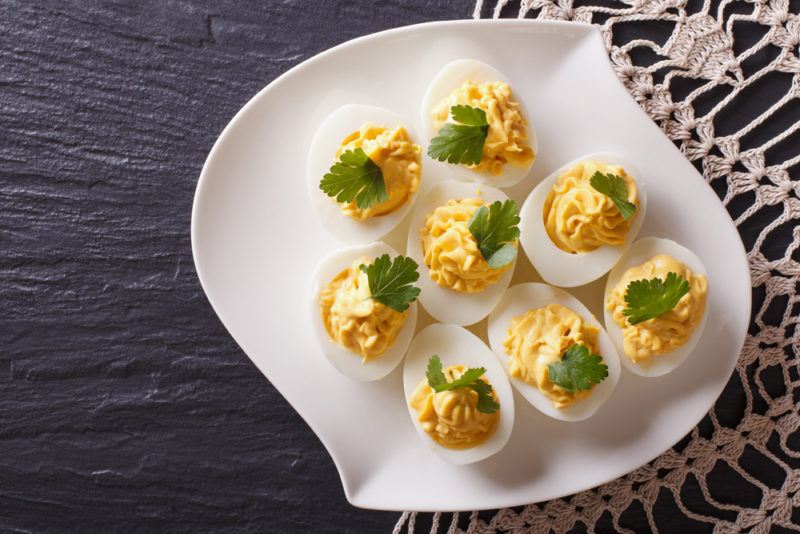 You've probably made deviled eggs for many parties already, but the snack is a classic for a reason. Regardless of their age, guests seem to love deviled eggs.
You can stick to the classic recipe or change things up a little bit. For example, you might add some more seasonings or some meat into the egg mixture. Smoked paprika is a good way to create an interesting smoky flavor, while a little chili powder can add some heat.
Still, you should be cautious with any additions, as many kids shy away from new flavors.
You can also stain the eggs to make them more attractive. Here you crack the boiled eggs, but don't peel them. The eggs can then be left to soak in colored water for a few hours or overnight.
The process creates lines of color in the egg white, which look simply fantastic and is perfect for kids. Chinese tea eggs follow a similar idea, except that those have a stronger flavor.
Bacon Wrapped Potatoes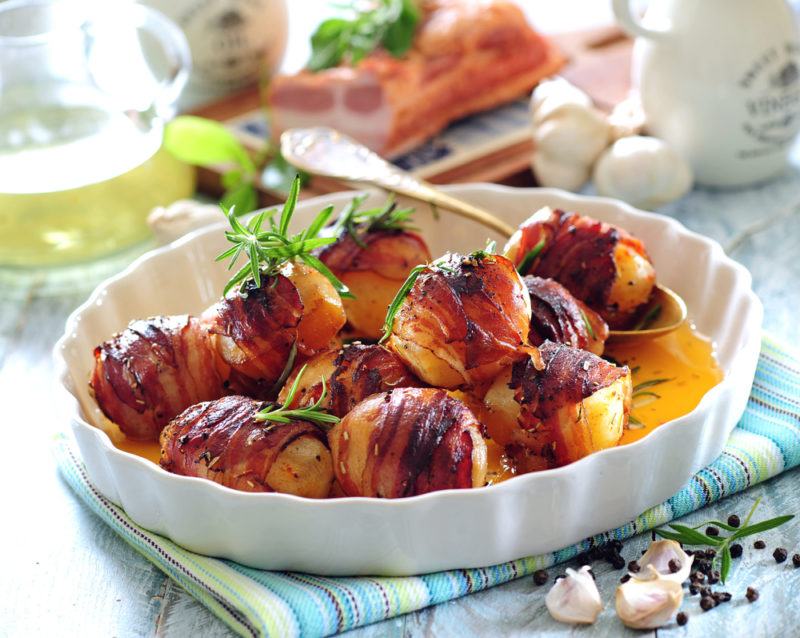 This snack could be perfect for a kid's party or an adult one. The idea is simple – small pieces of potato that are wrapped in bacon. What could be better? There are no problematic flavors to worry about and the snack is easy to eat.
The best approach is to use new potatoes that are all the same size. But, this might be hard to pull off in practice. If you don't have small potatoes that will work, you can simply cut regular potatoes into chunks. Get those chunks roughly the same size, then you're good to go.
When making these snacks, you're aiming to mostly cook the potatoes, then wrap them in bacon and bake them. By the time the bacon is cooked, the potatoes should be thoroughly cooked as well.
You'll probably need to skewer these on sticks to make them stay together. This makes them easy to eat and means that kids can quickly dunk the potatoes in a dip or two.
While you'd normally serve these on toothpicks, it's better to look for blunt sticks when serving the snack at a kid's party. There's always the chance of an accident with sharp implements, regardless of how old the kids are.
Ham and Cheese Scrolls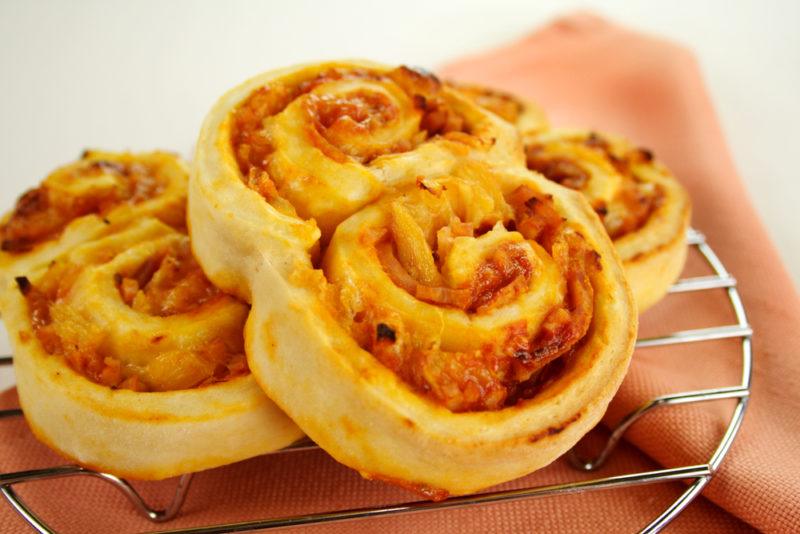 You can make simple and delicious scrolls using ham, cheese, and puff pastry. The texture of the pastry makes these a light treat, one that kids will love eating.
It's hard to go wrong with the classic combination of ham and cheese. Most kids will eat the scrolls without any problems at all. Kids might also find these more interesting than the classic ham and cheese sandwich.
You could try other flavors too. How about a scroll that uses pizza sauce, pepperoni, and melted cheese? This would taste just like a pizza and is guaranteed to be a hit.
Chocolate Dipped Bananas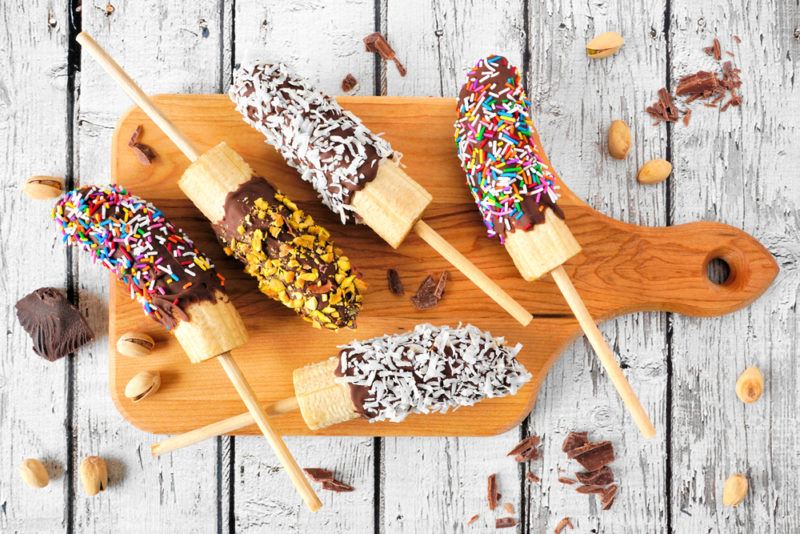 Putting a banana on a stick and chocolate dipping it creates an easy party food that kids will love. You could even use sprinkles or melted chocolate on top of the chocolate to make the bananas look even more memorable.
Because these are on a stick, they're easy for kids to eat as they're wandering around.
You could even make this an interactive treat by allowing the kids to choose their own toppings for their bananas. They would then have to wait for them to set, but the anticipation could make the treat even more delicious.
Dessert Pizza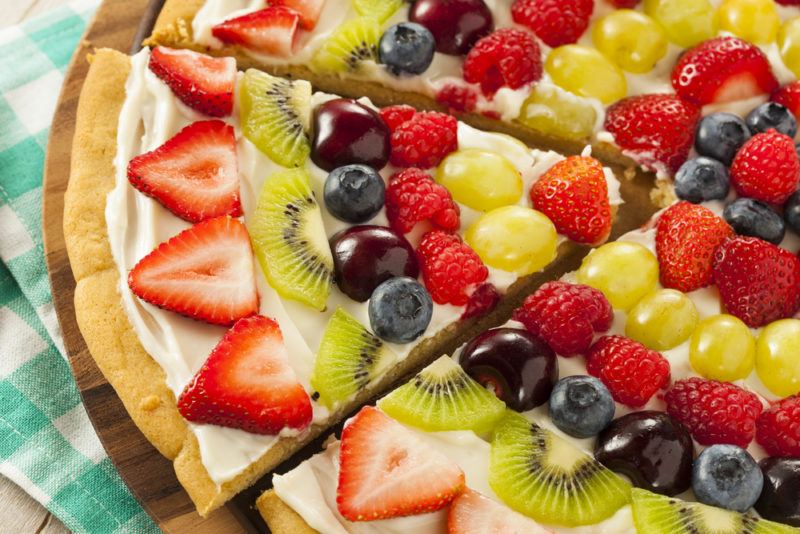 Dessert pizzas are a nice break from convention. They use sweet toppings instead of savory ones.
A fruit pizza is one of the easiest options and can look stunning once it is prepared. You'll need to use some type of sweet spread on the pizza base, such as cream cheese. You can then layer fruit on top of the cream cheese.
The contrast between the white cream cheese and the fruit can make the dessert look stunning. It's even better if you can play around with the colors and shapes. For example, some fruit pizzas use rings of different fruit types, which gives you a rainbow of color.
You'll probably need a recipe the first time that you make a dessert pizza, as you're not relying on a typical pizza base. Still, the base you need isn't difficult to make. Some people just make a large sugar cookie or something similar and build the pizza on that.
Ice Cream Cone Fruit Cups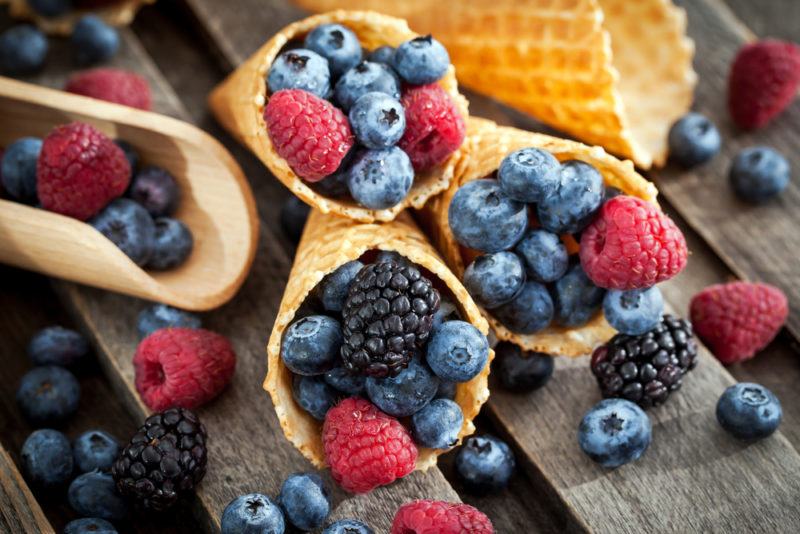 Ice cream isn't the only thing that you can serve in an ice cream cone. The cones are also fantastic containers for fruit. They give kids a container that's easy to hold. They even get to eat the cone at the end.
You can take this treat one step further by dipping the rim of the cone in chocolate. Why not add some sprinkles too?
Doing so makes the treat even more special and the kids aren't actually getting all that much chocolate.
Pigs in Blankets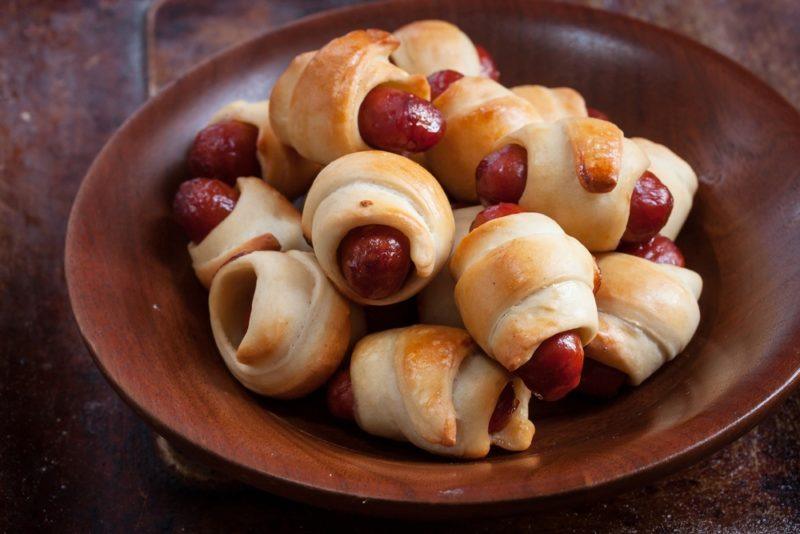 Pigs in blankets are easy and delicious. If you rely on refrigerated pastry (like Pillsbury Crescent pastry), then you just need to cut the pastry, wrap a smoked sausage in each piece, and bake them.
In 15 minutes or less, you have a party snack that is perfect for adults and kids. Try adding some cheese or seasoning to make this dish even more enjoyable.
You could also try homemade sausage rolls. This is a classic British party food that isn't as well-known in the United States. A sausage roll is normally made using sausage meat that has been wrapped in puff pastry. The puff pastry makes this a lighter snack than pigs in blankets and many kids will love them.
Cheese Straws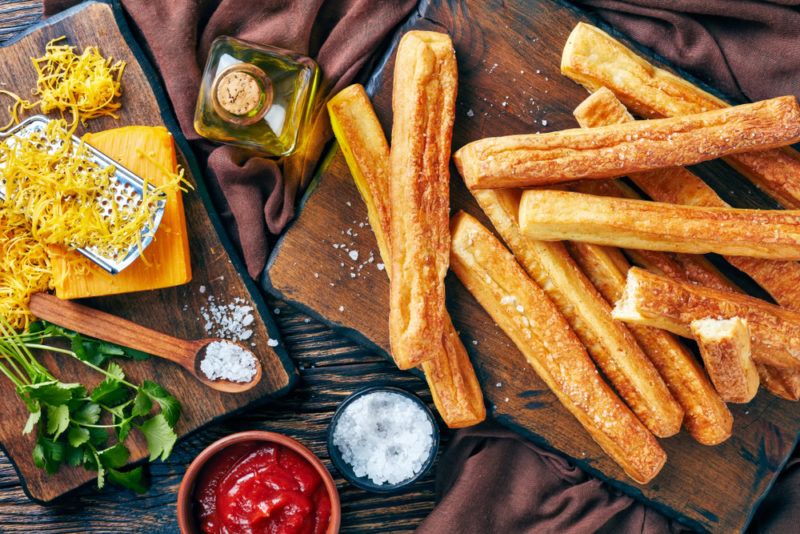 Cheese straws are fun to eat and are tasty. You could easily serve various dips and spreads with them, letting the kids choose the flavors they would like.
If you want to take the easy way out, you could buy cheese straws from a local store. But honestly, making cheese straws from home isn't too tricky.
Apple Donuts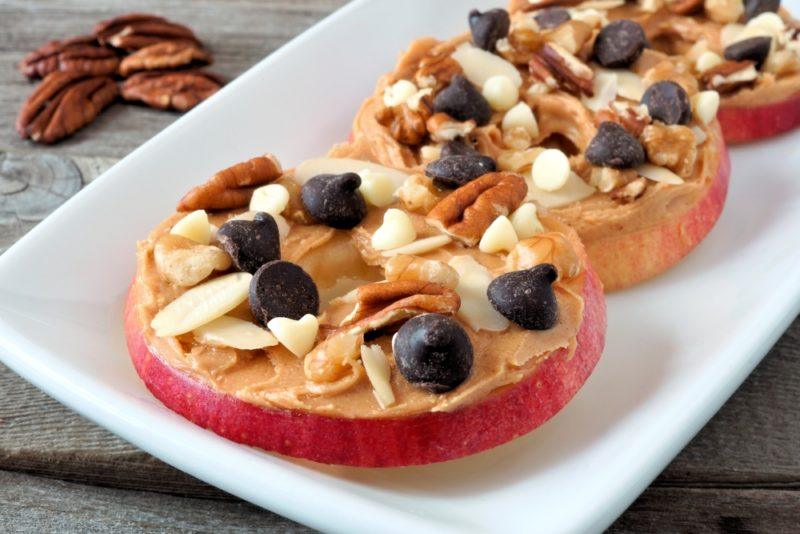 These fun sweet treats aren't donuts at all. They're simply apple slices that have been topped with icing and sprinkles. You could use regular cupcake icing here or opt for something simple, like cream cheese with food coloring.
Icing isn't the only option either. You chould use peanut butter, then toppings like nuts and chocolate.
You could serve the dessert as-is or allow the children to decorate the apples themselves. Kids always have fun building their own desserts anyway, so why not let them have a go?
Taco Bar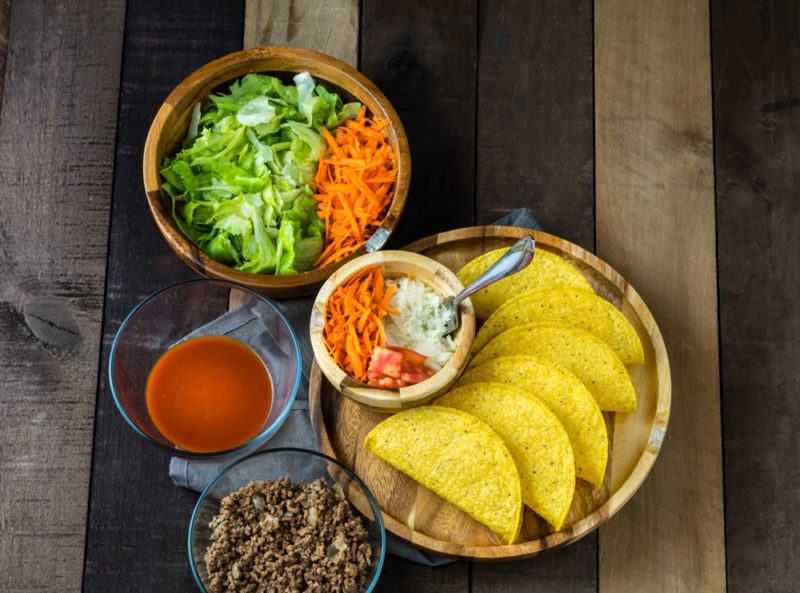 Tacos aren't just popular, they're also easy to customize. Why not make the experience fun for kids by laying out the various toppings and letting them piece together the tacos on their own.
You'll need a few types of meat for this to work, along with some vegetarian protein choices, plenty of salads, some cheese, and appropriate sauces. Offering a selection of hard and soft taco shells would make the experience even better. This way, there will be something for everyone.
Just make sure that you have the table outdoors or in a room with an easy-to-clean floor. This type of finger food can get messy quickly.
Fairy Bread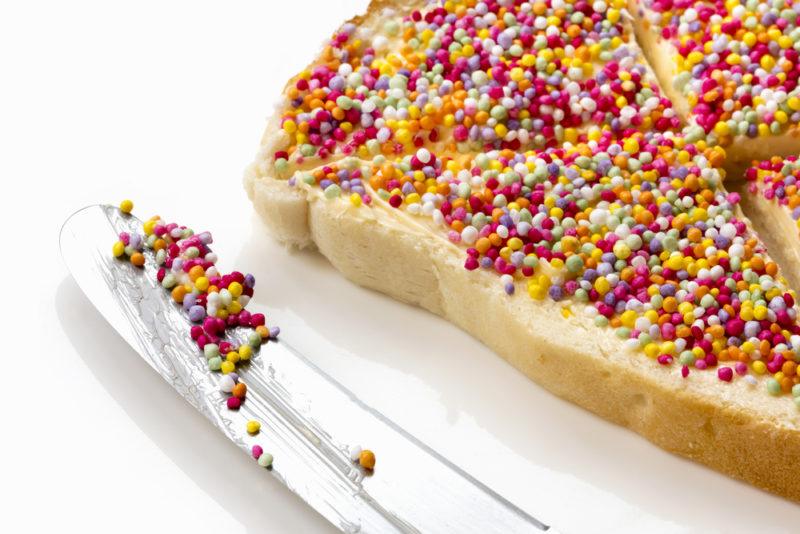 Fairy bread is a simple treat that involves white bread, some type of spread, and cake sprinkles. Margarine or butter is often used as the spread, but you can make the treat more interesting by using Nutella or peanut butter instead.
And, as with many of these ideas, it's worth getting a few children to taste test this party food. After all, you can never completely predict what they will enjoy and what they won't.
Zucchini Pizza Bites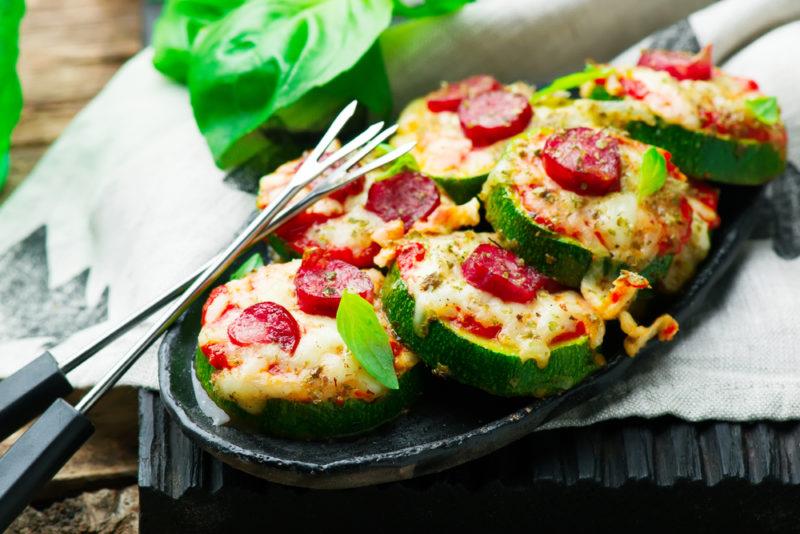 These little bites use zucchini as the base and then add pizza sauce, pepperoni, and cheese. The pizza flavors help to hide the taste of the zucchini. You might even help some kids to enjoy veggies this way.
Just don't be surprised if some zucchini rounds are left behind at the end of the party. Some kids will choose to pick the toppings off rather than eat the vegetable.
Chicken Nuggets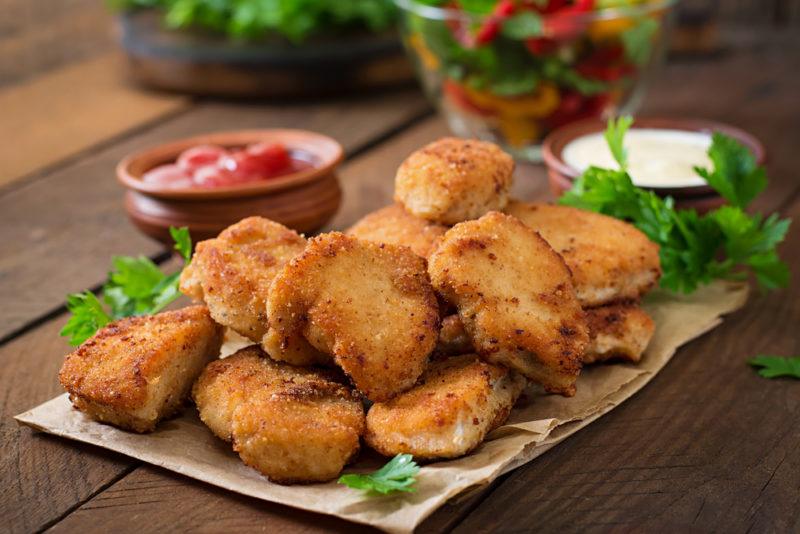 Chicken nuggets are perfect if you want something savory and filling. While you can buy chicken nuggets from a fast food joint or frozen from a grocery store, doing so isn't the best choice. Those products are highly processed and packed with additives.
It's much better to make the chicken nuggets yourself. This way they rely on high-quality cuts of chicken and are more wholesome. You don't need to deep fry them either. Plenty of recipes call for baking chicken nuggets instead. Baked chicken nuggets aren't as greasy and taste just as good as fried ones.
Meatballs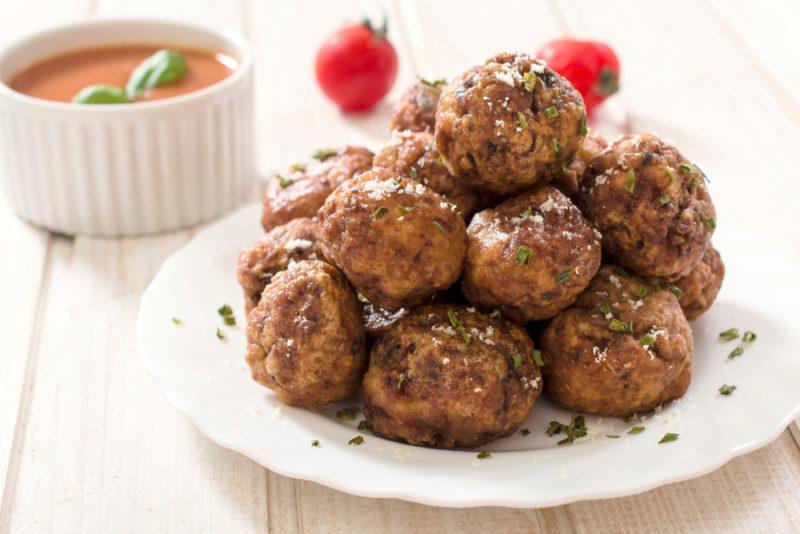 Meatballs are an easy way to give kids some protein and serving them on a stick means that the snack becomes portable (just make sure the sticks aren't sharp).
The recipe you use will influence just how popular these are. You want to make sure that the meatballs are moist and packed with flavor, or they'll get left behind.
A recipe that relies on barbecue sauce will work well, as the sauce helps to stop the meatballs from drying out. You could provide some dipping sauce as well to make the meatballs even more popular.
Chocolate Dipped Strawberries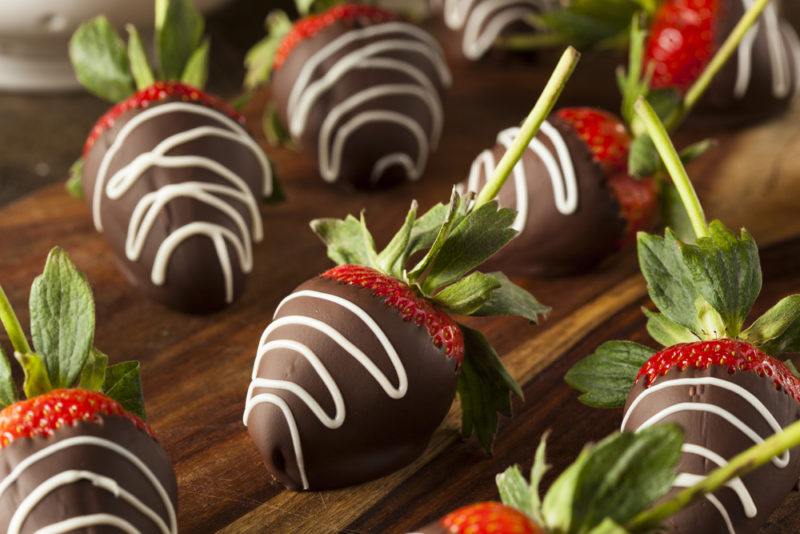 Chocolate dipped strawberries aren't just a treat for adults. They can be just as popular at a children's party.
To make them more attractive, try dipping the strawberries in sprinkles after the chocolate. Doing so with white chocolate is even more fun, as the sprinkles stand out against the chocolate.
Macaroni and Cheese Bites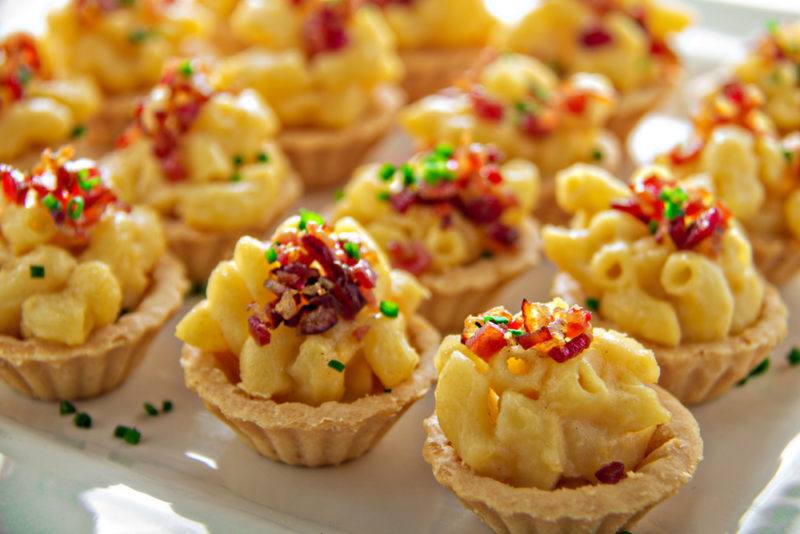 Serving a dish of macaroni cheese at a party won't work too well, but macaroni cheese bites could be perfect. These bites are easy for kids to pick up and eat, while still offering the mac and cheese flavors that they love.
To make the bites work, you need a base that's a little more solid than mac and cheese itself. This recipe suggests using a combination of crushed crackers, butter, and cheese.
You could take another approach too, like using pastry, but why bother when the cracker crusts are so easy to prepare?
Check out the recipe we linked above if you want to try mac and cheese bites out for yourself. As Amanda mentions, you do need to tweak your basic mac and cheese recipe, as the bites won't hold together if they are too creamy.
Homemade Ice Pops

Why buy sugary and heavily processed ice pops when you can easily make your own? All you need are the appropriate molds and some fruit.
Combining apple juice, berries, lemon juice, and honey gives you a fantastic balance of flavors. You can also use Greek yogurt as an ingredient to create a creamier popsicle.
You can find many good recipes by just doing a Google search or two. Don't be afraid to experiment either. Some of the best recipes will be your own creations.
Mini Pancakes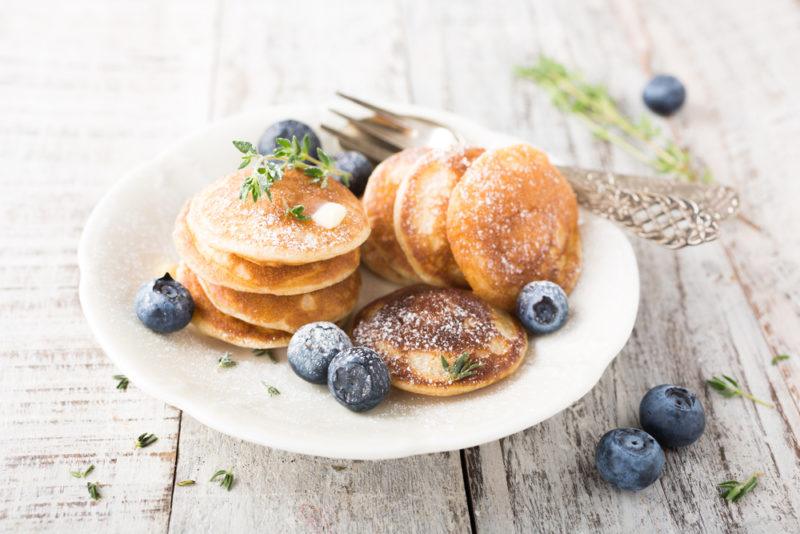 Pancakes are always fun, so why not make small ones to serve at a party? Mini pancakes are delicious cold and can easily be spread with jam, Nutella, or some other tasty treat.
You don't need to stick to plain pancakes either. You could try ones that use blueberries or chocolate chips instead.
Fruit and Veggie Platters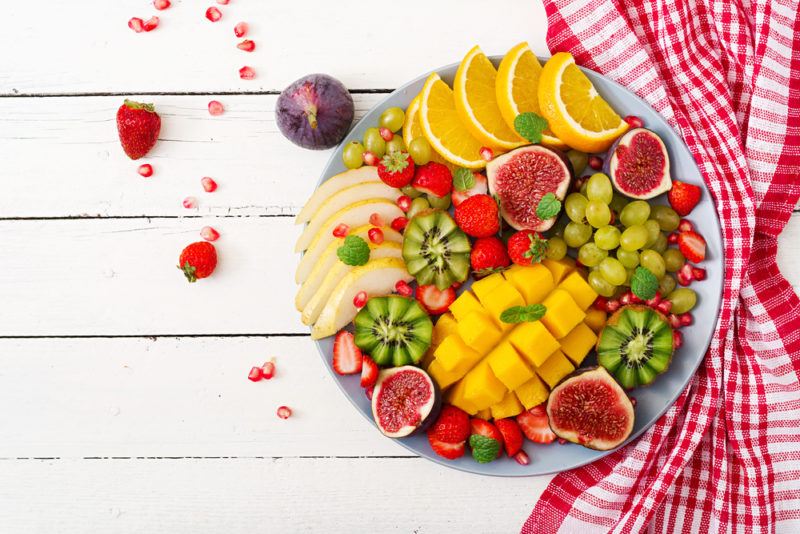 It's easy to think that kids only like unhealthy food, but that's not really true at all. Many children eat veggies without a problem and most will have at least a few veggies that they enjoy.
Presentation matters here. Take the time to create a platter that looks fantastic. This could include cutting some of the fruits and veggies into fun shapes and getting creative with arranging the food.
You can even make some of the platters look like people or cartoon characters.
Include some dips too and make sure that all the pieces of fruit and veggies are easy for kids to pick up and eat. You might be surprised at how much of the food disappears before the event has ended.
Fruit Skewers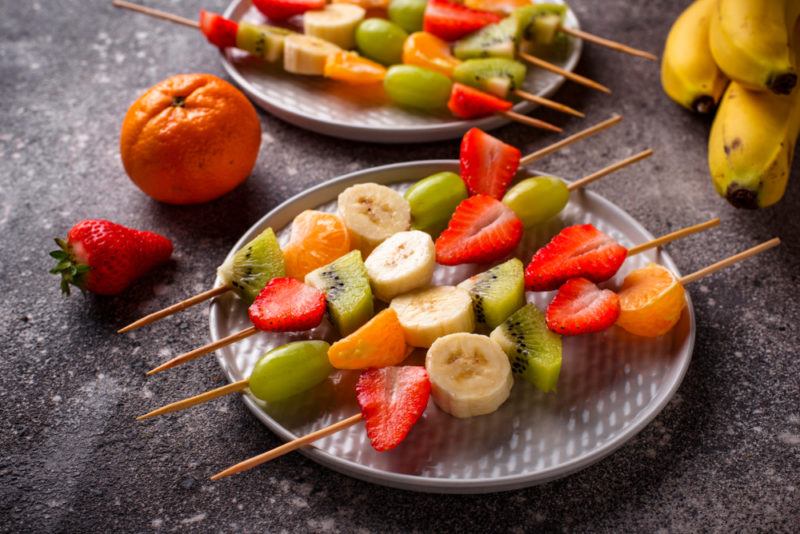 Putting fruit on a stick is another fun idea that doesn't need much explanation at all. You can use whatever fruits you have on hand. Try to vary the colors and shapes so that the sticks look appealing.
You could add other ingredients too, such as cheese cubes or marshmallows. These add some texture and flavor variation. Doing this makes the finished snack look better too.
Once again, try to use blunt sticks rather than pointed ones. If you can't find any, just buy regular skewers and lop the ends off.
Jello Cups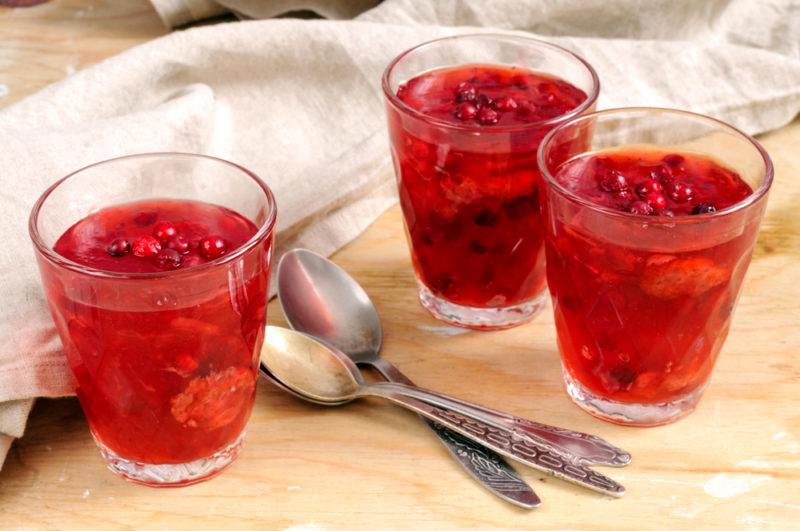 Jello cups are easy to prepare and always popular. Just make sure that you leave enough time for them to fully set.
The simplest approach is to prepare jello according to the directions, pour it into small cups, and then leave it to set. Plastic cups are the best choice here. That way nothing will break if a child drops their dessert (let's face it, someone is going to drop something during the party, there's no avoiding that).
Adding some fruit is an easy way to liven the jello cup up a bit. For example, you might drop fresh berries into a raspberry jello cup before the jello has set, or use peaches and oranges in orange jello.
Gummies work well too, like adding shark gummies to blue jello.
The ingredients will normally drop to the bottom as the jello sets, but that's not a bad thing. Many kids will love digging around in the jello to find their treats anyway.
If you don't mind the extra work, you could try layering the jello in the cups instead. Even just two layers looks fun. You might choose the colors based on your party's theme or your child's favorite jello flavors.
Layered Jello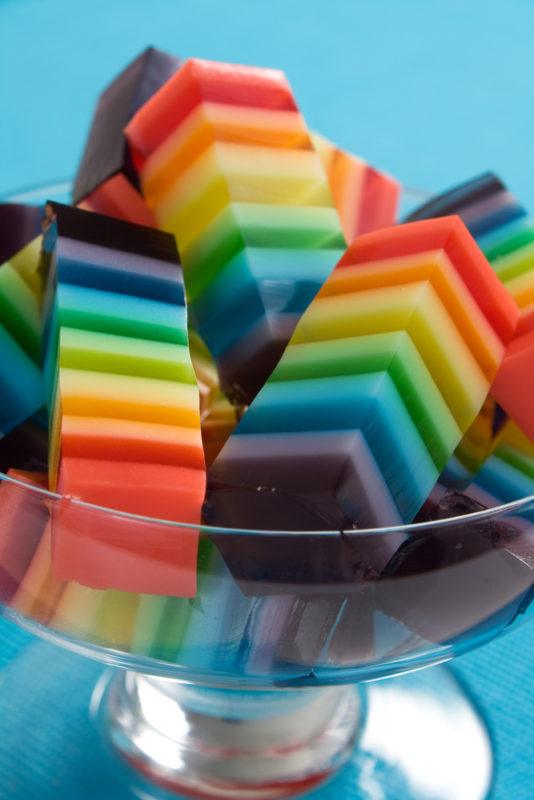 You can also make layered jello stacks that are served as a dessert rather than in glasses. These can be really fun for kids, as they get to eat jello with their hands.
While the dessert isn't difficult to make, it can be time consuming. After all, you need to wait for each layer to set before you add the next one. Rushing the process will give you cloudy layers or, even worse, layers that meld into one another.
Some layered jello recipes create a white layer between each colored layer. This is easily made by combining unflavored gelatin with condensed milk. Alternatively, you could make opaque jello by combining flavored jello with condensed milk.
You should end up with a dessert that's easy to pick up and eat – and that looks fantastic.
Cupcakes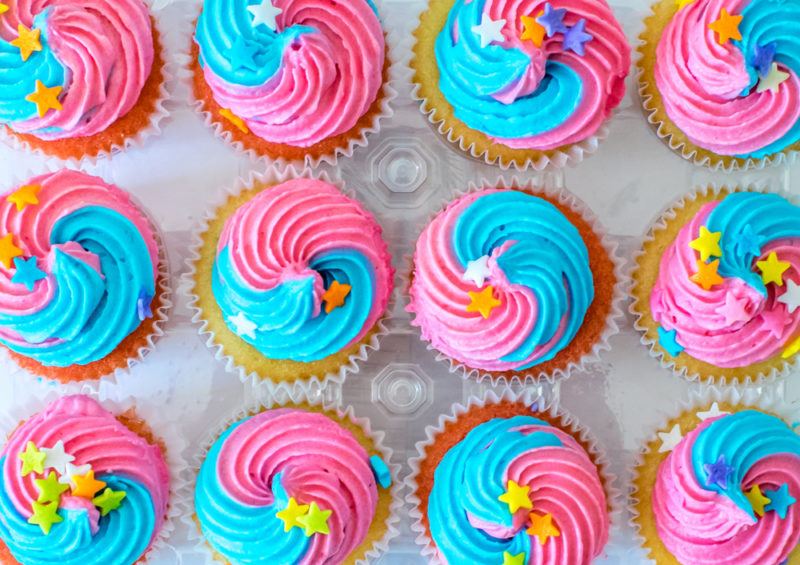 Cupcakes need no explanation. They're perfect for parties too, as they're just the right size and can be delicious.
You don't need to be a baking expert either. You can just rely on a packet of cupcake mix, then ice and decorate the cupcakes once they've been made.
But, if you don't bake often, be sure to try your hand at cupcakes before the big day. You want to be sure that the cupcakes end up tasting good.
Don't forget about the decorations either. Cupcakes that look exciting are much more likely to get eaten. You could even just use brightly colored icing and arranging the cupcakes in a shape (like a giant flower).
Chocolate Dipped Pretzel Sticks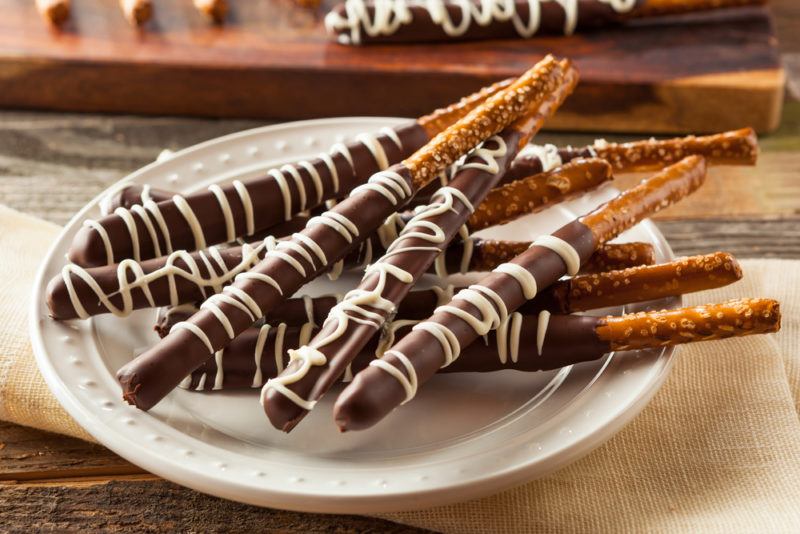 Let's be honest, most chocolate dipped foods are going to be a hit with kids. Pretzel sticks work well because they're easy to grab onto and they're savory rather than sweet.
They're pretty small too, so it's easy to get kids to do the dipping and decorating on their own. Someone will still need to supervise, of course, but most kids will love the chance to make their dessert and choose their favorite combination of chocolate and toppings.
You could think about other things to dip in chocolate too. Most types of fruit work well, as do marshmallows.
Potato Wedges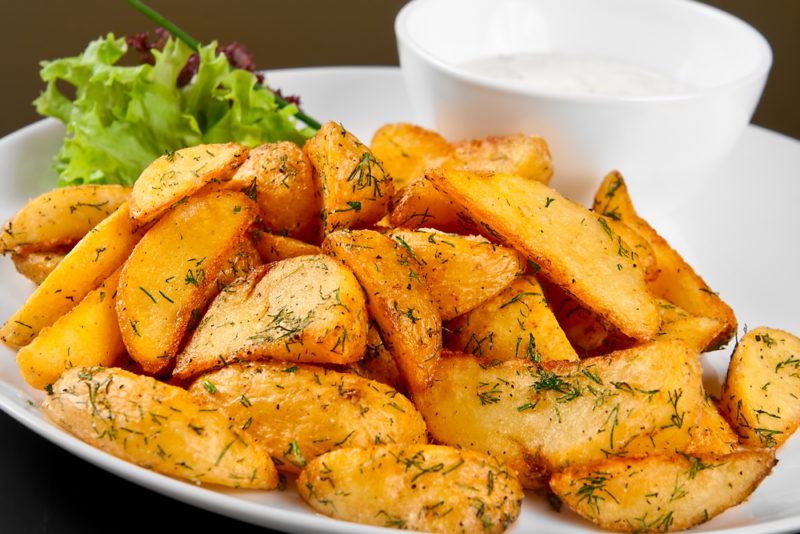 Hot chips are always popular, but they're often deep fried or heavily processed. Homemade potato wedges give kids the same flavor and crispness that they get with fries, just in a much healthier way.
Baked wedges aren't difficult to make either. You can lightly season them to make them more exciting and then let the kids have at it.
Providing a few dipping sauces can make the wedges even more popular.
Or, you could step the whole thing up a notch and make loaded wedges. Here you're smothering the wedges with cheese and including other ingredients, like bacon and sour cream. The dish is best for when you're serving a handful of kids at the table, rather than when the event is focused on finger food.
A Charcuterie Board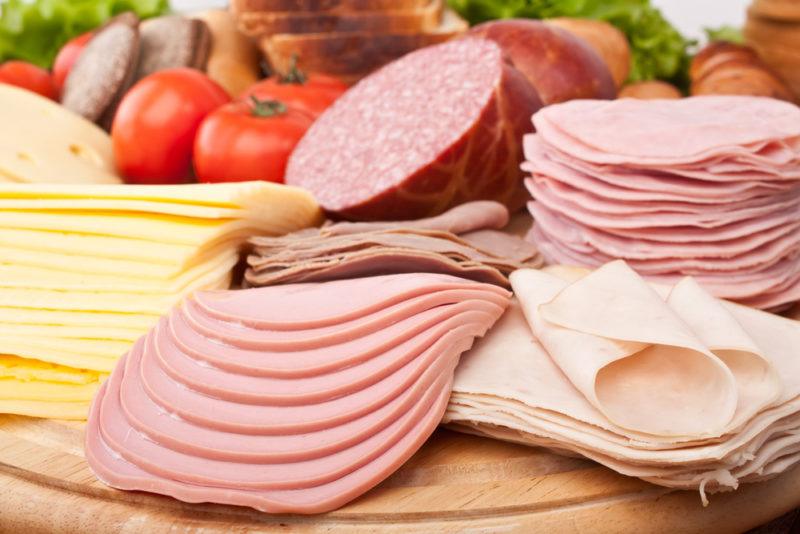 Charcuterie boards are usually used for adult events, but they can be fantastic for kids too. The goal is to combine a selection of finger foods, including crackers, fruit, nuts, and cheese.
When making a board for kids, focus on being fun and vibrant whenever possible. This could mean including more fruit than on a board for adults and cutting some foods into shapes.
Any cheese you use should be familiar, like cheddar. Cheese sticks and string cheese can be perfect, as they're easy for kids to grab. Cheese cubes work well too. Avoid options like blue cheese or even aged cheddar. Those just aren't right for the audience.
Make sure that everything on the board is already pre-portioned. Kids shouldn't need to try and cut anything. You'll also want some plates or cups on hand so that the guests can choose what they want from the board and take it away. Otherwise, you'll end up with a gaggle of kids around the food.
Food For The Adults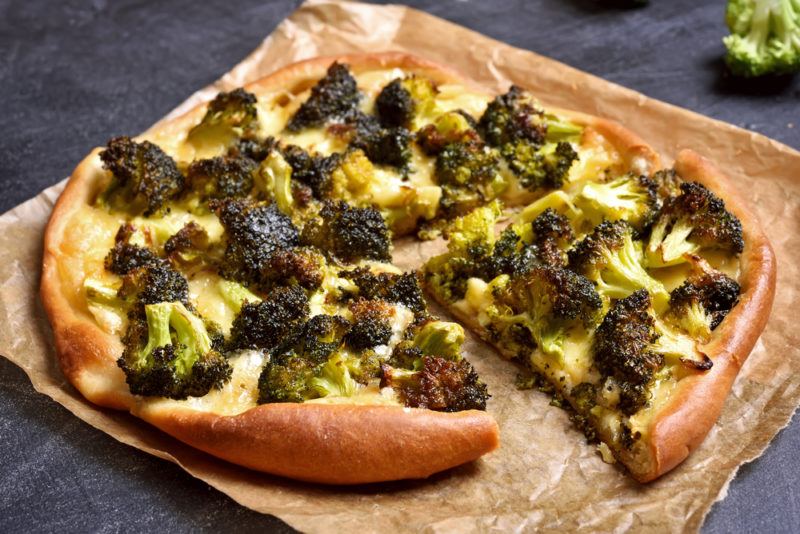 When planning your food, don't forget about the adults. You'll often have at least some adults at the event. If the kids are young, then most parents might stick around.
And, while the food on this list is perfect for kids, it won't have the same appeal for adults. Many adults will already be sick of children's party food from previous events. Besides, the foods aren't all that filling for adults.
Why not avoid any problems and serve some food for adults too? A platter of veggies, fruit, cheese, and crackers is easy enough to prepare and is much more adult-friendly. Some adult-focused pizzas might go down a treat too, including ones that are loaded down with veggies.