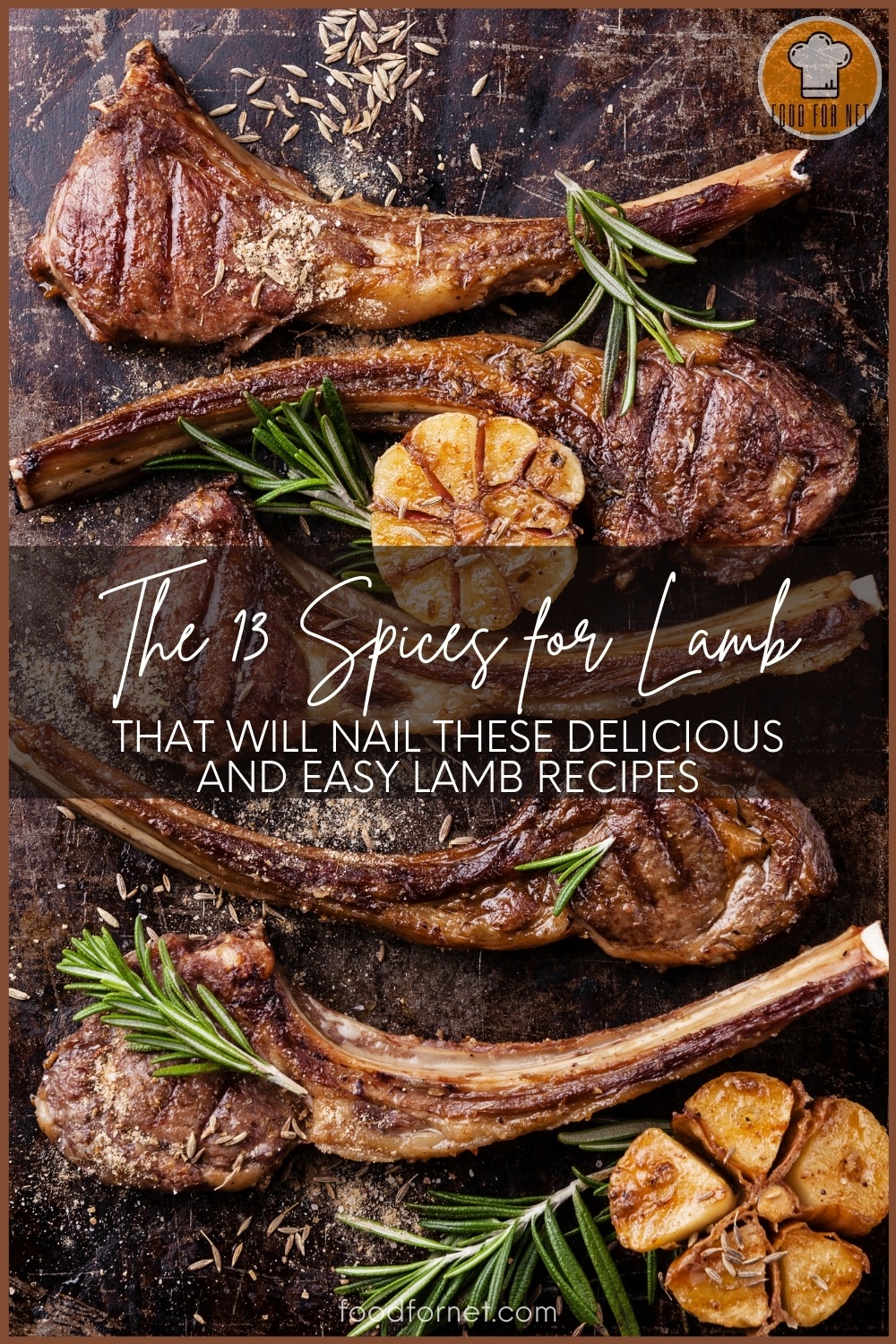 Lamb is the meat of a young sheep, it's very tender with a subtle gaminess compared to older sheep's meat. Its unique taste and tenderness allow it to stand up to strong and earthy spices for lamb. The good old 'salt and pepper' will work, of course, but using different lamb seasoning can bring wonders to your lamb dishes. Other people may not prefer it over beef or chicken but it sure is a good meat to try to add variety to your usual meal.
While some may find it intimidating to cook lamb, knowing the basics can get you to a good start. It's important that you get your meat from trusted sources or have it delivered to you from reliable meat delivery websites. Always bring the lamb to room temperature before cooking, you can easily mess up your cooking time and the meat's doneness when you cook it straight out of the fridge. Don't be wary about using a meat thermometer, even seasoned cooks use it. And always, always – let it rest and slice against the grain – sounds pretty simple and basic but it's really important, trust me on that.
And of course, know the right spices for lamb to use. The best spices should balance the meat's natural gamey, grassy flavor with its robust flavor profiles. Lamb's strong taste may put off other people from trying it but with the right lamb seasoning, it can be tamed or highlighted to work with different flavors to make it more enjoyable. Here are 13 spices for lamb that you can use to enjoy this piece of meat to your heart's delight. Get ready to try the amazing lamb recipes as well!
Spices for Lamb
Cumin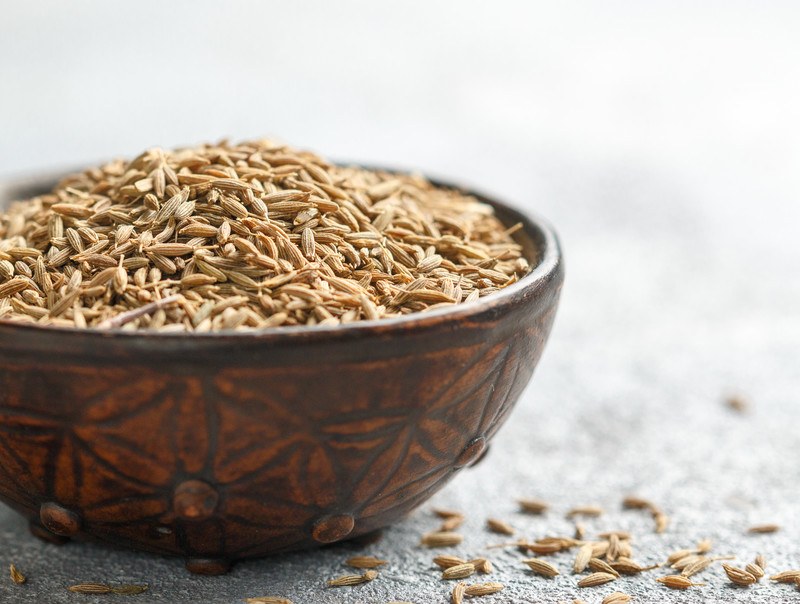 Cumin is the dried seed of Cuminum cyminum plant which is a member of the parsley family. This yellow-brown, oblong, and ridged seed resembles caraway seeds. Cumin promotes digestion and is a rich source of iron and beneficial plant compounds. It may also help with diabetes and improving blood cholesterol.
This Chinese Cumin Lamb recipe really shows that cumin's earthy bitterness really goes well with the slightly gamey flavors of lamb. The dish is super simple and quick to make. In just 20 minutes or so, you'll be enjoying this version of a traditional recipe from Western China.
Vadouvan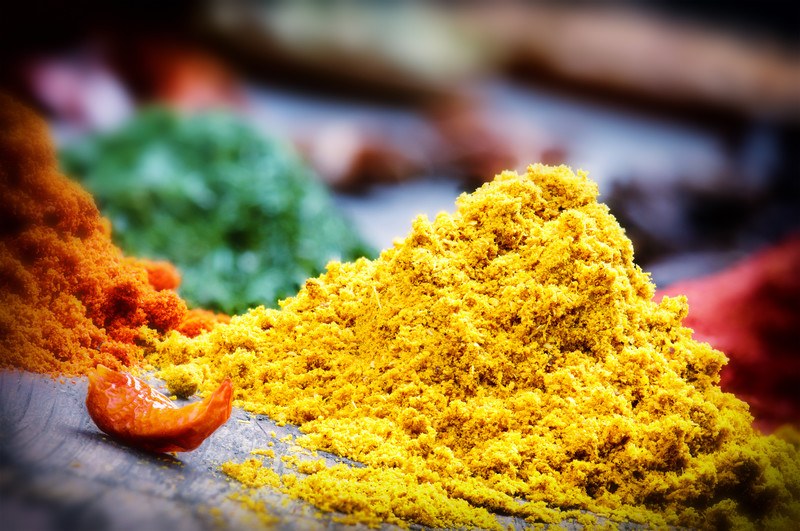 Vadouvan is a blend of different spices that is basically the French version of the Indian curry. It has aromatics like shallots and garlic and at the very least contains cumin seeds, mustard seeds, and fenugreek. Blends may vary, you might need to try a few commercial brand vadouvan or make one yourself first.
This French curry powder is perfect to pair with the gamey lamb because of its rich warm onion flavors, and mellow sweet notes with hints of smokiness to it. Try Vadouvan Crusted Lamb Chops with Toasted Garlic Yogurt Sauce recipe. It's quite simple to make but absolutely packed with flavors from the spice blend. It's perfect when served with roasted potatoes and red peppers.
Garam Masala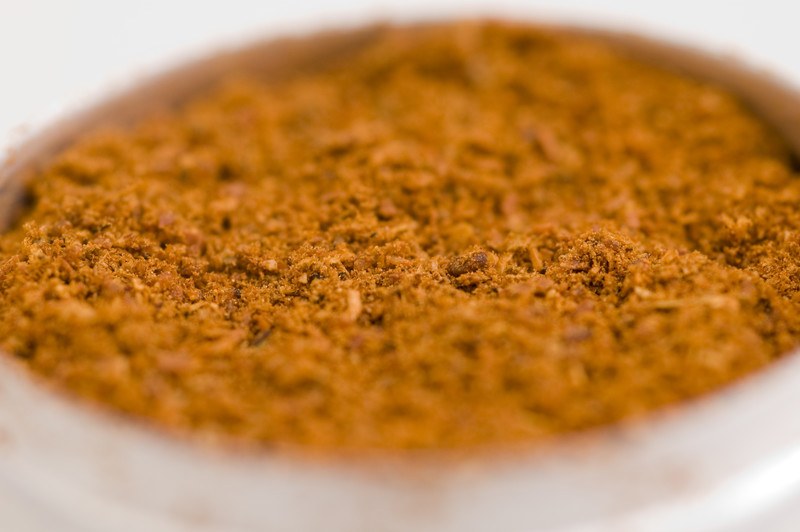 Garam Masala like vadouvan is a spice blend. This one is widely used in Indian cuisine and normally contains black and white peppercorns, cloves, fennel seeds, and bay leaves. It's oftentimes compared or mistaken for curry powder but take note that garam masala is spicier and sweeter with a deeper color. It helps in digestion, regulates blood pressure, reduces inflammation, fights oral bacteria, enhances nutrient absorption, and a good source of antioxidants.
For a perfectly moist, juicy, and flavorful lamb rack chops, try Sous Vide Lamb Masala with Prune Chutney. The sheer aroma of Garam Masala makes this simple dish extra special. Serve it with saffron-infused basmati rice topped with sauteed dal, raisins, and almonds, and you're all set for a wonderful Indian-inspired dinner.
Black pepper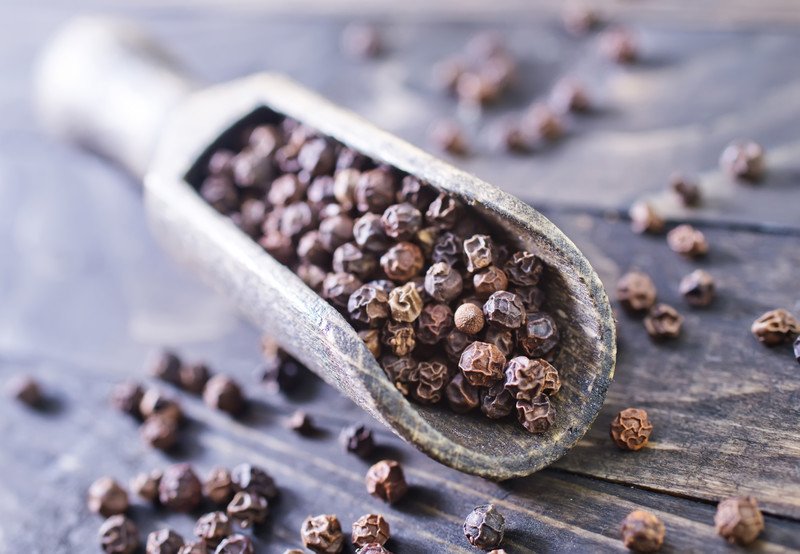 Black pepper is the unripe drupe of a plant belonging to the Piperaceae family. The drupes are then cooked briefly and then dried, giving black peppercorns its black and shrunk skin appearance. Black pepper is high in antioxidants and has anti-inflammatory properties. It may also help improve blood sugar, lower cholesterol, and may contain cancer-fighting properties.
Black pepper's mild heat and slight piney flavor really compliment the lamb's meat in this Black Pepper Lamb recipe. And because black pepper basically works well with other seasonings, this simple and quick dish is a guaranteed crowd-pleaser.
Curry powder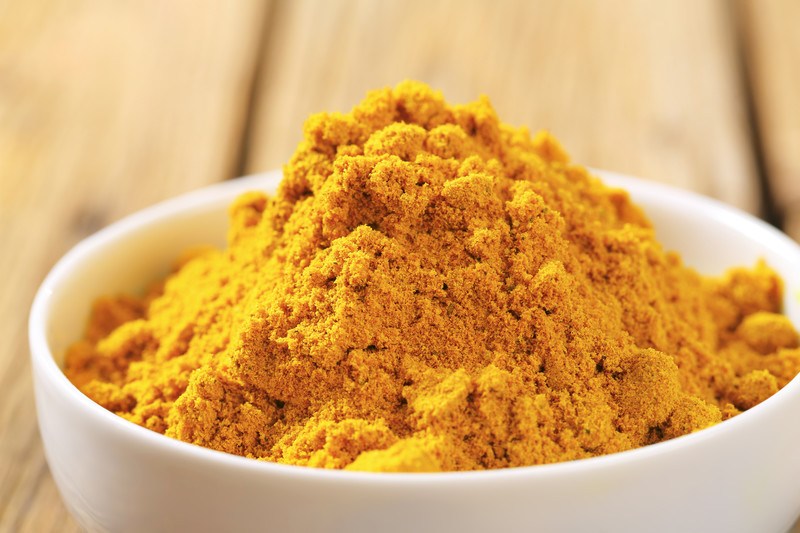 Curry powder is another spice blend that originated from India. The ingredients can vary from blend to blend but typically it contains turmeric, cumin, garlic, cayenne, and ginger. Curry powder helps in reducing inflammation, fighting cancer, combating Alzheimer's, aiding digestion, and battling bacteria.
For a simple lamb dish flavored with curry powder's deep earthy flavor with sweet notes, here's Grilled Curry-Marinated Lamb Chops. Simply marinade the chops with all the ingredients and then grill. That simple. Best when serve with dal and basmati rice but whatever is your preferred side dish will do as well.
Cardamom Pods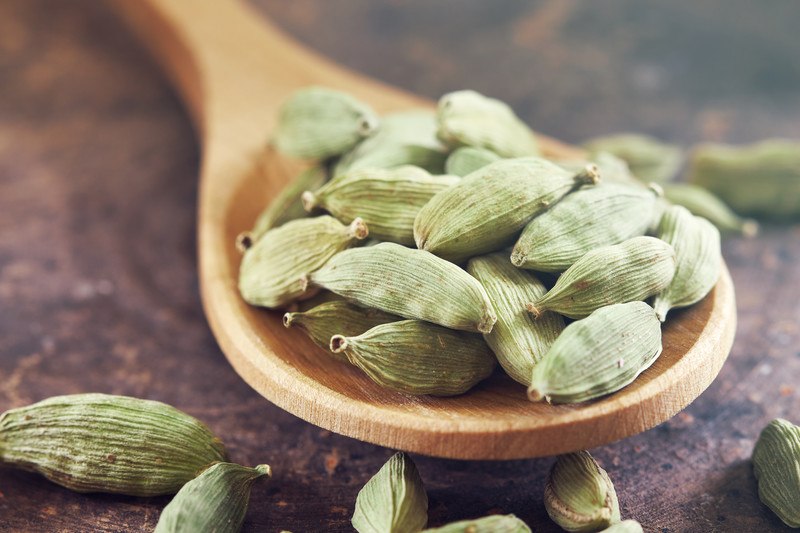 Cardamom comes from the seeds of plants belonging to the ginger family. It's a small seed pod that looks triangular in cross-section and spindle-shaped. It has a thin, papery outer shell with small, black seeds inside. Cardamom has diuretic and anti-inflammatory properties and a good source of antioxidants. It may also help with digestive problems, treat bad breath, and have antibacterial effects.
This Slow Cooker Lamb and Chickpea Tandoori Stew recipe use green and black cardamom pods along with black peppercorns, bay leaves, and cumin – and mind you, this spice combo is the real deal. It highlights the aromatic, slightly tangy, and robust flavors of this Indian dish adaptation. It will take hours to cook in a slow cooker at a low setting but I assure you, it's going to be worth it.
Baharat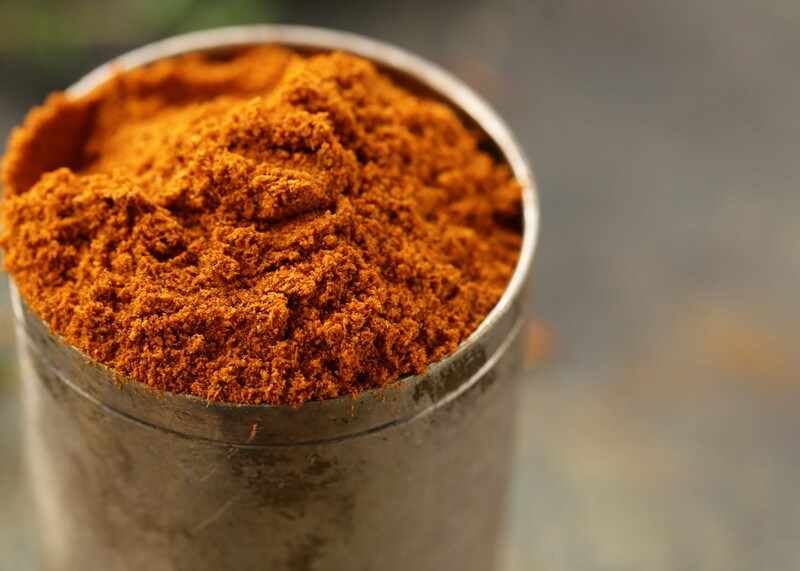 Baharat is another spice blend that typically contains allspice, black peppercorns, cardamom seeds, cloves coriander, cumin, nutmeg, turmeric, saffron, ginger, and chili peppers or paprika. This finely ground spice blend is used in Middle Eastern and Greek cuisines. It has a mix of sweet, warm, earthy, and smoky flavor. It's also very aromatic.
Baharat is commonly used in lambs as the spices used in the blend are quite pungent that mellows the flavor of the lamb. For a Middle Eastern-inspired dinner try this Roast Leg of Lamb with Baharat and Vegetable recipe. Not only will you end up with a succulent looking piece of lamb after an 80-minute slow roast, but you're sure to enjoy a flavorful, juicy, and tender meat.
Sumac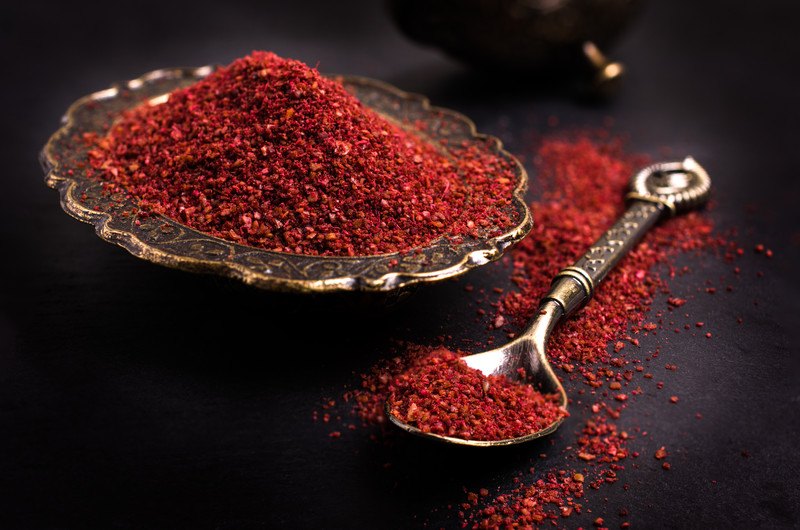 Sumac is the ground dried fruits of dioecious shrubs and small trees in the family Anacardiaceae. This reddish-purple powder is one of the most recognized spices in the Middle East. It's rich in antioxidants, and also helps in lowering blood sugar levels, aiding digestion, boosting heart health, and calming muscle aches.
You can always count on sumac to brighten your dish up with its pungent tar and lemony flavor, just like in this grilled lamb chops recipe. Its earthy tangy and lemony flavor complements the lamb's natural flavor. Serving it with crushed caramelized onion potatoes pretty much sealed the deal here.
Fennel Seeds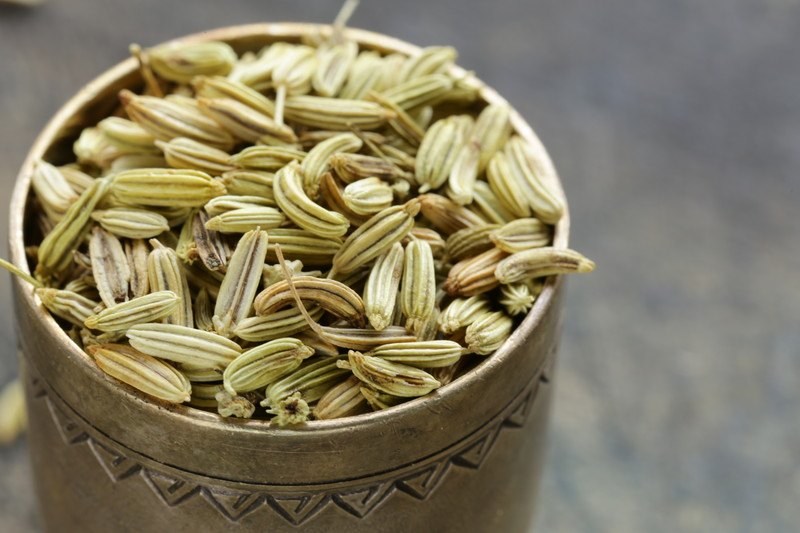 Fennel seeds are derived from fennel which is a flowering plant species that belongs in the carrot family. It looks pale green or brown in color, with an elongated and thin shape. Fennel seeds are packed with antioxidants and nutrients. It may also reduce appetite, benefit heart health, and contain cancer-fighting properties.
This recipe, Herb-and-Spice Lamb Chops with Minted Asparagus, uses a lot of different spices but the addition of fennel seeds to the mix gives the dish a refreshing taste in spite of its richness. The fennel's licorice-like flavor with sweet notes really adds a layer of flavor. A very simple and easy dish that is perfect when serving with some roasted veggies like asparagus or baby potatoes and carrots.
Paprika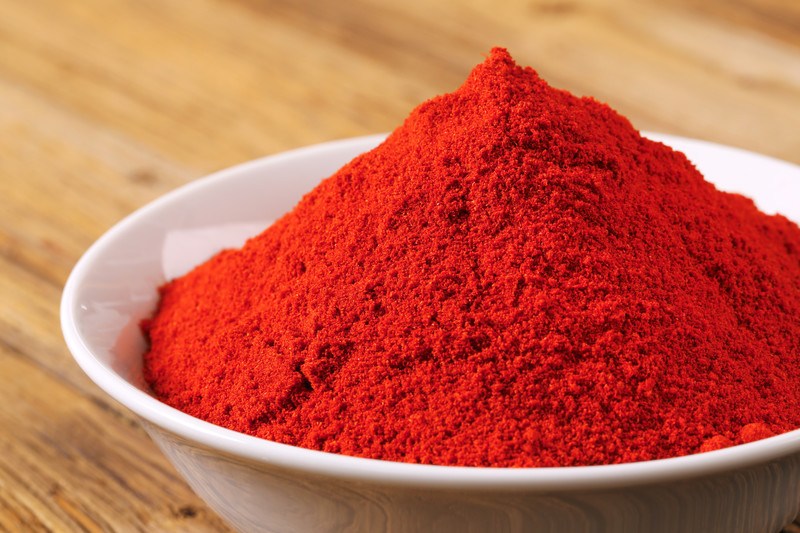 Paprika is the ground dried fruits of the sweeter and milder variety of Capsicum annuum plant. This red-colored spice hotness or spiciness varies depending on the type of peppers used. Paprika is loaded with micronutrients and beneficial compounds. It may also promote healthy vision, reduce inflammation, improve cholesterol levels and blood sugar, and may have anticancer properties.
Here's a marinade recipe that will surely elevate your roast lamb dish. The paprika of course lends the dish a vibrant color with a sweet peppery flavor. It works wonderfully with the ground pepper, cumin, and cayenne pepper. The secret is to marinate the meat overnight – preferably go for a bone-in leg of lamb for maximum flavor.
Coriander Seeds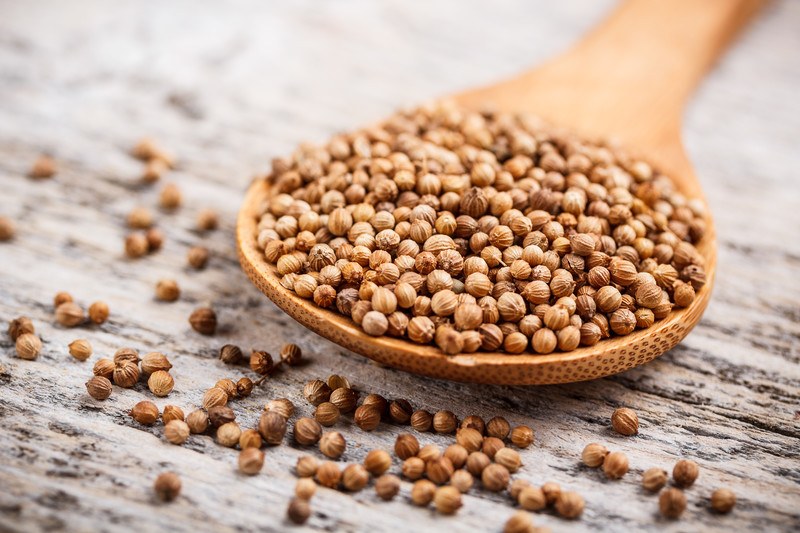 Coriander seeds come from the coriander which is an annual herb in the family Apiaceae. The seeds look rounded in shape with tan color. Coriander is a good source of antioxidants that's good for immune-boosting, anticancer, anti-inflammatory, and neuroprotective effects. It may also help lower blood sugar, protect brain health, benefit the heart, and promote digestion.
This Seared Lamb Chops and Potatoes recipe used the perfect spice combo – coriander with cumin. The refreshing, lemony flavor of coriander complements the earthy flavor and aroma of cumin. Both work hand in hand with the lamb's strong flavor. Discover how the unusual ingredient, brewed black tea, bring the whole dish together.
Juniper Berries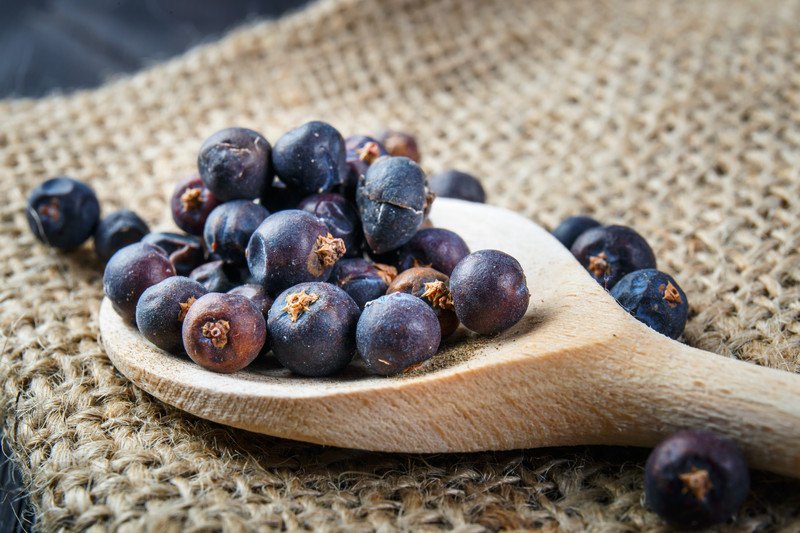 Juniper berries are the seed cones of Juniperus communis. It has a berry-like appearance because of its fleshy and merged scales. Juniper berries are high in nutrients and powerful plant compounds. It also provides anti-inflammatory and antioxidant effects. It may also have anti-diabetic properties and promote heart health.
Although this roast leg of lamb recipe calls for only 3 juniper berries, 3 does add a piney and fruity note to the dish as is – but of course, you can add a couple or more if you want. Juniper pairs really well with rosemary. Find out for yourself how a simple aromatic rub does wonders to this roast lamb dish.
Ras El Hanout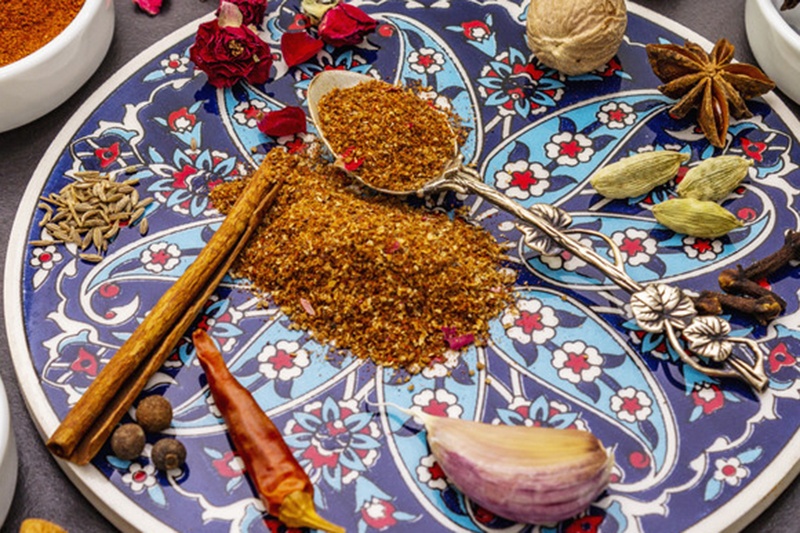 Ras el hanout is another spice blend that consists of over a dozen spices. This spice mix is from North America and typically consists of cardamom, clove, cumin, peppercorn, fenugreek, nutmeg, cinnamon, mace, dry ginger, coriander seed, allspice, chili peppers, paprika, and turmeric. And because it's a mix of different spices, its health benefit also ranges from aiding digestion to controlling high cholesterol.
Nothing can get any simpler than rubbing your lamb chops with Ras El Hanout and then grilling them to perfection. Its woody, bitter, and pungent with a hint of sweetness really lift the lamb's flavor. This rub seasoning recipe breaks down what Ras El Hanout spice blend is basically made of (with the addition of a couple of non-traditional spices), but of course, you can simply use the store-brought pre-mix if you have one.