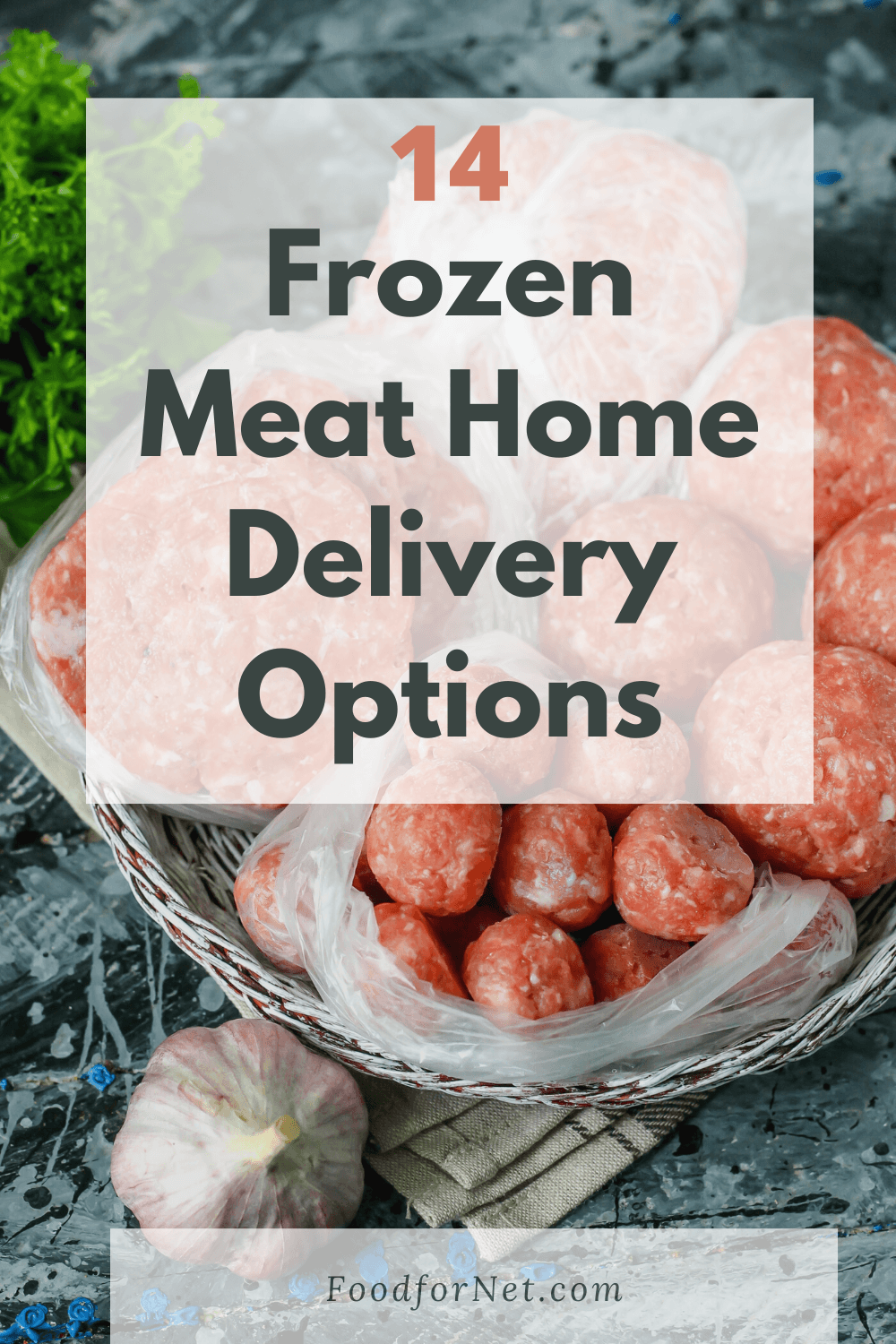 Getting food delivered to you at home is a powerful way to make sure that you can still eat well, even if you're quarantined or self-isolating. Thankfully, there are many frozen meat home delivery options, regardless of where you live in the USA.
Frozen meat is a great solution, as it can be stored for months or even longer. You can simply defrost the meat close to the time that you want to use it. Plus, ordering frozen meat tends to be more cost effective than ordering meal kits or fully cooked meals.
Thawing frozen meat is best done in the fridge. Many cuts of meat take roughly a day to thaw, while some larger cuts may take longer. This shouldn't be a serious problem, as long you plan your meals ahead of time.
Just make sure that you check the directions for how long the piece of meat is good for once it has defrosted. This will vary depending on the cut of meat and the way that the company packs it.
The companies on this list were all still operating at the time of writing. However, the coronavirus outbreak has increased demand and placed considerable pressure on many such services.
This often means that deliveries may be delayed, that some items may be out of stock or that the company won't take on new customers. For example, the ButcherBox website currently states that any orders placed today won't be shipped out for roughly three weeks.
As such, you'll need to be patient. Every indication suggests that the food supply chain will remain strong, so you should still get your frozen meat (and any other supplies) soon enough.
Frozen Meat Home Delivery Services
ButcherBox


ButcherBox is probably the most well-known service for getting meat delivered to you. The service offers five meat boxes to choose from, based on what they contain. There's a Mixed box, a Beef & Pork Box, a Beef & Chicken Box, an All Beef Box and a Custom Box.
For each box type, you can choose between a Classic Box and a Big Box. These can be shipped out every four, six, or eight weeks.
The Classic Box costs $129. It is designed for individuals and small families and offers eight to 11 pounds of meat.
The Big Box is designed for medium families and people with large freezers. This one costs $238 per delivery and contains between 16 to 22 pounds of meat.
You can also add extra items, like bacon, breakfast sausage, and ground beef. These are sent out monthly too, but you can change the addons that you get each month.
Reviews for ButcherBox are consistently good. People often talk about the value for money, along with the quality of the meat. This isn't surprising either, as ButcherBox focuses on responsibly raised meat, which includes free-range organic chickens and beef that has been grass-fed and grass-finished.
Snake River Farms And Double R Ranch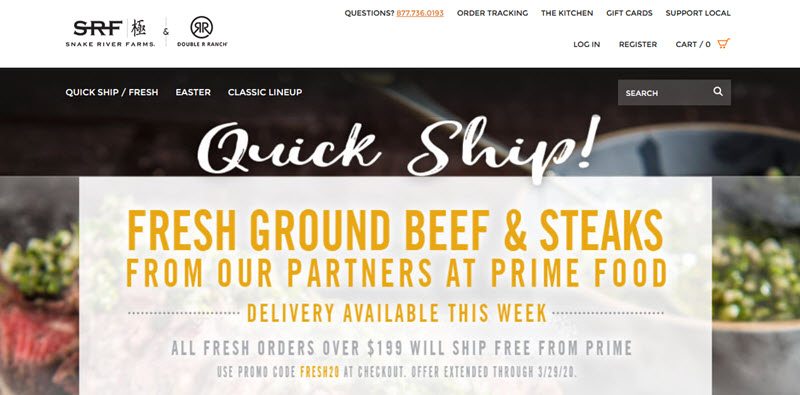 Snake River Farms is another well-known meat seller. The company has joined forces with Double R Ranch to provide an even wider selection of meat.
This time, the products are sold individually, rather than as boxes. You can simply browse through their site to choose the types of meat that you would like.
The site first breaks down the meat by type. You can choose from American Wagyu, Fresh/Dry-Aged, Kurobuta Pork, and Northwest Beef. From there you can choose the individual cuts that you are interested in, like steaks, roasts, ribs, and brisket.
While the companies don't focus on organic or grass-fed meat, their FAQ page does mention that there is a strong focus on animal wellbeing.
Favor


Favor is a meal kit delivery service, but they've also partnered with H-E-B to deliver essential supplies to seniors in Texas. Seniors can use a special hotline and order up to 25 items at a time through the service.
The foods available fall in various categories, including produce, dairy, bread and grains, deli meats, meat and seafood, and frozen goods. Meat can be ordered fresh or frozen.
Items are delivered on the same day, often within just a few hours. They are left at the doorstep, which helps promote social distancing further.
Fees have been waived for the first 30 days of the service. However, a $10 tip is included as part of the order, which goes to the Favor Runner and ensures that they earn appropriately for their time.
Rastelli's


Rastelli's started as a small local butcher's store, back in 1976. The company has since expanded dramatically and now has various Rastelli Market Fresh stores. Rastelli's continues to be family-run and has an emphasis on high-quality food.
There are various meat boxes to choose from, such as a Ground Beef Box that contains 12 servings and costs $45, along with a Steak Craft Burgers Box that also has 12 servings and costs $39.
The range of boxes isn't as varied as some of the other companies on this list, but there should still be enough options to meet your basic needs.
Boxes can be purchased as a one-time order or on subscription. Buying through subscription drops the price of your order by 5%.
Rasteill's also offers free shipping for all orders above $200. Orders that are less than $90 have a $25 shipping fee, while those between $90 and $199 have a shipping fee of just $10.
Omaha Steaks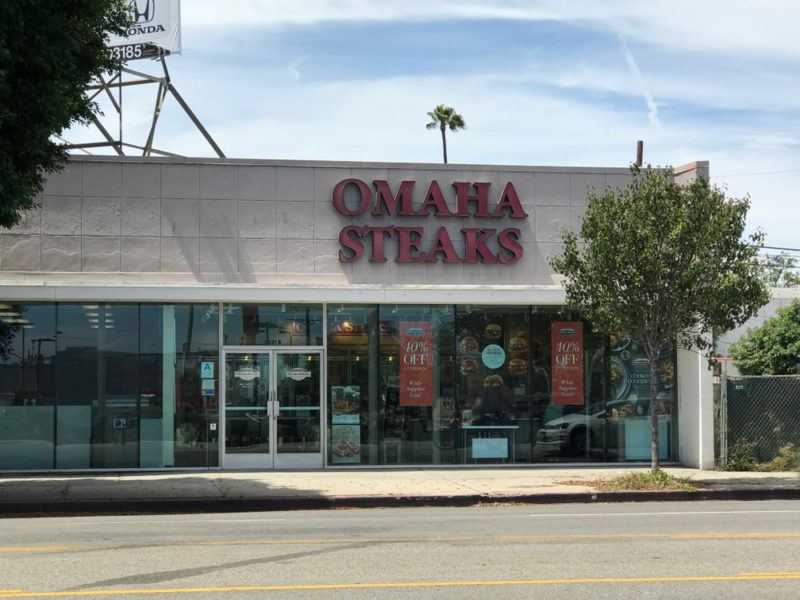 If you want a large selection of meat, Omaha Steaks is a good company to consider. All of their meat is flash frozen when it is at its best, to ensure that the customer gets a perfect steak every time.
The company is a little different than some of the other entries, as Omaha Steaks does not raise the cattle themselves. Instead, the meat comes from various farms in the Midwestern United States.
Omaha Steaks also uses its own grading system, rather than the traditional USDA standards. This makes it more difficult to know the quality of the meat – and could be an off-putting feature for any true connoisseurs.
Still, if you're looking for meat to fill your freezer, it's hard to go wrong with Omaha Steaks. They have many individual cuts of meat that you can choose from, along with boxes that contain a large amount of meat at a decent price.
Some of their deals are impressive. For example, during a Stock-Up Sale, they offered a Premium Value Assortment for $175 and another called Stock Up for Fun for $139. Both contained 32 individual items. The size of Omaha Steaks means that the company should be able to maintain stock levels, even if other companies struggle.
Halal Pastures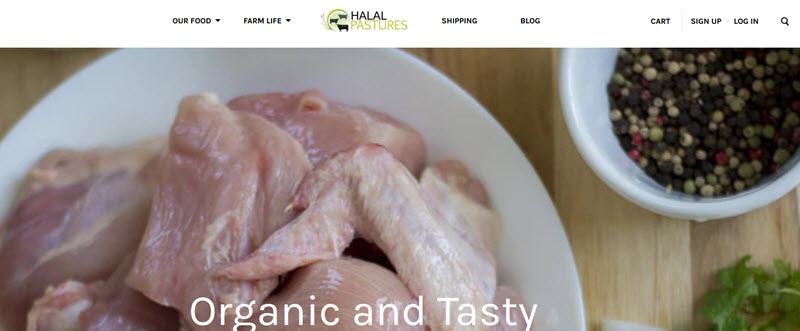 Halal Pastures is a much smaller company. As the name suggests, they focus on Halal meats. Their selection includes beef, turkey, chicken, and lamb.
Most of their products are organic, while the beef and lamb have also been 100% grass fed. While the company's selection isn't huge, the Halal focus may make it appealing in a variety of situations.
The company has been struggling with current levels of demand and is finding that orders take longer to ship than longer. Nevertheless, they are committed to keeping prices constant regardless of what happens, so you shouldn't see any surge pricing from this seller.
Gourmet Food Store


Gourmet Food Store is an online store that focuses on, you guessed it, gourmet and specialty foods. They have many different types of items to choose from, including truffles, cheese, smoked salmon, chocolate, and baking items.
The site also has a decent selection of fresh and frozen meat, including bison, duck, lamb, venison, grass fed beef, and turkey. Many of the meats can be shipped frozen or chilled, depending on your preference. Frozen tends to be less expensive.
While there are some gift sets that contain a few types of meat, Gourmet Food Store doesn't have subscription boxes. There aren't many meat gift sets either, so you'll mostly need to individually select the meat cuts that you want.
Thrive Market


Thrive Market is another company that offers many different products, with meat being just one of their options. Unlike the Gourmet Food Store, Thrive Market focuses on organic products, carbon-neutral shipping, and sustainability.
However, you do need to be a paid member to order regularly from the company (which costs around $60 per year). There is a risk-free trial, but this involves paying $9.99 for a month's membership. If you cancel within 30 days, then the amount you pay will be refunded.
As for products, Thrive Market offers grass-fed beef, organic chicken, and pasture-raised pork. These cannot be ordered a la carte. Instead, you need to sign up for a box. The basic box costs $119.99, while the premium box costs $149.99 instead.
In each case, you're able to select the cuts of meat that you get in your box. While this style is appealing, the cuts you can select from are a bit limited on occasion.
D'Artagnan Foods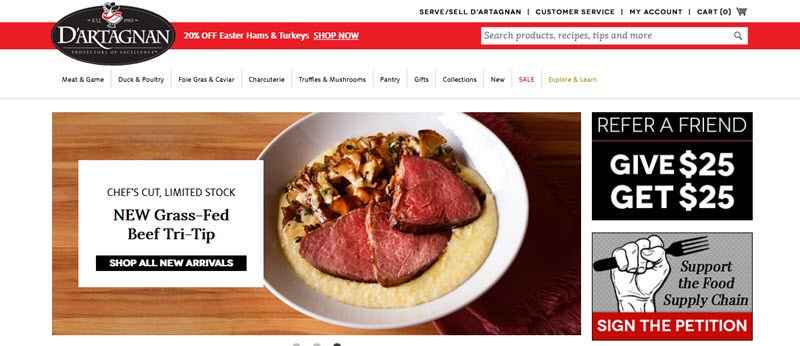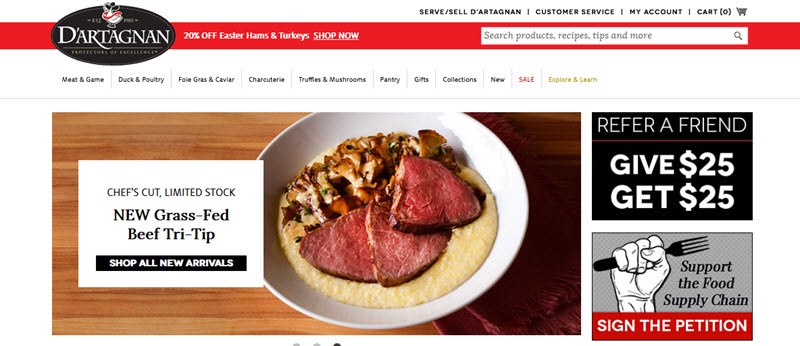 While D'Artagnan Foods has a French name and was founded by a French man, the company is based in the United States. It offers various types of meat, game, and poultry, along with pantry items and charcuterie. You can even buy truffles or caviar through the company.
The selection of meat and game is wider than many other companies, although the products aren't well-organized on the site. Because there aren't many subcategories to work with, you'll often need to browse a large list to work out the cuts of meat that you want.
If you specifically want frozen meat, make sure that you check the type and size section for any meat that you order. Some types of meat can only be ordered frozen, while others can be ordered fresh.
Fossil Farms


If you're looking for unusual meat, it's hard to go past Fossil Farms. Their products fall into the categories of game meats, exceptional breeds, game birds, and exotic meats. As such, they sell many types of meat that you won't find elsewhere.
There are also interesting products for many of the meats. For example, you can order Bison Sausage With Chipotle Chilies or Rabbit Sausage With White Wine, Chicken and Bacon.
On their FAQs page, Fossil Farms mentions that most of their meats are flash frozen. However, the company isn't specific about which products are frozen and which ones are not. This could mean that you occasionally get a fresh product when you are expecting something frozen.
Fossil Farms doesn't provide much information about how the animals are raised. This may be because the company has multiple partner farms and each farm will have its own practices. Nevertheless, it is clear that Fossil Farms does not take an organic or 100% grass-fed approach.
Williams Sonoma


Williams Sonoma seems to sell a bit of everything. Seriously, with so much cookware, bakeware, and electrics on their site, it isn't even immediately clear that they sell food, much less frozen meat.
Still, the company does have a section for beef, pork, and poultry, as well as one for fish and shellfish.
The selection of meat isn't large as you might like, plus a large proportion of the meat is ham, which might not be what you're looking for. Still, there are other options, including a lamb loin roast, a rack of lamb, a meat lovers collection and smoked beef tenderloin.
Chicago Steak Company

When you order from the Chicago Steak Company, you're not just getting good meat. The company also goes to great lengths to keep your order in the best condition. This includes vacuum packing and then flash freezing the steaks (and other meat) in natural juices.
The site even provides a video on the packing process. This includes instructions about how to safely thaw the meat.
As the name suggests, the company is most well-known for its steaks. These fall into four categories: Premium Angus Beef, USDA Prime Wet Aged, USDA Prime Dry Aged, and American Wagyu. There are also steak burgers on the site, along with chicken, pork, ribs, roasts, and ham (not to mention various desserts and sides to complement your meat).
They also have a strong emphasis on quality. This does mean that the meat isn't cheap, but should be worth the higher price.
Marx Foods


Marx Foods is a powerful option if you're looking for variety. The company offers familiar types of meat, like beef, pork, lamb, bison, and venison. They also have a selection of much more unusual meats, like frog, camel, goat, ostrich, and alligator.
The phrasing on the site suggests that the meat is shipped frozen. You simply throw it back in the freezer when it arrives, even if it has defrosted slightly.
Still, make sure that you check the specifications for any meat that you order. There's always the chance that some of the meats will be chilled rather than frozen, especially if the cut doesn't freeze well.
Mountain Primal Meat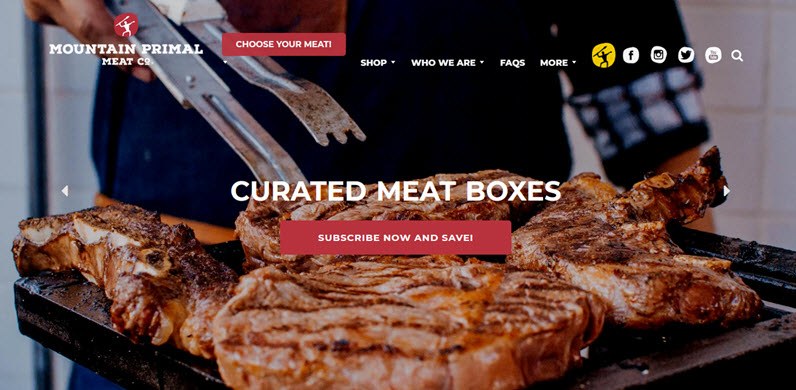 Mountain Primal Meat operates out of Colorado. The company owns a ranch that produces the variou products that they sell. Their meat includes options like ground beef, sausage, pork, and steak, so you're getting the classics in one place.
Everything is flash frozen before shipment and is carefully packaged to ensure you get the best quality every time.
You can order meat on an as-needed basis through the company or check out one of their curated meat boxes. There are currently three of these, two of which can be ordered on subscription. The boxes are an excellent way to stock up your freezer, particularly the Basic Stockpile Package, which offers multiple types of meat in one-pound bags.
Get 10% off your first order with code FOODFORNET10