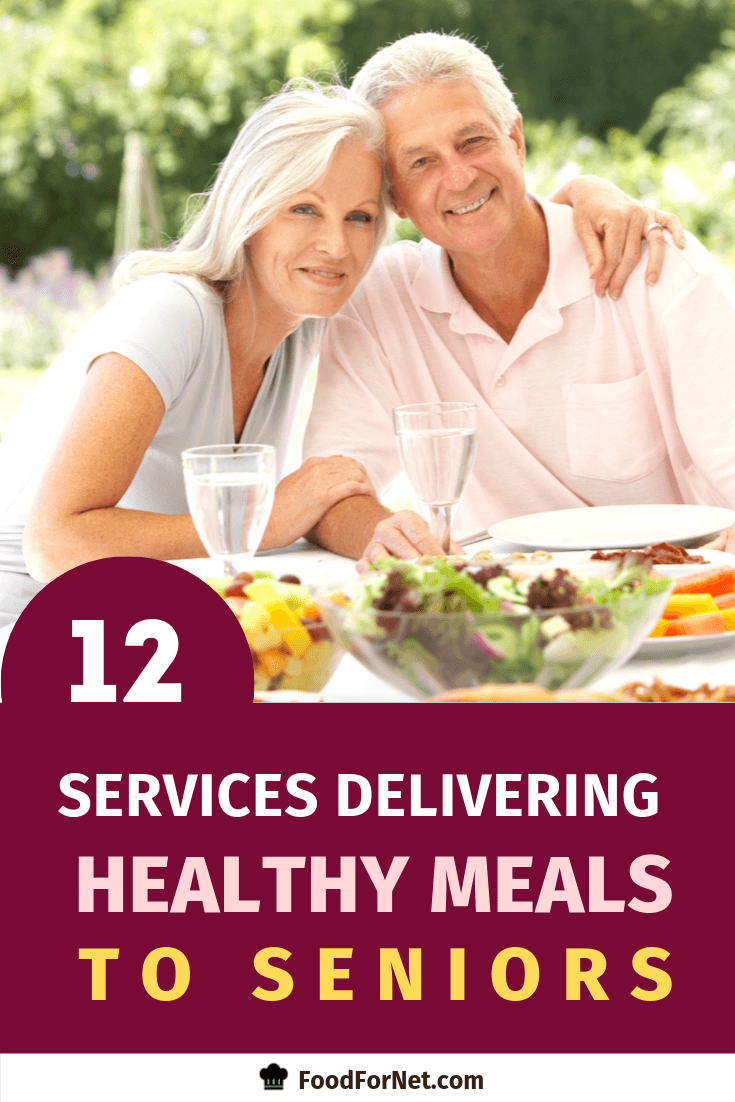 For seniors, eating healthy can be a huge task. Whether it's getting to the grocery store to buy the ingredients, or safely using the cooking equipment in your house, the challenges grow with age. Of course, there are many healthy seniors who do perfectly well with these tasks, but just want to free up some time to enjoy their golden years.
For many, senior meal delivery services have taken over cooking at home, offering an easy way to get healthy and nutritious meals regularly. The services below delivery healthy meals to your doorstep, ready to heat and eat!
Of all the choices below, my personal favorite is Bistro MD Silver, but there are many other great options.
These meal delivery services ease your work by shipping ready to eat dishes, which just need to be reheated. Such services can be a great way to reduce work every so often or an alternative for every day. The idea is particularly relevant for seniors who may struggle cannot safely cook for themselves anymore or don't simply have the motivation to do so.
Many seniors will have specialized needs, often as the result of health issues. For example, some will need soft food because of dental problems, while some may require low-salt or diabetic-friendly meals. Some also require extra seasonings because their sense of taste has dulled over time.
Even if they are on the younger spectrum of senior citizenship, cooking may be a hassle, or even dangerous for someone living alone. A dropped plate that shatters everywhere could be hard to pick up, and a frying pan filled with hot oil that gets bumped could be a fire hazard. Meal delivery services can offer peace of mind for family members and caregivers too, meaning one less thing to worry about.
All of that considered, there are a number of meal delivery services that specialize in senior care in one way or another. Read through these seven options of meal delivery services for seniors. Keep in mind, another option could be meal kit services for seniors, which send fresh ingredients and let you cook the meals yourself.
Meal Delivery Services For Seniors
Bistro MD Silver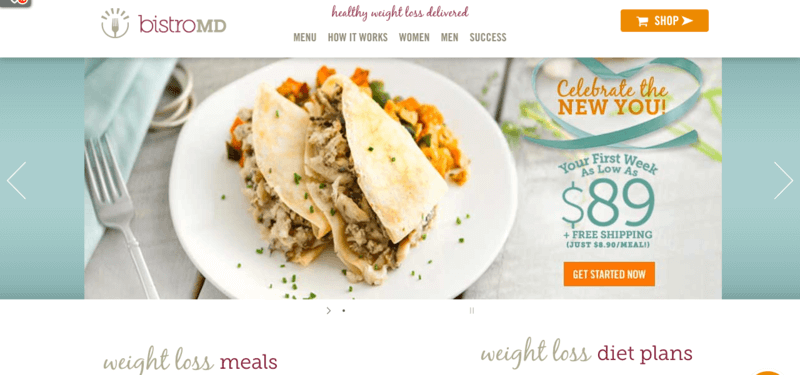 Commonly known as Silver Cuisine by BistroMD (10% discount), this is a meal delivery service that focuses on nutrition for seniors. The overall Bistro MD service targets adults and weight loss as well, but the Bistro MD Silver is specifically about seniors (hence the name).
The meals are designed by doctors and aim to meet the needs people face as they age. Special diets are also supported, including heart healthy, gluten free, low sodium and diabetic options. The overall program was designed by Doctor Caroline Cederquist, who is board-certified in bariatric medicine
There are around 150 different meals and dishes on offer and these are categorized based on the meal, the type of dish and whether they fit into a specialized diet. This makes it easy to find meals that fit your requirements. Each category also has many options and the dishes vary seasonally, so there is no shortage of variety.
With this service, you order meals individually and can choose as few or as many as you like at a time. This would let you tailor the experience to fit in with your specific needs. Because the meals arrive fresh, you can also freeze them for up to a year.
The price of the meals varies considerably, depending on what you order. Lunches and dinners are typically between $8.95 and $12.95, with most being under $10. This is a reasonable price for the quality of food available. Breakfasts are typically cheaper, ranging from $5.95 to $8.95. The snacks are anywhere from $10.95 to $17.95 but most of those contain six to eight servings. The shipping fee charges start at $9.95, and if you want expedited shipping, the charges are $29.95.
There are also weekly specials. These can be a way to get meals for less and there are often ten or more discounted meals. They also offer vegetarian and low-sodium options for people with specific dietary regimens to follow.
Magic Kitchen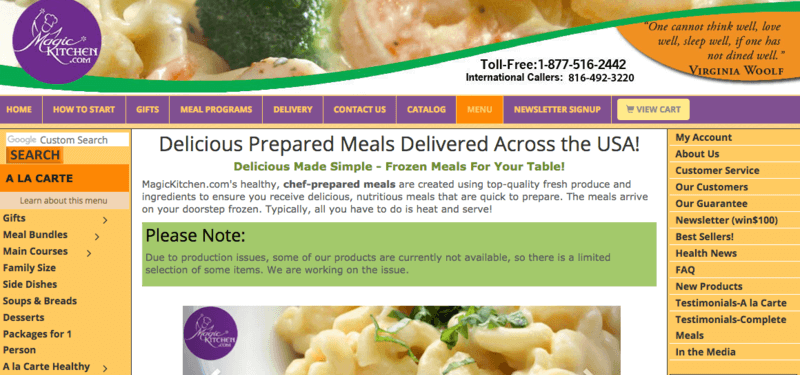 Since 2005, Magic Kitchen meal delivery service has been preparing a good selection of meal packages and diet plans, including options for families and for seniors. Meals are prepared by chefs and are designed to be both high-quality and nutritionally balanced.
There are two options to choose from. The first is A La Carte, which allows you to choose individual items, such as mains, sides, soups, and desserts. The second option is Complete Meals. These tend to include one entree and one or two sides. These meals are designed with specific dietary needs in mind.
In both cases, members get to pick precisely what they want from a selection of options. Magic Kitchen uses tags to show which categories they fall into. Some of those tags include low sodium, diabetic-friendly, low carb, single serving, and dairy free. These options make it easy to pick the right dishes for any dietary limitation.
It is also possible to set up an Auto-Ship Meal Program, where meals are received automatically. You can choose the meals yourself in this program too, or provide the company with parameters to work within. The Magic Kitchen site highlights one example, which is a low sodium, diabetic-friendly meal selection. Such a choice would be perfect for many seniors.
On average, a single meal costs between $10 and $25, depending on the order size. The price of a dessert, combo soup, side dish, and the main course is slightly higher than the meal package.
For instance, a senior meal including black beans, BBQ chicken drums, corn, and broccoli costs $11.50 per serving. For the meal packs consisting of seven servings, you get seven delicious dinners in one package. The prices of these meal packs range from $75 to $90, while the family sized meal bundle goes for $166 to $215 for two meals with six servings.
They deliver anywhere in the state using FedEx as well as UPS Ground delivery services. They make deliveries to customers in Alaska and Hawaii, and their shipping fee starts from $18-$20. The shipping fee depends on your package's weight and distance.
Mom's Meals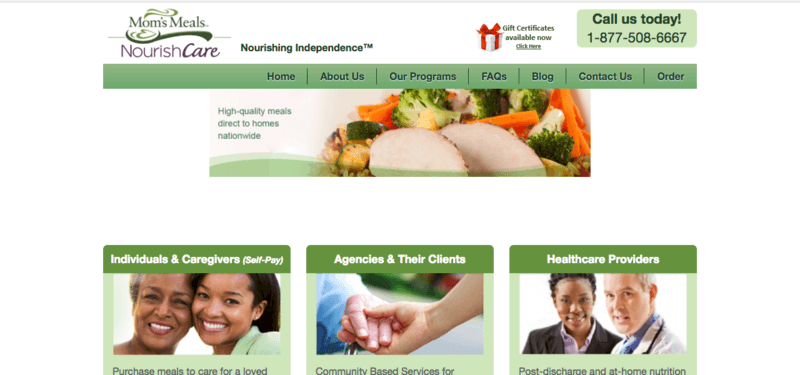 Mom's Meals has been in operation for over 15 years and is based in Iowa. They deliver meals to seniors, sick people, and people who are unable to prepare meals.
This company has a strong focus on independence, which includes a recognition that caregivers and agencies may be involved in the process. They ship meals once or twice in a week, with an auto-ship option to save you time. This option makes it easy for family members to set up the service for seniors if that's desirable.
The company's focus means that the meals can work well for seniors. Their first option is simply a General Wellness menu, which includes 60 different meals to choose from. Beyond this, there are special menus available. Many of these meet specific needs that seniors will face.
The options include heart-friendly (low sodium and low fat), diabetic-friendly (low sugar and reduced carbs), cancer support, vegetarian, renal-friendly, gluten-free or pureed. The pureed menu would be very relevant to seniors with dental issues, including those who experience difficulties in chewing or swallowing.
Their dietitians help in designing these programs, and they prepare their meals in facilities that are USDA-inspected. Their recipes include Coconut Curry Veggies, Lemon Herb White Chicken alongside with Wild Rice and Veggies, Cheese Lasagna with Marinara, Chili-Rubbed Beef Steak with Spanish Style Rice, Fruit Breakfast Pizza, Pork Loin with Masala and much more.
The dishes are complex enough to be interesting but basic enough that they would still appeal to most seniors.
The prices vary depending on the number of meals that you order per week or the program you choose. The average price for a single dish is $6.49, which goes to $19.47 per day if you include breakfast, lunch, and dinner.
The Pureed menu goes for $7.69 per meal, and you will be charged a standard shipping and handling cost of $14.95 for orders of seven, ten, and twenty-one meals. Their meals are available for people in the continental United States.
Martha's Senior Gourmet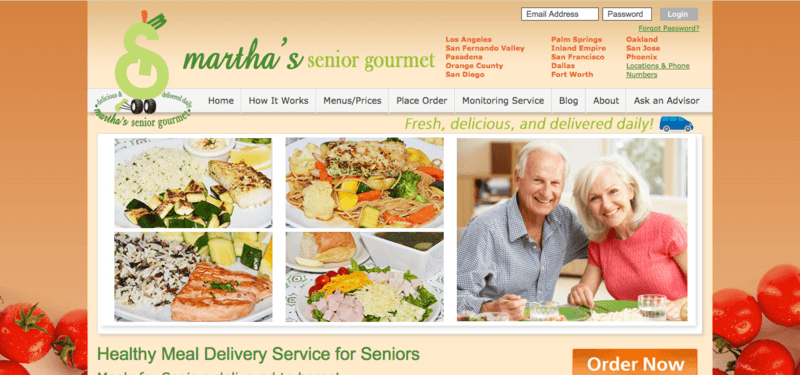 Martha's Senior Gourmet is a meal delivery services for seniors and has been operation since 2011. They offer a wider variety of specialized plans than normal, which include the following:
Healthy Life Style
Diabetic
Renal
Renal-Diabetic
Congestive Heart Failure (dairy-free, ultra-low sodium)
Gluten Sensitive
Vitamin K Restrictive
Pureed Food
Beyond this, there are also special approaches for people who are looking for high fiber, low residue, diverticulitis or soft food considerations for meals. The service is also unusual, as they are delivered by individuals from the company. If requested, those staff members can fill out a monitoring report at the end of their visit. That idea is powerful if you're having meals delivered to a senior family member who lives on their own.
There is a strong focus on maintaining quality and ensuring that the meals taste good, even when meeting many dietary restrictions. Their proportions are generous, and each meal contains 4-6 oz of protein, 3-5 oz of starch, 2 oz of roasted, steamed, or grilled vegetables. However, you don't get to control the specific meals that you receive. There are also fewer options for meals and the dishes are less exciting than many other companies.
The company a variety of different plans, including some designed for one person and others designed for two. You can also choose how many days a week you receive meals and whether you get dinner or lunch and dinner. The Healthy Life Dinner Plan costs $284 per person and runs for three days per week for four weeks.
The Specialty Dinner plan costs $309 per person for the same length and frequency, while for two people the rates are $610. For the weekly meal plan with 5-10 meals, the price of a dinner is $120, while lunch plus dinner cost $195.
There are many other options as well, including 5-day trials. These can give you an idea of whether you'd enjoy the meals.
Fresh n' Lean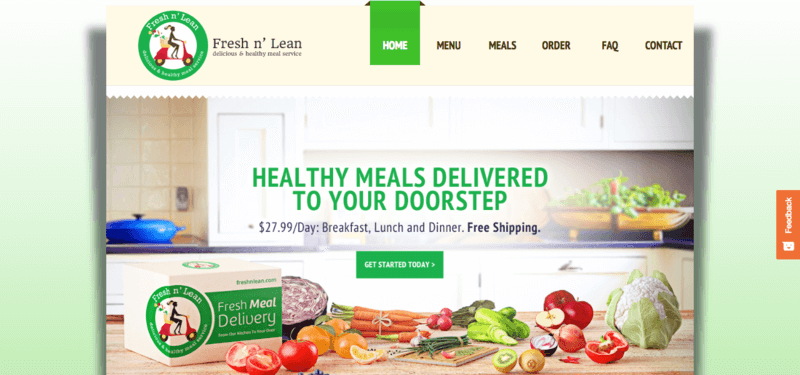 Fresh n' Lean, an organic meal delivery service, provides meals for many different groups. Their menu features ready-to-eat and fresh meals from natural ingredients and of top quality. Their foods are suitable for seniors, physically active individuals, vegans, vegetarians, those aiming to lose weight, and people on the paleo diet. Their meals are 100% gluten-free and are low in sodium as well.
They have two options where you can subscribe through, choosing from four main meal plans. These plans include the Standard Low-Carb Plant-Based, ION Performance Paleo, Standard Plant Based, and the ION Performance Protein +.
The plans are random, so you don't get to choose what meals you get each week. You can also order meals a la carte without subscribing to the service and this involves no commitment. For the meal plan, you can choose to receive the meals either for five or seven days per week. It is important to specify how you want your meals, for instance, either one, two, or three daily meals.
For their four meal plans, breakfast, lunch, and dinner have a regular price. The Standard Plant-Based plan, a single meal has a rate of $9.33, while the Low-Carb Plant-Based meals go for $11.33 per meal. The charges for the ION Performance Protein + plan goes at $12.49, while the ION Performance Paleo plan, a single meal has a price of $12.99. The A La Carte entrees range between $11.99-$13.99 per meal.
The company isn't specifically designed for seniors. However, they're a great option for anyone passionate about meals that are fresher and healthier all around.
There is also a senior plan that provides breakfast, lunch, and dinner for $27.99 per day. It's not clear whether the meals on this plan are different than the rest of the company. Either way, the dishes look amazing and the low sugar and low sodium nature would fit in with many senior needs.
They allow you customize your meal plan by eliminating the ingredients that you want them to exclude from your order. Whenever you feel like, you can pause or end your subscription where you can skip up to three consecutive orders. They deliver to the entire fifty US states, and the delivery is free of charge no matter your location. You can cancel or skip requests over the phone.
Top Chef Meals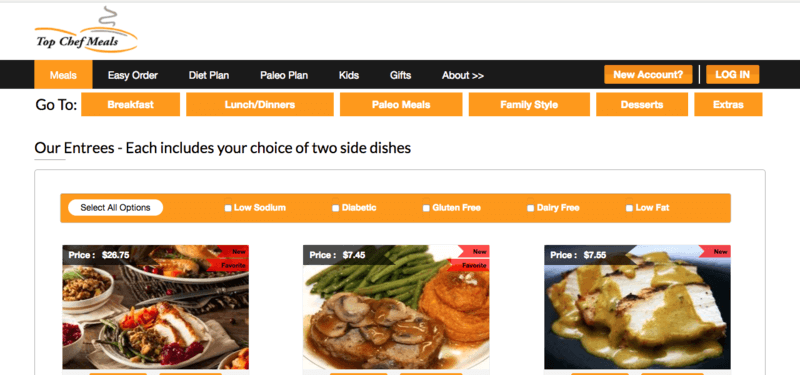 Top Chef Meals focuses on dishes that are created by chefs that are also still affordable. Meals rely on fresh and locally sourced ingredients, and are flash frozen before delivery to ensure freshness. You can get have them refrigerated instead, although that service costs extra and you need live close enough to the company.
The service is great for seniors because of the diet types. Top Chef Meals has a number of specialty diets available, including low sodium, diabetic, gluten-free, renal diet, dairy-free, weight loss, paleo and low fat.
This level of diversity is unusual in premade meal and most companies are much more limited. In each case, customers can select the diet they're interested in and see all of the available food choices.
The company can offer the variety because they are preparing meals as they're ordered. That's unusual. Many other companies have set meals that they send out, resulting in less flexibility. This style also means you get to choose the main portion of the dish and the sides. For example, their Baked Whole Eggs and Cheese Omelet comes with one starch and one protein side (you can also add extra protein). You get to pick what those sides are.
The main way to order meals is individually. The price varies depending on the meal but many are between $7 and $8 for a main. There is a decent selection to choose from as well. Top Chef Meals emphasizes dinners but there are also some breakfasts, desserts, and smoothies available.
You can also order in packages, which contain a pre-determined selection of meals. This is good if you're ordering for someone else and you don't know the specific meals that they'll want.
The Good Kitchen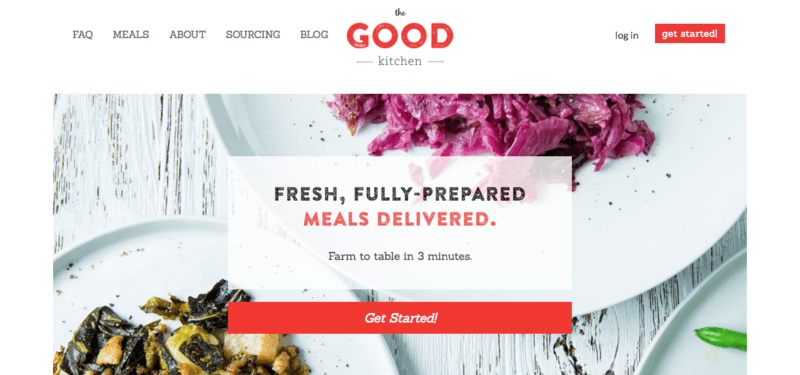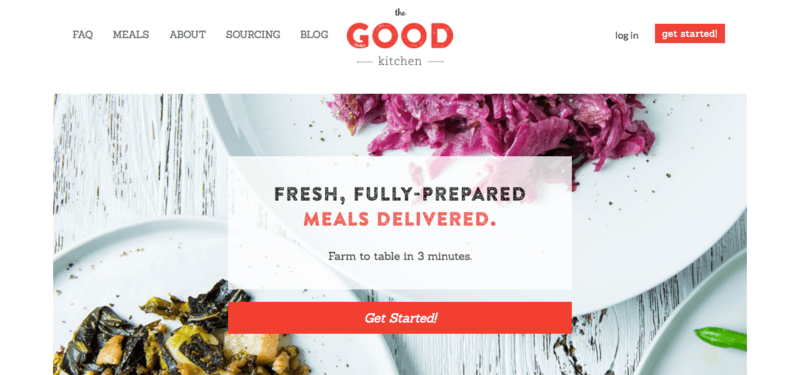 Unlike most of the other examples, The Good Kitchen isn't senior-specific in any way. They don't even have set meal plans for conditions like diabetes or heart health. But, the company is a powerful choice for seniors who simply want convenient and good food. This is partly because the company strongly focuses on high-quality ingredients
Another cool thing is flexibility. The Good Kitchen lets you choose the number of meals per week and the frequency. You can pick anywhere from 5 to 35 meals per delivery. The meals are all fresh but they are easy to freeze and take up little space.
The food also simply looks good. There are normally 20 or more different meals to choose from each week and you get to pick which ones you want. If you're just looking for convenience, you can even let the company do the selection for you.
There is also a bulk box you can order, which contains 40 different meals. These ones are already frozen and you can refreeze them if they thaw during shipping. You don't get to choose what the box contains. But, the box is a powerful way to stock the freezer and ensure there is always a selection of healthy dinners on hand.
The service also offers kids meals. These are similar to Lunchables, with four components that are easy to eat. Unlike Lunchables, the ingredients are healthy and aren't processed.
The style actually works well for seniors because the components can just be eaten with the hands. That's much less hassle, especially for seniors who struggle with a knife and fork. The boxes would also be good simply as a healthy snack choice, one that doesn't require any prep work.
MamaSezz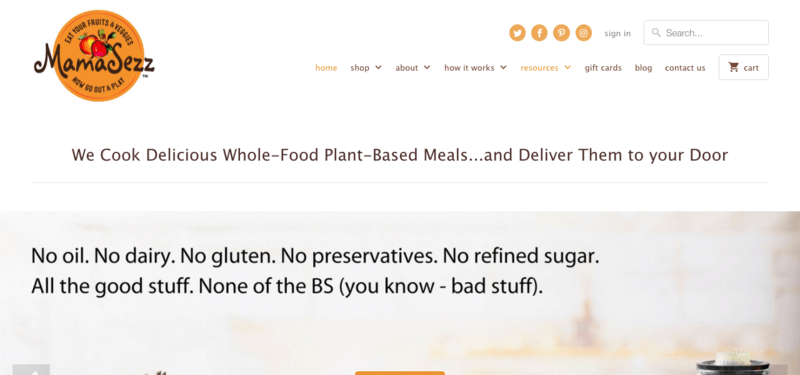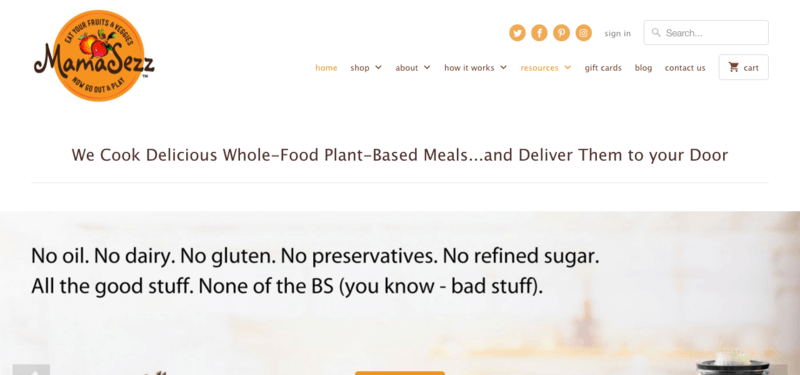 This is a vegan meal company, which is an unusual choice for seniors. But, the vegan aspect means that MamaSezz can avoid many potential allergens in their meals. The meals are also nutrient-dense, acting as a good source of fruits and vegetables. For seniors, this can be a powerful approach.
MamaSezz offers two options for ordering. The first is to buy meals individually off the site. There is no minimum order size. This is perfect if you only need a few meals from time-to-time – or if your requirements tend to vary. There is a decent selection of meals available, along with various types. This includes options for lunch and dinner, along with various sides, snacks, and sauces.
There are also meal bundles, which are tailored to specific needs. One of these is a Healthy Senior Bundle. This costs $89 and is designed to provide dinner to one person for ten days (dinner seems to include granola, for some reason). The bundle contains smaller portions than normal, which is perfect for many seniors. It also means you don't have to stress about the best choices.
There is also a Heart Healthy Bundle as well. This one costs $99 and can serve one person for 14 days (or two people for seven days). It's another good option for seniors and would meet most dietary needs. The bundles can be ordered individually or you can set up a subscription.
NutriFit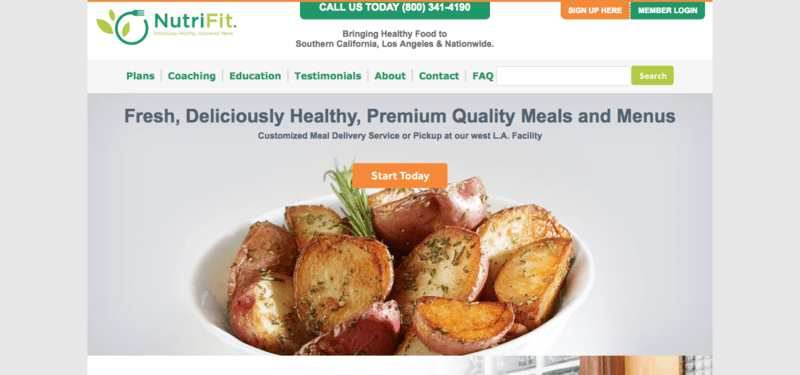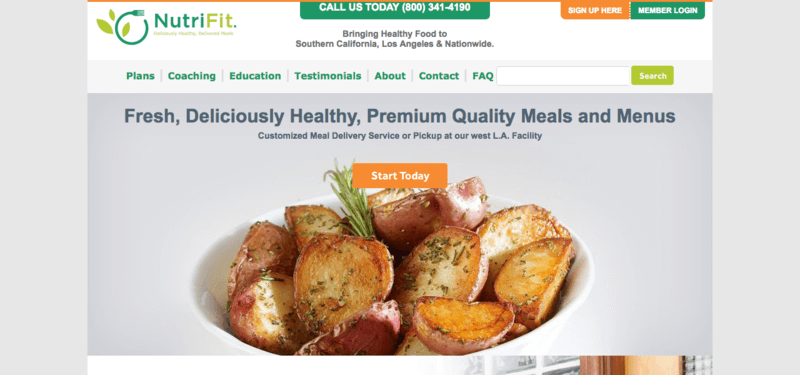 NutriFit doesn't specifically focus on seniors but it does offer considerable customization options. This is very relevant for seniors, as they often have multiple dietary restrictions and requirements.
The main aspect of NutriFit is their plans. They offer an Essentials and a Premium plan. The Essentials option allows for up to eight food dislikes and allergy exclusions (with some exceptions).
The Premium plan is entirely customizable, although very complex plans may involve an additional charge. The plan includes the ability to manage conditions like diabetes, renal, heart health, and cancer.
Members on the Premium plan can also see their meals ahead of time and make substitutions. The company recommends talking to a representative to figure out the best plan and to learn more about any additional costs.
This overall style does make the pricing difficult and a little confusing. NutriFit offers a standard pricing table for the two plans, although the actual price of an order could be very different.
If you order on a 28-day plan, then breakfast only costs $17.95 for both options. Lunch costs $17.95 under Essentials and $18.95 on Premium. Dinner costs $17.95 on Essentials and $28.95 on Premium, mostly because Premium gets an extra item with dinner.
There are other options too, including combinations of breakfast, lunch, and dinner. In general, the Premium plan is around $10 more expensive for options that include dinner, while the difference isn't as great for the ones that don't.
For seniors, the level of customization may be worth the price. But, it does also end up being a very expensive service. It's also not user-friendly in the slightest. The website is a pain to use and you'd probably need to talk to customer service to get all the information that you would need.
Send a Meal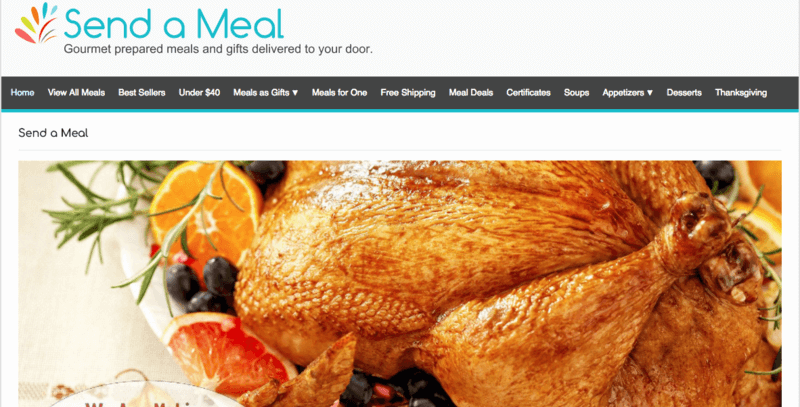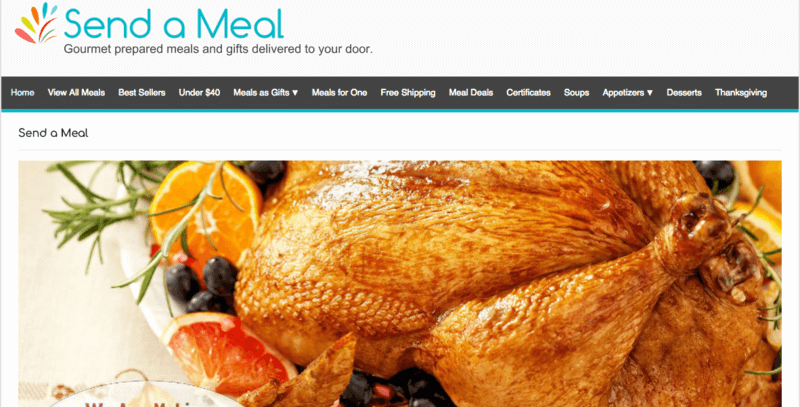 Send a Meal is basically a gift service. You don't order meals on a subscription or through menus. Instead, you choose one-off meals or bundles. These all contain frozen meals that are ready to reheat and eat.
The style works well for seniors simply because it lets you stock up a freezer. There is no need to worry about weekly deliveries. Instead, the meals can just sit in the freezer until you (or a family member) is ready to eat them. This is much less complicated and there no stress about trying to cancel a subscription.
There are also many different styles of meals. For example, some bundles cater for diabetic, while others offer gluten-freee or low sodium meals. There is even a Senior Meal Sampler on the list. Other options include Meals for One and Comfort Food menus.
Some meals can be purchased individually but most come in bundles. For example, the Senior Meal Sampler costs $149.95 and contains four different meals, each with two servings. One of the Meals for One menus (there are multiple) costs $142.95 and offers eight single meals.
The variety is nice but there are no customization options. You can't even swap out the meals in a bundle. The bundles are also the same each time. Plus, the meals are very expensive for options that are non-organic and frozen.