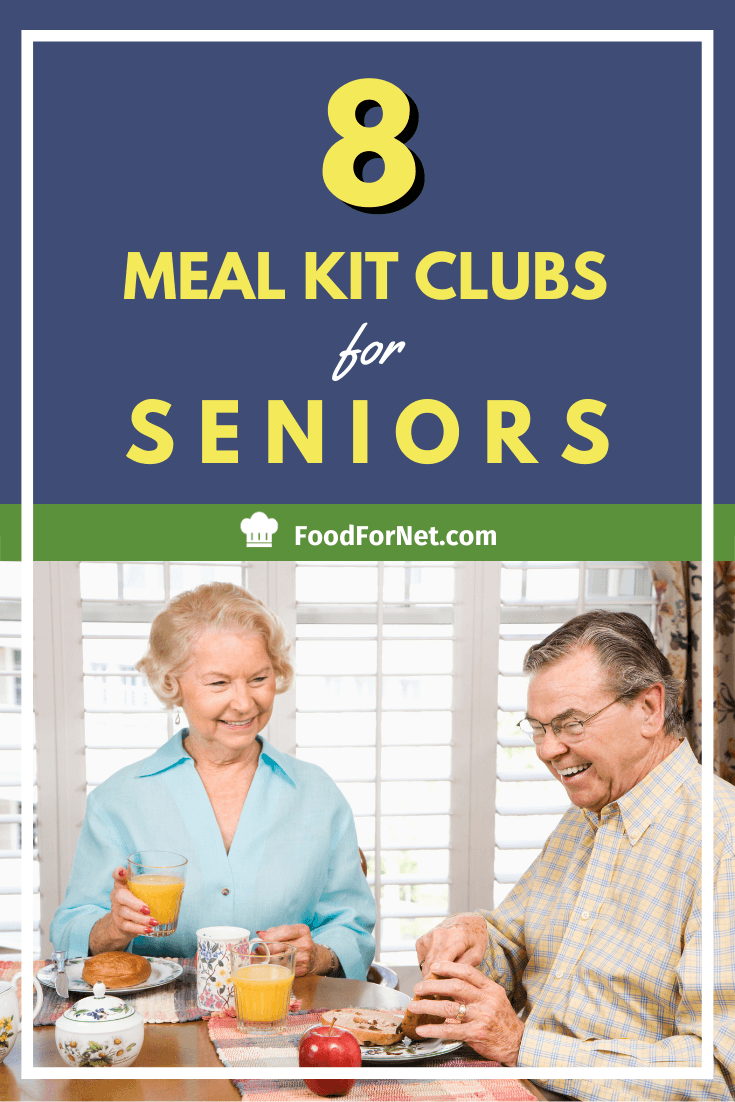 Keeping a healthy diet is crucial for everyone, and it becomes even more important as we progress in age. But, the process can also get more difficult. Many seniors still love cooking for themselves but find it difficult to regularly get out to grocery stores or to bring the food back home. Meal kits for seniors are one way around this.
The services actually work well for any age group. They provide a great way to still cook and eat good meals, while cutting down the time involved considerably. The services do much of the planning for you and many will even prep the ingredients. This makes the whole process simpler and much less stressful.
Meal kit deliveries provide this service, and it's a great option for seniors. Actually, any meal kit service could work, but I've chosen a few that I think would do especially well for this age group. My personal favorite on this list is Green Chef, because they have the most variety of diet-specific meals, like keto, gluten free, vegetarian, dairy free, and others. Of course I also tried them myself, for many weeks, and really enjoy their easy-to-prepare meals!
If you don't want to cook at all, you can also check out our post on fully-prepared meals for seniors, delivered frozen or chilled and ready to heat + eat. Those would be a great option for folks that are no longer able to cook for themselves, or even drive to the grocery store, but still want to eat healthy foods
Meal Kits For Seniors
Green Chef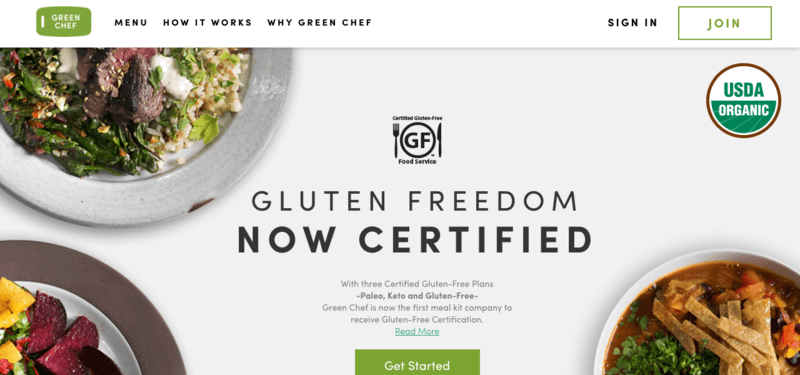 The meal kit service Green Chef offers organic, pre-measured ingredients and easy to master recipes. They were the first USDA certified natural food delivery service, with 95% of their meals incorporating organic ingredients. They send everything you need (except for condiments) including the food you need and instructions necessary to prepare delicious meals at home.
The recipes feature nutritious meals designed by a registered dietitian. All of the instructions are easy to follow as well, even for people without many skills in the kitchen. While Green Chef's meal plans are organic and healthy, they do not have specific meal program for seniors/elderly. However, they do support the Meals on Wheels Association of America through volunteering. They also donate funds to the organization as a way of giving back to the community.
The meal kit service offers six packages including the gluten-free, paleo, vegan, vegetarian, omnivore, and carnivore plans deliver to your doorstep. You can access their weekly menu online. Their meals will cost you on average $14.99 per meal for two people.
As their name suggests, Green Chef focuses on "going green " when it comes to their products. They do not use food with antibiotics or growth hormones and guarantee that you get quality ingredients. This is a service that I've reviewed in the past as well. You can check out that review for more details about what the service offers, along with which aspects stand out.
Green Chef doesn't have a specific senior meal kit, but they do offer lots of customization within their menus, which is why we've included it in our list. The meals are also a great way to try unusual and exciting meals. This can make life much more interesting for seniors, especially those who are retired.
Hello Fresh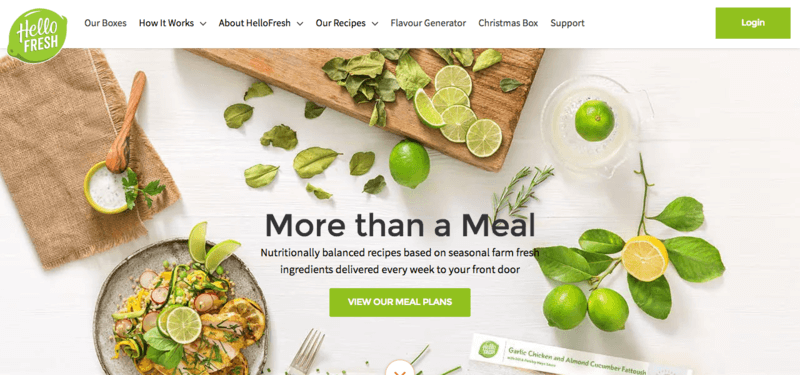 Hello Fresh launched in 2011, and now serves the entire U.S. and parts of Canada. It is a meal kit delivery service offering both omnivore and vegetarian options, with fresh ingredients direct from the farm.
They provide a Classic plan which includes eight different recipes comprising of meat, fish, and seasonal produce. They deliver to your door each week. HelloFresh re-organizes your meals into small boxes that can be easily stored in the refrigerator.
Their meal plans tell you how many calories you get with each meal, which is between 500 to 800. Their menu is less diverse than other companies that offer similar service. I've reviewed this service as well and found some interesting results. While it isn't my favorite meal kit service, the features would still work perfectly for many seniors.
They offer free shipping and an average price per serving is $9.57. One can sign up for HelloFresh emails and get 15% off their next meal. However, a majority of their ingredients are not organic.
Their recipes come with recipe cards that guide you on the meal reparation process, cooking time, and the required tools. Compared to other meal company services, HelloFresh offers smaller and less diverse options when it comes to their list of recipes. That's not entirely bad though. Many people prefer foods they're familiar with. Too many new options can seem daunting and some of us just want meals we know that we will enjoy.
Hello Fresh doesn't have a specific senior meal plan, but their meals tend to be easier to cook, using simple ingredients, and it's one of the cheaper meal kits out there. All of these aspects make it a great option for many seniors.
heir loyal customers. Once you buy a meal or refer a friend, you get points redeemable for food or other prizes. Unlike other meal services, they do not offer subscriptions. Their model allows you to order whatever meal you want.
Gobble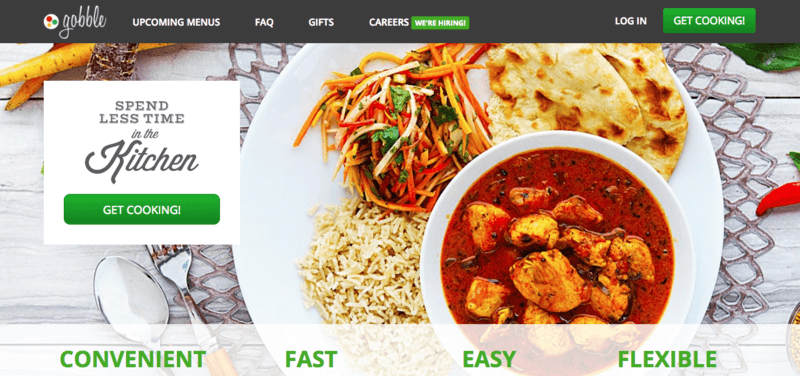 Gobble isn't senior-specific at all. But, the company has one key advantage – speed. Their meals are designed to be prepared in a single pan, in no more than 15 minutes. As a result, little skill is required and the meals aren't stressful at all.
When I reviewed Gobble (you can check out my full review here), I found this aspect a bit annoying. It felt too much like cheating and the meals were a little simple for me. But, the style could work perfectly for a senior, especially anyone that struggles to stand for long periods at a time.
The company offers two meal plans to choose from – a two-person and a four-person plan. Each provides three full dinners per week, which adds up to six and 12 servings, respectively. Members can choose the meals that they receive each week based on a revolving menu. The average price works out to around $11.95 to $13.95 per serving. The specific amount varies depending on what you choose.
This means that the minimum order size is three meals for two people. That could still work well for seniors, even if they're living on their own. Each meal could simply feed them for one night, and then they just rely on leftovers for the next day.
You can also add on some extra items, such as desserts and snacks. There are plenty of great meals and add-ons to choose from, including soups that can just be reheated. But, it's important to get in fast, as some tend to sell out early in the week.
Munchery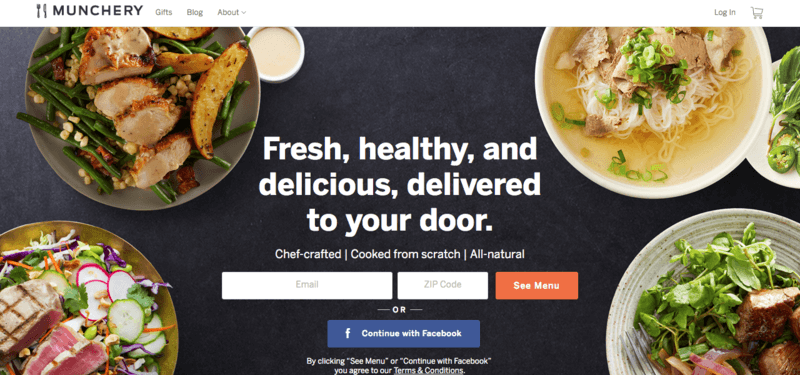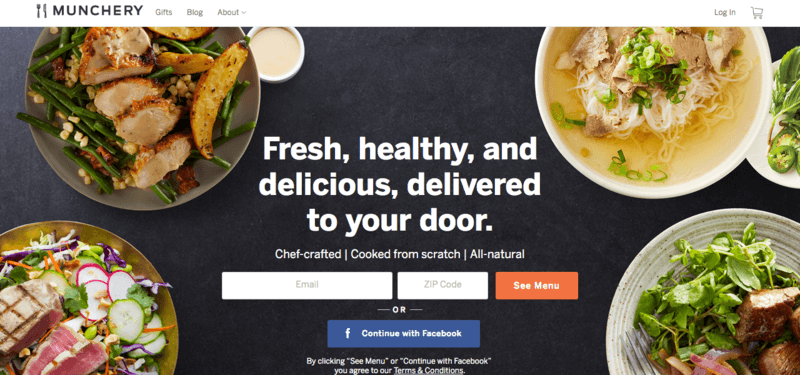 Another service in the same vein is Munchery. Like Gobble, Munchery provides meals that you can cook quickly and they're ready in under 15 minutes. Munchery also relies on organic ingredients, which may make the meals healthier on average.
In both cases, much of the time is saved in sauce preparation. Munchery simply gives you packages of pre-prepared sauces, including gravy and curry sauce. When I reviewed the service myself, I found that the meals tasted good and were filling, although some of the sauces were a bit creamy and heavy for me.
Again, this style may be perfect for seniors. It certainly saves time and means that significant expertise simply isn't needed. Munchery does also provide ready-to-eat meals, as well as meal kits. You could turn to these if the meal kits weren't providing the convenience that you need.
There aren't many options for ordering from Munchery. The main choice is simply three kits in one go. This costs $69.95 per delivery, with free shipping. You get to choose which kits you get and each one provides two servings. The average price works out to $11.66 per serving, which is reasonable enough.
Munchery is best for people who don't have specific needs. There are no larger meals and you cannot order additional products. Likewise, you can't choose gluten-free, vegetarian, or anything else. The only thing you can do is pick your meals. This gives you some control but the selection is often very limited.
Blue Apron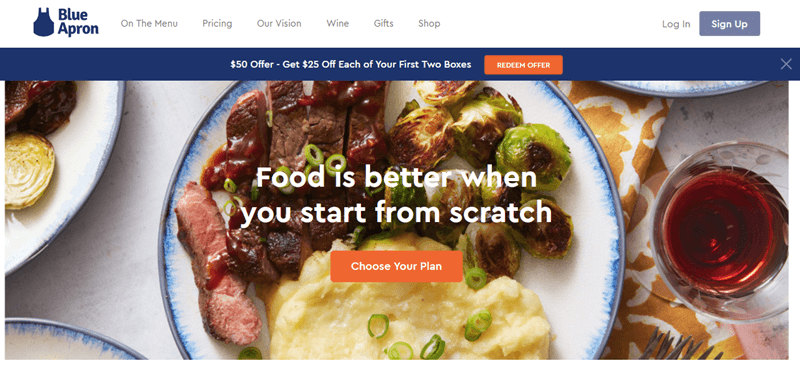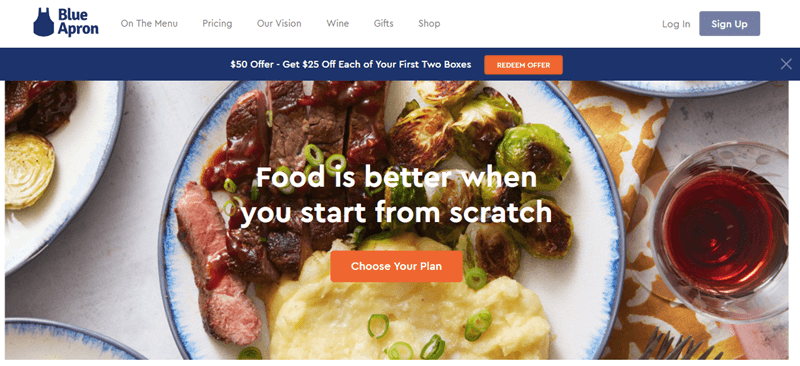 Blue Apron isn't specifically designed for seniors. In fact, the meal kit service has fewer dietary options than most other companies. The main choice you can make is simply whether you want vegetarian meals. As such, Blue Apron doesn't work for anyone who has specific dietary needs or multiple allergens. But, it is a viable option for people with few restrictions.
Of all the general meal kit services, why include Blue Apron on this list? It isn't the most creative company out there and their meals are sometimes hit or miss (you can read more about that in my full review). But, Blue Apron is reliable. It is the company that first started this whole trend and it has become a household name.
I've also signed up multiple times myself. I've never stayed a member for long and I do prefer other services. But, I do keep coming back to them, so there is something appealing about their meals. If nothing else, Blue Apron is a good first step into the meal kit field. You might go with something else eventually but many people do start with Blue Apron.
This aspect may be particularly relevant to seniors, especially for people who don't like trying new ideas. The recipe cards are also very visual and are easy to follow.
The pricing is reasonable too, starting at around $9.99 per serving for a two-person plan. This is on the cheaper end of the scale. In fact, most of the other companies in this list charge more per serving than this.
Home Chef


One of the most interesting things about Home Chef is the balance between effort and flavor (I noticed that when trying out the service myself). Some companies in this field rely on complicated meals that often end up tasting amazing.
Others have very simple dishes that can be pretty bland. Home Chef lands somewhere in the middle of the two. The meals are fast to prepare and they still involve some interesting flavors.
This balance would be perfect for many seniors. It's certainly a nice change from bland and boring meals. There is also a decent variety of recipes to choose from.
There is also the ability to specific taste preferences and allergies. This seems to mean that Home Chef will avoid meals that contain specific ingredients. For example, if you want to avoid nuts, they will choose meals without nuts (rather than making a substitution in the recipe). But, Home Chef doesn't provide many details, so it isn't clear precisely how the feature works.
Even with that limitation, Home Chef can still be a good choice. It is relatively inexpensive too, costing an average of $9.99 per serving. You can choose anywhere from two to six meals each week, along with two to six servings per meal. But, there is a minimum order size of $45 per week.
Bonus: Chefs For Seniors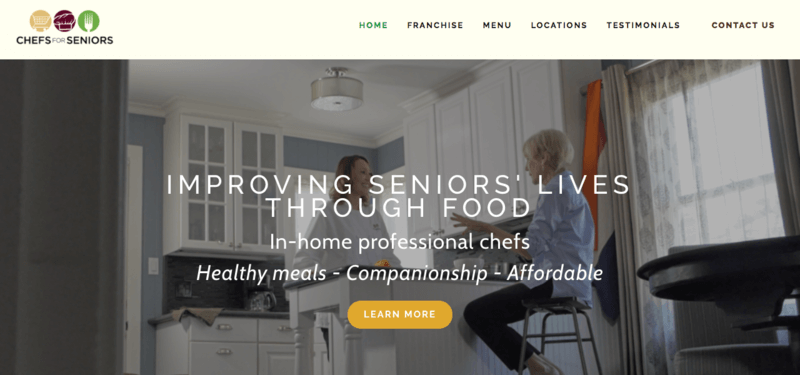 Barrett Allman, a restaurant owner and an executive chef for over 25 years, came up with Chefs For Seniors in 2013. Chef For Seniors' aims at using expert chef skill set to make an impact in the community, and especially on seniors. They help the old people who can no longer cook but need healthy foods. Their principal focus is to help seniors age gracefully.
This is not a "meal kit", but still a very cool service to help seniors get healthy meals in their home.
They have been able to prepare over 70,000 meals for more than 350 seniors in three states. They use fresh ingredients in meal preparation. Their meals are favorable to seniors since they are gluten-free, low sodium, and diabetic friendly.
They deliver the ingredients to your home and prepare the food in your kitchen. They provide you with 10-12 servings of custom and affordable meals on each visit. They charge a fixed fee for menu planning, grocery shopping, and it takes them roughly two hours to prepare the meals.
This service is not a traditional "meal kit" service like Blue Apron, or my favorite one, Plated, but it is a freshly prepared meal service, so I've included it here on this list.
Depending on the ingredients requirement, grocery shopping costs within the range of $25-$50 and most entrees includes sides. Their weekly menu options include Lemon chicken, Lemon Garlic Salmon, Swordfish with roasted peppers, Bleu Cheese Salisbury Steak, BBQ Turkey Meatballs, minestrone, Spinach Gruyere Quiche, Mexican Rice bowls, Apricot Glazed Pork Loin, and much more.
You can enjoy their services from as low as $9 per serving. Before placing an order, they request you to add any customization requests to ensure they deliver what you ordered.
Their chefs are friendly, and they care about you. They are fully licensed and insured. The service is also powerful for companionship, especially when seniors live alone. Often seniors will talk to the chef while the food is being prepared, giving a valuable chance for conversation and even friendship.