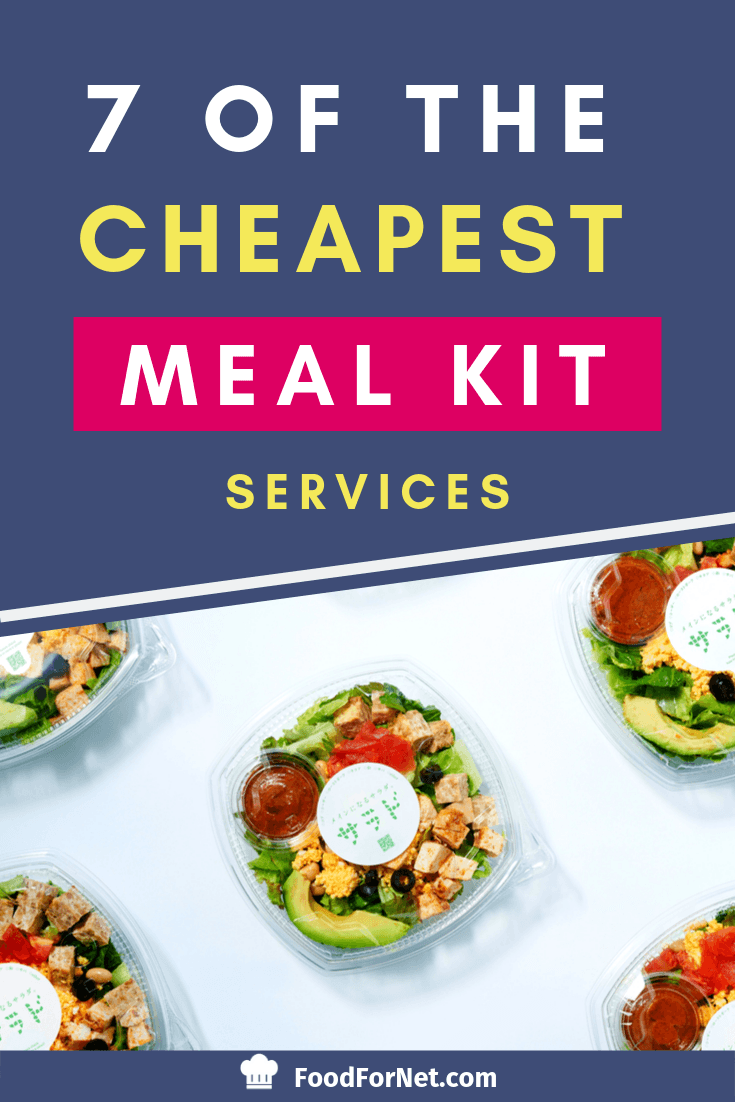 Meal kits are a fantastic way to save time with planning and meal prep. They also provide you with a variety of meals, ones that are healthy and packed full of veggies. Even so, meal kits can seem underwhelmingly simple because they can be expensive. You'll normally be paying way more for your meals than you would if you picked up the same ingredients locally.
Of course, that doesn't factor in the cost of gas, time spent at the grocery store, unloading groceries, and food waste. Still, some meal kits cost as much as $30+ per "meal" (two servings), which is almost as much as you'd pay at a restaurant. That's why I wanted to organize this list of the cheapest meal kits out there.
Most of them will still not compare with how cheap you can eat by sourcing local, in-season, or bulk ingredients from the store (especially if you focus on cheap recipes). Still, using an inexpensive meal kit a few times a week can help you save time, gas money, and personal energy.
Of the list below, my clear favorite is Blue Apron. However, it's not the cheapest, and once you start adding on all the extras they offer, it probably shouldn't belong on this list! (their wine club is amazing).
The cheapest of the cheap is Dinnerly, at just $4.49 per serving. Very close however, is a new kit called EveryPlate, will be $4.99 per serving.
Make sure you keep an eye out for specials too. Many companies provide deep discounts for your first order, to try and entice you in. Those discounts are often recurring, with "We want you back" style promotions.
Those discounts can be a great way to try out different meal kit services and get a sense of which ones you enjoy the most. After all, everyone has their own flavor preferences and the ideal meal kit will vary based on the individual. My advice is to sign up for a bunch of them, even if they are expensive, then wait for those discount promotions to roll in.
Some companies offer between $20 and $80 off your order!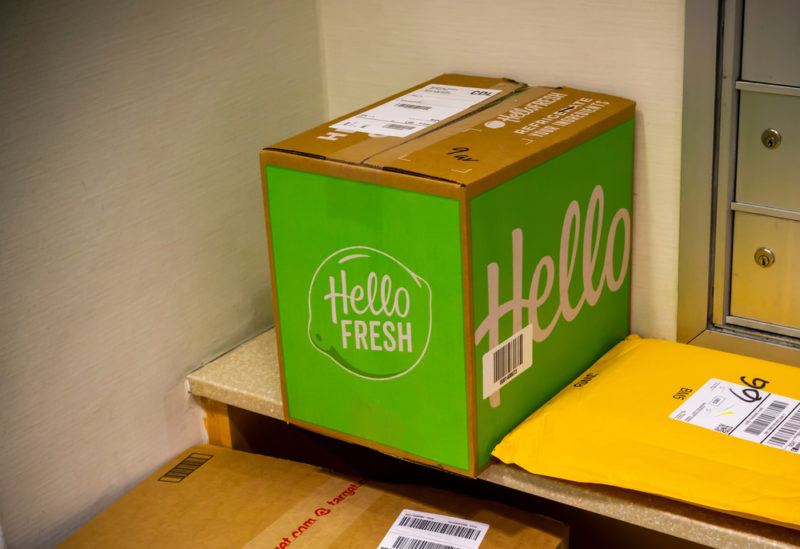 Cheapest Meal Kits
Home Chef


Home Chef is an especially good choice for anyone who loves variety. The company provides a weekly rotating menu that offers around 15 different meals for you to choose from. There are also some interesting add-ons each week, like a smoothie and a fruit basket.
Most of the available meals are perfect for dinner. There are also some 5-minute lunches included for $7.99 a serving, which could be ideal for many situations. The range of meals alone makes Home Chef appealing. Most services have a very limited menu to choose from. That can make it difficult to find foods that you like.
The menu is also useful for people with allergies. Home Chef doesn't specifically offer allergen-friendly meals. However, the company does use tags to show the allergens present in each meal. This makes it easy to only choose meals that you can eat. You're also able to select your meals for up to 5 weeks at a time – making planning a breeze.
Then there's the price. Most of the meals from Home Chef cost $9.95 per serving. This is much cheaper than many other services. It's also a simple pricing structure. You don't need to choose your meals carefully to make sure that they aren't too expensive. Instead, your price will normally remain the same, regardless of the meals that you select. You can check out my experience with Home Chef to find out how the service stacks up.
Hello Fresh


Hello Fresh is one of the most ambitious meal kit companies. They offer services in a number of different countries, providing high-quality and amazing food each time. Their approach to selling dinners involves a meal plan model.
There are 3 different plans: the Veggie Plan, the Classic Plan and the Family Plan. Each of these operates off a separate weekly menu. People on the Classic Plan have the most choice, with around 15 different meals to select from each week. Meals for the Veggie Plan and Family Plan are more limited, with 3 to 6 meals each week.
Allergen information is provided for each of the weekly dishes. You can click through to find full details, including the ingredients list, preparation time, nutritional information and even the recipe. I've tried out the subscription myself. Take a look at my experiences to see what you can expect with the subscription.
With Hello Fresh, the price you pay is influenced by the plan you choose and how many people you're feeding. You might be paying anywhere from $6.99 to $9.99 per serving (plus $5.99 shipping). Even at $9.99, the meals are reasonably priced and better than many other services.
Blue Apron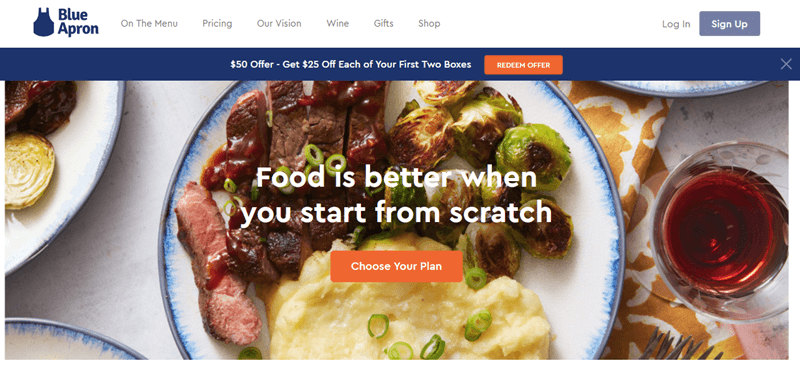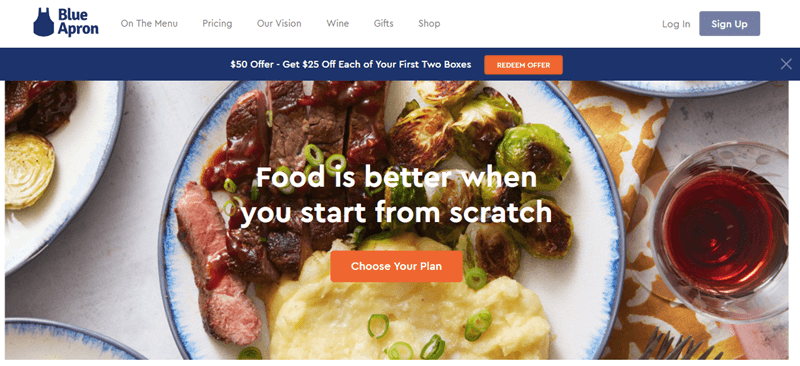 Blue Apron isn't the only meal kit service in the market anymore, but it was the first one. The service is clearly doing something right, as they've been able to retain a market share, despite all of the newcomers selling meal kits. I've used Blue Apron multiple times myself and haven't been disappointed. It isn't my favorite meal kit service, but I have re-subscribed multiple times, which says something about what they have to offer.
Don't expect an extensive range of meals from Blue Apron or any allergen considerations. The company has started to develop some more interesting meals recently, but you're typically just choosing between 8 2-person recipes or 5 4-person recipes. That's not a lot of variety.
The price depends on the plan and number of servings. You're normally paying between $7.49 and $9.99 per serving. You might need to pay for shipping too, like the $7.99 shipping fee for the 2-person plan with 2 recipes per week. Still, many of the plans do have free shipping.
Martha & Marley Spoon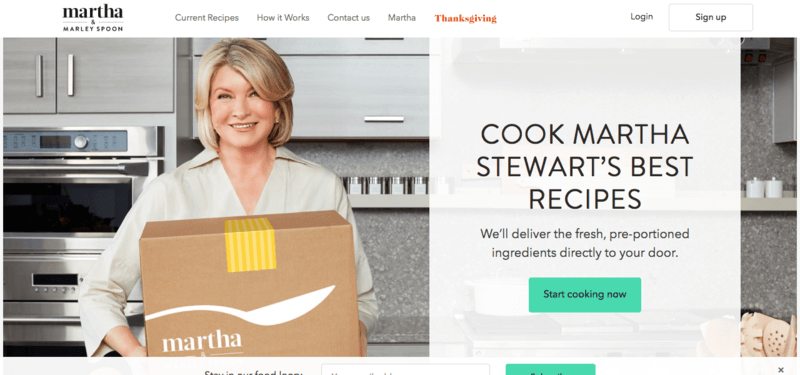 One of the nice things about Martha & Marley Spoon is the flexibility. You're not forced to receive 4 meals per week if you don't want to. You can choose between 2, 3 and 4 meals each week, either for 2 people or for 3-4 people. The prices start at $12 per serving, but that's only for 2 people with 2 meals per week.
As long as you're choosing more food than that, the price per serving is very reasonable. For example, the 2-person plan with 4 meals per week costs $9.50 per serving. On the 3-4 person version, you're paying $9.50 per serving if you want 2 meals per week or $8.20 per serving for 4 meals each week.
I've tried this company myself and I was generally pleased with the food and the pricing. It is a fantastic service for many situations, giving you the chance to try a variety of meals.
Still, it's not all fantastic. The ordering process is a little frustrating. You don't get to look at the meals before you order. The company chooses for you and then gives you the option to swap items out as you need to. The style does still give you plenty of control, but it isn't the most appealing design. Some people (myself included) are likely to find it pretty frustrating.
Platejoy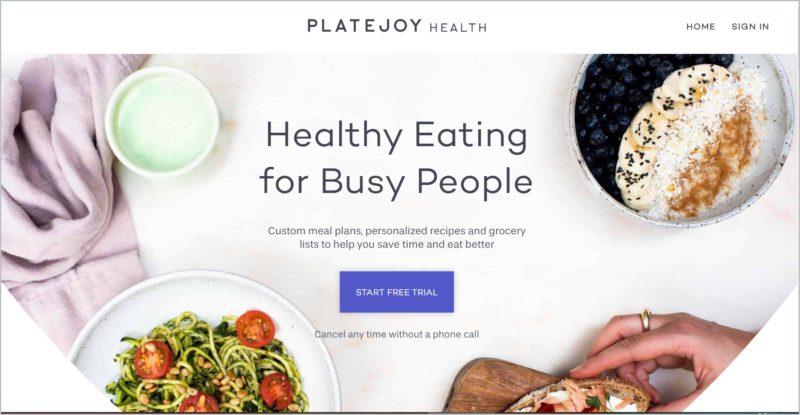 Platejoy isn't really a meal kit service at all, but it is an inexpensive service that is seriously worth considering. The difference is that Platejoy focuses on meal plans, rather than providing you all of the ingredients ready to go in a box.
There are 2 main advantages of this style. First, there is considerable flexibility. You get custom recipes that focus on your needs. You can even include your own personal recipes. Dietary preferences can be changed whenever you want to. There is even syncing to Fitbit and nutritional details for each recipe.
The other advantage is the price. The planning service costs around $8 to $9 per month. That's a low price to receive customized meal plans. You can also sign up for Instacart for $6 to $8 per month, which is a way to get your groceries delivered to you. You can also just shop for the ingredients yourself. Platejoy will give you a list of everything you need.
Regardless of your approach, you will still need to pay for the ingredients. The price per meal will vary depending on the recipes in question. Still, the style is a viable way to get many of the benefits of a meal kit, without paying too much.
Dinnerly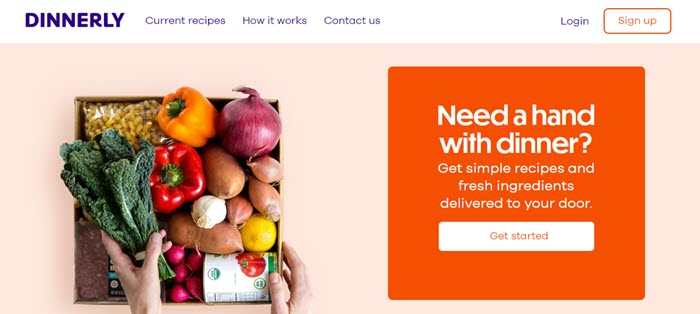 Dinnerly (discount link) was specifically developed as a cheap meal kit service. Their site boasts a price of $4.99 per person. That claim is slightly misleading, as there is an $8.99 shipping fee per order. Even then, you're still paying less for Dinnerly than any other service (except for discounts and sales).
There are limitations, of course. The meals from Dinnerly just use 6 ingredients and there are no options for people on specific diets or those with ingredients that they need to avoid. The meals are also pretty simple. You're looking at options like Shephard's Pie, Broccoli Cheddar Soup or Mediterranean Chicken Penne. You could find similar recipes in most cookbooks.
Simple or not, the meals do taste good. You're not getting cheap and nasty meals. The service provides you with delicious and simple meals, for a much lower price than other companies.
The other aspect to mention is the plans. There are 2 of these to choose from. The first is the Two-Person Box. It contains 3 recipes per week, with 2 servings for each. You're paying a total of $38.93 for this one. The other plan is the Family Box. This one has 4 servings for each recipe, with 3 recipes per week. It costs $68.87. You are able to choose which recipes are present, but you will always end up with 6 portions/week for the Two-Person Box and 12 portions/week for the Family Box.
Every Plate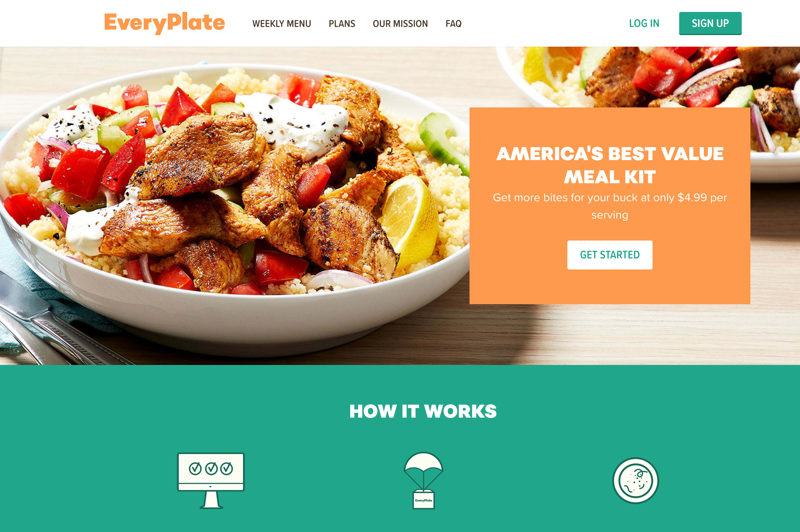 Every Plate is a newcomer to the list of cheap meal kits – I just saw them on Instagram. Actually, despite being the second cheapest on this list, they are one of the better ones.
I'm eating a couple weeks worth of food from Every Plate as I type this (not in the same day, obviously LOL).
The meals are interesting enough to not fall into the "boring" category most of the time. I did have some boring stuff like chicken and mashed potatoes, but I also got some super interesting food like chili-cherry pork chops and roasted veggies, or steak with chimichurri sauce (my favorite!).
The best part is that the simple meals are easy to cook, so I can glance at the card once or twice and basically understand what the recipe calls for..