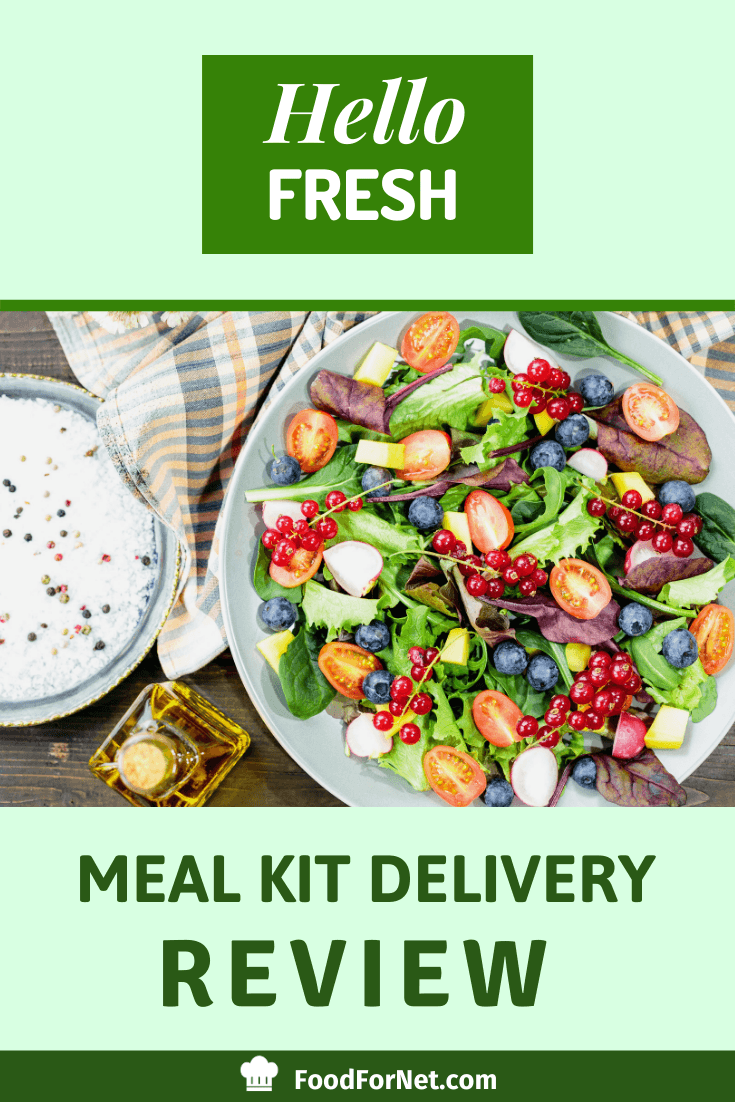 Hello Fresh Review
Deliciousness - 78%
Pricing - 93%
Easy To Prepare - 99%
Variety - 84%
Food Allergen Options - 89%
Hello Fresh is one of the more inexpensive options for meal kit delivery services, which will certainly appeal to some! However, the recipes that were offered were quite bland in my opinion. As an average home cook, they seemed like things I could make up off the top of my head for about 1/3 the cost. To me, it's not worth pay $10 per serving for boring food. If you are not an adventurous eater and don't have time for shopping, this could be a great option for you. However, for most others, I think there are better options out there.
Food Allergen Options? Yes

dairy free, gluten free, vegetarian, nut free, egg free

Cost Per Meal: $20-$28
Wine Option? Yes
Hello Fresh is one of the most popular meal kit delivery services out there, so I definitely had to sign up so I could do a review! With so many different meal kits clubs, how do you know which ones are best? Which one gives the most value, or has the most choice? That's the inspiration behind my meal kit reviews.
So, for this review of the Hello Fresh meal kit delivery service, I'm going to cover:
the ordering process
shipping and delivery
cooking experience & taste
overall impression & comparison
Is Hello Fresh the best? Let's dig into my personal experience and see if you should sign up, or if there's a better option out there. You can also sign up to see what discount they are currently offering for new members.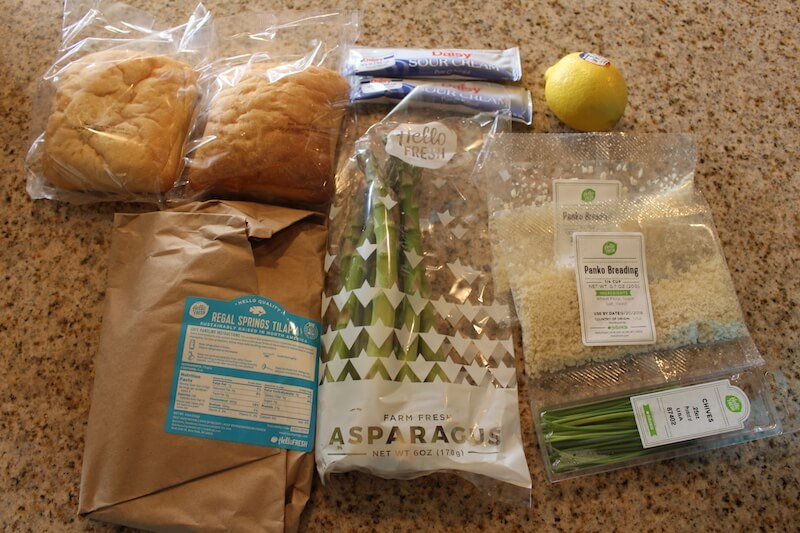 Ordering Hello Fresh
I was actually a member of Hello Fresh about a year and a half ago, but signed up again from a promotion they ran. "Reactivate your account and receive a $30 discount". Perfect timing. I'll just do a review of Hello Fresh for the blog.
So in total, I only paid $29.94 for my 3-meal box, which works out to $10 per meal, or $5 per serving. Cheap! Normally you'll pay $9.99 per serving, so $20 per box. If you get the two-person meal plan, regardless of if it's vegetarian or 4 meals per week, it's still $9.99 per serving. Discounts are available for the family plan. Shipping is free for orders over $50, which includes the standard 3-meal per week plan.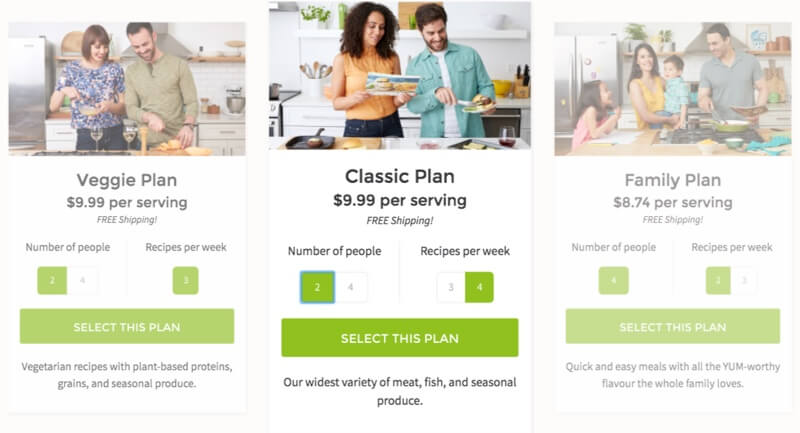 Much like Sunbasket, you can pick your meals from a few different options. They set up a default shipping, but you can switch it out before they send. Also like Sunbasket, they are labeled for which allergens they do not contain, including dairy, nuts, eggs, and gluten. However, if you are looking for a full meal plan with any of these options, you're out of luck. You'll have to hand-pick your options each time, and will be limited in choice since there's only 8 total meals to choose from.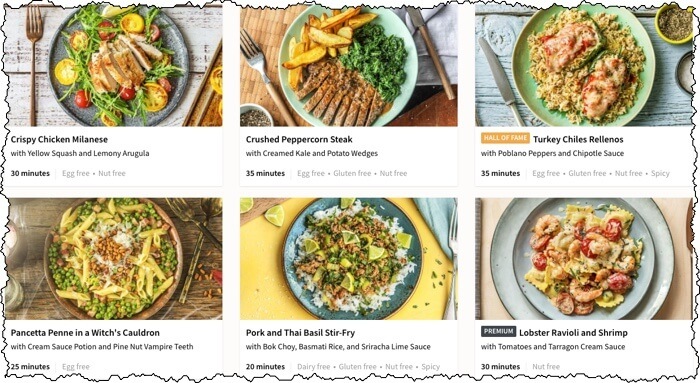 Unfortunately, though there's a vegetarian option here, when I checked last, there were only 3 meals available. Here's a list of other meal kit services we're currently comparing with these special food requirements:
Shipping And Packaging from Hello Fresh
The box arrived in about a week, and all food was still cold by the time I got home from the gym. It sat for a few hours in the California sun, so those ice packs really do work! I do like that the Hello Fresh meals are divided into individual bags. This makes organizing the fridge easier and just grabbing what you need when meal time comes around.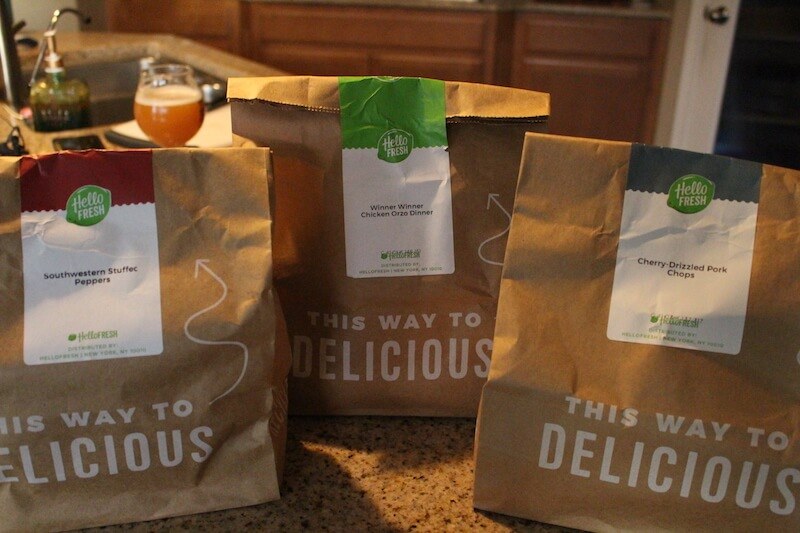 Cooking With Hello Fresh
I found the Hello Fresh meals to be a little bland. I did really like the cherry drizzled pork chops (details below), but the rest were pretty standard American food that I could really cook on my own. I don't have a super sensitive tasting ability, so I can't really tell "fresh veggies" from regular-old grocery store veggies. Perhaps I'm missing something. Chicken and pasta…ground beef and bell peppers…Tilapia…
For me, part of the appeal of joining these meal kit delivery clubs is to explore creative dishes, learn new cooking techniques, and cook outside of the box. I get bored making barbecue chicken with seared veggies!
One extra thing to complain about is that their recipe cards need some work. Several times while cooking their meals I found that some parts of the recipes were unclear. As a somewhat experienced person in the kitchen, I just winged it and it was fine, but I could see how a newbie could be confused in some areas.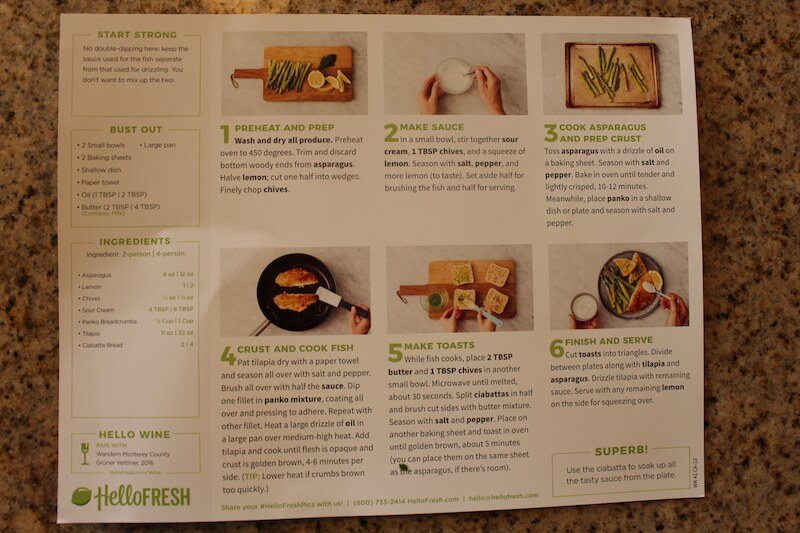 Meal #1: Cherry-Drizzled Pork Chops with Couscous Salad
Despite my disappointment in the four meals I tried from Hello Fresh (plus the three I tried from a previous subscription), the cherry drizzled pork chops really wowed me! I love cooking fruit with meat. Something about the sweet and savory sauce really tastes amazing. Plus, I'm just a general fan of pork, so I was impressed.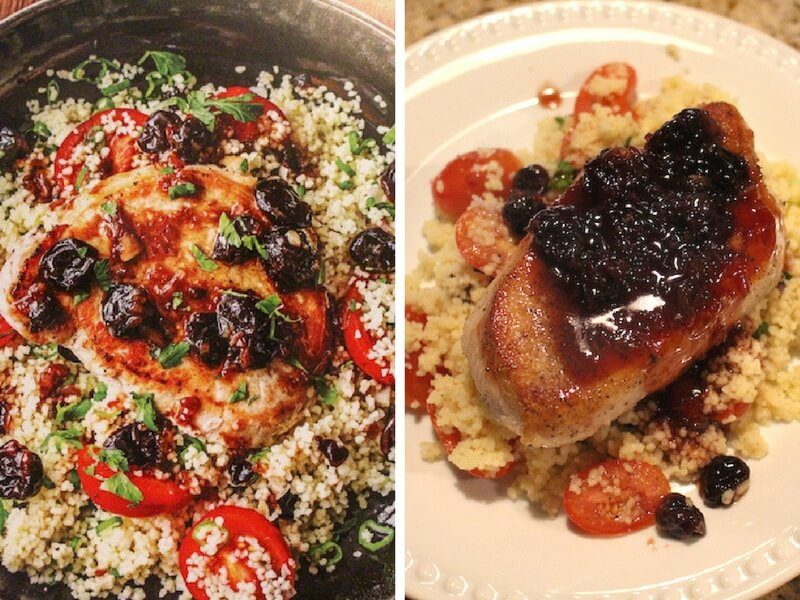 It's getting to be winter here, so taking photos with natural lighting is getting harder, hence the kitchen glow on my version of the dish. Even though the photos isn't great, this dish was.
Meal #2: Southwestern Stuffed Peppers with Beef, Quinoa, and Monterey Jack Cheese
There's not much to say here. The dish ended up very bland, without much of the spiciness of Southwestern Tex Mex I expected. I've never really liked stuffed foods because they just fall apart. What's the point of stuffing it other than to look cool? Meh
Meal #3: Winner Winner Chicken Orzo Dinner with Cheesy Roasted Zucchini and Tomatoes
This one tasted good, but just wasn't anything special. Chicken and pasta with a side of veggies is just kinda boring.
Meal #4: Crispy Breaded Tilapia with Asparagus, Lemon Chive Sauce, and Ciabatta Toasts
Again, this is just a meat and a veggie, without much to report.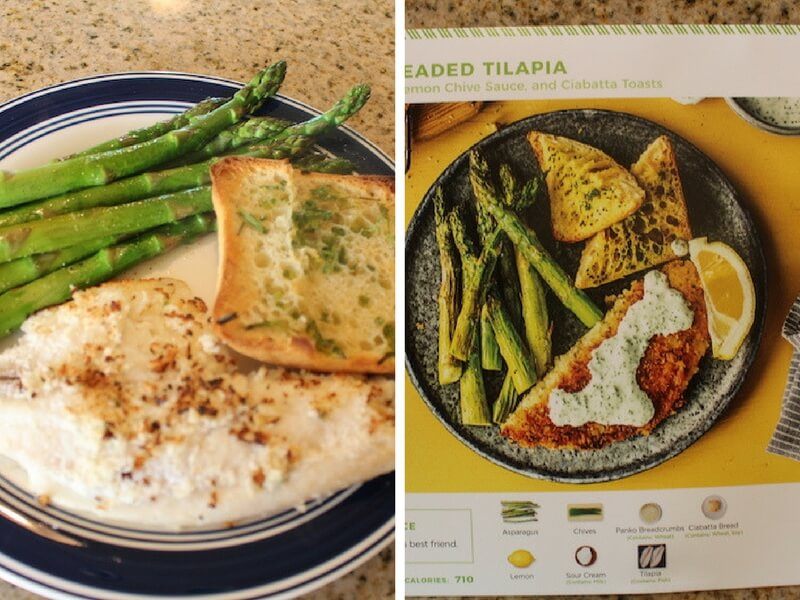 Canceling Hello Fresh
This was perhaps the most frustrating part of the experience with Hello Fresh. Although it was easy to cancel my shipment online, somehow, a mistake was made and I was sent a second shipment of the same week. The second box came just a few days after the first box arrived.
It turns out, that when I re-joined Hello Fresh as part of a promotion (I was previously a member for a week), it created a second account. So not only did I activate the new account, but I also activated my old account too!
When I called to get a refund for the accidental box, I was transferred to a supervisor…but was on hold for over 45 minutes. Yup. Almost one hour on the phone waiting to speak to a supervisor! The story goes that there was only one person available and they were busier than usual.
Eventually, I was able to get the refund, and they didn't hassle me about it. So I guess I got a free box of food. However, with the multitude of options of other companies to choose from, this was just another strike against Hello Fresh.
Comparing Hello Fresh To Other Meal Kit Delivery Services
In a nutshell, I wasn't that impressed with Hello Fresh. Sure, the food was pretty good and the meals were easy enough to cook, but it just didn't offer the variety I was looking for. I feel like if I'm paying a premium to have food delivered, it better be impressive. I can easily cook a meal for several people for $10, so having a $10 per serving dish should be unique, fun, and over-the-top delicious.
With Hello Fresh, it was very basic ingredients and simple stuff that I could whip up just keeping average ingredients around the house.
This food kit delivery service would be great for a novice cook, or for someone that likes un-adventurous food and simply doesn't have time to shop at the grocery store. Similarly simple kits would be something like Dinnerly or even Blue Apron.
Even though Hello Fresh wasn't my personal favorite, it actually ranks #1 for my wife out of all the meal kits we tried. That's good evidence that these meal kits are not about what's "best", it's about what's "best for your family". Hello Fresh also tends to be an eco friendly meal kit, which could be relevant in your decision.