Being healthy and fit is an important goal, one that many of us share. Smoothies can be one key component of a healthy diet and lifestyle, providing a wide range of nutrients in an easy-to-consume beverage. In fact, smoothies are one of the easiest ways to get a large number of vitamins and minerals at one time, and these 10 healthy smoothie delivery services can get them delivered to your door with zero effort.
Smoothies are often used for weight loss too. To reach that goal, you'd want to drink a smoothie instead of a meal. The smoothie should also include some protein to keep you full.
Some smoothies will have protein already, if it contains nuts, cream, or avocados. In other cases, you might need to add a scoop of protein powder. Smoothies also work well for kids. It's normally pretty easy to get a child to drink a smoothie, as the beverage feels like a treat. The process is much easier than getting them to get their veggies.
A "healthy smoothie" is one that contains fresh fruits or vegetables or any other healthy and natural product like raw nuts or seeds without excess sugar, calories or artificial ingredients. Of course, you could make a delicious smoothie out of chocolate syrup, ice cream, cashews, and heavy cream, but that wouldn't bee too health, right?
I know… smoothies don't sound like the type of thing that you can order online and have delivered to your door. Still, some companies have figured out ways to do just that – and this list of healthy smoothie delivery services highlights the current options. Some of these companies focus just on smoothies, while others include smoothies as just one of their many options.
Note: If a link is not included to the company website, it means they're no longer in business.

Healthy Smoothie Delivery Services
Daily Harvest


Daily Harvest is a smoothie delivery company that focuses on superfood-based products, including smoothies, soups, coffee, and harvest bowls. Smoothies come in pre-portioned cups.
You simply need to add a liquid of your choice and blend it together. They have some fantastic smoothie options, including ingredient combinations that you might not have ever thought about. Some examples include:
Cold Brew + Almond Energizer Smoothie. This smoothie includes organic cold brew coffee, banana, vanilla bean, coconut oil, cacao, and green coffee beans.
Banana + Green Elixir Smoothie. A blend of wheatgrass, kale, cucumber, and banana.
Cacao + Avocado Power Smoothie. This one includes zucchini, avocado, pea protein, cacao, and raw pumpkin seed. The notes say that it tastes like chocolate pudding.
Dragon Fruit + Lychee. This is a good option if you want an unusual flavor combination. The ingredients include strawberry, red beets, flax seeds, lychee, and dragon fruit.
The company has a wide range of choices. It's particularly powerful for customers who want interesting smoothies and anyone passionate about superfoods.
You can also try out some of their other products, which look just as appealing. The service gets consistently good reviews and many customers are passionate about the smoothies. Daily Harvest also makes deliveries quickly, so you won't be waiting too long.
Green Blender Smooth Delivery Services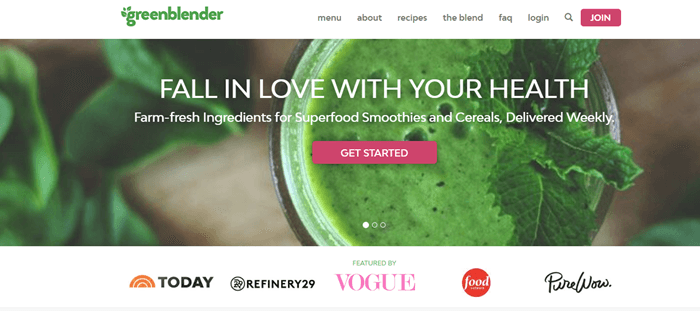 Green Blender is another company that heavily focuses on smoothie deliveries. In fact, they just have two types of products – their superfood smoothies and superfood cereals. All of the recipes contain between 5 and 11 different ingredients, enough to create two servings of 12 oz each.
There is also a strong emphasis on unusual superfoods, such as camu camu, hempseed, reishi mushrooms, and rosehips. The smoothies cost $4.99 per serving and come in a kit that you can simply place in your fridge.
Unlike Daily Harvest, all of the smoothie ingredients are fresh, not frozen. You would need to add any frozen ingredients yourself.
That's not hard to do, as most of the recipes simply call for ice to create the smoothie texture. The recipes change week-to-week, so you always get something new. Unfortunately, this means that you don't get to choose the recipes. Some examples are below.
Carrot Apple Recharge, which includes ginger, cashews, baby spinach, carrots, and dates
Creamy Coconut Cooler, which is a mixture of flaxseed, mini cucumbers, coconut water, banana, and orange
Chocolate Strawberry Proteins, which contain pea protein, bananas, cacao powder, and strawberries.
Most people agree that this is a superb company and nutritionists concur that their products are healthy and appealing. Their ingredients are fresh and organic, and they also source them from the local markets.
Smartfruit

Smartfruit is a company that is based in the U.S. and they also focus on superfoods. But, they take a different angle than the previous examples. The products from Smartfruit are 48 fl. oz bottles of fruit blend, which contain fruit juice along with a small number of added ingredients.
The products can be consumed as juice or they can be blended with ice to make a smoothie. The company estimates that each bottle will provide 30 cups of juice or 12 smoothies. Of course, you might go with a combination of the two. They currently have 10 different juices, with an 11th on the way. The selection includes:
Summer Strawberry + Antioxidants. As the name suggests, it is made up of strawberry. Every bottle of summer strawberry contains as many as 50 strawberries and is boosted by natural antioxidants which are derived from maqui berries, goji, acerola, and acai.
Perfect Peach + Energy is made of ripe peaches which are harvested at their peak and then blended with vitamin B and ashwagandha.
Sunny Banana + Oat Fiber is prepared using cream rich bananas which are not genetically modified. It is then blended with oat fiber for easy digestion and a splendid heart condition.
The company has many other products that you will find interesting to try out, and they are fresh and healthy as well. In fact, they have something for just about everyone.
The fact that the drinks are bottled and sealed also makes them more versatile than many other brands. Comments from customers suggest that the ice-cold blends are delicious and exceptional.
Goodie

Goodie offers weekly smoothie boxes that contain multiple nutritionist-designed smoothie recipes, along with the ingredients needed to make them at home. The boxes include 100% organic produce, along with other items like superfoods, nut butters, and almond milk.
The recipes are provided via recipe cards, which you could keep for future reference. There are also details about some of the main ingredients and the benefits that they offer.
Members don't get to choose their own smoothies each week. Instead, they select an overall theme for the box. The smoothies change from week-to-week based on the theme. The smoothies cost $4.89 each and boxes always contain 5 different recipes with enough ingredients for 10 smoothie servings. Themes include:
Muscle Builder Box (Post Workout)
Energy Box (Natural Energy)
Leaner and Cleaner Box (Cleanse & Detox)
All the ingredients are fresh, not frozen. So, you may need to add ice to get your ideal smoothie texture.
Root Blends

Customers of Root Blends receive pre-packaged ingredients that are ready to blend and consume. The ingredients are already in the right portions, so there is no fuss or hassle. Simply add the whole thing to the blender, throw in a liquid base and blend it up. Each bag makes around 22 oz. of smoothie, giving you enough to share (if you want to).
Smoothies can be ordered individually for $7.99 or in boxes of 6 or 12. Some of their smoothies are listed below.
S2 Summer + Skin – Contains pineapple, cucumber, ginger, turmeric, raw coconut meat, collagen, and cinnamon.
G4 Mint Protein – Contains sunflower seeds, vanilla, vegan protein, spinach, banana, mint, cashew butter, and cocoa nibs.
A2 – Protein – Contains kale, mango, chia seeds, banana, plant protein, vanilla, and spinach.
Root Blends is particularly good for weight loss, as many of their smoothies are high in protein. For example, G4 Mint Protein contains 23 grams of protein, while S2 Summer + Skin has 12 grams of protein. The main limitation is the selection. Root Blends currently just has 5 different smoothies. That's not much to choose from.
Juice Generation BIY

Juice Generation is a juice bar in New York that sells fresh juices, smoothies, acai bowls, and more. They also have a program called Juice Generation BIY, which stands for blend it yourself. Through this, they provide customers with the ingredients for smoothies and acai bowls that can be blended at home.
Juice Generation focuses on suppliers that provide organic and high-quality produce. All ingredients are flash frozen after picking. That process ensures the ingredients retain their nutrients and provide optimal health benefits.
There are some interesting flavors to choose from too.
Pink Pitaya Chia. This smoothie includes chia seeds, spinach, figs, raspberry, pineapple, and pitaya.
Passion Fruit Acai. The ingredients in the smoothie are passion fruit, papaya, acai, mango, macadamia nuts, and banana.
Cold Brew & Oats. With this smoothie, you're getting cold brew coffee, oats, banana, dates, cinnamon, coconut, vanilla bean, pink salt, and maca.
Pumpkin Chai. This smoothie contains plant protein, pumpkin, apple, chai spices, banana, pumpkin seeds, turmeric, and maple syrup.
You can choose between a 6-pack or a 12-pack subscription. In each case, you get to choose the smoothies and you'll get a delivery every week. Amusingly, the smoothies are also designed to be used as a face mask, if you'd rather do that instead of drinking them.
The Good Stuff

The Good Stuff is a Canadian smoothie company that delivers to the Greater Vancouver area only. The smoothies are frozen and members just need to add water and blend them up. The individual smoothies cost either $5.95 or $6.95 and they include options like Diesel Monster Smoothie, Kitsilano Sunrise Smoothie, and Purple Cowboy Smoothie.
The smoothies can be purchased individually or as part of a subscription. People on a subscription receive a 15% discount. The subscription can be once every 6 weeks, once a week or anywhere in between. Members also get to choose how many smoothies they want to get.
Sub-Zero Superfoods by Project Juice

Sub-Zero Superfoods is another interesting smoothie company to check out. They focus on superfood ingredients and they offer smoothies and smoothie bowls. The smoothie bowl products also come with all of the toppings needed. Like many of the other companies, customers get frozen ingredients that are portioned and ready-to-go. The only addition needed is some type of liquid.
All of the products are gluten-free and dairy-free. Most are vegan as well, excepting their Mango Turmeric smoothie and Coffee Collagen smoothie. Other examples of their products include the Acai Chia smoothie, Chocolate Maca protein smoothie, Acai Bowl + Granola, Green Bowl + Granola, Coffee Collagen smoothie, and Pineapple Macha Smoothie.
You order smoothies by the box and can choose boxes containing 8, 12, or 24 smoothies. You then get to pick which individual smoothies want in the box and how many of each. Any order is a subscription by default. But, you can choose to cancel whenever you want to. You can also skip deliveries or change frequency.
Veggie Vibes

Veggie Vibes doesn't specialize in smoothies. Instead, the company focuses on plant-based meal deliveries. Veggie Vibes is incredibly creative with the food that they provide, offering unusual and unique dishes that you simply don't see elsewhere.
They also provide smoothies. These are part of a Smoothies & Juice Cleanse, which offers breakfast, lunch, and dinner. You can choose between 3, 5, or 7 days of smoothies and juices each week. You can also order by subscription or as a single order.
The plan isn't cheap and starts at $126/week for the 3-day plan on subscription. But, it might be appealing if you're trying to improve your health. If nothing else, it is a different option. There is also the ability to customize your plan. Doing this should allow you to get all smoothies with the plan, rather than half smoothies and half juices.
The best way to deliver smoothies
Smoothies are highly perishable, so you should always be very careful when requesting for your delivery. If there is a long wait for orders, it may be best to request multiple smoothies at once. If not, go for a smaller order, so you can finish the smoothies while they are still fresh.
Other meal kits delivery services include:
Green Chef. They are organic meal kit certified company. The company's meal plans deal with areas like vegan, omnivore, vegetarians, carnivore, paleo, and keto meals, among others.
FreshRealm. This is a company that offers both meals kits and prepared meals. You can use their customization tool to narrow down to your desired vegan meal. They also pack products in reusable attractive packages.
Purple Carrot. This is an entirely plant-based meal company that offers some creative and tasty dishes. Their meals are unique and show you ways to make a plant-based diet more interesting. Because they only focus on plant-based meals, there is no risk of contamination.
Hungryroot. They offer vegan meals with completely different ingredients such as cauliflower rice, kale pesto, and sweet potato ribbons. Most of them require minimum cooking and are very fast to prepare.