Being a vegetarian is easier said than done, partly because most of us just don't have the time to make weekly meal plans, go out for groceries, and prepare healthy meals every single day. This can mean making some compromises, which then defeats the purpose of being a vegetarian. There are many new companies that are starting to cater to vegetarians and other alternative diets, including these 12 companies below with vegetarian meal kit options.
Vegetarian meal kit delivery services help to bridge the gap for people who want to live healthier, cruelty-free lifestyles but don't necessarily have the time to analyze everything they eat. The way these food services work is by sourcing the ingredients you need, creating meal plan options, then sending the ingredients to you.
I've tried a bunch of meal kits over the years, and by far, my #1 favorite is still Sunbasket. Why? Flavor. Unique recipes. Fun to cook. Lots of meal kits just send you a basic meal you'd be able to cook at home, but Sunbasket is really good at creating unique recipes I wouldn't have even thought of looking for on Pinterest.
Once you get the ingredients (sometimes pre-chopped and portioned), you just follow the easy-to-read recipe cards. In under 45 minutes, you can have a delicious and interesting vegetarian meal! There are even similar services for vegan meals if that is your preference.
This idea beats constantly scanning Pinterest for new meal ideas or cooking the same old "steamed veggies and rice" type of meal that is easy to make and not very exciting. The focus on vegetables could make these fairly eco friendly meal kits as well.
I prefer to cook every night, but if you don't have the time you should also check out my post on ready-made vegetarian meal delivery services. These even take out the cooking portion of the equation, making dinner each night (or at least a few nights per week) a breeze. For someone trying to lose weight, that could also help with calorie restriction, since pre-portioned meals make it easier to know when to stop eating!
If you know of more, leave a comment and I'll add it to the list.
Vegetarian Meal Kits
Sunbasket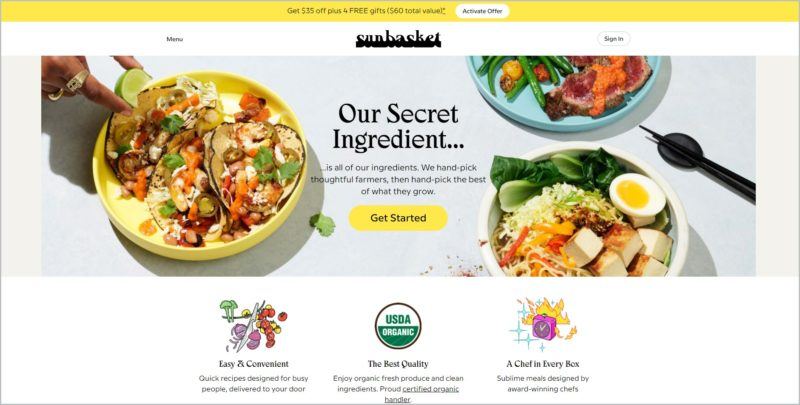 Sunbasket delivers meal kits to most places in the United States and the company joined the food delivery industry in 2014. They offer a variety of healthy foods and cater to gluten-free, paleo, clean eating, and vegetarian audiences.
They provide organic, GMO-free ingredients for their recipes and also have a zero-waste policy, which means that the packaging they use is either recyclable or compostable. These aspects are perfect for anyone who is focused on high-quality and natural meals.
I've also tried out the service myself, so I have first-hand experience of what they offer and how the recipes turn out. You can check out my full review for more details. Overall, the company isn't my favorite out there but it has some advantages. It's also worth considering simply because there are so few vegetarian meal kit services.
The food delivery service has a Classic menu with the option of two to four servings per meal and a Family menu that serves four per meal. For the Classic choice, you get three recipes a week. The Family menu allows you the selection of two, three or four weekly meal kits. Each of these menus has multiple variations to choose from, so you can pick what works best for your needs. There is also the ability to customize recipes each week.
The Classic menu meal goes for $11.49 per serving while their Family menu goes for $9.50 per portion. Each order comes with a $6.99 shipping fee. Sunbasket provides a recipe book and not just recipe cards like most other Meal Kit services.
Green Chef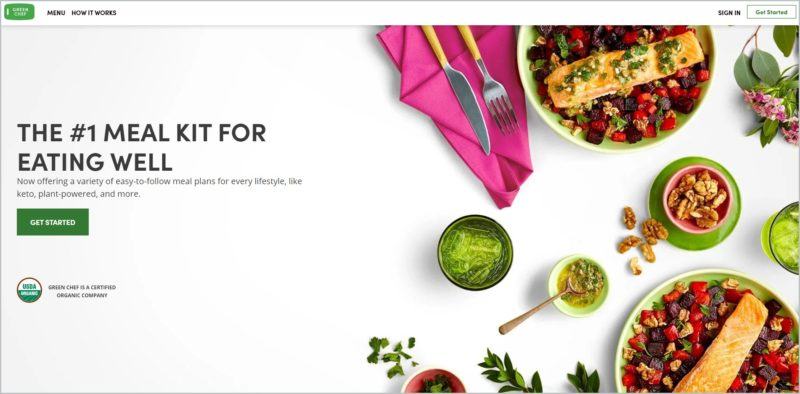 Green Chef delivers has an emphasis on healthy and organic ingredients, suggesting that you should get high-quality recipes every time. This is also a company that I've tried myself and my full Green Chef review highlights my experiences and what I thought.
Their meal kits come with signature sauces, marinades, a variety of spices, and easy to follow recipe cards. I found that the meals were easy to prepare, although some were less exciting than they could have been.
The company doesn't specifically focus on vegetarian meals but they do have multiple meal plans to let you pick your preferences. These include a vegan meal plan and a vegetarian one. Both meal plans are designed for two people and offer three meals each week (for a total of six servings). There is also a gluten-free meal plan. This involves some vegetarian and some meat-based dishes. However, it may be possible to request a vegetarian-only version.
The company delivers orders from Monday to Friday and there is no weekend delivery. Their pricing varies depending on your chosen meal plan and the order quantity. The two-person vegetarian plan costs $10.49 per serving, while the vegan one costs $11.99 per serving.
There are also four-person family meals, which start at $11.99 per serving. However, these only have carnivore and omnivore options. The omnivore family plan does include some vegetarian meals but it has meat-based ones too. So, it's not perfect but it may work if the rest of your family eats meat and you simply want more options.
Marley Spoon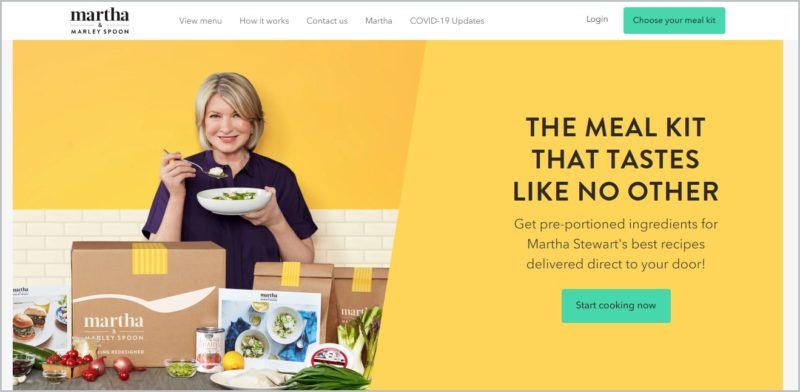 Marley Spoon is unusual, in that the company doesn't just serve the United States. There are also services in Australia, Austria, Netherlands, Belgium, and Germany. But, it's important to check the website before ordering, as Marley Spoon is only available in some parts of each country.
The approaches and processes will vary from one location to the next, so we're just going to focus on the American version of Marley Spoon.
The ingredients used don't appear to be organic but there is a strong focus on sustainable sourcing and local produce. Marley Spoon is also associated with Martha Stewart – which should mean that you get amazing meals. There are multiple styles to choose from, including carnivore and vegetarian diets, along with gluten-free options.
The meals are provided pre-portioned with minimal packaging. The recipes look good visually and are easy to follow.
There are two plans on offer. One is a two-person box, where each meal contains two servings. This costs $48.00 for two meals, $61.50 for three meals, or $76.00 for four meals. The other is a family box. In this case, there are four servings per meal. Here, you pay $76.00 for two meals, $106.80 for three meals, and $139.20 for four meals. The family kit is portioned for four adults. So, if you have young children, you may end up with leftovers.
You also get to pick your meals and there is plenty of variety to choose from. Individual meals are tagged based on criteria like dairy-free, gluten-free, kid friendly, and fast to prepare. You can also just make any plan vegetarian by selecting the option during checkout. This also makes it easy to re-order meals that you enjoyed.
Blue Apron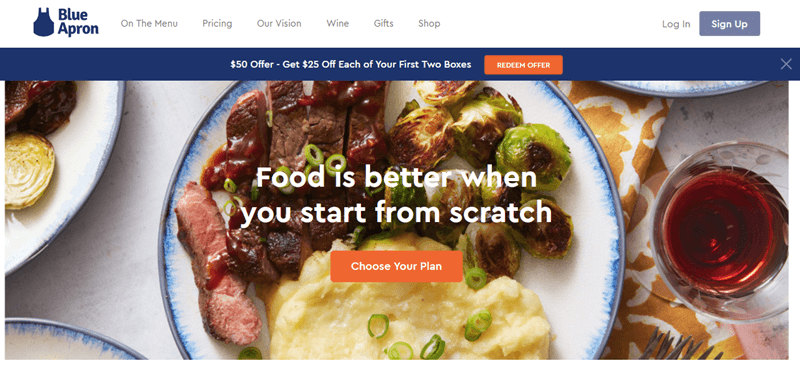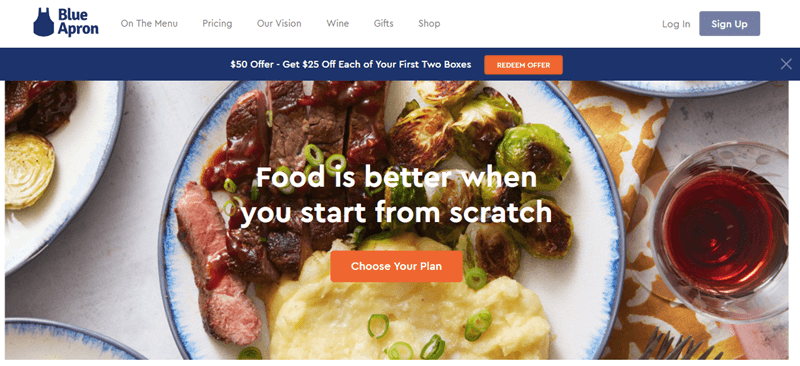 Blue Apron is the meal kit service that everyone has heard about. This was the one that made waves in the media and continues to be popular. It's a service that I've used (and canceled) multiple times myself – and you can read more details in my full review. For the most part, it's a solid company. It does have many appealing meals, although others veer toward the boring side of things.
With Blue Apron, you get to choose your meals from the weekly menu. Examples include Baked Cod in Tomato Sauce, Steaks & Cheesy Mashed Potatoes, and Spicy Pork & Korean Rice Cakes. There are also two-person and four-person kits. There are around eight different meals each week for the two-person option, along with four meals for the four-person style.
To order, you choose between a two-person plan and a family plan. The two-person plan can provide either two or three recipes per week, at $9.99 per serving ($10.99 in some locations). The family plan offers either two, three, or four meals each week at $8.99 per serving ($9.99 in some places). These prices are fairly inexpensive for this industry. But remember, each meal has multiple servings.
The two-person plan is the most relevant, as it has a setting for vegetarians. Realistically, there aren't enough menu choices to get consistent vegetarian meals on the family plan.
You do get to select dietary preferences and choose your meals – but you can only do so after checkout. There aren't many dietary preferences available either, with vegetarian being the main one.
Gobble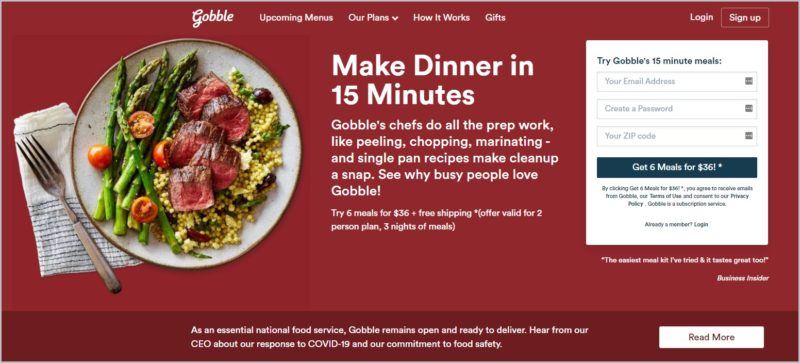 Gobble is an interesting company. Their biggest claim is that you can make stress-free dinners in just 15 minutes. Their recipes are simple as well, just containing three main steps (plus various small ones). They live up to this claim too. When I tried Gobble to write my review, I found that the meals were fast and easy to prepare.
There isn't a specific vegetarian menu, mostly because you choose the meals each week. The selection changes from week-to-week, so there are always new options to keep you interested. Gobble also guarantees that at least three of these will be vegetarian in any given week. You can also select vegetarian when you sign up, which means you'll only be shown vegetarian meal options.
Gobble offers two general plans on their site – the same as you'll see on many others. One is for two people and the other is for four people. The two-person plan receives six meals per week, while the four-person one receives 12 meals. But, the phrasing is misleading – Gobble actually means that you get six or 12 servings per week. That calculates to three meals, regardless of the plan that you're on.
The pricing averages out to between $11.95 and $13.95 per meal (i.e. per serving), depending on the options you choose. This is about typical for meal kit companies. You can also add some other components, like desserts and lunches, which is a less common feature.
How well Gobble works really depends on what you're looking for. The meals are certainly easy, which is great for people who are busy or have limited cooking skills. But, if you enjoy spending time in the kitchen, the meals from Gobble mightn't be that exciting.
HelloFresh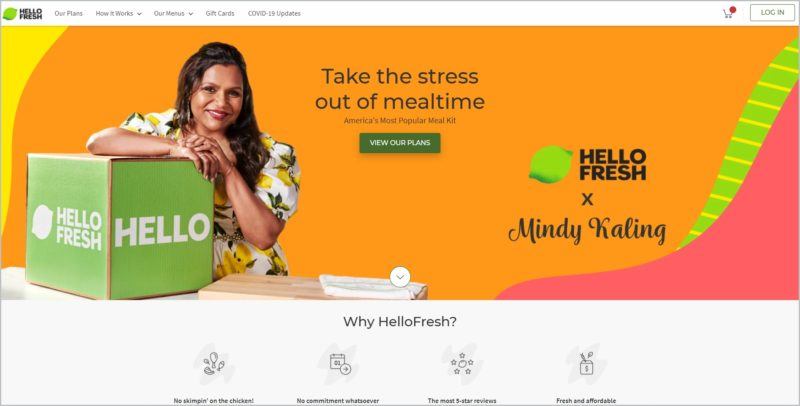 HelloFresh is a pretty good option for vegetarian meal kits, as they do offer an entirely distinct Veggie Plan. This just includes vegetarian recipes and relies on plant-based proteins, seasonal produce, and grains.
This Veggie Plan can serve either two or four people – and you get three recipes per week either way. The plan costs $9.99 per serving with free shipping regardless of how many people you're ordering for. As with many other companies, you get to pick your meals from a weekly menu (or, you can let HelloFresh choose for you), which should offer plenty of variety.
However, you are limited to whatever is available for that week. When I signed up to HelloFresh to write my review (you can check the review out here), I was presented with eight meals and only three of them were vegetarian. However, I had selected the Classic Plan, not the Veggie Plan. There may be more options if you're using the Veggie Plan instead.
Orders are delivered weekly and each meal comes in its own bag. The recipes are all easy enough to prepare, although the recipe cards are sometimes a bit vague.
The meals themselves also tend to be on the bland side. Most of the ones I tried were variations of common American meals, dishes that many people would already cook regularly. For me, that's not good enough. If I'm going to pay for a meal kit, I want the meals to be a little bit exciting and unusual.
That being said, I did try the Classic Plan – and the vegetarian meals could be different. This is also one of the cheaper meal kit companies, which is always a bonus. Besides, everyone does have a different palate. While I wasn't impressed with the meals provided, other people may find that they're perfect.
PlateJoy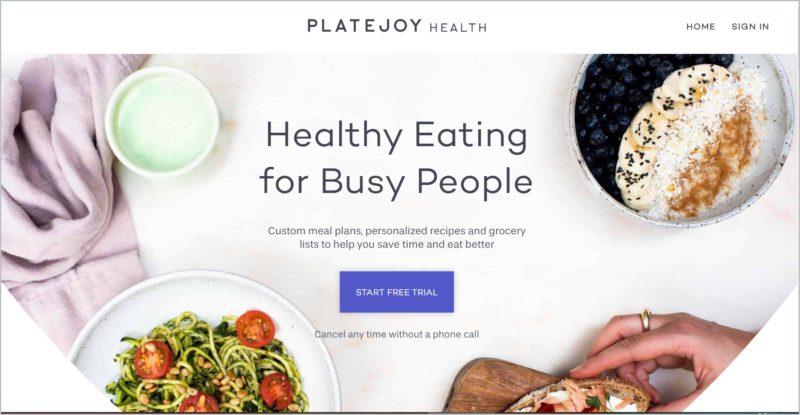 Unlike the other services on this list, PlateJoy focuses on meal planning. This means that you're not getting prepped ingredients and beautiful recipe cards from them each week. Instead, the service is primarily online and develops a comprehensive meal plan for you. The meal plan includes all of the recipes that you need, along with a shopping list.
PlateJoy also works with Instacart. This service allows you to order groceries online from a local store. It is surprisingly cost-effective and you're often not paying much for delivery at all. You have complete control as well, so you can add or remove items based on your preferences. You can see what this looks like in my PlateJoy review, as I stepped through the process.
The Instacart approach gives you something similar to a meal kit, as you're getting all of the ingredients delivered. But, they're not prepared in the same way and you have to rely on PlateJoy's app for the recipes.
The process is more complex than a meal kit and there are more steps to go through. But, PlateJoy has some pretty significant advantages too. For one thing, the service is much more flexible than a traditional meal kit service. This means that you can cater for multiple dietary restrictions at once, along with other preferences. You can also tweak your grocery list to make sure you don't get any ingredients that you won't use.
The service is also inexpensive. Their meal plans start at $69 for a 6-month plan and $99 for a 12-month. Instacart has its own fees too but these aren't too bad. You can even pay a yearly fee of $149 to get weekly groceries shipped for free.
The end result is a more flexible and less expensive service than a regular meal kit company. You don't get all of the same advantages, of course, and there is more prep work involved. Still, PlateJoy may be a better choice for some families.
Home Chef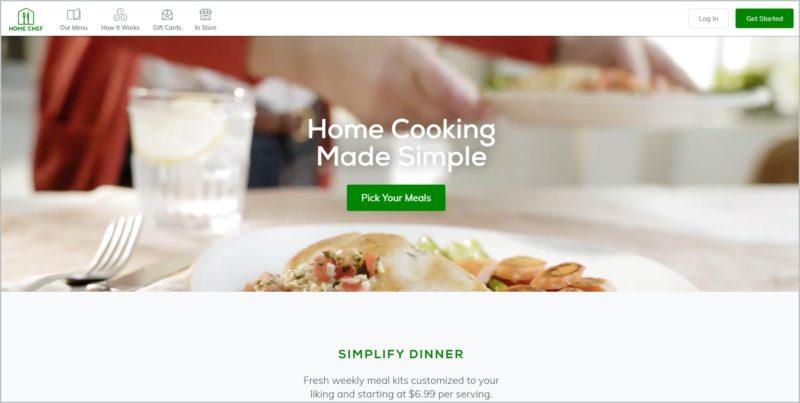 Home Chef is one of the most recent meal kit companies that I've tried and honestly, I was pretty impressed. The company operates off a weekly menu, giving you 11 to 15 different meals to choose from each week, some of which are vegetarian. You can then swap recipes in your account.
A key aspect of Home Chef is their Flavor Profile feature. This allows you to choose preferences about the ingredients that you want to be included and excluded. Any vegetarian meals are also tagged as such, making it very easy to avoid meat.
The recipes themselves are also appealing. The company manages to have meals that look and sound interesting, with some unusual flavors. But, the dishes are still easy to prepare and aren't incredibly exotic. This makes them perfect for a wide range of people.
Ordering is a little different with Home Chef, as they do not follow the meal plan concept. Instead, you get to choose how many meals you want each week, along with the number of servings. The price is roughly $9.99 per serving, regardless of the choice that you make. There is also a $45 minimum weekly order.
Dinnerly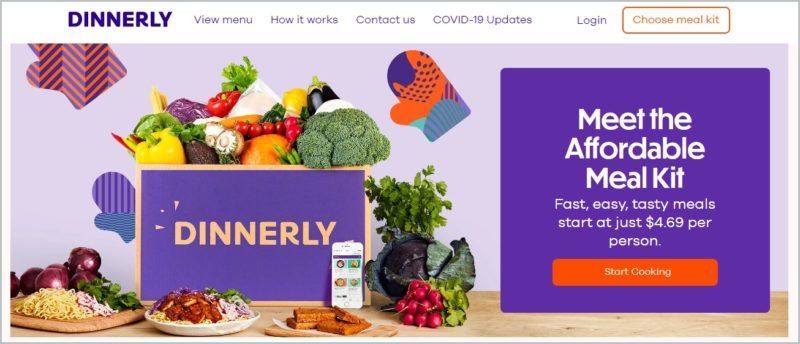 One of the most affordable meal kit services out there is Dinnerly. Their per serving starts at $4.69 and with their easy recipes, homemade meals become even more affordable, time-saving, and simple. Although Dinnerly is not solely a vegetarian meal kit service, they do offer vegetarian options. They create 16 different dishes weekly, this includes vegetarian, low carb, healthy, and dairy-free options.
You can check out their Ingredient Hub for the list of all recipes and ingredients with the allergens and specification along with details on what else do the facility it was made from has.
Dinnely puts up the menus four weeks in advance so that you can plan ahead what you want to have – or in any case what you don't want and if you want to opt-out. Their subscription plan is very flexibles, you can skip any week or pause subscription if you wish to.
To make their meal kits more affordable they take the simpler approach – simple packaging, digital recipe cards, and no fancy marketing campaigns. They ensure though that they use the same quality ingredients as the other meal kits.
Dinnerly is great for vegetarians who would like to keep eating healthily, save time, enjoy cooking, and still managed to stay within a budget. And to make things even a breeze, they have an app for both iOS and Android available via iOS App Store or Play Store so they're literally just a few clicks away.
Takeout Kit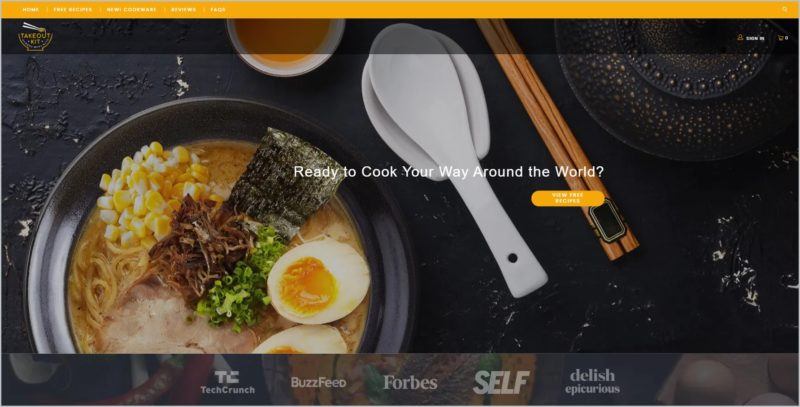 Takeout Kit is quite unusual from your typical meal kit services because they're focused on international cuisine like Korean, Japanese, Indian, European, Peruvian, Moroccan and so much more. They cater to different dietary preferences so everybody is free to be more adventurous with different international dishes and simply opt for vegetarian, vegan, gluten-free, or all-natural.
Cooking becomes more enjoyable and dining even more exciting with Takeout Kit. You will experience cooking with hard-to-find ingredients and create authentic recipes from different parts of the world. You will learn more about the culture and background of the dish, and discover exotic new ingredients. To complete your dining experience, Takeout Kit even offers music playlists and drink pairing recommendations.
Their easy to follow recipes will guide you through shopping and cooking authentic global cuisine right at the comfort of your home. These recipes are designed with your time in mind, rest assured that dinner will be ready in as fast as 25-40 minutes. It's also customizable so you can simply swap in plant-based protein, omit the salt, or perhaps skip the chili powder.
Included in their meal kit are a full serving for four people, a simple recipe card, high-quality authentic ingredients, a list of all the necessary kitchen supplies that you'll be needing, and suggestions for additional fresh add-ins.
Purple Carrot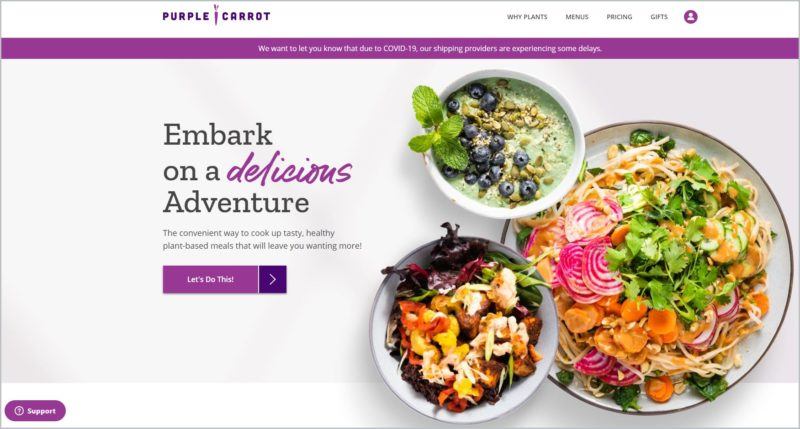 Purple Carrot is a meal kit delivery service based in Boston, Massachusetts. They deliver vegan and vegetarian Meal Kits right to your doorstep. There is also a strong focus on creating satisfying meals.
This makes it very attractive, as some plant-based meals aren't very filling. They only ship to areas where the meals can get to you in one to two days. You can check their website if they deliver to your area.
The Purple Carrot meal kits come with pre-measured and prepped ingredients, along with recipe cards that provide all the nutritional information that you need.
Their meals are easy to prepare, and they taste good. The company's focus on plant-based meals also means that many of their recipes are creative. They simply have more time and resources to perfect their plant-based recipes. This is perfect for helping you learn new recipes and giving you meal ideas. The best thing about their service is that you can cancel or skip an order at any time with ease.
Purple Carrot has three meal packages. The first is a 1-2 person plan, which includes three meals each week. This costs $72/week, which breaks down to $12 per serving. There is also a 3-4 person plan that includes two meals per week.
This one costs $80/week and averages out to $10 per serving. Finally, there is a performance plan. This one serves 1-2 people and offers three meals per week as well. But, the meals include more protein, which should make them more satisfying. They're also perfect for athletes or anyone wanting to develop muscles. In this case, the plan costs $78/week and averages $13 per serving.
HungryRoot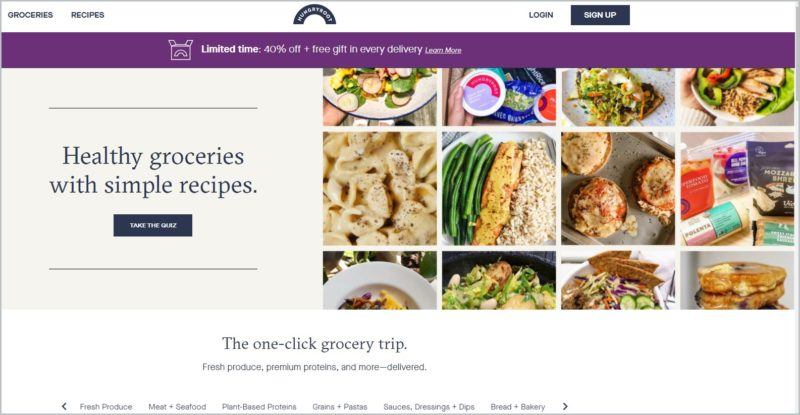 Hungryroot is more of a personalized grocery service than a meal kit service, it delivers healthy groceries along with chef-designed recipes that fit your needs. You simply click on 'vegetarian' when answering their quiz, and you'll automatically get all things vegetarian.
The questions in their 'quiz' are designed to let them know more about your health goals, the number of people you are feeding, your preferred meals, and any dietary needs you may have including vegetarian, vegan, pescatarian, dairy-free, soy-free, gluten-free, tree nut-free, peanut-free, egg-free, or shellfish-free. They will then create a grocery plan that fits you, and fill your cart with suggested groceries along with accompanying recipes. You can simply take their suggestions or choose from over 100 top-rated products.
All the food they carry is free of artificial sweeteners, partially hydrogenated oils, high-fructose corn syrup, artificial preservatives, and artificial colors. They have a team of food sourcing and personalization experts that are on the lookout for the most nutritious options out there in order to bring you only the best of ingredients.
Their meal plans start at $59.94 which consists of three, 2-serving meals. The size varies depending on how many breakfast, lunches, dinners, snacks, and sweets you want them to cover for the week. For families of more than three, the 4-serving recipes meal plan will be perfect. They have a very flexible plan where you can simply skip, pause, or cancel your next delivery if you wish to.
The delivery fees for plan sizes that are less than $70 is $6.99 but it's absolutely free for plan sizes that are over $70. Their shipping materials are recyclable, the box, paper cooler, and food protector can be recycled with your cardboard and paper materials. The Enviro Ice, on the other hand, can be used when diluted in water for plant food.