Cooking dinners at home can be fun, but the process can also be time-consuming and stressful. Coming up with menus, shopping for food and then prepping the ingredients can be exhausting.
When you've got a full schedule but still want those nutritious at-home sit-down dinners with your family, how do you manage?
Takeout isn't the only option. During the past decade, meal kit delivery services have entered the scene. These companies send you recipes and the ingredients to cook them right to your door. Most of the time the services are centered on dinners, but there are also companies that branch out into breakfasts, lunches and add-on items.
If you're wondering if a meal kit delivery service is the right option for you, I've tried both, and am going to compare Home Chef vs. Hello Fresh in this review.
Types Of Meals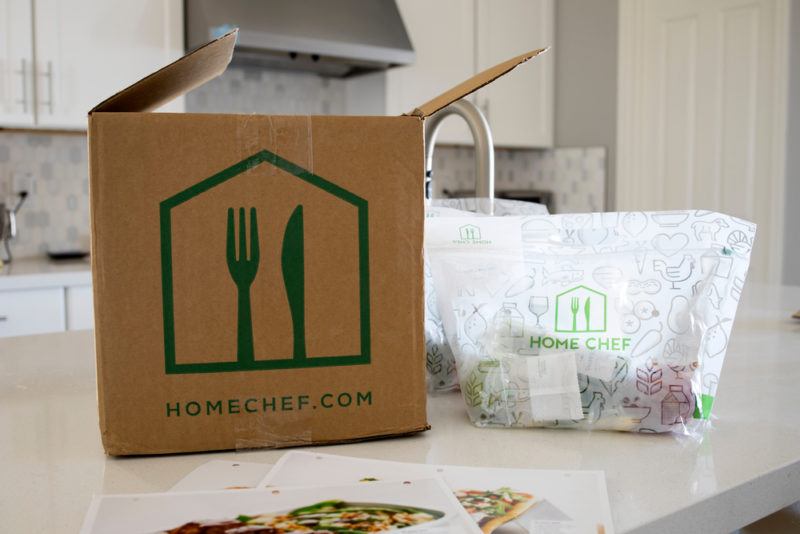 Like many meal kit delivery services, both Home Chef and Hello Fresh rotate menus weekly, and they both send you ingredients that are already portioned for the recipes you want to cook.
Home Chef has 15 meal choices each week, but they aren't all dinners. Three of them are lunches, and two of them are add-ons such as smoothies or a seasonal fruit basket. There are occasional menu offerings for breakfasts, desserts, or holiday meals.
Most Home Chef meals take around half an hour to get on the table. The recipe cards are easy to follow, and recipes come scaled for two or four people. The ingredients are sorted by recipe, so you can grab everything at once for the meal you want to cook.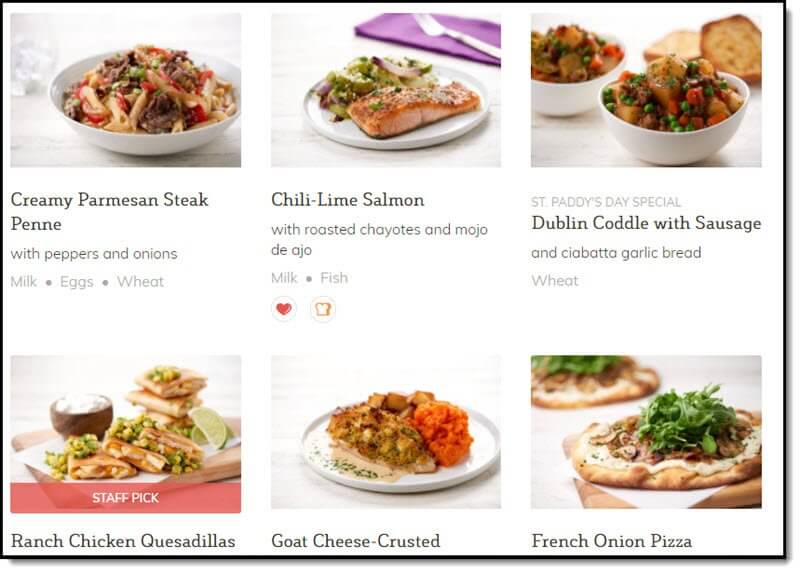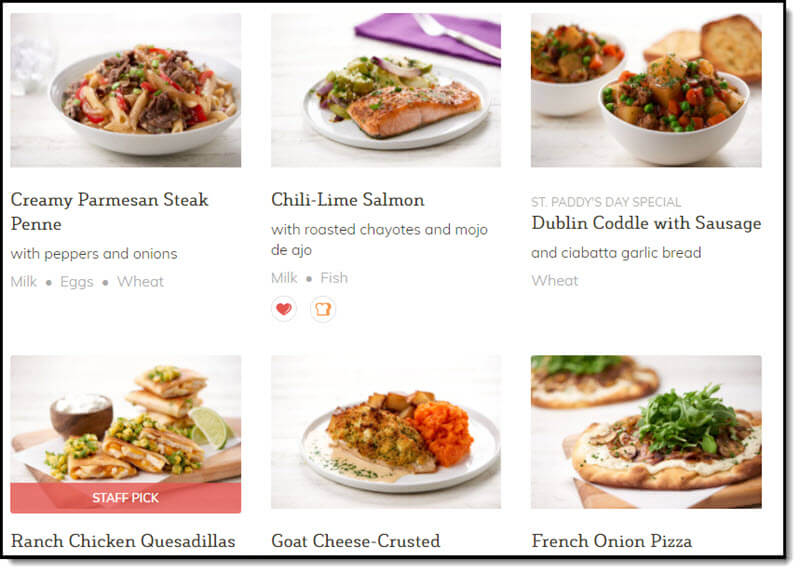 When you're looking at Home Chef recipe choices online, you'll see markers for categories like calorie-conscious or carb-conscious meals. There are also labels for food allergens, including milk, wheat, soy, tree nuts, fish, shellfish and peanuts. There are some vegetarian meals, but they're not guaranteed to be vegan.
With a Home Chef subscription, you're automatically assigned a few meals to try each week, but you can edit those and mix and match your choices from the full weekly menu.
Hello Fresh is similar this way. There are 15 meal choices each week that are set up around subscription plans—the veggie plan, the family plan or the classic plan. Three of the fifteen choices are vegetarian meals, which subscribers to the veggie plan get each week. Six of the recipe choices are for classic plans. You can't click on the recipes to see more about them or to select them for the upcoming week until you've checked out.
Hello Fresh recipes are a little harder to follow than recipes from many other meal kit delivery services that I've tried. Overall, the food is less exciting, too, but the portion sizes for meats and plant protein are generous.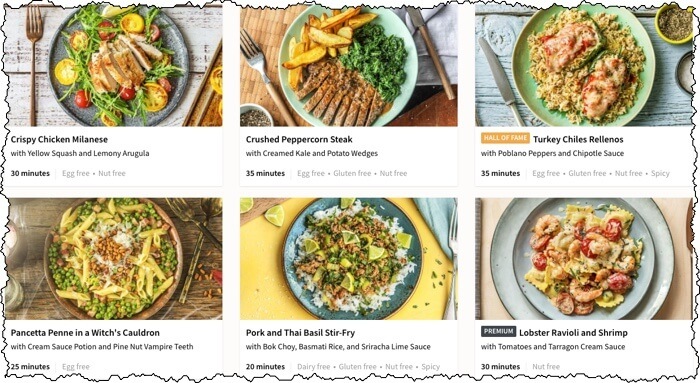 As with Home Chef, Hello Fresh recipes are designed for two people or four people. Since there are only three vegetarian choices each week, the veggie plan is limited to three recipes each week. You can cook two or three nights with the family plan and two, three or four nights per week with the classic plan. The family plan is automatically scaled for four people.
The Hello Fresh online menu shows which allergens are excluded from the recipe. There's also information about how long the meal takes to prepare and labels for things like hall of fame recipes, calorie smart meals, gourmet choices, and dinner-to-lunch options.
The dinner-to-lunch option is a fun twist on dinner that allows you to create two meals instead of one. For example, one dinner-to-lunch option has you create Chicken Sausage Flatbread for dinner and then use the same ingredients to create Italian Orzotto for lunch the next day.
Hello Fresh is one of the few companies that offers a wine option, but the wine costs around $15 per bottle. This company also sometimes creates meals with premium meats, which cost more than typical dinner kits do.
Although you can't view the recipes until you sign up for Hello Fresh, once you do, you get access to the full recipe archives. There are more than 2,500 recipes in the archives, and you can search them with filters such as world cuisines, quick meals, hall of fame, family friendly, and easy to cook meals. The downloadable recipes have colorful pictures and nutrition information.
Signing Up And Canceling
Both Home Chef and Hello Fresh require you to sign up before you start ordering. With Hello Fresh, it's difficult to even see what the weekly offerings are until you've signed up.
Signing up for either program involves filling out a taste preference profile. With Hello Fresh, this includes choosing the subscription plan you want. You also have to choose the number of people you'll be feeding and the number of recipes you want to try each week.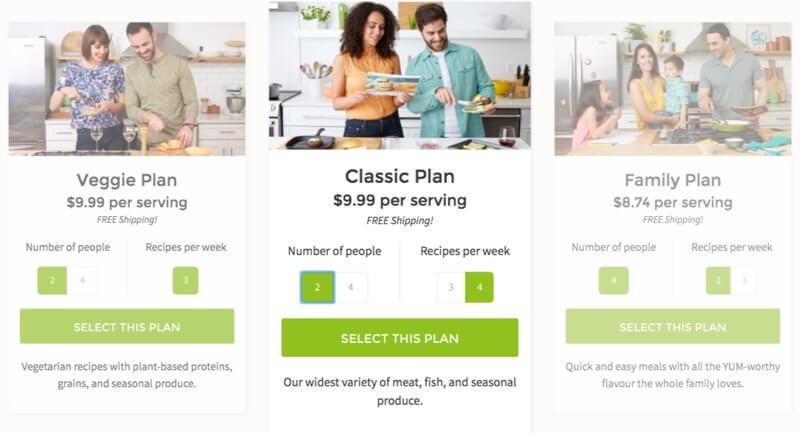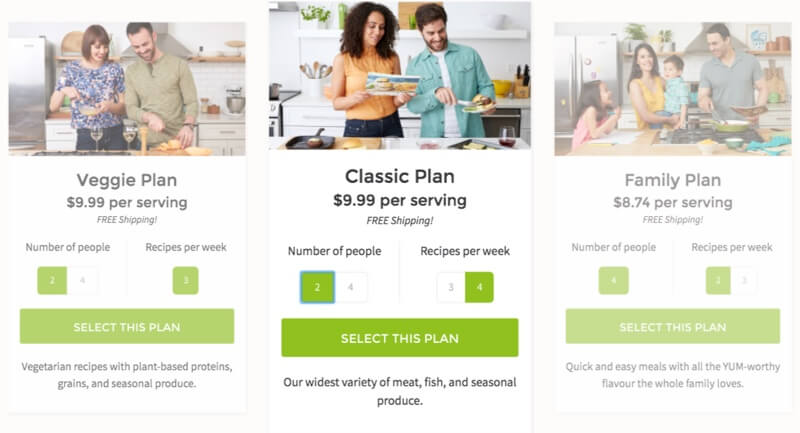 Both services can be canceled online. With Hello Fresh, you start the cancelation process under 'account settings,' and with Home Chef, you begin in the 'managing my account' area under the frequently-asked questions section.
Canceling a Home Chef subscription doesn't delete your account. Instead, your account is simply deactivated, and you can start up again anytime you want to.
Packaging And Delivery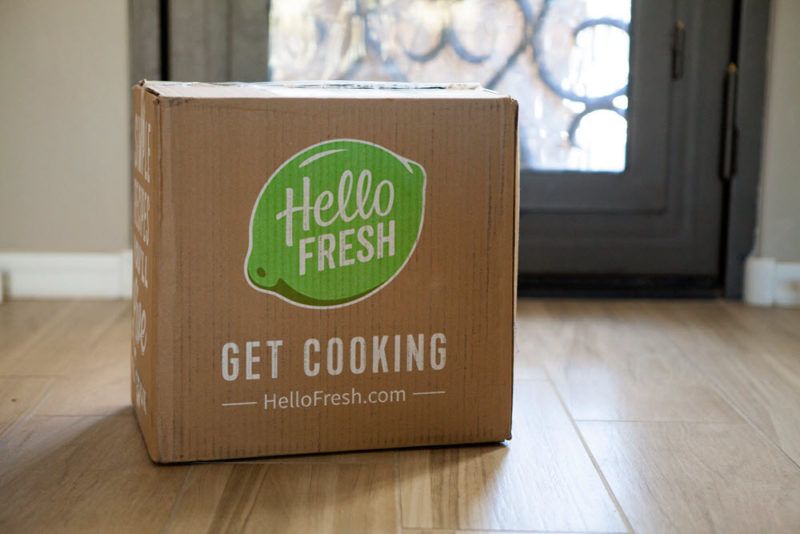 Both companies use mostly recyclable packaging. For example, Hello Fresh ingredients come in attractive brown paper bags with labels. Home Chef uses recyclable plastic containers and produce bags and fruit comes wrapped in paper.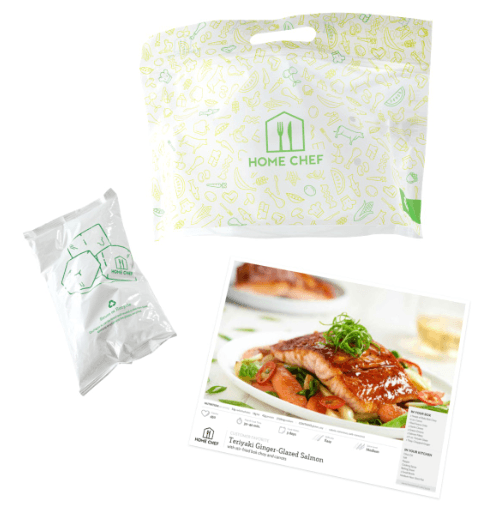 If your Home Chef order totals more than $45, shipping is free. If not, you pay a $10 delivery fee for each box that's shipped to your home. Hello Fresh plans have a weekly shipping charge of $6.99 or $7.99.
Pricing
Home Chef dinners are typically $9.95 per serving, and five-minute lunches cost $7.99 per serving. The price per serving doesn't change with the number of servings or meals that you buy. Premium meals do cost more based on the market price of specialty ingredients.
The price for Hello Fresh dinners varies depending on the subscription plan you choose, the number of people you're cooking for and how many nights per week you're cooking.
For example, a box of two Hello Fresh meals for two people each week on the classic plan costs $9.99 per serving. A box of three meals for four people on the veggie plan costs $6.99 per serving, and three meals for four people on the family plan costs $7.49 per plate.
Customizable Options
Both Home Chef and Hello Fresh have a decent number of weekly meal choices. With Home Fresh, you can mix and match your meals from all the available choices. There's also a new 'customize it' feature for some recipes that allow you to double the protein portions or switch out one type of meat for another.
With Hello Fresh, the veggie plans are limited to the three vegetarian choices available each week. Classic plan subscribers can pick and choose between all of the weekly options.
What Makes These Companies Unique
Both Home Chef and Hello Fresh are good representations of how dinner kit companies work, but they're both unique in some ways, too. I found things that I liked and didn't like about both companies.
Home Chef
Pros:
Home Chef started selling meal kits at some grocery stores in 2018.
The price per serving is decent, especially when compared to some other meal kit delivery services that I've tried.
You can get free shipping if your order total exceeds $45.
The recipes were easy to follow.
Portions are nice-sized, so that I usually had leftovers.
Cons:
The website wasn't as intuitive for me to use as some other websites are.
Hello Fresh
Pros:
The wine option is always nice.
I like the idea of being able to view all of the recipes that Hello Fresh uses and not just the recipes for the week.
The prices per serving are reasonable.
The dinner-to-lunch feature is fun and helpful without being too complicated.
Cons:
It's annoying to not be able to view the weekly options unless you've already signed up.
When I tried to cancel Hello Fresh, there was a mix-up with a previous subscription, and I ended up being on the phone with customer service for about 45 minutes. That might not happen to everyone, but it was frustrating for me.
Alternatives
If you like the idea of basic dinner kits like Home Chef and Hello Fresh, you might also be interested in Blue Apron or Martha and Marley Spoon. Green Chef, and Sun Basket are other good choices with a little more customizability.
If you're looking for a meal kit delivery company that can help with dieting or switching to plant-based foods, you might really like PlateJoy.
Conclusion
Between Home Chef and Hello Fresh, I liked Home Chef better. The food was a little more adventurous, the portion sizes were great, and overall it felt like my experience with them was simple and flowed smoothly. My Hello Fresh experience was a little bumpier, and the food just wasn't as exciting as I hoped it would be.