Keto Fridge Review
Deliciousness - 97%
Pricing - 71%
Easy To Prepare - 100%
Variety - 95%
Value - 92%
Keto Fridge is a cool service since it's a la carte, and there's no subscription to maintain. Order what you want, when you want. The desserts, as well as the pizza were my favorite items, so you can have a pizza and ice cream party even on the keto diet. However, the price of their normal meals was outside of my budget. I can eat a keto meal for less than $5 home cooked, and these meals averaged over $15 for just one person.
Ordering Keto Fridge
Ordering meals from Keto Fridge was pretty simple, but a bit different than most other keto meal kits. Keto Fridge is more of an a la carte service, so I was just able to go through and pick and choose which products I wanted.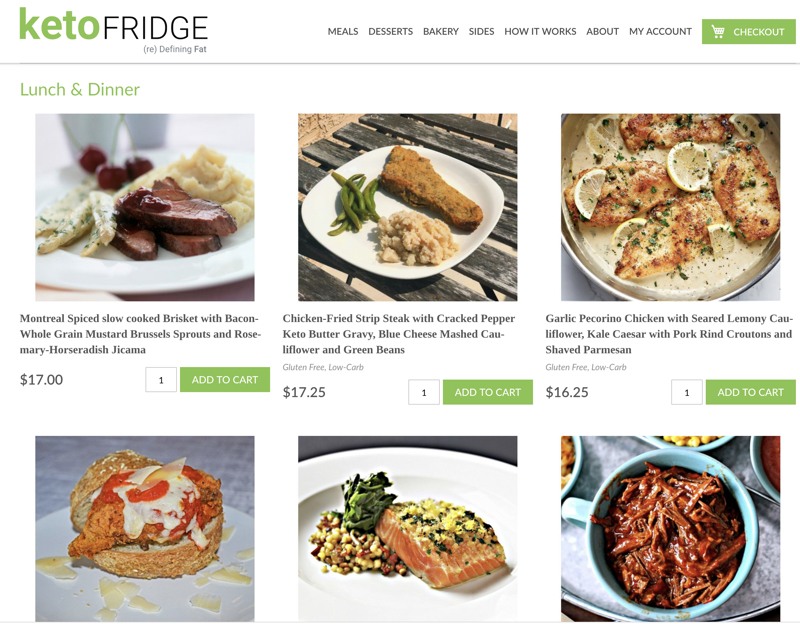 The advantage is that you get only exactly you want, in the amount you want. Order extra of what's great, and just experiment with new food when you feel adventurous.
The downside is that you have to spend the time to pick stuff out. With auto ship, you just get what's coming to you, and you don't have to think about it very much.
The first thing I noticed at Keto Fridge, and this impression was confirmed as I started actually eating the food, is that the selections here are really quite expensive, even for a meal delivery service.
Here was my order total: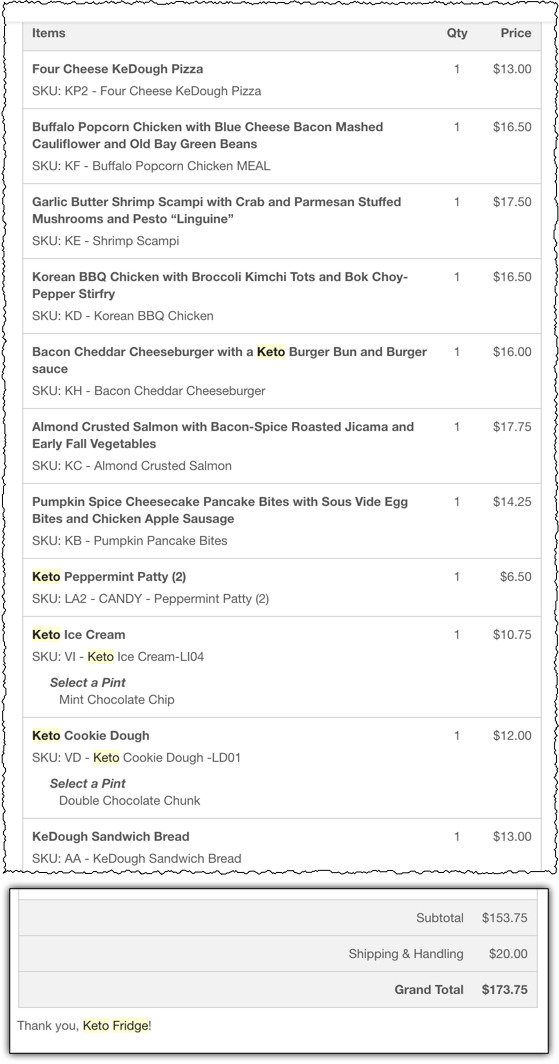 I'm sorry, but $17.50 for some shrimp scampi is just insane. I'd spend less at a restaurant, including tip if you went to a cheap place like Red Lobster.
$16 for a cheeseburger? LOL wut. It was just a damn burger. Ok ok, the bun was keto, which was kind of special, but a $16 frozen burger is not something that's sustainable, or even smart financially.
Others on this list were well-worth the price. The keto desserts were worth it for sure. Ice cream, cookie dough, and bread are all things I can't get locally, so are worth the extra cost. I'll detail my thoughts on the flavor below, but generally speaking the desserts were great.
The pizza was also worth it. The pizza was the best meal I think, and $13 for a small specialty pizza is not that bad
Even $10 per meal is an expensive habit.
Shipping & Packaging from Keto Fridge
My package arrived fast, frozen, and with no leaks or problems. There was a $20 shipping fee on top of the already expensive food items, so I wasn't happy about that, but I had to get a hold of that pizza and ice cream so I paid it.
I'd pay it again to get those exact items, but I'd order in bulk to make it worth it. I'm thinking of stocking up on 20 pizzas and a couple cookie doughs.
Keto Fridge Food Review
There's always hit and miss items for any food service. Here's my opinion of the food I ordered. There's always new items on the menu over at Keto Fridge, but there are a couple of consistent items as well.
The Good
Pizza: The keto pizza was the best of the bunch. It really did taste like regular pizza. Any non-wheat based crust is going to be fine as long as it's crispy. I think they used an almond flour blend for this crust, and of course cheese is keto friendly.
Simple recipe, right?
The pizza was small, but I was able to share it with my girlfriend on top of another meal we made. This pizza would be good for one person to eat as well, maybe with a small side.
Pizza is available year-round at Keto Fridge.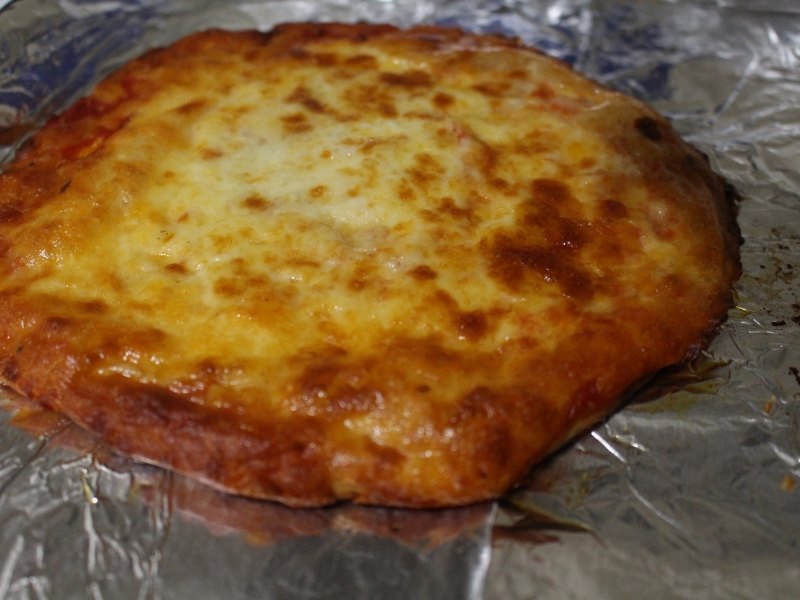 Keto Desserts: The desserts were another hit. Though not exactly like the originals, they were pretty darn close. The ice cream was made with coconut milk, so it had a slightly different texture. It wasn't quite "creamy", but it did have a soft, cold texture like ice cream.
The mint was also quite strong compared to traditional mint ice creams.
The cookie dough really rocked my socks off on day 1. It was very intensely chocolatey, and after two bites I curbed my craving. That's the most powerful part of this cookie dough – it helped me feel like I satisfied that sweet craving.
ProTip: Let it soften a bit before you start eating. It can get quite hard while frozen!
The downside is that if you eat too much, you do get a bit of that artificial sweetener flavor. I can't remember what they use to sweeten it, but there's a bit of an aftertaste like stevia.
Granted, I didn't notice this at first, when I ate just a few bites. I only noticed after I had an "off day", and at 1/2 a pint in one sitting.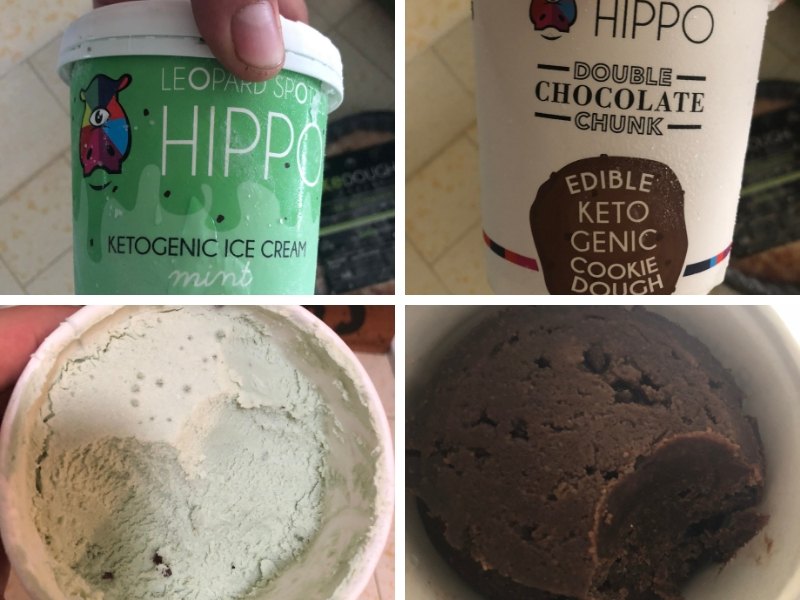 The mint patties (not shown), also had texture and after taste issues. They were made with the same coconut base as the ice cream, so were a little mealy. On top of that, the chocolate was a bit bitter.
I wouldn't say the patties were "great", but they were a decent substitute, and worth $3 each.
Keto Bread: I was honestly surprised at how bready the keto bread actually turned out. It arrived and it was not soggy from icy packaging. It was squishy like bread too! On top of that, $13 per loaf isn't bad considering that I got 4-5 uses out of it.
In the image below, you can see that I made a bacon/egg breakfast sandwich one morning. Amazing! This was a perfect re-introduction to bread. They use the same bread on their burger from one of their other meals.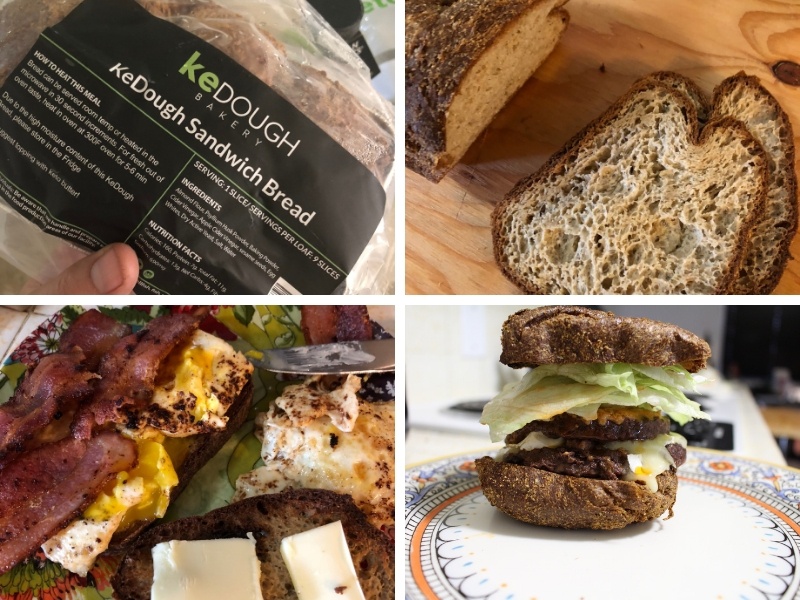 The downside to the bread is that it's not very good on its own. You really need to dress it up to enjoy it.
Alone, it tastes kind of like chewing on a rubber band. I had really good luck toasting it with butter or using it with sandwiches. It's usable without toasting, but toasting, even for sandwiches, made it much better.
The Bad
Actually, none of the meals were "bad" per se. They all had decent flavor, and were edible. They turned out way better than my previous foray into frozen meals from Eatology.
My main issue was pricing. As mentioned above, $16 for a frozen burger is not acceptable. $17.50 for shrimp is dumb, considering I could make just as good of a meal using fresh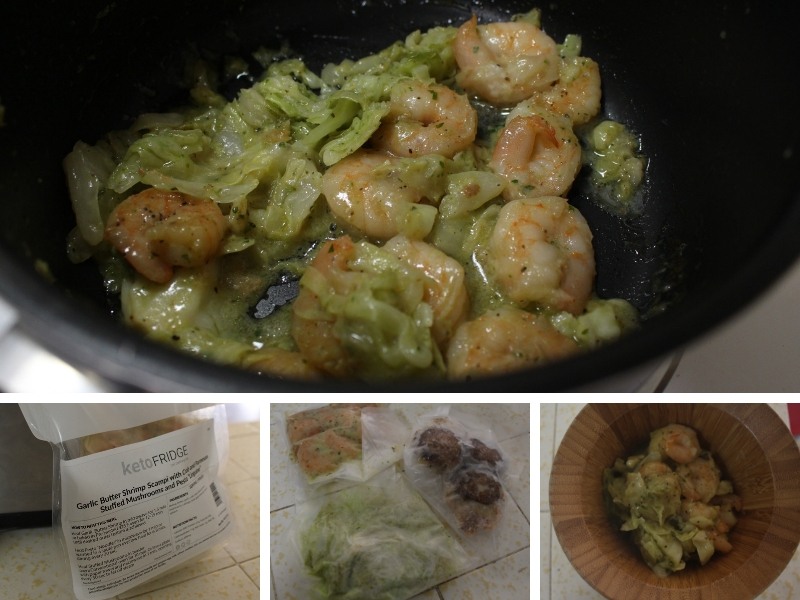 The only meal that was borderline bleh was the Pumpkin Spice Cheesecake Pancake Bites with Sous Vide Egg Bites and Chicken Apple Sausage. The egg bites were a bit mealy, the cheesecake/pancake thing was too sweet, and the sausage was very dry.
It was an OK meal to choke down for nutrients, but not something I would look forward to eating.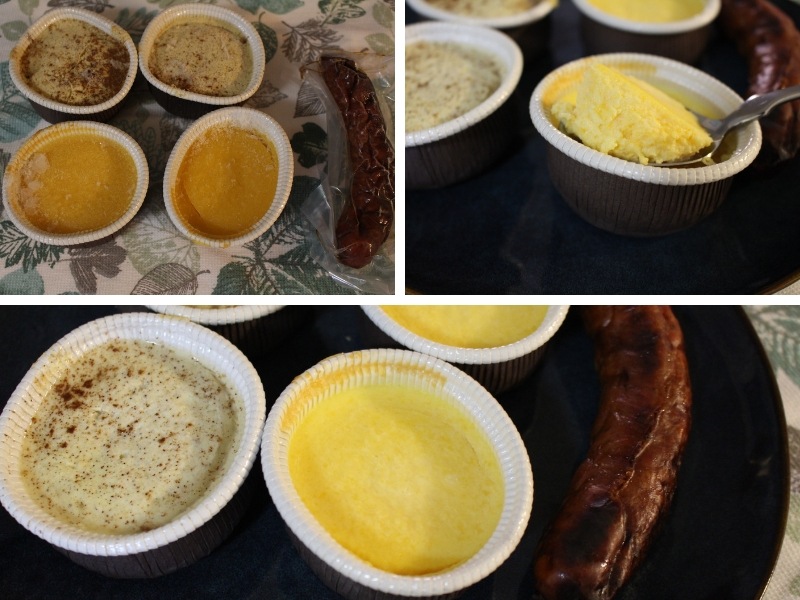 Canceling Keto Fridge
There's nothing to cancel since you're not put on autoship, which is very nice. No accidental re-bills, and just order what you want, when you want!
Comparing Keto Fridge To Other Keto Meals
Keto Fridge was pretty good for the desserts and the bread, but the meals were way too pricey for me. With any company, you'll get some good and some bad, so don't take my criticism too heavily. Grading on a curve, I'll give Keto Fridge a solid B.
My main issue is the price. There's a few items I would reorder from this company, but on a whole, it's just way too expensive to be practical for me to continually order.
I enjoyed The Keto Box and My Keto Snackbox much better, but those are just for "snacks".
If you want to get some great meals, I really like Green Chef. However, that's a "meal kit", meaning you have to actually cook the food yourself. I prefer getting fresh, raw ingredients and cooking them instead of getting frozen stuff. Freezing stuff ruins a lot of textures.
Another very cool service was PlateJoy, which actually is a bit different than a typical meal kit. They don't sent you a kit in a box with pre-portioned ingredients. They basically make a shopping list for you based on recipes, then hook you up with online grocery delivery.
This method allows for a lot more customizing while cooking. I like cooking, and I like the freedom to customize, so this was more in line with what I enjoy