Meal kits are always a powerful tool, making it easier to eat homemade healthy food every day. One of the biggest challenges is finding a good service. Each country has their own selection of options and every individual service has its own advantages and disadvantages. These Canadian meal kit services are the best we could find available on the web.
In this list, we're examining the current meal kits for Canada. These are all services that you could buy for yourself, or perhaps as a gift to a family member. They're effective ways to ensure that you're eating healthy, without having to spend hours planning, prepping and cooking all your meals.
The only one that's also available in the US seems to be Hello Fresh, and the rest are Canadian home grown businesses!
Canadian Meal Kits
Cook It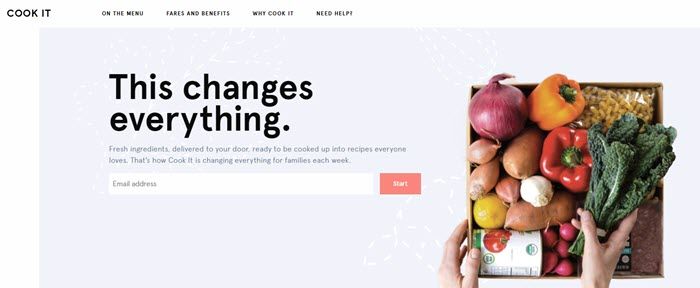 Cook It is a particularly flexible meal kit company. Members can choose 2, 3, 4 or 6 servings per meal, long with 2 to 7 meals per week. Cook It provides a selection of meals each week, which members can then choose from. You get to select the ones that interest you. You can even skip a week if you don't like any of the options.
Some of the meals provided are kid-friendly, vegetarian and/or low gluten. Despite this, there are no specific meals designed for allergies. As a result, the service is best for people who don't have many specific food requirements.
Chef's Plate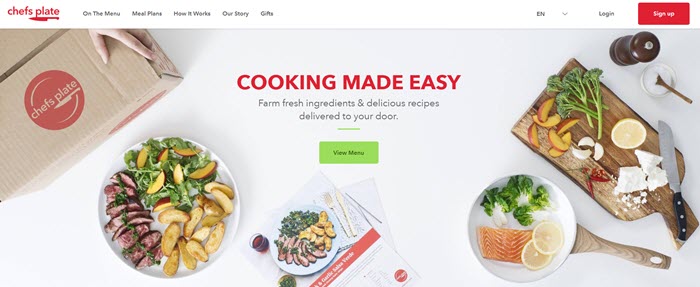 Chef's Plate also prides itself on flexibility. The service has 4 different types of meal plans:Classic, Family, 15-Minute and Vegetarian. The plans all contain 2, 3 or 4recipes, with 2 or 4 servings per recipe. Many of them are designed to be fast and easy to prepare, perfect for busy lifestyles.
Members are able to provide details about their taste preferences, along with the plan that they want. Unfortunately, there is no ability to choose the individual meals.
GoodFood


The company GoodFood has a strong focus on farm-fresh ingredients, along with original recipes. The service also provides food to children in need at schools. There are 3individual plans to choose from: Easy Prep, Classic Basket and Family Basket.The plans range from 2 to 4 recipes each week, with 2 or 4 servings per recipe.
Meals are delivered once a week and will stay fresh long enough for you to enjoy them. The main limitation is choice. GoodFood curates the meals in the boxes each week. This means that you have no control over the food that you receive. Such a style is great for trying new foods, but can be a challenge for picky eaters.
MissFresh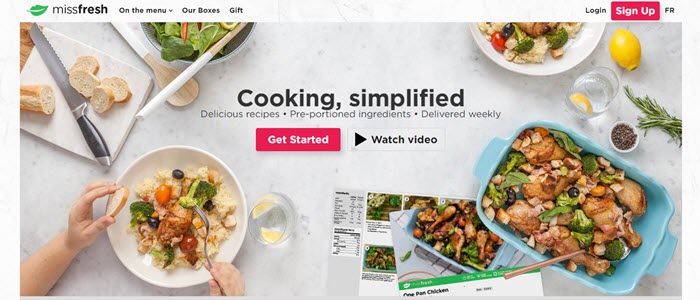 MissFresh is an interesting choice. There are 2 basic plans to choose from. The first is their Custom Box, which provides 2, 3, 4 or 5 recipes per week with 2, 4 or 6 servings each. You get to choose the meals. The other is their Vegetarian Box, where they choose the recipes you get each week.
There are also distinct plans for snack, smoothie, coffee & tea, and granola-based boxes. Some of these can be ordered independently, while others require you to be on a meal plan first.Either way, there is plenty of variation.
HelloFresh


HelloFresh is a particularly well-known meal kit service, operating in the United States as well as inCanada. The Canadian version has 3 different plans to choose from. These feed between 2 and 4 people and provide 3 or 4 recipes per week. Their Proto Plan is designed for fast and easy food, their Family Plan focuses on families and their Veggie Plan is vegetarian-friendly.
Fresh Prep


The emphasis with Fresh Prep is slightly different. The service doesn't just provide you with ingredients, it also ensures that these are all completely prepped and portioned out. The process means less time in the kitchen, without compromising meal quality.
Fresh Prep provides up to 4 meals per week for 2 or 4 people. The company only serves companies in Vancouver and many parts of Greater Vancouver. Each week has a new menu, but you get to choose which meals you receive from the menu.
Yummy Dishes


Yummy Dishes is a vegan meal kit service, offering ingredients the are already cut up and ready to go. You can buy dinner kits individually or sign up for a recurring customized meal kit.The customized kits can be themed around a specific topic, like African, holiday or family food.
While the service looks appealing, there are few details about the specific meals you receive each week. Subscribers may not get to choose the individual meals either.
Fresh City Farms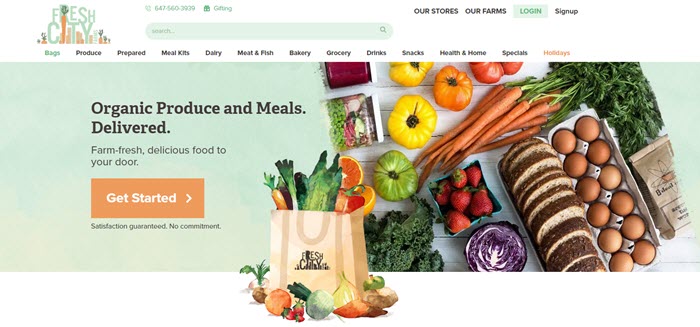 Fresh City Farms isn't a traditional meal kit company. They focus on delivering all types of seasonal, organic and wild ingredients, along with locally produced cheese, meats and breads. Meal kits are just one type of product that they provide.
There are plenty of kits to choose from, including gluten-friendly kits, vegetarian kits, vegan kits, fish & meat kits and family kits. These are ordered individually, rather than as part of a plan. There is a minimum order size of $27 across all types of products.That should be easy to hit.
Rooted Meal Prep


Based in Calgary, Rooted Meal Prep provides plant-based meal kits that are delivered every week. The company has a single meal plan for each week, which contains 3 different meals. You can order a Peas in a Pod Box, which roughly serves 2 people, or the Bunch of Carrots Box, which can serve 3 adults or a family with younger kids.
Be Fresh Meal Kits


The BeFresh range comes from the company Spud.ca, which offers local grocery deliveries. Their meal kit service provides a small selection of individual meal kits that you can order, such as Kimchi Fried Rice with Tofu and Vegan Mushroom Alfredo. Each kit serves 4 people. Full details are provided on the site, including the recipe, the items that are contained and the supplies that you're going to need.
Because the kits come from a grocery company, you're able to modify the ingredients included, adding or removing items as needed. You could also order extra groceries at the same time.
Fuud


Fuud is an impressive company, offering omnivore, vegetarian and gluten-free meal plans. You are then able to choose how many people you are serving, the number of meals per week (up to 7) and the individual recipes. You can also add on various items, including beer, smoothies and protein.
Subscriptions renew every week, but you can cancel whenever you feel like it. Because the menu changes weekly, you do need to regularly log in to select your next set of meals.
Plant Prepped


As the name suggests, Plant Prepped focuses on plant-based meals, making it a perfect choice for vegetarians. The service offers a 2-person and a 4-person plan. Each of these provides 3 meals a week and can be paused or skipped as needed. The menu changes weekly and typically offers around 6 meals to choose from. That's not a large selection, but at least you get some choice.
Related Content