Soy has become a controversial ingredient in modern times, mostly due to isoflavones. These are compounds that are present in soy. They may impact the thyroid hormone and bind to estrogen receptors in the body. There are many potential implications of the pattern, including an increase in cancer risk. Some people feel that there isn't enough proof to even say that soy consumption is safe in the long-term.
There are also soy allergies to consider. These don't tend to be life-threatening, but they're another reason to avoid soy.
While the jury is still out about whether soy is helpful, harmful or benign, the simplest solution is to avoid it in your diet. The soy free meal kits in this list do precisely that. Not only do they provide you with the ingredients for delicious soy free dinners, they also teach you how to make such meals yourself.
We've also covered other allergens in the past as well, and you can see which meal kits contain no nuts, no dairy, or no gluten.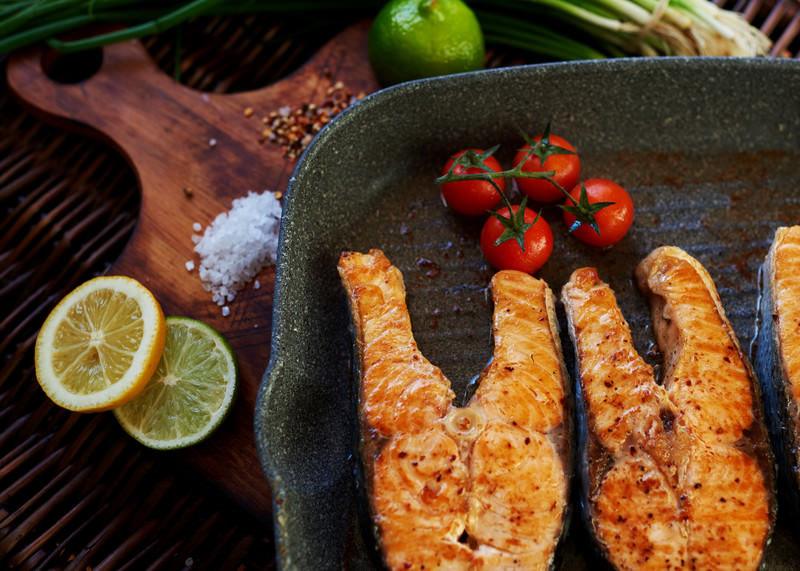 Soy Free Meal Kits
Sunbasket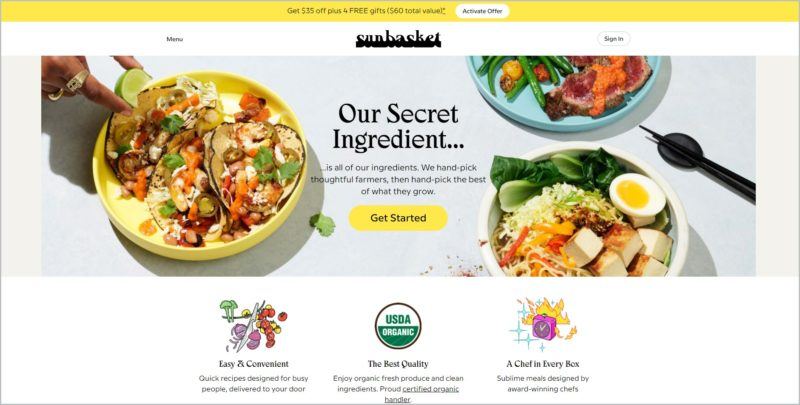 Sunbasket is a popular choice for anyone focused on quality. The company offers USDA Organic certified produce and uses responsible sourcing for their seafood and meat. Their weekly menu contains 18 different recipes, giving you much more selection than many similar companies.
Another encouraging aspect is their meal plans. Their Classic Menu provides you with 3 recipes per week and can serve either 2 or 4 people. They also have a Family Menu. This is designed for a family of 4, providing 2, 3 or 4 recipes each week.
The Classic Menu is particularly interesting, as it offers many different individual plans to try. For people wanting to avoid soy, the Paleo plan and the Lean & Green plan are both good choices. The Lean & Green plan is focused on weight loss. Meals typically contain around 550 calories each and the plan excludes dairy, gluten and soy.
Like many companies, Sunbasket doesn't have allergen-free facilities. This means that there is a risk of cross-contamination. As a result, the meal kits are best for people avoiding soy, rather than anyone with a significant allergy. You can also check out my review to learn more about what makes this company special.
Home Chef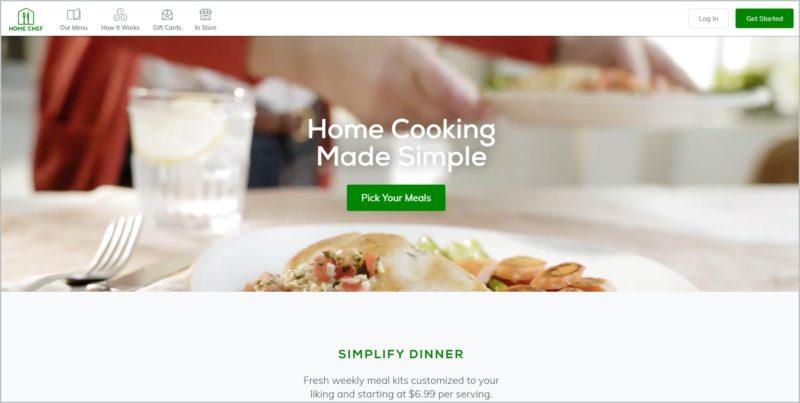 Some meal kit companies are very restrictive in what you can select. Home Chef doesn't take that approach. Instead, they provide you with 15 different meals each week that you can select from. These meals will change from one week to the next, giving you plenty of variety.
You can also see the meals for up to 5 weeks at once. This gives you the chance to order ahead. It also means you get a clear idea of what you can expect, before you need to pay anything. Take a look at my Home Chef review to see how the service performs in practice.
Home Chef doesn't provide a soy free menu and many of their dishes do contain soy. The company can still be a good choice, as allergens like soy, milk and wheat are clearly listed under each recipe. This makes it easy to select meals that don't contain any soy. With around 15 different recipes each week, there should always be some recipes that meet your needs.
Gobble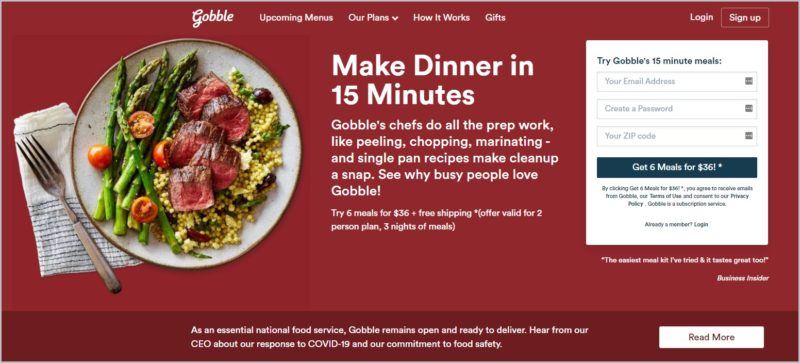 The speed of preparation is the biggest selling point for Gobble. Meals typically take just 15 minutes to prepare. You're normally just using a single pan, which makes cleanup a breeze as well.
I've tried out Gobble for myself and found that the meals taste surprisingly good for how little work you need to do. They were still a little bland for my own taste, but they would be perfect for picky eaters.
As with other services, Gobble doesn't have a specific soy free menu. They don't even highlight soy in their FAQs. Even so, all of the main allergens are highlighted for each dish, including soy. You can simply make sure that you choose meals that don't have soy in them. While there is still the risk of cross-contamination, the style should be perfect for many situations.
Green Chef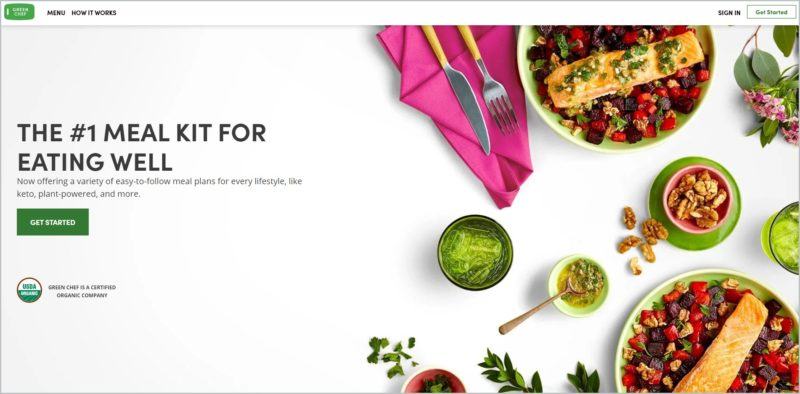 Green Chef doesn't have any distinct soy-free or allergen-free meal plan. Most of their plans don't even allow you to choose the meals that you'll receive, which makes things more complicated still.
Thankfully, the company does have a variety of meal plans, including their Paleo and Keto options. Both are priced at $12.99 per serving for 2 people and exclude soy as an ingredient. The Keto plan is a very low carb option, while the Paleo plan follows an ancestral eating pattern. Either can work well if you're avoiding soy.
Green Chef is also a company that I've tried and reviewed personally. The diversity of their meal plans is a key advantage. Most other services are lacking in variety. The portions are adequate too, so you're not going to be left wanting. I don't consider this my favorite company, as I would have liked to see more creative meals. Despite that limitation, I do highly recommend Green Chef.
Daily Harvest


Daily Harvest isn't your typical meal kit service. The company has a strong focus on superfoods. They provide ingredients in pre-portioned cups that you can simply put in your freezer. When you're ready to use the ingredients, you add a liquid base, then heat, soak or blend the ingredients (depending on the type of product at hand).
The types of 'meals' available include lattes, oat bowls, chia bowls, harvest bowls, smoothies, and soups. There are clear details and stunning images for each of the products on the Daily Harvest website. You can pick and choose which items you order, giving you plenty of flexibility.
When you do so, pay close attention to the listing. Most of the products from Daily Harvest are soy-free but there are some exceptions. For example, the Cauliflower Rice + Kimchi Harvest Bowl does contain soy, as does the Beet + Sesame Harvest Bowl. Thankfully, most recipes don't contain soy. Daily Harvest also lists all of their soy containing meals in their FAQ, making it easy to avoid the problematic recipes.
Hungryroot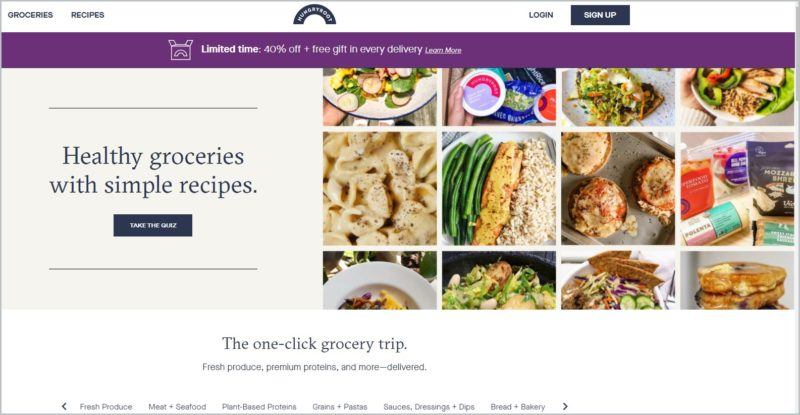 Hungryroot is not a 'meal kit service' per se, it's a personalized grocery service that is geared towards a healthier eating lifestyle that saves you time and money. All you have to do is take a short quiz with a series of questions that will allow them to learn more about your preferences, health goals, and any dietary needs, like soy-free for instance.
They will then create a grocery plan along with recipes that will fit your needs. You can of course take their suggestions or you can pick exactly what you want after checkout. Meal plans start at $59.94, that's 3 2-serving meals that great for either lunch or dinner. The size of course will depend on the number of breakfast, lunches, dinners, sweets, or snacks that you want for the week.
They are committed to sustainability so they make sure that everything in your grocery plan gets put to use. They also use recyclable shipping materials. The delivery fee is free if the plan size is more than $70, and $6.99 for plan sizes that are less than $70. They have a very flexible plan that allows you to skip, pause, or cancel the next delivery.
Hungryroot is perfect for busy people who find grocery shopping and meal planning a time-consuming task especially when you have food restrictions. With their services, you can enjoy the process of cooking and make dinner even more exciting. It's an easy and hassle-free way to restock your fridge every week.
Platejoy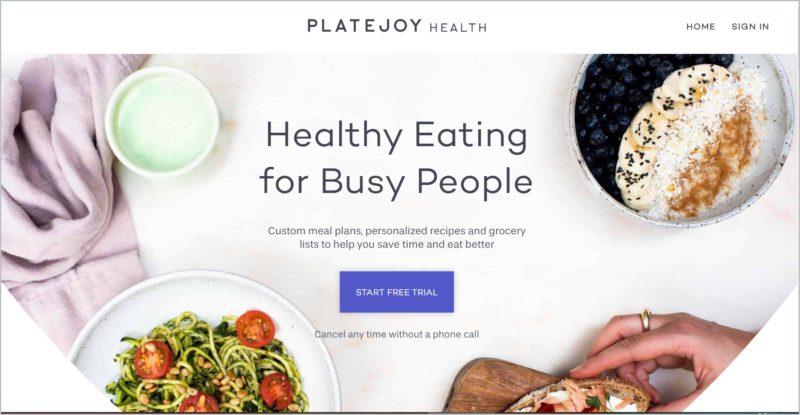 Platejoy doesn't follow traditional meal kit approaches. It is better to consider it as a meal planning company. This style means that you're not getting prepped ingredients delivered to you. Even if you use Instacart for ingredient delivery (as I have), the ingredients won't be prepped and the portions may not be precisely right.
None of this is a bad thing. The style means that you are able to create highly personalized meal plans. Platejoy also provides you with a shopping list that makes it easy to pick out all the ingredients that you need.
Platejoy is exceptionally good for people with dietary restrictions. You have much more control over the meals you eat and there are countless recipes to choose from. A key aspect of the style is how Platejoy uses 50 individual data points to create meals plans that are perfectly aligned with your goals. You can then customize as you see fit.