Have you ever ordered a meal kit service? If not, you should…at least once. It's a unique experience worth trying out at least once, kind of like trying a new cocktail or venturing out from your standard order at your favorite restaurant. Even if you don't like it, at least you tried.
I was just bored of cooking the same damn thing over and over again. Yes, there are thousands of free recipes online, but that takes time and planning. As a bachelor, I didn't really care much for planning and just invented whatever I could think of with the items I bought. I wasn't a bad cook – I was just a boring one. Ordering meal kit services for me was about branching out into something new, even if it did cost quite a bit of money.
I'd say cost is the main issue with these services. If you're on a budget, these delivery kits simply won't work on a long term basis. For $8+ per serving, and a total of sometimes $20 per meal or more, it's a hard sales pitch compared to delicious meals under $5 you can cook with fresh groceries from the store.
Price isn't the only thing to consider though! With some of the more exotic kits, you'll get just a little of those weird spices or hard-to-find vegetables that you can try out without investing too much. Are you really going to use that whole pack of turmeric or are you going to use it once for a curry then let it sit in your cabinet for a year before you throw it away? (I've done that!)
Plus, even if you are on a budget you still have some cool options. Most of these services give you a deep discount for the first delivery, and regularly send "we want you back" discounts. If you time things right, you could be paying 40% less for some of your orders.
And don't forget, eating isn't always about cost effectiveness. Sometimes it's about enjoying the process of cooking and enjoying time with friends and family. With a bottle of wine and an hour to kill, you can have a wonderful Friday evening in your home.
There are so many meal kit delivery options out there though, which one should you try? I've done the work for you and organized them into this giant list of everything I could find. There are probably some local ones unique to your area as well! What's my favorite? Well, I haven't tried them all yet, but my favorites so far are Green Chef and Sunbasket. There are links to the full reviews below!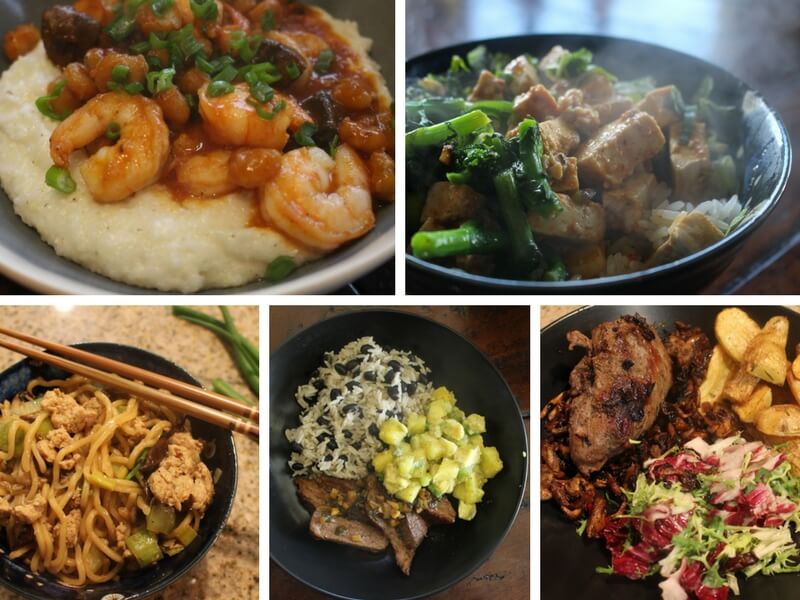 20 Meal Kit Delivery Services
Sunbasket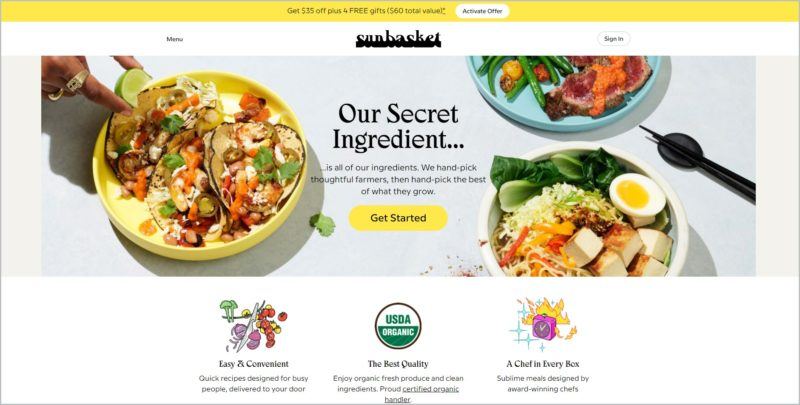 Sunbasket emphasizes healthy meals, which includes relying on organic produce, along with seasonal and sustainable ingredients. They only offer two menus, the Classic Menu and the Family Menu. Sunbasket produces a selection of meals for each week, which contains a variety of different recipes to choose from.
You're limited to the meals on the menu but there are plenty of options. Many of them also meet specific dietary needs, such as gluten-free, dairy-free, soy-free, and paleo. The service is also one that I've tried myself and you can read the full review here.
The short story is that Sunbasket is one of the better meal kit services out there and it offers good value for money. It's particularly interesting if you're looking for an organic meal kit service, although there are other options out there too.
While there are only two menus, Sunbasket offers multiple plans that combine the meals in different ways. These include a Lean & Clean Plan, along with vegetarian, Mediterranean, vegan, and pescatarian options. So, there is plenty of choices.
Regardless of the plan, the Classic Menu starts at $11.99 per serving and provides three recipes per week for two or four people. The family plan starts at $10.99 per serving and provides two, three, or four recipes each week. There are fewer dietary styles with the family plan, although many of the meals are designed to be kid-friendly.
Purple Carrot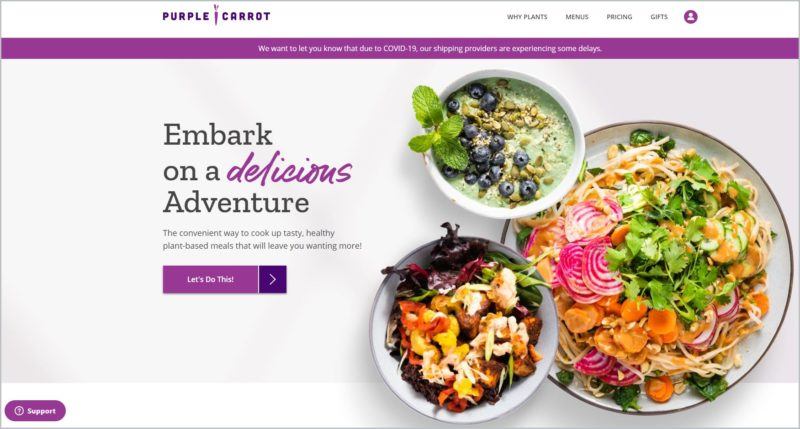 We have grown to associate plant-based meals with a bland taste or at best, a raw taste. Purple Carrot puts an end to this stereotype. The company does focus entirely on plant-based meals. But, they offer dishes that taste amazing and are incredibly creative. Their menu includes many different styles of the meal as well and you're bound to find some of them inspiring.
You don't have to be a vegetarian to enjoy the dishes either. They can work well for all diet types and are a good way to eat more vegetables regularly. All of their meals are high in protein and they also offer a performance meal plan for athletes and people who are very active.
The prices range from $10 to $13 per plate. They have three plans; the 1 to 2 person option at $12 per plate, the 3 to 4 at $10 (returning early 2018), and the 1 to 2 person high-performance program at $13 per plate. The 1 to 2 person plans provides three meals each week, while the 3 to 4 person plan offers two meals per week. Their 100% plant-based meals are not just easy to make, but they are also great for your health.
Green Chef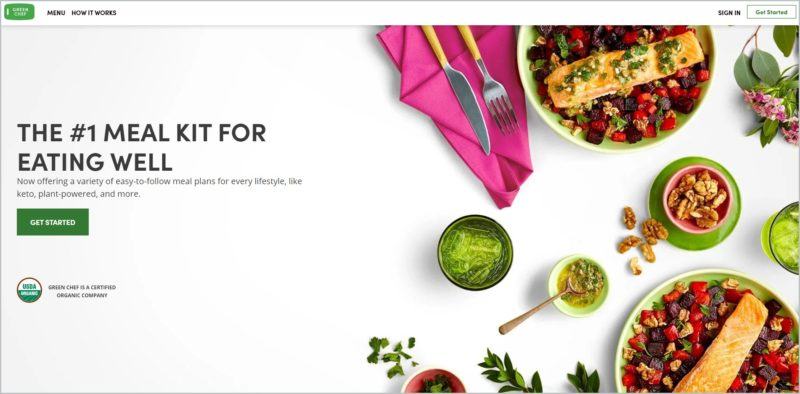 Located in Aurora, Colorado, Green Chef delivers all-natural meals. All their ingredients are certified organic and do not contain antibiotics, hormones, synthetic ingredients, or GMOs.
They have a range of meal plans which include Carnivore, Vegan, Vegetarian, Omnivore, Gluten-free, and Paleo options. Each recipe comes with a different green salad that is tastes very good. All of the provided instructions are precise and easy to follow.
They pack the meals in recyclable containers and deliver ingredients in refrigerated boxes that are insulated to ensure they remain fresh. Their experienced chefs attach easy-to-follow recipes alongside with each meal, so you know exactly what to do.
The Vegan option goes for $11.99, Omnivore for $11.99, Carnivore for $13.49 per meal. The Gluten-free option costs $13.49, Vegan $11.99, Vegetarian $10.49, while the Paleo plan costs $11.99. They also charge a shipping and handling fee of $9 regardless of your location.
The company is also one that I've reviewed myself. I tried the Carnivore version and was not disappointed. Green Chef wasn't my absolute favorite meal kit service but it is still one that I recommend.
Hungryroot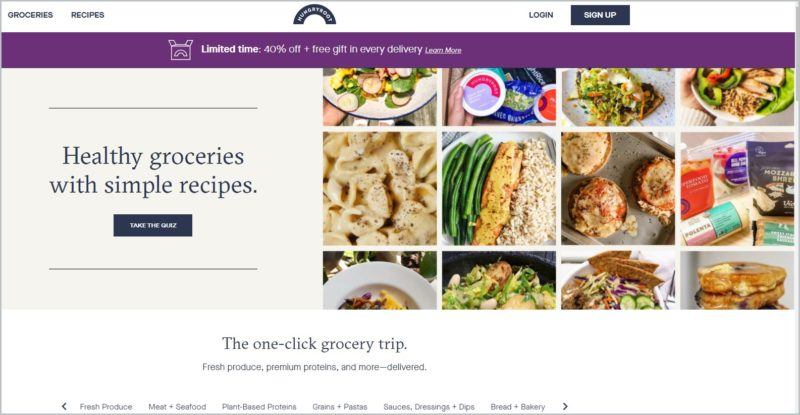 Hungryroot is not exactly a 'meal kit service' per se, but rather a personalized grocery service. They help you eat more healthily easily. By answering a series of questions via a quiz, they'll learn more about you and can then deliver you healthy groceries with great chef-designed recipes. The quiz will tell them about your goals, how many people you are feeding, dietary needs, and what you like to eat for dinner. Hungryroot will then create a grocery plan and fill your cart with suggested groceries along with recipes that best fit your needs. You can of course take their suggestions or choose from their more than 100 top-rated products.
They have a team of food sourcing and personalization experts that looks for the most nutritious options available out there. All the food they carry is free of artificial sweeteners, partially hydrogenated oils, artificial colors, high-fructose corn syrup, and artificial preservatives.
Hungryroot meal plans start at $59.94 which consists of three, 2-serving meals. The size varies depending on the number of breakfast, lunches, dinners, snacks, and sweets you want for the week. Their plans are very flexible, you can skip, pause, or cancel your next delivery if you wish to. The delivery fees for plan sizes that are less than $70 is $6.99 but free for plan sizes that are more than $70.
Hungryroot is great for people who find grocery shopping and meal planning a time-consuming task but actually enjoy cooking and would love to eat more healthily. They make restocking your fridge every week an easy and hassle-free chore and cooking and dining more enjoyable and exciting.
HelloFresh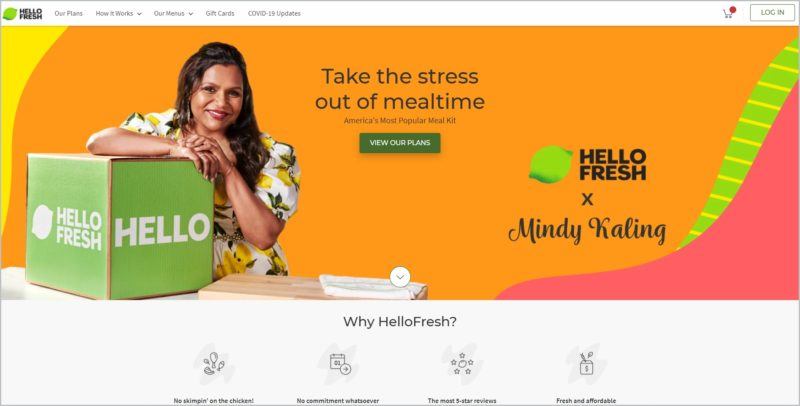 For highly customized weekly menus and flexible schedules, HelloFresh is an interesting choice. They provide three meal plans: Veggie Plan ($9.99/serving), Classic Plan ($9.99/serving), and Family Plan ($8.74/serving). The Veggie and Classic plans cater for either two or four people, while the Family Plan is for four people only. You choose between two, three, and four meals per week, depending on the plan.
The emphasis is on fresh and healthy meals, although the selection is on the small side. Meals are labeled based on allergens. But, this isn't the best company if you want dairy-free, gluten-free, or vegetarian meal kits. There just aren't enough meals to choose from.
Meals include a variety of fish, meat, and seasonal produce. HelloFresh uses a weekly rotating menu, so the meals you get access to vary from one week to the next. The prices are highly reasonable, and the food is of high quality. They do not charge a shipping and handling fee for any order. You can choose to cancel, pause, or modify your subscription at any time.
The service is also one that I've tried and reviewed personally. It does have some good aspects, including meals that are easy to prepare. But, it was one of my least favorite meal kit services and the meals could use improvement.
Gobble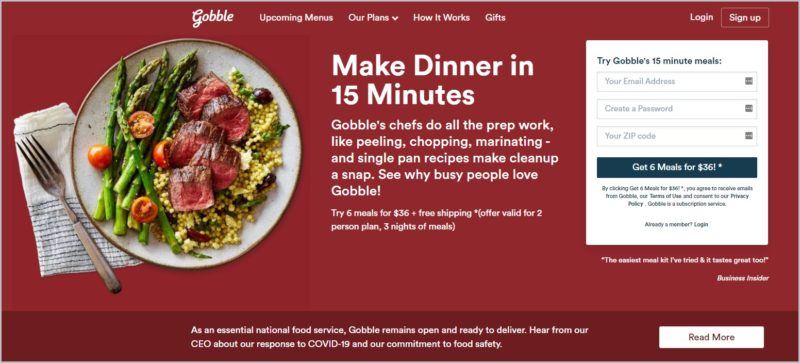 The main selling point for Gobble has to be the speed of preparation. Meals from Gobble are designed to take just 15 minutes and can be cooked in a single pan. The recipe cards also involve just three distinct steps, which makes cooking easier and faster still.
The style isn't for everyone. When I reviewed Gobble myself, I found that the food wasn't exciting enough. You're also relying on pre-made sauces, which is never my preference. But, the appeal is easy to see if you have a busy schedule or want fast and easy meals. There are also kid-friendly dinners, making this an interesting meal kit service for families.
You have to choose a dinner for two or four people, and they will deliver three weekly dinner kits for your order. They have a weekly menu including ten tasty meals. There is no shipping fee, you get easy-to-follow chef-crafted recipes, and their meal plans are flexible.
Ordering six or more meals from Gobble will cost you $ 11.95 per serving. A weekly shipment of meals for two people costs $71.70, while it costs $143.40 for four people. After the first week, if you order four meals, the cost per serving is $13.95 per meal and a total of $55.80 for the four servings.
Daily Harvest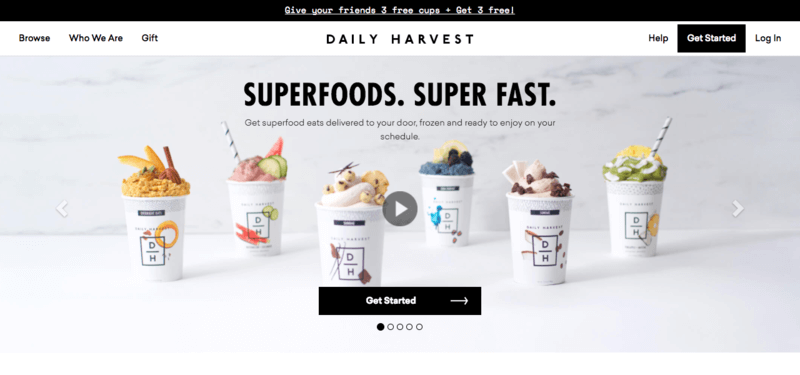 Since 2014, Daily Harvest has been offering a vast range of tasty and quick solutions for a healthy diet. The company is a little unusual, as they don't focus on traditional meal kits. Instead, their options include smoothies, harvest bowls, soups, sundaes, and lattes. Ingredients are flash-frozen and can be easily cooked or blended to create a nutrient-dense snack or meal.
Daily Harvest allows members to pick and choose which products they want. They do have a weekly subscription service delivering six or twelve cups of flash-frozen and unrefined organic ingredients. You can also opt for the monthly subscription offering twenty-four cups of their foods.
Their subscriptions are highly flexible, and you can cancel or skip orders if need be. There are no shipping charges on any orders. The recipes are gluten-free, soy-free, and dairy-free.
The cost for the weekly deliveries with six cups is $7.99 per cup translating to $47.94 per box. The weekly order for twelve cups is $7.49 per cup, and the cost per box is $89.88. The monthly subscription with twenty-four cups costs $6.99 per serving, and the price for the entire package is $167.76.
Nutrisystem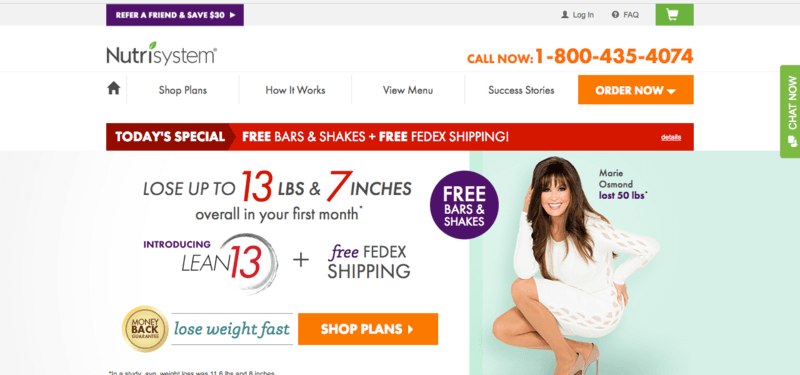 Nutrisystem maintains a strong focus on weight loss. It isn't the only weight loss meal kit service out there – but it does have some unusual approaches. The meal plans include the Basic plan, Core plan, and Uniquely Yours plan. These involve some meals that you prepare yourself using kits, along with various other products, like bars, shakes, and boosters.
The chefs focus on combining lean proteins and fiber sources to help you feel full. There is also a reliance on low-glycemic carbs for stabilizing blood sugar. They avoid artificial colors, preservatives, and sweeteners. Most of their items are frozen and packed in recyclable coolers to reduce the environmental impact.
The basic plan costs $9.96 per day while the four-week option costs $278.99. For the Core plan, a meal goes for $10.68, and a four-week cost is $298.99. The cost of the Uniquely Yours plan is $12.29 per day while the four-week price is $343.99. The Diabetes Basic plan goes for $9.96 per day, the Diabetes Core plan is $10.68 per day, and the Diabetes Uniquely Yours plan cost $12.29 per day. The Vegetarian plan goes for $13.71 per day.
One Potato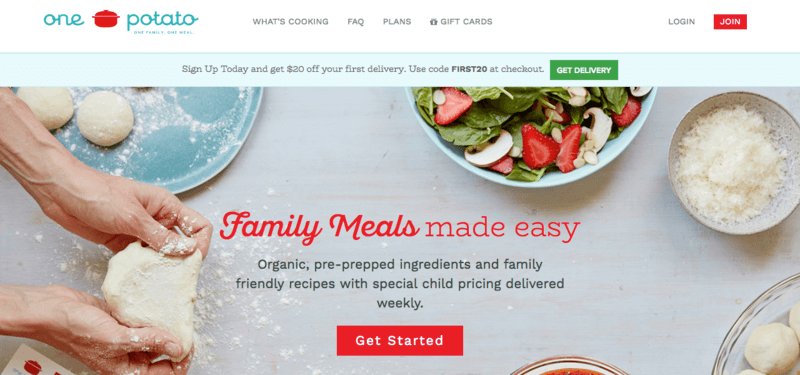 One Potato helps families eat healthy organic meals that take about 30 minutes to prepare. The meal kit delivery service offers non-GMO plant proteins as well as meat, poultry, and fish from sustainable sources. The service is also designed to use few ingredients per meal to create something that still looks and tastes amazing.
Their plans include the two, three, four, five, and six potato. Those names simply refer to the number of servings. Each program allows two to three orders a week. Like many services, One Potato operates off a rotating menu. However, there are relatively few options each week.
Even the pickiest eaters will enjoy One Potato meals, and they also have some meals that are designed for that exact audience. The average price per adult meal is $11.99, but you will have to add $1.50 if you need gluten-free customization (you'd be better off with an entirely gluten-free meal kit service).
Pricing for child-specific meals is set at just $4.50 per serving. Some of the plans can reduce the price per serving significantly. Shipping is free for standard orders, but their surprise gift box will cost $4.99 to deliver.
PlateJoy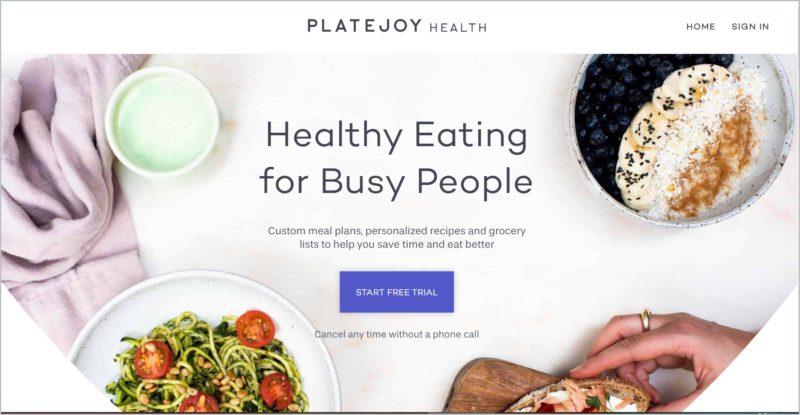 Planning meals can be strenuous for most people. PlateJoy takes the burden and prepares meal plans that suit your preferences. The food delivery service's unique characteristic is that they do not deliver ingredients; they just help you make a grocery list.
This means they're not quite a meal kit service but they still offer many benefits. You can also reduce your costs by eliminating things that are already in your pantry.
They cater for a variety of diets including vegetarian, paleo, diabetic, low carb, pre-diabetic, gluten-free, and low sodium, among others. You can opt for their annual subscription that will cost you $99. There is also a semi-annual plan that costs $69.
The only downside is that they only allow you to purchase from Instacart (if you need the ingredients delivered to you). Your subscription price does not include the items you buy on Instacart.
Good Eggs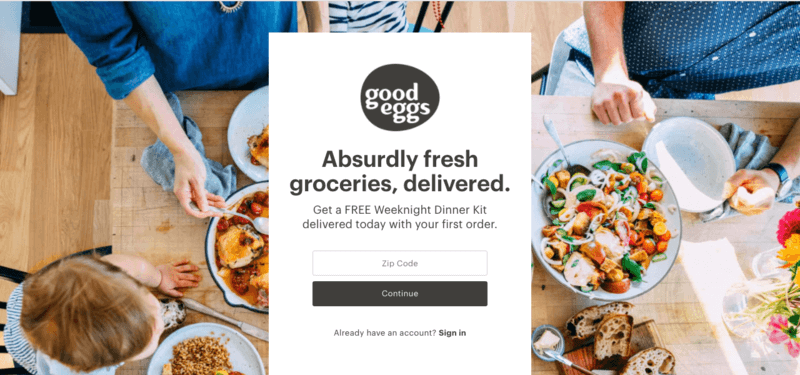 Good Eggs delivers to the San Francisco Bay Area only and offers ingredients that are extremely fresh. The local area focus should mean that you are getting food much sooner than with other companies. Recipes are designed to minimize your time in the kitchen. Most take between 10 to 15 minutes to cook and cooking times are listed on the site.
The best thing about them is you don't need a subscription, although you can sign up for one if you choose to. This means you can order what you want, when you want it. There is a decent selection of meals to make your choices from. They are also a green company; they take back their packaging and re-use it. You can even get your delivery on the same day if you order dinner kits.
So far, they only have an omnivore menu, but they plan to start catering for paleo, vegetarian and other diet options soon. Costs vary depending on what you order. For example, Roasted Chicken Panzanella costs $21.99. Sides and salads tend to be less expensive. The minimum purchase amount is $30 and each meal has three servings. Shipping is free for items above $60 and $9.99 for purchases below that amount.
Marley Spoon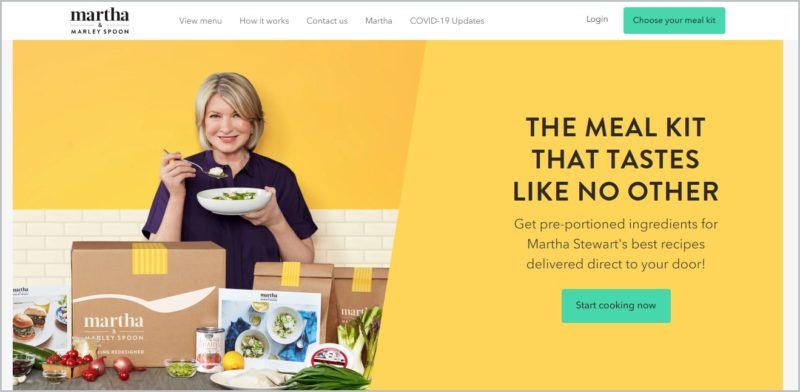 Imagine having your meals created by Martha Stewart. The renowned chef has teamed up with Marley Spoon to ensure you can cook just like her. The meal kit service brings you only the best fresh, seasonal ingredients. Their meal options change every week. The selection isn't large but there are always interesting meals to choose from.
They refer to their plans as boxes. You can either order the two-person or the three to four-person boxes. In each case, you can get two, three, or four meals each week. There is also the option to choose vegetarian or non-vegetarian meals. The recipes tend to be simple to prepare, often taking around 30 minutes to cook. The recipe cards are also simple and easy to follow.
Breakfast, lunch, and dessert options are not provided as part of the plan. However, these can be added on as side dishes. The price for the two-person package starts at $9.50, and you will pay at least $8.20 per meal for the three to four person meals. Shipping is free to all locations.
Blue Apron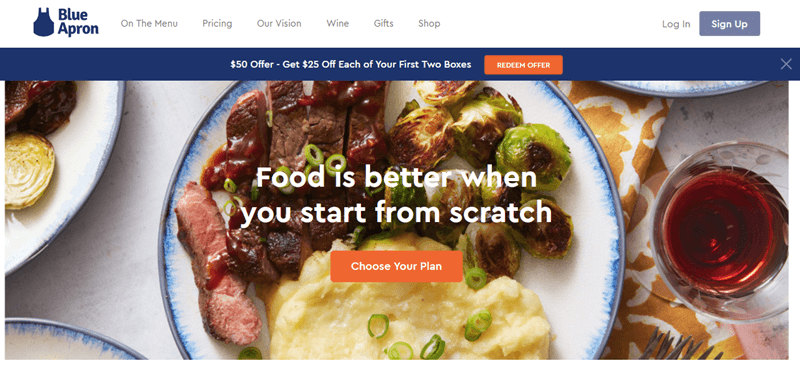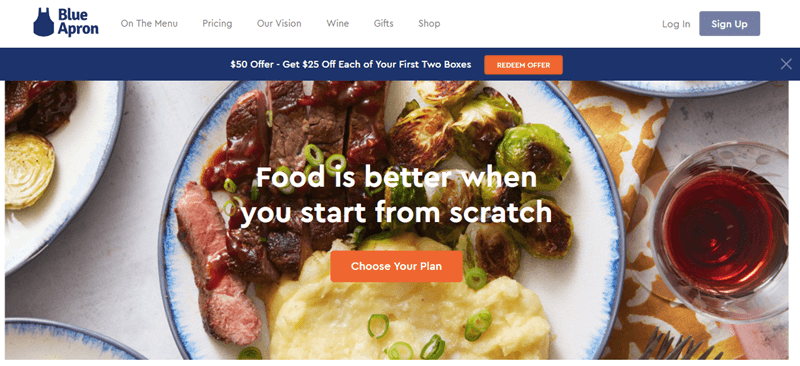 When you think of meal kit services, Blue Apron is probably one of the first names that springs to mind. Blue Apron was one of the earliest companies in this field and they heavily advertise their services. I've been a member myself multiple times as well. While their meals aren't the most amazing or creative options out there, they are consistently decent and would appeal to many people.
You do get to select your own meals with the service and there is even a wine option. The biggest limitation is dietary needs. Blue Apron does have vegetarian meals, but this is the only dietary need that they cater for. If you can eat pretty much anything, the style is fine. But, if you have an allergy or are on a specific diet, Blue Apron may not be the best choice.
There are two main plans from Blue Apron. The Two-Person plan can provide either two or three recipes each week and costs $9.99 per serving (free shipping). The Family Plan is designed for four people and offers two, three or four recipes per week. This one costs $8.99 per serving.
Home Chef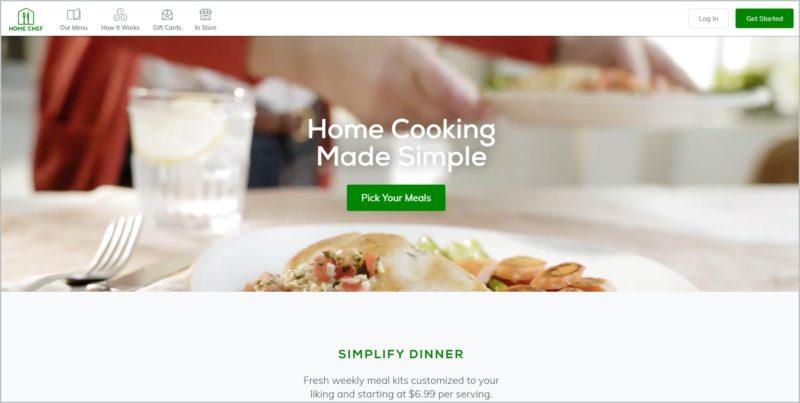 Home Chef was the most recent meal kit service that I've tried – and it was enough to make me excited about the process again. The absolute best thing about Home Chef was the food. The meals managed to taste delicious, without requiring an excessively long time in the kitchen. This was often because the recipes were a little creative, relying on some interesting flavor combinations.
The service doesn't promote itself as being allergen-friendly but they do allow you to select taste preferences. This includes stating whether you prefer low-calorie and/or low-carb meals, along with ingredients that you want to avoid. But, it isn't clear how strictly the company follows these requests. As such, the company is best suited to people who aren't highly sensitive to specific ingredients.
Home Chef uses a rotating meal plan, giving you somewhere between 11 and 15 options each week. Some of these are vegetarian, while others are meat-based or fish-based. There are normally a few smaller meals in the mix too, which could make for an interesting lunch.
Meals cost around $9.99 per serving and you can choose between two and six servings per meal (perfect for a family!). You can also choose between two and six meals each week. But, there is a minimum order size of $45.
The end result is that Home Chef is a decent enough service. The pricing is reasonable and the meals are interesting. It isn't my favorite company but it is still better than many others.
ChefMealKits

ChefMealKits is a platform where gourmet meal kits from thousands of top-rated restaurants nationwide are made available. They aim to create great home dining experiences with family and friends accessible and doable no matter how busy one can get. Through ChefMealKits, you can also learn to cook like a pro.
These are authentic recipes and specialty ingredients sourced directly by these restaurants. They also deliver cocktails, wines, and beers. You can simply browse their meal kits from over 20 top restaurants, order online and have it delivered to your doorsteps, and follow the recipe guide. You can browse through different searches – cuisine type, restaurant, and or city.
No subscription is needed to order online. Shipping cost is $9.99 flat rate and shipping takes 1 or 2 days. The delivery date will be highlighted during the checkout process right before the final payment is made. Boxes are shipped out once a week on Tuesdays. It's possible to order just 1 item as long as the order value is over $60.
Dinnerly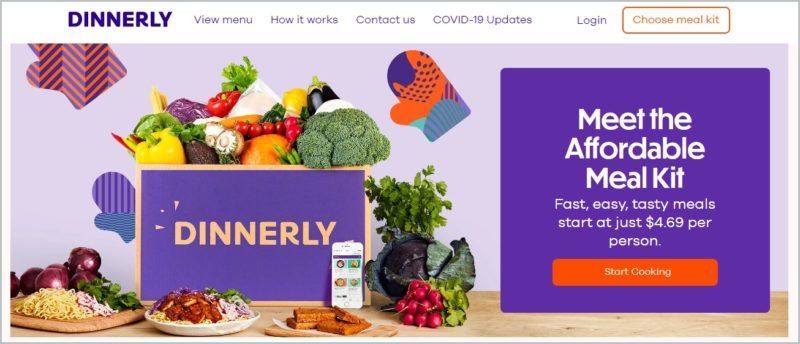 Dinnerly is one of the most affordable meal kit services out there. They ensure that more people can enjoy homemade cooking by making theirs affordable, only $4.69 per serving. It's great both for busy individuals and newbies at cooking because now only there are few ingredients per dish but their recipes are simple, and cooks fast, too. They also have an app for both iOS and Android available via iOS App Store or Play Store.
Dinnerly offers 16 different dishes that include vegetarian, dairy-free, low carb, and healthy options every week. They have an Ingredient Hub with a list of all the recipes and the ingredients with the allergens and specification along with details on what else do the facility it was made from has. They see to it that they put up the menus 4 weeks in advance, this way you can plan ahead what you want to have. Their subscription is very flexibles so you can skip any week or pause subscription if you wish to.
They use the same quality ingredients as the other meal kits but they take the simpler approach in order to make it more affordable to consumers. Dinnerly opt for simple packaging, digital recipe cards instead of printed ones, fewer ingredients per dish, and no fancy marketing campaigns. Dinnerly meals are truly affordable, only $4.69 per adult-sized serving. The Family Box with 4 servings and 3 meals a week costs $68.87 including a shipping fee of $8.99. There is also an option for you to make your box vegetarian.
Fresh Direct

FreshDirect has been offering fresh food since 2002, and although it's more of an online grocery delivery than a meal kit service, they do offer an amazing selection of meal kits. You can choose what protein you prefer, the cooking time (under 25 to 60 minutes), or any nutrition preferences you may have like high-fiber, low calorie, low sodium, low fat, or vegetarian. You can also opt for already prepared foods like appetizers or side dishes.
With FreshDirect, you're not only getting the best in-season picks and local goods, but chef-prepared meals as well, delivered to your doorsteps. You can browse their wide selection according to baking kits, stir-fry, smart & simple, and meal kits. One serving cost about $10, each meal kit can serve two.
You can save with fresh deals every Thursday on their favorite peak-season picks and recommendations. A DeliveryPass subscription is available to give you unlimited free grocery delivery as well as the ability to reserve a timeslot. You can start with a free trial of up to 60 days of free delivery plus $5 off orders Tuesday to Friday.
EveryPlate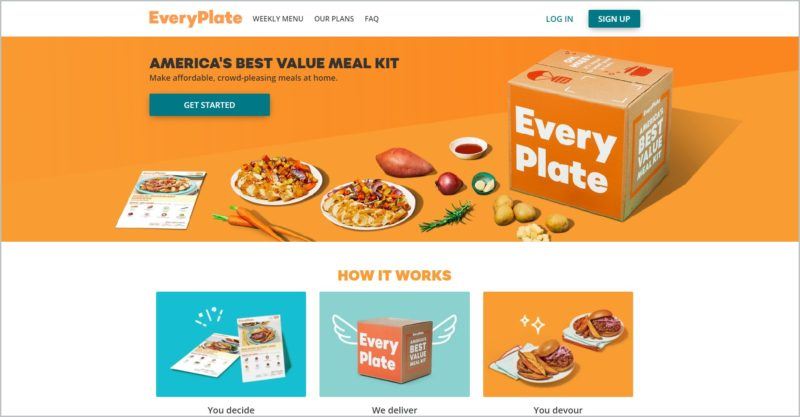 Another great but affordable meal kit service out there is EveryPlate. They offer incredible dinners for $4.99 per serving. EveryPlate makes it affordable for everyone, everything comes pre-portioned so you save money by only getting what you need. You also save time by making sure the dishes are simple, doable, and takes the least time to prepare. Because their priority is to keep prices low, they don't cater yet for special diets like keto, low carb, gluten-free, vegan, vegetarian, or paleo just yet.
EveryPlate offers a range of diverse and delicious recipes every week and comes with easy-to-follow instructions. They ensure that all the ingredients are carefully packed and insulated to ensure their freshness. They only teamed up with nationally recognizes suppliers for quality ingredients. The nutritional information for the meals are indicated in estimates because they purchase ingredients from several different suppliers, it may vary slightly. Allergen information is also provided on the recipe detail page and on the information cards included in the actual delivery package.
Their dinner for 4 for 3 times a week plan costs $68.87 including a fixed weekly shipping fee of $8.99. These plans actually have adult-sized portions, so dinner for four can be enough for a family of five as well. They have a very flexible meal kit subscription service. You can skip a week or cancel your subscription up to five days before your next delivery is scheduled. EveryPlate has earned quite a reputation – over 8,500 positive reviews on their Facebook page and an average of 4.4 out of 5-star rating.
Takeout Kit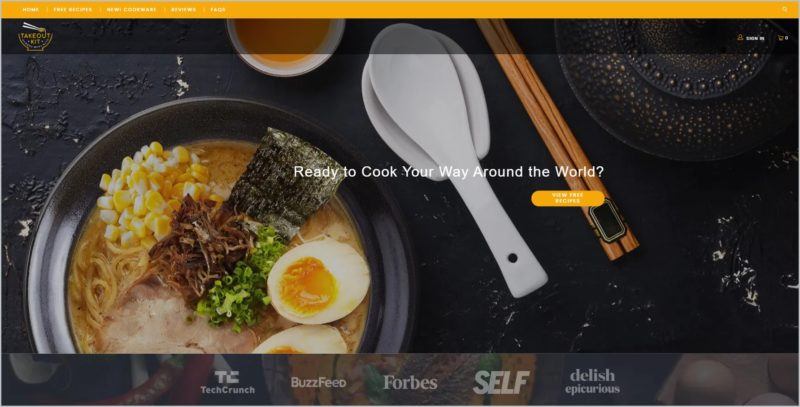 Takeout Kit is quite unusual in the sense that it's focused on international cuisine like Indian, Korean, Japanese, European, Peruvian, Moroccan and so much more. So if you're the adventurous type and curious to try global cuisine, then Takeout Kit is for you. They cater to different dietary preferences so everybody is free to be more experimental with dishes and simply opt for vegetarian, vegan, gluten-free, or all-natural.
With Takeout kit, cooking can be more fun and enjoyable and dining even more exciting. You will also learn more about the culture and background of the dish, and discover exotic new ingredients. They even offer, to complete your dining experience, music playlists, and drink pairing recommendations.
You'll feel at ease with their easy to follow recipes which are designed with your time in mind, so rest assured that dinner will be ready in as fast as 25-40 minutes. Recipes are also customizable so you can simply swap in plant-based protein, skip the chili powder or maybe omit salt.
Their meal kit included a full serving for 4 people, a recipe card, high-quality authentic ingredients, a list of all the necessary kitchen supplies that you'll be needing, plus suggestions for additional fresh add-ins.