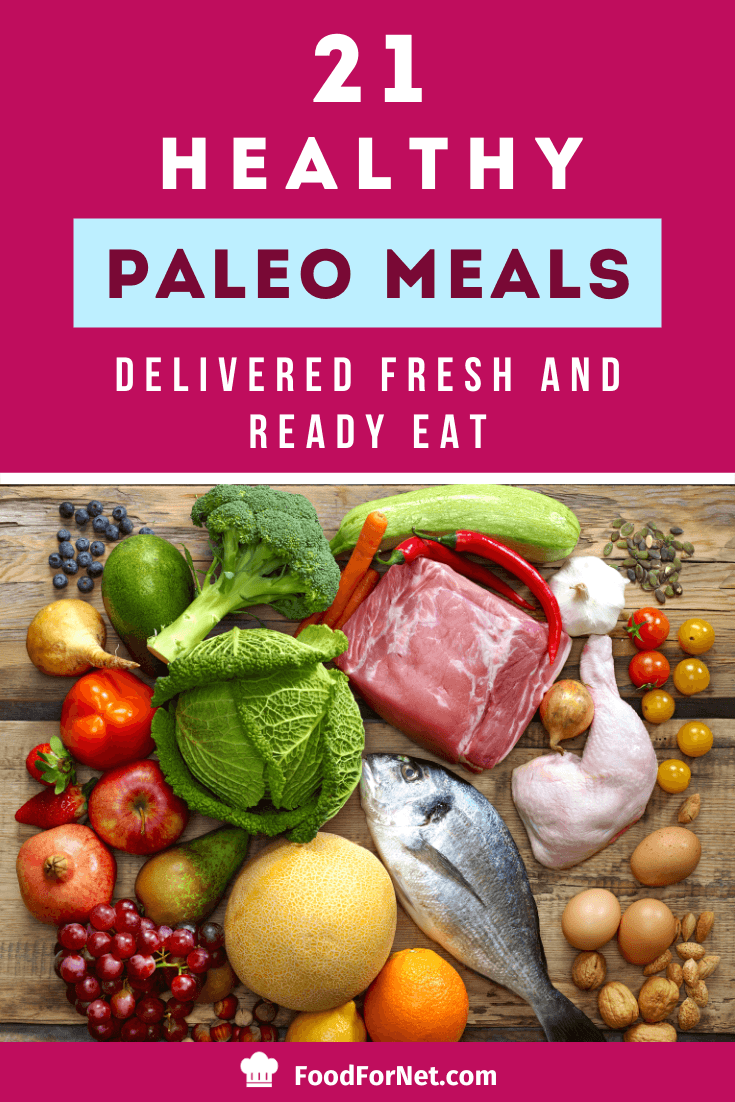 I love eating healthy food, but it's become harder especially now that life is so busy. I love to cook, but I can't always find the time. For people with diet restrictions, it's even tougher to eat "on the go" because most take-out food, whether bought in a restaurant, gas station or somewhere else, will not meet specific diet requirements. If you're on a paleo diet, reverting back to a high carb, high sugar diet, even temporarily, can really make you feel terrible.
These 21 paleo meal delivery services are the most convenient way of getting quick, healthy food.
I haven't tried all the services on this list yet (I'm working through them), but so far my #1 choice is Factor 75. I dig their meal choices, they're easy to get started with, and the food tastes great.


Another benefit of any meal service is that you'll always have a stock of freshly made, chilled or frozen meals you can heat up and eat in no time.
Imagine cutting your cooking time down to just a few minutes instead of over an hour (including cleanup), and you also get to skip shopping trips! Good news – there's plenty of paleo meals that you can have delivered right to your door, just like any other diet out there like gluten free, ketogenic, dairy free, raw, vegan, and others.
These services make it easy to maintain a healthy diet without having to deal with for groceries or cooking. Plus, you get your food quickly and without stress. Multiple food companies now take the stress out of your hands, by delivering fresh and ready-to-eat healthy meals to suit your preferences.
I have been interested in Paleo meals for a while, and I wanted to figure out just how many of these meal services exist. I was surprised at just how many different options there are. This list highlights the top 21 that I found, along with what they have to offer. I am sure everyone looking for Paleo meals services will appreciate the information.
Do you love cooking and have the time to do so? You can also check out our list of paleo meal kit services. These send you the ingredients and let you do the cooking, giving you the best of both worlds.
Paleo Meals Delivered
Trifecta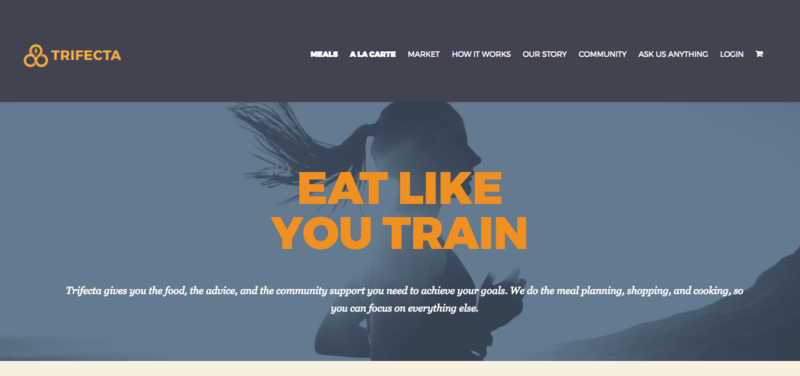 Trifecta is an exceptional organic food delivery service that focuses on natural ingredients and healthy meals. They claim to offer the highest quality ingredients in the industry.
This includes using ingredients that are free from GMOs, gluten, dairy, and soy. The protein is also wild caught or grass fed and the meals are never frozen. The focus is perfect for anyone who is passionate about healthy and clean eating. Trifecta also provides nutritional details for each of their meals, so you know precisely how the food will fit into your eating plans.
There are four meal plans to choose from: Paleo, Clean, Vegetarian, and Vegan. Their paleo plan follows all of the tenets of paleo that you would expect, such as avoiding dairy and legumes.
With this plan, you can order between two and four meals per day and between five and seven meals per week. There is also the option to make one of those meals breakfast. The price varies depending on the plan you choose, starting at $147.90 per week. That version gives you a total of 10 meals and averages out to around $14.80 per meal.
The meal plan doesn't offer any customization options, so you don't get to choose which meals you receive. Instead, the company has a different menu each week and your meals come from that. However, there is a notes section. You can use this to specify up to two food allergies or preferences. The plan is also no-commitment, so you can skip or cancel as you see fit.
There is also an A la Carte menu. This allows you to order individually. But, the style is unusual. Rather than ordering full meals, you mostly purchase components of meals, such as flat iron steak, asparagus, or mixed vegetables.
You also order these weekly. For example, you can order 1 lb or 2 lb of flat iron steak per week. That costs $26.35 or $48.99 per week, respectively. There is also a minimum order size of $119, unless you're combining the service with a meal plan.
This aspect isn't paleo-focused. Even so, it would be easy to just choose ingredients that are suitable for your diet. The overall idea is strange. But, it could work well for some people and situations.
Trifecta delivers anywhere in the U.S. including Alaska and Hawaii. They also provide free shipping on all orders. You receive your meals packed in vacuum sealed containers. Shipping is only once per week and you get your food on a Friday.
Pete's Paleo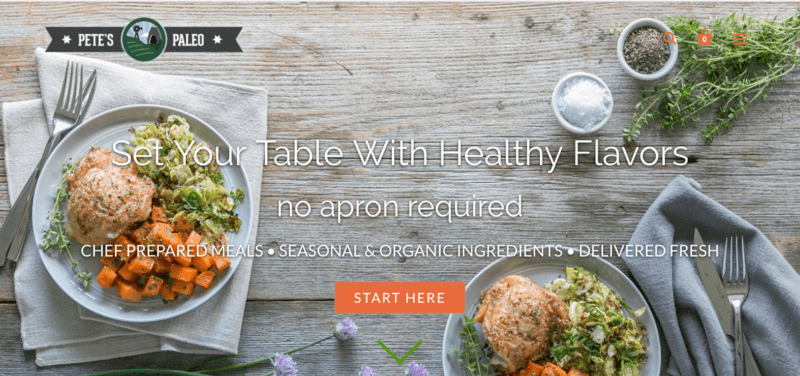 Pete's Paleo uses only the best, responsibly sourced ingredients to come up with a range of colorful and flavorful paleo dishes. They purely use organic products that are locally grown and harvested, and their meat comes from grass-fed animals.
They also have a focus on fresh produce, obtaining ingredients the same day that they were harvested. The menu also changes based on current harvests. This makes it less predictable than other services but you get fresher ingredients and more interesting meals as a result.
The service is also flexible, offering many different plans. This includes plans with 5, 10 or 14 meals each week. There is also a family option, offering five meals per week with four servings in each. Finally, there is a vegetarian paleo option, with 10 meals each week. Some of the plans allow you to choose whether you want extra sides, double protein and whether you want to include pork.
Meals service offers five meals plans with five, 10, and 14 meals options. Additionally, they provide ready-to-eat meals suitable for a 21-day sugar detox program with Paleo protocol.
There are a few products you can buy individually as well, including their signature bacon which contains no sugar or nitrates and comes from purely pastured pigs. Another option is their bone broth.
Their meal plans range from $123 for five meals to $324 for the family plan. Overall, their prices are high but are worth it for the health conscious individual. After all, you are getting fresher meals than most other services.
At Pete's Paleo, dishes are sent out in individual zip lock bags to maintain their integrity. You can get their meals delivered to your home or office, and they ship out nationwide in the U.S.
Alternatively, you can personally pick up your order every Thursdays from one of their six San Diego locations. The only foreseeable problem with this meal service is their inconsistent menu options.
Paleo on the Go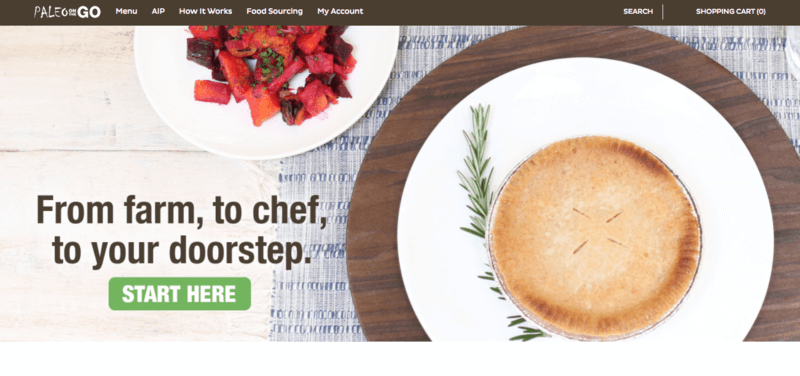 With a name like Paleo on the Go, the focus of this company should be obvious. The meals follow the common principles of the paleo diet. This includes avoiding all dairy, with the exception of grass-fed ghee. Ghee is a type of clarified butter and doesn't contain lactose.
It is a common inclusion on the paleo diet and is only present in a few of the meals from Paleo on the Go. The company also has an AIP-friendly paleo menu. This menu is entirely dairy free and is designed for people with food sensitivities. Following AIP in the short-term can also be a good way to learn more about how you respond to foods, along with which ingredients could be causing health issues.
Meals can be ordered individually and the price varies depending on what you choose. Many of the main meals are somewhere between $15 and $20, although there are cheaper and more expensive options. The selection isn't just limited to meals either.
Instead, there are some snacks included, along with sides and related products. For example, Paleo on The Go recently launched an out-of-this-world Carob Delight Slim Mint Cookie, which is a delicious AIP-friendly version of the Girl Scout Cookie favorite.
The meals come frozen and carefully wrapped in a sealed cooler packed with dry ice during delivery. The meals can be reheated in the microwave, although Paleo on the Go recommends reheating in the oven or on the stovetop whenever possible. It's also best to thaw the meal first, rather than trying to reheat it while it is frozen. Regardless, each meal contains detailed reheating instructions.
Beetnik Foods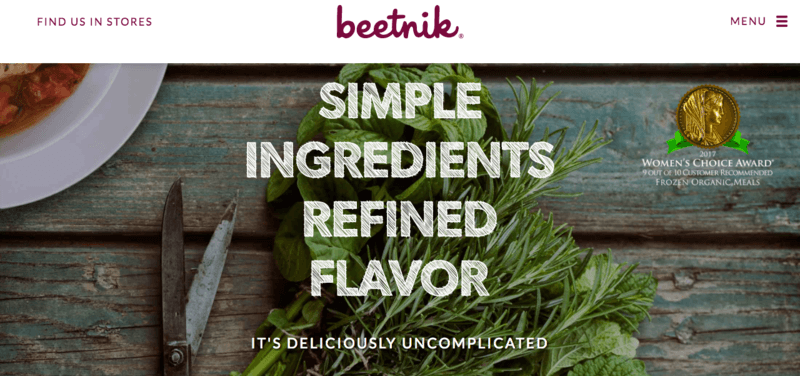 Located in Austin, Texas, Beetnik Foods is an organic food company focusing on delivering convenient prepared meals to your doorstep. They use gluten-free, organic and natural ingredients to make their meals. They also avoid MSG, artificial colors & flavors, hormones, antibiotics, and high fructose corn syrup.
The service also relies on humanely-raised grass-fed chicken and beef for their meat-based dishes. The company is unusual in that you'll find some of their meals in grocery stores as well. Even so, the dishes are much healthier than regular frozen dinners.
As a whole, the company isn't paleo but some of the individual meals are. These are easy to spot, as the company uses a paleo stamp on any that fall under the diet. Examples include Honey Chicken with Zucchini Noodles and a Chicken and Vegetable Stir Fry.
One challenge is the selection, there are currently 18 different meals but only six of these are paleo. There are also two sauces you can order, which are both paleo. If you're just looking for meals every so often, then the range might be fine. But, it would be easy to get bored if you want multiple meals each week.
The meals themselves are reasonable at $7.99 per tray. There are also value packs that contain eight meals for $59.99. However, all eight of the meals are the same flavor, you cannot mix and match. Only some of their meals can be purchased in this manner. There are also variety packs that do mix the meals. One of these costs $84.98 and offers 11 paleo meals. The other costs $62.99 and contains eight Whole30 meals.
One final thing to mention is flavor. Reviews of the meals are mixed. Some people suggest that the dishes are too spicy, while others find them to be too bland. This suggests a significant variation between the meals. It could easily mean that you love some of them and not others.
Paleo Power Meals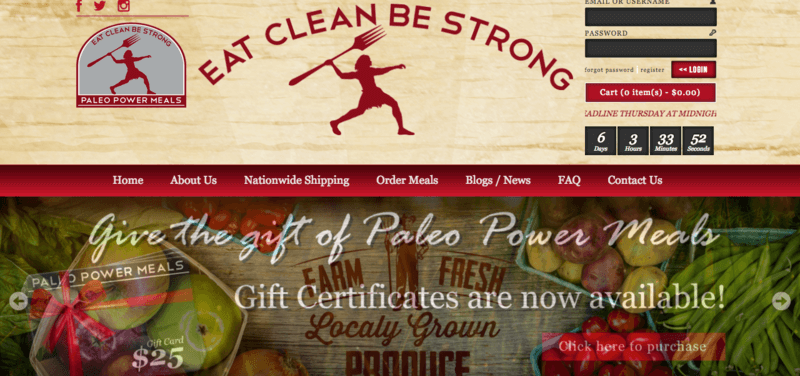 Like many of the other companies on this list, Paleo Power Meals focuses on high-quality ingredients. This includes organic produce (whenever possible), along with grass fed beef and free range poultry. In addition to being paleo, the service has a strong focus on performance and fitness, helping people to gain muscle and to lose weight. All of the meals are freshly cooked and sealed, never frozen.
This results in higher quality and you can always freeze them yourself if needed. You can pick up your order from their local delivery locations or have it dropped off to your doorstep anywhere in the U.S.
Their meal portions are generous, which is partly due to the performance focus. You order meals individually through the service and the price varies depending on what you choose. For example, breakfast typically costs from $5.95 to $9.95, lunch from $8.95 to $11.95, and from dinner $10.95 to 15.95.
There are also various sides to choose from, for either $5.95 or $6.95. Shipping is free if you order more than $75 worth of food. Otherwise, you need to pay for shipping as well. There are also discounts if you spend certain amounts. This goes up to a 15% discount if you spend $200 or more.
The meals service ship orders out via FedEx on Mondays either to your home or your preferred drop off location. Like with most meals services, their prices fall on the steep side, but the overall goal is to get healthy meals conveniently.
Some of their drawbacks include their website interface, which makes it hard to add various orders to your cart and checkout at once. The food service only ships on Mondays and their weekly cutoff is on Thursdays.
Also, once you make an order, you cannot cancel that order and get a refund. The selection is decent enough but it isn't astounding. Many of the meals also look less than appealing, although that may be the result of poor food photography.
Paleo Diet Delivered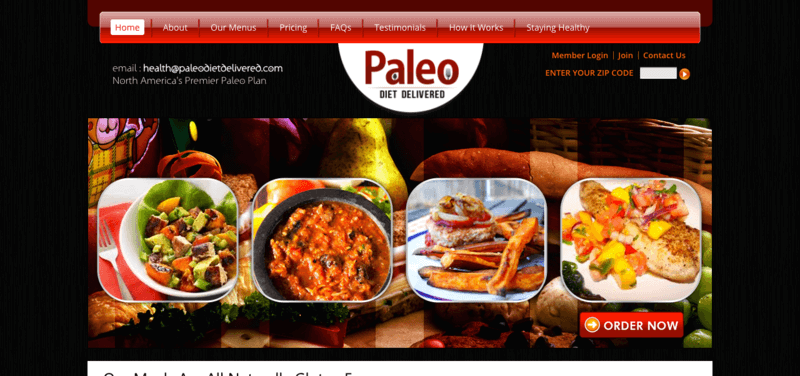 The focus of Paleo Diet Delivered should be obvious simply from its name. As such, the meals will all follow paleo principles. The company is also powerful for their range of interesting meals, making it easy to add variety to your diet. Their meals arrive in state-of-the-art biodegradable packaging that is also recyclable.
Paleo Diet Delivered states that they use responsibly sourced ingredients that are fresh and natural. However, there is little indication of where these are sourced from. Unlike many other paleo companies, the ingredients don't tend to be organic, which is a significant disadvantage.
With this service, meals are delivered twice a week via FedEx to your doorstep. Currently, the service ships to 50 states and they ship out meal orders in temperature controlled boxes.
The meals come packed in food containers that are oven and microwave safe, with accompanying re-heating instructions. The standard price of their meals is $16.95, while their juices cost $12.95 per serving. There is also a decent selection to choose from, with some of the meals getting very positive reviews.
The largest limitation is the price. The meals are relatively expensive, especially as they're not organic. Some of the other options on this list offer meals that are the same price or even cheaper, while being organic. While the meals are appealing, they're also not unique. You'll find similar options from other companies.
The meals are also on the small side and they don't offer nutritional information. This might be good for weight loss. Ultimately, it's a matter of checking out the menu for yourself and seeing if there's anything that catches your eye with this company.
Factor 75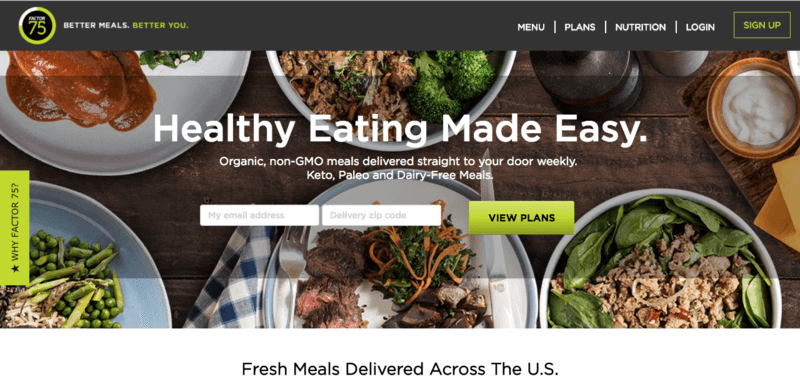 Factor 75 isn't just another paleo meals service. Instead, it is a broader company and offers some interesting advantages as well. The first thing is the ingredients. The company uses organic produce, along with grass-fed and pastured meats. All meals are free from soy, gluten, and GMOs, while added sugar and artificial sweeteners are avoided as well. This is true for all the meals, not just the paleo ones.
The company lets you order meals individually and uses clear labeling to show which dishes are ketogenic, paleo and dairy-free. The design makes it easy to find meals that suit your needs. The meal selection isn't amazing, especially as only some of the dishes are paleo.
But, the service has a weekly rotational menu, so you're not going to get bored. The food photography is also great and the dishes look like something you'd cook at home. Many of the other companies fail in this area. Reviews suggest that some of the dishes taste as good as they look. Again, that's impressive.
Some of the dishes may be a little spicy if you have a sensitive palate. However, the spicy meals are clearly labeled, so you can simply choose to avoid those.
Their meals are delivered in an insulated box, and the packaging material is recyclable. The Factor 75 zero oxygen ™ packaging guarantees freshness up to nine days. Best yet, the packaging lists a nutritional breakdown of the meals and the ingredients used to prepare the meal. However, some people report that the packaging is a little flimsy and can let air in.
The meals service delivers a variety of meal plan options with the four meals option priced at $60 a week ($15.00 per meal), six meals cost $77 a week ($12.83 per meal), eight meals cost $99 per week ($12.37 per meal), 12 meals priced at $138 per week ($11.50 per meal), and 18 meals at $198 per week ($11.00 per meal).
Their prices favor those ordering meals in bulk, and the meals are fairly expensive if you just want a few per week. They charge a delivery fee of up to $45.00 which is costly especially for lower volume orders. However, the meals can be frozen and you can cancel at any time. This would allow you to buy in bulk from time-to-time and lower your cost per meal considerably.
Wild Zora Paleo Meals To Go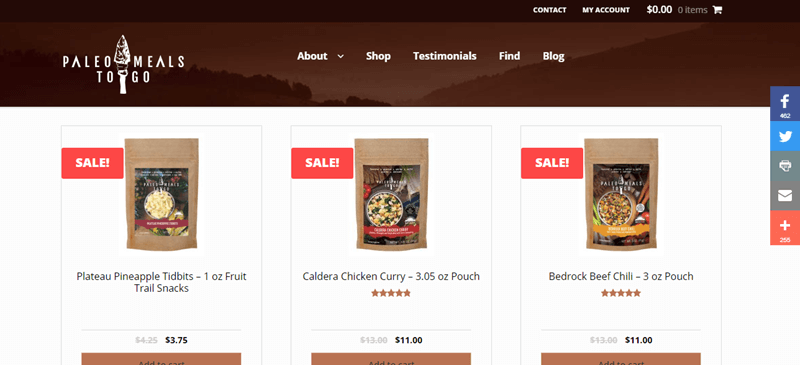 Wild Zora's Paleo Meals To Go (15% Discount Link!) is based in Colorado and they follow a different style to most of the other companies. Many of the meals here are freeze-dried and packed in sealed bags. This makes them shelf-stable and means that they will last for a long time.
As the company explains, this makes them perfect for an emergency preparedness kit, as well as for camping, hiking, and traveling. In fact, they'd be perfect if you were going on a business trip and just suspect there won't be any paleo-friendly restaurants in your area.
There are also a few traditional protein bars available, along with three meat and veggie bars.
The total selection is limited, with just 16 products in total. Only half of these are actually meals. As such, the service isn't a good choice for dinners during the week. But, it's not designed for that either. The service is best suited for people who are active and want easy paleo solutions while they are on the go. After all, you shouldn't have to stress about your diet while you're out camping.
Reviews suggest that the meals are more appealing than regular freeze-dried meals. And, of course, they're paleo. Most similar products out there don't focus on paleo meals.
Their meals contain about 320 to 360 calories. Being a Paleo service, their meals feature a high protein content with moderate fat content and low carbohydrate content. At the back of the package, they attach a label outlining your order's nutrition content and a list of ingredients used to prepare your meals.
You order the meals individually through the site. Most are priced at $13, or $11 when on sale. The snacks are cheaper, often around $3 or $4 for a package.
You do also pay for shipping though priority mail. How much this is will depend on your specific order, although the company aims to keep the prices as low as possible. It normally takes the company two to three days to fill and order and ship it, then another two to three days for shipping.
Eatology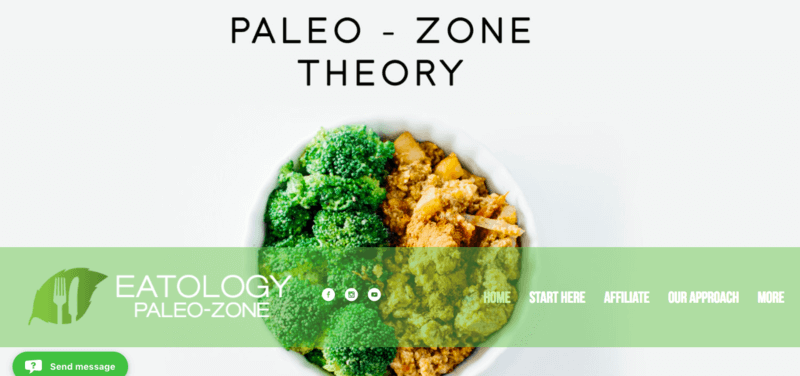 Eatology is a meal delivery service based in Bryan, Texas. The service delivers to all parts of United States, and they ship orders out from Monday to Friday every week.
To make sure that you get fresh food Eatology coordinates their deliveries to perfectly match the FedEx shipping schedule. This avoids having meals sitting in their shipping facility over the weekend and means that you have tracking information.
Eatology refers to itself as being paleo-zone, which suggests all of their meals are paleo. Oddly, the emphasis isn't stated clearly on the site. Instead, all of their meals are simply considered 'clean eating friendly'. This means they rely on whole food ingredients, including natural protein and fresh produce.
The company avoids added sugar and aims to keep the sodium levels low. Even so, they are able to account for specific needs, including paleo, Whole30 and vegetarian. That phrasing suggests that paleo is just one of the options, yet the branding on the site implies a paleo focus. Based on reviews, it seems that the meals are all paleo. Still, it might be worth talking to customer service before you order to clarify.
An interesting aspect is their meals. There are two different sizes, either 2B or 3B. The terminology refers to blocks of nutrients. The 2B option provides, on average, 14 g of protein, 18 g of carbs, 3 g of fat and 155 calories per serving. The 3B contains 21 g of protein, 27 g of carbs, 4.5 g of fat and 232 calories. The larger meals are appealing if you want to feel full or if you're active.
That being said, the meals are a little frustrating too. The company doesn't provide images of their food and there aren't many details for each of the dishes. Thankfully, there are around 20 main meals at any given time, although some of these change daily. So, there is a decent selection – even if you don't know much about what the meals look or taste like.
Eatology have three meal options including Individual, Special, and Auto orders. The individual plan features six order options allowing you to choose up to ten meals in a week at $105 every week. You can also order 15 weekly meals at $157.50 or 21 meals at $220.50 per week.
The family plan, which can serve four or more people, costs $35 per meal. They charge a weekly $25 shipping fee for orders of 10 to 15 meals. The shipping fee increases to $50 per week in the case of the 21 weekly meals They also charge an extra fee of $5 for shipping to California, Montana, Washington, Maine, and Idaho.
Grandcestors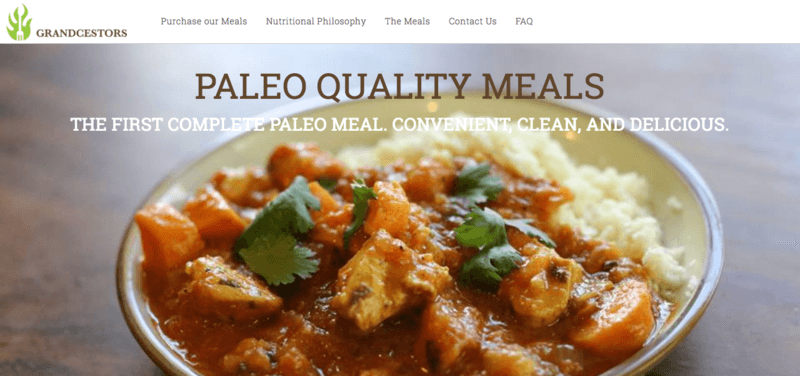 Grandcestors is located in Colorado and offers a range of paleo meals for you to choose from. The company aims to 'take the science out of ingredients', which basically means they focus on whole ingredients and try to avoid processed foods.
The meals are also nutritionally balanced and aim for an optimal balance of carbs, protein, and fats. They don't actually state what this balance is, partly because it will change from one meal to the next. The main ingredients used are vegetables, fruit, nuts, meat and non-grain based oils (e.g. coconut oil). Meals are also free from legumes, soy, and grains. On a side note, the dishes are free from milk but may contain other dairy ingredients, like butter. This is unusual for a paleo service but not unheard of.
Their menu features selections of different dishes including Cottage Pie, Chicken Tikka Masala, Grumbo, Not Yer Momma's Meatloaf, Colorado Hash, Grandcestor Stuffing, and Le Poulet Granscestor.
Each of these options costs $9.99, and they ship meals in 48 states via three-day ground shipping. The company offers a 10% discount if you order 25 meals or more.
The meals themselves come in individually vacuum sealed packages and are frozen during production. Detailed nutritional information is provided, along with an ingredients list. They only ship once a week and it takes up to three days to get your order to you. If the shipment is impossible by Friday, they send it out the following Monday.
While the company is appealing, they don't have meal customization options, and there are no meals for special dietary needs. The selection is also limited, with just seven meals on offer. These would get boring fast, especially if you wanted multiple paleo meals each week.
Kitava (formerly Meal Made)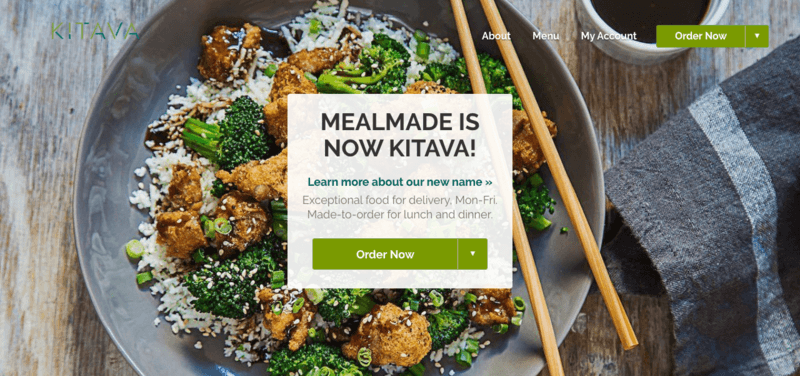 Kitava is a meal delivery company operating out of San Francisco. But, they're more than just a delivery company, as they also operate a restaurant. Meals can even be ordered and picked up from there. Alternatively, the company offers delivery using services like Uber Eats and Grubhub.
The style means that you receive your food fast, often in 30 minutes from the time you order. However, you do need to be located in the San Francisco area to order. Delivery is available from 5 am to 9 pm, Monday to Friday.
On average, the meals provided are higher quality than other companies and are more like what you would find in a restaurant. After all, the company isn't delivering far, so the meals don't need to be suitable for long-haul transport. The dishes simply look amazing and there are some more unusual options than you'll typically see. The options even include paleo ice cream.
There is also the chance to customize, including the ability to swap out the protein. For example, the Baja Bowl Meal can use pastured chicken, wild-caught salmon or cumin-spiced beans as the protein of choice. Each meal is also tagged with dietary criteria.
Some are low carb and nut free, while others are also vegan or AIP. The dishes are also all paleo and gluten-free. The selection isn't the widest that you'll see but the quality of food more than makes up for that limitation.
Their meals range from $12 to $16, with dessert option going for around $6. Your order comes with a list of the ingredients used, with detailed nutrition information, and photos of every dish.
They use high quality and non-inflammatory oils including avocado, olive oil, and sustainably sourced palm. Kitava sources 100% grass-fed beef, and they only use natural sweeteners like coconut palm sugar, raw honey, or Grade B maple syrup.
They use cassava, almond flour, coconut, and arrowroot in their 100% gluten-free kitchen. The price for their meals might be high but it's not unreasonable. Plus, the dishes are fresher than most other companies.
One Paleo Delivers (SoCal)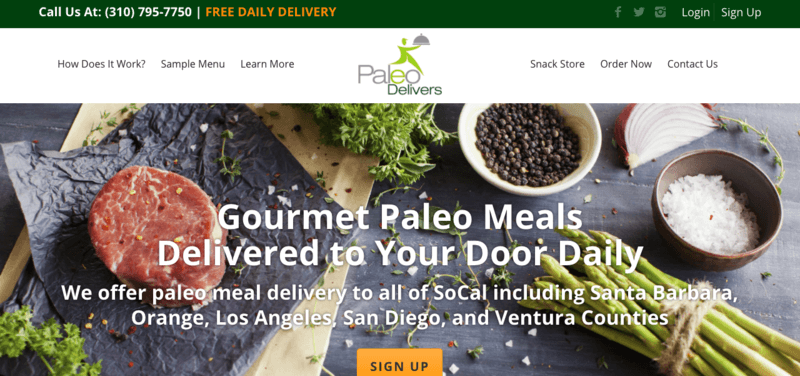 One Paleo Delivers (SoCal) is an exclusive meal delivery company in Southern California and they only deliver in that local area. All of their meals are paleo, which includes being free from gluten, grains, beans, dairy and refined sugar.
The meals service delivers freshly prepared dishes to your door on a daily basis. This style is unusual for prepared meal companies, as most deliver weekly instead. But, the approach works well and means your food is fresher. You can also skip delivery days when needed, as long as you provide at least 48 hours notice.
One Paleo Delivers is also a good choice for people with allergies. The company allows you to specify up to six different food allergies or dislikes. This helps ensure that you'll enjoy the meals that you receive. They deliver the meals for six days in a week with Saturday and Sunday's meals shipped out together on Saturday. Their meals have a consistent taste, with generous portions and no delivery charges.
They have two main meal plans. One offers three meals and two snacks, starting at $60 per day. The second plan contains two meals and one snack, starting at $45 per day. Both plans let you sign up for anywhere from 5 days to 60 days. The longer the duration, the greater the discount.
The plans are flexible as well. You can choose add-ons, like making the meals Whole30 approved or including an extra meal or snack. You also get to choose the portion size, starting at 1,200-1,400 calories per day and going up to 2,400-2,600 calories per day. More than anything, the service is amazing if you want all of your meals organized for you. That's an amazing time saver, especially if you love the food that they offer.
Sunfare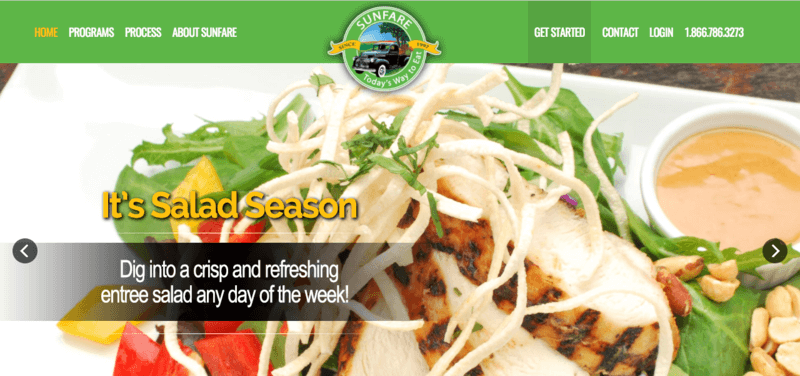 Sunfare is a broad company, covering multiple different styles of home-delivered meals. They offer five meal programs: Paleo Fit, Family Dinners, Signature Diet, Optimal Cleanse, and Vegetarian Life. Needless to say, the paleo option is the one we're interested in here.
The paleo plan follows all the standard paleo requirements, including being free from grains, legumes, refined sugar and dairy. They also exclude potatoes, something that only some other plans do. The meals also rely on natural ingredients and include fresh products, along with wild caught or sustainably raised fish. However, it's worth mentioning that the produce isn't organic and the meat doesn't appear to be grass-fed.
The plan starts at $49.95 per day and offers breakfast, lunch, and dinner, along with two snacks for the price. This is considerably cheaper than the previous example, although the meals aren't as exciting. There is also a Paleo Fit Plus plan that starts at $54.95 for the same amount of food.
This one provides larger portions and more calories, although the meals are the same. You can order either plan in a weekly or monthly manner. Ordering weekly allows you to pick and choose which meals you want on which day, although you need a minimum order of $24.95 per day.
The company operates through a set menu. But, you can choose to 'serve alternative' for any of those meals and pick what you would like instead. The style works well – although it takes some effort to manually choose your food every single day. There are many meals to choose from, so you're bound to find some options that you enjoy.
The overall style works well for health and weight loss, especially as the meals are in healthy portions. However, the delivery range is limited and Sunfare currently just serves the Los Angeles and Phoenix areas.
Top Chef Meals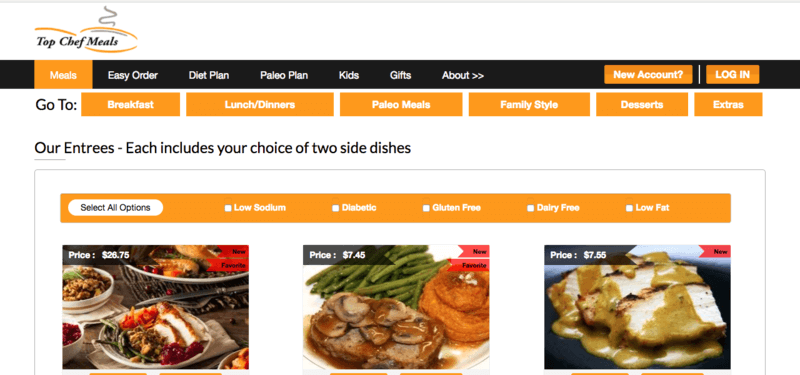 Many of the companies on this list are exclusively paleo – but that's not the case for Top Chef Meals. Instead, the company covers multiple dietary areas, with paleo being one of the options.
Another difference is that Top Chef Meals doesn't focus on organic meals. Their ingredients do come from local distributors and farms but there are no additional details provided. This suggests the ingredients may not be as fresh or high-quality as some other companies. But, by doing so, Top Chef Meals is able to provide cheaper options. Many of the dinners just cost between $7 and $8.
There are two styles of paleo meals on offer. The first are the entrées, which are similar to other styles from the company. These provide you with one main component (e.g. Dijon Salmon) and two sides. There is also a separate paleo menu that comes with one side dish rather than two. Either way, the style gives you flexibility about what you eat.
You can also order through the company's Paleo High Protein Gym Plan. This is designed to be a weight loss system that also promotes muscle development. In it, the company provides four weekly menus, each containing 15 meals.
The price ranges from $119.95 to 126.50, depending on the meals in question. The style works well if you want something easy, especially if you're looking for filling meals as well.
Ice Age Meals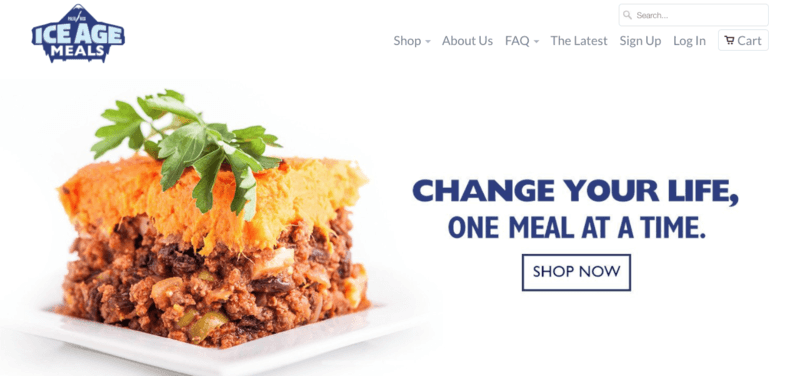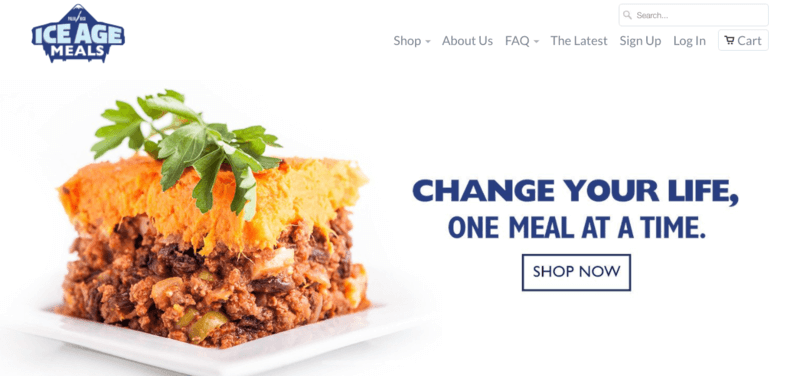 This company has some interesting quirks. Basically, Ice Age Meals is a paleo company, offering frozen dinners that you just need to reheat. Because these are pre-made, there are no customization options.
You don't order the meals through a plan or anything like that. Instead, you build a box containing 14, 24, or 48 meals. The smallest box costs $174.99 and averages out to around $12.50 per meal. The largest costs $534.99 and averages to around $11.15 per meal. So, you save a little by buying in bulk but not a large amount.
All of the meals are meat-heavy, so this isn't a good company if you want more veggies. Even so, they look great and could be enjoyable.
But, one major limitation is the definition of paleo. Out of the 17 meals the company currently provides, four of them contain rice. Rice isn't traditionally included in paleo. The company clearly marks these, although they never explain why some meals have rice in them.
If you're following paleo strictly, then you could easily just avoid the rice dishes. Still, the style is something to be aware of. The issue also decreases the number of meals you have to choose from. And honestly, there aren't that many anyway.
NutriFit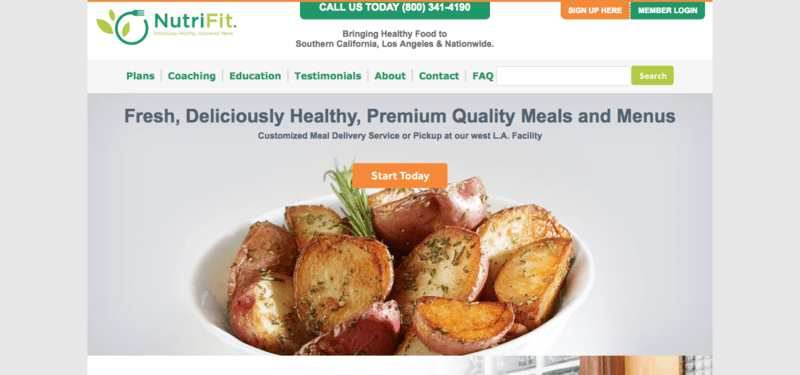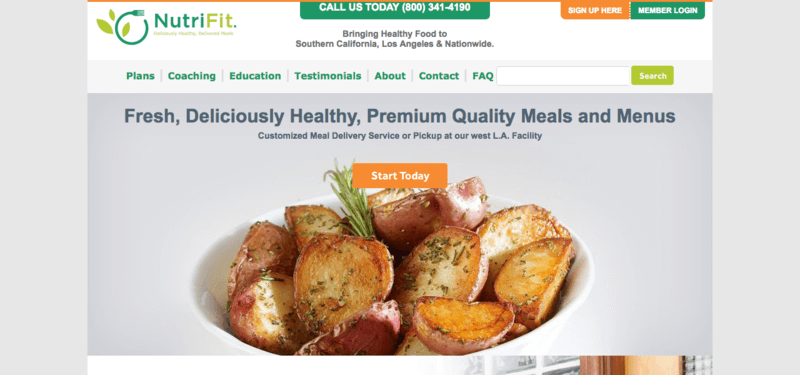 Most of the companies here specialize in paleo or at least have a paleo menu. NutriFit doesn't do either of those things. Instead, it gives you the ability to customize based on various options. The paleo diet is one of these.
In theory, choosing a paleo weight loss plan through NutriFit should give you daily meals suitable to the paleo diet. You can choose whether you want breakfast, lunch, and/or dinner, in any combination. I say 'in theory' because NutriFit tends to be extremely vague. They offer no information at all about how they're defining paleo or what meals you'll actually be getting.
This is a serious problem because there isn't really one single paleo diet. Instead, there are multiple definitions. Some people include dairy, others don't. One of the companies on this list even includes rice, despite claiming to have all paleo meals. And honestly, knowing the type of meals you're paying for just makes sense. Yet, NutriFit just doesn't provide that information – at least not until after you've paid.
As for ordering, the company offers two plans. We're only interested in the Premium one, as the cheaper option doesn't support paleo. The Premium plan lets you see the meals you're going to get before they're shipped and you can change these. You can also specify various ingredients to exclude.
If you pay for 28 days (which is the cheaper option), the plan starts at $17.95 for breakfast only, $18.95 for lunch only, and $28.95 for dinner, with a soup/salad & dessert or a snack. If you want all three meals (plus the dinner snack), the pricing jumps to $54.95 per day. This is just an estimate as well. NutriFit states that some requests may result in an extra fee.
This makes for an expensive service, one that offers few details. If you had multiple needs or restrictions, it could be worth it. But, if your only focus is paleo – the price may simply be too high.
Paleta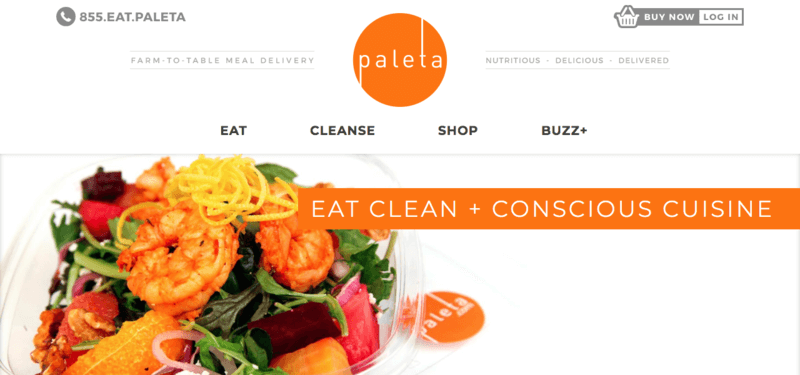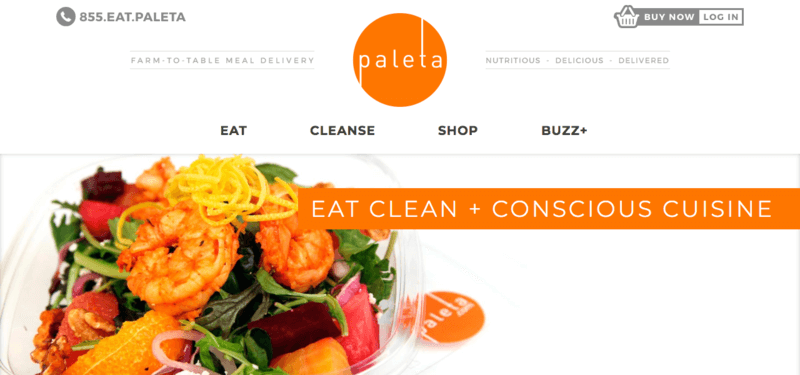 Paleta makes it onto this list because they follow paleo principles and do have a paleo meal plan. This includes focusing on recent research, along with the idea of whole food, healthy fats, and locally sourced ingredients. But, the service isn't strictly paleo.
Instead, their paleo plan is considered paleo-inspired. This is easy to miss in the way that they present it, which is a serious problem. The plan is mostly paleo and it does exclude gluten, refined sugar, grains, beans, dairy, and soy. But, there is no mention of legumes in the exclusion list.
The meals sometimes include 'limited amounts' of quinoa, peas, and potatoes. While some people do allow potatoes under paleo, quinoa is never considered paleo. Even with these choices, the plan should offer most (or all) of the benefits of a paleo diet. There is certainly a strong focus on healthy and high-quality ingredients. That aspect alone makes it worth considering.
There are three separate meal sizes available on the plan. The Fit option offers 1,200 calories per day for $49 daily. The Lifestyle option increases this to 1,600 calories for $59 per day. Finally, the Performance option is 2,200 calories for $69 per day. The last one is best suited to athletes and people who are very active.
All of the prices are for three meals per day and dessert. But, you can choose fewer meals per day – with a minimum daily order of $25. Paleta doesn't offer many details about doing so. To find out specific pricing, you'd need to sign up and step through whichever plan interests you. But, as an indication, ordering dinners individually will often cost you $20 or more. This makes Paleta one of the more expensive options out there.