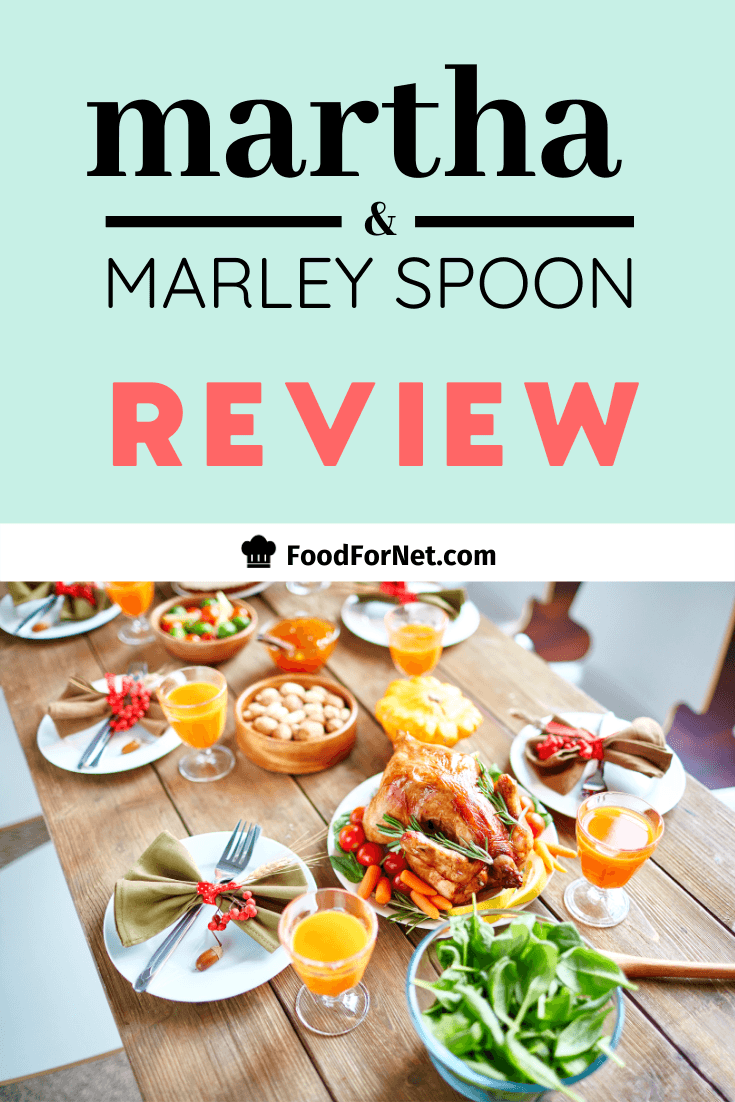 Martha & Marley Spoon
Deliciousness - 95%
Pricing - 98%
Easy To Prepare - 100%
Variety - 94%
Food Allergen Options - 85%
94
%
Great Prices & Flavors!
Delivering American fare with a twist, this healthy comfort food meal kit delivery company was definitely worth the cost. The meals were easy to make, and provided enough variety to help me shake up my cooking habits. I would have liked bigger meat portions, and I personally tend to gravitate towards meal kits with more exotic flavors, but I think this would be a great meal kit for anyone to try, whether it's your first box or its just one of many brands that you've tried.
Food Allergen Options? Yes
Cost Per Meal: $19-$24 (including shipping)
Wine Option? No
It seems like there are already hundreds of meal kit services (OK, there's actually about 20) already available, but I was still excited to try Martha and Marley Spoon.
Martha Stewart is the queen of the home and garden, so she's probably going to rock the meal kit industry, right? In my review of the Martha and Marley Spoon meal kit, I want to take a look at what's they offer, and if it's worth your money. I'll review the meals, the service as a whole, and how they compare to other competing brands.
There's a lot to cover, so let's get started.
Ordering Martha & Marley Spoon
Ordering Martha & Marley was actually quite easy. Instead of having to answer a bunch of questions about this or that eating habit to get you the "perfect meal", there's only two steps: some simple meal preferences, and how many meals do you want per week.
This simplicity is great for me, but for folks with legit food allergens (not preferences), you won't find any specialty meal kits here. If that's you, head over to out posts about gluten free, dairy free, paleo, or vegan meal kit services. Marley Spoon does offer a vegetarian option though!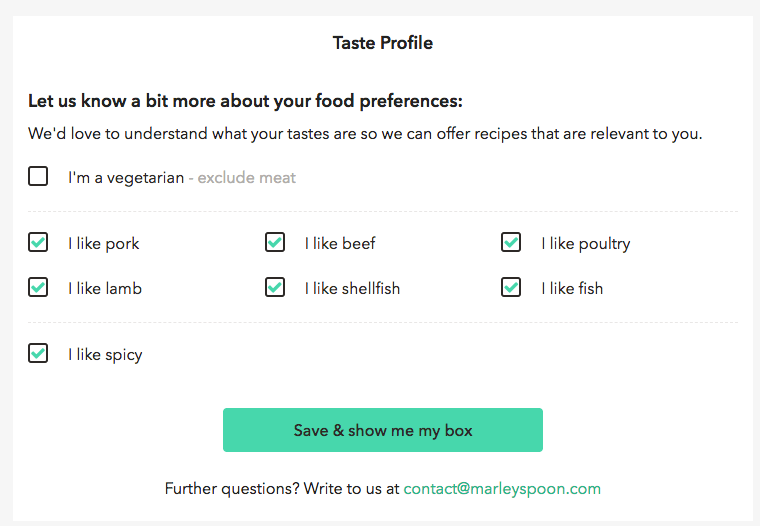 The pricing was also very transparent, which was a niche change of pace. Many companies obfuscate the pricing by giving you a "price per serving", but not the total price of what you're getting.
To be clear, a "serving" is a meal for an average person, so if you order a box for two people, you get two servings, and the price doubles. Some places won't even show you the final price until you go to check out, which is very frustrating.
However, Martha & Marley spoon list the pricing as simply as possible, and you can toggle the options to see what fits your budget. You can have more people per meal, or more meal per week.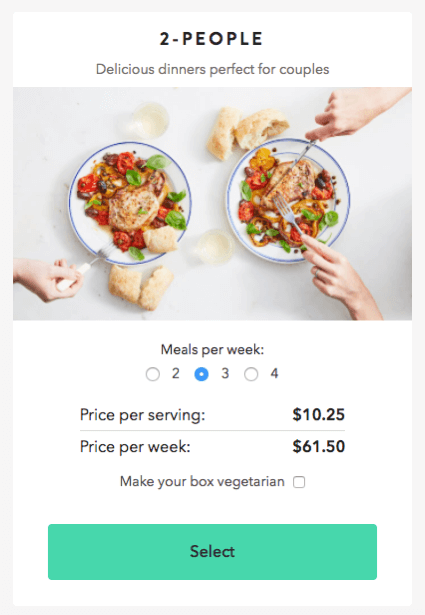 Another thing I liked about this company's pricing structure is that you get discounts for ordering more. Not all meal kits services do that! I was able to toggle the price down to $8.20 per serving by ordering food for 3 people, 4 times per week.
$8 per meal is still more expensive than buying the groceries yourself, but not by much. When you account for food waste, gas, and time spent, it's actually not that far off.
Martha and Marley Spoon is one of the only meal kit services I've tried that makes me think I could replace my weekly grocery shopping just based on pricing alone.
I didn't go for the cheapest option though. I went with the standard 2-person meal kit that most other brands offer so I could accurately compare portions. I did bump myself up to 4 recipes per week though!
One thing I didn't like is that I couldn't look at meals before ordering. I prefer to choose my meals before so I don't get locked into meals I don't like, which is exactly what happened when I ordered (more details below). This seems like a marketing move to get customers "in the door" ASAP.
So you don't have to wait, I'll let you know right here at the beginning. The food that Martha & Marley Spoon offers could be considered "healthy comfort food" in my opinion, or "standard American fare with a twist".
You'll find things like burgers, lasagna, and noodle mixes. (more details below in the cooking section). There were 10 meals to choose from, and I picked four: Indian Beef Curry, Chicken and Snap Pea Stir Fry, Creamy Cheddar-Mushroom soup, and parmesan and herb pork roast.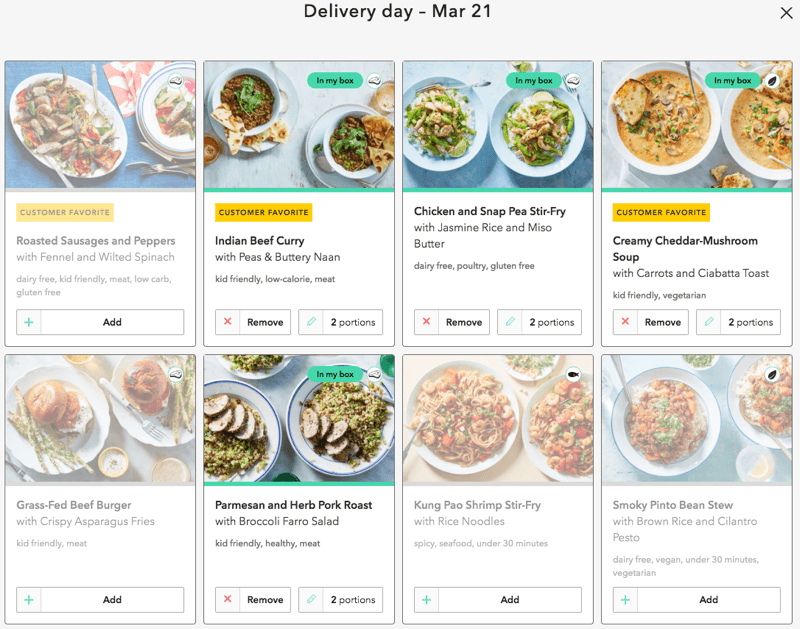 Shipping & Packaging from Martha & Marley Spoon
Shipping for M&M Spoon was pretty simple. I was even able to customize what day of the week I wanted my food to arrive, which is not a feature that all companies offer!
The food arrived cold and fresh, with each meal divided into their own bag (the meat was separate). The meat was not leaky, like happens a lot with meal kit services, but I did have a soy sauce package break open which caused a mess in the fridge.
Dividing all the meals into separate packages makes cooking prep easy since I don't have to fish around for ingredients in the fridge, or accidentally use something for another meal.
It does increase packaging waste though, and it does take up more fridge space, so there is a tradeoff. At least the meal bags are paper though, so they are easily recyclable, and more environmentally friendly!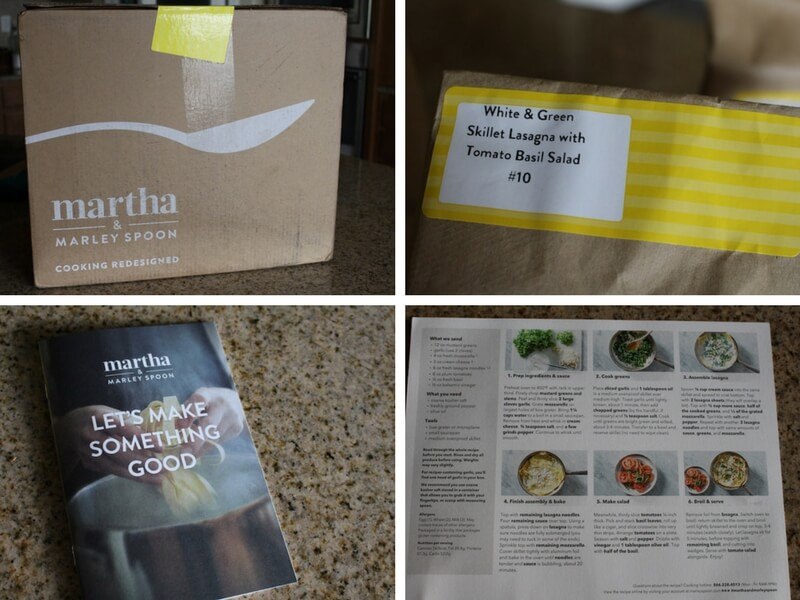 Cooking with Martha & Marley Spoon
Overall, I was happy with the meals I received. They were flavorful, diverse, , and easy to cook. The recipes were simple enough that I could glance at them, then cook the meal with only a couple times needed a refresher, namely when portioning the sauces properly.
My main complaint is that they sent the wrong meals! According to the screenshot above, I got Indian beef curry, and creamy cheddar-mushroom soup. Instead, I received the grass-fed burger and the green & white skillet lasagna. The burger wasn't a big deal, but I'm trying to cut carbs and my girlfriend is lactose intolerant, so we couldn't eat the creamy lasagna dish.
Despite the mixup, the meals were tasty, simple, and healthy. My main complaint is that the meat portions were smaller than I hoped. The burger was quite small compared to the bun and the pork roast looked nothing like the image.
Grass Fed Burger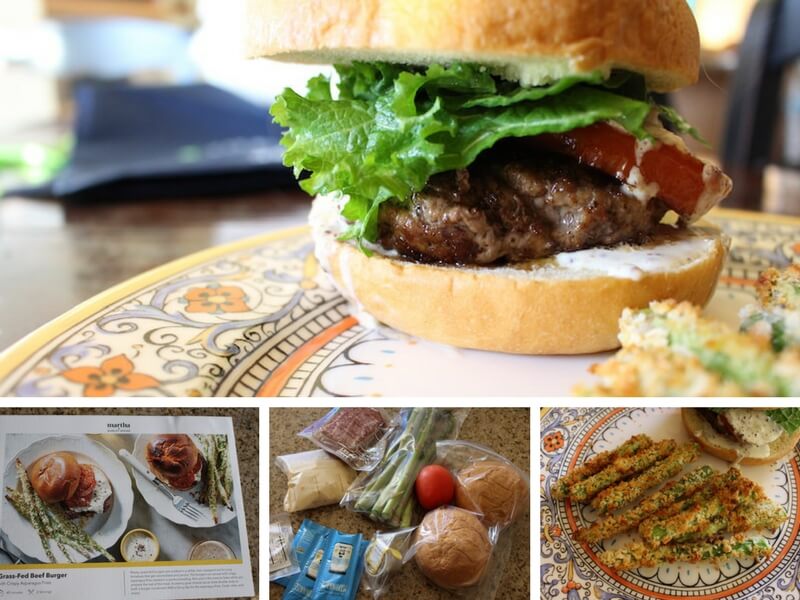 Surprisingly, this was actually my favorite meal. The burger patties were pretty small which was kind of disappointing, but the rest was great. The spicy mustard & goat cheese sauce was absolutely delicious.
I hadn't thought of such a tasty combination before. Also, the crispy baked panko asparagus were amazing to dip in the extra sauce. Yum!
Chicken & Snap Pea Stir Fry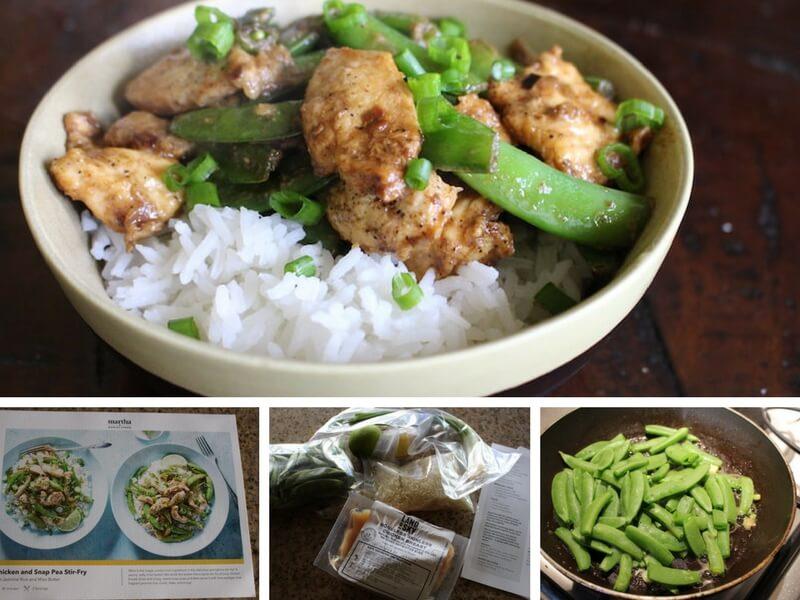 This was another winner. The miso butter sauce was was salty and fatty which is exactly the flavor profile I love. I made the mistake of adding the whole portion of miso though, so it turned out a little too salty.
It was still edible, but I should have started with half of the portion, then added to taste. The chicken from the Land & Sky brand also tasted really fresh. It was much more flavorful than the stuff I usually pick up at the store.
Parmesan & Herb Pork Roast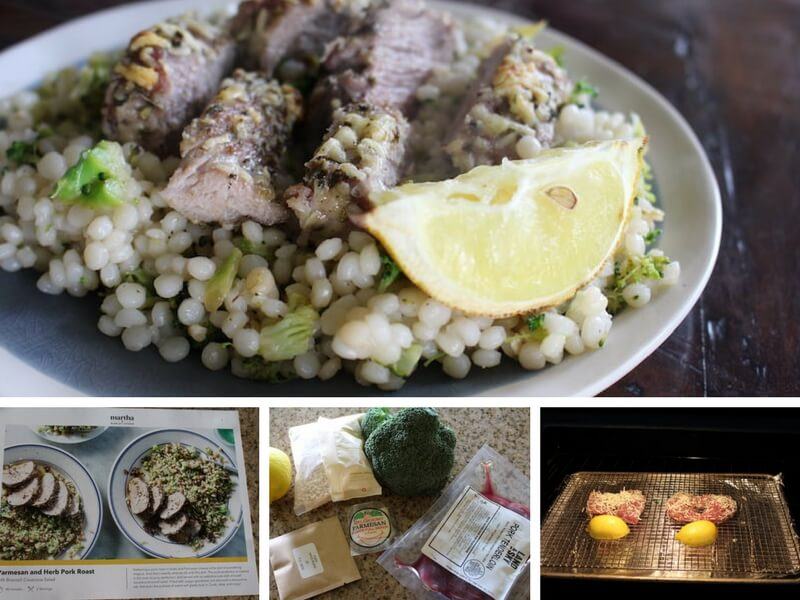 I honestly had never considered using parmesan cheese as a topping for baked pork, but you can't go wrong with cheese and meat I guess. Another big winner for me here in terms of flavor.
I'm also a big fan of pearl couscous. It's much better than the regular stuff! The pork portion looked a lot smaller than the picture though, which was disappointing. My meat chunks were nowhere near as big as shown in the meal photo, and neither were the portions of couscous. This was a little misleading.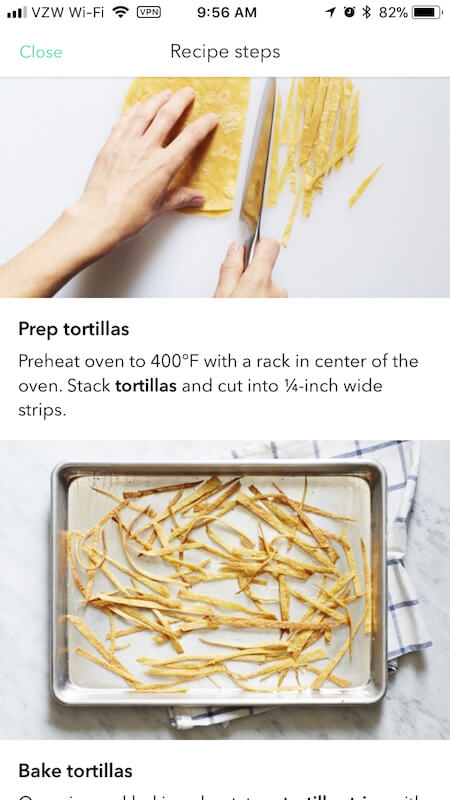 Canceling Martha & Marley Spoon
Again, canceling Martha & Marley was simple and transparent. Go to you account settings, and select "Stop Subscription". You can also do this in the app. If you just want to skip some deliveries, you can do that as well within your members area.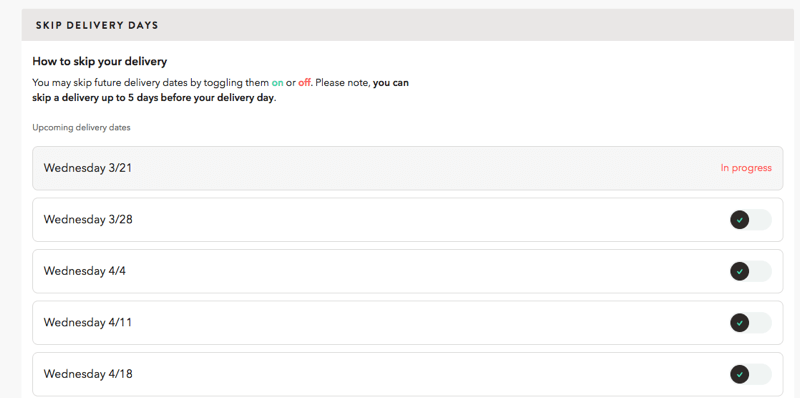 Comparing Martha & Marley Spoon To Other Meal Kit Services
I've signed up for over 10 of these services, so I'm becoming a bit of an expert! That being said, flavor preferences vary wildly, so although I may like one kit, you may like another.
For me, Marley Spoon fits right in the middle of what I prefer. These were familiar recipes, with a bit of a twist. There was enough uniqueness to make cooking fun, but I didn't have to refer to the recipe card 100 times while cooking.
If I had a complaint, I'd say there were too many creamy recipes. 3/10 options had a cream sauce to them. Although I love cheese, I'm lukewarm on heavy cream stuff.
The food choices also seemed to be very much in line with middle-American meal preferences. Being a California coastal elite (sarcasm), I prefer more exotic flavors from Africa, Asia, and India. Basically, what I ordered this week was a hamburger, lasagna, and pork roast.
Don't get me wrong – I enjoyed every bite, but my favorite meal kits were Sun Basket and Plated because of the huge variety these kits offer.
If you have any food allergies, you need to check out Green Chef. They are pretty amazing with all the options they offer for meal kits specifically tailored to your need. If you are looking for meal options similar (but different) to what Martha Stewart is offering, then Home Chef is another one I enjoyed.
They are in a similar vein of offering familiar meal with an interesting twist. Of course, you can't forget Blue Apron either. Though they are the "boring" option because everyone knows them, they have a very solid range of meals they offer, plus they have an amazing wine club you can add, especially if you want to learn more about pairing wine with food.
Overall, Martha & Marley Spoon was worth trying, especially since they offer a $30 discount for your first order! If you have tried their service but you like meal kits, you can't ignore the discount offer for new accounts.
---
Still don't have enough time to cook during the week? Check out our list of ready-made meal delivery services.