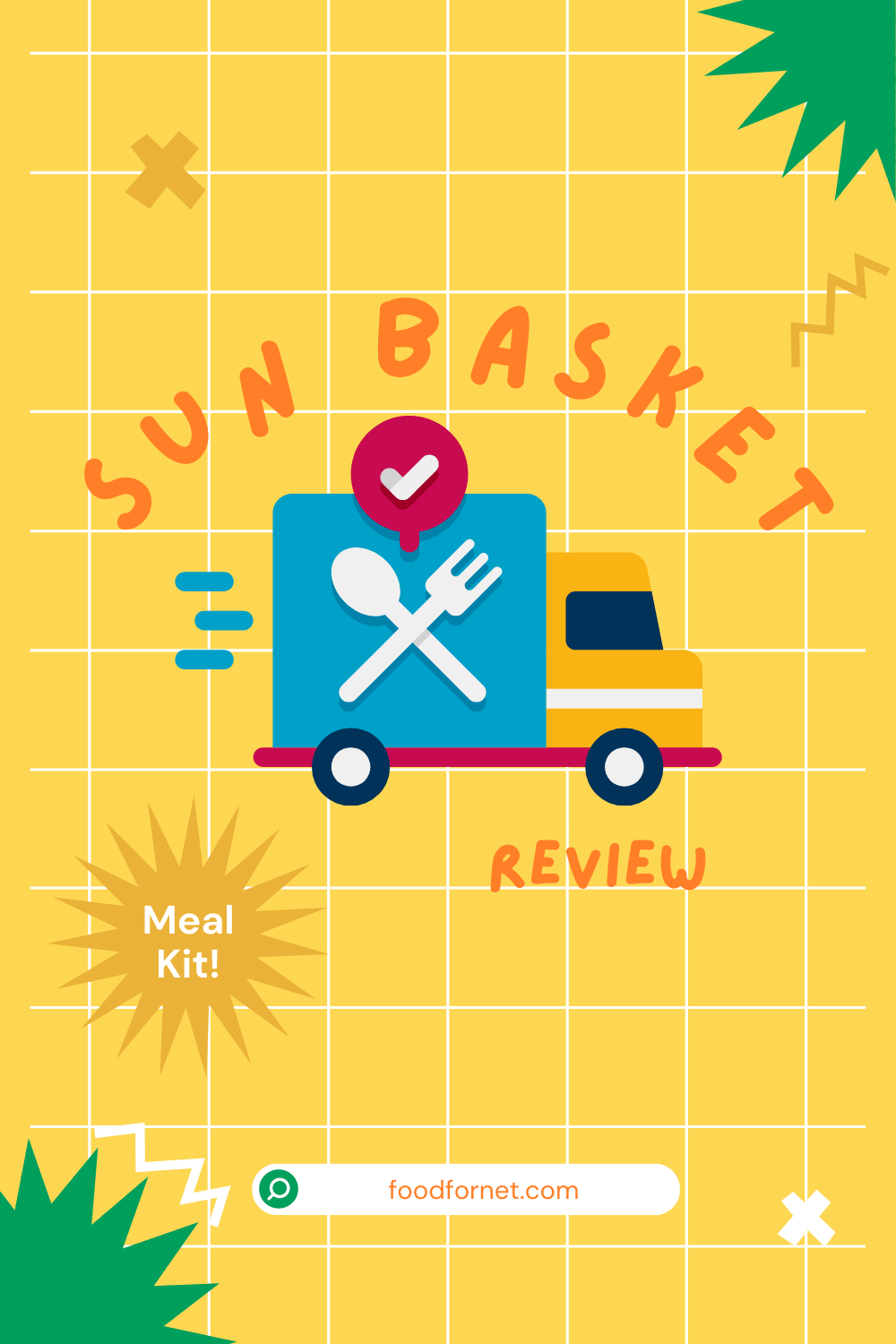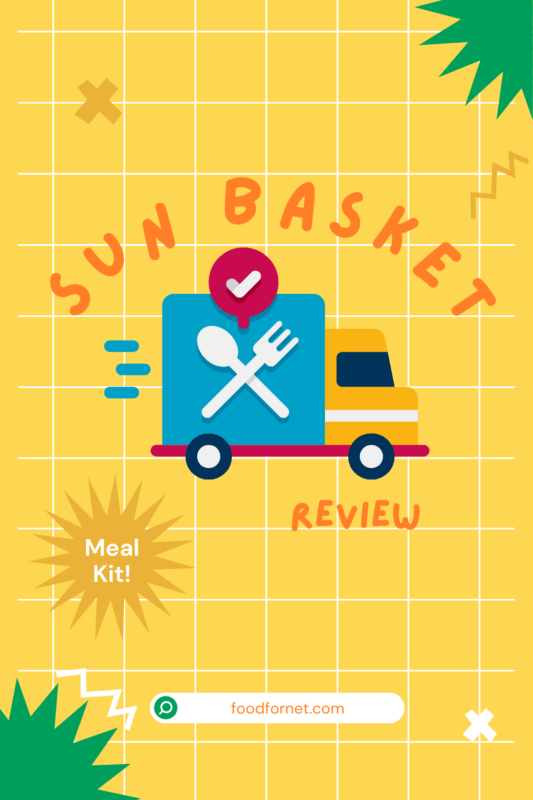 Sunbasket Review
Deliciousness - 100%
Pricing - 97%
Easy To Prepare - 96%
Variety - 100%
Food Allergen Options - 100%
I was impressed with the variety of recipes that Sunbasket delivered, and each recipe went off without a hitch. They offer a variety of meats and veggies, with some exotic spices and flavors that many other meal kit delivery services don't offer. They are a little bit more expensive that other options out there, but for me, it's worth the extra cost.
Food Allergen Options? Yes

gluten-free, soy-free, dairy-free, vegetarian, vegan, lean and clean, paleo

Cost Per Meal: $26 (including shipping)
Wine Option? No
I tried Blue Apron a few years ago, and didn't really touch meal kit delivery services for a while. It was cool, but I got busy and couldn't keep up with making a full meal three times a week.
Well, that busy time has passed, and now that there are seemingly hundreds of similar services. Sunbasket was the one that jumped out at me the most, so it's the first one I'm reviewing. In my Sunbasket meal kit delivery review, I'm going to cover everything you need to know to decide if this is the best service for you to join.
I'm going to cover:
the ordering process
shipping and delivery
cooking experience & taste
overall impression & comparison
With so many choices out there, is Sunbasket the one you should sign up for? Let's find out. ==> Join Sunbasket Here!
Sunbasket Review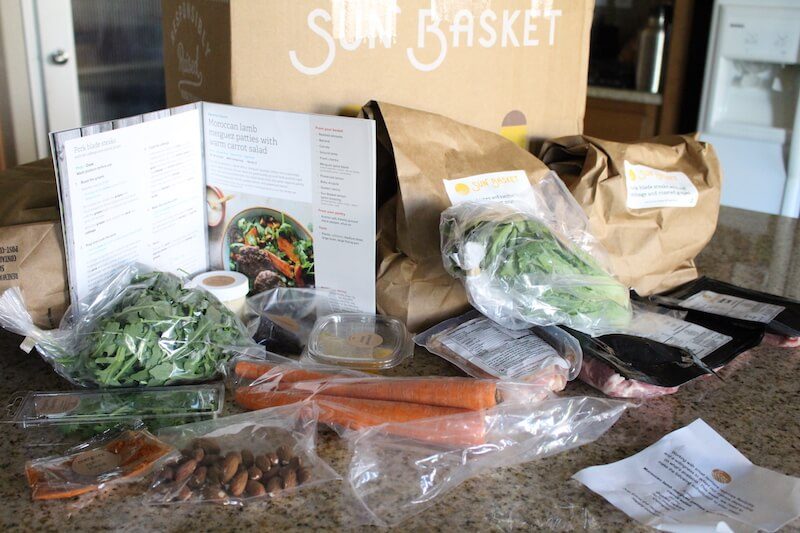 Ordering Sunbasket
The most frustrating thing about signing up for meal kit delivery services is that they keep their prices a secret. Come on guys. We're all adults here. Just tell me how much it's going to cost me before I give you my email address.
Sunbasket does a bit better, in that they tell us the price per serving.
$11.99 Per Serving (2 person)
$9.99 Per Serving (family option)
We still don't know if that includes tax an shipping though. Upon checkout, we learn that shipping is $5.99 (for my area). So $12 x 2 = $24 per meal. Times 3 again for three meals per week is $72, + $6 for shipping = $78 per week. That's a total of $26 per meal (for two people).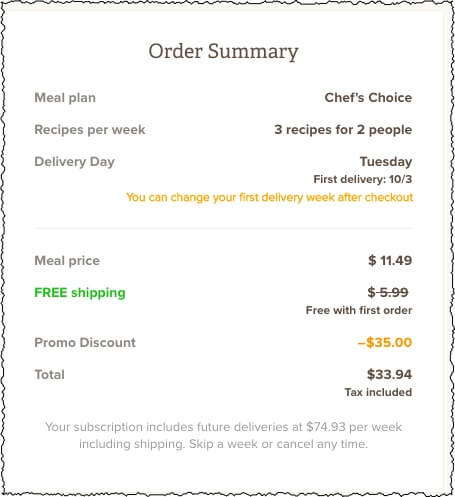 That's pretty expensive, considering you can probably cook chicken, rice, and veggies for about $10 per meal. Price-wise, you should not expect to directly save money with any meal kit service. Fresh, organic ingredients delivered to your door is not cheap. However, some people may be able to save money by going to the grocery store less often (saving time), and eating smaller portions.
Sunbasket meal choice system is set up a bit differently than other meal kit programs, in that you can choose your meal. Each meal is labeled with any allergen-free box it ticks. So some meals may be labeled as soy-free and gluten-free, while others may be just gluten-free, or just "lean and clean". Options include:
gluten-free
soy-free
dairy-free
vegetarian
vegan
lean and clean
paleo

There's also an option to "not sent" certain types of foods, so customizing your order to some degree is possible.
You'll be responsible for picking out your own meals each week. Personally, I like this feature. For those on a restrictive diet, it may be frustrating to see 11 options, and only 2-3 being fitting your requirements. For me, because I have no allergies and eat everything, it just means lots of choice.
Currently, there's a discount when you sign up for $35 off your first order and free shipping. So for my first box I ordered for this review, I only paid $33.94, with free shipping. Amazing!
That works out to just $5.50 per serving. At that price, I'd be a lifetime member. I was really happy with the quality of the food and the types of meals they delivered. However, I suppose that would not be a sustainable business model for them.
Shipping And Packaging from Sunbasket
I work from home, so am able to receive packages pretty much as soon as they get here. Everything arrived fast, and cold. In fact, I think it was only a few days from the time I ordered to when I received my package.
One nice thing about Sunbasket meal kit deliveries is that you can skip weeks in their online portal. If you're going on vacation, or got behind on cooking and have leftover meals for the next week, you can just stop shipment for however long you want.
Inside the box, they had a unique insulation system. Rather than having the typical cardboard which is annoying to cut up and recycle, there's a soft insulation material that you can roll up tight, and tape together with the stickers they provide. This makes disposing of the material much more convenient. That may not seem like a big deal, but if you get box after box each week, extra cardboard really starts to be a chore, as with Hello Fresh.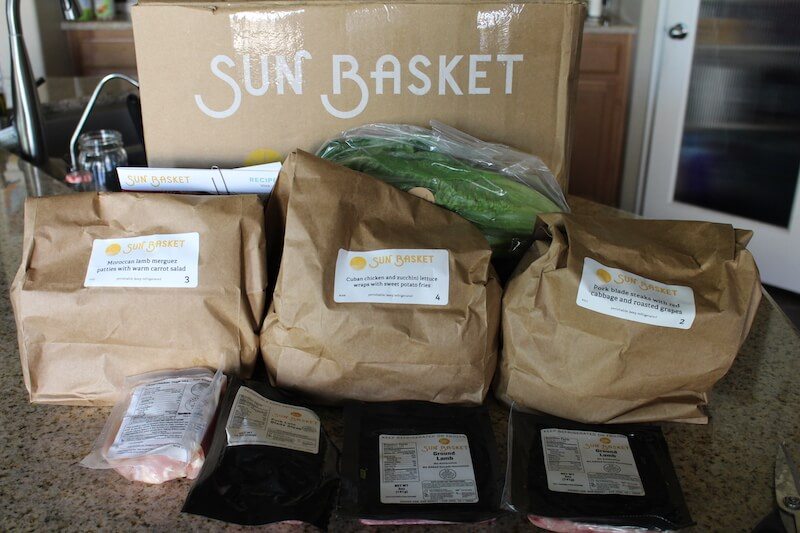 I also really liked the way Sunbasket meals are divided. With Blue Apron, everything is just tossed into the box and you've got to dig through it to match up meals. With Sunbasket meal kits, each meal is divided into a bag (though meat is separate). As a lazy man, I just stick the bags in the fridge and take them out when I'm ready to cook. It makes "meal prep" go just a little bit faster.
Another interesting bit about these meal kits is that you get the whole recipe book delivered for the week. That means you could potentially go out and buy the ingredients from the other kits and have your grocery list already planned out! The downside is that whoever makes the books made a big oversight!
The meal picture is on one side, and the instructions are on the back, so you constantly have to flip back and forth if you want to look at what you're trying to prepare. "Oh, I'm making a reduction. Is that going on the meat, or being mixed into the quinoa?"
Cooking With Sunbasket
In short, Sunbasket is currently my favorite meal kit delivery service simply because the meals were so tasty. I'm still early on in my journey to tasting every kit service out there, but so far, Sunbasket takes the cake. I did have one complaint about a meal (read below), but other than that I was very happy with these three meals.
Meal #1: Moroccan lamb merguez patties with warm carrot salad
This meal met all my requirements for an awesome dish.
Exotic Spices? √
Meaty? √
Includes greens? √
It was fast but fun to make, and the results were delicious. This is something I'd make again by myself because it made such an impression on me. Too bad I don't know exactly what was in the spice mix.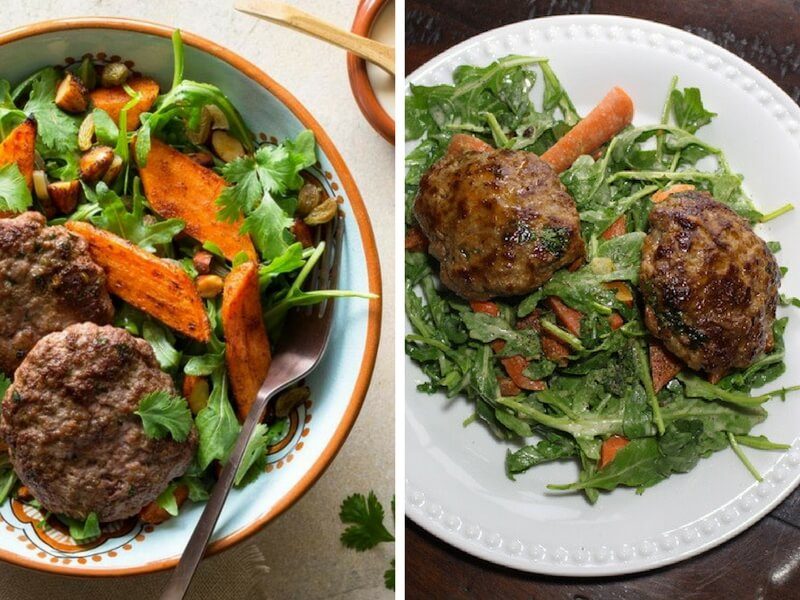 Meal #2: Pork blade steaks with red cabbage and roasted grapes
Another winner here. I had never had pork blade steaks before. OMG the pork is so much juicier when there's some fat on it. So tasty! Now I'm hooked, but they don't carry this kind of pork at my grocery store. I guess I'll have to find a butcher.
I was surprised at how good roasted grapes are with a little salt and olive oil. Yum!
Meal #3: Cuban chicken and zucchini lettuce wraps with sweet potato fries
This meal didn't go off so well. I accidentally cooked the chicken in the sauce instead of just marinading it, so the chicken was essentially boiled, and quite plain. The sweet potatoes took too long to cook, and the zucchini was plain despite having a "spicy" spice included. Great idea, but could use improvement. Oh, and the avocado was completely rotten by the time I got to it, so I was lucky I had an extra one on hand.
Upgrades Are Available!
Did you notice that they sometimes offer "premium" upgrades? I've been a member of Sunbasket for many months now, and because I love their food, I generally get the upgraded meals.
For example, one time I ordered a shrimp item and a steak item, both of which had upgrades for bigger shrimp and better cuts of meat. Yum! It's more expensive, but worth the cost for me for certain types of meals.
2019 Sunbasket Update
Two years after writing this original review, Sunbasket still tops my list of all time favorite meal kits. They are just rockin' it with fun and unique meals.
Here's a quick selection of recent things I've cooked.
Unfortunately, I had to move, so the lighting in the new place is horrible (it was built in '68), so I've got to figure out a better setup. Thanks to photo filters for cleaning up my shots!
The meals featured below are:
Sole and farro with fennel, oranges, and olives
Languedoc-style pork with pecan aillade and braised kale
Spicy Indonesian chicken and eggplant rendang with coconut black rice

Just so you know what the meals are supposed to look like, here's their matching photos from the main website. Even though mine don't look like the pictures, they were still delicious!

Canceling Service
I enjoyed my meal kits from Sunbasket, but with 50+ other services to try, I will only be subscribing for a week. Unfortunately, they force you to call customer service to cancel. That's kind of annoying. I hate jumping through hoops to cancel. I'd prefer to just do it online in my account.
However, the person on the phone was kind, and didn't pressure me into staying. The phone was answered very quickly, and it was a native English speaker I spoke to. Even though I was annoyed at having to call, I had a pleasant experience, unlike with Hello Fresh, which was a nightmare.
Comparing Sunbasket To Other Meal Kit Delivery Services
Sunbasket ranks #1 for all the meal kits I've tried (over 10!) because they have the most interesting meals to cook. I really can't justify paying $12 for some chicken and rice, which a lot of basic meal kits are basically suggesting.
With Sunbasket, they always deliver exotic ingredients and push the boundaries of simple cooking at home. You don't have to be an expert chef to cook these meals, but they'll certainly take you beyond salt, pepper, and paprika!
I also like their recipe card system, in that they deliver it as a book instead of loose paper that just gets lost around the house or in the trash.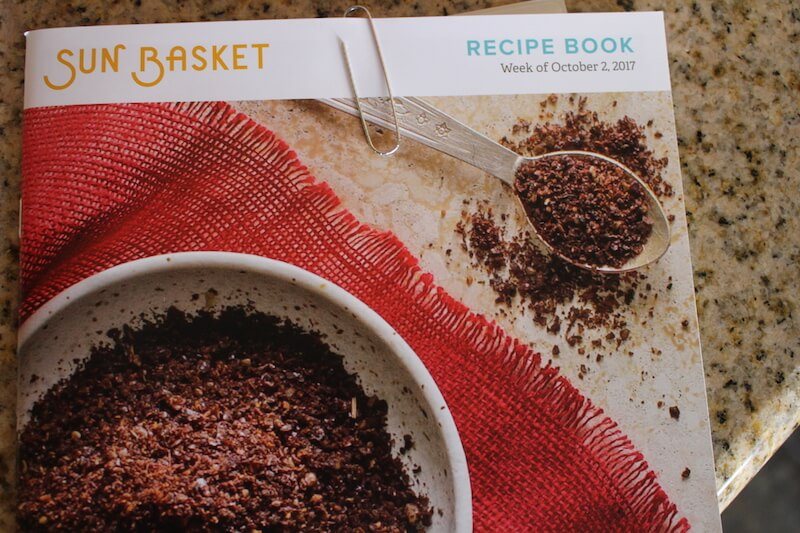 Blue Apron was the first I trid, and they are still one of my top picks for meal kits. They are very consistent, and do offer some variety in selections. Plus, they have a really, really good wine club.
I think they are worth a try one of these days!
Hello Fresh is another popular meal kit that I tried. They were just okay. They weren't bad, but the meals were super simple, and sometimes the recipe cards were not clear with their instructions.
You can skip this one unless you really want to go through all the services and decide which one you like the best. Tastes vary. My brother in law loves Hello Fresh, but would pass on Blue Apron!
So is Sunbasket worth it? Yes it is in my opinion! I loved the meals they delivered and it cut back on our weekly shopping trips.
Have you tried Sunbasket? Leave a comment and let me know what you thought!