Keto smoothies are such a powerful idea. They give you access to a wide range of nutrients, all in one place.
Some recipes will also provide you with a decent amount of protein. This can help to keep you satisfied between meals. They may even be good as meal replacements, while other smoothies are perfect as snacks.
It would be impossible to cover all the keto smoothies in one list – there are just too many of them. That's why we're just looking at keto blueberry smoothie recipes.
These ones feature blueberries as a key ingredient. Not only do the smoothies taste great, but the inclusion of blueberries means that they're rich in antioxidants.
Keto Blueberry Smoothie Recipes
PS. While blueberry is the most common fruit in keto smoothies, you can find raspberry smoothies and strawberry smoothies too.
PPS. Blueberries feature in other keto recipes too, like blueberry bread.
Healthy Blueberry Breakfast Smoothie
Naomi from ketodietapp.com promotes this smoothie as a way to boost skin health. The claim makes sense, as the recipe includes various ingredients that contain powerful plant-based compounds. The shake is also one that tastes good. It relies heavily on blueberries for flavor, while the inclusion of avocado makes it a hearty breakfast choice.
Micronutrient Greens Matcha Smoothie
Here's another smoothie that is certain to be good for you. This time it comes from perfectketo.com. It includes microgreens and matcha powder as ingredients. These are both linked to health, while also playing a role in the flavor of the finished smoothie.
Blueberry Coconut Chia Seed Smoothie
I love the choice of ingredients in this smoothie from alldayidreamaboutfood.com, especially because the recipe uses chia seeds. The seeds are particularly good sources of fiber. Including them in a smoothie like this is a great way to get around their slightly unusual texture. The choice of flavors would also make this drink a good choice for adults or for kids.
Blueberry Avocado Ketogenic Smoothie
The thickness of this smoothie recipe is what really makes it stand out. It's easy to imagine eating this one with a spoon as a smoothie bowl, perhaps with a few extra toppings. The style would be particularly good for hot days. Jessica (from primaledgehealth.com) also includes details about add-ins that can make the smoothie taste even more interesting.
Blueberry Banana Smoothie
This recipe might sound unusual, as bananas are rarely included on a keto diet. However, you're not using real bananas here either. Banana extract is used instead. This provides the flavor of bananas without the carbs. Unusually, the recipe doesn't include any frozen ingredients, so it won't have the typical smoothie texture. However, you could freeze your blueberries first or add in some ice as well. You can find the recipe details at ketobootstrap.com.
Blueberry Galaxy
Calling this recipe blueberry galaxy is such a clever idea. The shake looks amazing in the glass, especially with the white swirl. The recipe comes from fatforweightloss.com.au and it is a very easy one to try. There are only five ingredients required and one of them is optional. What could be simpler?
Low Carb Blueberry Smoothie
Briana from afullliving.com offers a more comprehensive smoothie recipe than normal. She includes some extra ingredients that help to make the smoothie much more interesting. This includes vanilla extract, vanilla protein powder and some other choices. I love the overall idea, as the extra ingredients should make the drink more filling too.
Blueberry Cheesecake Smoothie
Here's another flavor approach for blueberries – cheesecake. The recipe isn't an actual cheesecake, of course, but you're getting many of the same fantastic flavors in the form of a smoothie. The combination of ingredients makes this a very creamy and satisfying shake. You can find all the instructions over at buttertogetherkitchen.com.
Blueberry Ginger Smoothie
Louise from ketosummit.com highlights this recipe to consider. As the name suggests, it uses ginger as a key ingredient. This helps to change up the flavor profile, making the recipe a little different than others on the list. There are also various healthy ingredients included, like collagen powder.
Healthy Blueberry Kefir Smoothie
Kefir is a fermented milk drink, one that has been linked to various benefits, including improved gut health. This recipe, from ketodietapp.com, relies on coconut milk kefir, as it has a lower carb content than dairy milk kefir.
The kefir does change the flavor of the smoothie somewhat, but entirely in a good way. The recipe is also great if you want something that is a little different. After all, most smoothies don't use kefir as an ingredient.
Blueberry Cauliflower Smoothie
As the name suggests, this smoothie is a little bit unusual. The recipe comes from naturalfitfoodie.com and it uses cauliflower as a key ingredient. Cauliflower is a surprisingly good choice. The vegetable helps to make the smoothie creamy, while also providing you with extra nutrients. One fantastic thing is that you can't even taste the cauliflower.
The approach also makes a good alternative to using avocado. Don't get me wrong, avocado is an amazing keto ingredient, one that offers plenty of healthy fats. Even so, avocados can be expensive and you might just want something different.
Blueberry Coconut Yogurt Smoothie
While this smoothie has an appealing flavor, one of the most important aspects is that it is suitable for the AIP diet (as well as paleo and keto). This compatibility makes the smoothie perfect for a broad audience.
The recipe comes from paleoflourish.com. It is furnished with plenty of images and details that teach you precisely how to prepare the smoothie.
Blueberry Smoothie
I love the appearance of this smoothie from thelittlepine.com. The color just looks so appealing, as does the texture. This is also a great recipe because there are plenty of details about other ingredients that you can use and ways to tweak the recipe. The approach allows you to tweak the smoothie until it meets your flavor preferences.
Blueberry Ginger Smoothie
The color from blueberries isn't nearly as obvious with this recipe as it is with the previous example. That's not a bad thing. It simply means that there are more flavors included in the recipe. The addition of ginger is an especially nice touch. This helps to make the smoothie a little bit more interesting. You can find the full recipe over at tastefulketo.com.
Blueberry Cheesecake Smoothie
This recipe from ketoconnect.com is another one that takes advantage of the cheesecake idea. Once again, cream cheese is the ingredient used, which gives you some of the desired flavor and texture. Interestingly, the recipe uses flax milk as the main milk choice. You could substitute this for any other milk alternative if you would rather.
Blueberry Smoothie With Collagen Protein Powder
The addition of collagen powder in this recipe has multiple benefits. For one thing, it provides a little protein. This helps to make the smoothie more filling – perfect for first thing in the morning. Collagen may also help to support your health, which is another reason to have it in your diet regularly. The smoothie recipe comes from ketovale.com and it only contains five net grams of carbs per serving. This is a pretty low amount for a keto smoothie.
Blueberry Smoothie
This smoothie recipe comes from mealgarden.com. While the site isn't as well known as many of the other keto sites featured, it does still offer some great recipes. The smoothie has some similarities to the other options on this list, along with differences. I love the way that it includes lemon juice as a way to make the flavor more interesting.
Blueberry Banana Bread Smoothie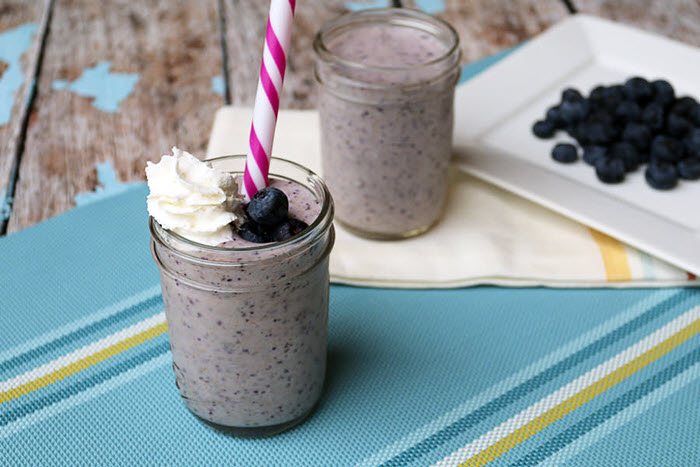 Here's another recipe that uses banana extract to create the banana flavor without using the actual fruit. Another notable aspect is the thickness. The combination of ingredients means that this smoothie is thicker than many others. This style means that the drink feels heartier and more filling – perfect for first thing in the morning. You can find the recipe and all additional details at ruled.me.
Blueberry Almond Smoothie
This recipe comes from Megan at madcreationshub.com. The word almond in the title simply refers to the use of almond milk, so the smoothie is like many others on the list. Even so, there are some interesting ingredients included, like lime zest. The net carb content is also low, with less than five grams of net carbs per smoothie.