Going on a ketogenic diet is a smart and healthy choice that can result in faster weight loss, increased energy levels, and improved heart health. However, it's pretty hard to be keto in a world where carbs are everywhere. These keto meal delivery services make it easier to stick to the keto diet at work and at home, to keep you full throughout the day so you aren't tempted to snack on potato chips and crackers!
Quick Look:
There really aren't a lot of keto-friendly meal services out there, so I've included some paleo meals in this list. Flat-out keto meal services are:
Factor 75 (#1 choice for taste and convenience)
Green Chef (better tasting food, but needs time to prepare, some meals are high in carbs which are not good for NEW keto people)
Keto Fridge (get the pizza and the cookie dough. Yum! Fast delivery too)
Ketoned Bodies
Muscle Up Meals is also keto, but only serves LA. Chef'd is out of business already!
Green Chef is technically a "meal kit", since you have to make it yourself. I liked them.
I'm currently testing a few others on this page, including Keto Fridge (Keto Fridge Review) and Ketoned Bodies.
What is a Keto Diet?

The ketogenic diet (or keto diet) is a type of low-carb diet. Specifically, it is a very low carb diet, one that typically aims for less 100 total carbs per day or between 20 to 50 net carbs per day. A keto diet is also considered high fat and moderate protein. Lowering the intake of carbs depletes the body of its sugar stores, inducing a state called ketosis. Ketosis can have various health benefits and also promotes weight loss.
Though they two are sometimes confused, it is not the same as the paleo diet. Paleo is more of a philosophy of what humans should or shouldn't eat to live a healthy lifestyle.
Keto is more science based, targeting a specific set of nutrients that your body needs to be healthy. Whether or not you should live a keto lifestyle full time, or just to lose weight is up for debate. Regardless, for weight loss it's an extremely effective diet for many people, as long as you can cut out the necessary foods.
Personally, I'm a huge fan of the keto diet. Unlike other diets, I'm able to get on and off keto without an issue. I'll do "lazy keto" for a while (includes beer and some carb-y sauces for my meats), then when I get too fat, I just go on strict keto, drop 15 pounds, and start over. Easy!
In order to understand how cutting carbs helps you lose weight, it's important to consider what happens when you eat something that is high in carbohydrates.
When carbohydrates are consumed, the body produces glucose, a simple sugar that can be converted into energy, and insulin, a hormone that aids in the body's processing of glucose.
While the body can use fat and protein as energy, glucose is the easiest molecule to convert, so it is used first. By dramatically lowering your intake of carbohydrates, you effectively force your body into ketosis. When this happens, your liver will break down fat and protein for energy. That process can promote significant weight loss.
The keto diet is associated with a number of other health benefits, including reduced acne, increased mental focus, and better balancing of hormones. Studies show that the ketogenic diet may even help prevent or treat certain cancers.
Meal Delivery Services?
Keto meal delivery services offer meals that are in compliance with ketogenic rules, keeping the number of carbs extremely low. Meals are also typically free of grains, legumes, and refined sugars. Instead, they focus on healthy fats, protein, and green leafy vegetables.
Meal delivery services are especially beneficial to those who want to embark on a keto diet without having to worry about figuring out calorie counts and portion sizes. Below, we'll take a look at the current options if you want keto meals delivered to your home.
One important point is that companies vary slightly in exactly how they define keto. You may find that some are more suitable for you than others, depending on the types of ingredients that you're looking for and your desired macronutrient profile.
Keto Meal Delivery Services
1. Factor 75

Factor 75 is a subscription-based delivery service offering flexible meal plans consisting of 4 to 18 meals per week. There are roughly 17 breakfast, lunch and dinner choices every week, all of which are organic, non-GMO, and free of gluten and soy.
Factor 75 supports multiple diet types and symbols are used to show you which meals are suitable for keto. However, your selection is somewhat limited. For example, of the meals for the current week (at the time of writing), there were 5 keto dinners, along with keto pumpkin pancakes and a keto frittata.
Factor 75 also offers details about how they view ketosis. They focus on less than 20 net grams of carbs per meal, while aiming for a macronutrient distribution of 60% – 80% fat, 20% – 35% protein and 5% – 15% low glycemic carbs. Nutritional details are provided on the labels of your meals, so you know exactly what you're eating.
When I tested Factor 75, it was obvious that the quality of the food was much better than many frozen meals out there. The texture of the meat was actually "good" instead of just "passable because I don't have time to cook".
You won't find any antibiotic-laden meats or farmed fish on the menu. All of the meat is grass-fed, the produce is organic, and the fish is wild caught. Of course, these ingredients come at a cost, which some online reviewers have deemed a bit high for a meal delivery service. That said, bulk discounts of up to 20 percent are available for the larger meal plans. Overall, if the quality of your food is more important to you than cost, Factor 75 is definitely a meal delivery service worth checking out.
2. True Fare

Formerly called Pre-Made Paleo, True Fare is an offshoot of RSB Foods, a company founded by Chef Richard Bradford and Chef de Cuisine Amy Crites. RSB Foods was developed with a single goal in mind – to provide Americans with delicious meals that are suitable for a Paleo diet.
Over time, the company's offerings have expanded to include AIP, keto, and Whole30-compliant meals. True Fare's menu has a section dedicated to wild caught fish as well as a section offering exotic meats like eel, venison, and wild boar.
What makes True Fare unique is its meal plan approach. There are multiple individual options to choose from. One is a 5-day plan. This offers 5 breakfasts, lunches, and dinners, along with 5 almond butter snack pouches.
The dinners contain 5 oz. portions of protein and 6 oz. of organic vegetables as a side. The breakfasts are 5 to 6 oz. and focus on breakfast skillets. Another plan is the keto breakfast packs (10 breakfasts per order). There is also an Energy! plan, which includes 10 dinners. Finally, there are a few individual meals and products, like a grass-fed burger sampler and keto buns.
Reviews for True Fare are overwhelmingly positive, with many reviewers mentioning the company's fantastic meal selection and budget-friendly prices. If you enjoy having a wide variety of dishes available to choose from, True Fare is the meal delivery service for you. But, be aware that you cannot choose which meals you get in most of the plans.
This is fine if you enjoy experimenting with food. But, if you have specific taste preferences, you may prefer a more flexible company.
3. Paleo Power Meals

Paleo Power Meals is a meal delivery service based in Massachusetts. The service, which specializes in meals for active individuals, has more than 50 breakfasts, lunches, dinners, and snacks on its weekly menu. All of the meals are free of gluten, legumes, preservatives and added sugars. There are also bulk items available, which include barbecued pulled chicken, buffalo chicken strips, and riced broccoli and carrots.
There is no specific weekly menu and the company doesn't focus on keto whatsoever. However, the nature of the food makes Paleo Power Meals a good choice on a keto diet.
One reason is their bulk menu items, which consist of a type of protein, vegetables, or carbs. Because the components are separated out, keto dieters can simply order protein and veggies, skipping the carbs altogether. Some of the full meals are also keto-friendly. However, you'll need to choose carefully, as the site doesn't specify which ones are. They do provide carb information for their meals, but there is no information about fiber, so you can't calculate net carbs.
Paleo Power Meals enjoys high ratings online due to its satisfying portion sizes, easy ordering process, and customization options, but a few reviewers have found the prices and shipping costs are too high. Paleo Power Meals offers a discounted rate of up to 15% on orders of $75 or more. So, the service is worth considering if you're planning to use it for most of your meals.
4. Pete's Paleo

With a 5-meal minimum and free shipping, Pete's Paleo is an excellent choice for keto dieters who are looking for a fuss-free meal delivery service. The service features an Eat What You Love Menu.
The meals are 100 percent keto-compliant and can be delivered either fresh or frozen. Ordering meals from Pete's Paleo is a snap, simply filter the available meals by diet and select a minimum of 5 meals to be delivered. Most of the time, there are only 5 keto meals to choose from, although you can select multiples of the same meal.
The site provides nutritional details for their meals and includes information about calories, fat, protein, total carbs, and net carbs. Pete's Paleo focuses on 60% – 70% calories from fat, 5% – 25% from protein and the rest from carbs. This normally means that less than 20% of the calories in a meal come from carbs – and the net carb content is typically between 6 grams and 11 grams.
What sets Pete's Paleo apart from other meal delivery services is its innovative approach to preparing dishes. The chefs create their dishes using only the best seasonal ingredients that are available from farmers and ranchers at any given moment.
This results in meals that are always being cooked in different ways and infused with different spices. Pete's Paleo also offers special dishes that can't be found on the menus of other meal delivery services, such as bacon and bone broth that is free of MSG, salt, artificial colors, and artificial flavorings. While Pete's Paleo's meal prices are a bit steep, many online reviewers have said the quality of the meals is well worth the extra cost.
5. Green Chef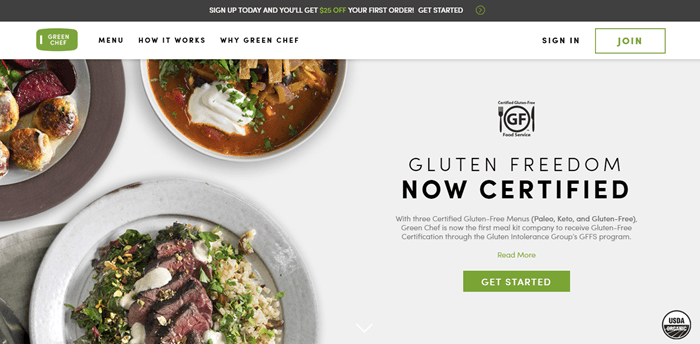 If you want certified organic meals delivered to your doorstep, Green Chef is the meal delivery service for you. The company partners with artisans, farmers, fishermen, and ranchers in order to provide their clientèle with fresh, wholesome ingredients that can be used to prepare their own meals in under 30 minutes.
As such, you're getting a meal kit, rather than a fully prepared meal. When I tried Green Chef, I really enjoyed making my own food because it was fresh and wasn't that difficult if you have basic cooking skills.
Green Chef meals are made using hand-picked produce, grass-fed meat, and completely natural spices. The company offers seven meal plans, including a keto plan. Each plan consists of three dinners prepared by an expert chef and is available in one- and four-person serving sizes.
The keto meals are completely free from dairy and gluten. That's slightly unusual, as dairy is frequently used on a keto diet. Additionally, Green Chef defines their meals as keto-friendly, rather than stringently following keto principles. As part of this, most meals contain less than 30 grams of net carbs per serving and may sometimes have more carbs. This level of carbs is higher than ideal for a keto dieter. You'll need to decide whether it is right for you.
What makes Green Chef unique is the company's commitment to providing a "green" delivery service. The delivery boxes and packaging are recyclable or reusable, and the company routinely educates its customers about the importance of avoiding food waste.
Another thing that makes Green Chef different is the flexibility of its meal delivery service; customers can choose to have meals delivered daily, weekly, semi-monthly, or once per month. Online reviewers love the chef-created recipes included with the meal plan, but some customers find the per-meal cost ($14.99) a little too pricey.
6. Caveman Chefs

Caveman Chefs is primarily a gourmet paleo food company. All of their meals are gluten free and they also focus on sustainable ingredients, including pasture-raised beef and lamb, along with Verlasso salmon.
One of the most interesting aspects is their meal plans. Caveman Chefs has three of these and they vary in size. The sizes are 550 calories, 650 calories and 750 calories. Prices range from $13.75 to $18.75 per meal.
When people sign up, they are presented with various choices, including the number of meals per month (from 6 to 40), whether they have any food allergies and any dietary preferences or needs.
The dietary needs section is where users can specify keto food. But, Caveman Chefs offers no details about the meals that are provided or their macronutrients. It also isn't clear whether the meals come with nutritional information. As such, this service might be best suited to people who are interested in keto, rather than those who follow the diet strictly.
7. Keto Fridge

Keto Fridge is highly unusual in that it was specifically developed with the ketogenic diet in mind. You can be sure that all of the food they provide is ideal for a keto diet, so there's no need to pick and choose.
The keto focus also means that there are some pretty interesting meals provided. For example, one recipe includes zucchini noodles, steamed sesame cauliflower, snow peas and peppers. Another is keto fried chicken that comes with cauliflower 'potato' salad.
The company aims for 75% fat, 20% protein and 5% carbs in their meals, making them more keto-friendly than many other companies. The available meals change each week, but you're not locked into a specific contract. Instead, users get to choose which meals they would like. The only limitation is a minimum order size of $69.00.
The number of meals vary each week, but you're often looking at around 5 lunch and dinners, 2 breakfasts and 3 pizzas (yes, keto pizza!). There are some other products too, including cold brew coffee, milkshakes, ice cream, cookies and various baked items.
8. Ketoned Bodies

Ketoned Bodies is the one other service that focuses only on ketosis. With this company, the meals are all organic and rely on sustainable and grass-fed protein sources. Meals can be ordered individually or in packages. The packages provide a discount for ordering in bulk (often around 15%). But, either way, you get to select which meals you want.
All of the meals contain no more than 20 grams of net carbs. Reviews suggest that they reheat well and are full of flavor. The meal selection isn't extensive, with only 13 options at the time of writing. However, these may vary over time. Even if they don't, the company includes more keto meals than many of the less specialized options.
The company also offers a meal plan service. People who are new to keto can give them a call and have a nutritionist develop a customized meal plan for them. This would be perfect for anyone who doesn't know where to begin with keto.
9. Paleo on the Go

Paleo on the Go has a strong emphasis on local communities and sustainability, choosing to visit many of the farms that they source products from. They're also well-known for tasty food and interesting recipes. For example, their selection includes elk burger, Asian fried cauliflower rice and pesto zucchini noodles.
Meals are ordered individually. There are multiple menus to choose from, including Strict 30, keto and AIP. The keto menu currently contains 33 different items, which is an impressive selection. Some of these are full meals, but there are also sides, sauces, bone broth, and similar items in the mix.
Paleo on the Go doesn't provide details about the macronutrient distribution of their meals. But, they do mention focusing on meals with 25 grams of carbs or less, per serving. As they don't specify, this probably means total carbs. Nutritional facts are provided for individual meals, so you can easily determine which ones are suitable for your needs.
10. Chef'd

Chef'd is a powerful meals company for many reasons. They have a strong focus on high-quality foods and have an extensive selection of meals to choose from. Many of their meals also serve four people, which makes them relevant for families, as well as for individuals.
Chef'd doesn't have anything specific for the keto diet at all. But, they do have an Atkins meal plan. Atkins is another type of low carb diet and has many similarities to a keto diet.
The main difference is that Atkins dieters often increase their carb intake over time, while keto dieters do not. Even so, an Atkins meal plan can work well for keto dieters, especially if you choose your meals carefully.
Thankfully, Chef'd allows users to select their individual meals. The site also provides full nutritional details for each meal, including the carb and fiber content. Most meals contain well under 20 grams of net carbs, so they'll be perfect for a keto diet.
The selection is also impressive. I counted more than 30 different Atkins meals that you could choose from and most of those should be suitable for keto too.
11. Muscle Up Meals

Muscle Up Meals is a less common meal delivery company. They focus on meals that help people who are active. But, they also support a range of diet types, including paleo, keto, and senior-specific meals. The dishes are always delivered fresh, not frozen. Ingredients tend to be organic and all natural, so you're always getting healthy meals.
The main ordering approach involves buying either 10 or 15 meals at a time. These can be upgraded to include premium meats, extra protein and/or extra fat. But, users don't get to choose which meals they receive. Nutritional details aren't provided either.
Meals can also be purchased a la carte, giving you more control. However, there are no indicators about which meals are keto-friendly and nutritional information isn't provided. If you're following keto strictly, you would probably need to go with the 10- or 15-pack of meals and hope that Muscle Up Meals has an accurate definition of keto-friendly.
12. Primal Organic

Primal Organic is a local meal delivery company, serving Miami. They hand deliver three times a week in a cooler bag with ice. The meals are always chilled but are never frozen. They follow healthy paleo principles with all meals, which includes making sure dinners are dairy-free, grain-free and rely on whole food. The company also avoids artificial sweeteners, added sugar and soy.
As well as their general plan, Primal Organic has a keto-specific diet plan. Meals contain roughly 75% fat, 20% protein and 5% carbs, while having no more than 25 net grams of carbs per day (not per meal). The meal plans provide small, medium, or large meals. Customers can choose between 1, 2, or 3 meals per day, and each day comes with one snack.
The company's website provides detail of the menu for the current week. But, you don't get to choose which meals you receive. You simply get whatever is on the menu for that particular day.
13. Chef Marc's Meal Prep

Chef Marc's Meal Prep is a second local program and delivers to Orange County and the Greater Los Angeles area. All of their meals are gluten free. They also offer paleo, keto and healthy diet meal programs.
The website describes keto as being extra low carbs and high in saturated fat. Photos of sample meals are included, such as Keto Salmon Alfredo, and Keto Crab Avocado Salad. However, details about the nutrient distribution aren't provided.
Chef Marc's Meal Prep provides seven options for ordering. Customers can choose breakfast-lunch-dinner for 5, 7, or 30 days, lunch-dinner for 5, 7, or 30 days, or just dinners for at least 14 days.
There is also a box for providing food instructions and dietary restriction detail. But, that's it for flexibility. The website gives no details about which meals are provided and there is no ability to select meals.
The Bottom Line: Which Keto Meal Delivery Service is Right for You?
The meal delivery services listed are the best choices for anyone on a keto diet. Other companies may provide some keto meals, but you'd have to manually search through their selection to find them. Why go to all that hassle when there are the companies on this list, some of whom offer keto meal plans?
There is no one-size-fits-all delivery service. Instead, your choice will depend on your individual needs and budget. That being said, there are two companies that stand out – Ketoned Bodies and Keto Fridge.
They both specialize in ketosis specifically, so they're the best choices, by far. Keto Fridge is particularly appealing, as they have a wide range of food and closely keep to the ideal keto macronutrient ratios.
Besides, how many other meal delivery companies offer pizza, ice cream and baking? The service also allows you to choose exactly which meals you want. That's much better than being locked into a meal plan. After all, the amount of food you need could easily change from one week to the next.