Keto recipes often feature dark chocolate, partly due to the low carb content and the potential for health benefits. White chocolate is much less common. It doesn't have the same advantages either. You'd even be forgiven for thinking that you have to avoid white chocolate altogether. Thankfully, that's not the case.
There are many different recipes that allow you to make white chocolate that is low in carbs, along with various ones that take advantage of white chocolate as a flavor. In this keto white chocolate recipe roundup, we're taking a look at both of those styles. Check out the list to find some new inspiration.
We're not talking about 'real' white chocolate, of course, as can be expected on a keto diet. Even so, these recipes manage to replicate the flavor of white chocolate well, creating treats that you won't forget any time soon.
Keto White Chocolate Recipes
PS. There are many other sweet keto recipes to try out, such as keto mug cakes and fudge.
PPS. If you want something less sweet, how about savory fat bombs?
The Best Keto White Chocolate
This recipe, from ketodietapp.com simply allows you to make white chocolate itself. You need to rely on a specific combination of products to ensure that you get the correct flavor and texture at the end. Still, doing so is well worth the effort.
As Martina mentions, the final result isn't quite the same as white chocolate. There is a slight flavor difference and the chocolate does need to be kept in the fridge.
Even with those limitations, this is a fantastic recipe to try out for yourself. It is probably the closest that you'll get to white chocolate while sticking to your eating goals.
Cranberry White Chocolate Layer Cake
This recipe is a reminder that you can still have amazing food on a keto diet. Honestly, the finished cake looks like something you'd find at a bakery or in a magazine, not a low carb dessert that you created at home. The recipe itself comes from Carolyn at alldayidreamaboutfood.com and is too amazing to ignore.
White Chocolate Blondies
Keto brownies are amazing in their own right, but sometimes you're looking for something other than the rich cocoa flavor. That's where these white chocolate blondies come in.
Like other blondies, they have a similar texture to brownies, along with a very different combination of flavors. The recipe comes from joyfilledeats.com. It's another easy one to prepare, using just four ingredients. Each blondie only has one net gram of carbs, making them amazing for keto.
White Chocolate Raspberry Fat Bombs
Fat bombs are always popular for keto dieters, as they're such a powerful way to increase fat intake. This recipe is a particularly good example. I love the way that Natalie (from perrysplate.com) has made two distinct layers. The contrast of pink and white makes the fat bombs look amazing. The ingredients would also create a delicious flavor profile. You'll probably find that one fat bomb simply isn't enough.
White Chocolate Butter Pecan Candies
Here's another recipe that uses the fat bomb style. This time it comes from healthysweeteats.com and relies on white chocolate and pecan as the main flavors.
The pecans are a good choice, as they help to give the fat bombs an interesting texture. They taste good too. You could also exchange the pecans for another type of nut. Faith suggests walnuts as an alternative.
White Chocolate Matcha Fudge
This recipe comes from Rachel at killinitketo.com. It uses a more complex approach than normal, as you're looking for the texture of fudge rather than just the flavor.
Don't let the number of ingredients put you off. The recipe is still fairly easy to prepare and creates a tasty snack. Even more importantly, the fudge uses matcha powder. Matcha has an interesting ingredient and has been linked to various health benefits. The fudge is a good way to try out matcha for yourself.
White Chocolate Keto Truffles
As the image suggests, these keto truffles would make an excellent gift. They're a nice alternative to conventional truffles, as most of those rely on cocoa as a key flavor.
This version comes from blog.paleohacks.com and provides you with 14 individual truffles per batch. Each of the truffles contains 11 grams of fat, making them a perfect way to boost your healthy fat intake.
White Chocolate Latte
White chocolate is a fantastic flavor for beverages as well. This recipe was developed by Allison from flabstofitness.com and should taste amazing. The latte is a variation on the bulletproof coffee concept, as it contains butter and MCT oil. These two ingredients may help to boost your ketone levels, while also providing a fast burst of energy.
White Chocolate Matcha Latte
Jean from whatgreatgrandmaate.com has another white chocolate drink for you to try. This one uses matcha instead of coffee, so it has a very different flavor profile. It could be a particularly good choice for anyone who is sensitive to caffeine. The drink is also paleo and vegan friendly, so it is suitable for many different people.
White Chocolate Coconut Fat Bombs
These fat bombs are from appeteiteforenergy.com and they're another great way to enjoy white chocolate as a flavor.
They take advantage of MCT oil powder to provide you with the benefits normally seen with bulletproof coffee. The post from Abbie is actually a very good choice if you're interested in MCT oil or MCT oil powder, as she talks about the benefits of MCTs in detail.
Easy White Chocolate Mousse
White chocolate mousse is an unusual idea but Carolyn from alldayidreamaboutfood.com pulls of the style well. This recipe contains around 2.2 net grams of carbs per serving, so you can easily fit it in your macros for the day.
Another interesting aspect is that you're making four servings of the mousse at a time. This makes the mousse perfect as a family dessert or for serving guests.
White Hot Chocolate
Here's another keto hot drink to consider. This version comes from ketoconnect.net and it is a variation on a white hot chocolate.
The drink acts as a fat bomb, with 27 grams of fat and 10 grams of protein per serving. Some people might even find it more appealing than a fat bomb, simply because hot chocolate is a much more familiar style.
Vegan White Chocolate Peanut Butter Cups
This fat bomb recipe is an easy vegan solution and comes from the site thebigmansworld.com. One of the best things about the recipe is its simplicity.
You end up with a professional-looking fat bomb, which has a white chocolate outside and a peanut butter center. Despite this, the recipe remains easy to create and only involves four ingredients. Arman also offers information about how you can make a nut free version if you want to.
Raspberry White Chocolate Fat Bombs
These fat bombs come from theketosummit.com and they're simply stunners. The bright color comes from the use of freeze dried raspberries.
You don't need to use a large number of berries, so the carb content remains low. Despite the small amount, the raspberries add in an amazing burst of flavor. Just watch out. The fat bombs are certain to disappear fast.
Sugar-Free White Chocolate
Lindsey from thelittlepinelowcarb.com offers this recipe, which quite literally teaches you how to make keto white chocolate. The recipe is surprisingly simple to put together.
You end up with white chocolate that you can use in many different ways (or you could just eat it as is). Lindsey also offers details about add-ins that you can consider. Some of these will add to the carb content, but they're all fantastic ways to make the white chocolate taste even better.
White Chocolate Raspberry Muffins
I love this recipe from allthenourishingthings.com as it is a different style than many of the other recipes on this list. This time you're making muffins that use white chocolate and raspberry as the main flavors.
Because these are muffins, rather than fat bombs, you'll find that the overall white chocolate flavor isn't as strong as with other recipes. This isn't a bad thing and the muffins would be ideal in many situations.
White Chocolate Fudge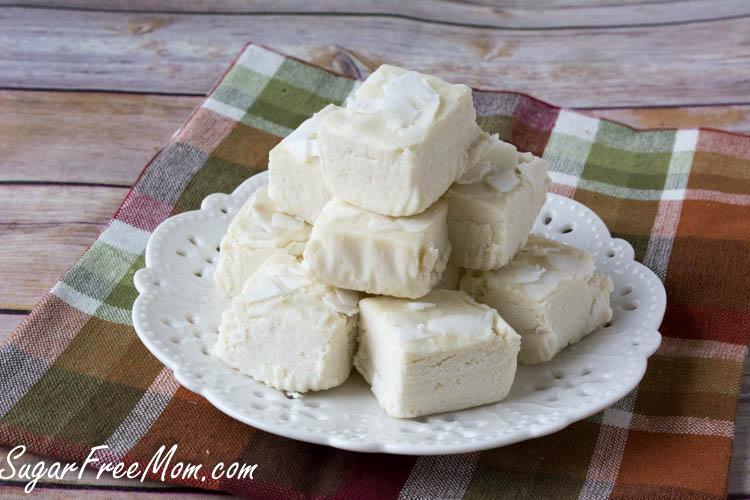 Brenda from sugarfreemom.com offers this fudge recipe for you to try out. Brenda mentions that the recipe came from a desire to create something that is 'white and clean'. The end result is fantastic and is a different flavor than you'd normally find with fudge.
White Chocolate Bark With A Twist
Chocolate bark is always a fantastic treat and this white chocolate version from ruled.me is no exception. It uses toasted pumpkin seeds to add in extra flavor and protein to the white chocolate. You end up making 12 servings of the chocolate bark at a time. Each of these contains much less than one net gram of carbs.
White Chocolate Coconut Fudge
Here's a slightly more complex white chocolate fudge recipe. This one comes from the site theshrinkingviolet.co.nz.
The coconut on top provides an interesting texture and makes the fudge look great on the plate too. There are various other coconut containing ingredients too, so there is significant coconut flavor in the finished treat.
White Chocolate Lemon Drops
The addition of lemon makes these white chocolate treats a fun choice. The recipe comes from healthfulpursuit.com and is an easy one to follow. You only need five ingredients, which aren't difficult to find at all.
The shape of the treats comes from the use of a candy mold. Leanne suggests using one that has 40 (or more) cavities – to give you the small treats that she has created. You could use a different style or size of mold if you would rather larger white chocolate lemon drops.
White Chocolate Macadamia Faux-Granola Bars
Here's a more complex white chocolate recipe to try out, which comes from the site keto4karboholics.com. The bars would be a great alternative to regular granola bars and they'd appeal to anyone on a keto or a gluten free diet. You're making 20 bars at a time, giving you plenty of snacks to go around.
White Chocolate Keto Snickers Bar
As the name suggests, this recipe is a variation on a Snickers bar. There are some significant differences, as this is a keto recipe and one that relies on white chocolate rather than regular chocolate.
The recipe comes from madcreationshub.com. The bars look particularly amazing when they are cut up like they are in the image. I'm sure you could find other good ways to present them too.
White Chocolate Lavender Candy
The inclusion of lavender in this recipe make it a particularly interesting choice. The heart shape comes from the use of a silicone mold.
You could easily choose a different type of mold to change the shape and/or size of the candy. The recipe comes from the site alimillerrd.com. You can find all of the details that you need there.
White Chocolate Peppermint Sugar Cookie Bar
This recipe, from bakeitketo.com, is designed as a seasonal choice – making it perfect for Christmas. Thankfully, the cookie bar isn't just limited to the holidays.
You could easily change the color of the sprinkles to make the recipe perfect for any time of the year. The two-layer style of the cookie bars is a particularly enjoyable aspect, making these bars stand out from other recipes.
White Chocolate Keto Skillet Blondie
Making a brownie (or a blondie) in a skillet is a fun idea. This recipe from castironketo.net allows you to do just that. The recipe is vegan as well, as it takes advantage of the chia egg approach instead of using a regular egg. The macro balance for the blondie is 85% fat, 10% protein and 5% carbs, which is absolutely perfect for keto.
White Chocolate Cake
Here's another style to try – a white chocolate keto cake. The recipe comes from mysweetketo.com. It is a two-layer cake, which looks very similar to a cheesecake at first glance. Even so, the flavor profile is different than a cheesecake, as is the texture. You end up with an unusual and appealing dessert.
White Chocolate Peanut Butter Fat Bombs
Who says that peanut butter only combines with regular chocolate? This recipe from tasty-yummies.com takes a different approach – pairing white chocolate with peanut butter. The flavor combination works extremely well. You could also choose almond butter instead if you want a slightly different taste.
Homemade White Chocolate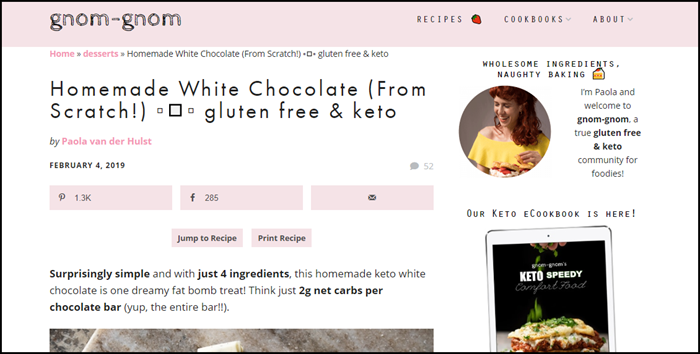 Here's another recipe for making white chocolate yourself. It comes from gnom-gnom.com and uses only four different ingredients. Each white chocolate bar contains two net grams of carbs. This means that you could easily eat the chocolate on its own or use it as part of another keto recipe.
White Chocolate Butter Pecan Fat Bombs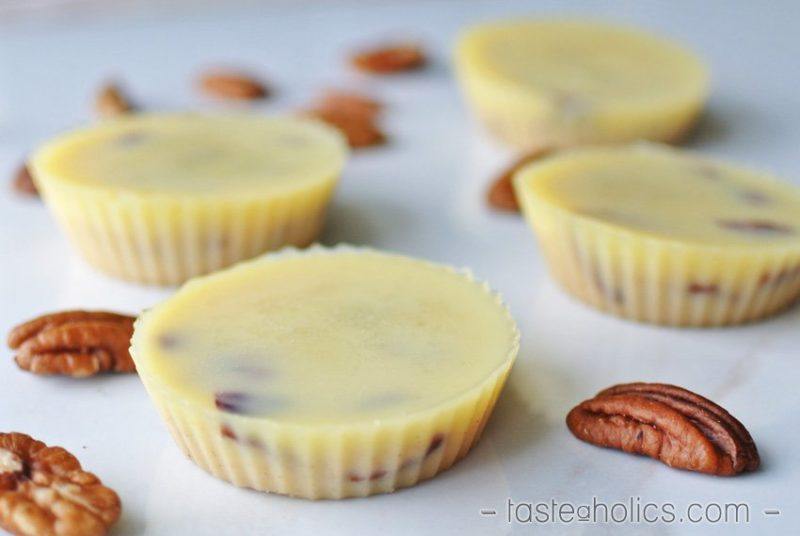 Vicky from tasteaholics.com offers this white chocolate fat bomb recipe. The inclusion of pecans is a great choice. These make the texture a little bit more interesting than a fat bomb that just relies on white chocolate.
The idea is actually very important because the texture of fat bombs doesn't appeal to everyone. Changing it up a bit is always an interesting idea and could easily make the fat bombs popular.
Sugar-Free White Chocolate
This final recipe is another approach for making basic white chocolate bars. It comes from wholesomeyum.com and you only need to go through four different steps.
It is a very popular recipe, with 145 different comments and a five-star rating on the site. What's more, you end up making chocolate bars that look incredibly professional. If you use the right molds, you'll end up with white chocolate that looks like it has been purchased from a store.