Quiche is a dish that never seems to go out of style. It is a savory meal that can include ingredients like cream, milk or eggs, along with other items for texture and flavor. Many versions have a pastry crust, but crustless alternatives exist too.
It's easy to see why quiche is so popular. The dish is incredibly versatile. It can be eaten hot or cold. You'll sometimes see it as part of a full dinner, as an item in a packed lunch, as breakfast or as food for a party.
There are countless potential ingredients, creating a wide range of flavor variations. Some quiches look very similar to one another, while others are completely different.
Quiches are also very good for keto. They already contain many healthy fats, so any keto adaptations don't need to be complex. The keto quiche recipes in this list are all great examples for you to try out. They can also act as inspiration for your own recipes.
Keto Quiche Recipes
PS. There are many other savory keto recipes to try like beef stew and various zucchini recipes.
PPS. You could also check out this keto snack box. Many of these can easily be included as part of a packed lunch, much like a piece of quiche.
Keto Quiche With Smoked Cheddar And Caramelized Leeks
I love the combination of flavors in this recipe from brokefoodies.com. I mean seriously, I was sold with the smoked cheese alone. The caramelized leeks also make this recipe a must try in my book. This isn't a crustless quiche either. It uses a keto pie crust, so you get the full quiche experience without the carbs.
The recipe makes four small servings. These would be ideal additions to a lunch box. They'd make a fast and easy breakfast too. I'm sure you can also find plenty of other uses for the finished quiche.
Smoked Salmon Keto Mini Quiches
This recipe from ketodietapp.com is another one that provides mini quiches. The quiches here are even smaller than the previous example. They also use smoked salmon, which is an amazing choice. There are actually some really interesting flavors in this recipe that make it a true knockout. More importantly, there is only one net gram of carbs per quiche. These are sure to become a fast favorite.
Super Fluffy Crustless Quiche
If you're looking for an easier recipe, this crustless quiche from theharvestskillet.com could be the answer. The no crust approach means that there are relatively few involved in creating the dish. There aren't many ingredients to worry about either. In fact, the quiche only takes around five minutes to prepare. Then you just need to cook it.
Broccoli Cheddar Quiche With Bacon
Kim from lowcarbmaven.com offers another type of crustless quiche to try out. This one relies on broccoli, cheddar and bacon as the key flavors. The choice of ingredients makes the quiche look amazing, while being tasty as well. As Kim mentions, the combination of broccoli and cheese is also a good way to get family members eating broccoli. Many broccoli haters will eat the veggie if it is served with cheese.
Caramelized Onion And Gruyere Quiche
Speaking of cheese, this quiche from alldayidreamaboutfood.com is another one that focuses on the dairy product. This time, the main flavors are gruyere cheese and caramelized onion. The colors of these ingredients mean that the quiche doesn't look exciting visually. Don't let that put you off. The finished dish will still be packed with flavor.
Spinach And Smoked Salmon Quiche
This recipe from ketosummit.com follows a different combination of flavors again. In this case, the emphasis is on spinach and smoked salmon. Those two flavors work exceptionally well together. The ingredients are also high in nutrients, providing you with omega-3 fatty acids, iron and plenty of other beneficial compounds. If all of that weren't enough, the green of the spinach makes the quiche look stunning.
Almond Crusted Keto Quiche
This recipe, from ruled.me, doesn't take any shortcuts when it comes to creating the perfect keto quiche. This means that you do get the crumbly crust that belongs on the outside, along with the soft filling. The whole dish remains keto because of the almond flour crust. While the quiche involves more work than many of the other examples on this list, it is well worth the time and effort.
Ham, Cheese And Asparagus Quiche With A Cauliflower Crust
There are plenty of different keto pastry approaches, which each have their own unique impact on the finished dish. The recipe from sparklelivingblog.com relies on a cauliflower crust. Cauliflower is a common choice on keto, but if you're new to the diet, the idea mightn't sound appealing.
Don't worry. Despite anything you might think about cauliflower, this type of crust works very well. It complements the quiche flavors perfectly while being very good for you too. The mildness of cauliflower makes it easy to forget what the crust is made of.
Crustless Kale And Cheddar Quiche
Crustless quiches work well too. They're much faster to create than recipes that rely on crusts and you don't need to worry about making a fiddly keto crust. This version comes from allthenourishingthings.com. It's a great way to get kale in your diet too. Don't worry if you're not a kale fan, the flavor from the cheddar will be stronger in the finished dish.
Quiche Lorraine Egg And Bacon Cups
Who says that you need to make a full quiche? These egg and bacon cups are a fun alternative that still has the same general flavor and texture combination. They're naturally portion-sized, so you don't need to worry about eating too much quiche. You can check out the recipe at resolutioneats.com. You might even find some other appealing treats on the site.
Healthy Broccoli Quiche
Broccoli makes a surprisingly good quiche addition, helping to provide extra flavor and color to the mix. The recipe is also a pretty simple choice. You're likely to have most of the ingredients available already. Check out the full details at sweetashoney.com to find out for yourself.
Mini Keto Quiches With Feta Cheese
Here's another mini quiche choice, from the site keto-beginner.com. The baby quiches use feta as a key flavor. They do have a crust, but this is at the base of the quiche, rather than surrounding it. Not only does the style work extremely well, but you can also add in additional ingredients to make these quiches your own.
Keto Quiche With Bacon And White Cheddar
The flavor combination in this quiche recipe is simply too perfect. You end up with the cheesy and bacon-y taste that everyone associates with quiche. The small size makes the quiches perfect as snacks or as an addition to lunch. As always, you can find the full recipe on the site in question, which is luluthebaker.com.
Smoked Salmon And Feta Cheese Quiche
Here's another good flavor combination for a quiche – smoked salmon and feta. Doesn't it just sound amazing? This time the recipe comes from ketofirst.com. You're making a large quiche, which you can easily cut into whatever serving size you would prefer.
Spinach, Mushroom And Goat Cheese Quiche
There are many reasons that this quiche from perfectketo.com stands out, including the healthy ingredients and the way that it looks on the plate. The most significant aspect has to be the goat cheese. This type of cheese isn't an especially common recipe choice, but it should be. You end up with a good flavor combination and a quiche that is just a little bit different.
Low Carb Keto Quiche With Pork Crust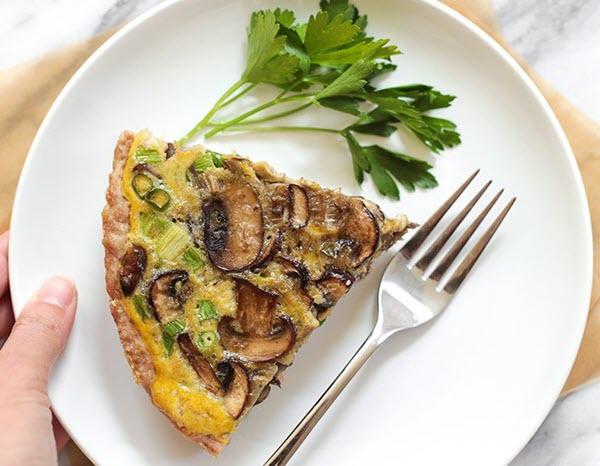 While we're on the topic of slightly unusual quiches, what about this recipe from blog.paleohacks.com? The interesting part here isn't the quiche filling (although this does look good), but the crust. Felicia takes the unusual approach of using minced pork to form the quiche crust. Not only is this approach low in carbs, it also ends up being easier to make than most other keto crusts.
4-Step Tarragon Mushroom Keto Quiche
As the name suggests, the most notable aspect of this quiche is the tarragon. This spice helps to lift the flavor to a whole new level. The recipe can be found at ketocookkc.com and includes plenty of instructions to step you through the process.
Mini Ham And Broccoli Quiches
These mini quiches would be an ideal choice for a fast breakfast or as an addition to lunch. The recipe itself comes from northernnester.com and is an intermediate between a quiche and a ham and egg cup. As Jacinda points out, this style can be more enjoyable for kids, as ham and egg cups can sometimes seem a little bland.
Easy Quiche Muffins
Here's another recipe that creates small quiches. In this case, the quiches were created by Cristina of thecastawaykitchen.com, so you can be certain that they're delicious. The quiches are also filled with vegetables, making them a very healthy choice for you and your family.
Breakfast Keto Quiche
This quiche recipe comes from tastefulketo.com. It's designed to be a fast and easy breakfast quiche recipe, one that also tastes good. As part of this, the quiche relies on classic ingredients, like cheese, eggs and cream. There are also some optional ingredients that you can add if you like. These give extra nutrition and make the flavor profile more interesting.
Petite Crustless Quiche
Here's a quiche recipe that has perfected the crustless style. The small and simple quiches make perfect snacks that you can grab and go. They're packed full of hearty ingredients, making them a filling choice. Gina (from skinnytaste.com) also highlights some variations that you can make, like changing the veggies and the meat that you include.
There is even a video that you can follow. This makes it easy to get the quiches right on your very first try.
Keto Sausage Crusted Quiche
Mellissa from ibreatheimhungry.com offers this simple quiche that you can try out. The most interesting part is the crust. The recipe has a sausage-based crust, which is very simple to make. Honestly, this aspect is so cool. There are plenty of pastry-style crusts out there, but those aren't always popular. Some people find that such crusts fall short of carb-based options. So, why not try a meat crust instead?
While the recipe is for a full quiche, you could easily make it in muffin tins instead. This would give you smaller quiches that are easily portable.
Keto Pepperoni Pizza Quiche
Here's a recipe that's perfect for kids – pizza quiche. The dish comes from bonappeteach.co and it is exactly what the name suggests. You're getting a keto quiche that has all the flavors of a pepperoni pizza. The finished dish even looks a lot like a pizza. The appearance is perfect for getting picky eaters to give the quiche a try.
Caramelized Onion, Mushroom And Kale Quiche Without Crust
This quiche is absolutely packed with greens, making it great for your health. Maya (from wholesomeyum.com) also mentions that a quiche is the perfect way to eat kale, as you can't taste the vegetable. The focus on greens isn't the only unusual aspect. You're also preparing the recipe in an Instant Pot. Doing so makes this an easy and fast recipe.
There is one other interesting ingredient – raisins. These aren't a common quiche addition. They're not particularly good for keto either. As Maya mentions, you can easily omit them for the recipe if you want to bring the carb content down lower.
Asparagus Mushroom Gluten Free Quiche
The combination of asparagus and mushroom always works well. This recipe from whatagirleats.com highlights the flavors of these ingredients by using complementary ingredients. Cynthia provides some details about how you can make the quiche if your dish isn't as large as the baking pan she specifies.
Broccoli Cheddar Bacon Quiche
Here's a different combination of flavors to consider – bacon, cheese and broccoli. I know that broccoli isn't the most popular vegetable, but a quiche does seem like a great way to get it in your diet regularly. The recipe also includes a keto crust, so you're not missing out on anything. You can check out all of the details at twoluckyspoons.com.
Fast And Easy Keto Quiche
This quiche is designed to be fast and easy, while still giving you a crust to enjoy. The crust uses coconut flour, so that it can be eaten by people who have nut allergies. The recipe itself isn't the only interesting thing. Hilda also provides details about ways that you can customize the quiche to meet your own preferences. This includes changing the cheese and/or the vegetables that you add in. See all the details at fittoservegroup.com.
Keto Quiche With Fathead Crust
Fathead pastry is a common choice for keto dieters and this recipe from thehungryelephant.com takes full advantage of this fact. The end result is a dish that is very easy to prepare. It doesn't use many ingredients either. In fact, the quiche has one of the shortest ingredients lists that I have seen for quite some time. There's also a video that you can follow to help you get all the steps right.
Bacon Cheeseburger Keto Breakfast Quiche
This quiche is an ideal choice if you're looking for something without veggies. The only vegetable in sight is dill pickles, which are included to help create a cheeseburger-like flavor. The quiche does live up to its name too, especially as it features bacon and ground beef, along with plenty of cheese.
Of course, you don't have to take my word for it. Head over to kalynskitchen.com and check out the recipe for yourself. You won't be disappointed.
Keto Quiche With A Cauliflower Crust
Vanessa from thecheerfulkitchen.com offers this quiche, which relies on cauliflower to create the crust. The style isn't as odd as it sounds. Cauliflower works well in many different recipes, partly because it has such a subtle flavor. The quiche includes zucchini as well, which is more prominent and combines nicely with the other ingredients.
Prosciutto, Cheese And Zucchini Quiche
Speaking of zucchinis, here is another recipe that features the vegetable. This one comes from queenketo.com. It includes prosciutto and cheese as well, which help to create a more complex balance of flavors. Antya also mentions that you might call this recipe a savory cake. It does have a similar flavor and texture to a quiche, but the finished result isn't quite the same. If nothing else, it's a good recipe to try for something a little different.
Crustless Mini Vegan Keto Tofu Quiches
This recipe comes from compassionateketo.com and was designed with vegans in mind. According to Amber, the quiches are similar to a portable tofu scramble. They're also pretty hearty, so you know that you'll be satisfied with them.
While you can simply make the quiches in a muffin tin and leave it at that, Amber has an extra step that she recommends. This step helps to firm up the quiches a little, making them more portable than they'd be otherwise.
Instant Pot Keto Crustless Quiche
Here's a quiche recipe for anyone who loves using their Instant Pot. The recipe comes from aspicyperspective.com. Sommer mentions that many people overcook their quiches so that there is no risk of raw eggs. An Instant Pot helps ensure that the quiche is perfectly cooked every single time, with exactly the right texture. There is also a discussion in the comments section, where Sommer provides details about how you could bake the quiche instead.
Low Carb Crustless Sausage Quiche
Deanne from thisfarmgirlcooks.com provides this sausage quiche recipe. It's a meat-heavy quiche recipe, so it will keep you satisfied for a long time. This is also a good choice for anyone who doesn't normally eat quiche. Unlike most other quiche recipes, there aren't many veggies included here. The combination of ingredients even makes it taste a bit like a breakfast fry-up.
Crustless Keto Quiche With Spinach And Mushrooms
If you want plenty of veggies, you might enjoy this recipe from ketovale.com. It features a decent amount of spinach and mushrooms. The spinach also helps to give the quiche an amazing color, while the mushrooms give it some more substance. There is ham included in the mix too, providing extra protein.
Bacon And Olive Quiche
Lisa from cookeatpaleo.com provides this quiche recipe, which uses olives as a key ingredient, along with smoky bacon. While olives don't normally make their way into a quiche, this recipe clearly shows that they have some advantages. This quiche is also suitable for a paleo diet, as well as a keto one.
Savory Crustless Breakfast Keto Quiche
The most unusual aspect of this breakfast quiche is that it relies on goat cheese. Corina, from perfectketo.com, mentions that this is a surprisingly good diet choice. Some people are sensitive to cow's milk but find that they can still consume goat milk without a problem. The flavor also works well in a quiche, helping to create a more interesting dish.
Keto Breakfast Quiche
Here's another breakfast-style quiche. This one comes from Meagan at azestybite.com. It features bacon and spinach as the main ingredients, along with the traditional quiche components. Interestingly, the quiche is shallower than many others on the list. This creates an unusual ratio of filling to crust. Still, the style works well. You can also make it in a deeper pan, as long as you adjust the cook times appropriately.
Skillet Crustless Quiche With Kale, Zucchini And Garlic
This quiche comes from eatbeautiful.net and it looks a little different than most. You end up with a crusty top and a bright green interior to the quiche. The recipe suits many different diet types including paleo, keto and GAPS. The compatibility with GAPS is the most significant aspect, as most quiche recipes are not GAPS compliant.
Another appealing aspect is the ingredients. This recipe includes zucchini, kale and garlic. These items are all powerful for health, offering you plenty of beneficial nutrients.
The Most Amazing Crustless Quiche
JWhile you could easily add greens to this quiche, the original version simply relies on cheese and bacon. This combination of ingredients always works very well. You get a tasty snack that is high in fat and tastes amazing. The bright yellow color of the quiche looks stunning too. You can find the recipe over at jenniferbanz.com.