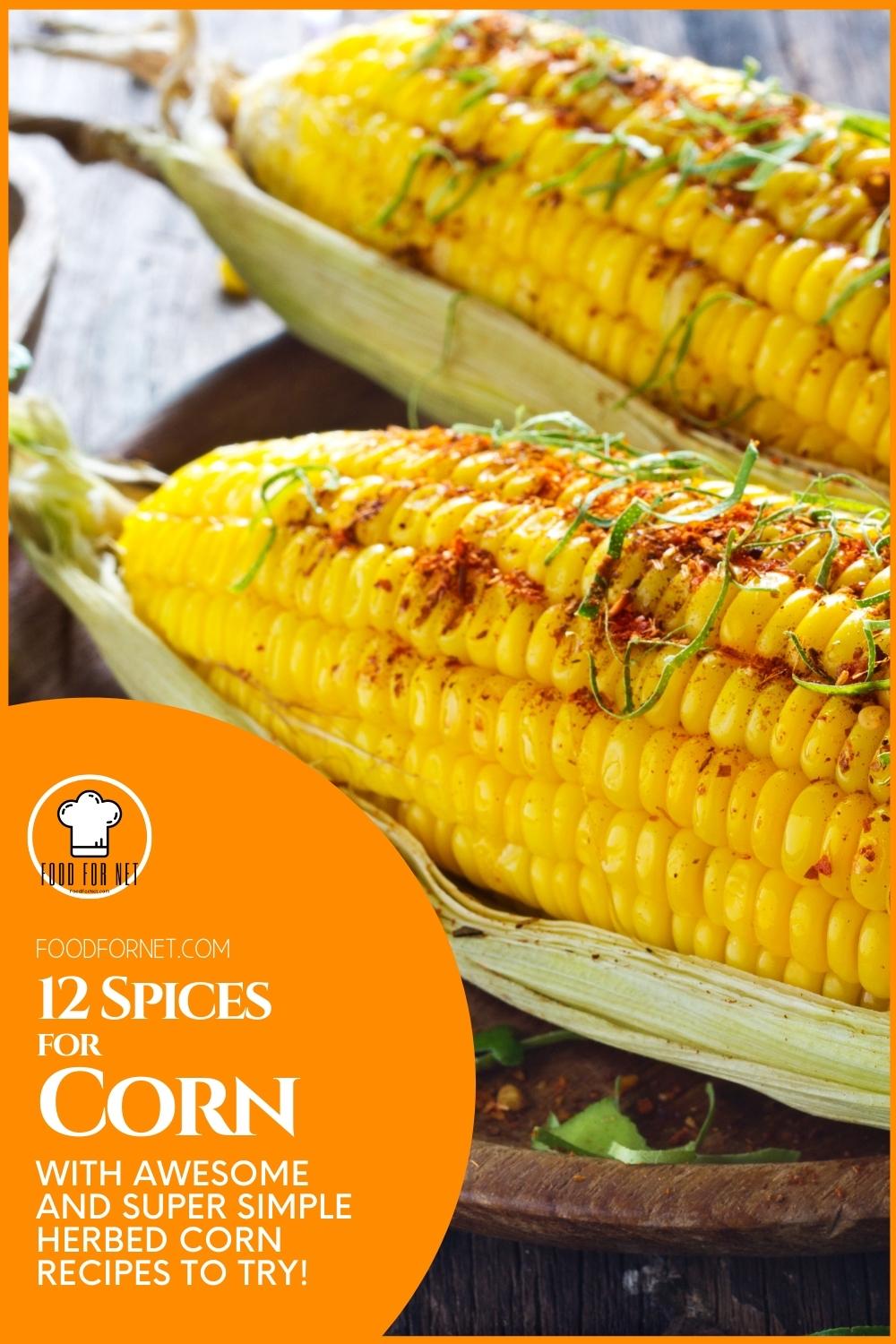 Corn is widely cultivated and undoubtedly one of the world's most popular cereal grains. It was first domesticated about 10,000 years ago by indigenous people in Southern Mexico. After the arrival of Europeans in 1492, explorers and traders carried corn back to Europe and then eventually introduced it to other countries. These days, we eat it plain or with a huge variety of toppings, so I wanted to explore some delicious spices for corn and their recipes.
Corn, also called maize, has become a staple food in many parts of the world. Other by-products soon emerge from the humble corn and became a part of our normal food consumption – corn flour, grits, cornmeal, alcoholic beverage, starch, corn oil, sweeteners, and others. Nonetheless, the popularity of sweet old herbed corn never ceases to lose its charm even to this day.
This is especially true because, to be honest with the simplest herbs or spices for corn coupled with the simplest cooking techniques, roasting, baking, boiling, or steaming, you're bound to enjoy a delicious, sweet, and quite amazing herbed corn snack or side dish.
The herbs and spices for corn that we'll feature here are intended for sweet corn – the particular maize variety that is grown for human consumption. It is oftentimes harvested while still immature and is eaten as a vegetable and not as a grain. Other types of corn include dent corn, flint corn, pod corn, popcorn, and flour corn.
Corn is mainly carbs although it does boast a fairly high fiber content and decent amounts of protein. Sweet corn in particular contains pantothenic acid, folate, vitamin B6, niacin, and potassium. Corn also has a number of bioactive plant compounds – in fact, it contains higher amounts of antioxidants compared to other common cereal grains.
Corn is good for the eyes because of its lutein and zeaxanthin content. It is also good for helping with digestion, decreasing high levels of oxidation, and protecting against certain diseases. It may not be as nutrient-dense as other grains or vegetables but it does feature a decent amount of nutrients as well.
This is not to discount the fact that too much corn in your diet can be harmful as well (although, to be honest, pretty much anything you eat excessively is bound to affect your health badly one way or another). The key here is to eat in moderation. Make corn a part of your healthy and well-balanced diet. I mean, I know herbed corn is that delicious but remember – mind your consumption, eat in moderation.
So, if you're ready to make some really worthy herbed corn dishes, see our list here of herbs and spices for corn to get you off to a good start. Check out the recipes and see which ones would likely make an appearance on your dinner table really soon!
Spices for Corn (With Pictures!)
Cilantro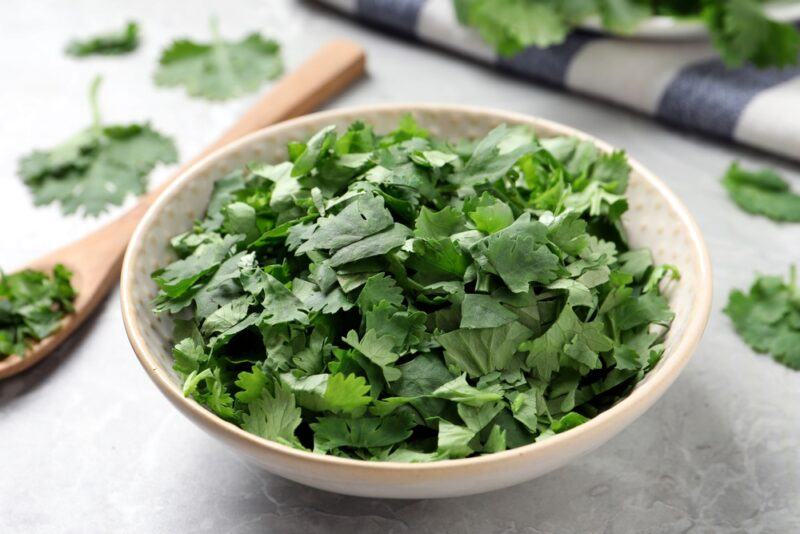 Cilantro is actually the leaves of the coriander plant which seeds are also used in cooking. It's closely related to celery and parsley. Cilantro has a fresh and citrusy flavor.
It contains folate, potassium, manganese, and vitamins A, C, and K. It also has antimicrobial compounds that help in protecting the body against infections and diseases.
This mayonnaise mixture is so simple yet it just works for this dish, Mexican Grilled Corn on the Cob. You just have to mix mayo with sour cream and cilantro and that is pretty much it. I guarantee you, as soon as you brush this on top of freshly grilled corn, the aroma alone will send you salivating!
Shichimi togarashi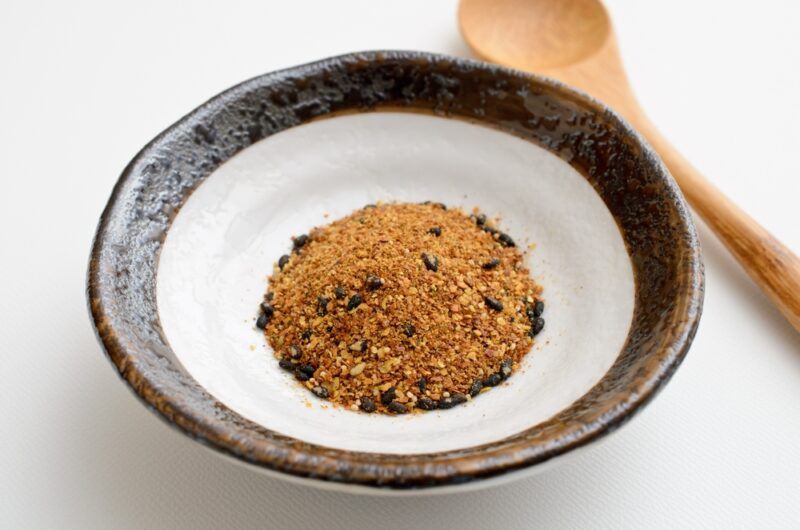 This Japanese spice blend mainly has chili flakes, sesame seeds, and seaweed. It usually contains seven ingredients. The term togarashi refers to a particular red pepper that is native to Central and South America.
The spices in the blend contain high calcium and magnesium contents. Shichimi togarashi also contains antioxidant and anti-inflammatory properties on top of its fiber, calcium, iron, zinc, and vitamins A, C, and E contents.
For some Asian flavors, try this Grilled Corn with Togarashi-Ginger Butter. It may seem odd to use fresh ginger when grilling corn but its combination with Shichimi togarashi is quite an effective if not an interesting pairing.
Chaat masala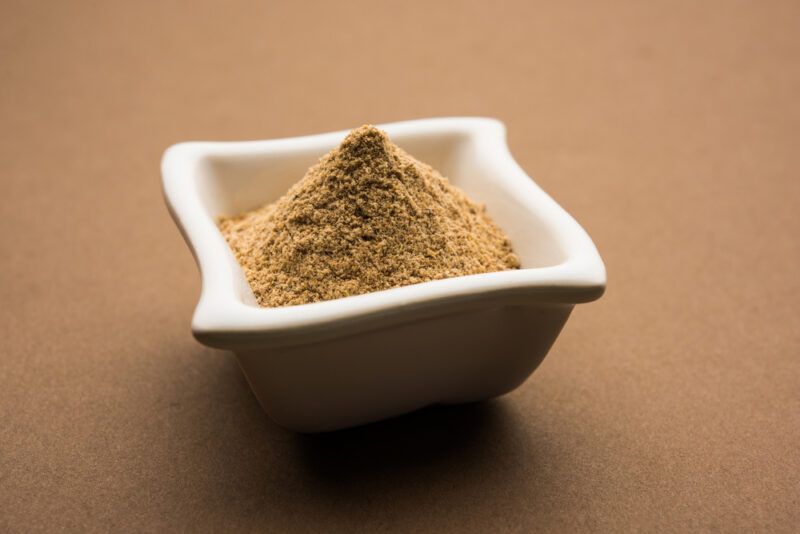 Chaat masala is a seasoning blend commonly used in Indian cooking. It's made from a mixture of amchoor or dried mango powder, cumin, coriander, black pepper, ginger, mint, ajwain, hing, and black salt.
Chaat masala is particularly rich in iron and calcium. And because the spice blend also contains cumin seeds, it also boasts magnesium and minerals content. It also got vitamins A and C which boosts the immune system.
Have a try of Mumbai Street-Style Masala Corn. It has the makings of a good street-style snack that you get from street hawkers. Once you nail the spices – chaat masala, chili powder, and black pepper, all you'll be needing to complete the dish is some chopped coriander and fresh lime!
Parsley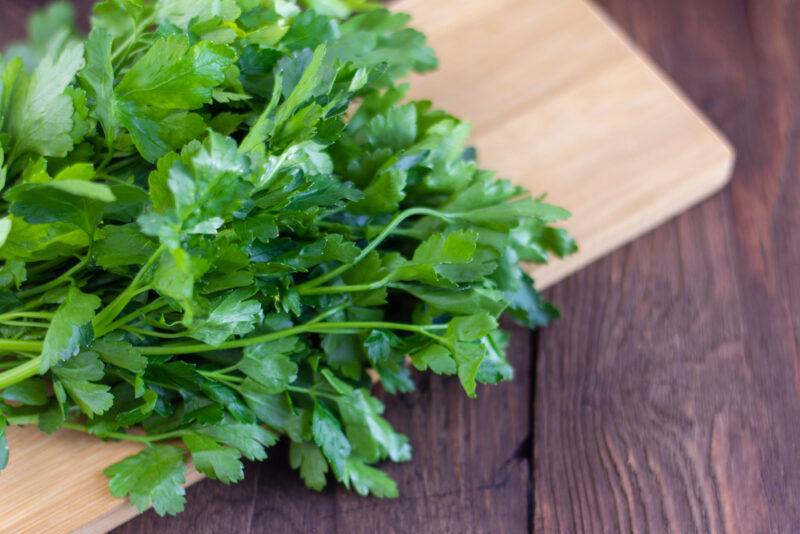 Parsley, also called garden parsley, is native to the Mediterranean region and is commonly used both as an herb and as a vegetable. It has that clean, peppery, and earthy taste.
It's notably rich in vitamin K, in fact, a tablespoon of fresh parsley provides more than 70% of the recommended daily intake. It also has vitamin A and flavonoids.
The spread in this Roasted Corn with Garlic Buttery Spread, is herbed indeed! In addition to parsley, Brummel & Brown spread is also mixed with thyme, rosemary, basil, and garlic. It's then simply seasoned with salt and pepper and that's pretty much it! You can actually use it on anything, but first, of course, try in on freshly roasted corn.
Cumin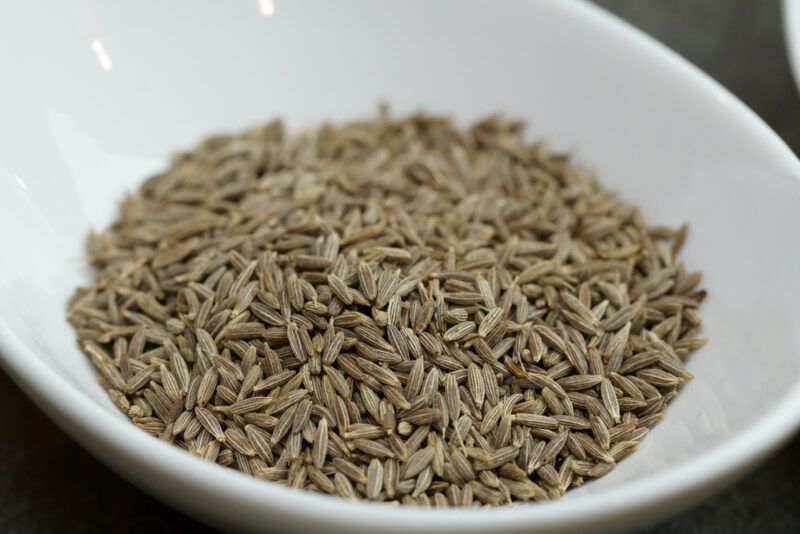 The cumin used as a spice is the dried seed of the cumin plant that is also a part of the parsley family. It can be used whole or ground in cooking. Cumin is one of the main spices used in Indian curries and chutneys.
It's a good source of iron, magnesium, calcium, and phosphorus. It also contains flavonoids that work as antioxidants. Cumin also possesses anti-inflammatory, antibacterial, and antiseptic properties.
Now, this Summer Corn Saute with Tons of Herbs recipe shows how herbs will work perfectly with other spices as well. In this case, cumin did pair really well with the herb mix made up mainly of fresh dill and tarragon.
Cayenne pepper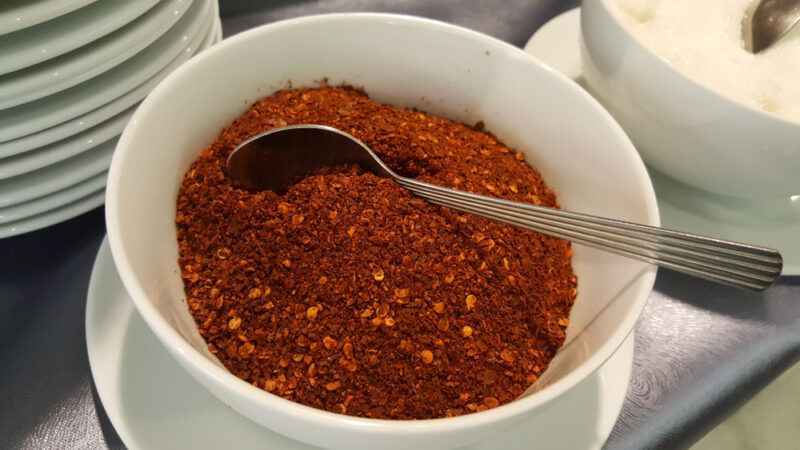 Cayenne pepper powder is derived from the powdered dried cayenne pepper. It does boast a consistent amount of heat that comes with a mild aroma and a neutral peppery flavor. It's a great way to add heat to dishes.
Cayenne pepper is particularly rich in carotenoids and vitamin C. It's also an excellent source of antioxidants and other plant compounds that aid in protecting our cells from damage and boosting health.
You might be thinking, of course, it's going to be delicious it got parmesan – well, yes, that's true. But this Parmesan Corn recipe is flavored smartly and well-balanced because aside from the fresh coriander, it also got cayenne pepper to round up the creaminess of the cheese and the corn kernels itself.
Oregano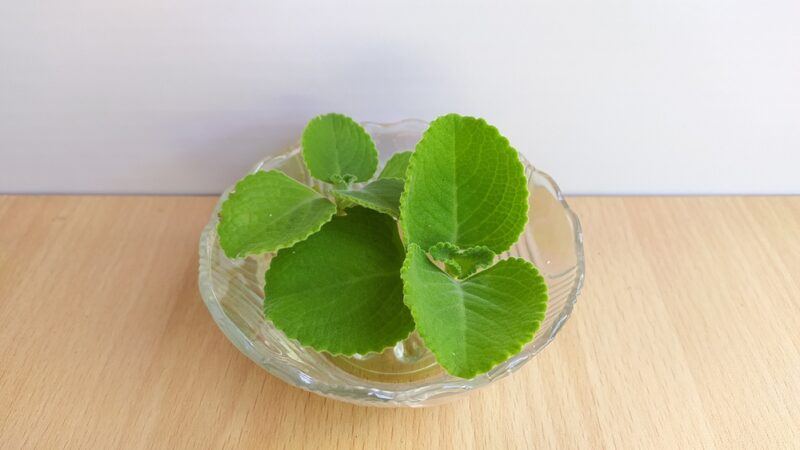 Oregano is another herb that is native to the Mediterranean region. It can be used both fresh or dried in cooking. These olive-green herbs are closely related to mint, marjoram, basil, and thyme. It has a bold, earthy, and slightly bitter taste. Its unique flavor is because of its rich content of different essential oils.
Oregano is also loaded with antioxidants that aid in preventing cell damage. It's also an excellent source of fiber, vitamin K, iron, manganese, calcium, vitamin E, and tryptophan. Its phytonutrients contents help in fighting infections such as staph.
For this one, Grilled Herb Corn on the Cob, you'll be needing corn on the cob with the husk still on. You'll be brushing the herb blend, mainly oregano with thyme and tarragon, before grilling them. Don't worry about burning the herbs because it's where you'll need the corn's husks for. You'll have to fold it back around the cob and tie it with a kitchen string to protect it from burning.
Chives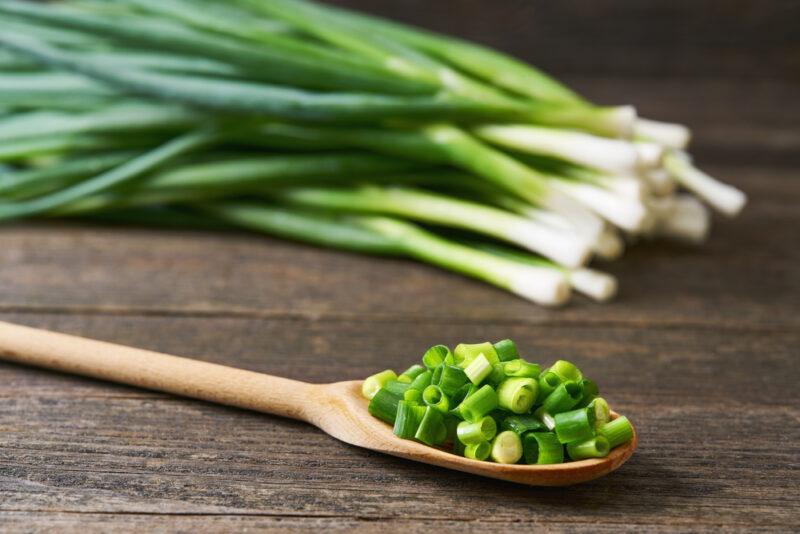 Chive is an herb that is closely related to onions, shallot, leek, scallion, garlic, and Chinese onions. It has long, skinny, green, and tender stems. The taste is quite similar to leeks or it can be likened, too, to the taste of raw onion – only a lot milder.
Chives are rich in vitamin C, riboflavin, vitamin A, potassium, iron, thiamin, and beta carotene. It's good for preventing the common cold and fever, maintaining blood pressure, increasing blood count, and boosting immunity.
The pairing of fresh chives and parsley here is quite interesting, it even has dried thyme in the mix so this one is definitely herbed for sure. Try it to see if this herb combination is up to your taste. The addition of cayenne pepper works in tying up the freshness from the herbs and the creaminess from the corn.
Chili powder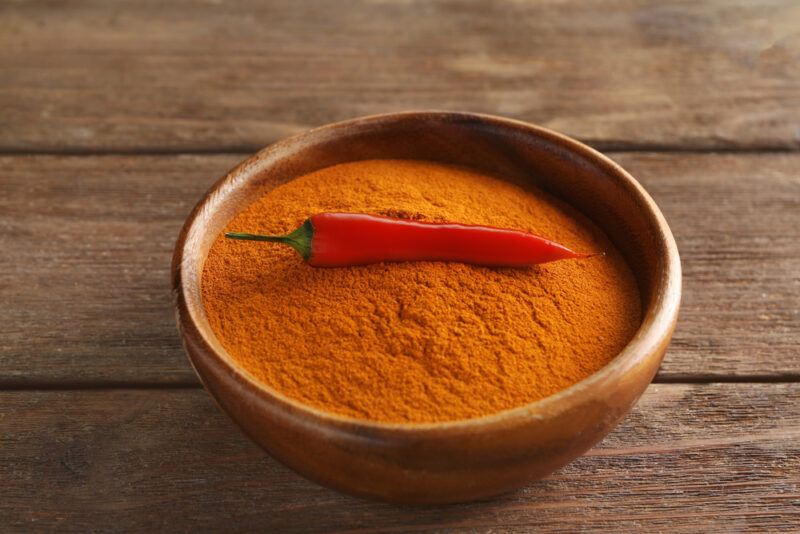 Chili powder is derived from grounded one or more different varieties of dried chili pepper. The blend is oftentimes mixed with other spices like cumin, paprika, and oregano. Most blends are mildly hot but depending on the amount of cayenne pepper in the mix, it can also get quite hot and spicy.
It's a great source of vitamin C which helps in supporting the immune system. Depending on the spices used in the mix it may also contain calcium, phosphorus, and magnesium. Its high potassium content helps in soothing blood vessels and regulating blood pressure.
There is something about the spicy and sweet flavor combo, right? And that is exactly what this Mexican Street Corn recipe is about. The sweetness of the corn is enhanced by the spiciness of the chili powder. It also balances the creaminess that comes from the cheese and the corn itself.
Tarragon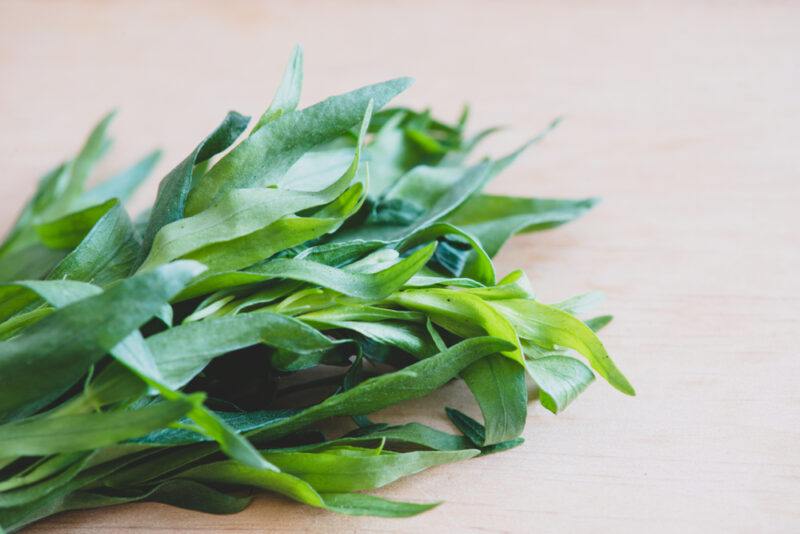 Tarragon is a species of perennial herb in the sunflower family. It has a pungent licorice-like taste with a slightly minty and peppery flavor with a hint of turpentine.
Tarragon has excellent antioxidant properties. It contains potassium, calcium, magnesium, phosphorus, and iron. It's not just for cooking but it's also used in treating digestive problems, water retention, poor appetite, and toothache. It may also help in promoting sleep.
There are plenty of herbs here to cover all six large ears of corn! And if you're up for the tarragon-cilantro herb combo then this Grilled Corn on the Cob with Roasted Garlic and Herb is for you. The roasted garlic of course takes the center stage for this one – I mean it's roasted garlic, how can you compete with that, right?
Basil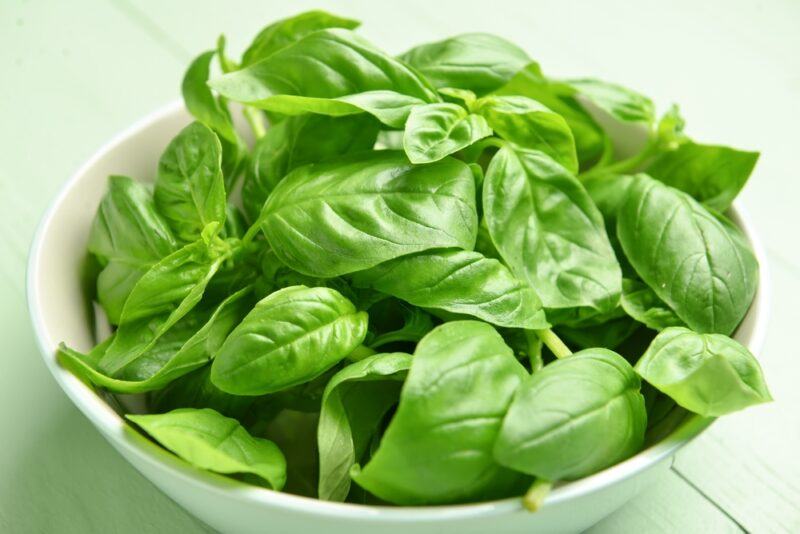 Another herb that belongs to the mint family is the basil. This leafy green herb with fresh flavor originated in Asia and Africa. It tastes somewhat sweet and savory with subtle anise, mint, and peppery flavor.
It contains vitamin K and plant compounds. Basil also has trace amounts of vitamin A, manganese, calcium, and iron. Among its many potential health benefits are reducing memory loss, depression, stroke damage, blood pressure in people with hypertension, and improving fasting blood sugar and mental alertness.
The herb combo this time for this dish, is mainly fresh basil and parsley. It's further seasoned with dried oregano and a clove of garlic. It's safe to say that any herbs mixed with garlic butter will never fail to flavor up any freshly grilled corn. It's just a matter of finding the perfect herb combo now.
Smoked paprika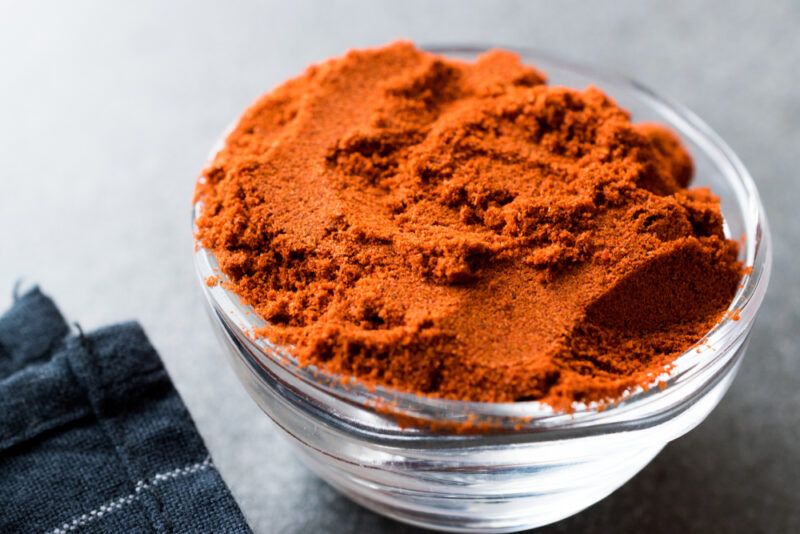 Smoked paprika, sometimes called smoked Spanish paprika or pimento, are derived from grounded smoked and dried peppers. Traditionally, oak is used in smoking these peppers. It has a rich smoky flavor with subtle earthiness and sweet and peppery taste without the heat – unless you opt for the hot blend.
It's rich in iron and vitamin E which are important in maintaining healthy blood. It also contains calcium, potassium, phosphorus, vitamin A, and folate.
If you don't want to fuss too much with your roasted corn then this recipe, Oven-Roasted Corn with Smoked Paprika Butter, is for you. Simply mash the butter with all the other ingredients, brush generously on each ear of corn, wrap them in foil, and simply pop them in the oven.
Related Content