Corn whiskey is an American whiskey with a mash bill of at least 80 percent corn and the whiskey is typically unaged. Unaged whiskies are not common but corn whiskey is rooted in tradition. Many liken it to the moonshine of days past when whiskey was being made and transported illegally. Much of this illegal alcohol was made from corn and it was most often clear and unaged, so the correlation is an easy one to make. 
Unlike your typical aged whiskey, the best corn whiskey is light, subtle, and not overwhelming. While not intensely flavorful it's often an easy enough sipper, especially on a hot and humid summer day (or with a whiskey chaser). Corn whiskey has been on the upswing recently with these old-fashioned methods seeing a resurgence. 
While the lack of aging convinces many that corn whiskey isn't "real" whiskey, it certainly has its place. The often sweet, often subtle spirit is great for beginners, for a refreshing drink, or as a base in many cocktails. 
The Best Corn Whiskey 
1. Balcones Baby Blue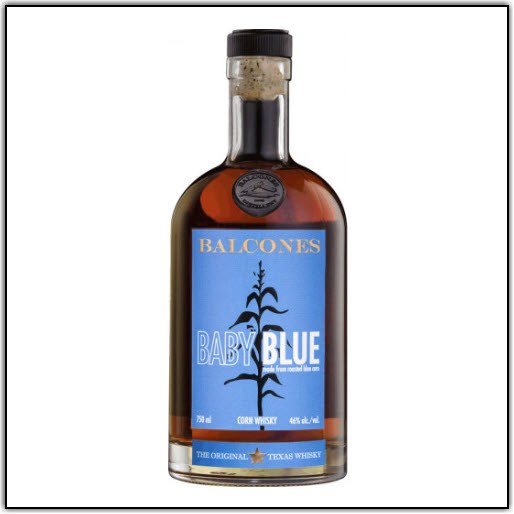 Balcones Baby Blue is a special, hand-crafted whiskey made in a hand-crafted distillery – literally! Everything in there, including the huge copper pot stills, was hammered into the woodwork and put in place by hand. The level of care taken here is reflected in the whiskey, which also happens to be the first blue corn whiskey distilled in Texas since Prohibition. 
The distillers at Balcones aren't just out to make a tasty whiskey, they want to do something authentic and high-quality. As such, they never use chill filtering or artificial coloring and they only use the best and freshest New Mexican blue corn. The corn is fermented and distilled onsite with the whole process closely monitored. Each bottle is then numbered by hand to offer a solid mark of the care they put into this whiskey. 
The aroma opens with a simple, inviting whiff of freshly baked bread. The palate then begins with strong notes of masa cornmeal and butter. Following are notes of toasted almonds, marzipan, dark chocolate, and a touch of smoked chilies for just a little heat. 
2. Mellow Corn Kentucky Straight Corn Whiskey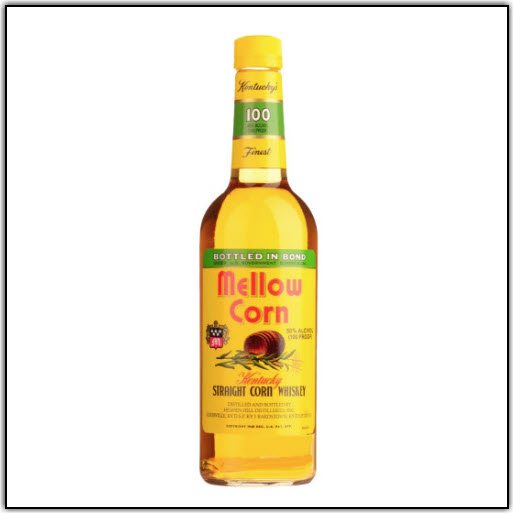 Mellow Corn Kentucky Straight Corn Whiskey is produced by Heaven Hill Distillery, founded in 1935 shortly after prohibition ended. It's the largest family-owned distillery in America and has remained under the same family's ownership since the beginning. Their very first whiskey fast became a best-seller in Kentucky and the distillery has grown into the seventh-largest supplier in the entire United States. 
The family remains dedicated to quality, tradition, and authenticity. They continue to draw on their decades of expertise while always working to innovate and improve. The secret family recipe for their special strain of yeast continues to be passed down through the generations and they've built solid relationships with local farmers who provide them with high-quality corn. 
They have a big selection of Amerian whiskies, including small-batch, single-barrel, and bottled-in-bond. 
Their corn whiskey is made in accordance with official regulations, meaning that it's made from a mash bill that's 80% corn. The rules do not require aging but they age it for four years anyway using ex-bourbon barrels. 
On the nose, you'll find notes of oak and spice followed by a full-bodied palate with a good combination of sweet and spicy. The finish is sweet and lingers in the mouth a little. 
3. Colorado's Own Corn Whiskey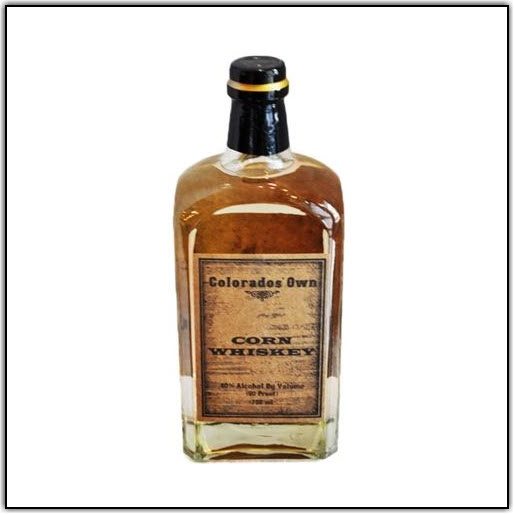 Colorado Gold offers a collection of great whiskey, but their Corn Whiskey is their top seller. Aged for only six months in ex-bourbon barrels, this whiskey is a light one in both taste and appearance. It has a slight yellow tint to it and nothing more. The company is slowly building a name for itself as an exceptional craft distiller in a region that's becoming more and more known for its craft distilling.
While the flavors on this whiskey may not be intense, they're quite pleasant and many find the lighter body and simple profile very easy to drink. It's a great sipping whiskey for a warm summer day when you don't want anything too overwhelming. 
The aroma is full of husky corn and grass with a touch of sweetness. The palate follows with sweet and subtle notes of vanilla and caramel with a hint of corn chips in the background. It has a silky, smooth mouthfeel and it finishes on a slightly fruity note with a touch of wood notes on the very end. 
4. Georgia Moon Peach Whiskey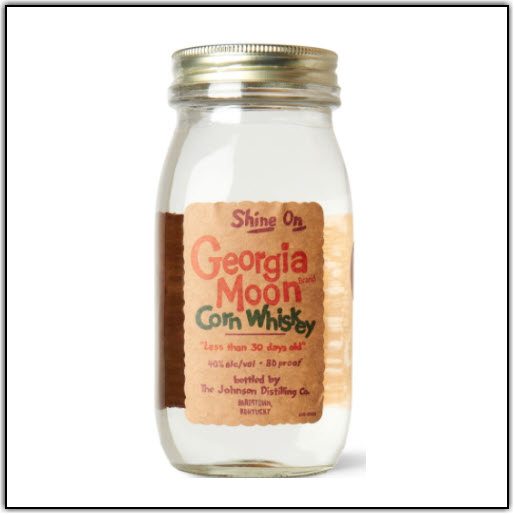 Georgia Moon Peach Whiskey is an unaged corn whiskey that's made to be cheap and easy. Completely clear in color and sold in a mason jar instead of a bottle, it's meant to be reminiscent of the moonshine days. It's got a light, uncomplicated profile and one of the lowest price tags you'll find.
That said, it offers a pleasant experience for most. While not intense at all, it's got a good taste if you do want to drink whiskey neat. The subtle flavors and low price tag make it a go-to for mixed drinks as well, especially with the peach flavor. The distillery makes a non-flavored corn whiskey as well but the peach version is far more popular. 
The aroma is light and subtle with notes of sourdough bread, cereal, and buttered popcorn. The palate lacks any complexity that comes with aging in wood barrels. Instead, it offers a smooth, clean, sweet natural peach flavor. There's nothing artificial about it and the flavor doesn't overwhelm the palate, either. Notes of corn are present in the background as well with an earthy finish to round it out. 
5. Hudson New York Corn Whiskey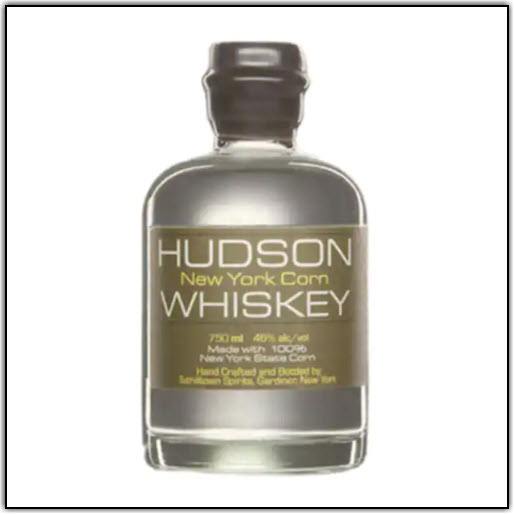 Hudson New York Corn Whiskey is made with a special blend of locally sourced corn, including a special varietal that is grown specifically for Tuthilltown Spirits. It's unaged which gives it a light, subtle, and approachable profile. 
It's a nice simple sipper or a good base for a sweet cocktail. It's also used as the foundation for the distillery's bourbon whiskey. So, if you like the flavor but want something more intense and complex, their Baby Bourbon will have some similarities. 
This one has a raw corn aroma with notes of buttered popcorn and fresh dough. The palate offers a light spice with subtle notes of cereal, fried corn, and a touch of fruitiness in the background. The finish gets a little spicy again with notes of toasted corn. 
Corn Whiskey Drinks
There are many ways the simple flavors of an unaged corn whiskey can be enhanced and spruced up a little. You can always experiment by putting your favorite corn whiskey into a few of your favorite cocktails and see how it goes! If you want a more tried and true idea, though, try one of these combinations: 
Corn Whiskey Lemonade
Spiked lemonade is a popular summertime treat as it's sweet and refreshing. Adding booze became such a staple that many companies produce spiked lemonade by the can or the bottle. Some are good, no doubt, but the lemonade is always better homemade. 
And, it's easy! You want approximately 12 ounces or a can's worth of your favorite lemonade. You can do more or less depending on your desired taste and strength. Then, stir in an ounce or two of your chosen corn whiskey. Add some ice and a lemon wedge for extra flair, and you're all done. 
This is an easy one to scale up, too, if you're having company over and want to offer everyone a sweet summer treat. 
Mountain Dew 
Another simple combination, Mountain Dew is a good mixer for when you want to really drink rather than sip a refreshing lemonade on the patio in summer. Mountain Dew has a strong flavor that works well to balance corn whiskey while helping it go down smoother. 
A good place to start here is to combine two parts Mountain Dew to one part corn whiskey. Of course, you can adjust this as you see fit to meet your taste and preference. Another easily sharable drink, this one is sure to get the party started in no time. 
Golden Derby 
This recipe originally comes from Heaven Hill Distilleries who produces one of the most successful corn whiskies known as Mellow Corn. This special cocktail brings out the best in their premium corn whiskey. 
You only need three ingredients: 
1.5 ounces corn whiskey
1.5 ounces ginger liqueur 
2 ounces grapefruit juice 
The citrus here is very refreshing and the ginger offers a bit of sweet spice to the mix. The subtle sweetness of the corn whiskey is the perfect finishing touch. To make the drink, simply combine the ingredients in a shaker filled with ice and shake it well. Strain it into a glass with more ice and garnish with a wedge of grapefruit.