When it comes to making cocktails, spirits like gin, vodka, and tequila tend to be the most popular. Whiskey features much less often, partly because whiskey can easily be enjoyed on the rocks or neat – where you get to taste the nuances and complexities of your drink. Even so, the best whiskey cocktails shouldn't be overlooked.
Cocktails like these have many advantages. They're perfect for anyone who finds neat whiskey too overbearing or who doesn't enjoy the flavor profile. Cocktails are also a great way to use relatively inexpensive whiskey, including bottles that you wouldn't normally consider drinking neat.
Whiskey cocktails often taste amazing in their own right. There's a reason that they never completely go out of style.
In this list, you'll find a variety of whiskey cocktails. Some of these are classic drinks that have been mixed time and time again over the years. Others are relatively recent creations or variations on old classics.
Just remember that your whiskey choice does still matter. It's true that the flavors of whiskey don't shine through in cocktails as much as if you were drinking the whiskey straight.
Even so, the differences between whiskeys are often considerable. These differences can strongly impact the flavor profile of your cocktails. The same is true if you're combining whiskey with a mixer.
Best Whiskey Cocktails
Manhattan
Horsefeather
Old Fashioned
Boulevardier
Whiskey Sour
New York Sour
John Collins
Rob Roy
Irish Coffee
Mint Julep
Highball
Rusty Nail
Sazerac
Waldorf
Brain-Duster
The Godfather
Gold Rush
Irish Ale
Vieux Carre
Bobby Burns
Brown Derby
Hot Toddy
The Rattlesnake
Whiskey Flip
Paper Plane
Seven And Seven
Scotch And Soda
Four Horsemen
Manhattan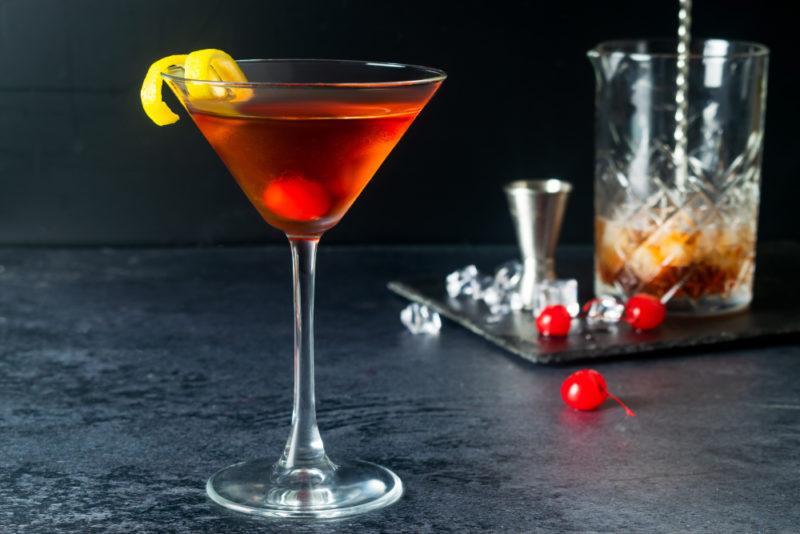 Here's an incredibly famous whiskey cocktail. The Manhattan is a simple cocktail that relies on whiskey, sweet vermouth, and bitters. It is traditionally made using rye whiskey, but other styles of whiskey can be used just as easily.
The Manhattan's simplicity makes it a great whiskey cocktail to begin your cocktail journey. There are plenty of variations to the cocktail too. You could even experiment with extra ingredients on your own.
Horsefeather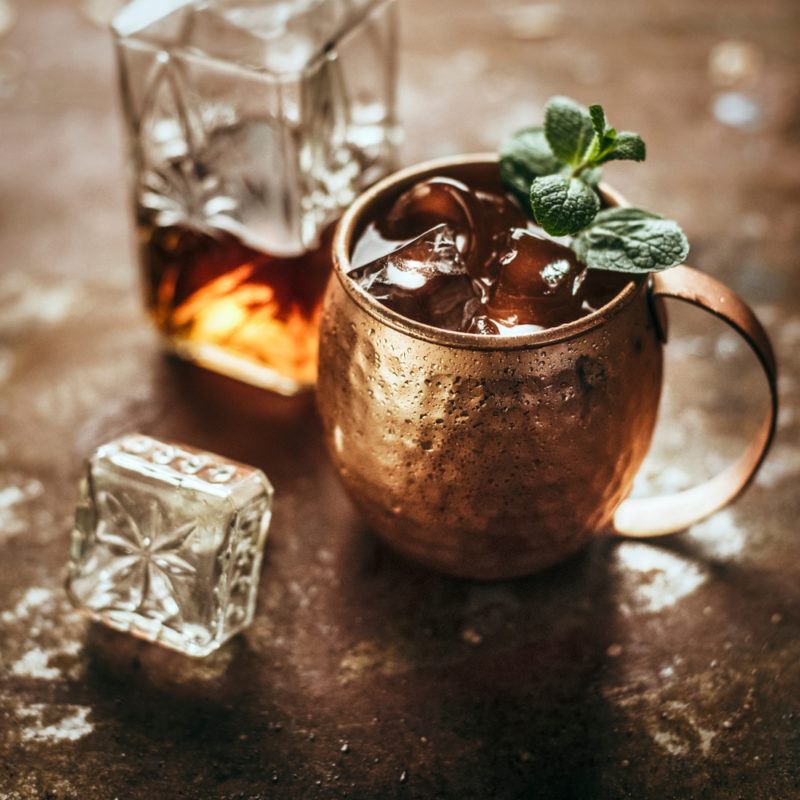 A horsefeather cocktail is basically a whiskey version of a Moscow mule. There are just four ingredients to worry about: ginger beer, whiskey, lemon, and angostura bitters.
While you won't find bitters in a traditional Moscow mule, they're a perfect addition to the horsefeather, helping to create a more interesting flavor profile.
You don't need a cocktail shaker for this drink either. You can just simply add ice to a glass, pour the ingredients in and then stir to combine them.
Old Fashioned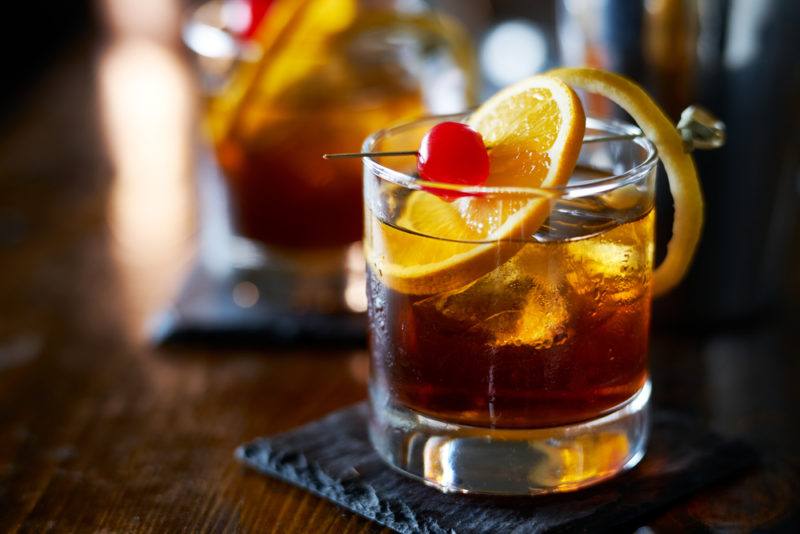 The old fashioned is another simple whiskey cocktail. This one traditionally uses whiskey, bitters, sugar, and an orange slice. You can add in a little soda water too, although this ingredient is entirely optional.
There are many old fashioned variations to try. For example, one version adds in hot water to create a warm winter's drink, while another involves coffee and a third is fruit-focused.
Boulevardier

The boulevardier is basically a negroni, except that you're using rye whiskey or bourbon rather than gin. The other two ingredients are Campari and sweet vermouth – exactly as you'll find in a negroni.
Swapping gin for rye whiskey works well. The drink ends up having a spicy and dark undertone that nicely contrasts against the sweetness of the Campari and the vermouth.
The cocktail can be served with or without ice. You can also vary the ratios of the ingredients depending on your preferences. For example, some recipes call for equal parts of the three ingredients, while others suggest that you include more whiskey for a stronger flavor.
Whiskey Sour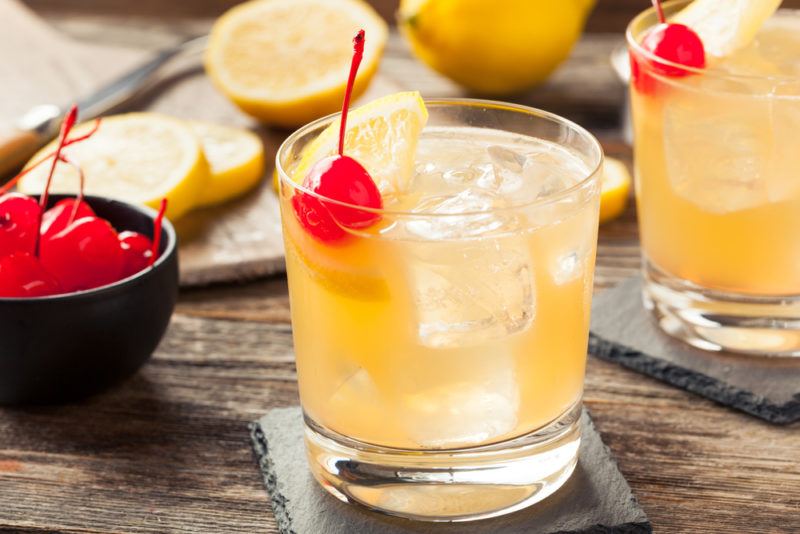 As the name suggests, a whiskey sour is perfect for anyone who enjoys a touch of sourness in their cocktails. The sour flavor comes from lemons, while simple syrup adds a little sweetness. The combination brings out the sweet notes in your whiskey too.
An egg white is typically added to the shaker when making a whiskey sour too. This creates an interesting texture, but you can easily skip the egg white if you're not a fan.
New York Sour

A New York Sour is essentially a whiskey sour that has been topped up using a fruity red wine, such as a Shiraz. The red wine is carefully poured over the cocktail using the back of the spoon. This makes it float on the surface, creating a two-toned drink.
Some recipes for a New York sour will use the egg white, creating a similar texture to a traditional whiskey sour. Others skip the egg white, which leads to a clearer cocktail.
John Collins

You can make a John Collins by simply adding club soda to a whiskey sour. Doing so creates a refreshing drink that is perfect for easy-going social occasions.
A John Collins could be especially good as an entry-level whiskey cocktail, as some people may find a traditional whiskey sour to be too strong. There are also many variations on this cocktail that you can try out.
Rob Roy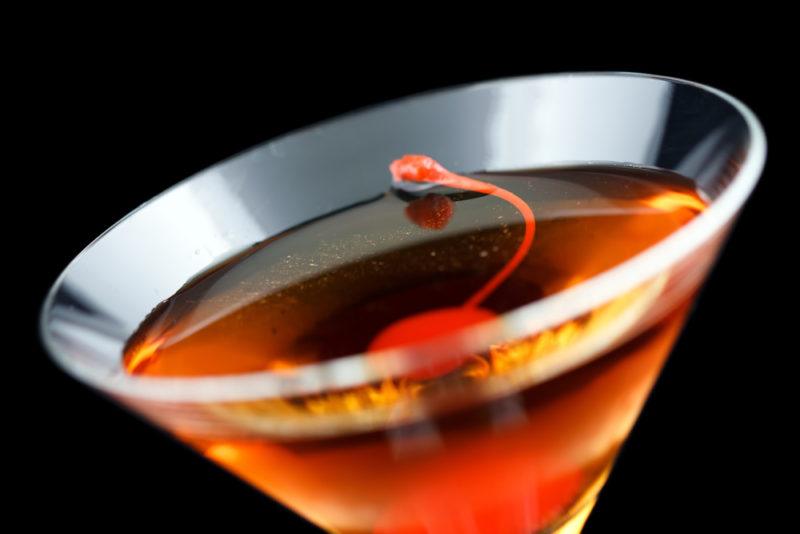 The Rob Roy is a classic cocktail that, not surprisingly, relies on Scotch whisky. In fact, the only other ingredients in the cocktail are vermouth and a little Angostura bitters.
The ingredients are simply stirred together with ice and then strained into a cocktail glass. This is generally considered a no-nonsense drink, one that relies on common cocktail ingredients.
Irish Coffee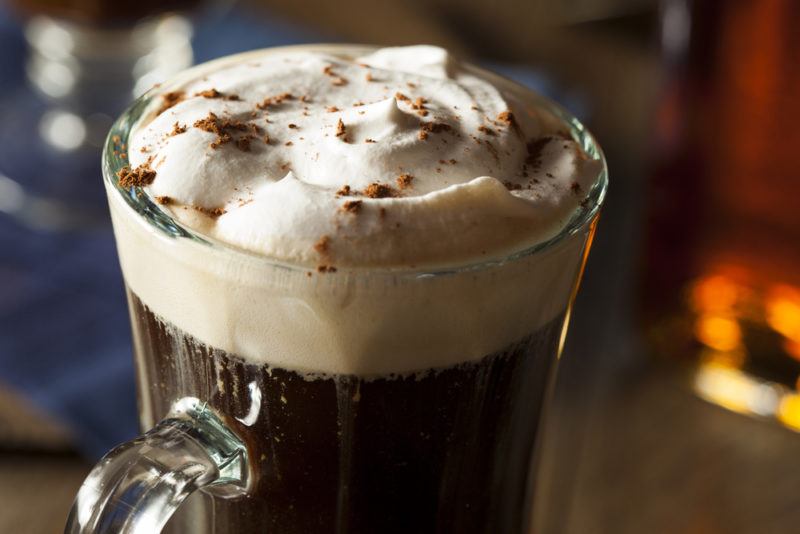 An Irish Coffee is a very easy cocktail to make. The drink simply consists of coffee, Irish whiskey, and brown sugar. It is often topped with whipped cream, which helps to balance out the flavors nicely.
Of course, many people don't bother with the traditional approach. A much more common style is to simply spike your coffee with whiskey. This allows you to enjoy your coffee exactly as you normally would – just with an extra hit of alcohol.
Mint Julep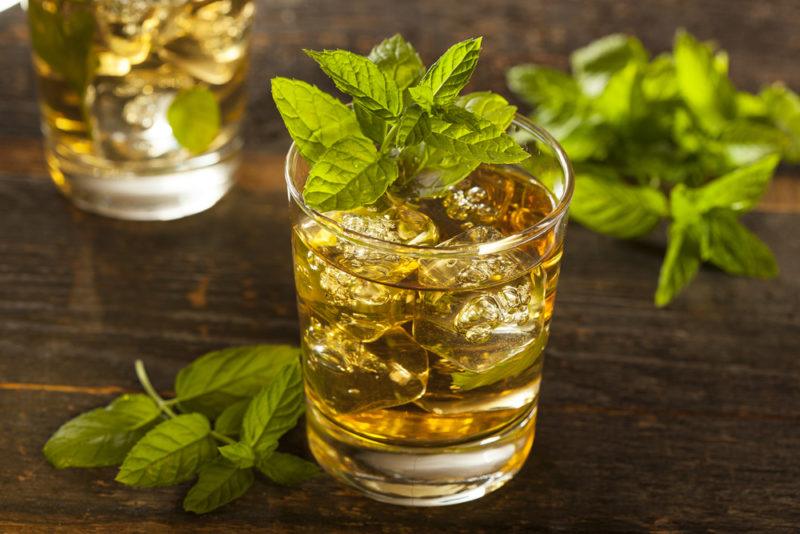 A mint julep is another simple cocktail choice. The main ingredients are bourbon and fresh mint.
You'll need to use a muddler to take full advantage of the mint. Don't worry if you haven't used a muddler before. The process is easy and the finished drink is well worth the effort.
The idea is simply to smash up the mint leaves in liquid so that their flavors are fully released. A muddler is generally the tool for the job, but you could make do with other kitchen implements in a pinch.
Highball

Speaking of simplicity, you can't go wrong with making a highball. The cocktail just involves pairing whiskey with ginger ale. That's it – two ingredients. You can tweak the proportions based on your preferences.
Ginger ale ends up being a very good whiskey mixer. It combines well with any type of whiskey that you can imagine. If you find that the highball is too strong, then you can easily add club soda into the drink to dilute it a little.
On a side note, the term highball sometimes just refers to a mixed alcoholic drink, where the proportion of spirit to mixer is skewed in favor of the mixer. So, if you're ordering a highball at a bar, make sure that you're clear about the specific ingredients that you're looking for.
Rusty Nail

The name rusty nail apparently comes from the color of this drink, rather than the flavor, which is good news. This is another very simple cocktail, as it just relies on two parts whiskey to one part Drambuie.
Drambuie is a liquor that is made from Scotch whisky and has a flavor profile to match. Drambuie is so unusual that the cocktail won't taste the same with any other liquor.
Sazerac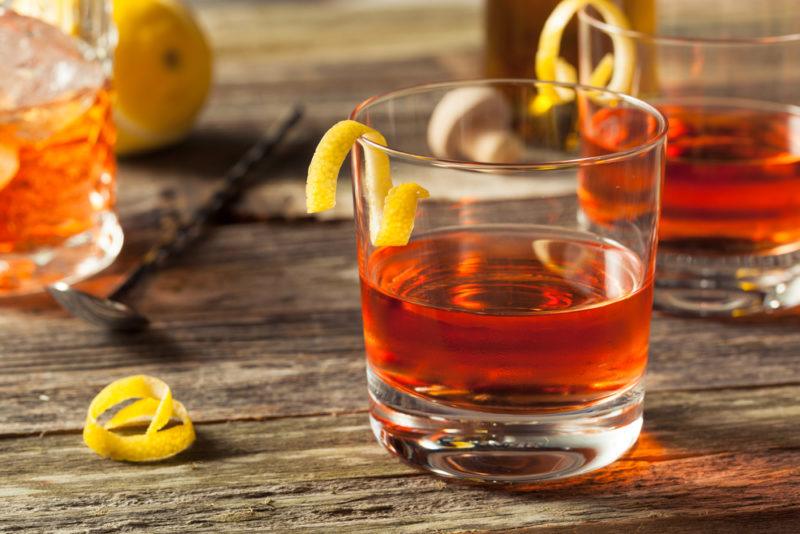 This cocktail hails from New Orleans and offers a bit of a kick. The drink itself simply includes rye whiskey, simple syrup, and a couple of dashes of bitters.
What makes a Sazerac particularly interesting is that the cocktail is generally made in a chilled glass that has been rinsed with absinthe. While the absinthe is ultimately discarded, it does still influence the flavor of the cocktail.
Waldorf

The Waldorf is another famous whiskey cocktail and it's very similar to the Sazerac. This time, the main ingredients are rye whiskey, sweet vermouth, and Angostura bitters.
Once again, the glass is chilled and rinsed in absinthe before the cocktail is poured.
Brain-Duster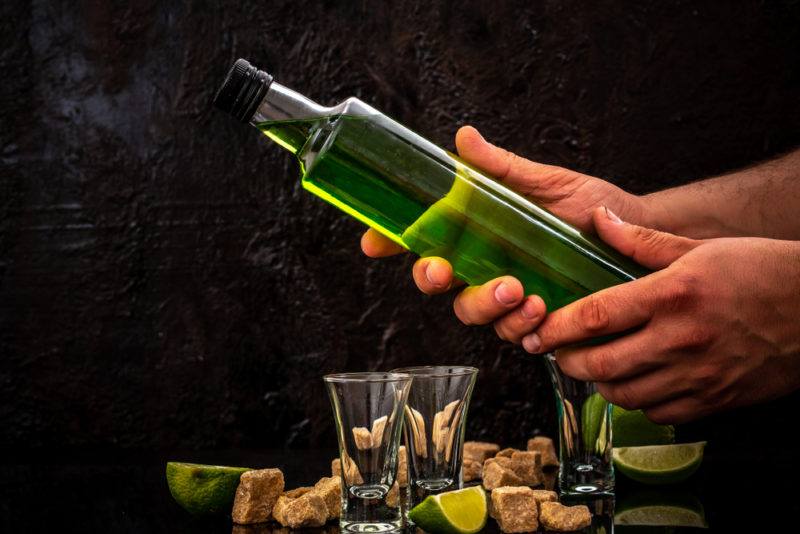 With a name like Brain-Duster, this cocktail is hard to ignore. The cocktail lives up to its name too, as it is a hard hitter that can easily throw you off-kilter if you're not careful.
Making the cocktail is easy. You simply stir together equal parts of rye whiskey, Italian vermouth, and absinthe in a glass with ice. Add in a dash of Angostura bitters, strain into a cocktail glass and you're good to go.
The amount of alcohol isn't the only thing that makes this cocktail potent either. The flavor is far from subtle, making this a cocktail that you're likely to love or hate – there's no middle ground.
The Godfather

The Godfather is a simple cocktail, one that just relies on whiskey, amaretto, and ice. The cocktail works best if you're using a smokey whiskey, particularly bourbon or blended Scotch.
Some versions of the cocktail use equal parts of whiskey and amaretto, while others use roughly two fingers of whiskey and just a dash of amaretto. Using equal parts of the ingredients gives you a relatively sweet cocktail, which may not always be appealing.
Gold Rush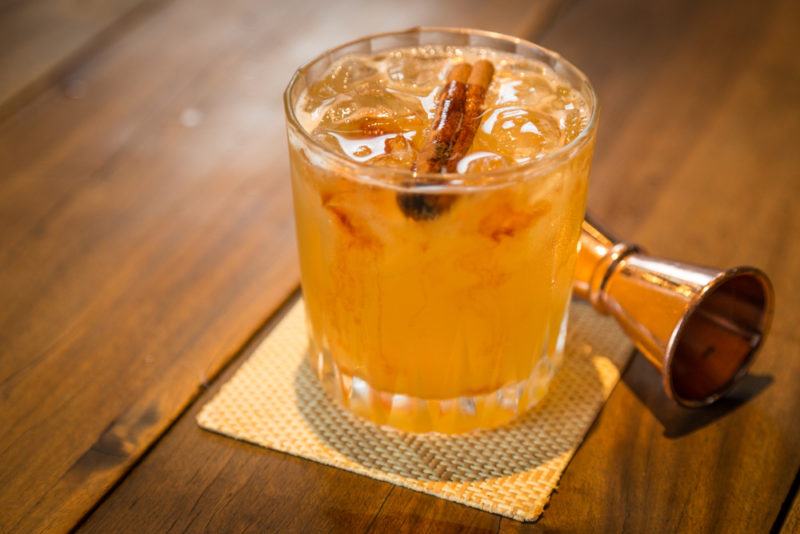 While the gold rush is a relatively new cocktail, it certainly deserves a place on this list. The cocktail uses just three ingredients: bourbon, lemon juice, and honey.
You simply combine all of these in a cocktail shaker with ice and shake vigorously, then strain into a cocktail glass with ice. You will need to shake the cocktail more than many others, as you're trying to make the honey mix in with the other ingredients.
Some recipes skip this issue entirely by using honey syrup as an ingredient rather than honey. Either option works well and there isn't much difference in the final flavor profile.
Irish Ale

An Irish ale is a simple cocktail that relies on Irish whiskey, ginger beer, and lime wedges. The spiciness of the ginger beer and the sweetness of the whiskey contrast one another perfectly.
The idea is similar to a Moscow mule and tastes just as good.
Vieux Carre

The classic Vieux Carre is famous for its complex flavors, especially as the drink is sweet, smooth, and bitter, all at the same time.
The base of the cocktail is made up of equal parts of sweet vermouth, cognac, and rye whiskey. A little Bénédictine is included too, along with four dashes of pimento aromatic bitters. These last two ingredients are critical for the complexity of the drink.
Bobby Burns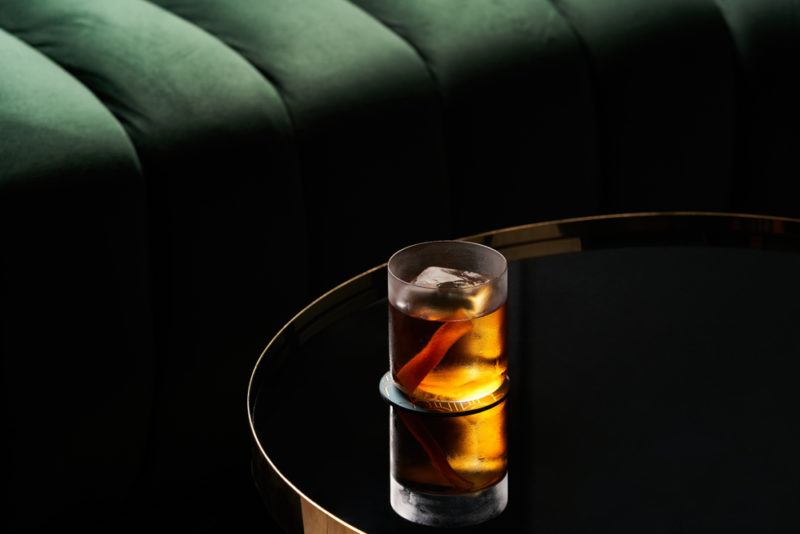 The Bobby Burns is a stirred cocktail, so you don't need a shaker to make it. The cocktail simply combines one ounce blended scotch whiskey, one ounce sweet vermouth, and half an ounce Bénédictine.
The ingredients are stirred together with ice and strained into a cocktail glass. Lemon peel is the traditional garnish, which finishes the drink off nicely.
Brown Derby

While grapefruit juice is a fairly common ingredient in cocktails, the brown derby's combination of bourbon and grapefruit juice is very unusual. Honey syrup is included to help balance out some of the bitterness of the drink – and that's it.
The grapefruit juice, honey syrup, and bourbon whiskey are all shaken over ice and then strained into a cocktail glass.
Hot Toddy

If you want a warm cocktail, a hot toddy is a classic choice. There is no single recipe here, as the name hot toddy is used for many different types of drinks.
Many recipes rely on popular ingredients for when you have a sore throat, such as lemon, honey, ginger, and cinnamon. Some versions use hot brewed tea as well. The end result tends to be delicious and you can easily adjust the recipe to suit your preferences.
Whiskey, rum, and brandy are all common choices in a hot toddy. There are even some versions that use gin instead. Even so, whiskey remains one of the most popular choices, adding a nice depth of flavor to the drink.
The Rattlesnake

The rattlesnake is a slightly complicated cocktail, as it uses a double shake method to create the cocktail's texture. The first set of shaking is done without ice to break up the egg whites, while the second set of shaking is used to chill the drink and froth it.
The second set of shaking takes around 20 seconds, which is longer than you'll find for many other cocktails.
Key ingredients in the cocktail include simple syrup, egg whites, rye whiskey, and lemon juice. This ingredient selection makes the rattlesnake a variation on a whiskey sour.
A notable feature of the cocktail is absinthe. Some recipes call for a few dashes of absinthe to be added into the cocktail itself, while others suggest using the absinthe to rinse the glass instead.
Whiskey Flip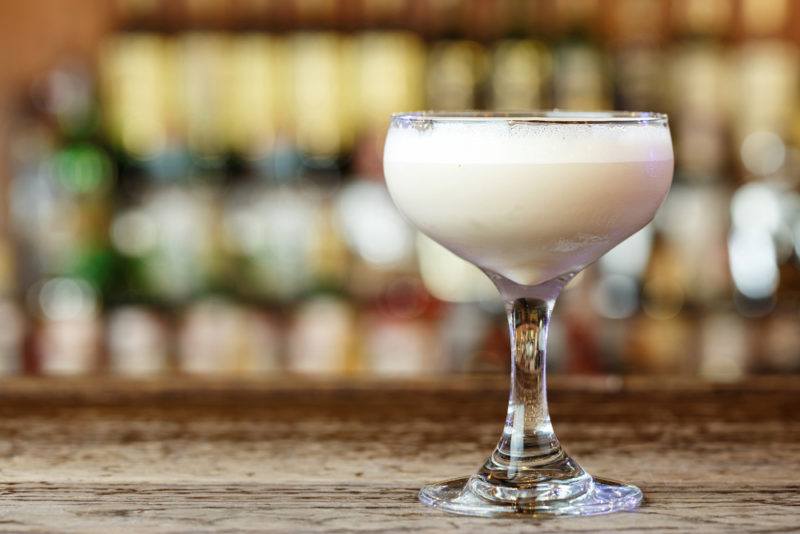 Flip cocktails were historically served warm, although these days the cocktail tends to be cold instead. Even so, a whiskey flip remains a soothing drink for the evenings.
The cocktail has some similarities to the previous example, as you're using an egg (or an egg white, depending on the recipe). But, this time, you're not relying on sour ingredients.
The cocktail ends up being rich and smooth instead, especially if you're including heavy cream, which is an optional ingredient. A simple version of the recipe can be found at Epicurious and is worth trying out for yourself.
There are more complex variations too, such as ones that use bitters to create a more complex flavor profile.
Paper Plane

The paper plane cocktail is a relatively recent invention, as far as cocktails go (it was developed in 2007). The cocktail can be viewed as a modern version of the last word.
There are four ingredients, which are included in equal parts: bourbon, fresh lemon juice, amaro nonino quintessential, and Aperol. The cocktail ends up with a striking balance of sour and herbal notes, with just the right amount of bitterness.
Seven And Seven

A seven and seven gets its name from the use of 7-Up and Seagram's 7 Crown Whiskey. The classic version of the drink just relies on two parts 7-Up to one part of the whiskey. The cocktail is generally served in a glass with ice and a lemon wedge.
Of course, you don't need to stick to the branded ingredients. Any lemon-lime soda will work just as well in the cocktail. Other whiskeys will be just as good too. The Seagram's whiskey in question is a smooth Canadian whiskey, so it would be best to start with whiskeys that follow a similar style.
Scotch And Soda

A scotch and soda is almost too simple to be called a cocktail, but still, two-ingredient cocktails can be delicious. As the name suggests, this drink simply combines club soda with Scotch whisky.
Specifically, the drink tends to be made using blended Scotch whiskey and served in a highball glass filled with ice. It ends up being a refreshing drink, especially when a lemon wedge is used as a garnish.
Four Horsemen

To finish off our list, here's a cocktail for those who like their drink strong. The basic version involves four spirits that are named after men, with a common version involving equal measures of Jim Bean, Jack Daniels, Jose Cuervo and Johnnie Walker.
The drink is served straight up, making it intense indeed.
There's also a variation called four horsemen of the apocalypse that adds Jagermeister into the mix, along with pineapple juice, simple syrup, and squeezed lime juice. These extra ingredients add complexity to the drink, giving it both a sweet and a sour edge.
Other options include 'in a boat', where grand mariner is added to the four original spirits, or 'go to sea' where Captain Morgan rum is used.