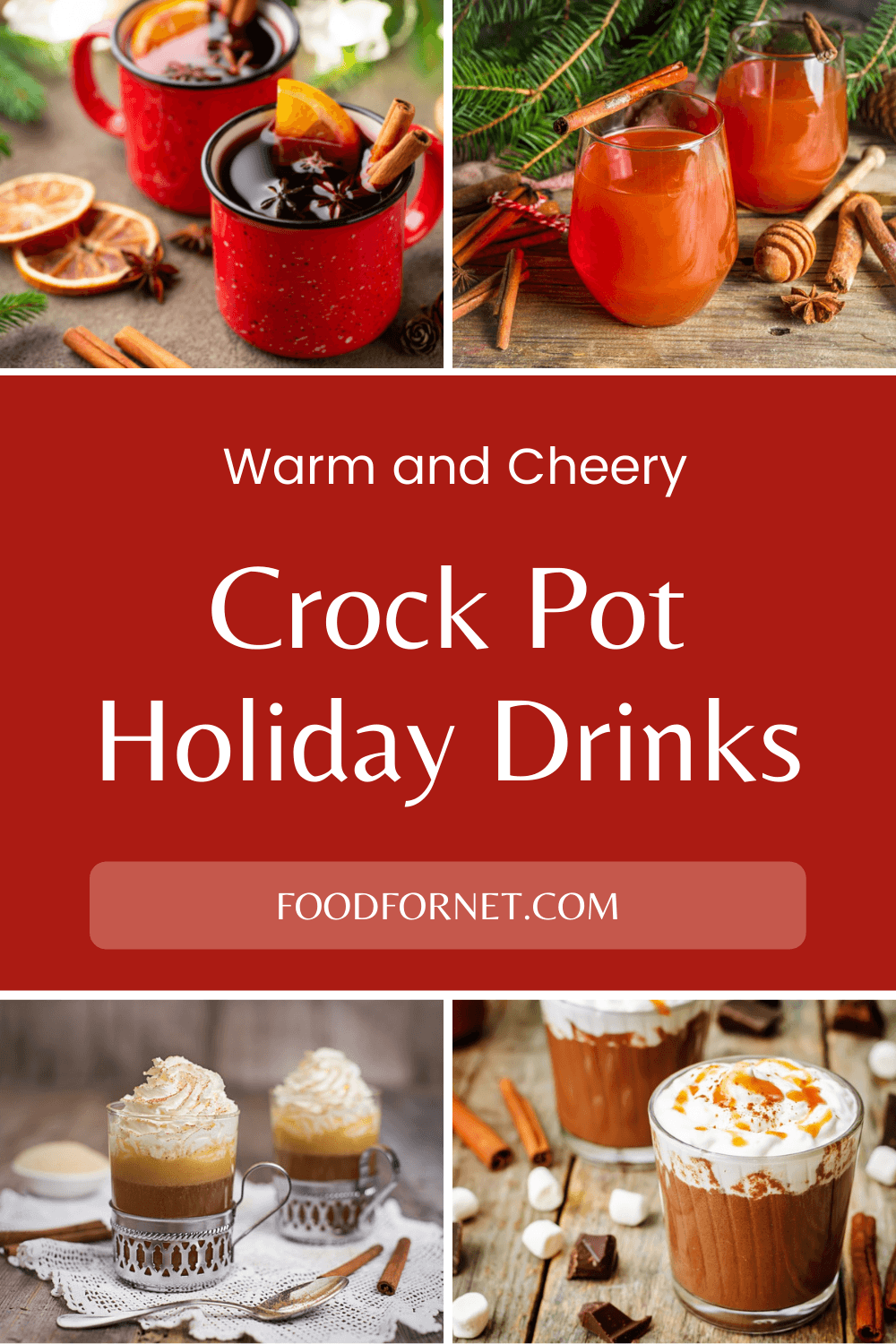 The Crock Pot is a fantastic way to create delicious meals, without spending hours slaving away over the stovetop. It can also be a lifesaver when you don't want to run the oven for hours and heat up your entire house. Food isn't all this tool is good for. You can use it to create some fantastic Crock Pot holiday drinks – including alcoholic and non-alcoholic options.
The idea is surprisingly powerful. For one thing, your Crock Pot will get the drink to the right temperature without boiling it. Doing so is critical if you're making an alcoholic cocktail, as you don't want any of the alcohol to burn off.
Plus, by cooking slowly like this, you get to infuse your drink with flavors from spices, fruit, and other ingredients for hours. Doing so gives you a more complex flavor than you'd get from a short cooking time.
Don't worry if you don't have an official Crock Pot. Any type of slow cooker will work just as well for making these drinks.
Crock Pot Holiday Drinks
Mulled Wine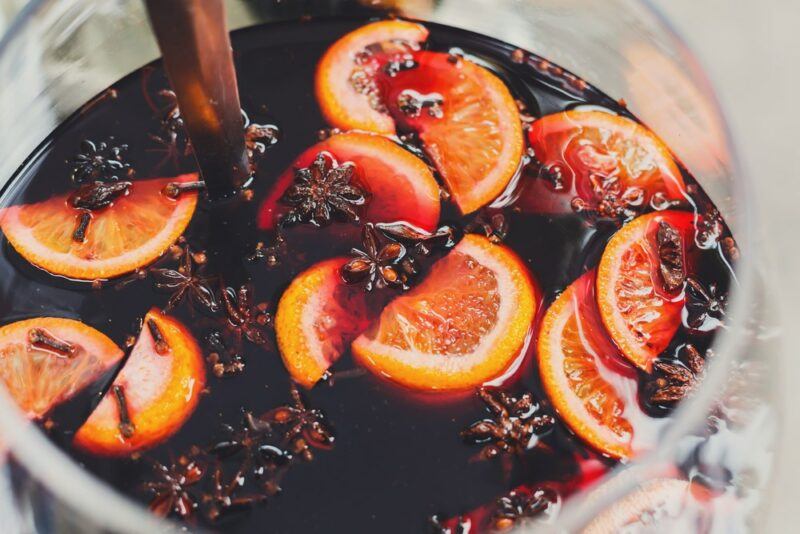 Let's kick this drink off with a classic, mulled wine. Making mulled wine on the stovetop is easy enough, as long as you don't overheat the wine. Still, once you've made this drink in the slow cooker, you'll never go back.
The process is simple. You just add all the ingredients to your slow cooker and leave it on low to medium until it is nice and warm. You should only need an hour or two of cooking to get the wine to the right temperature (although, this may vary depending on the type of mulled wine that you're making and your slow cooker model).
Then you can switch the slow cooker to 'keep warm', if it has that setting. The 'keep warm' setting is ideal when you serve the mulled wine at a party, as there's no risk that you'll overcook it.
There's no set recipe for mulled wine, but most versions rely on red wine, a selection of spices, and some type of sweetener. You can also add a second type of alcohol to kick the mulled wine up a notch. Brandy is the most common choice, although you could experiment with other options too.
Surprisingly, you can make white mulled wine too.
The ingredients are the same as with mulled red wine, but you do need to choose your white wine carefully. Look for something that's dry, like chardonnay or a dry Riesling. Off-dry or sweet white wine doesn't work nearly as well.
Hot Toddy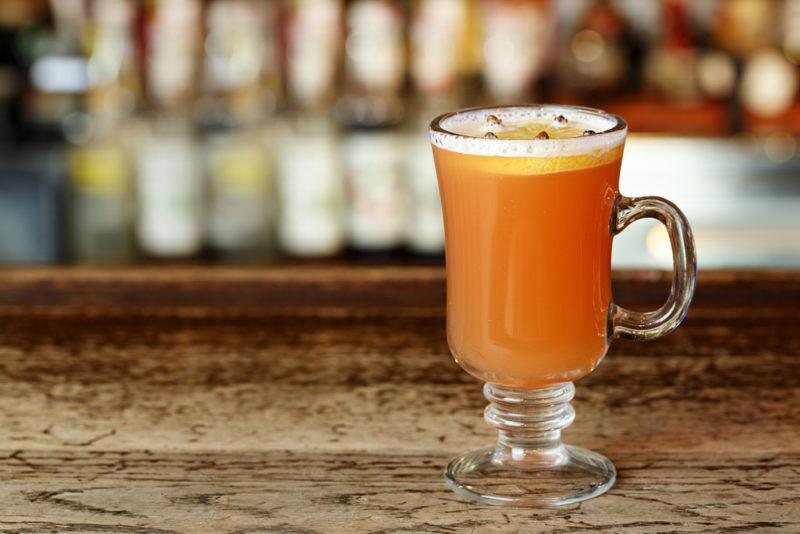 How can you go wrong with the classic hot toddy? Like mulled wine, you'll often find this drink served on cold winter evenings. But, it isn't a common party drink, partly because you're normally just making one mug of hot toddy at a time.
Using a slow cooker is a fantastic way to increase your hot toddy yield – serving many people all at once.
The classic version of the hot toddy relies on whiskey, lemon juice, and honey, but you don't need to stop there. Adding spices like cinnamon and ginger is a good way to make the hot toddy more interesting.
You could even include fruit juice, like apple cider or perhaps cranberry juice. Just remember that juice contains a decent amount of sugar, so dial back on the honey for this version. After all, a hot toddy isn't nearly as tasty when it's very sugary.
This approach isn't limited to the alcoholic version of hot toddy either. You could do something similar with any hot lemon drink. The slow cooker helps to meld all the flavors together, while also keeping your drink warm when you're serving it.
Hot Chocolate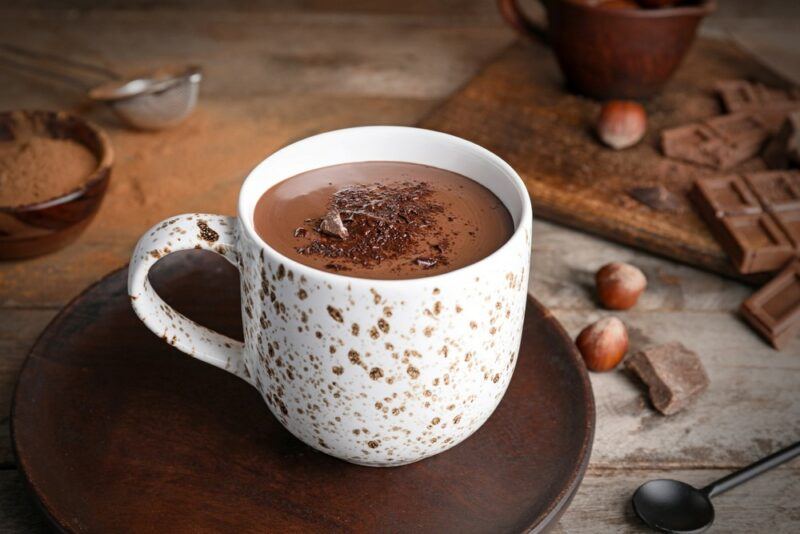 Have you ever made hot chocolate in the slow cooker? This idea is perfect if you're looking for a very rich drink, perhaps one that uses cream and chocolate as ingredients.
After all, if you make this drink on the stovetop, you're trying to melt the chocolate without burning the milk. With a slow cooker, you just need to combine the ingredients and leave them to cook on low for roughly two hours. You should only need to stir the liquid once, around halfway through the cooking period.
You can use the exact same approach to create a boozy hot chocolate too. The only difference is adding in some alcohol. You could try peppermint liqueur to provide a contrast to the rich chocolate or may the chocolate stronger by using crème de cacao.
Whiskey would be another potent choice. Whiskey's depth of flavor works very well with all things chocolate, so why not add it into your hot chocolate?
Hot Buttered Rum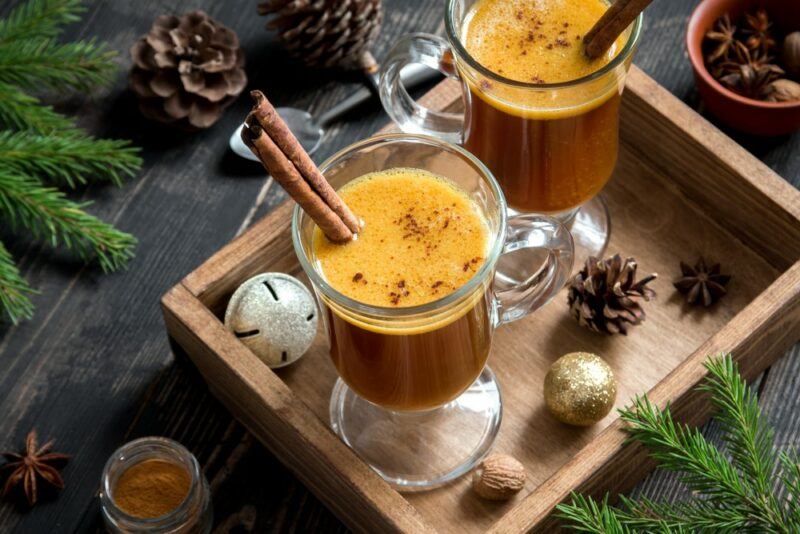 Most of the time, hot buttered rum involves making a batter using butter, sugar, and perhaps some spices, then using a little of this batter each time you want to make a cup of hot buttered rum.
That approach works well enough for one or two people. If you're serving a crowd, then a slow cooker is a much easier approach. You can skip the batter entirely and throw all the ingredients in a slow cooker and let them cook together for at least a few hours.
Once it's done and poured into glasses, you could top the buttered rum with some whipped cream and perhaps a little nutmeg.
Wassail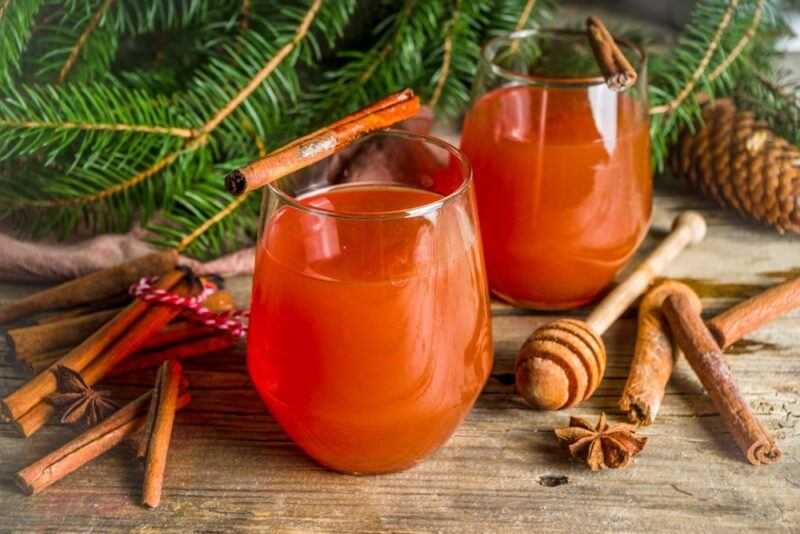 Wassail might sound unfamiliar, but the drink has a surprisingly long history. It was once part of English Yuletide traditions and has now started to become popular once again.
The most common version is a hot drink that combines cider with a variety of spices. The drink ends up being a little like mulled wine, except that you're using apple cider instead of the wine.
Making an alcoholic version is easy too. Bourbon or rum are both fantastic choices, as they complement the flavors of your mulled cider. Whatever spirit you choose can be placed in the slow cooker at the same time as the rest of the ingredients.
Rum Caramel Apple Cocktail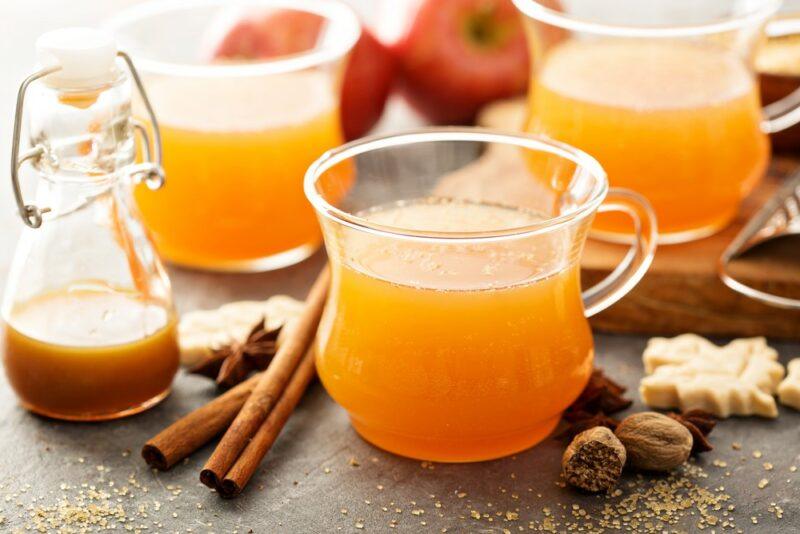 Who says that holiday drinks need to be traditional? There are countless ways to spice them up, from adding a new ingredient to creating an entire recipe from scratch. This caramel apple cocktail is one example of just how wonderful new ideas can be.
The recipe itself comes from the blogger Busy Mommy and is a variation on a holiday drink from her childhood. What could be better? After all, there's always something special about drinks that have some history to them.
The cocktail itself combines spiced rum, caramel syrup, apple cider, and a few special ingredients to create a delicious caramel apple flavor. You don't need to plan too far ahead of time either, as the cocktail only needs to be in the slow cooker for an hour or two.
You end up with a drink that is ideal for the fall. It tastes much better hot than it does cold, so if have an event to attend, you might need to throw it in a thermos.
Mint Hot Chata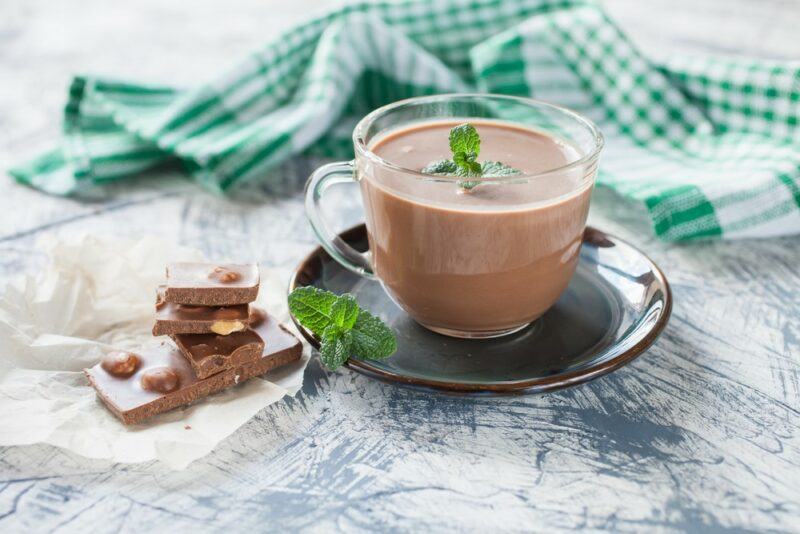 Why create a regular hot chocolate when you can make something more exciting instead? There's no end to the ways for you to vary the recipe, from something as simple as adding some peppermint to the mix to a recipe that involves multiple ingredients for flavor and alcohol.
One interesting version uses Rum Chata and peppermint chocolate chips as ingredients. Those ingredients give you a boozy variation on a peppermint hot chocolate, one that you're certain to love.
You could play around with other additions too. A little peppermint schnapps, for example, could be excellent or perhaps some crème de menthe instead.
Cranberry Apple Cider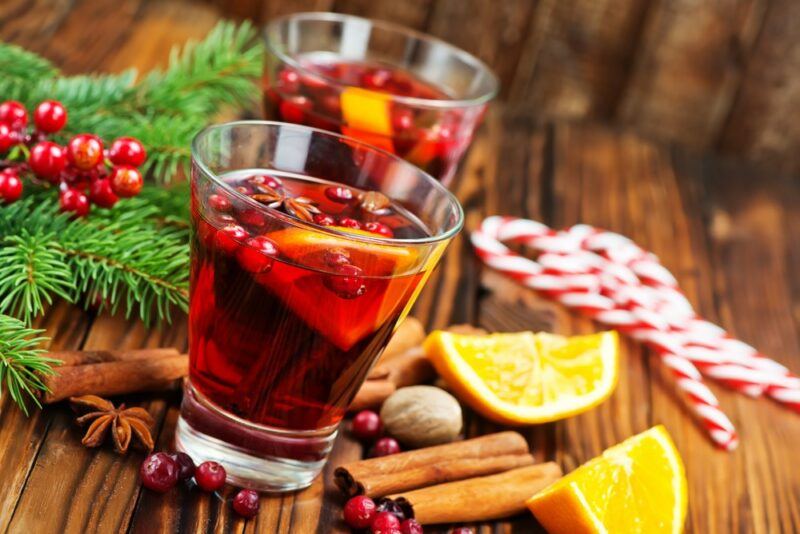 This slow cooker drink is everything you want for a cold winter's night or any day during the fall. It combines the familiar flavors of apple cider and cranberries, while also giving you a hot drink that will easily please a crowd.
As with the other drinks on this list, preparing the cider in the Crock Pot isn't essential at all. You could heat it up over the stove or try another approach instead. But, the Crock Pot is the best way to warm things up slowly and keep the temperature right where you want it.
You could make this recipe in a variety of ways, but one of the simplest is to combine apple juice (or apple cider) with cranberry juice and a little orange juice. Those three juices balance one another well.
Try adding in some spices when you're heating the juices in the slow cooker too. Cinnamon is an obvious choice, but cloves or even star anise could work well. The spices will slowly infuse into the juices as the ingredients sit together in the Crock Pot.
If the drink isn't sweet enough on its own, you could easily add a little sugar or some other type of sweetener. Don't forget about the alcohol either.
While you can make a non-alcoholic version of the drink, it would be even better with some booze in there. Spiced rum is a fantastic go-to, as it gives you a much fuller flavor. Don't be afraid to play around with other spirits too, like whiskey or perhaps vodka.
Red Wine Hot Chocolate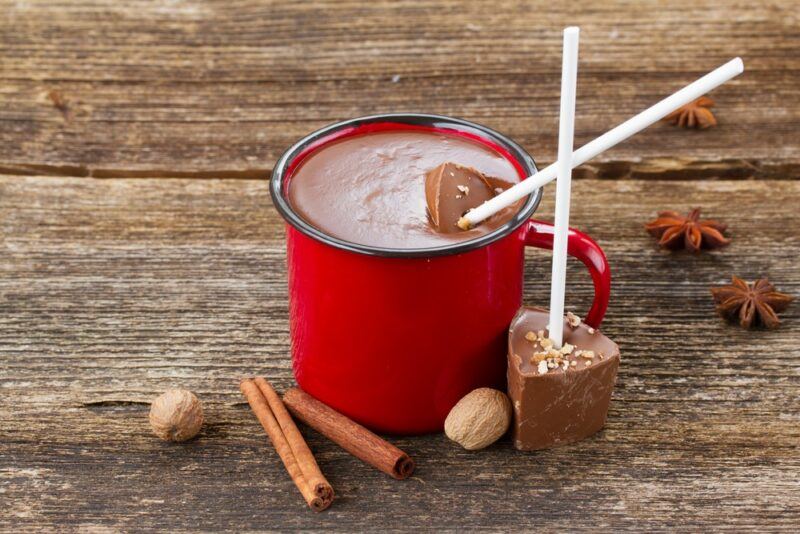 Most hot chocolate variations are pretty obvious, as they rely on familiar ingredients like Bailey's, chocolate, cream, mint, or perhaps some vanilla-flavored additions. A red wine hot chocolate, on the other hand? Well, that's something a bit different.
Combining red wine and hot chocolate might sound a little strange. But honestly, why not? Pairing wine and chocolate is a common practice. A red wine hot chocolate just takes the idea one step further and mixes the two ingredients in the same glass.
If you want some directions, there's an easy recipe on This Fairy Tale Life. However, let's be honest – red wine hot chocolate is exactly what the name suggests. You could easily make your own slow cooker recipe without much effort.
Cherry Pie Moonshine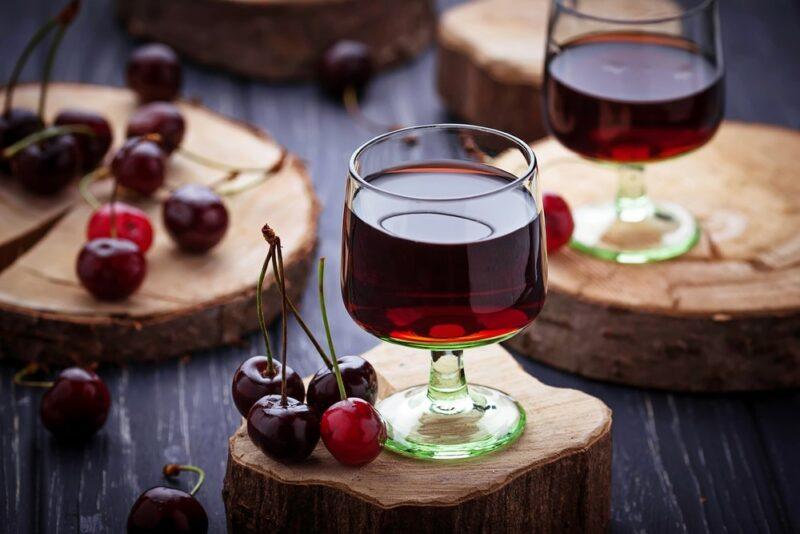 Here's a slightly different idea. Did you know that you can make flavored vodka using your slow cooker? That's exactly what's going on with this Cherry Pie Moonshine recipe.
The version in the recipe involves combining sugar, cherries, and cherry juice and heating these in the Crock Pot for a few hours. Then you let the mix cool and add the vodka. However, you could easily include the vodka right from the beginning too, especially if you want to drink it hot.
Cherries aren't your only option either. Most types of fruit would be excellent.
The finished drink isn't quite the same as regular flavored vodka and isn't actually moonshine either. But, that distinction doesn't matter at all. You still end up with vodka that has an interesting flavor and can be used in plenty of different ways.
Spiked Gingerbread Hot Chocolate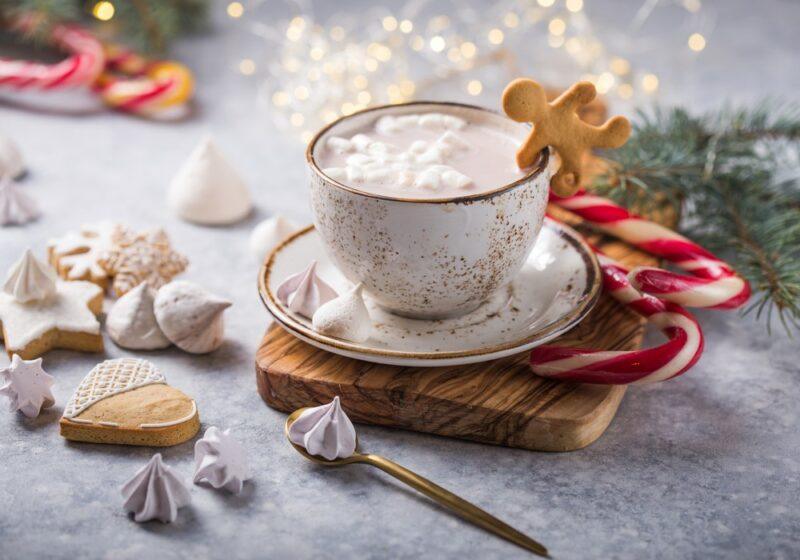 This hot chocolate recipe comes from The Spruce Eats and it's much what you would expect from the name. While you could easily make your own version, it's worth giving the recipe as try as-is first because it gets the balance of flavors just right.
Balancing the flavors is important because chocolate and ginger can both be overpowering. Too much of one could easily drown out the flavor of the other. The recipe is designed to be prepared on the stovetop.
Thankfully, it would be easy to make a few tweaks and make it in your Crock Pot instead. Doing so would be perfect if you're serving a crowd or if you don't want to spend a long time messing around with a pot and trying to get everything just right.