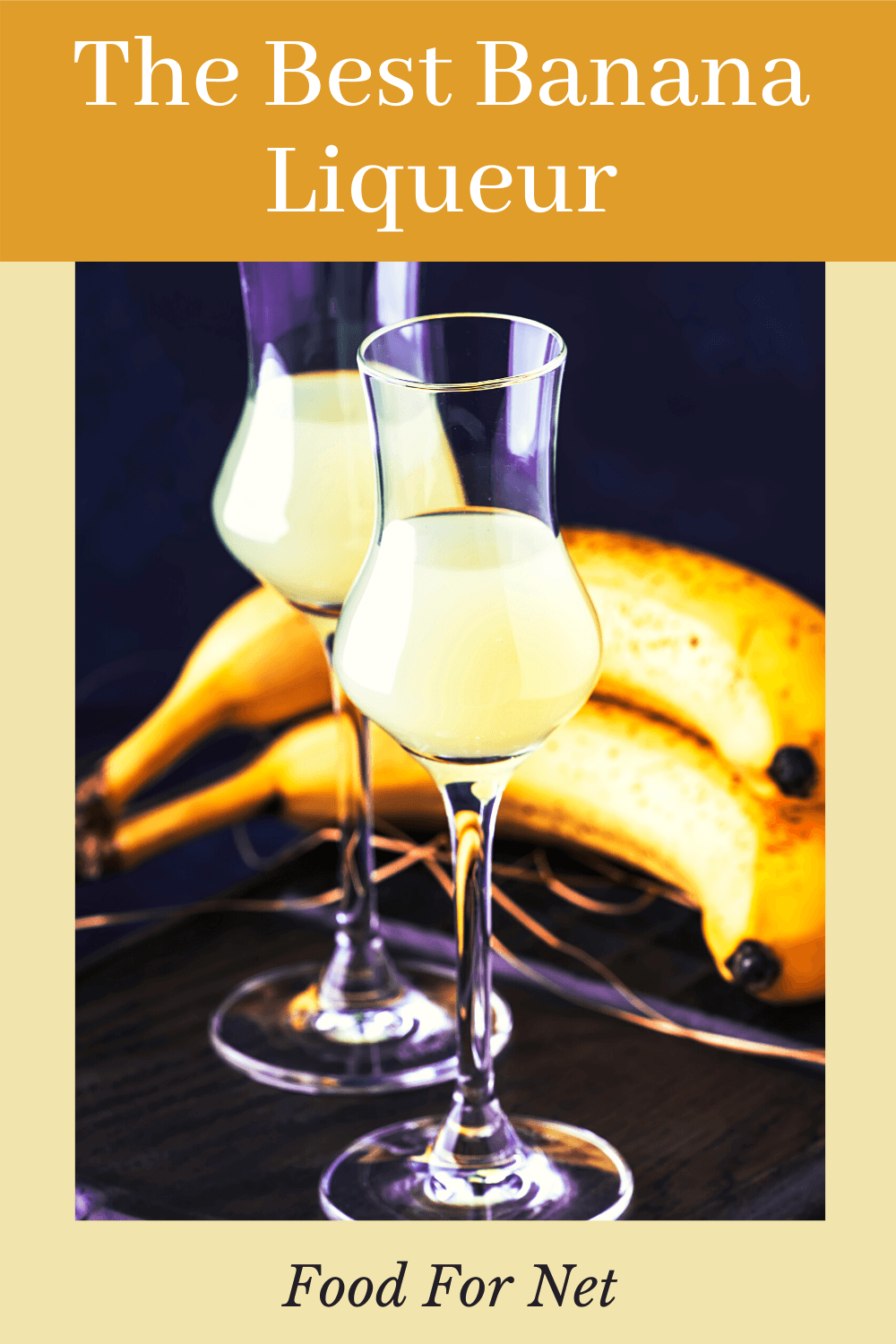 Banana liqueur made its first appearance in the mid-19th century when the banana was highly revered as a rare and exotic delicacy that could only be brought in to many places by ship. This made it highly sought after and probably pretty expensive. It also didn't take long for distillers and spirit enthusiasts to realize that the wonderfully sweet and versatile flavor would do quite well in a cocktail.
So began the journey for the best banana liqueur, also known as crème de banane. By the 20th century, the banana was one of the most common and widely consumed fruit in the entire world. It's obviously much more common now and usually quite cheap, so the love for banana liqueur is unsurprising.
There are a few different ways to make the liqueur which translates to different styles of flavor. There are some made with banana extract, or syrup, or other forms of flavoring. These are often cheaper and offer a more candy-like sweetness – perfect for sweet, tropical cocktails.
Others are made by infusing and/or distilling bananas themselves. These are more time-consuming to create and require the bananas to be at the perfect ripeness, otherwise, the flavor is spoiled. These offer a more balanced and authentic banana flavor, often much better suited to sipping if you want a refreshing, banana-forward drink.
Neither is necessarily better than the other, it just depends on what your purpose is for the drink.
You'll see similar patterns with other types of liqueur, like chocolate liqueur and orange liqueur.
The Best Banana Liqueur
1. Tempus Fugit Creme de Banane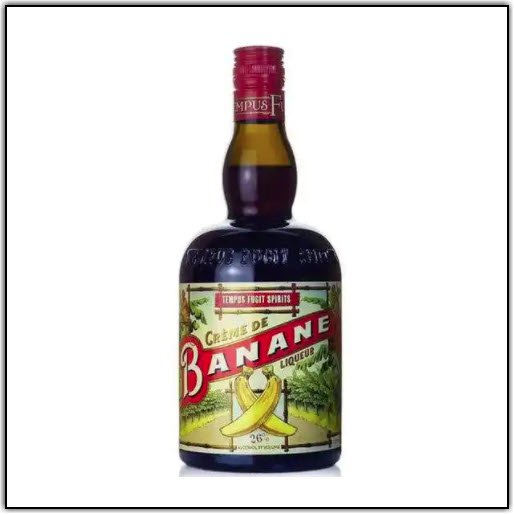 Tempus Fugit Creme de Banane is regarded by many as the top banana liqueur on the market as it has one of the most authentic aroma and flavor profiles. This makes sense as the recipe is based on the production methods of the 19th century and tastes similar to what a liqueur would have tasted like back then.
It also helps that this expression is only produced in small batches of perfectly ripened bananas. Back in the day, the bananas would be allowed to ripen until brown, and only then were they distilled. This liqueur takes after this process, maturing the bananas until they're at optimal sweetness and flavor.
On the nose, you find strong, bold aromas of overripe bananas and a hint of flambeed banana. The palate offers a silky mouthfeel with rich and intense flavors of ripe banana. There are subtle hints of cinnamon and black pepper with just a touch of chocolate in the background. The finish is long with more sweet, overripe banana flavor.
2. Giffard Banane Du Bresil Liqueur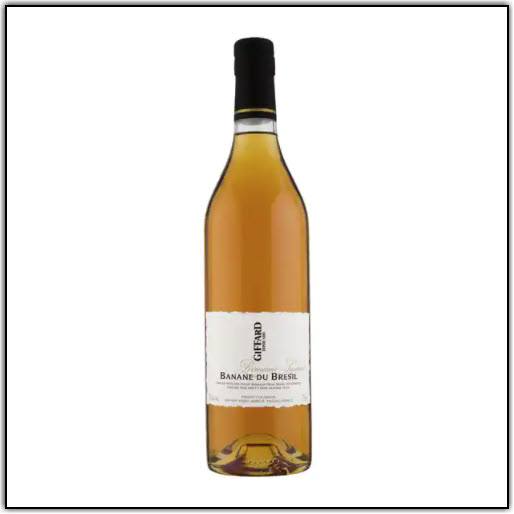 Giffard Banane Du Bresil Liqueur is another wildly popular banana spirit due to its delicious and indulgent nature. The Giffard family has been operating their business for five generations, always working hard to reach their goal – which is to enhance the creation and flavor of cocktails. They do this by producing a series of high-quality syrups and liqueurs, all made with natural herbs, spices, and fruit.
Their banana liqueur is particularly well crafted, starting with sun-ripened Brazillian bananas that are pureed and slowly infused in a neutral spirit. This is then blended with another spirit that is distilled from the bananas. Together, these two create a very sweet, tropical profile. The mixture is topped off with a dash of oak-aged cognac that brings the flavors together and creates a rich, luxurious mouthfeel.
The nose offers a fantastic variety of banana notes, including mashed banana, dried banana, and banana cake with a touch of caramel. The palate is similar, with a taste of mashed bananas with a touch of pepper. The finish carries on the banana with a touch of vanilla essence as it fades.
3. Bols Banana Liqueur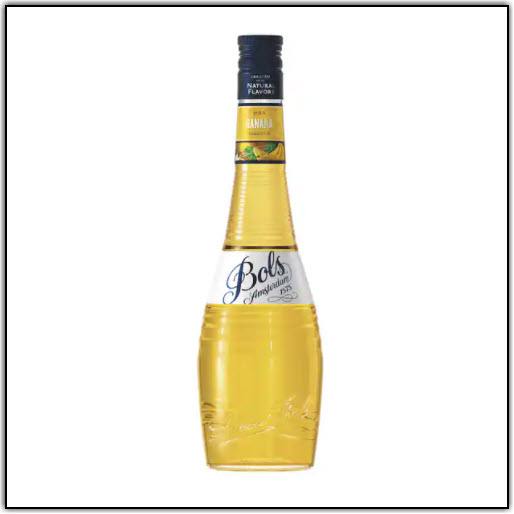 Cheap and super-sweet, Bols Banana Liqueur is arguably your best choice for cocktails. In the bottle, it's a bright buttercup yellow flavor that instantly reminds you of sunshine and tropical beaches – and this only continues when you experience the onslaught of banana that comes next.
Instead of a neutral spirit like most brands, Bols uses a rum distillate as the base to add extra depth and character. This base is then flavored with a banana extract that's been enhanced with vanilla and almonds. While mixing cocktails is the best use of this liqueur, it's pleasant on its own as well – provided you enjoy a candy-like flavor of sweet banana.
On the nose, you get bold banana candy aromas followed by much of the same on the palate. It's sweet from start to finish, with a touch of cinnamon appearing on the finish with a more subtle flavor of banana.
4. Hiram Walker Creme De Banana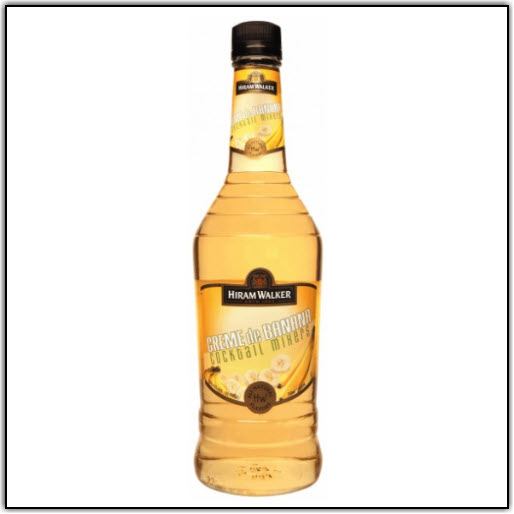 Hiram Walker boasts an impressive collection of 43 spirits, all of them high-quality, natural, and delicious. Theirs is one of the biggest liqueur portfolios in the world and many have become quite well known for their exceptional contribution to amazing cocktails.
The Hiram Walker Creme de Banana is a fully American-made delight that uses top-notch banana extract to create a spirit that's perfect for banana cocktails or even a boozy dessert-like bananas foster.
As expected, there is plenty of banana on the nose with a more general fruity undertone to balance the intense sweetness of the banana. The palate is all about bananas, with little notion of anything else – though the sweetness is pleasant and not overwhelming. The finish is long with even more banana.
5. Marie Brizard Banane Liqueur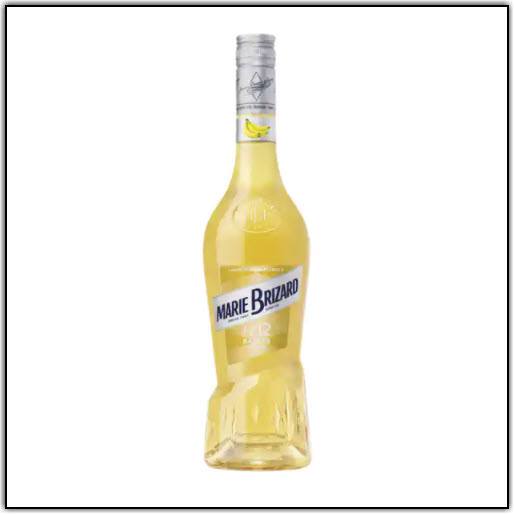 Marie Bizard Banane Liqueur is perhaps the deepest and most unique banana spirit on the list. The bananas are carefully sourced from Ecuador, where they are highly appreciated for their distinct taste and rich aromas. The expression is made by combining these bananas with an expert recipe of pineapple juice, spices, and herbs like vanilla and cocoa to create a complex but balanced flavor.
The company dates back to 1755 when they committed to use only natural products in their liqueurs to provide quality, authentic flavors that outshine the cheap, artificial nature of many of their counterparts.
The more complex nature of the drink makes it perfect for adding depth and flavor to a cocktail while balancing it out nicely.
The aroma is simple and features strong notes of banana followed by a sweet, mellow palate that is also heavy on the banana, with additional notes of spice and sweetness coming through from the many ingredients used. Absolutely perfect for a tropical cocktail.
The Best Banana Cocktails

There are countless things you can do with bananas themselves as well as a delicious banana liqueur. There are probably hundreds of cocktails out there, and maybe you can even come up with one of your own, but below are a few fun, easy ones to get you started.
Boozy Bananas Foster
Coined by bartender Johnny Swet from a New York City bar, this one takes the classic dessert to the next level with a boozy rendition. The ingredients are pretty simple:
2 ounces of aged rum
1 ounce of banana liqueur
1 tsp brown sugar
.5 ounces of lime juice
2 banana chunks
Begin by muddling the banana chunks with your brown sugar. Once done, add everything else and shake it all up with ice until it's cold. Then, strain the mixture into a glass with fresh ice. For extra flair, garnish with a banana slice sprinkled with sugar. Go a step further and caramelize the banana if you want to get real fancy.
Banshee
Simple and delicious, this little cocktail goes back to the time when white Russians were popular as it's made similarly, though has a very different flavor. There are only three ingredients:
1 ounce banana liqueur
.5 ounce white creme de cacao liqueur
2 ounces of milk or cream
The process is simple: add the liqueurs to a glass of ice first and pour the milk or cream on top. Cover the glass and shake it up until the ingredients are well mixed, and enjoy right away.
The base recipe is simple, but there are a couple of things to note if you want to make it absolutely perfect for you:
While the recipe calls for a white chocolate liqueur, any form of chocolate is fine – it'll just change up the flavor!
If you have both milk and cream on hand, it mostly becomes a matter of preference. Milk creates a lighter drink whereas cream is much heavier. Half and half will give you a good middle ground if you can't decide.
Yellow Submarine
This is another simple, three-ingredient treat that is super tropical and perfect for sipping poolside. You'll need the following:
Gather the ingredients into a cocktail shaker with ice and shake well. Strain into a glass over ice and enjoy! You can use a fresh or dried banana for the garnish. Slide the fresh banana slice onto the side of the glass, or let a dried banana float in the drink. While delicious, it's good to keep in mind that this little drink is made entirely of alcohol so it's a strong one! Enjoy it slowly and in moderation.